Gustavo Meets Giuseppe
By Laurence Vittes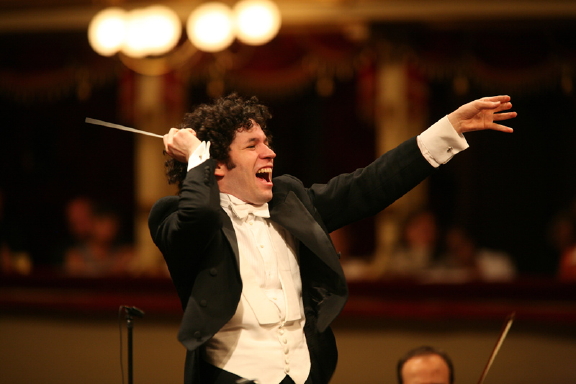 Verdi, Requiem: Soloists, Los Angeles Master Chorale, Los Angeles Philharmonic Orchestra, Gustavo Dudamel (conductor). Walt Disney Concert Hall, Los Angeles, Nov. 6, 2009
After a two months on the job, Gustavo Dudamel is supplying the expected seismic thrills to LA Phil, the Southland and the classical music industry. He seems to be keeping Deutsche Grammophon, who daily announce record-setting download numbers for his live Mahler First, profitably occupied. And fans are flocking for the few available tickets as if they were courtside seats for a Lakers playoff game.
Critically speaking, reviewers are falling over themselves to write about the 'Gustavo Effect.' Some are linking Dudamel to NY Phil's new maestro Alan Gilbert and their mentor Esa-Pekka Salonen as members of a classical music triumvirate. Performing arts cynics are starting to calculate how much money they can make from this unexpected nexus of classical music and the entertainment industry. It's like MGM in the 40s when Frank Sinatra and Gene Kelly courted Kathryn Grant while she sang grand opera and they crooned Tin Pan Alley.
Gustavo's arrival has also made "mornings after" in Hollywood much more delicious: "What did you think of Gustavo's Requiem?" I'm constantly asked. "What was Gustavo like?" I braved downtown to hear his Verdi Requiem on November 6.
Overall, Gustavo's Requiem was episodic, quixotic and occasionally quite wonderful. There was lots of blood and thunder showmanship (turning to conduct the offstage brass at the back of the hall, or letting 45 seconds of silence tease the audience at the end before dropping his baton) but it was subsidiary to something refreshingly innocent born out of Gustavo's indecision about how to proceed: whether to impose his will on the meandering 90 minutes, or let the music find its own way while he, Gustavo, stops to smell the musical flowers. He chose the latter route.
Perhaps most important was a sense that Gustavo was genuinely pleased to be sharing his own newness to the Requiem (only his third performance) with the audience, and with the singers and orchestra. The result was an authentic and moving exploration of the music. Whenever he found a section that seemed to "speak" to him, he paused and gave it greater intensity and more Technicolor display, but never at the expense of an underlying seriousness of purpose. The result was a consolation of tears not sentiment.
Soprano Leah Crocetto had a voice of the loveliest purity, and floated the famous passages as if she were a musical angel. Mezzo Ekaterina Gubanova had a lovely burnished sound when the orchestra was not covering her up, tenor David Lomeli was valiant, and bass John Relyea projected a Wotan-like authority. The Los Angeles Master Chorale kept in the thick of things with admirable effort and enthusiasm. There was an occasional lack of coordination between the forces assembled, and the soloists must have felt a few times that were being left to fend for themselves, but there was no doubt that Gustavo valued emotional connection over mere precision. He also made sure that the many audiophiles' favorite bass drum passage (starring percussionist Joseph Pereira) came through like canon shots.
---
A NEW CENTURY IN THE PRADO MUSEUM
From Goya to Sorolla, the Display of the Collection Expands with 12 New Galleries & 176 Works

One of Madrid's leading art institutions has opened 12 new galleries and is exhibiting 176 works – several recently acquired and some never exhibited before – all from the 19th century.  A New Century in the Museo del Prado, represents a key step forward in the Prado's collections plans known as The Collection: The Second Extension.  On October 6, more than 170 new works were added to the permanent collection and now, for the first time, visitors to the Prado will see an uninterrupted overview of the development of Spanish art from the 12th century Romanesque painting of San Baudelio de Berlanga up through the early 20th century work of Sorolla which runs parallel to the century's earliest avant-garde movements.
       Among the 176 paintings, watercolors and sculptures finally on view are several acquired in the last several years: José de Madrazo's The French Cuirassier acquired this summer; Penitents in the Lower Church at Assisi by José Jiménez Aranda (acquired in 2001), and Large Landscape (Aragón) by Francisco Domingo Marqués (acquired in 2000).  Maria Figueroa as a young girl dressed as a Menina by Joaquín Sorolla, also purchased in 2000, joins the artist's And they still say fish is expensive!, a masterpiece of social realism and Boys on the Beach, one of the Prado's most celebrated modern paintings.
       Today the Museum has the world's foremost collection of Spanish paintings – some 4,600 – dating from the Middle Ages to the 19th century including outstanding masterpieces by Berruguete, El Greco, Goya, Murillo, Ribera, Sorolla, Velázquez and Zurbarán.  In 2007, an extensive expansion designed by Rafael Moneo increased the museum's space by 50 percent. 
       Organized chronologically, the new galleries begin with Goya (the Prado has 140 of his works), Neoclassicism and the Origins of the Museum, followed by Romanticism, Federico de Madrazo, Rosales, Fortuny and Rico and Raimundo de Madrazo There are two rooms with historical paintings and one gallery with landscapes. The final galleries highlight Naturalism, Sorolla and landscapes by Aureliano Beruete, donated by the artist's family.
       The Prado Museum is located on Paseo del Prado and is open daily, except Mondays, from 9 AM to 8 PM.  Admission is about $11.80 or 8 euros.  Visitors under 18 are admitted free of charge.  Students under 25 from non-EU countries pay about $6 or 4 euros. Admission to the Permanent Collection is free Tuesdays to Saturdays from 6 PM to 8 PM and on Sundays from 5 PM to 8 PM.  Go to www.museodelprado.es/en/
---
THE DALLAS SYMPHONY ORCHESTRA ANNOUNCES A MONUMENTAL NEW PROJECT
MASTERS OF FILM MUSIC
Multi-Year Initiative to Begin with 2010-2011 Season
The Dallas Symphony Orchestra today announces a new multi-year programming initiative: the Masters of Film Music.  This ground-breaking new series brings the music of some of today's top film composers to Dallas as part of the 2010-2011 and 2011-2012 Dallas Symphony Pops Series.  The Masters of Film Music will feature a Dallas Symphony Orchestra-commissioned world premiere work written by each composer, combined with a multi-media career retrospective with images on a larger-than-life screen. 
The top composers whose world premiere commissions and career retrospectives will be featured in the Masters of Film Music are James Newton Howard, George Fenton, Theodore Shapiro, Michael Giacchino, Harry Gregson-Williams, and an evening of the "All Time Great Music of Film" which will also feature a new work by Sir Anthony Hopkins, conducted by DSO Music Director Jaap van Zweden.
"This project is revolutionary in the sense that we are combining the works of the top living film composers, whose music is heard by millions of people around the world, with the artistic power of the Dallas Symphony," said Dallas Symphony Orchestra Chief Marketing and Entertainment Officer Stephen Cook.  "The DSO is taking the lead in innovative programming, combining the great music of the movies with the powerful sound of the orchestra.  I know our patrons will be thrilled with the result."
"This new aspect of our Pops Series pairs some of the most recognizable film scores ever written with the incredible talent of our orchestra," Dallas Symphony Orchestra President Douglas Adams stated.  "To hear this music performed in the acoustical perfection of the Meyerson Symphony Center will be a treat for any music lover."
About the Composers
James Newton Howard is one of the most versatile and in-demand composers currently working in film.  A look back on Howard's impressive film career will include music from movies such as Pretty Woman, The Sixth Sense, King Kong, I am Legend, The Village, Michael Clayton, The Fugitive, The Dark Knight (with Hans Zimmer), My Best Friend's Wedding and many more.  To date, Howard has received eight Oscar nominations, including six for Best Original Score, one Grammy Award, one Emmy Award and four Golden Globe nominations.  In addition, he was honored with ASCAP's prestigious Henry Mancini Award for Lifetime Achievement.  James Newton Howard will conduct the Dallas Symphony Orchestra during his world premiere work and career retrospective. 
British composer George Fenton is best known for his musical work for film, television and theatre.  He has written music for and collaborated with some of the most influential filmmakers of the late 20th century.  Among his many film credits are Gandhi (with Ravi Shankar,) The Fisher King, Dangerous Liaisons, Hitch, The Madness of King George, Memphis Belle and many more.  Fenton also composed the score to the hit television series Planet Earth and Blue Planet.  George Fenton will conduct the Dallas Symphony Orchestra during his world premiere work and career retrospective.
Theodore Shapiro has composed music for film, television and the concert stage.  His ability to turn humor into music has lent itself to such blockbuster films as Marley and Me, The Devil Wears Prada, Old School, You, Me & Dupree and countless others.  Shapiro has composed the score for several Ben Stiller-produced comedies including Tropic Thunder, Blades of Glory, Dodgeball and Starsky & Hutch, and other notable films like 13 Going on 30 and Year One.
Michael Giacchino has not only scored several well-known feature films, he has also composed music for television shows, animated shorts and video games.  Giacchino has penned the music for such films as UP, Mission Impossible III, Star Trek, The Incredibles and Ratatouille, for which he received an Oscar nomination.  His compositions have brought joy and laughter to the entertainment world and have earned him immense respect over the years.  In 2005, Giacchino garnered an Emmy for his work on the ABC hit show Lost.  Michael Giacchino will conduct the Dallas Symphony Orchestra during his world premiere work and career retrospective.
Award-winning British film composer Harry Gregson-Williams got his big break while working under Oscar-winning film composer, Hans Zimmer, in the mid-'90s and since then has become one of Hollywood's most sought-after composers.  With BAFTA, Golden Globe and Grammy nominations under his belt, including movies such as Shrek 1, 2 and 3, The Chronicles of Narnia Series, X Men Origins: Wolverine and the upcoming film, The Prince of Persia, Williams has also composed for television shows, commercials and video games.
In addition to his award-winning film career, Sir Anthony Hopkins is also establishing himself as a composer.  His numerous compositions include music from the films Slipstream and August, Stella Aria, The Mask of Time and Fanfare, among others.  Considered to be one of film's greatest actors, Hopkins is perhaps best known for his Oscar-winning turn as Hannibal Lecter in The Silence of the Lambs.  Hopkins will join Music Director Jaap van Zweden and the DSO in a performance of "The All Time Great Music of Film" during the 2011-2012 Dallas Symphony Pops Series.
About Jaap van Zweden
The 2009-2010 season marks Jaap van Zweden's second as music director of the Dallas Symphony Orchestra.  A Juilliard-trained violinist, van Zweden joined the Royal Concertgebouw Orchestra as concertmaster at age 19.  It was during his time at the Concertgebouw that van Zweden spent sixteen years being mentored and inspired by such great conductors as Solti, Haitink, Giulini, Harnoncourt and Bernstein, and it was Bernstein who pronounced he was a born conductor and should pursue it as a career.  In 1997, van Zweden made his decision to conduct full time and was subsequently named the chief conductor of the Netherlands Symphony Orchestra where he remained until 2003.  Highlights of van Zweden's music directorship at the DSO include the world premiere of August 4, 1964 by Steven Stucky, Mahler's Symphony No. 5, performances at Napa Valley's Festival del Sole and the Bravo! Vail Valley Music Festival, and the critically acclaimed CD releases of Beethoven's Fifth and Seventh Symphonies and Tchaikovsky's Fifth Symphony and Capriccio italien.  This season, van Zweden will make his conducting debut with other American orchestras including the Los Angeles Philharmonic, Philadelphia and Cleveland Orchestras, as well as a return engagement with the Chicago Symphony.
About the Dallas Symphony Orchestra
The Dallas Symphony Orchestra has a rich, 109-year history of artistic excellence.  As the largest performing arts organization in the Southwest, the DSO is committed to the pursuit of uncompromising musical distinction through innovative and classical programming, and strives to build a community of passionate music lovers in the Dallas-Fort Worth area.  The DSO has grown from a 40-person ensemble to a world-class orchestra since its inception in 1900, and continues to be the cornerstone of the burgeoning Arts District in downtown Dallas; a district now noted as the largest in the nation.
After an exhaustive search, the DSO named Jaap van Zweden as music director beginning in the 2008-2009 season.  Eminent music directors such as Antal Dorati, Paul Kletzki, Georg Solti, Eduardo Mata and Andrew Litton laid the groundwork for important elements of today's DSO, including extensive touring and recording, special community and education concerts and the building of the world-renowned Morton H. Meyerson Symphony Center. 
---
                        Santa Barbara Museum of Art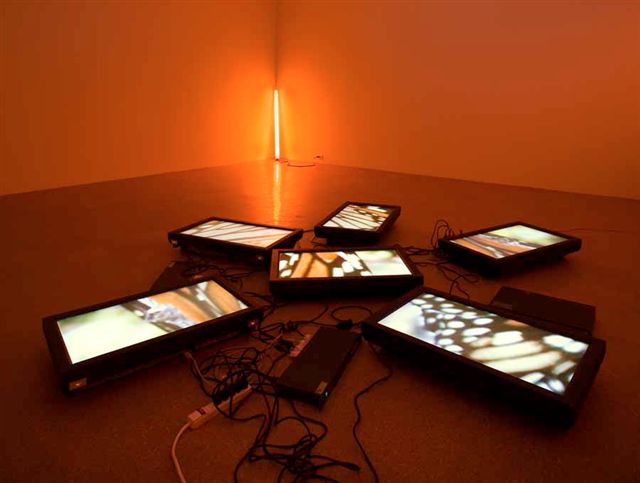 Diana Thater, Untitled Videowall, 2008. (6) Flat panel monitors, (1) DVD player, (1) Synchronizer and orange gels. Santa Barbara Museum of Art, Museum purchase with Suzette Morton Davidson Art Acquisition Endowment Fund.
 Diana Thater
October 24, 2009 – January 31, 2010
 Internationally renowned pioneer of film and video art Diana Thater creates what she describes as "sculpture with images of nature in space."  Phenomena of the natural world are recurring motifs for the artist, whose site-specific video and light installations explore the relationship between beauty and technology, and nature and the way it is mediated through human intervention.  Two major works are the focus of this compelling exhibition, including Untitled Videowall (2008), which stems from the Monarch Butterfly Project, the artist's response to a call by curators, collectors and environmentalists to draw attention to encroachments upon the species' winter home in Michoacán, Mexico.  The Museum debut of this work coincides with the arrival of the Monarchs on the central coast during their annual migration.$9 adults, $6 seniors & students with ID and children ages 6-17. 805.963.4364.  www.sbma.net. 
 1130 State Street, Santa Barbara, CA. Open Tuesday-Sunday 11 am to 5 pm.  Closed Monday. 
---
     MARBLE STATUE ATTRIBUTED TO MICHELANGELO
AND INSTALLATION OF RARE RENAISSANCE DRAWINGS ON VIEW AT METROPOLITAN MUSEUM
    The Young Archer attributed to Michelangelo
The Young Archer, a marble statue attributed to the teenage Michelangelo,
will be on special loan to The Metropolitan Museum of Art from the French
Republic, Ministry of Foreign Affairs for 10 years beginning November 3, 2009. Illustrated text panels will outline the statue's history and its likely place early in the career of Michelangelo.
North Italian Drawings, 1410-1550 will feature 31 rare drawings from the Metropolitan Museum's Robert Lehman Collection, with an addition 9 from the Department of Drawings and Prints.  On view November 3 through January 31, 2010, this installation will showcase an important period in Italian art that witnessed the emergence of drawing as an essential tool for artists.
The Metropolitan Museum of Art, 1000 Fifth Avenue, New York, NY
Adults $20.00, seniors (65 and over) $15.00, students $10.00 Members and children under 12 accompanied by adult free Advance tickets available at TicketWeb or 1-800-965-4827
---
ART INSTITUTE CELEBRATES HOLIDAY SEASON 2009
WITH FESTIVE EVENTS FOR THE WHOLE FAMILY
Museum Invites Visitors to Enjoy Extended Holiday Hours
18th Annual "Wreathing of the Lions" Kicks off Chicago Holiday Tradition
The Art Institute of Chicago welcomes visitors of all ages to celebrate the 2009 holiday season with a full roster of festive events--beginning with the 18th Annual "Wreathing of the Lions" on the day after Thanksgiving, Friday, November 27, at 10:00 am. Continuing through December, holiday offerings are scheduled throughout the museum. The Art Institute will remain open until 6:30 p.m. for visitors on November 27 and 28. The Art Institute will be closed on Thanksgiving, Christmas, and New Year's days.
 
The Wreathing of the Lions will begin at 10:00 am on the museum's front steps at Michigan Avenue and Adams Street on Friday, November 27. Guests will be greeted by performers from Cirque du Soleil's Daily Shpeel and entertained by Tiny Tim and Scrooge from the Goodman Theatre's annual production of A Christmas Carol. In celebration of the opening of the Modern Wing, this year's wreaths were specially designed by contemporary artist/industrial designer Yves Behar of fuseproject. Composed of bright multi-colored aluminum leaves, the 2009 wreaths are a fusion of traditional holiday cheer and a sense of modernism, echoing the addition of the Modern Wing to the Art Institute. The leaves will be distributed on December 16 to Chicagoland children to use at home for their own holiday decorations. At this point, the traditional evergreen wreaths will be placed on the lions.

The first 50 people to arrive and attend the event will receive free admission to the Art Institute. A full day of holiday activities will be taking place inside the museum after the wreathing ceremony. Hubbard Street Dance Chicago will be performing in the Modern Wing's Griffin Court at 11:00 am; the Muntu Dance Theatre of Chicago will be performing in Fullerton Hall at noon; and Ken Burns and Lynn Novick's film Frank Lloyd Wright will be screened in Fullerton Hall at 1:00 pm, in honor of the museum's current exhibition Apostles of Beauty: Arts and Crafts from Britain to Chicago. In addition, Argo Tea will provide complementary tea samples throughout the ceremony.

As always, the day after Thanksgiving is filled with events for the whole family. The museum's very own Artie the Lion will be roaming the galleries. From 10:30 am to 3:30 pm, families are invited to visit the Ryan Education Center in the Modern Wing for a holiday-themed activity in which visitors make their own wreaths inspired by the exhibition Families can also enjoy the wonderful exhibition of original children's book illustrations, Playing with Pictures: The Art of Victorian Photocollage.Heart and Soul: Art from Coretta Scott King Award Books, 2006-2009, also in the Ryan Education Center.

The Wreathing of the Lions ceremony launches the holiday season at the Art Institute. Look for the following events throughout December: 


Holiday Treasures and Tea , an annual holiday favorite for families organized by the Art Institute's Auxiliary Board, takes place Sunday, December 6 at 10:30 am, 12:00 pm, and again at 1:30 pm. Designed for children ages 4 through 10, the event features a sticker-book "Passport to Modern" treasure hunt, followed by a hands-on art activity in the Ryan Education Center. The afternoon concludes with tea and entertainment in the Chicago Stock Exchange Trading Room. Tickets must be purchased in advance for this one-day event. For ticket information, call (877) 307-4242 or visit www.museumtix.com.

"Music in the Air" Holiday Choral Series features local high school and college choirs performing favorite holiday tunes. Performances this year will be held on weekdays during the first two weeks of December (December 1-4 and December 7-11) from 12:30 to 1:00 pm, in the Modern Wing's Griffin Court. Concerts are free with museum admission.

Masterpiece of the Day returns for this year's holiday celebrations. Each day at noon from December 21 to 31 (except December 25), visitors can take a 30-minute special tour that focuses on a different jewel in the Art Institute's crown. Including Van Gogh's The Bedroom and Jackson Pollock's Greyed Rainbow, these engaging, brief talks give viewers the chance to learn more about their favorite works--and the objects that make the Art Institute's collection world-renowned.

Family Programs for the holidays include workshops and gallery walks on selected weekends in December and the popular Holly Days held the last week of the month.  Families experience the Art Institute's collections through informal discussions in the galleries, followed by art-making projects that everyone can enjoy. These workshops are intended for specific age levels, and all children must be accompanied by an adult. All family programs are free and held in the Ryan Education Center.

Holly Days is a popular holiday program that takes place annually during the days just before the New Year. Beginning Sunday, December 27, and continuing through Wednesday, December 30, programs are held daily from 11:00 am to 3:30 pm in the Ryan Education Center. This year, families are invited to visit the Arts and Crafts exhibition Apostles of Beauty: Arts and Crafts from Britain to Chicago and create a work of art inspired by patterns in the exhibition. The Holly Days festival also includes Story Time, a special activity for younger children, gallery walks through the exhibition, and a visit by the Art Institute mascot, Artie the Lion!

For general museum information, please call (312) 443-3600 or visit online at www.artinstituteofchicago.org.  For information about specific lectures and family programs, please call the Department of Museum Education at (312) 443-3680.  Exhibitions and programs are free with museum admission unless otherwise noted. The Art Institute will be closed Thanksgiving Day, Christmas Day, and New Year's Day.

---
                   POSITANO SANDALO
Providing customers with traditional custom made  sandals of Positano and Capri on the Amalfi coast of Italy. You can choose the style and color, and our Italian cobbler will custom make the sandal to your foots specification in a matter of hours. You can order from us using our on-line catalog, order over the phone, or visit us at our West Hollywood store. www.positanosandalo.com.
8574 Melrose Ave*  West Hollywood   Ca,*  USA *  90069  Phone: (310) 289-5900
---
 
THE ANNENBERG FOUNDATION ANNOUNCES
NEW PROGRAMMING FOR
SPORT: IOOSS & LEIFER EXHIBIT
AT THE ANNENBERG SPACE FOR PHOTOGRAPHY
 
Over the next three months the Annenberg Space for Photography will play host to an exciting array of free programming to coincide with its latest exhibit SPORT: Iooss & Leifer.  Among the offerings will be a print and digital exhibit, hi-res documentary-style videos, lectures, and workshops.
 
Visitors will be offered a chance to hear notable photographers, editors and even a few athletes discuss their views on photography as part of the IRIS Nights lecture series; view digital features on various topics ranging from women in sports to behind the scenes at Sports Illustrated to surf photography; take part in a free photo bookmaking workshop; and the opportunity to take home a limited edition print, which will be available for purchase at the Photography Space for the first time.  A portion of the proceeds from the print sales will be used to support the Space's future programming. More information and a catalog of prints can be found online.
 
SPORT: Iooss & Leifer will take visitors on a journey through some of the most memorable and inspiring moments in sports history captured by the world's two pre-eminent sports photographers Walter Iooss and Neil Leifer. Over 80 photographic prints spanning the careers of both men will be displayed. The prints are accompanied by a 20-minute high resolution digital feature film about sports photography.  The film shares imagery of both Iooss and Leifer, along with commentary and interviews from athletes, photographers, photo editors and other media figures such Olympic Gold Medalist Jackie Joyner-Kersee, Joe Montana, Surfers Herbie and Christian Fletcher, Sports Illustrated Photography Editor Jim Colton, Reuters Photographer Lucy Nicholson and more. In the "Voice of the Photographer" segments visitors will have the chance to see Iooss and Leifer banter about each other.
 
The Photography Space will offer several exclusive mini documentaries on a wide variety of subjects related to sports photography and the significance of the genre giving visitors an even more enriched experience. Featured documentaries include "Inside Sports Illustrated", documents the rich photographic legacy of the magazine; "Beyond Sport" offers insight into the role of women in sport, both behind the lens and on the field;introduces viewers to the unique aspects of surf photography; " "The Art of Surf Photography with Art Brewer"Sports Meets Swimsuits" takes a look at the Swimsuit Issue of Sports Illustrated; and "The Science of Hitting" shows viewers how still imagery is used to help baseball players analyze and improve their swing.
 
The IRIS Nights lecture series will give the public the chance to attend popular free lectures. Speakers include Walter Iooss, who kicks off the series on the opening night of the exhibit on November 14th; Neil Leifer; Laila Ali with photographer Mikki Willis; athlete and model Aimee Mullins with photographer Howard Schatz; Reuters photographer Lucy Nicholson; Sports Illustrated Photo Editor James Colton; surf photographer Art Brewer; and UFC photographer Kevin Lynch among others.  IRIS Nights will also offer a look at Neil Leifer's documentary on photography taken by blind photographers in February. On December 5th BLURB will be hosting three two-hour free workshops teaching attendees how to create and edit their own photo books. The full schedule of programming is below.  Advance registration is online and limited walk-up spaces are available at each lecture.
 
 
IRIS NIGHTS AND WORKSHOP SCHEDULE
 

November 14, 2009                Walter Iooss
December 3, 2009                  Athlete Aimee Mullins with Photographer Howard Schatz
December 5, 2009                  BLURB Workshop
December 10, 2009               Rick Rickman - Senior Sports Photography,  " The Wonder Years" Book
December 17, 2009                Lucy Nicholson - Sports Photographer Reuters
January 7, 2010                      Neil Leifer
January 14, 2010                    Jimmy Colton - Photography Editor, Sports Illustrated
January 21, 2010                    Art Brewer - Sport and Surfing Photographer
January 28, 2010                    Kevin Lynch - UFC Photographer
February 4, 2010                    Corinne Marrinan + blind photographers documentary, Dark Light
February 11, 2010                   Slideshow Night
February 18, 2010                   Jimmy Chin - Adventure Photography
February 25, 2010                   Laila Ali with Photographer Mikki Willis
March 4, 2010                       Athlete Jessica Mendoza with Photographer Marla Rutherford
SPORT: IOOSS & LEIFER opens to the public on November 14th and will run through March 7, 2010.
ABOUT THE PHOTOGRAPHERS
WALTER IOOSS
Walter Iooss is an award-winning legend in sports photography, best known for his nearly 300

Sports Illustrated

covers, as well as his portraits of famous athletes like Michael Jordan, Ken Griffey, Jr., Brett Favre, Joe Montana and Wayne Gretzky. In his career, he has covered virtually every major sports event, including all 43 Super Bowls. In 1982, his project on athletes working their way to the 1984 Summer Olympics in Los Angeles resulted in publication of the book,

Shooting for the Gold

. He has published a number of other books, including Baseball, Football and Sports People, and created a masterful photo essay with Michael Jordan,

Rare Air

, which topped

The New York Times

Best Sellers list. His latest work,

Athlete,

was released in May 2008, and marks his 14th book. In 2004, Iooss received the Lucie Award for Outstanding Achievement in Sports Photography.
NEIL LEIFER
Neil Leifer's photography career has spanned almost 50 years. Specializing in sports photography, Leifer's photos have regularly appeared in every major national magazine, including the S

aturday Evening Post, Look, LIFE, Newsweek, People

and, most often,

Sports Illustrated

. Leifer's pictures have graced over 200 covers of

Time Inc

. publications -- 170 at

Sports Illustrated,

and 40 at

TIME

Magazine. Leifer has published 15 books. The most recent two,

Ballet in the Dirt: The Golden Age of Baseball

(2007) and

Guts and Glory: The Golden Age of American Football

1958-1978 (2008) both published by

Taschen

, are already considered classics. Leifer photographed his favorite subject, Muhammad Ali, on at least 70 separate occasions, including 35 fights.  Leifer is now a full-time filmmaker. He has produced and/or directed two features, five documentaries and eight short films.
ABOUT THE ANNENBERG SPACE FOR PHOTOGRAPHY
The Annenberg Space for Photography is a new cultural destination dedicated to exhibiting compelling photography. The Photography Space conveys a range of human experiences and serves as an expression of the philanthropic work of the Annenberg Foundation and its Trustees. The intimate environment features state-of-the-art, high-definition digital technology as well as traditional prints by some of the world's most renowned and emerging photographers. The exhibits change three times a year, however the common thread throughout is one of rich emotion. The Photography Space informs and inspires the public by connecting photographers, philanthropy and the human experience through powerful imagery and stories. It is the first solely photographic cultural destination in the Los Angeles area.
The Annenberg Space for Photography
2000 Avenue of the Stars, Century City, CA 90067
Tel: 213.403.3000
http://www.annenbergspaceforphotography.org
Open Wednesday through Sunday; 11am - 6pm.
Closed Monday and Tuesday
General admission is free.
---
HANDEL TAMERLANO, LA OPERA
By Laurence Vittes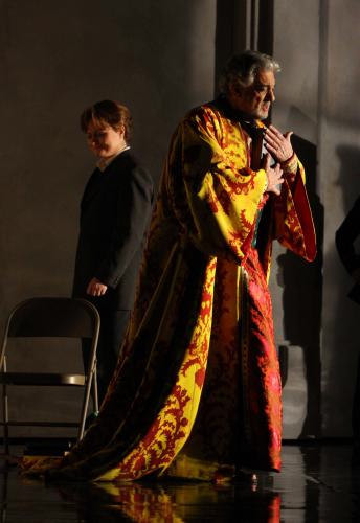 Handel, Tamerlano: Soloists, Chorus and Orchestra of Los Angeles Opera, William Lacey (conductor) Chandler Pavilion, Los Angeles Nov. 11, 2009
LA Opera put on a good show with its new and first-ever staging (shared with Washington National Opera) of Handel's 'Tamerlano' united by Plácido Domingo's warmth and genius, regrettably the first of only five performances (ending December 1).
The singers are a lusty, musicologically brilliant crew - lots of trills and appoggiaturas from this crowd, with the exception of Domingo who usually finds the best non-trilling substitute; meanwhile, the players in the pit do the impossible: make a world-class modern-instrument orchestra sound like a world-class original instrument band. Accordingly, the modern-instrument orchestra adds 2 harpsichords and 2 pluckers (the musician's vernacular) on theorbos, baroque guitar, and lute. The continuo cellist uses a baroque cello.
At their helm, William Lacey belongs to that increasing number of conductors who know how to work with modern-instrument players to get a sound that's appropriate for baroque music, not only from the winds (who are usually ahead of the curve in such scholarly matters), but from the strings as well. (The productions uses the Bärenreiter parts, with the conductor's modifications.)
Bejun Mehta plays Tamerlano as a sleek and vicious corporate suit (think 'Lock, Stock, and Two Smoking Barrels') who, when he isn't playing with guns, is wild, wicked and half out of his tyrant's homicidal mind; it's like you'd sing Handel in a cabaret, and it coincides with what is supposed to make the drama work in the first place: the impossible situation with which Domingo's character, King Bajazet, is faced.
Sarah Coburn as Princess Asteria however, gets a raw deal with the muted splendor of her appearance accentuated by a bad hair day. Patricia Bardon's very short Andronico comes off as too inconsequential, like Charlie Sheen in Wall Street, or Don Ottavio in Don Giovanni, hardly a rival for anyone's love (and perhaps a consequence of pitting a soprano against a countertenor).
Both Bardon and Coburn sing well and emote passably, but are handicapped not only by their costumes. The height of the drama in this production is the timeworn ruse of rushing towards an exit then hesitating and returning to sing either a new aria or the rest of an aria already begun. Ryan McKinny's Leone scores a huge hit with crowd though his vocal horsepower takes a long time warming up.
I like Jennifer Holloway's Princess Irene the most though it can be a thankless role. Tall and imperious, she is the only singer who seizes her opportunities with teeth clenched and fingernails digging into the notes; Tamerlano is a glorious, hair-raising musical drama whenever Ms Holloway is on stage.
Then along comes Placido (his 126th role) and, by the end, he manages to straighten it all out, even if it means that as the humiliated father Bajazet he commits a particularly inglorious  but operatically stunning suicide -  taking his last breaths face down on the tyrant's bare floor - redemption coming from the transformational impact it has on each of his friends and adversaries.
In addition to his splendid singing, more relaxed than in many years, Domingo clearly enjoys the occasion and the interaction with the cast, conductor and musicians; in turn, working with Plácido must be something that every young singer dreams about, although it's something hard to carry through when a such a superstar is involved. Domingo however, works his magic not only by means of his voice and his wisdom, but with an inalterable respect for the music and, in tragedies, with the ironic gravitas that comes from knowing something inevitable and deeply profound is about to happen. This  mood and the musicality spreads to the entire cast and inspires their focus and intensity. At such times, the production can well  create a unique performance every time because getting to the emotion in Handel is not just a matter of having the right music education, or even reveling in the lack of it - which can sometimes be fun admittedly -  but of finding out what is driving the composer's dramatic instincts beyond the prospects of a profitable show.
As usual, the size of the Chandler Pavilion makes it difficult for there to be much intimacy or emotional chemistry between the characters; something amplified by the fact that there are only six characters in this cast, so they are often a good ten feet apart from each other. Even with ten secret/military/corporate police supernumeraries patrolling the stage, the set felt like the gray marble halls of vacant Wall Street palace waiting for a spruce-up on one of those House & Garden TV shows.
I had forgotten how tame the onstage action is, considering the real-life Tamerlano's grisly history, although an athletically-inspired performance played in a hall with dramatic intimacy can make it seem exciting. And of course, no production these days starring Plácido as a relentlessly depressed father is going to be light on its feet. But the compensations were such that when the end came on opening night, the crowd rose to their feet cheering for the singers, for Handel and, I suspect, with some relief that they could finally go home. Enjoying Handel can be a gruelling feat sometimes.
Coming up next for LA Opera is a brilliant production of Rossini's Barber of Seville, starring heartthrobs Juan Diego Flórez and Joyce DiDonato, and conducted by Michele Marietta (Nov. 29-Dec. 19), and a gala recital on December 12 by Renée Fleming. The next time  that LA will hear Placido will be as Siegmund in next year's Ring Festival.
---