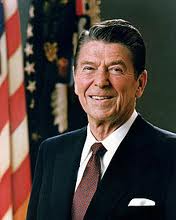 PRESIDENT RONALD REAGAN . . . MY PERSONAL FAVORITE
 by Bonnie Carroll

It was an amazing experience working on the 1984 Olympic Games as a member of the LAOOC Citizen's Advisory Commission and also Public Relations Advisory. Peter Uberoff was without doubt one great leader, and the final results of this monumental American event confirmed this.

Working for nearly two years prior to the Games, the groups that gathered throughout the city to organize the 84 Olympic Games became fine friends, and the entire planning was a labor of love for everyone who was even remotely involved in staging this amazing and historic event in the Los Angeles and surrounding areas.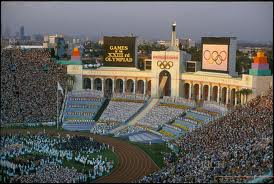 Everything was moving like a fast forward film by the time we actually took our assigned places for the first day of the Olympic Games, and I was working with the TV and print media as a press operations manager at Pepperdine University in Malibu, which was Water Polo up close and personal. On the day the President said those famous words "Let the Games Begin" from a microphone at the LA Stadium we were all working at the main press area in downtown Los Angeles and drove like we were in the last lap at Monza to see Rafer Johnson light the torch and run the track.

The closing event was equally amazing, although we were all so tired and knew we had to be on the start line ourselves early the next morning for a kick-off breakfast of the Southland Corporation/USOC Olympic Medalist Five City Media Tour at the Century City Hotel with the Gold Medalists and President Ronald Reagan and First Lady Nancy Reagan. 

During this never to be forgotten morning I stood a few feet from the President and First Lady to direct each athlete for a commemorative photo with them. It took hours, and when it was over the President smiled at me, nodded approvingly and walked to the podium in the huge dining room where athletes, their families and countless media stood to sing the national anthem and listened to the President share his pride in our American athletes and wish them great success on the tour, which began immediately following the breakfast. Believe me, a nod of appreciation from your President is worth all the gold in the mint, and the memory of standing in front of my President face to face singing the national anthem still gives me goose bumps. 

Due to President Reagan's personal involvement our tour took on Presidential status, and this group of golden athletes and their parents were given the courtesy, protection and adoration rendered to a traveling President as they arrived and departed the five cities visited. In New York the traffic on the freeways was stopped as the caravan of buses moved toward the city. People were honking their horns, and standing on their cars yelling "USA we love you"! The next morning we walked in a ticker tape parade with Mayor Koch, and most of us cried throughout the entire parade route because the response was so overwhelming and so loving. 

This same national pride and appreciation for the US athletes continued throughout the duration of the tour. Washington was amazing, with members of the US Senate giving praise to the athletes, while an ocean of media poised their camera's to get this once in a lifetime shot. Disneyland unlocked all the magic for our group in Florida, and Governor Lamb, along with all the Disney characters, greeted us on a red carpet as we departed from our private planes. 

Last but not least was Dallas, I was riding next to Rafer Johnson and he shared a story about the day he was accompanying President John F. Kennedy along that dreaded parade route, which we actually took through Dallas. As we rode through the center of Dallas a little army of young kids began following our car and yelling Rafer you're the best!
The Dallas visit was exceptional as it was the home town of the Thompson's, who owned the Southland Corporation, and built the Olympic Velodrome, as well as sponsored the post Olympic Tour 84. From Southfork Ranch, where JR and Bobby had slugged it out, to a visit with the Dallas Cowboys it was simply amazing, and the hospitality of our Texas hosts' was really beyond description and will never be forgotten. 

I was lucky enough to have many more eventful encounters with our 40th President Ronald Reagan and First Lady Nancy Reagan following 1984, but this Olympic year will always go down in history as my personal favorite.
________________________________________________________________________
Joining forces with the Junior League of Santa Barbara, actor Dennis Franz with wife Joanie Franz are creating the first Design House of Santa Barbara set to open just after Labor Day in September
Joanie and Dennis Franz, developers and prominent members of the Santa Barbara community, have planned an exciting collaboration of design and philanthropy set in one of California's most prestigious neighborhoods – Montecito!

The husband and wife team, of Big Red Properties, have chosen some of California's most visible interior designers to bring to life this spectacular property for their community – The Santa Barbara Design House and Gardens. The "Hamptons" style house is nestled on 1.62 acres of prime gold coast land. Originally an avocado farm in the 1950's, the estate is located on Featherhill Road and anchored by majestic California Coastal Oak trees, some over 250 years old.

The national media sponsor, Traditional Home, along with the regional media sponsor, California Homes, have partnered with the Franzes and the Junior League to undertake this gracious development with additional exciting exposure on season two of the BRAVO! network's Million Dollar Decorators and an HGTV Special. Developer Joanie Franz has paired some of California's most prominent designers and trade resources to create the perfect marriage of East Coast style and West Coast living.

The style of house, not typically found in California, plus the lush rolling lawns, mature trees and abundant colorful gardens all add to the ambiance and setting for this year's showcase house. The project's builder, Phillip Pennestri of Pennco Properties: "It is rare to find a piece of flat land this size in our area. The house and gardens are designed and built in a perfect, very private setting with the backdrop of mountain views and ocean vistas. Everyone falls in love with the property'. The roughly 6,000 square foot, 6 bedroom, 6.5 bath shingle style estate, designed by architect Peter Becker, features a long private tree-lined drive, swimming pool, bocce ball court, detachable two car garage and an elegant two bedroom cabana.

Set to open September 13th, the Design House and Gardens will feature the work of: Ryan Brown, Linda Chase, Jaime Dietenhofer, LuLu DK & Carla Lane, Mary McDonald, David Phoenix, Ann Sutherland, Katerina Tana, Caroline & Steve Thompson, Mark Weaver, Steven Weinstock and Michelle Workman.

The exceptional support of vendors and trades from coast to coast include: Action Roofing, AKDO, Alchemy Glass & Light, All Around Landscape Supply, Ann Sacks, Baron Brothers, Bay Alarm, Boccemon, Building Material Distribution, Budget Blinds, Cabana Home, California Closets, California Door & Hardware, California Electric Supply, Cedar Valley, Celestine Stone Tile Inc, CertainTeed, Cicileo Landscapes Inc, Circa Lighting, Classic Party Rentals, Clopay, Consolidated Doors Inc, CoverPro, Earthknower Studio, El & El Wood Products Corp, Emtek, Eldorado Stone, Exquisite Surfaces, Farrow & Ball, Garage Envy, GE Monogram, Global Views, Goleta Building Materials, Grandfolio, Hanson, Hayward Corporation, Heppner Hardwoods Inc, Hinkley Lighting, Hudson Valley, Icynene, Isokern, Jeffrey Court, Kallista, Kohler, Marvin Windows, Matthews Fan Company, Old World Wood Floors, Pacific Register Company, Pacific SOD, Pentair Water Pool & Spa, Pennco Properties, Pindler & Pindler, Pottery Barn, Purling Painting & Finishing Inc, Riley Electric Inc, Rivera Concrete Construction, Robert Abbey Inc, Ruppert Construction Co., S&S Seeds, Saint-Gobain, Santa Barbara Building Products, Schumacher, Showcase Kitchens & Baths, SoliStone Inc, Solid Rock Construction, Sonos, St Thomas Creations, Stealth Acoustics, Steve Handelman Studios, Stone West Tile, Summer for Kids, The Rug Company, Timberlane, Top Knobs, Tri County Pools, Valley Crest Tree Company, Villeroy & Boch, Waterstone, Wish I had That, Wood-Mode Cabinetry.
Keep up with the latest at: www.sbdhg.com.
_________________________________________________________________
RED STAR LINE MUSEUM TO OPEN 2013 IN ANTWERP
In 2013, the Red Star Line Museum will open in the historic warehouses of the Red Star Line shipping company.
The museum tells the story of the shipping company, of its origins, its growth and its demise. But above all, the museum focuses on the story of the millions of passengers of the shipping company.
From 1870 onwards, huge numbers of Europeans started to migrate to North America The new world was the Promised Land for those who were looking for a better life. There was still a large amount of agricultural land available and the industry was begging for labour. Others wished to leave out of fear of political or religious persecution. The abolition of the emigration restrictions and the new, faster steam ships only underscored the American Dream.
Many people's voyage to the United States and Canada started in a port warehouse in Antwerp. Between 1873 and 1934, there was an ebb and flow in Antwerp's Eilandje District of migrants, tourists, adventurers and fortune-seekers from all over Europe - more than two million in all. They boarded the Red Star Line's ocean steamers at the Rijnkaai, for a journey to the new world, to happiness and to a better life. The migrants were mainly Eastern Europeans, and sometimes also Germans and Belgians. Two ships sailed every week during the heyday of the legendary shipping company with the red star on its flag. They carried 1,000 to 1,500 passengers. These were migrants for the most part, but soon the first - wealthy - tourists also started using the shipping company.
The Red Star Line Museum tells the story of the millions of Europeans who dared to leave everything behind and go in search of happiness and a better life. It is a tale of high expectations and deep disappointments, of hope and sleepless nights. The shipping company's old buildings will help make all these emotions and stories tangible and visible.
The Red Star Line Museum refuses to bury itself in history. Migration is a universal and timeless phenomenon. It continues today, especially in our port city. For the people of Antwerp, the museum will be a way of getting to know their own city from a new perspective. For the general public, the museum is an adventurous voyage in the footsteps of people who could have been their ancestors. And in some cases they actually are. But above all, the museum wishes to stimulate reflection. Antwerp, and by extension any place in the world, is what it is because of the people who lived there in the past. And it shall be what it shall become because of the people who live there today.
_________________________________________________________________
12TH ANNUAL MONTREAL FASHION & DESIGN FESTIVAL
PUSHES CREATIVITY TO THE EDGE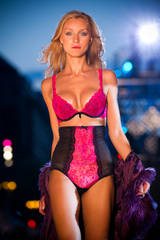 In the city where avant-garde style shines and creativity confidently rules, the Montréal Fashion & Design Festival (MFDF) steps squarely into the spotlight with a sparkling 12th edition set to mesmerize the masses lining McGill College Avenue from August 1st to 4th, 2012.

This year's festival continues to celebrate the phenomenal pool of leading-edge talent that defines Canadian creativity through hundreds of fantastic fashion concepts, amped-up live music performances and a deluge of design interpretations .

Prepare for sensory overload as more than 50 fashion designers and over 65 national and international fashion brands thrill fashion-lovers from all over. The Festival will also allow you to zero-in on local labels and designers well identified by the Mode MTL heart. At special events such as Dressing Room, Nation F & D, Podium, and Bollywood presented nightly at 10, fashion, design, dance and music come together, much to the the delight of audiences.

Step inside the designers' minds and view their world from a whole new angle with the delightfully inspiring INBOX DESIGN.

Stand witness to Montreal's urban-themed sit-in as six unique artists reinterpret five of our city's public benches in the inaugural "On Public Benches" exhibition.

And that's only scratching the shimmering surface of the thrill-a-minute schedule of the largest and most unique event of its kind in North America!

The MFDF is where Canada's most exciting and edgy fashion and design conceptualists come together to break out of the box and bend the trends with four days and nights of scintillating sights, sounds, and sense-tingling spectacles spread out in true Montreal style for an audience of over 550,000 to enjoy. From the most inspiring leading-edge fashions to the most daring designs, the festival delivers more than a mile of style as it stretches from Maisonneuve Boulevard all the way to Place Ville Marie.

We want to produce an event that will rock downtown Montreal and that will be accessible to all fashion and design lovers", states Jean-Francois Daviau, co-founder of the Montréal Fashion & Design Festival. "We also want to promote Montreal as a city of fashion and design to showcase our creative industries, designers and major brands from around the world."

Stop by for Festival happy hours where celebrities will be taking part in the "Highlights of Montreal Fashion Week" event. The walls come down on what is normally an invitation-only event as 23 of our best-known designers show their finest creations from the latest Fashion Week. Presented on an open-air stage for all festivalgoers to enjoy, their fashions will be worn by some of the city's most beloved celebrities: Geneviève Borne, Florence K, Fransisco Randez, Azamit, Anne-Marie Cadieux, Anais Favron, Catherine Pogonat, Virginie Coossa, Mistress Barbara, India Desjardins, Bénédicte Decary, Mara Tremblay, Isabelle Blais, Noémie Yelle, Denis Gagnon, Annie Dufresne, Mélissa Desormeaux Poulin, Dylane Hetu, Jacynthe Renée, Caroline Dhavernas and Ariane-Li Simard Côté, Alexandra Diaz.

Among the designers showing selected items from the last Montreal Fashion Week event we note: Abol, Aime By W, Alexandre Arsenault, Anastasia Lomonova, Annie 50, Betina Lou, Ca va de soi, Cin Tailleurs, Dinh Bà Design, DUY, Ève Gravel, Kollontai, LLUI, LYN, Marie Saint Pierre, Martin Lim, Maude Nibelungen, Mélissa Nepton , Rud styled by Rudsak, Second Yoga Jeans, Samuel Dong, UNTLLD and White Label. Check out the full schedule of shows at http://www.festivalmodedesign.com/complete-program
---