ANOTHER SPECTACULAR ARTOWN EVENT:
AMERICAN BALLET THEATRE PERFORMS JULY 10
Artown is keeping some great company thanks to American Ballet Theatre's (ABT) commitment to add a performance to its summer touring schedule with a stop in Reno, Nev. during the annual July festival, a first for the esteemed dance company. Regarded as one of the finest dance companies in the world, ABT's July 10 performance at the Grand Sierra Resort follows international dates in London and Paris and U.S. metropolitan cities New York City, Washington D.C., Miami, Chicago and Los Angeles. Grand Sierra Resort is also the host hotel for the 85-member dance company.
Artown, one of the nation's largest and most inclusive arts and culture festivals, lives up to its reputation – 31 days; one spectacular event – by bringing to the festival nationally and internationally renowned artistic performers and attractions, in addition to a full calendar of daily events.
"Artown strives to provide the best in visual, performing and humanities art," said Beth Macmillan, executive director of Artown. "Being a part of ABT's summer touring schedule is a major coup for our area and shows that Reno is an attraction for the arts. With Artown serving as a catalyst, we're thrilled to play host to this prestigious, internationally recognized dance company."
During its stop in Reno, American Ballet Theatre will perform the following repertory: the dazzling "Sinatra Suite," as choreographed by Twyla Tharp; "Drink to Me Only With Thine Eyes," by choreographer Mark Morris; and "The Green Table," considered one of the most important dance compositions of the 20th century, choreographed by Kurt Joos.
Currently under the direction of Kevin McKenzie, New York City-based ABT was originally conceived in 1939. Today it's comprised of 85 dancers and is the only major cultural institution to tour the United States annually, appearing before more than 600,000 people each year. ABT has graced the stages in 126 cities across 42 countries including Japan, England, Spain, Argentina, Mexico, Greece, France and Italy.
Now in its 12th year, Artown is a virtual cornucopia of cultural and artistic offerings that takes place every day during the month of July. Artown presents everything from children's workshops and music in the park to performances by eclectic orchestra-of-sorts and pop culture icons such as Pink Martini.
For complete schedule details, tickets or more information on Artown, log on to www.RenoIsArtown.com or call 775-322-1538.
Consisting of more than 350 events each July, Artown was noted by the National Endowment for the Arts as one of the most comprehensive art festivals in the country. With more than 100 partners, the 31-day festival takes place at nearly 100 venues citywide. Artown receives major funding from the City of Reno, is sponsored by Altmann-Ott Homes, Eldorado Hotel Casino, International Game Technology, KOLO News Channel 8, The Montage, Nevada Mining Association, Reno Gazette-Journal, Sierra Pacific Power Company and Washoe County, with additional support from the Nevada Arts Council and the National Endowment for the Arts
---
Balenciaga Paris by Pamela Golbin

Balenciaga Paris traces the designer's collections year by year, from 1937 to 2006, using photos, press cuttings, sketches, and other archival material. The book explores two main periods in depth: 1937-1968, when Cristobal Balenciaga made his name during Paris' golden age of fashion; and 1996-2006, charting the dramatic revival of the House of Balenciaga under Nicolas Ghesquière, one of the most widely admired and celebrated new designers in contemporary fashion. He has co-directed the book's production with Pamela Golbin, curator at the Musée de la Mode et du Textile, Paris, who has compiled the text.
Info : www.thameshudson.co.uk
---
GUADALUPE CULTURAL ARTS CENTER PRESENTS
THE 26TH ANNUAL TEJANO CONJUNTO FESTIVAL
AT ROSEDALE PARK, MAY 10 – 12
Festival returns to roots with Latino legends such as Paulino Bernal, Mingo Saldívar and Flaco Jiménez
Some of the most legendary musicians of the Conjunto genre are on the lineup for the 26th annual Tejano Conjunto Festival, presented by the Guadalupe Cultural Arts Center at Rosedale Park, May 10 – 12. Top performers from throughout South Texas, the birthplace of Conjunto, will take the stage.
This year's festival marks a return to the genre's roots – "straight up accordion and bajo sexto," according to festival director Juan Tejeda. Conjunto legends such as Flaco Jiménez, Paulino Bernal and Oscar Hernandez will perform alongside rising stars such as Los Fantasmas and accordion prodigy Joel Guzman.
The schedule features performers that represent several distinct sub-styles of Conjunto, Tejeda says.
"This year's theme, 'Puro Conjunto Pesado,' or pure heavy Conjunto, emphasizes that the focus is on true Conjunto legends," Tejeda says. "These are some of the best bands in the history of Conjunto music."
The festival begins Thursday, May 10, with a lineup that includes accordion greats Paulino Bernal and Oscar Hernandez. Friday night's theme, "Así se baila en el valle" ("This is how they dance in the Valley") features top Conjunto acts from the Rio Grande Valley, including Ruben Vela y su Conjunto and Los Dos Gilbertos.
Saturday night's lineup features a Texas "who's who" of Texas Conjunto stars, including Eva Ybarra, Mingo Saldívar and Flaco Jiménez. The day begins with a Conjunto student recital from three of San Antonio's community and education-based organizations: the Guadalupe Cultural Arts Center; Conjunto Heritage Taller, a community group that teaches accordion and bajo sexto; and Palo Alto College, home of the nation's only college-level Conjunto music program.
Also on Saturday night at 7:30 p.m., a ceremony will honor new inductees into the Conjunto Music Hall of Fame. This year marks the revival of Hall of Fame inductions at the festival.
Following is the full performance schedule for the festival:

Thursday, May 10, Rosedale Park: Gates open at 5 p.m.
5:00-5:20 pm
Opening ceremonies & TCF Poster Contest Awards
5:35-6:45 pm
Bene Medina y el Conjunto Águila
7:00-8:10 pm
Oscar Hernández & the Tuff Band
8:25-9:35 pm
Paulino Bernal y el Conjunto Bernal
9:50-11:00 pm
Joel Guzmán, featuring Sarah Fox

Friday, May 11, Rosedale Park: Gates open at 5 p.m.

5:00-6:15 pm
Gilberto Pérez y sus Compadres
6:35-7:50 pm
Los Fantasmas del Valle
8:10-9:25 pm
Rubén Vela y su Conjunto
9:45-11:00 pm
Los Dos Gilbertos

Saturday, May 12, Rosedale Park: Gates open at 9 a.m.

11:00-11:50 am
Student Recital: GCAC/Conjunto Heritage Taller/Palo Alto College
12:05-12:55 pm
Los D Boyz
1:10-2:00 pm
Los Conjunto Kings de Flavio Longoria
2:15-3:05 pm
Nick Villarreal y su Conjunto
3:20-4:10 pm
Bernardo y sus Compadres
4:25-5:15 pm
Linda Escobar y su Conjunto
5:30-6:20 pm
Los Texmaniacs de Max Baca
6:35-7:25 pm
Ricky Naranjo y Los Gamblers
7:30-7:50 pm
Conjunto Music Hall of Fame Ceremony
8:00-8:50 pm
Eva Ybarra y su Conjunto
9:05-9:55 pm
Los Pavos Reales/Salvador García y Eddie "Lalo" Torres
10:10-11:00 pm
Mingo Saldívar y sus Tremendos Cuatro Espadas
11:15-12:05 pm
Flaco Jiménez y su Conjunto
This celebration of music and culture has become a major annual event in the Alamo City and draws visitors from across the country, Mexico and overseas. In addition to showcasing this unique music form, the festival also includes a wide variety of family-friendly activities, along with food booths and more.
Festival tickets are $10 on Thursday and Friday and $12 on Saturday. A three-day "Festival Pass" is available for $20 for members of the Guadalupe Cultural Arts Center and $25 for non-members. Tickets and passes can be purchased in advance by credit card and purchased for cash at the gate during the event.
Call 210-271-3151for credit card orders and more festival information.
Or visit www.guadalupeculturalarts.org.
About the Music
Conjunto music began more than 100 years ago when the native Mexican population living in South Texas and northern Mexico adopted the lively button accordion from the German settlers, and combined it with the Spanish guitar, or bajo sexto (a 12-string bass guitar). Conjunto musicians mixed European rhythms such as polkas and waltzes with indigenous Mexican musical forms, creating a unique American musical ensemble and a highly stylized form of music.
About the Guadalupe Cultural Arts Center
The Guadalupe Cultural Arts Center is one of the premier cultural and educational jewels of San Antonio. Since its founding in 1980, it has created and carried out unique programming that reaches tens of thousands of people annually and has earned a national reputation for celebrating and preserving the rich cultural heritage of the Chicano, Latino and Indigenous peoples of the United States – particularly in the Southwest. Visit www.guadalupeculturalarts.org for more information.
---
AFFAIRE IN THE GARDENS ART SHOW RETURNS TO BEVERLY HILLS!
Over 200 fine artists will once again overflow the boundaries of Beverly Gardens Park during the semiannual Affaire in the Gardens Art Show in Beverly Hills. Original works in painting, sculpture, photography, watercolor, drawings, original prints, mixed media, ceramics and jewelry will be on display Saturday, May 19, and Sunday, May 20, from 10 a.m. to 6 p.m. The Art Show is free and open to the public and is located in Beverly Gardens Park which runs parallel to Santa Monica Boulevard between Crescent and Rodeo Drive.
Show attendees will enjoy live music on the main stage featuring jazz, samba, rhythm and blues and classic rock 'n' roll. Fine wine and culinary delights can be savored at the Wine Garden and a variety of dining choices are available in the food court featuring French crepes, barbeque tri-tip, gourmet sausages, Thai, roasted artichokes and many flavors of gelato. Live Ceramics Demonstrations by professional artists will be offered. Families can also have fun in the Avenue of Art where art projects abound, for a small fee, for children to enjoy.
The Affaire in the Gardens Art Show has been held twice each year in May and October since 1973. Parking is available in numerous City parking structures located south of Santa Monica Boulevard.
---
Saving pandas, biking in New Zealand,
and checking out new cars
By Laurence Vittes
Cars, cars, cars. You can't live with them, and you can't live without them!
Unless you live in New Zealand, that is, which seems to harbor a belief in what were once considered good old values, ways and days.
In 2006, New Zealand residents bought 30,000 more new bicycles than new cars. In fact, bicycle sales have increased 40% over the last four years. There are approximately 4 million people in New Zealand. Gasoline in New Zealand costs about US$4.17 per gallon unleaded.
Gas here isn't $4.17 a gallon. Yet.
But a number of savvy industry watchers suggest that we plan our future automotive purchases based on the possibility that gas may reach and even surpass $4 a gallon over the next few years ago. You know: Presidential politics, international geopolitics, the ruthless robber barons of the petroleum fields. Think what you would do if gas were (gulp!) $5 a gallon.
If your daily commute and errand-running, and your vacation plans, cannot practically incorporate a bicycle, there are some remedies. You can maximize the mileage you get from your existing car by using stress-reducing driving techniques. You can buy or lease a new or used car that returns exceptional mileage.
I had the opportunity in April to test drive four outstanding new cars. None is a prestige luxury car, but each provides outstanding practical value coupled with varying degrees of respect for the environment (you know, buy a hybrid, save a panda!). And consider which types of driving you do the most of:
City beat
Town and country
Desert and mountains
Little deuce coupe
The pandas
The open road
Boy and girl racers
Regardless of which of the following categories your driving falls into, one of the four could make an excellent choice. The cars were, in the order in which I drove them, Nissan's versatile Versa, Hyundai's sporty Tiburon, Ford's fabulous new Fusion, and Saturn's Aura Green Line Hybrid sedan.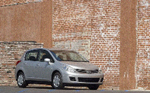 The Versa is inexpensive to purchase and run, exceedingly cheerful to spend time in, and very, very useful for running domestic-type errands or getting around LA on the freeway during rush hour. In fact, I had an inordinate number of reviewing assignments while I had the Versa, ranging from a block away on the West Side to downtown LA, Pasadena and Costa Mesa. With the wrong car, I have often arrived in a gloomy state, thinking the worst of my fellows, hardly in the objective mood to be in when reviewing a play that may have taken a lifetime to write and years to produce. In the Versa, I always arrived full of positive vim and vinegar.
The Versa comes in both hatchback (which I drove) and sedan versions. It is equipped with a peppy 122-horsepower engine and a choice of three transmissions including the increasingly popular CVT automatic for smooth shifting and enhanced fuel efficiency. There's also so much high tech in the Versa that's almost like getting a super car with your Bluetooth phone.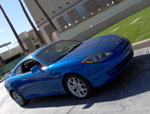 Hyundai's Tiburon (Spanish for "shark"), which looks a bit like a retro baby Ferrari, turned out to be sensational on a weekend trip to the desert. It was wonderfully comfortable and surprisingly spacious inside (caveat: I'm only 5-7), with a rich and powerful Kenwood sound system ready to entertain at a moment's notice.
I was lucky to drive the top of the line SE model which is extremely engaging, especially with its 6-speed manual transmission and smooth V6 engine. It is maneuverable in all conditions, always in control, and though it feels and sounds like a sport car, with sensual noises coming out of the engine compartment, it is fast enough to be exciting in a civilized way, but not too dangerous. The Tiburon comes with Hyundai's standard protection plans: five-year/60,000 miles bumper-to-bumper and 10-year/100,000 miles limited power train. Tiburon buyers also get 24-hour roadside assistance at no charge for five years.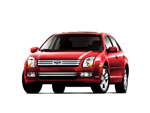 Staying with top of the line models, Ford's SEL V6 Fusion impressed the heck out of me, possessing something like the engine smoothness and power of a Ford Crown Victoria or Mercury Grand Marquis put into a very beautiful mid-sized body that rivals the good looks of the Accord. The six-speed automatic transmission was tremendously responsive in the sense that I felt I was almost shifting with the gas pedal, the interior is gorgeous and very comfortable, the handling is accurate and tight, and the braking is excellent. The reliably smooth power at freeway passing speeds was an additional and very pleasurable safety factor. The driving experience was almost as satisfying as the Tiburon.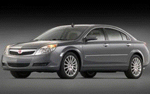 Saturn's Aura with its four-cylinder hybrid engine was as breathtaking in its way as the Fusion. The car rode and handled like a German luxury sedan, the engine was reasonably responsive for a hybrid and returned great mileage.
The Aura goes up against the Prius, by far the most popular hybrid in the United States with 107,000 sold last year. However, beginning in April, Prius buyers were eligible for only a $787 federal tax credit because the federal program gradually reduces, and eventually eliminates, that credit as more and more of a particular model is sold. On the other hand, Aura buyers will get a $1,300 tax break!
Personally, I'm a city beat kind of guy who likes to take long road trips and indulge my boy racer fantasies while saving my share of pandas. Of these four, I would opt either for the Aura (great to drive, great mileage) or the Fusion (even better to drive, but thirstier), followed by the rejuvenating Tiburon (a little impractical for shlepping to Ikea) and the adorable, versatile and eager Versa (whose only shortcoming is in long stretches of open road touring).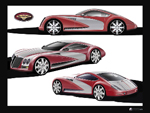 If you're into serious fantasy, consider that the most fun way to save the pandas may turn out to be at the wheel of the new Duesenberg Torpedo® Coupe. Scheduled to be shown to the industry this August, the Torpedo will offer luxury motoring for four passengers, along with a "revolutionary" new power plant, an air-cooled, supercharged, 12 cylinder, double ended, ported, multi-fueled, four-stroke engine, that is promised to provide both 70 MPG and 300 horsepower.
I guess the only question is: What color would you like on your Torpedo?
Next month: An interview with Michael Karesh whose TrueDelta.com website has raised standards for accurately determining actual differences between vehicles in terms of reliability, pricing, and fuel economy. Also, test drives of new cars from Audi, VW, Suzuki, and Hyundai.
---
Lucio Fontana Exhibition: To The Roots Of Space Art
Italian Cultural Institute of Los Angeles
1023 Hilgard Ave., Westwood
Monday through Friday, 10-1, Saturday 10-2 Through May 15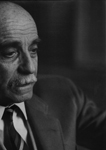 Lucio Fontana (1899–1968) pushed at the boundaries of art through an awareness of new technology such as neon and UV light, new media such as television, and, perhaps most revolutionary, slashing and perforating in both painting and sculpture. There had not been a major exhibition of Fontana's work since the Solomon R. Guggenheim Museum's retrospective in 1977. On the occasion of the recent Fontana show at the Guggenheim in New York, the Italian Cultural Institute of Los Angeles is presenting an exhibition of 24 oils, drawings and mixe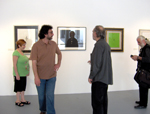 d media on canvas, ceramics and terracotta.


A group review by the Bunker Group, coordinated by Larisa Pilinsky
Sev (artist)
"It was worth it to drive an hour through the thrombotic veins of our city to see this little, but substantial art exhibition featuring some of the maestro's axiomatic works, and experience the silence that always surrounds great art."
Tigran Takhmezian (composer)
"This exhibition is a living communication with one of the greatest artists of the 20th century. For me his art is an exit from the canvas frame. When Lucio Fontana cuts the canvas or paper, it is no longer about ethics or aesthetics. Instead, his art opened up a space for the artists and composers of the new generations to move ahead. We are no longer afraid to travel into the 'black hole' he discovered, and we know now that this hole is not actually as black and scary as we feared. It is just the cry of an artist, his truth, enlightenment and ecstasy. Lucio gave us the opportunity to raise our art to a new spiritual level."
Narine Isajianian (artist)
"Fontana's art has a feeling of visual purity. Working with minimal colors and artistic tools, he still creates virtuoso cosmic effects, as if he were conducting a conversation about mystical matters. For me it is important what an artist wants to say with his art, and Lucio Fontana 's revolutionary language is very close to my artistic search."
Kiki (artist)
"Lucio Fontana was the first to discover this visually simple, but philosophically very deep concept of making holes in his art pieces, as though saying that the real art is behind the picture. To create a painting is not a big deal, but to create it a way that lead you inside your soul is not an easy task. Only genius can do it, and Lucio Fontana did it, with cuts on the canvas that feel like wounds. It means that man cannot be closed and artificial anymore. And beyond this philosophy, the beauty of his art is unexplainable."
The Bunker Art Group has its origins in the underground or dissident artists movement of the former Soviet Union.
---
Me and Val
How a feng shui master has changed my life
By Laurence Vittes
For most of my life, I've had the sense that things were not where they should be. Things like chairs, desks, stereos, computers. In short, all the working tools of my trade as a writer (sometimes a critic for the thrill of it all, sometimes a corporate type for the big bucks, sometimes an advertising copywriter for business I owned, sometimes a flack for record labels and musicians for the little bucks, and often a mix of them all).
The sense that things were not where they should be helped me excuse my stretches when I couldn't force out a sentence to save my life. Various wives and girlfriends chided me for not having the gumption or get up and go to conquer such imaginary, intangible concerns. What difference could it make where my desk faced as long as I was at it, writing, was a common complaint. "Just write!," they said.
Frank Lloyd Wright did it, too
I was buoyed by the discover in the late 90s that Frank Lloyd Wright regularly moved around furniture and works of art when he woke up in the morning. I could not put myself in his league, of course, but the vision of a frail, white-haired old genius starting his day by acknowledging that his well being was not all it could be due to the whims of furniture, paintings, sculpture and geometry comforted me.
The next discovery was feng shui. Pronounced as written, or pronounced as I have sometimes heard, fung shway, this ancient combination of philosophy struck me at once as a powerful weapon against the tendency of energy to find states of inertia where they could rest, at least temporarily, and, if given the chance, permanently. As a writer, I was particularly conscious of a similar tendency towards inertia by words themselves, the building blocks of everything I love to do.
At first, I glommed onto and skimmed through a large list of books devoted to feng shui, and was able to find satisfaction in making changes that seemed to be in accordance with the rules. But I gravitated towards the simpler, shorter books, hoping that it would be just a matter of a few more movements like the ones I had always made: get a desk with rounded corners, face away from the window, put a water fountain opposite the door.
Finding the true way to feng shui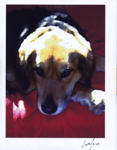 But the satisfactions turned out to be small, and temporary. So I went back to grumbling and knowing there had to be better way. Meanwhile, my life meandered along in its fitful way, triumphs mixed with disappointments and frustrations, and the occasional sadness and even tragedy. I did find the woman of my dreams and married her as quickly as I could to make sure no one else would get her. I lost a job I was supremely qualified for but hated. I stayed at home for almost a year so that my mother-in-law, one of life's true angels, could spend her hospice days with my wife and I. After she died, I felt at loose ends, as did my wife and our sweet dog Sophie. I knew that things were not where they should be.
Then one day, thanks to my wife and providence, I met a certified feng shui master named Val Biktashev who would change my life.
Val's story, posted on his site, is compelling: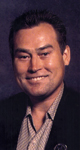 A native of Siberia (on the border with China), Master Val descends from a long line of shaman healers. From a wise Chinese master, he learned bone setting, energy healing, herbology, tai chi, and feng shui. Master Val's early interest and natural instinct gave rise to a career in holistic health care. Upon arriving in the United States, he founded the Beverly Hills-based American Healing Arts Institute. Master Val provides feng shui consultations worldwide for residential and commercial properties. He has made numerous television appearances, including being the feature subject on the acclaimed CBS news-magazine program, Sunday Morning. Also, his work is featured in local, national, and international newspapers and magazines.
Benefitting from Val's mastery has not only been compelling but has made me understand that the effects of feng shui extend far beyond what I ever expected.
Don't miss part two in June, in which Val gives me some bad news, and some tangible hope!