GEORGIA O'KEEFFE MUSEUM EVENTS Exhibition
Moments in Modernism: Paul Strand, Southwest
September 22, 2006 through January 14, 2007

This exhibition of 35 photographs by Paul Strand, a pioneer of photographic modernism, focuses on the years 1930–1932, a productive and previously unexplored period of his career, when Strand lived and photographed in New Mexico. Absorbing the Southwest's complex cultural history, Strand made pictures that merged realism with abstraction and formalism with distinctive American romanticism. Organized by Aperture Foundation, Inc.

Lecture Paul Strand Southwest: The Frame of ReferenceSunday, September 24, 4:30 PM Paul Strand Southwest: The Frame of ReferenceTrudy Wilner Stack, author of numerous books and co-author of Paul Strand: Southwest, will address the pioneering modernist photographer's Southwest images of formal, evocative beauty produced in 1930–1932, a time of significant change in Strand's personal, artistic, and political life. St. Francis Auditorium, Museum of Fine Arts, 107 West Palace Avenue.$5, Members free. Reservations suggested: 505.946.1039. Family Programs Family programs are free and begin at the Museum, 217 Johnson Street. Reservations suggested: 505.946.1007.

Saturday, September 30, 9:30–11:30 AM Black and White and Gray: Value Composition PaintingThe shared aesthetic of Georgia O'Keeffe's early black-on-white charcoal abstractions and Paul Strand's black-and-white photographs will be the focus of this painting exercise. Through the use of black, white, and gray, participants will create their own value composition paintings.
Saturday, October 14, 9:30–11:30 AM Posed and Unposed Portraits From his photographs of everyday people on the streets of New York to more formal images of his wife, Rebecca, in New Mexico, Paul Strand was able to capture the essence of both posed and unposed subjects. Participants will study and create both styles of portrait photographs.

Saturday, November 18, 9:30–11:30 AM Land, Sky, and Architecture Many of the photographs taken by Paul Strand in New Mexico in the early 1930s are eloquent compositions of land, sky, and architecture. Participants will work with the play of softness of the sky, the organic curves of the landscape, and the geometric lines of architecture to create their drawings.

Adult LearningWednesdays, October 4 and 11, 6–9 PM and Saturday, October 7, 9 AM–3 PM Photographing the New Mexican Landscape Led by Michael Webb, photographer and arts educator with David Scheinbaum, photographer and owner of Scheinbaum and Russek Offering the opportunity to study Paul Strand's approach to image making in the Southwest, this photography workshop, comprising two Wednesday evenings and a Saturday outing, allows participants to develop their own stylistic skills using 35mm film or digital imagery during a landscape photo shoot and work review. David Scheinbaum, former director of the Marion Center of Photography at the College of Santa Fe and co-owner of Scheinbaum and Russek Gallery, will lead a discussion of Paul Strand's techniques and his contributions to the medium, and a tour of work on view in the Museum's galleries. Michael Webb, photographer and arts educator, will facilitate discussion of participants' work and lead the Saturday photo shoot. Participants should bring their own cameras. Georgia O'Keeffe Museum Education Annex, 123 Grant Avenue. $200, Members $185. Lunch and transportation provided on Saturday. Pre-registration required by October 1: 505.946.1039.

Saturday, November 4, 7 PM; Sunday, November 5, 3 PM Film Screenings: Paul Strand's Redes, The Wave In 1932, when Paul Strand traveled to Mexico and photographed what he considered to be the impressive spirit of the Mexican people, Composer Carlos Chavez, Director of the Department of Fine Arts not only named him chief of photography and cinematography under Mexico's Secretariat of Education, but requested that he make a film for a projected series on Mexico. Strand filmed and produced Redes, The Wave, a 65-minute work about the impoverished fishermen in a village near Veracruz and their efforts to rise up against insurmountable odds. This film is a reflection of Strand's return to social and political causes. Georgia O'Keeffe Museum Education Annex, 123 Grant Avenue. $5, Members free. Reservations suggested: 505.946.1039.

Thursdays, September–November, 6 PM Dialog 360: Artists in Conversation Dialog 360: Artists in Conversation is a collaboration among the Georgia O'Keeffe Museum, the Center for Contemporary Arts, the College of Santa Fe, the Santa Fe Art Institute, and SITE Santa Fe. Dialog 360 is a community forum for presentations and conversations by artists and art professionals working in a variety of disciplines. October 5: David Stout, internationally known video artist and Moving Image Arts Department Instructor at the College of Santa Fe; and Cory Metcalf, video artist November 2: Diego Romero, contemporary Native ceramist; and Sergio Tapia, contemporary Hispanic artist All events: $5. Members of participating organizations, students, seniors, $3. Admission at the door.Center for Contemporary Arts, 1050 Old Pecos Trail.

Call for Volunteers Mondays, September 18- December 11, 9 AM-Noon 2006 Docent Training The Georgia O'Keeffe Museum extends an invitation to interested people to become members of a special corps of volunteers at the Georgia O'Keeffe Museum. The thirteen-week course focuses on O'Keeffe, American Modernism and touring techniques. For docent training information call 505.946.1007 or e-mail Christina Dallorso Bush christina@okeeffemuseum.org Wednesday, November 8, 8:30 AM-3 PM Girls Rock! ConferenceThis day-long event is designed to offer girls ages 13-18 empowering opportunities that encourage growth, exploration, communication, positive risk-taking, and leadership. More than 200 girls from schools in north central New Mexico participate annually in GIRLS ROCK! A variety of workshops led by qualified instructors are presented. This program is partially funded by the Just Woke Up Fund of the Santa Fe Community Foundation. People interested in contributing to GIRLS ROCK! or volunteering to help make this important day possible, may contact Yvonne at 505.946.1012 or artandleadership@okeeffemuseum.org.

Ongoing Programs Friday, October 6, 5–8 PM Music with O'KeeffeThe Georgia O'Keeffe Museum brings you art, live music, and wine. This event, supported by Beaver Toyota, coincides with the West Palace Arts District First Friday Art Walk. Mondays, October 2, November 6, 8:30–9:30 AM Breakfast with O'KeeffeJoin us for a continental breakfast provided by Santa Fe Baking Co., and a lively, informative gallery talk. Guest lecturers are Laura Heon, Director, SITE Santa Fe in October and Tom Maguire, Executive Director, Santa Fe Convention and Visitors Bureau in November. Sponsored by John Vazquez and David Zeng of UBS. $5, Members free. Information: 505.946.1000.

Santa Fe Design WeekThe second annual Santa Fe Design Week, October 22–29, is an initiative by the City of Santa Fe Economic Development Division, the Arts Commission, and the Convention & Visitors Bureau Programming for Design. Visit www.santafedesignweek.com for complete schedule.

Tuesday, October 24, 5:30 PM The Boys & Girls Clubs Southside Green Building: Collaborative DesignIn a collaborative effort, the Emerging Green Builders, UNM School of Architecture students, members, staff, board members, and alumni of the Santa Fe Boys and Girls Club professional architects, and builders gathered for a design charette that resulted in innovative and exciting green design concepts. Come to an unveiling of the drawings and a discussion of the work, followed by a reception. Georgia O'Keeffe Museum Education Annex, 123 Grant Avenue.Free. Information: 505.946.1039. Georgia O'Keeffe Museum 217 Johnson Street, Santa Fe, New Mexico 87501Museum Hours Daily 10 AM – 5 PM; Free Friday Evenings: 5– 8 PMClosed Wednesdays (November–April). The Museum will be open for holiday Wednesdays including November 22, December 20 and December 27. Info: 505-946-1000, www.okeeffemuseum.org. Images are available by e-mail. Please e-mail your request to ldreger@okeeffemuseum.org.
---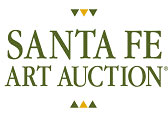 SHOWING HIS METAL
When Edward J. Fraughton's masterful bronze 'Where Trails End' comes under the hammer at the Santa Fe Art Auction in November, those in attendance will have the opportunity to buy a piece of history.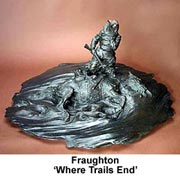 The sculpture depicting a mournful cowboy standing over his horse, who has diedof exhaustion while they were making their way through a blizzard, was a prominent feature at the White House during Ronald Reagan's presidency. First admired by Reagan when he was Governor of California, friends lent him their cast of the bronze when he became President. It was initially placed in his private study on a chest of drawers next to his desk, where it can be seen in numerous photographs, and later moved to a more prominent position in the Billiard Room so more people could enjoy it.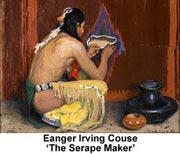 Not every one of the lots in this year's SFAA will have quite such an illustrious story attached, but all are considered among the finest examples of classic Western Art. Since its formation in 1994, the SFAA has established itself as the Southwest's largest auction of classic Western art. Focusing primarily on the works of the artists of the renowned Santa Fe Art Colony and the Taos Society of Artists, as well as the historically significant painters and sculptors of the American West. Last year's auction, which included works by Frederic Remington, Charles M. Russell, Joseph Henry Sharp, Henry Farny, E. Martin Hennings and Thomas Moran, raised a record breaking $3.7m.
Fraughton is another who can be included in that exalted company. Born in Park City, Utah in 1939, his artistic talent was recognized at an early age. As a ten year-old he won a national contest before going on to gain a BFA at the University of Utah. By Fraughton's own admission'Where Trails End' marked a significant point in his career. He considers it his most important early sculpture and the piece
that first gained him recognition from collectors. Since then he has gone on to produce works of varying scales from medallions to monuments.In addition he is exhibited in museums and has received numerous awards, including the first Gold Medal for Sculpture from the National Academy of Western Art in 1973 for 'Where Trails End.' The piece inspired its most famous custodian to say, "It has been wonderful having this magnificent example of American art in our home." The Santa Fe Art Auction will enable one fortunate person to experience the same pleasure Reagan had from 'Where Trails End,' while others will hope to find equal enjoyment amongst the other rich and varied works of art available.

Santa Fe Art Auction 2006
Saturday, November 4, 2006
Eldorado Hotel, Santa Fe, New Mexico
For further information, contact the SFAA at:
P.O Box 2437
Santa Fe, NM 87504-2437

Tel: (505) 954 5858
Fax: (505) 954 5754

Email: curator@santafeartauction.com
http://www.santafeartauction.com

High Res pictures available online at http://www.ballantinesbiz.com/newmexico/SFAA