ELIZABETH STEWART . . . MASTER OF ART
Santa Barbara Art Appraiser Raises the Bar on Personal Treasures       
By Bonnie Carroll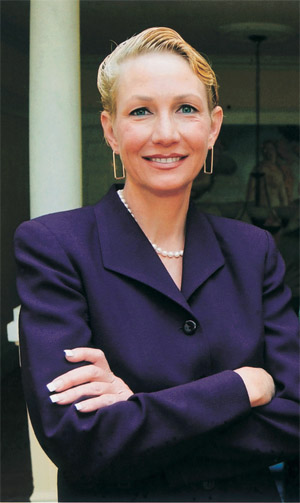 We all know what doctor to call when we don't feel well, and we all know how to discern the affordable cost of a new pair of glasses, but how do we research someone to assist us in providing the true value of art items, collectables and family heirlooms in our home that we purchased or inherited from our family over the years.
A few months ago I had the pleasure to become acquainted with Elizabeth Stewart, M.A., and AAA certified appraiser. Elizabeth moved to Santa Barbara several years ago in search of a beautiful and inspiring environment to work and create. She immediately began writing articles for and The Daily Sound newspaper and hosted her own show "Arts & Antiques" on KZSB 1290 Radio, where she has interviewed many of the brightest stars in the art world,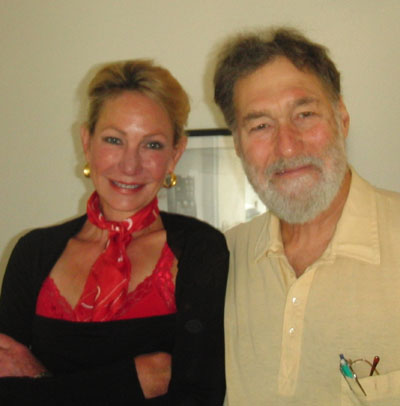 including major artists and art curators from California. A recent interview was with Bruce Murdock, President of the Santa Barbara Theatre Organ Society to discuss the historic 1920s "Wonder Morton" organ in the Arlington Theatre. Her love and knowledge of her subject is impressive, contagious, and totally appreciated by the art devotees who have become her radio listening audience.
.
Elizabeth's extensive education includes Doctorial candidate, Pacifica Graduate Institute, 2009-present: MA Public History and Historic Preservation, University of San Diego 2001; Professional Assessment Preaxis Exam "Art History & Critical Aesthetics" 2000; California Teaching Credential; BA Magna cum Laude, English Literature, Tufts University 1978; Master's Study, University of Minnesota and Assistant Curator at Manchester Museum of Art, Manchester, England in the 1980s. She invested years of her life traveling in Mexico and Europe studying and is a certified member of the American Association of Appraisers, New York City; International Society of Appraisers; CAPP, Certified in both Fine Art, Antiques, Residential Contents and is a specialist in living American artists. She has countless awards and honors, and has done personal appearances and media interviews nationally and internationally.
Services she provides include appraisals of antiques and home estates for insurance, appraisals of fine art, estate planning appraisals, Inheritance appraisals, market evaluation appraisals, moving and downsizing appraisals.
Like many people I have an eclectic collection of art and antiques in my home that I inherited or found over the years during my travels, but I really did not know their actual value. One of the many services Elizabeth offers is to peruse your home with you, ask questions, and take photos to do a complete appraisal of your treasures. In a few weeks following her visit to my little home I received an amazing and totally impressive appraisal packet of these items, complete with photos and printed back up on the artists, previous art and auction sales, artist origin information, along with estimated values.
For those of us who have children this is such a needed asset. I now have an itemized listing of my treasures to be given to my children upon my death that provides them with the actual descriptions and values for future generations, or accurate information on disposing of them through respected art dealers known to handle transactions on the specific artists that are included in the portfolio. Following the death of my own mother I was so emotionally overwhelmed with grief that I was unable to begin looking over her belongings in this way. Providing this information can make the loss of a loved one less stressful, as well as offer an accurate record for details in a will. From a very practical standpoint this kind of appraisal is also an ideal and organized way to provide your insurance agent with detailed information on specific items in your collection you wish insured.
Elizabeth Appraisals
Established 1986
P.O. Box 92115, Santa Barbara, CA 93190, 805-895-5005
email: elizabethappraisals@gmail.com
---
Inaugural Ventura Folk Festival
Features Legendary Musicians
Saturday & Sunday, August 20-21, 2011
 The first ever Ventura Folk Festival will feature such greats as Jim Messina, JD Souther, Ramblin' Jack Elliott, John Doe and special guests at the scenic Mission Park in Downtown Ventura on August 20 and 21.
Over twenty bands are scheduled to perform over the two day festival including The White Buffalo, Dead Rock West, Peter Case, Garrison Starr, Jamie Drake, Justine Bennett, B Willing James, Jamie Drake, Matt Duke, Jay Nash, Tony Lucca, Delaney Gibson, Lee Koch, Ted Lennon, The Rincon Ramblers, Frankie Fuchs band w/Robin Wiley, Tall Tales & the Silver Lining w/Guests, The Kinfolk, and 50 Sticks of Dynamite.
Featuring Jim Messina (Buffalo Springfield, Poco, Loggins & Messina), JD Souther (Souther Hillman Furray Band, hit songwriter), Ramblin' Jack Elliot and John Doe (X, The Knitters), the Festival draws from the musical and social activism influences of singer/songwriters Woody Guthrie, Bob Dylan, Joan Baez and others.
The outdoor event will be held in beautiful Mission Park, across the street from the historic San Buenaventura Mission, the last built by Father Junipero Serra in 1782.  The quintessential coastal town of Ventura lies between Malibu and Santa Barbara on Highway 101, roughly 60 miles north of Los Angeles.
The festival is teaming up with two local non-profits: FOOD Share, which fights hunger and provides nutritious food to those in need in Ventura County and Harmony Project, which promotes positive youth development through music lessons and ensemble participation in underserved areas of Ventura and Los Angeles.
 Tickets are $25 for one day or $40 for both.  Kids under 12 get in free with paid adult.  A V.I.P option includes a beer and wine tasting lunch for $50.  Tickets are available through Eventbrite at www.venturafolkfestival.eventbrite.com  For more information and frequent updates, please "Like" the festival on Facebook at www.facebook.com/Venturafolkfestival
---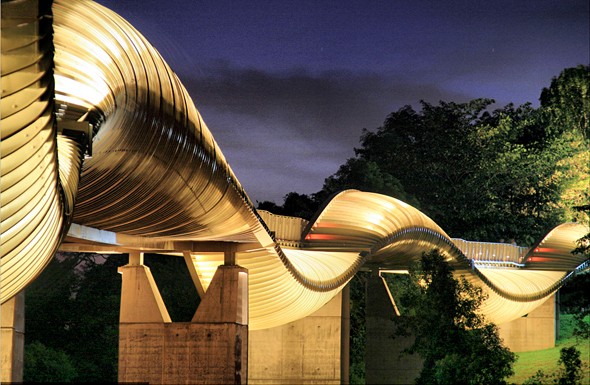 Henderson Waves Bridge, Singapore
Anyone can see why Singapore is nicknamed the Garden City. Crossing from one hilltop park to another, 118 feet above busy Henderson Road, its highest pedestrian bridge overlooks treetops, flowering bushes, the harbor, and the skyline. Cooler still is this bridge's resemblance to a Slinky toy. A sculptural wave of steel ribs follows the walkway, periodically curling up and over the edge to create little coves of sheltered seating.

Flora and Fauna: Singapore's Southern Ridges area is also home to the Canopy Bridge, where visitors will find wild orchids, pitcher plants, and tons of birds.
---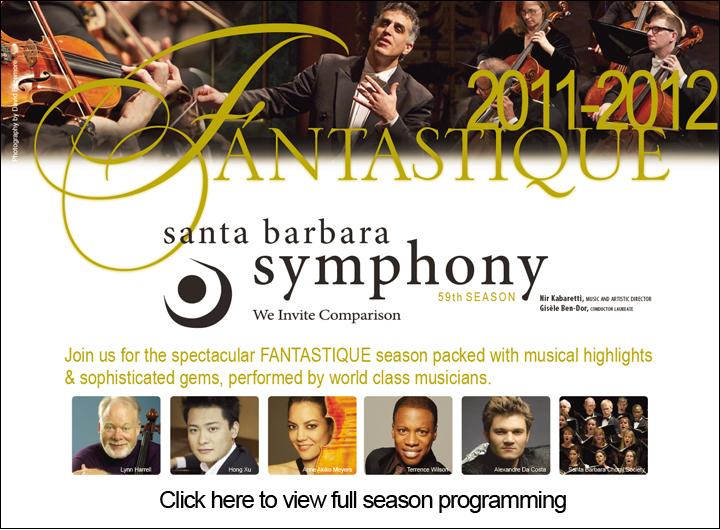 Visit: www.thesymphony.org for season schedule.
---
Metropolitan Museum Announces 5.68 Million Attendance, Highest in 40 Years
The Metropolitan Museum of Art announced today that 5.68 million people visited the Met during the fiscal year that ended on June 30. The number, which includes attendance at The Cloisters museum and gardens, is the highest recorded in 40 years. The total was more than 400,000 greater than in Fiscal Year 2010.
"We are delighted by this extraordinary response to our collections and programs, especially in the context of ongoing fiscal challenges faced by both the Museum and the public," said  Thomas P. Campbell, Director and CEO. "The Met is truly a museum of the world, and that scope is reflected in our collections and the remarkable range of visitors who come here each year. There is something for everyone within our galleries, and I have no doubt that we will continue to give audiences reasons to keep returning again and again."

Visitors in Fiscal Year 2011 were particularly drawn to a number of special exhibitions, including the popular Alexander McQueen: Savage Beauty, which has welcomed more than 500,000 visitors since it opened on May 4. (The Museum has extended the exhibition by an extra week through August 7, and it will remain open to the public for extended hours until 9 p.m. beginning August 4. The exhibition will also open an hour early for Museum Members, beginning on July 22, every day except Mondays. Additionally, the Met Mondays with McQueen ticket program continues to offer additional hours on Mondays for special viewings when the Museum is otherwise closed to the public.)
Last summer's highly attended exhibitions Picasso in The Metropolitan Museum of Art (April 27-August 15, 2010), which drew 703,256 visitors, and Doug + Mike Starn on the Roof: Big Bambú (April 27-October 31, 2010), which drew 631,064 visitors, also contributed to last year's record attendance.
The 5.68 million attendance figure includes more than 214,000 New York City school visitors who were welcomed by the Museum, nearly 20,000 more than the previous year. Membership has now reached a record-breaking 139,800.
Additionally, the Museum's website (www.metmuseum.org) had 47 million visits in Fiscal Year 2011, a 17.5 % increase over last year. The Museum's Facebook page now has more than 500,000 fans, and its Twitter feed has more than 300,000 followers.
* * *
Alexander McQueen: Savage Beauty is made possible by Alexander McQueen™.
Additional support is provided in partnership with American Express and
Condé Nast. Picasso in The Metropolitan Museum of Art was made possible by the
Iris & B. Gerald Cantor Foundation. Doug + Mike Starn on the Roof: Big Bambú was made possible by Bloomberg. Additional support was provided by Cynthia Hazen Polsky and Leon B. Polsky. The exhibition was also made possible in part by the Jane and Robert Carroll Fund.
---
Jazz at the Lobero series tickets on sale now.
Lobero fans hear it first - this is your chance to get exclusive subscriber benefits and the best seats in the house before the general public. Don't delay, great seats are going fast!

Call 805-963-0761 or visit Lobero.com/Jazz for more info.

---
LOS ANGELES COUNTY MUSEUM OF ART
Gifts of the Sultan: The Arts of Giving at the Islamic Courts
---
THE BEAU-RIVAGE PALACE OFFERS EXCLUSIVE TICKETS TO THE 2011 SAINT-PREX CLASSICS
Lausanne's Beau-Rivage Palace is offering guests exclusive access to this year's Saint-Prex Classics, an annual musical event showcasing top opera, chamber music and ballet performers from around the world held in the charming nearby town of Saint-Prex.

This year's event will take place from August 16 through 28, and the Beau-Rivage Palace is offering two special packages:


Tuesday, August 16th  
One night's accommodation
Full buffet breakfast
Round-trip transfers to and from event
Two tickets to concert by Philippe Jaroussky, held in the town's Romanesque church 
Private dinner for two with the event's organizer, Hazeline van Swaay Hoog, and various artists from the event
Rate: CHF 1125 for two (approximately US$1,435)
Saint-Prex Classics, 2010  
Thursday, August 25th and Friday, August 26th  
One night's accommodation
Full buffet breakfast
Round-trip transfers to and from event
Two tickets to see Nigel Kennedy (violinist), Aurélie Dupont (dancer in the Paris Opera Ballet) and Jérémie Bélingard (dancer in the Paris Opera Ballet) at the Beausobre Theatre
Invitation to an after-party with the event's organizer, Hazeline van Swaay Hoog, and various artists from the event
Rate: CHF 1045 for two (approximately US$1,333)
For more information, please visit www.brp.ch.

About the Beau-Rivage Palace
The Beau-Rivage Palace is situated on 10 acres of private gardens, adjacent to Lake Geneva and with spectacular views of the Swiss Alps. The hotel's award-winning 15,000-square-foot Cinq Mondes Spa contains a fitness room, indoor and outdoor infinity pools, a hot tub, and nine treatment rooms. Anne-Sophie Pic at the Beau-Rivage Palace, the hotel's recently opened two-star Michelin restaurant, features France's only female chef with three Michelin stars.  Other restaurants include the Beau-Rivage Café and Le Miyako Lausanne, and amenities include two bars and terraces, two tennis courts and a special program for children.
---