ART Santa Fe to be an Annual Event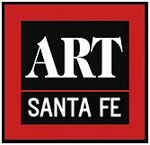 By popular demand, ART Santa Fe is slated to be an annual event, announced the organization this month. Held in July this year, the fair-a biennial occurrence since its inception in 1995-proved beyond uncertainty that Santa Fe, New Mexico is a thriving international contemporary art destination. ART Santa Fe 2007's turnout of some 5,000 people over four days left all involved, from gallerists to artists to collectors, feeling that the fair was an unmitigated success. Nancy Hoffman declared that her New York Gallery "had a positive experience at the Santa Fe Fair, which has its own spirit and composition. We found an eager and interested audience with a great response to the range o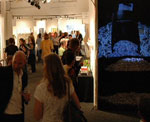 f work in the stand, as well as to [our Project Space] mixed media video installation."
Galleries come from across the nation and Europe to participate in ART Santa Fe and it has been consistently reported to be a positive experience for them and for their collectors. So much so, in fact, that the number of requests for an annual fair simply became impossible to refuse. Julie Baker, whose gallery in Nevada City, California, carries the work of emerging artists, stated that "ART Santa Fe 2007 was great for us. We met top-quality collectors, sold almost all of the work we brought and received great attention for the artist we presented. There is a strong and growing contemporary art collector base in Santa Fe with a sophisticated enthusiasm for the arts." Cleveland gallery owner Steve Hartman of Contessa Galleries was "extremely impressed with the wide geographical reach of the show." Asked if Contessa will be back, Hartman replied, "Absolutely. The director and staff did a tremendous job [they were] very professional, with phenomenal speakers, parties, and visitors lounge for us. The local people were also very welcoming, thanking us profusely for coming." As for Santa Fe gallerists, Sidney and Michelle Monroe of Monroe Gallery of Photography asserted that they "had an excellent experience at ART Santa Fe, Attendance was good. Our sales were very strong and surpassed our expectations."
The next ART Santa Fe, slated for July 10-13, 2008, ought to prove prominent among art fairs. Organizers are working to secure a noteworthy program for the keynote lecture evening.
---
AL HELD'S "ART GLASS" WINDOWS UNVEILED AT NEW
UNITED STATES COURTHOUSE IN ORLANDO, FLORIDA
Peter Aaron/Esto ©
A series of six, monumental art glass windows, designed by the celebrated American abstract painter Al Held, were unveiled as part of the dedication of the new George C. Young U.S. Courthouse and Federal Building Annex in Orlando in September. The windows, commissioned by the General Services Administration, Art in Architecture Program, and located in the atrium-like lobby of the new courthouse, feature the complex illusionistic geometry that Held (1930-2005) developed in his large-scale paintings. The courthouse, designed by Leers Weinzapfel Associates Architects, Boston, is located at Central Boulevard and Division Street in downtown Orlando.
Held's paintings encompass aspects of Western art from the Renaissance to his own original pictorial Modernism. He combined the complexity of the Baroque with a personal vision that conceived of imagined dimensions on a vast scale. By translating his painting into colored glass, Held realized, in a parallel medium, the luminosity of color and intricacy of form that distinguished the last period of his work.
The windows, titled Gravity's Springs I-VI, are startling in the realization of Held's painted imagery. The largest window, Gravity's Strings I (50x20 feet), located on the east wall, is a tour de force of solid geometrical shapes that bend and hover in space. The cylinders, rings, and cubes are composed of glowing blocks and detailed grids. The forms float in a space of multiple patterns and tilting perspectival planes. At the window's top are blue serpentine shapes that writhe against a crazy quilt of rays, lattices, and tri-colored checkerboards. The blue shapes give way to purple and green cylinders and multi-colored rings that reveal new spatial vistas.
The five smaller windows (11x4 feet), which run in regular intervals along the south wall, explore new motifs: massive girders, spirals, and expanses of rippling waves. Energizing all of the windows is the vibrant color, shifting from saturated hues to delicate tonalities, that is central to Held's work. Constant throughout is the artist's exuberant invention, building fantastic imaginative space from the rational architecture of two-dimensional illusion.
For the window project, Held created a suite of large, highly-detailed preparatory watercolors. The watercolors were photographed and the their individual shapes were mapped on a computer, serving as the matrix for the cutting of over 100,000 individual pieces of colored glass. Since Held died in 2005, the colors were chosen by the Al Held Foundation, which oversaw the entire project through to its completion. The windows' inlayed laminated glass panels were fabricated by Architectural Glass Art of Louisville, KY, using the new water-jet process for cutting glass. The cutting and assembly of the pieces, which were bonded to shatter-proof glass and joined with a special epoxy that leaves a grout line as thin as a pencil line, was done by Meixia, in Xiamen, China. The glass was specially blown for the project in over 200 colors, by Lamberts, in Waldsassen, Germany.
Held's career began in Paris in the 1950s on the G.I. Bill, where he absorbed the lessons of Abstract Expressionism. In San Francisco and then New York, his work transformed into a tough, painterly geometry. His powerful hard-edge works of the 1960s were followed by the black and white linear forms of the 1970s. Held's rejection of reductivism in those paintings opened up the possibilities of the rich, final phase of his work.
His public projects include those for the Jacksonville, Florida Public Library, the Ronald Reagan Washington National Airport in Arlington, Virginia, the Nelson A. Rockefeller Empire State Plaza, Albany New York, the New York Metropolitan Transit Authority, New York, New York, and the Social Security Administration's Mid-Atlantic Program Center, Philadelphia, Pennsylvania.
Held's paintings are in the collection of major museums in the United States and abroad. The artist's work is represented by Paul Kasmin Gallery, New York, John Berggruen Gallery, San Francisco and Waddington Galleries, London.
---
Cars for Fun & Survival
By Laurence Vittes
Until the wildfires struck, FUN was the theme for October.
The two test drives I took were one in which you sit up high, and another in which you slink down low.
I loved them both.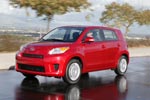 Scion's newest and coolest
During my week with Scion's new xD four-door sedan, no matter how down in the dumps I may have been, it greeted me with a smile. It said, "Come on in. Sit down. Be comfortable. Let's go do something fun!"
You've probably seen this car in a variety of guises, but there are certain characteristic touches which mark it as more than just a chic delivery van, and less than a conventional (i.e., boring) car: Simple surfaces and sharp lines that flow from front to rear. A wide stance, thick muscular body, accentuated wheel flares and large tires. Plus horizontal headlamps, an integrated rectangular lower and upper grille, and turn signals built into the side mirrors.
Plus, it's so much fun to drive. With the seating position, you can see everything, and so you feel really safe and in control. It handles like a dream, so you can whip in and out of tight parking places as effortlessly as you can get out of tight squeezes on the boulevard.
The simple dash is definitely a minimalist's fashion statement, featuring an instrument panel located directly in front of the driver while the center cluster flows down the center. The xD's unique, radar-like speedometer and tachometer have been consolidated into one amazing circular gauge centered on the instrument panel. Indicator lamps, LCD fuel gauge and odometer flank the centralized gauge.
Bucket seats, good storage and cargo space, a great sound system (including an iPod connection) plus Scion's traditional reliability complete the package.
The xD comes in six colors, Super White, Silver Streak Mica, Black Sand Pearl, Magnetic Gray Metallic, Barcelona Red Metallic and Nautical Blue Metallic. And there's loads of customizing you can do to the xD, both exterior and interior. It's why kids love them. And we do, too!
All Scion models come with complimentary factory-recommended maintenance services at the first 5,000 mile and 10,000 mile intervals, to be performed by an authorized Scion or Toyota dealership.
The highlight of my Scion experience was tooling down to the opening of an amazing play called "En un Sol Amarillo" at the Kirk Douglas Theatre in Culver City where a people's theater company from Bolivia put on a colorful, sad and tragic show about the 6.8 earthquake that shattered homes and lives there in 1998. And while comparisons may have been implicitly drawn to our government's behavior in the wake of Hurricane Katrina, on the whole it was more about people than politics--a welcome change!
And the first nighters (well, first afternooners, really), dressed in an amazing blaze of color and fabric, beautiful women and impossibly handsome men, were entertained after the performance by Bolivian musicians and fed with delicious Bolivian delicacies.
And the xD was just ideal for the outing!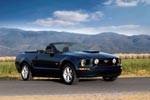 Falling in love again
My week with a gorgeous Mustang convertible, in shades of stealth gray and black, was an entirely different experience.
Once on the open road, I felt that a quick trip up the coast to Santa Barbara to hear the Santa Barbara Symphony would just hit the spot. Alas, their first concert wasn't until November, so we turned east and headed for Yucaipa, hoping to drop in on friends. They weren't home, so we just took of tour of the apple orchards in the nearby Lucerne Valley. With the top down all the way, on an exquisite day, it was like being legally intoxicated.
Sitting low and sexy in the Mustang, we felt like we were kids again, our romance in its first blushing glances, recreating our first brush with love. When I had to return the Mustang, my wife pouted for a day or two. And practically speaking, with prices starting at around $20,000, the Mustang must be one of the best values on the market.
The New Car Test Drive website (nctd.com) summed it up perfectly: "It may be retro inspired, but the Mustang is a thoroughly modern car. Redesigned from a clean sheet of paper for 2005, today's Mustang is faster and more agile than ever. It delivers the bold styling, rear-drive performance and affordability that have been Mustang hallmarks for decades, but it's smoother and quieter and better built than older models...The Ford Mustang is an American success story. It holds true to an idea that still appeals to people of all ages, decades after the original was launched. Forty-three years after it created an automotive niche all its own, Mustang is both true to its roots and better than ever."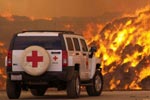 Or maybe you'd just like a Hummer
As AutoBlog.com pointed out recently, GM has donated 19 HUMMER vehicles to Red Cross chapters since 2004, and they're set to continue with that effort, ultimately delivering 72 vehicles to the organization. While the H2 initially sold on the strength of its style, there is real off-road prowess under there, as well. Serious off-roaders and disaster-response units have seen that while Hummers make big, lumbering replacements for station wagons, they're great when you've got to fight a wild fire. As one owner commented to GM, "Nobody asked me what kind of fuel economy I was getting" while he delivered water to Hurricane Katrina victims.
Driving its point home with a dramatic photo of a Hummer painted with the familiar American Red Cross logo, confronting a house in flames, AutoBlog elaborates: "Here's a test of your unyielding devotion to all that is cloaked in green. First, let's set the scene. It's the wee hours of the morning, the wind-driven rain is still howling against your house, and you're huddled on the second floor, waiting for morning. You've spent most of the night trying to stanch the flow of water into the basement, and those hours of backbreaking labor with sandbags and utility pumps have left you dog tired, devoid of fight. The power is out, and all you've got is a safety candle and an AM radio, and you're just waiting for the incoming tide to lap off the joists beneath you. With all due respect to Gordon Lightfoot and the crew of the Edmund Fitzgerald; the gales of November came early.
"Among the general chaos outside, you hear the steady rhythm of an engine. Small engines always make music, but this time the tune is particularly joyous. At once, you're on your feet, peering out the window. The thrum of 8 cylinders working hard gets ever louder as the vehicle draws near. Could it be rescuers? The National Guard? Looters? All of a sudden, you're blinded by a wash of light as a bank of KC Highlighters gets trained upon your house. You recoil, your eyes taking a moment to adjust to all the candlepower. Who is it?
"It's your salvation, and he's driving a HUMMER H2. While this storm is likely a manifestation of impending global climate doom and the H2 is about as morally repugnant to you as making kitten pie, for the moment, you couldn't be happier to see one. HUMMER itself is the first to admit that their brand isn't for everyone. Brand manager Megan Stooke aims to recast the machoest of GM trucks as four-wheeled saviors the world over. For sure, the demonization of the blocky SUVs has been rather extreme, especially when you consider that HUMMERs are little different from the rest of GM's trucks. Stooke wants to show how they can be a force for good, too."
I'm not saying that Hummers and Land Rovers are what we should have in our garages next to our Priuses and Scion xDs. I would advocate for much larger solutions to environmental challenges. But until we as a society discover how to address those issues as a society, rather than as a collection of demographic statistics, we're probably going to need all the Hummers we can get.