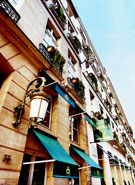 HOTEL CASTILLE PARIS
A Tasteful Blending of Classical and Moderne
By Bonnie Carroll
Following a recent renovation and the addition art galleries, the Hotel Castille on rue Cambon, nestled in the exclusive 1st arrondissement amidst the haute couture houses and boutiques of the Paris fashion district, the 86 room hotel is currently considered the place to fully experience the true spirit of artistic Paris.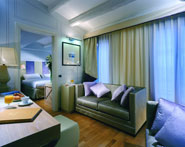 The Castille, a XVIII century hotel, is on the street where world famous couturier Chanel was housed in 1910. The venue also offers twenty-one duplex and suites that overlook a charming patio, with exquisite Venetian inspired designed rooms, as well as contemporary chic. The free use of white Italian marble and Venetian mirrors add to the rich and appealing atmosphere.
.L'Assagio bar is a popular meeting place for locals and tourists to unwind after a busy day, and the Florentine-style patio, where a wall-size Trompe L'oeil mural hangs near the impressive fountain is the site of Il Cortile, a hubbub of gastronimique delights,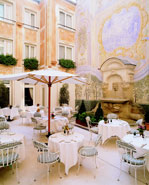 which has been awarded a one Michelin star rating. The menu features a spectacular combination of fine Italian tradition with the best recipes of Naples, Venice, Parma and Genoa.
A short walk from the hotel leads guests to the Louvre Museum, the Opera House and the majestic Place Vendome. Every amenity expected at a five star hotel is available here, and there is a fitness center with a sauna to get over travel stress. For reservations or information visit www.hotelcastille.com.
Hotel Castille Paris
33-37 rue Cambon
75001 Paris, France
+33 1 43 46 29 70
---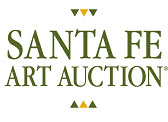 QUICK ON THE DRAW
On November 4, 2006, Santa Fe's Eldorado Hotel hosts the thirteenth annual Santa Fe Art Auction. Since 1994, the SFAA has established itself as the Southwest's largest auction of classic Western art. Focusing primarily on the works of the artists of the renowned Santa Fe Art Colony and the Taos Society of Artists, as well as the historically significant painters and sculptors of the American West, the list of artists whose works have come under the gavel of the SFAA is a who's who of western art. Frederic Remington, Charles M. Russell, Joseph Henry Sharp, Henry Farny, E. Martin Hennings, Victor Higgins and Thomas Moran were all featured in last year's auction that drew more than 400 people to bid on the 285 lots. 2005 boasted a record-breaking total of $3.7m with the highest price of $370,000 being paid for Charles Marion Russell's watercolor 'Blackfeet And Shoshone.'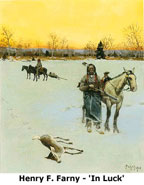 Among the significant pieces in this year's auction is Birger Sandzen's 'Autumn Symphony.' Painted in 1930, it was bought by Kansas Senator Henry Allen who hung it in the magnificent home he had commissioned from Frank Lloyd Wright. When Allen sold the house to Wichita oilman Ed Adair in 1947, the painting remained, hanging in the reception hall above the fireplace. 'Autumn Symphony' was painted in Estes Park, Colorado where the Swedish-born Sandzen was inspired to create some of his best work including this masterpiece. With an estimate of $250,000 - $350,000, 'Autumn Symphony' is the largest ever Sandzen work to be sold in auction and confirms his reputation as one of the most sought after Western artists.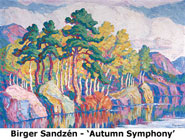 Frank Tenney Johnson's 'Coming Up On The Trail' is another of the highlights being offered in this year's sale, along with works by Gustave Baumann, Edward Borein, Eanger Irving Couse, Gerard Curtis Delano, Maynard Dixon, Henry Farny, Leon Gaspard, Frederic Remington, Charles M. Russell, Thomas Moran and John Henry Sharp. In addition to pieces by such established names, the SFAA is also selling works of modern and contemporary art, confirming the 2006 Santa Fe Art Auction as the place to be for collectors and fans of Western art.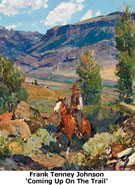 Santa Fe Art Auction 2006
Saturday, November 4, 2006
Eldorado Hotel, Santa Fe, New Mexico
For further information, contact the SFAA at:
P.O Box 2437
Santa Fe, NM 87504-2437
Tel: (505) 954 5858
Fax: (505) 954 5754
Email: curator@santafeartauction.com
http://www.santafeartauction.com
---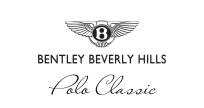 BENTLEY BEVERLY HILLS POLO CLASSIC INAUGURAL TOURNAMENT
PART OF THE PRESTIGIOUS BOMBARDIER PACIFIC COAST
OPENED ON SUNDAY, AUGUST 13
Test-Drives also happened at SBPRC
Luxury, speed, class, distinction, style were all adjectives used to describe polo as well as the lavishly engineered and designed Bentley motorcar, a benchmark in classic automobiles since the 1920s. The Santa Barbara Polo & Racquet Club (SBPRC) proudly hosted the highly esteemed Bombardier Pacific Coast Open (PCO) in August. Bentley Beverly Hills was one of the PCO tournament sponsors, and on Sunday, August 13, the showed three magnificent vehicles from the Bentley line at the club. All Bentley owners were invited to drive their cars to the Bentley Beverly Hills Polo Classic. SBPRC is located at 3300 Via Real in Carpinteria, CA 93013. www.sbpolo.com
Tim O'Hara, General Manager Bentley Beverly Hills said, "We invited all Bentley owners in Santa Barbara and Southern California to be our guests at the Bentley Beverly Hills Polo Classic. We had a parade of Bentleys around the polo field to start the 3PM match and a special Bentley VIP seating area."
Throughout its history, the Bentley winged "B" has graced some of the world's most desirable sporting motorcars. Elegance of line, quality of craftsmanship and ample reserve of power are evidence of a shared lineage, from the Le Mans racers of the 1920s to today's advanced high performance machines. At Bentley Beverly Hills much care goes into each client's relationship with their motorcar; as it is a car of stature, built to the impeccable standards of each client. Whether you choose to create your own design through a special commission, select from feature packages, or combine both approaches, these Bentley options enhance your pleasure of grand touring.
The Continental Flying Spur four-door sedan, inspired by the Continental GT two-door coupe, shares the same 6-litre, twin-turbocharged, 12-cylinder engine. Performance controlled by a 6-speed transmission and all-wheel drive, delivers a formidable 552bhp at 6,100rpm and 479lb ft of torque at just 1,600rpm. Acceleration from 0 - 60 mph is under 5 seconds and reaches a top speed of over 190mph in the sedan and up to 198mph for the coupe. The interior features a classic mix of the finest grade leather hides and perfect wood veneers to create a contemporary but timeless appearance blended with the most advanced technologies.
ABOUT THE SBPRC:
Established in 1911, the Santa Barbara Polo & Racquet Club is the third oldest polo facility in the United States and is world renowned for its' three lush polo fields and international outdoor competition. SBPRC is committed to sharing the excitement of polo with the local community. In addition to the outdoor fields, club facilities include: an enclosed polo arena, extensive horse exercise and boarding facilities, Members' Social Clubhouse, a newly added exercise & workout center, tennis center, swim club and 140 luxurious condominiums. With stabling for more than 350 horses, an arena for teaching and intercollegiate games, and three of the finest fields in the entire world, the SBPRC is the polo players' destination of choice. Nestled between the Santa Ynez mountain foothills and the Pacific Ocean, the SBPRC is truly the jewel of the American Riviera.
For information please call (805) 684-6683 or go online to: www.sbpolo.com
---
STATE OF THE ART 2006 GALLERY EXHIBITION
Sculpture for 8 State Street Sites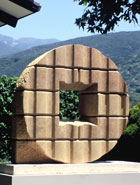 Gently waving palm trees and densely populated coffee bars in Santa Barbara belie the fact that in studios, garages, and homes throughout the Tri-counties there are serious artists furiously focused on creating art. Despite the lack of artists' lofts and live-work spaces in the Santa Barbara area, artists continue to make high quality work here everyday. To honor the commitment of area artists to their craft, the Santa Barbara County Arts Commission announces the installation of eight regional artists' sculptures for the upcoming State of the Art Gallery 2006 Exhibition (SOAG 2006), now in its 4th year. This project is a unique collaboration between the City and County of Santa Barbara and the Downtown Organization, with major funding from the City of Santa Barbara Redevelopment Agency. It began as part of the State Street Beautification Project when sculpture pads were included in the renovation of sidewalks and landscaping along State Street in the Cultural Arts District.
The 2006 finalists were selected by Rita A. Ferri, Visual Arts Coordinator and Curator of Collections for the Santa Barbara County Arts Commission. Regional artists Liz Amidon, Ken Bortolazzo, Donald Davis, Jeff Elings, Matt Furmanski, Colin Gray, Ed Inks, and Rafael Perea de la Cabada have created sculptures to be on view on State Street from Victoria Street to Cota Street, in the heart of the Cultural Arts District.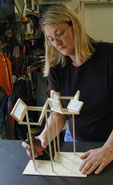 The opening reception for the State of the Art Gallery 2006 (SOAG) exhibition is presented in conjunction with Off Axis: A Global Exploration of Contemporary Art. Kick-off for both events will be held on September 1, 2006, 12 noon, with Mayor Marty Blum in attendance, at 1137 State Street, and the exhibition will continue until November 17, 2006.Off-Axis is a month long immersion of exhibitions, public openings, artist interventions, tours, lectures, and cross-over events that will be a source of discovery.
Liz Amidon, a multimedia artist from Isla Vista, is an MFA Merit Scholar from the San Francisco Art Institute. She is lecturer at Santa Barbara City College, an award winning photographer, and works in many areas of experimental media arts. Her steel sculpture, 125˚ of Thin Space, at 1000 State Street, is meditative in nature. The sculpture rests high above the ground on four steel legs and is comprised of three open windows with softly colored plexi "wings". The placement of the windows allows the viewer to walk around the work; while looking up to see the sky from different angles. She has selected the sky for its symbolism and metaphysical connections. In the Celtic tradition "Thin Spaces" are places where the spiritual and natural worlds intersect. Amidon said, "I am hoping that this piece will allow our community members to stop, and even for a moment become refreshed and renewed as they turn their gaze upward."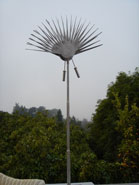 At the Gateway to the Downtown Cultural District, at 1235 State Street, Santa Barbarian Ken Bortolazzo's graceful stainless steel entry, Estacas, recreates the natural gesture of gently waving palm fronds he experienced on the beaches of Mexico. Moving effortlessly, this kinetic steel work plays with light and scale, and finds a delicate balance between solidity and lightness of being; tackling and merging the larger issues of man-made versus nature. He had made welded metal work for over 40 years. Bortolazzo's work can be seen in regional, national and international galleries, museums and public collections. During Off-Axis month, his works can also be seen sited outdoors at Westmont College and at Sullivan Goss – An American Gallery in Santa Barbara.
Sculptor Donald Davis, a resident of Santa Barbara for many years, who in 2002 received a commission for his State Street Sidewalk Improvement Project. Crescent Crossing is a curvilinear brick seating structure that rises organically from the sidewalk pavement in the 600 block of State Street where many weary tourists and locals rest themselves. An award winning artist, Davis is a BFA graduate of the Rhode Island School of Design, who has exhibited his carved stone works throughout the United States. His SOAG 2006 submission, at 610 State Street Reflection Disc, a carved limestone assemblage of several individual carved pieces, all split from one single block of stone. The constructed undulating forms allude to cyclic progressions apparent in nature; and the ebb and flow of life. This central portal provides a symmetrical framework that invites you to sight a view of Santa Barbara, its people, and the world, through its opening.
After a decade as a mechanical engineer, Jeff Elings returned to his first love, art. At Santa Barbara City College, Elings found his true calling at the Sculpture Department, where he received First Place in the 2006 student show in advance sculpture. His soft organic forms fabricated from sheet metal, steel and Mylar captured the attention of all who attended. For his first public arts piece, Igiyagi, Elings will create a seven and a half foot tall undulating welded steel form that appears to emerge from the pavement both playful and sophisticated, and meets and greets all passersby at 933 State Street. "The title, Igiyagi, began with a playful word exchange with a Japanese student, and the misunderstanding of the language created a word that wouldn't go away," said Elings.
Ventura resident Matthew Furmanski, is an MFA graduate of Claremont Graduate University and currently an Assistant Professor of Art at Cal State University, Channel Islands in Camarillo. At 700 State, Furmanski's ten foot interactive metal sculpture, Crossroads Oracle: A Lantern for Diogenes, is designed to blend partially with the urban landscape. People may approach it not knowing what it is; as they touch the "crosswalk" buttons, the sculpture will light up and speak to them, asking them questions about their life. The work is a catalyst to provoke a discussion of art, design, and engineering. Furmanski says he hopes it will invoke in the passersby a series of questions: "Is it art? Is this a piece of municipal equipment? How do I define art?"
At 834 State, artist Colin Gray, originally from England, creates a two-wheeled wooden sculpture, W, that has endured the slings and arrows of life…literally. Protruding from the 6 foot wheels are large wooden arrows that evoke a stint on the battlefield; the wheels of progress; a response or mirror of current world events; a David and Goliath metaphor; or perhaps simply the life of an artist putting his work out there for others to criticize. No matter how you see it the evocative sculpture, W, it will invite you to conjecture its meaning. Another of Gray's public art work, Riddle Wheel, can also be seen at the Los Angeles' MTA Authority Metro Rail at the Del Amo Station.
In Musical Chairs, at 1137 State Street, Ed Inks has said "I attempted to take an ordinary object and make it unfamiliar, removing functionality in order to reveal the potential metaphoric associations of the object." At over eight feet long and five feet wide, this open-ended stainless steel form will evoke many associations, from the playful childhood game of Musical Chairs to the balance of our own life stories. Inspired by the writings of Joseph Campbell and Albert Camus, his recent work suggests an 'everyday' simplicity and primitiveness, through narrative associations and personal history. Ed Inks is a Professor of Sculpture at Santa Barbara City College and recently had a highly acclaimed one-person exhibition, Absurd Beginnings, at the Atkinson Gallery at Santa Barbara City College.
Towering over nine feet above 1200 State is the totem-like Logout by Rafael Perea de la Cabada. Four reclaimed timbers are sharply notched and purposely oriented. Perea said, "My work is about time; time as a continuum of perpetual processes that carve spaces and clarify silences. Trees are the clocks of nature with their concentric circles recording our histories. I am interested in contemplating, understanding and collaborating with the marks left by life passing over, under, and through us." Perea, originally from Mexico City, is currently an Instructor at Santa Barbara City College, and has exhibited his work and created art installations both nationally and internationally. With Logout, he offers a time to slow down unplugged and observe; a time to feel and become - if only for a moment - simple, strong, warm and clear like wood.
2006 marks the first time for regional artists to exhibit their work along State Street in the SOAG 2006 project. In 2000 an exhibition curated by Kathy Lucoff included sculptures by Deborah Butterfield, Jim Dine, Robert Hudson, Bryan Hunt and James Surls. 2001 saw the installation of the late Luis Jimenez' monumental fiberglass and acrylic urethane pop-figures of mythic animals and working class heroes curated by Meg Linton. In 2002, Paul Hayes Tucker selected the expressive works of outdoor sculpture by internationally recognized, William Tucker. Rita Ferri, Curator of SOAG 2006 says, "Many people will be surprised by the breadth and diversity of art practices of our regional artists in this State of the Art Gallery 2006 Exhibition. Area artists have pushed themselves to create something that will delight, challenge or inform all those who visit State Street."
State of the Art Gallery 2006 docent walking tours, by SBHS Visual Arts and Drama Academy (VADA) students will take place at 12 noon on 9/9, 9/16; 10/7, 10/14, 11/4, 11/11 starting at Ken Bortolazzo's sculpture at 1235 State Street. For updates & more information visit www.sbartscommission.org or www.sboffaxis.org.
This exhibition is the direct result of the Santa Barbara community's vision and commitment to placing public art in the heart of the Cultural Arts District and funded by a generous grant from the Redevelopment Agency of the City of Santa Barbara, Santa Barbara Beautiful and the cooperation of the Downtown Organization; and Dan & Maya Upton.
---
Ditch the Boring Bra Straps for Cute Alternatives
by Margarita Couture
Brastraps.com maven Margarita Reis is reaching out to women, teens and tweens to let them know that it isn't okay to reveal worn, discolored bra straps this summer.
"Summertime is prime season for 'Ugly Bra Strap Syndrome'," explains Reis. "Women need to realize that bras and bra straps do have an expiration date. Exposing discolored or worn bra straps underneath a sleeveless tank is a major fashion don't!
"The right bra strap can enhance your outfit and our new Elite by Margarita fashion straps, which feature between 150 to 344 individual Swarovski crystals per pair, can really make an outfit."
Reis also cautions spray tanners to beware of tan solution rubbing off onto bra straps. Though a temporary dye is used in fake tanning lotions and sprays, she explains that frequent "fake baking" can permanently discolor bra straps.
She suggests that avid tanners designate an inexpensive bra strictly for post-tanning and that they keep a healthy supply of eplacement or fashion straps on hand to avoid being caught exposing discolored straps.
"Once women start to think of bra straps as a reflection of their fashion identity, they'll discover a whole new way of accessorizing," says Reis.
Reis's top strap picks for Summer 2006 include the following:
Replacement Straps: Bra straps that are intended to be replacement straps for a bra. Replace straps once a month and even more frequently in the summertime. Available in classic and thin sizes, Turquoise, Pink, Green, Yellow and Khaki replacement straps are big summer sellers since they add a pop of color to summer tanks. Clear, Pink and White are the most popular classic straps. Retail: $8.99-$9.99 per pair.

Fashion Straps: Decorative bra straps that work as fashion accessories to an outfit. Wear them day or night. This summer, Silver Glitter straps and Butterfly
Straps will be popular with tweens. Adults should try the Beaded, Daisy or Gold Glitter Straps and Diamond or Pearl straps. Glow in the dark straps are also popular summer sellers for nights on the town. Retail: $8.99 to $18.99 per pair.

Specialty Straps: New Elite by Margarita crystal bra straps feature between 150 to 344 individual Swarovski crystals. Reis explains that these "bling bling" bra straps are fancy enough to be worn under a sexy top and also add an elegant touch to evening gowns and wedding dresses. Retail: $35-$45
Brastraps.com founder Margarita Reis is available for bra strap makeover segments. To request an interview, high resolution product images or samples, please contact Michelle Soudry at The Gab Group 561-750-3500 or email msoudry@thegabgroup.com.
About Brastraps.com
Brastraps.com and parent company Margarita Couture is currently the largest fashion strap supplier in the US housing over 70 different styles ranging from $8 to $45. Most recently, the company was featured on QVC, nearly selling out a quantity of over 20,000 fashion bra strap units in 6 minutes. They plan on revisiting the network this summer.
Margarita Couture is also the originator of Evolution by Margarita, the world's first five-in-one convertible bra designed to mimic the appearance of cosmetic breast implants. All products lines may be viewed at http://www.margaritacouture.com