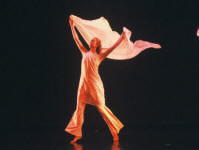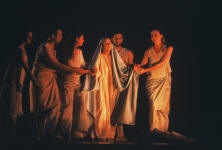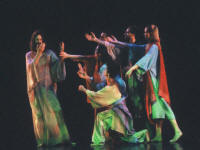 MOVEMENT ARTS & PHYSICAL THEATRE
Motion Theatre Dance Company Celebrates 33 Years!
by Bonnie Carroll
The Center Stage Theatre in Santa Barbara was filled and the audience was fixed on the beautiful performance of King Lear/Visions and Divisions (NY premier 1987) and Mystries of Light (SB premier 2003). The dancing and acting were fascinating, and an example of entertainment at its best. The costumes for the performances were designed by Anaya Cullen and Maria Rendina Frantz and were magical and inspired. The choreography by Maria Rendina Frantz and performers was completely captivating and beautiful.
Performers included Matt Tavianini, Carol Sauceda, Tino Viramontes, Maia Mook, Aden Hailu, Stuart Orenstein, Allen Stuart-Oaten, Kendra Fong, Abby Linton, Jenelle Rodriguea, Maria Rendina Frantz, Anthony Kortick, and Lamberto Viramontes assistant director. The event was sponsored by the Santa Barbara Dance Alliance.
Maria Rendina Frantz: Artistic Director is a dancer, actress, teacher, writer, director and choreographer who has performed on the stage, film and television and been making dance for the past thirty three years. Ms. Frantz studied with the companies of Erick Hwwkins, Martha Graham, and Twyla Tharp and choreography with Leonide Massine, Bessie Schonberg, June Lewis and Pearl Lang. Ms. Frantz danced with Dance Junme Lewis & Company and choreographers Judith Leifer and Dan Wagoner, and many others before developing 'Motion Theatre' in 1978. She is a professionally trained actress and holds an M.A. in Dance from Columbiab University and a B.A. in Dance from Point Park University. She is a member of N.D.A, C.O.R.D the S.B. Dance Alliance, and the S.B. Performing Arts League, AFTRA and the Screen Actors Guild.
The King Lear performance was brilliant and made for young people who might be bored with a play on this subject, but the combination of all the elements performed, acting and dancing would hold the interest and entertain any young or older audience member. The story of Christ was simple, honest and beautifully done by all involved. Congratulations to Motion Theatre on 33 years and yet another outstanding dance performance.
---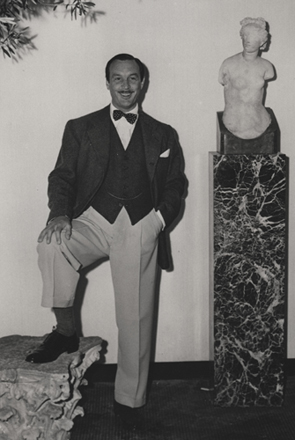 Drawn to Modernism: Selected Gifts from Wright S. Ludington
April 16 - July 24, 2011
In honor of the Santa Barbara Museum of Art's 70th anniversary, this exhibition celebrates the legacy of Wright S. Ludington (1901-1992), one of the Museum's founders and a collector whose wide-ranging interests and keen eye played a central role in shaping the permanent collection.
This exhibition focuses on an area of Ludington's collection that, due to its fragile nature, has historically received less exposure: European modernist drawings and prints. A selection of approximately 45 works on paper, complemented by a small number of sculptures, showcases the breadth and independent spirit of Ludington's impeccable taste, from classical modernists like Henri Matisse, Pablo Picasso, and André Derain to British artists whose work was seldom collected in the United States: Henry Moore, Paul Nash, Graham Sutherland and Percy Wyndham Lewis. Rather than display the prints and drawings in chronological order or by national school, the installation will evoke the elegant, harmonious way that Ludington displayed his collections in his own home. For information visit: www.sbma.net.
Santa Barbara Museum of Art, 1130 State Street, Santa Barbara, CA, 93101, 805-963-4364.
---
MASADA OPERA FESTIVAL TO FEATURE VERDI'S AIDA AND ANDREA BOCELLI PERFORMANCE IN ISRAEL THIS SUMMER
Staged in a specially designed amphitheater at the footsteps of Masada, the 2nd Masada Opera Festival will feature a new production of Verdi's Aida conducted by Israeli maestro Daniel Oren and featuring 120 choristers, 40 dancers and 70 extras, along with the Israel Symphony Orchestra Rishon - Lezion, June 1-12. The festival will also include a rare performance of Verdi's Jerusalem in the open-air Sultan's Pool overlooking the Old City walls in Jerusalem (June 3), in addition to a one-off performance by world-renowned opera tenor Andrea Bocelli (June 12).
Visit: www.goisrael.com
---
 DESIGN FETE - A HIGH TECH HAVEN TO INDULGE AND UNWIND
ECCLESTON SQUARE HOTEL OPENS IN JUNE 2011
Hidden within a striking late Georgian townhouse on a leafy square in Pimlico, central London, lies Eccleston Square Hotel – a high-tech 39-bedroom urban retreat, set to open on June 19, 2011. With state-of-the-art technology, including 46 inch 3D LED televisions and iPad2s in every room, this member of Design Hotels™ aims to enhance guests' well-being and offer a relaxing and recharging respite from urban life. Following a GBP 6.5 million renovation, the Georgian townhouse has been transformed by architects Woods Bagot, led by Hotel Director Olivia Byrne who is from a successful hotelier family. "The ethos of the Eccleston Square Hotel is quite simple," she explains. "We want our clients to leave the hotel feeling better than they did when they arrived." The result is a modern high tech cocoon where guests are comforted and soothed by luxurious products and swathes of futuristic gadgets, including handmade GBP 12,000 Hästens beds in every room and high-spec marble bathrooms. www.designhotels.com/eccleston_square_hotel
The Rooms
The 39 bedrooms are split across five categories and have either garden or city views, some with private courtyards or balconies. All rooms feature advanced state-of-the-art bedroom interiors, including 3D LED TVs with HD Movie and 3D channels, 3D Blu Ray DVD players with 3D glasses, and finger-tip control panels. The pads control every possible function in the room, from the lighting and curtains to wake-up and bedtime settings. Each room will also have an iPad2 – the newest Apple creation – which guests can use for anything from shopping guides to spa bookings. Adjustable massage beds from Swedish firm Hästens act as the focus of each room, complete with massage programs that synchronize with the Hästens Mind Spa TV.
Marble bathrooms feature 'smart glass' walls which turn opaque at the touch of a button, as well as a TV incorporated into a heated, steam-proof mirror. The wet rooms also feature rainfall showers, high-pressure massage heads and aromatherapy products from L'Occitane.
The Experience
Guests entering this historic city residence will be greeted by a timeless modern lobby dazzling with a black crystal chandelier and herring-bone-pattern floor tiles. In the evening a 50-cover bar and restaurant serves modern French cuisine, headed by Executive Chef Kieran Moore.
Traditional English touches characterize the hotel, including an afternoon tea served in the elegantly simplistic lounge, which features custom-made studded tub chairs, an open fireplace and silk finished walls. The most groundbreaking use of technology is found in the meeting rooms, where it's possible to video conference and conduct presentations on an epic, 120-inch 3D media wall.
Location and Rates
The hotel is situated on the edge of Eccleston Square, a stone's throw from Victoria station. It is ideally placed for tube, bus and rail connections including the Gatwick Express. Rates from GBP 250 per room per night, excluding VAT. www.designhotels.com/eccleston_square_hotel
---
ANDY WORHOL ONGOING
Andy Warhol continues to inform our culture in limitless ways through a variety of media.
The first exhibition to fully examine the works that Warhol created on the theme of news headlines will premiere at the National Gallery of Art, Washington, from September 25, 2011, to January 2, 2012.
WARHOL: HEADLINES will define and present some 80 works—paintings, drawings, prints, photographs, sculpture, film, video, and television—based largely on the tabloid news, revealing the artist's career-long obsession with the sensational side of contemporary media.
This scholarly, visually compelling exhibition and catalogue will offer new information and insights.
Source materials for the art will be presented for comparison, demonstrating the ways in which Warhol cropped, altered, obscured, and reoriented the original texts and images, underscoring his role as both editor and author.
After Washington, the exhibition will be on view at the Museum für Moderne Kunst, Frankfurt (February 11–May 13, 2012); Galleria nazionale d'arte moderna, Rome (June 11–September 9, 2012); and The Andy Warhol Museum, Pittsburgh (October 14, 2012–January 6, 2013).
---
THOUSANDS OF EGYPTIANS WORK TO SHARE IMAGES OF THEIR COUNTRY WITH THE WORLD
Online Contest Gives Them Opportunity to Showcase a New Egypt
 In the wake of a revolution that turned out a four-decades-old government and captured the eyes of the world, Egyptians now are clamoring to show those eyes a different sight: that of the country they love. More than 27,000 Egyptians participated in a photograph contest dubbed "Ana Ba7ebek Ya Belady" (I Love You, My Country), either by submitting a photograph to the contest's Facebook page or voting for their favorites. The 15 photographs to receive the most votes over the six weeks of the campaign are now being shared with the world.
For more information on the contest, the winners and the photographs, as well as news releases in both Arabic and French, visit the interactive news release at http://www.interactivemediarelease.com/ogilvypr/Iloveyou.mycountry.
---