It's a great day for the Irish in America and anyone associated with the Irish. Great food, music, fund and a Catholic Mass or two. Here is some information on where the Irish action is for St. Pat's 2012. 
Kansas City, Mo.
St. Patrick's Day in Kansas City has been going so since 1873. A Gaelic Mass starts the day, followed by the famous St. Patrick's Day parade which is led by the Lone Bagpiper (a.k.a. Jody Watson). The grand-prize winner of the best parade float gets two airplane tickets to Ireland. You can also make donations to the annual "Go for the Green" food drive.
Scranton, Pa.
Festivities begin with a special St. Patrick's Day mass at St. Peter's Cathedral. Afterward, Scrantonites take to the streets to enjoy a procession lined with bagpipers, dancers and local musicians. The parade has been going strong here for quite some time, with the first official St. Patrick parade being held back in 1862. Take note that Scranton's parade is on March 12, the Saturday before St. Patrick's Day. 
Hot Springs, Ark.
Youngest parade is St. Patrick's Day parade in Hot Springs, Arkansas. Previous Grand Marshals include Mario Lopez and Pauly Shore.
Philadelphia, Pa.
Philadelphia is home to one of the longest-running St. Patrick's Day parades, with the first documented one taking place back in 1771.  The parade sees more than 500,000 attendees ever year. Afterward, people go to bars across town to celebrate. The parade in Philadelphia is on March 13, the Sunday before St. Patrick's Day.
Dublin, Ohio
There is a Dublin in Ohio. Today, Dublin, Ohio celebrates its Irish heritage with a mile-long parade made up of approximately 100 floats, bands and bagpipers, not to mention the Grand Leprechaun.  The occasion is held on March 12, a few days ahead of St. Patrick's Day.
San Francisco, Calif.
With a St. Patrick's parade that dates back to 1852, San Francisco is the best place to celebrate the holiday on the West Coast. Go to Irish pubs like Durty Nelly's and Blarney Stone, and get your green beer. San Francisco holds the parade on March 12.
Savannah, Ga.
Savannah makes it into our top five. The genteelest of genteel cities has been celebrating St. Patrick's since 1813. Attendees exceed 400,000.
New York City, N.Y.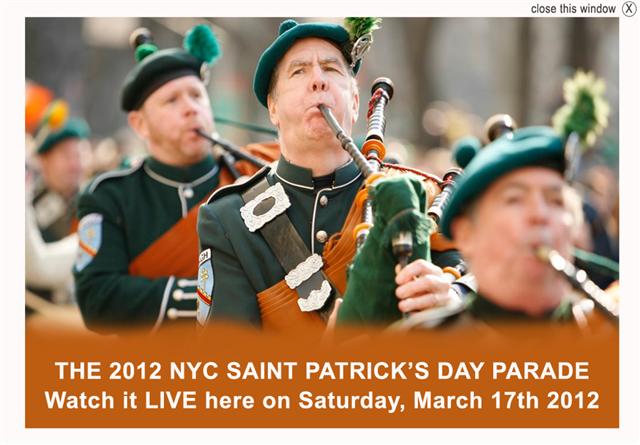 New York has the largest St. Patrick's Day parade in terms of attendance, with an estimated two million attendees every year.  It was organized by Irish soldiers in the British army in 1762. The parade begins at 44th Street and proceeds up Fifth Avenue, past St. Patrick's Cathedral at 50th Street. The parade last six hours and ends on 86th Street.
Chicago, Ill.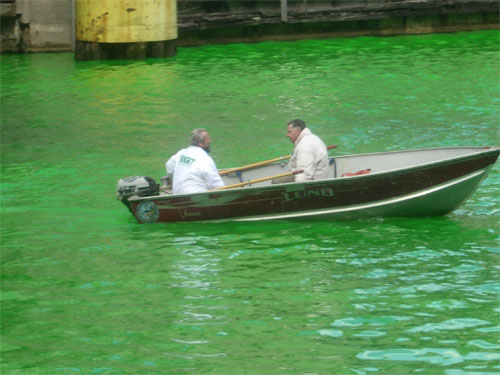 Dying the Chicago River Green
Chicago hosts one of the largest St. Patrick's celebrations in the country. Each year they dye the river green. The first St. Patrick's parade took place in 1843. The parade is on Saturday, March 12 - starts at noonb at the corner of Columbus and Balboa drives.
 Boston, Mass.
The South Boston St. Patrick's Day parade is the world's first recorded parade for the holiday, first hosted by the Irish Society of Boston in 1737, earlier than Dublin. It is the most Irish state in America by percentage of population. The event is held a few days after St. Patrick's Day, on Sunday, March 20 ususally with 850,000 attendees.
ERIN GO BRAUGH!!!
---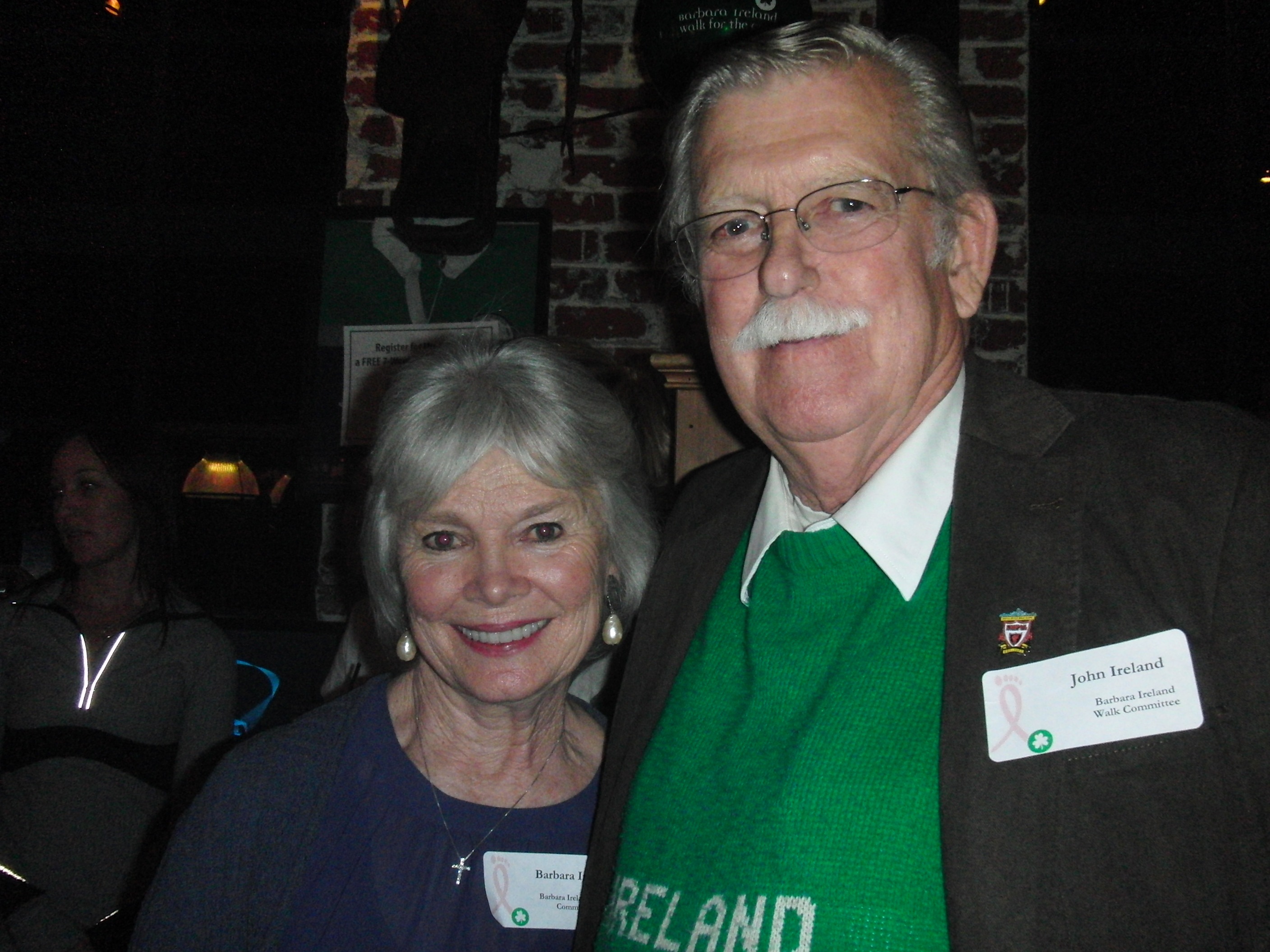 John & Barbara Ireland                             Photo by Bonnie Carroll
BARBARA IRELAND - CANCER CENTER OF SANTA BARBARA WALK FOR CANCER RESEARCH ON ST. PATRICK'S DAY AT CHASE PALM PARK IN SANTA BARBARA MARCH 17TH.
Visit:  www.ccsb.org for information.
 Barbara Ireland Will Lead Annual Walk on St. Patty's Day
Barbara Ireland, her friends, family and patrons enjoyed appetizers, drinks, a silent auction that included four tickets to the NBC Jay Leno show, and Irish music to celebrate the fight against breast cancer in Santa Barbara and worldwide. Guests were invited to register for the Barbara Ireland Walk for Breast Cancer Research taking place on Saturday, March 17 at Chase Palm Park. Early registrants received a free 7-week training program to prepare for the 10-mile course. All proceeds from the event and walk go to breast cancer research at Cancer Center of Santa Barbara. For information visit:www.ccsb.org.