SANTA BARBARA SYMPHONY BIDS FOND FARWELL TO JOHN ROBINSON
By Bonnie Carroll
The post performance party at the Granada Theatre following a magnificent concert was filled with members and guests wishing to say goodbye to John Robinson, who has served as the Executive Director for eight years.  John and his family will be relocating to San Francisco. Maestro Nir Kabaretti gave a touching tribute to John's outstanding work.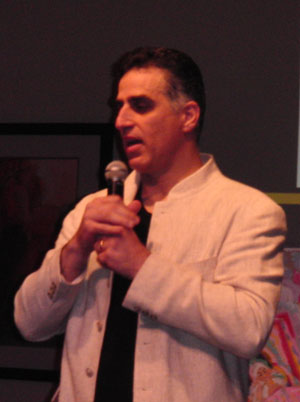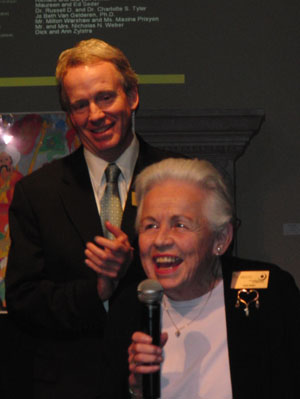 Patricia Gregory of the Baker Foundation, who sponsored the Rimsky-Korsakov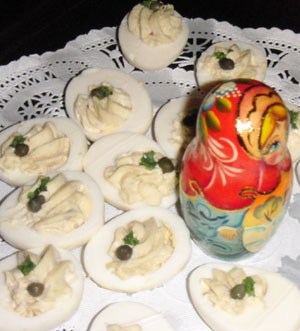 Scheherazade Symphonic Suite, Op.35, and also a stellar performance by pianist Sergio Tiempo, who gave a stunning rendition of Tchaikowsky's Piano Concerto No. 1 in B-flat minor, Op 23, said her goodbye's to John, and gave a personal introduction for guest performer Sergio Tiempo to the group. Chef Michael Hutchings of Michael's catered the event, serving Russian inspired eggs, borsht, caviar appetizers and sweet ending desserts.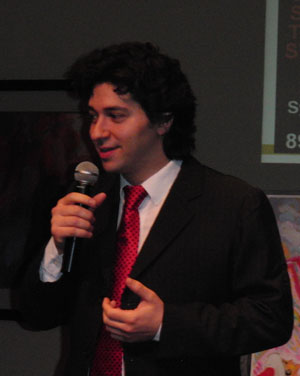 Sergio Tiempo has developed a reputation as one of the most individual and thought provoking pianists of his generation. He made his professional debut at age fourteen at Concertgebouw in Amsterdam. He was born in Caracas Venezuela, and began his studies in piano at age two, and performed his debut concert at age three. He studies at the Fondazione per il Pianoforte in Como, Italy and worked with Dimritri Bashkirov, and went on to perform with great artists and performed with the Simon Bolivar Orchestra. His concert appearances in 2011 will take him to Iceland, Dublin, France, Vienna, London and Berlin.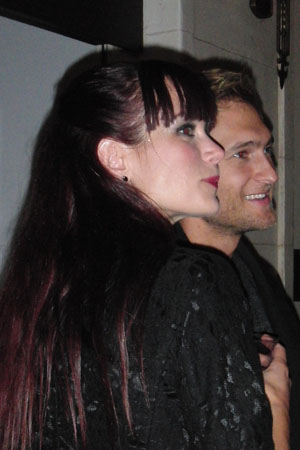 It was a warm farewell to a man who the members thought made such a fine contribution to the growth of the Santa Barbara Symphony, and a man who seems dearly loved in the community. Bringing the symphony into the Granada Theatre was considered brilliant, and it was said his influence during the transition made a huge difference in the very successful outcome.
Santa Barbara Symphony Schedule includes: January 22-23, Appalachian Spring with State Street Ballet; February 19-20 Shostakovich, Piano Concert No. 1; March 19-20 Khachaturian Violin Concerto with Giles Apap; April 16-17 Renie Concerto for Harp with Letizia Belmondo; May 14-15 Brahams Symphony No 4. Visit www.thesymphony.org for additional information. (805) 899-2222.
---
Santa Barbara's Holiday Treat: The Nutcracker at The Granada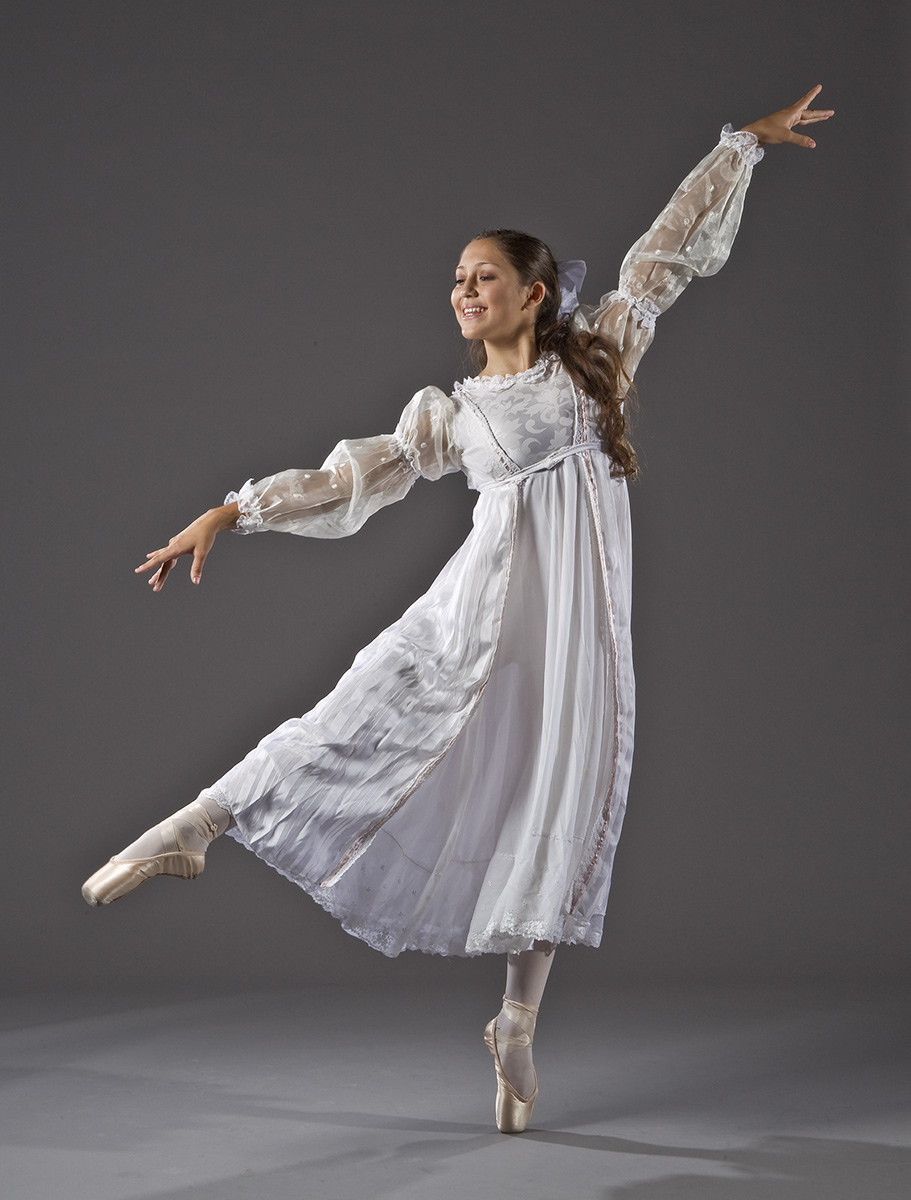 State Street Ballet's The Nutcracker follows a long-standing tradition of holiday performances, and this year is no exception. The company will showcase its classic presentation of this perennial favorite on December 18 and 19 complete with sets from Moscow and a cast that includes the students of Gustafson Dance performing with State Street Ballet's professional dancers.
            The Nutcracker is based on the book The Nutcracker and the Mouse King by E.T.A. Hoffman, and set to the music of Tchaikovsky. The ballet tells the story of a young German girl, Clara, who is presented with a beautiful toy nutcracker during a holiday party by her godfather Drosselmeyer, a skilled clock and toy maker. In Clara's holiday dream, the toy comes to life and escorts her on a journey to a magical land of sweets and snow, complete with exotic inhabitants to entertain her.
            "Everyone should have the opportunity to see this timeless and beautiful ballet during the holidays," explains State Street Ballet Artistic Director Rodney Gustafson. "It's a story everyone can follow as it's brought to life through familiar music and timeless dance."
            A new couple to this troupe is a husband & wife duo, Kaori Takai and Yosuke Yamamoto both from Osaka Japan.  They will perform the roles of the Sugar Plum Fairy and the Cavalier.
Staging and choreography for the production are by Rodney Gustafson and Choreographer and Ballet Master Gary McKenzie. Costume design is by A. Christina Giannini and Anaya Cullen, and the sets were designed and produced in Moscow.
Show times for The Nutcracker at The Granada:
Saturday, December 18 at 2:00 PM and 7:00 PM, and Sunday, December 19 at 2:00 PM. Tickets are priced from $28 to $53, with discounts for children, students and seniors, and are available through The Granada Box Office (1214 State Street, 805.899.2222), or online at www.granadasb.org
---
Attila Glatz Concert Productions Presents

SALUTE TO VIENNA

Sunday, January 2, 2011 at 2:30 p.m. at Walt Disney Concert Hall
Starring The Strauss Symphony of America, Mika Eichenholz,
Patricia Nessy, Alexandru Badea and Dancers from Vienna City Ballet

Tickets on sale now

Experience the joy and magic of a traditional Viennese style New Year when SALUTE TO VIENNA returns to Walt Disney Concert Hall on Sunday, January 2 at 2:30 p.m. This elegant celebration features a brilliant new cast of more than 75 musicians led by European maestro Mika Eichenholz, Viennese soprano Patricia Nessy, Viennese tenor Alexandru Badea and members of the Vienna City Ballet. A glorious bouquet of favorite polkas and famous operetta excerpts by "waltz King" Johann Strauss Jr. and his contemporaries inspire and delight a wonderful way to ring in the New Year.

Before coming to the Walt Disney Concert Hall Salute to Vienna will be performing at the Renee and Henry Segerstrom Concert Hall at the Orange Country Performing Arts Center on New Year's Day, Saturday, January 1 at 8:00 p.m.

Tickets to see New Year's Concert 2011 – SALUTE TO VIENNA start at $42.00 and are available online at ticketmaster.ca, the Hall's Box Office at 111 South Grand Avenue in Los Angeles or by calling 1 800 982 2787
 
SALUTE TO VIENNA is the only genuine re-creation of the original Viennese production and is officially recognized by the Mayor of Vienna as an authentic Viennese New Year's celebration. The Glatzes have steadily expanded their favorite concert since its Toronto debut and were awarded the Austrian Government's prestigious Decoration of Merit in Gold. As Mr. Glatz says, "What Nutcracker means to Christmas, Salute to Vienna means to the New Year!"
 
For more information, please visit salutetovienna.com  or call 1.800.545.7807.

Listing Information for Salute to Vienna Concert: LOS ANGELES
 
DATE: Sunday, January 2nd, 2011

TIMES: 2:30 pm

TICKET PRICES: $42.00 to $125.00

VENUE: Walt Disney Concert Hall
111 South Grand Ave., Los Angeles, Ca 90012

BOX OFFICE: 213 365 3500

WEB PAGE: www.salutetovienna.com
www.ticketmaster.com 
---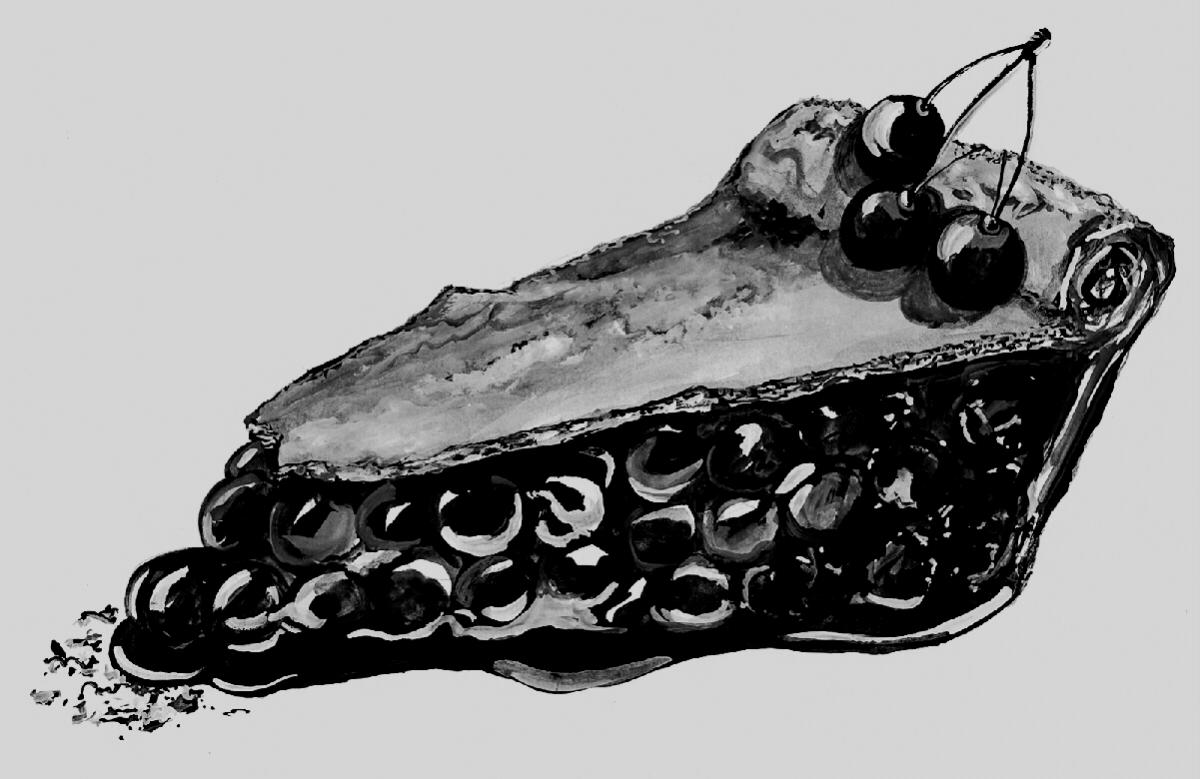 FRENCH CHEF RICHARD RECIEVES RENOWN AS FRENCH ARTIST
By Bonnie Carroll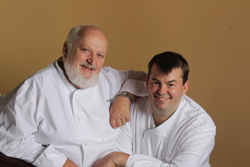 Michel Richard, chef and renowned restaurateur, recently opened a Michel's in Virginia, where he is creating quite a stir with his paintings. The James Beard award winner is a classically trained French chef who has been honored in the US and Europe for his culinary excellence, and recently released a book "Sweet Magic" that features not only his amazing recipes, but also  his art illustrations.
"Pastry was my first love and now it is time for me to share my knowledge and techniques with others" says the chef about his new book. Devotees of this amazing chef will enjoy duplicating his favorite French toast recipe or his chocolate éclair, apricot layer cake and soaked sponge cake, along with countless others. Richard's book was published by Harper Collins and sells for $27.50. The seasoned French chef says "instincts and substitutes when cooking often make things very interesting and delicious".
Richard and his executive chef Levi Mezick are also creating a collection of recipes for the Garden Café in the National Gallery of Art in Washington in honor of the opening of "Impressionism to Modernism: The Chester Dale Collection" opening in January. For information visit www.michelrichard.com.
---

METROPOLITAN MUSEUM AND EGYPTIAN GOVERNMENT ANNOUNCE INITIATIVE TO RECOGNIZE EGYPT'S TITLE TO 19 OBJECTS ORIGINALLY FROM TUTANKHAMUN'S TOMB
Thomas P. Campbell, Director of The Metropolitan Museum of Art in New York, and Zahi Hawass, Secretary General of the Supreme Council of Antiquities of Egypt, announced jointly today that, effective immediately, the Museum will acknowledge Egypt's title to 19 ancient Egyptian objects in its collection since early in the 20th century.  All of these small-scale objects, which range from study samples to a three-quarter-inch-high bronze dog and a sphinx bracelet-element, can be attributed with certainty to Tutankhamun's tomb, which was discovered by Howard Carter in 1922 in the Valley of the Kings. The Museum initiated this formal acknowledgment after renewed, in-depth research by two of its curators substantiated the history of the objects.
Mr. Campbell stated: "Research conducted by the Museum's Department of Egyptian Art has produced detailed evidence leading us to conclude without doubt that 19 objects, which entered the Met's collection over the period of the 1920s to 1940s, originated in Tutankhamun's tomb.  Because of precise legislation relating to that excavation, these objects were never meant to have left Egypt, and therefore should rightfully belong to the Government of Egypt.  I am therefore pleased to announce—in concert with our long-time colleague Zahi Hawass, who has contributed so greatly over many years to the recognition and preservation of the historic treasures of Egypt—this formal acknowledgment that title to the objects belongs to Egypt."
"This is a wonderful gesture on the part of the Metropolitan Museum of Art," said Zahi Hawass. "For many years the museum, and especially the Egyptian art department, has been a strong partner in our ongoing efforts to repatriate illegally exported antiquities. Through their research, they have provided us with information that has helped us to recover a number of important objects, and last year, they even purchased and then gave to Egypt a granite fragment that joins with a shrine on display in Luxor, so that this object could be restored. Thanks to the generosity and ethical behavior of the Met, these 19 objects from the tomb of Tutankhamun can now be reunited with the other treasures of the boy king."
Dr. Hawass also announced that the objects will now go on display with the Tutankhamun exhibition at Times Square, where they will stay until January 2011. They will then travel back to The Metropolitan Museum of Art, where they will be shown for six months in the context of the Metropolitan Museum's renowned Egyptian collection. Upon their return to Egypt in June 2011, they will be given a special place in the Tutankhamun galleries at the Egyptian Museum, Cairo, and then will move, with the rest of the Tut collection, to the Grand Egyptian Museum at Giza, scheduled to open in 2012.
At the time that Howard Carter and his sponsor, the Earl of Carnarvon, discovered the tomb of pharaoh Tutankhamun (reigned ca. 1336-1327 B.C.), the Egyptian government generally allowed excavators to keep a substantial portion of the finds from excavations undertaken and financed by them.  However, during the decade that it took Carter and his team to recover the thousands of precious objects from this king's tomb, it became increasingly clear that no such partition of finds would take place in the case of the Tutankamun tomb.
Owing to the splendor of the treasures discovered in the tomb, conjectures soon started nevertheless, suggesting that certain objects of high quality, dating roughly to the time of Tutankhamun and residing in various collections outside Egypt, actually originated from the king's tomb.  Such conjectures intensified after the death of Howard Carter in 1939, when a number of fine objects were found to be part of his estate.  When the Metropolitan Museum acquired some of these objects, however, the whole group had been subjected to careful scrutiny by experts and representatives of the Egyptian government; and subsequent research has found no evidence of such a provenance in the overwhelming majority of cases.  Likewise, thorough study of objects that entered the Metropolitan Museum from the private collection of Lord Carnarvon in 1926 has not produced any evidence of the kind.
The 19 objects now identified as indeed originating from the tomb of King Tutankhamun can be divided into two groups.  Fifteen of the 19 pieces have the status of bits or samples.  The remaining four are of more significant art-historical interest and include a small bronze dog less than three-quarters of an inch in height and a small sphinx bracelet-element, acquired from Howard Carter's niece, after they had been probated with his estate; they were later recognized to have been noted in the tomb records although they do not appear in any excavation photographs.  Two other pieces—part of a handle and a broad collar accompanied by additional beads—entered the collection because they were found in 1939 among the contents of Carter's house at Luxor; all of the contents of that house were bequeathed by Carter to the Metropolitan Museum.  Although there was discussion between Harry Burton (a Museum photographer based in Egypt, the Museum's last representative in Egypt before World War II broke out, and one of Carter's two executors) and Herbert Winlock about the origins of these works and about making arrangements for Burton to discuss with a representative of the Egyptian Museum in Cairo whether these works should be handed over to Egypt, that discussion was not resolved before Burton's death in 1940.  When the Metropolitan Museum's expedition house in Egypt was closed in 1948, the pieces were sent to New York.
----------------------------------------------------------------------------------------------------------------------------
OPERA SANTA BARBARA OPENS WITH PATRICIA RACHETTE

For LA area opera lovers "An Evening with Patricia Rachette" at The Granada Theatre was an inspiring night of beautiful opera, performed perfectly by Ms. Racette and Daniela Mack. The bevy of musical selections was amazing and the performances were enjoyed by everyone, The evening was followed by a gala dinner for members and supporters.
Upcoming events include La Traviata by Giuseppe Verdi on March 4 & 6, 2011, sponsored by the Mosher Foundation. La Serva Padrona by Giovanni Pergolesi, Trouble in Tahiti by Leonard Bernstein on April 8 & 10, 2011 The Lobero Theatre. For information call 805-898-3890 or visit: operasb.org.
---