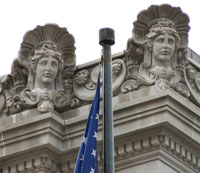 New Orleans after the Flood:
Photographs by Robert Polidori
Exhibition dates: September 19 - December 10, 2006
Exhibition location: The Howard Gilman Gallery, second floor
To mark the first anniversary of Hurricane Katrina and the subsequent floods that devastated New Orleans, The Metropolitan Museum of Art will present New Orleans after the Flood: Photographs by Robert Polidori. On view from September 19 through December 10 in The Howard Gilman Gallery, the exhibition will feature approximately 20 large-scale color photographs made by Robert Polidori on four extended visits to New Orleans between September 2005 and April 2006. The quietly expressive photographs present a candid and intimate look at widespread urban ruin - an incomprehensible, topsy-turvy landscape of felled oak trees, houses washed off their foundations, and tumbled furniture that leaves the viewer with more questions than answers.
Polidori is drawn to record the disasters of our time and the failures of contemporary society. In his New Orleans photographs, as in his previous work in Havana, Versailles, and Chernobyl, he eschews nostalgia for the poignancy of absence.
In a city that itself resembles a lost civilization, wrecked rooms, caved-in houses,
and ravaged neighborhoods become metaphors for the fragility of human life.
"Having lived in New Orleans as a teenager, I felt compelled to return to the city to bear witness to the stunning scope of the crisis and to ensure that the city and its citizens will not be forgotten," he commented. "My photographs of New Orleans's flooded homes reduced to rotting debris speak to the personal and collective loss suffered by the local population."
In these disturbing scenes, Polidori finds a formal beauty that radiates stillness and compassion and invites contemplation. Using a large-format camera, natural light, and unusually long exposures, Polidori records the domestic destruction with a mastery of color, light, shadow, and texture that makes the discarded mementos and mud-caked belongings all too palpable. In each work, the artist seems to have caught on film the very air of New Orleans, weighted heavily with mold, humidity, and history.
Robert Polidori (b. 1951, Montreal, Canada) is one of the world's premier architectural photographers. He received the Alfred Eisenstaedt Award for Magazine Photography in 1999 and 2002, and the World Press Award for Art in 1998. His work is in the collection of the Metropolitan Museum and other notable institutions, and he is a staff photographer for the New Yorker. His recent photographs of New Orleans are documented in the book After the Flood (Steidl, 2006), which features an introduction by Jeff L. Rosenheim, Associate Curator in the Department of Photographs at the Metropolitan Museum.
New Orleans after the Flood is organized by Jeff L. Rosenheim.
The exhibition will be featured on the Museum's Web site at www.metmuseum.org.
---
POMELLATO AIMS AT EURO CROWN IN LUXURY JEWELS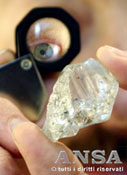 Italy's luxury jewelry maker Pomellato is aiming to become the European leader in its sector within five years, enhancing the firm's image in part by making more unique pieces. Pomellato wants to take its exports from 36% of total revenue to 56% and is counting on annual sales growth of 12%.
The Milan-based company's five-year plan outlines a strategy of 'internationalising' its brands, such as Dodo, with new shops in New York and Paris. It is also preparing a new 'couture' line of one-off items. Pomellato, founded in 1967, posted consolidated sales up 12.5% to 104 million in 2005. It has 22 shops and plans to open four more soon.
---
Santa Barbara Polo & Racquet Club
To Hold Polo Tailgating Contest On Sunday, August 27
The 96 year-old Santa Barbara Polo & Racquet Club will hold a "Tailgating Contest" and will award three prizes: "Most Polo," "Most Elegant," and "Most Outrageous" to those deserving of the titles. Participants are encouraged to be as creative as possible.
Most people associate "tailgating" parties with football, or perhaps another stadium type of event. The Polo tailgating party is slightly different in that you have a chance to create your own environment, decorations, and menu - from hot dogs and hamburgers to cordon bleu. It's truly a celebration of the sport of kings.
Participants are invited to enter by calling SBPRC Clubhouse Manager, Ariana Rothstein-Fisch at (805) 684-6683 or by e-mailing ariana@sbpolo.com. The general admission of $15 applies, but there is no additional fee to enter the contest. You must call and reserve a parking space for the contest no later than Friday, August 25 @ 5 p.m.
Participants will be allowed to enter the grounds and begin set up at 11:45 a.m. on Sunday, June 25. Each participant will be allotted a 10´ wide x 25´ long space adjacent to Field #3 in which their vehicle and tailgating display must fit.
Judging will occur between the first and second match (approximately 2:30 p.m.). Winners will be announced after the second match is completed. Prizes will be awarded for the three tailgating displays that are Most Elegant, Most Outrageous and Most Polo. Last year, the judges also awarded honorable mentions to two other entrants because they just could not be overlooked.
All participants must provide every element of their display. The Club will NOT furnish any equipment (i.e., tables, chairs, canopies, umbrellas, china, flatware, glassware, etc.). Any tailgating displays that may disturb the polo ponies or disrupt play will be required to be disassembled before the polo matches begin.
All vehicles and tailgating equipment must exit Field #3 by 6 p.m. on Sunday, August 27, 2006.
Remember to call Ariana now at 805 684 6683 or e-mail her:
ariana@sbpolo.com to register for the ever-so-popular "Tailgating Contest."
Bon Appetit!!
www.sbpolo.com