Santa Barbara Contemporary Arts Forum
and Iridian Arts Present Strike Series:
Adventurous Music and Performing Arts.
Experimental art, music, & live performance! November 9-10, 2007 marks the beginning of the Strike Series collaboration between the Santa Barbara Contemporary Arts Forum (CAF) and Iridian Arts, Inc. Utilizing the conventional 'dark' periods in between exhibitions to host these unconventional events, CAF turns the spotlight onto four multi-media performances that each span two nights.
The Strike Series aims to bring exceptional art, music, photography, dance, video, and other media to our community, encouraging experiences with unique performance pieces ranging from the theatrical to avant-garde, normally found only in metropolitan venues.
In alignment with both CAF and Iridian Arts' missions to expand and educate the audience for contemporary arts, free hands-on workshops will be offered to local students through a unique partnership with Girls Incorporated of Greater Santa Barbara.
Strike Series: Adventurous Music and Performing Arts Schedule (Bios Attached):
November 9 - 10, 2007: 8-10 PM
Featuring The Common Sense Composers Collective and The Robin Cox Ensemble: This internationally-renowned group of talents has become well known for collaborating with some of the best-known new music ensembles across the nation. This event will premiere eight new works composed by CSCC and performed by RCE, including two with video. Funded in part through Meet The Composer's MetLife Creative Connections Program.
January 18 - 19, 2008: 8-10 PM
Featuring Carla Kihlstedt: A solo show by the genre-defying violinist/vocalist who's resume includes founding membership in Tin Hat Trio, Sleepytime Gorilla Museum, and tours with Tom Waits.
February 15 - 16, 2008: 8-10 PM
Featuring Amy X Neuberg with The Robin Cox Ensemble: San Francisco based eclectic vocalist/electronic sound artist Amy X Neuberg will present a concert ranging from quirky Laurie Anderson-ish narratives, to punk rock influenced sound art, to Kurt Weill-style art song.
April 25 - 26, 2008: 8-10 PM
Featuring Robert Black: A solo show of theatrical, electronic, and experimental works for double bass by one of the best known bassists on the planet and founder of Bang on a Can All-Stars.
Santa Barbara Contemporary Arts Forum is non-profit, non-collecting alternative art space dedicated to the exhibition, education, and cultivation of the arts of our time. Celebrating its 31st Anniversary in September 2007, CAF is the premier venue for contemporary art between Los Angeles and San Francisco, presenting 15-18 exhibitions annually. Strike Series: Adventurous Music and Performing Arts reflects the CAF mission to sustain and encourage the contemporary arts and artists ensuring that creative expression and appreciation flourishes in and beyond the community we serve. Iridian Arts, Inc. is a Santa Barbara based non-profit supporting the creation and presentation of experimental music and multi-media performing arts.
Strike Series: Adventurous Music and Performing Arts is made possible by the continued support of CAF and Iridian Arts members and patrons. Additional funding is provided in part by The Interdisciplinary Humanities Center at the University of California, Santa Barbara. Iridian Arts participation is made possible in part by the Organizational Development Program using funds provided by the City of Santa Barbara in partnership with the Aaron Copland Fund for Performing Ensembles and the Santa Barbara County Arts Commission.
Images available upon request. For more information contact Kami Shallenberger, at 805.966.5373 ext 104 or go online to www.sbcaf.org.
---
HACIENDA PETAC IN YUCATAN, MEXICO OFFERS THE SALON SERIES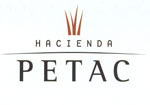 For vacationers who want to explore without rigid itineraries
Yucatan, Mexico , September, 2007...Hacienda Petac, a luxurious private estate outside Merida, Mexico is hosting a "salon series" tailored for those who prefer making travel an experience, not just a destination.
This package of lectures, tours, music and food will highlight the unique attractions of colonial Yucatan, while pampering you within and beyond the walls of a beautifully restored 17th century Hacienda. As an added benefit, this program is designed to fit the travel style and interests of groups who want to explore … but don't like fixed itineraries.
What's included (minimum 5 persons; maximum 10):
7 nights exclusive use of Hacienda Petac, an award-winning 5-bedroom estate in the Mayan countryside, with a pampering staff of 20
A personal driver/guide, knowledgeable in all aspects of the Yucatan
Ground transportation
All meals at the Hacienda
Alcoholic beverages (additional charge for premium wines)
17 % government tax
One of each of the following unique excursions:
- Tour the Back Roads of the Yucatan: visit the small villages that surround Merida, highlighting the culture, crafts and history of the Mundo Maya.
- Flavors of Yucatan: this culinary adventure highlights corn, color and cochinita. Enjoy the cooking, or just enjoy the eating …your design.
- The Best of the Mundo Maya: ruins, cenotes(underground), Trova(music of the Yucatan) and pibil (method of cooking pork or chicken underground) …mixed to order.
Or, you can relax, as much as you want, right at the Hacienda. There, you can enjoy a massage, learn about the history of the 300-year-old Hacienda or about local crafts like sisal weaving or piñata making, or how to make tortillas or guacamole. Or just sit by the pool with margarita in hand.
Cost for package is $2,500 per person including all the above. For reservations and information, call (800) 225-4255 or (203) 602-0300 or check www.sanctuare.com. Hacienda Petac's website is www.haciendapetac.com.

---
Good Design, Conscious Design
Join as Cornerstones of Design Week

Design in the 21st century is a macro concept. Runners connect local initiatives to global supply chains. Global marketing makes people in villages crave products that connect them to bustling urban population centers. The question of how design can improve life while being cognizant of the demands that new design places on the planet is a guiding force behind the program of Design Week Santa Fe for 2007.
To be held from October 11-17 on the grounds of the Santa Fe Indian School—where the only New Mexico building by renowned 20th-century architect Paolo Soleri speaks to the potency of design in place—Design Week Santa Fe bridges the mindfulness of a think-tank with the energy of a new product expo, a curated design exhibition, a juried furniture competition, and offerings in fashion and film.
"Can we buy more wisely? Can design make a difference?" asks Naomi Woodspring, the organizer of Design Week 2007. If design is a facet of desire, how do we meld desire with the requirement to be conscientious citizens of the planet and reduce our carbon imprint?
A business segment of Design Week brings innovative thinkers and speakers to Santa Fe who are changing the face of corporate culture in America and the world. They include keynote speaker Lorrie Vogel of Nike who has won major design awards for her industrial work. This year Nike takes a Fast 50 award from Fast Company magazine for its design innovations. Vogel's product innovations for the company include the Soaker shoe, which has 100% recycled laces, and "green rubber" that has 96 percent fewer toxins than conventional products. Nike has almost completely eliminated PVCs and reduced the use of chemical organic solvents by 95 percent through its entire product line.
Jib Ellison runs Blu Skye Sustainability Consulting. His career began as a river guide putting Russians and Americans (before glasnost) together on class four rapids to teach cooperation skills and communication in face of obstacles. Now his practice has turned to helping Wal-Mart's CEO, Lee Scott, achieve his ambition to make the world's biggest retailer also the greenest. Said Al Gore to Wal-Mart executives at a presentation he gave at the company: As Wal-Mart goes green the world will learn that "there need not be any conflict between the environment and the economy."
Design Week hosts dialogues about local and global while flaunting some of the best new inventions in the design world in Santa Fe and beyond.
---

The French American Fund for Contemporary Music
supports contemporary music projects – commissions, residences, performances, tours, and master classes – that foster cultural exchange between France and the United States. The Fund awards grants to nonprofit institutions celebrating the work of living composers in both countries. Collaborations combining new French and American works are especially encouraged.
Created in 2004 by the Cultural Services of the French Embassy, the Fund is operated by FACE.
Application deadline: February 1, 2008.
Information: http://www.facecouncil.org/music/music.html


The French-American Jazz Exchange
was created by Chamber Music America (CMA), the French Embassy and FACE to foster collaborative projects that unite French and American jazz artists. The program supports initiatives in both countries. In forming international relationships, artists are encouraged to think beyond traditional boundaries. Collaborations with musicians who champion world, electronic, contemporary classical, or other genres are welcome.
Projects may include (but are not limited to) composition, touring, recording, and audience-development activities. Public performance is required, with the understanding that jazz speaks to diverse populations and experiencing music together bridges differences.
Information: http://www.facecouncil.org/jazz/index.html
---
Worried About the Environment?
Toyota to the Rescue!
By Laurence Vittes
I returned from my summer hiatus to find the automobile scene on the Westside dominated by Toyota and Bentley.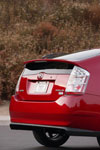 In the case of Toyota, it's most noticeably the Prius. In the case of Bentley, now a subdivision of the Volkswagen empire, it's an astonishing variety of luxury cars, big and small, flamboyant and stealthy. I'll write at length about the Bentley phenomenon in a future column, but Toyota deserves some attention now. In the meantime, while you're keeping your eyes on the road, notice just how many Bentleys you spot.
As for the Prius, which I drove in its current version a few years ago, it retains its tremendous twin virtues. It returns phenomenal gas mileage and, with its hatchback configuration, provides flexible, usable space for both passengers and "stuff." Equally important in a culture where appearance occasionally trump substance, it is immediately recognizable in spite of its being nearly ubiquitous (not to mention still looking like it had wandered in from a parallel universe). My only reservations when I drove the Prius all those years ago were that it didn't accelerate fast enough on the freeway and that, probably due to my bad, bad driving habits, didn't return the mileage I expected.
The first problem has been somewhat taken put to rest by an article on the San Jose Mercury News website: "Can Prius top 100 mph? Ask Wozniak." The story is that Steve Wozniak, one of the original geniuses behind Apple Computer, was clocked at 104 mph in a 70-mph zone. It turns out that the top speed of the 2007 Prius (or, to be accurate, of the European model to which the U.S. model is apparently nearly identical) is officially rated at 106 mph. So, I guess Prius drivers had better keep an eye on the digital speedometer readout.
Even if the Prius didn't go quite so fast, a new report claims that green cars overall are way more sexy than 4x4s. In particular, the report found that women prefer men driving convertible sports cars first, just ahead of men driving small, more environmentally friendly cars. Not that Leonardo DiCaprio and Cameron Diaz, who have been sighted going green in Priuses, need much help in finding dates.
As for the mileage, there's a new movement afoot among the rich and trendy, and that's modifying a Prius by upgrading its battery pack or adding more batteries, so that it can go a lot farther on electric power than it normally does. Up to 100 miles to the gallon. The cost of the modification is about the same as the Prius itself (around $24,000), so you have to figure out whether two Priuses doing 50 mpg or one doing 100 is the better value. It's like an Alice in Wonderland puzzle.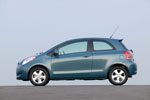 For considerably less money, you could just pick up one of Toyota's Yaris models which start at around $11,000. I was amazed by how solid the little Yaris felt, how safe I felt driving one in traffic, and how smoothly I negotiated even the worst Westside rush hour tie-ups (including making it through four different freeways to get to a theatre opening in Pasadena on time). Parking, of course, is an absolute delight. And, as opposed to most other cars, the Yaris is always ready and willing to go, like a willing puppy. With its small size and aerodynamic design, it boasts miles-per-gallon figures of 34 in the city and 40 on the highway. Please, I say, take a good look at Yaris.
A great source for getting information and tips on going green and getting greener are Jay Leno's regular postings for Popular Mechanics' website
(www.popularmechanics.com/greengarage). It's a long-term project featuring buyer's guides, collecting articles and an occasional video by one of the country's great car collectors and, more recently and impressively, one of the country's great environmentally conscious car collectors.
---
Cars I've Driven Recently
By Laurence Vittes
Affordable Luxury from Hyundai
I've driven a number of Hyundais I've really liked. The newest iteration of their smooth-riding Tiburon sports coupe made the long trek through the desert to Palm Springs seem like a short jaunt. Driving in the four-door V6-powered Sonata to the Mark Taper Forum and other venues where I review theater for the Hollywood Reporter made me feel like I was riding first class. And now I've had a chance to drive Hyundai's flagship, the Azera.
The Azera, which used to be called the XG-300, then the XG-350 and now, in Korea, the Grandeur, is one very splendid automobile. Comfortable and beautifully appointed inside (with more rear legroom than a BMW 7 series), it offers a clear and commanding view of the road, and the kind of smooth power that makes you feel good whether purring through town or cruising up the coast.
The high-end model I drove came with 17-inch wheels, leather seats with handsome contrasting stitching, heated front seats, electroluminescent gauges, a wood-trimmed steering wheel and a surprisingly useful power rear sunshade. Options included power-adjustable pedals, a power-adjustable tilt/telescope steering wheel, rain-sensing windshield wipers and a 10-speaker Infinity stereo with a subwoofer and a 6-disc in-dash CD player. It made me feel like royalty.
I'm not alone. The Azera was named by Kiplinger's Personal Finance as "Best in Class" in the $25,000 to $30,000 category. The demanding website Edmunds.com listed it as its Editors' Most Wanted Sedan Under $30,000. The Azera is a "A Consumer's Digest Best Buy" and was named by J.D. Power and Associates as "Most Appealing Large Car."
In other words, it's okay to buy!
Just Having Fun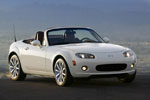 I also drove and hugely enjoyed Mazda's eternally young Miata convertible, now known as the MX-5, which will make you feel eternally young yourself, whatever your age. And for even more fun, it comes in a hard-top convertible version in which the hard top takes a mere 15 seconds to either lower or raise. It means you can run out to the market with the top down, close it in the market parking lot, etc., with nothing more to do than flip a switch.
As always, wherever you drive, the MX-5 is so drop-dead gorgeous that everybody looks at you as you pass them by. Not that the car is a speed burner, though it has plenty of pep and drive. But it just feels so exhilarating to be out in one, whatever your purpose. It's a superb road car, of course, and it's great for running around town (although you won't be able to bring home that armoire you saw--you'll have to ask them to deliver!).
Here's a context-setting description of the MX-5 on the NewCarTestDrive.com website that sums up roadster appeal: "The 1990 Mazda Miata was nothing less than the rebirth of the affordable two-seat sports car. Mazda fused the personality of the British sports cars of the 1950s and 1960s with near-faultless Japanese quality and reliability. From the first one out the door, the Miata delivered what the long-gone but still lamented English sports cars of an earlier generation had never quite managed: a delightful, fun, supremely capable, well-engineered car that started every time and ran forever. There are more Miatas on racetracks every weekend around the country than any other car." Priced to go, too, starting at just over $20K.
When enthusiasts talk of the MX-5, "the world's best-selling two-seat roadster" (how I love that word, roadster, it's like being in my 30s again), they use language more appropriate to describing a Picasso or a Renoir. They're also very impressed that Mazda had added two new exterior colors--Stormy Blue Mica and Highland Green Mica--to a color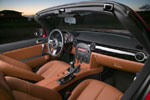 line-up which already includes Copper Red Mica, Galaxy Grey Mica, Sunlight Silver Metallic, True Red, and Brilliant Black.
And the saddle-tan leather interior (one of three interiors offered), is totally yum! So, if you want a sophisticated two-seat roadster (there's that word again!), love to drive with the top down, but could use a hard top at times even in Southern California, the MX-5 could definitely be for you.
Mitsubishi Lancer Finally, I'd like to put in a word for Mitsubishi's humble little Lancer.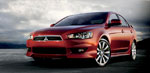 It's lots of things to lots of people. A utilitarian, endearing four-door sedan that hauls people and a reasonable amount of stuff. It is also a relative, albeit a distant one, of Mitsubishi's road rocket EVO, which means that, although it's nothing like a rocket on the road, it has a splendid dynamic sense, its brakes work exceedingly well, and you can feel safe and even a little adventurous even just ambling down Montana towards the Palisades. It's a good car to give to a beloved teen-aged niece or nephew; although initially they might recoil in mortal horror, they'll soon feel, even if they won't admit it, a real sense of pride in the driving experience.
The 2008 model is a complete redesign which Car.com's writer calls "a successful and stunning update." The interior is just fine, if you like minimalist. There's plenty of room for cell phones, drinks and even MP3 players, if you've begun incorporating modern technology into your daily routines. The seats are comfortable enough, gas mileage is okay, and the pricing is more than okay, depending on how many features you want. I sure wouldn't mind having it to use around the city, the town and into the Valley; it would not be, however, my first choice to climb Pike's Peak.
Caveats: For better or worse, none of these cars return state-of-the-art gas mileage. And, as always, prices will vary depending on dealers and prevailing market forces. Value varies depending on whether you want to buy or lease, and for how long. Visit Michael Karesh's TrueDelta.com website for current information and insights about what constitutes value these days, and which manufacturers offer it. Ascertaining value in an automobile is never as straightforward as we would like it to be. So, don't be afraid to make some preliminary choices, and then let your heart influence your head. After all, for most of us in Southern California, driving is a large and important part of the emotional side of life.