Macef – The International Home Show – Abita, con gioia.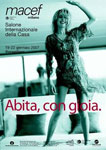 After a successful year of restyling Macef, the January 2007 show will bring a collection of new exhibits, attractions and projects unlike any seen since it's conception in 1964. Continuing with a tradition of innovative programming and creating various partnerships with the local Milanese community, the 82nd Edition of Macef, the International Home Show will be the most distinctive yet.
Highlights from this year's show will include:
The Gourmet Area – Using food as the key for interpretation, Hall 5 will showcase daily different industrial districts from around Italy. These districts will include; provinces from the Marche region, Tuscany, Brescia and Verbano-Cusio-Ossola. Each district will present a variety of high-quality food products typical of their region and will host three events throughout the day: a welcome cocktail party, a live cooking session followed by a tasting and a closing happy hour. These events will involve representatives from the respective regions, famous chefs available to interact with visitors, and "mediated" by equally famous journalists and designers who will discuss the unique qualities of each region.
Macef Around Town – Following the theme of the Gourmet project, Macef has involved a group of local restaurants in Milan. Each will offer recipes typical of the regions represented at the Gourmet Area. In addition, they will create a "Macef menu" highlighting the link between the International Home Show and the city of Milan.
Macef at La Rinascente – This community partnership also includes La Rinascente, Italy's original and most exclusive department store. In celebration of the 82nd annual Macef, La Rinascente will create "Macef-themed" windows at the Piazza Duomo store. In addition, there will be a special exhibit on the lower level, previewing new products presented by companies exhibiting at the fair. La Rinascente is well-known as one of Italy's leaders in the distribution of home, table and kitchen design products.
Project Experience – Project Experience (Hall 8) will be home to one of the show's biggest exhibits, the Design in Multi-color area. This is a section of the Spain project, implemented by Spanish designer and entrepreneur, Agatha Ruiz de la Prada and her licensees. This exhibit will highlight the designer's well known offbeat, colorful style, which she has materialized into products, trends and "exciting" novelties for new home living. Other companies involved in the Spain project are located in their respective product-related halls, highlighted by a symbol of Spain.
Host Country Project – In continuation with the Country of the Year Project, the Spain project will integrate a stimulating workshop – on Saturday, January 20 – led by Francesco Morace and his Future Concept Lab. The workshop will explore the state and development of household products and their distribution similarities and differences in a country so close and similar to Italy.
Dal Mondo – A special focus will be made at Macef on the ethnic sector, now called Dal Mondo ("From the World"), which is presented through a combination of ideas from the East – refined and "westernized" for European consumers – and modern design. In the front section of Hall 9, Giulio Cappellini, art director of the Dettagli area, will provide his own interpretation of the "fusion" concept, by mixing products/cultures with items that come "From the World", skillfully matched with design products.
Art Project – Aimed at specialized retailers, the Shop Village (Plaza of Hall 7) has brought back the Art (ex-Assoceramvetro) Project to help promote products tied to the "culture of the table" supported a strong media and image campaign. Following the success achieved in September, by Casaviva, with tables arranged by Marina Carrara, January's Macef will accent the concept "The road of style. Your own." This will review and analyze the idea of style/non-style.
Giulio Cappellini - The mark of Giulio Cappellini, art director of the Dettagli halls, is as strong and evident as ever, but not just in the selection and organization of the Dal Mondo area; it can also be seen in his decoration of the pavilions and the rest areas located around the fire exits of the fairground (especially between halls 9 and 11), and in the Piazza della Communicazione Project, which hosts several dozen Italian and foreign specialist and non-specialist publishers.
Dettagli on the Web – Giulio Cappellini is the author of the second edition of the booklet on the design of the Dettagli halls. In this edition, Cappellini emphasizes communication issues: how to make the stand more comfortable, how to train the staff on business meetings and how to organize media communication. A complimentary copy of this booklet can be downloaded from the website as of mid-November. Giulio Cappellini will also answer questions regarding the Dettagli halls at www.mymacef.it
Main Attractions - The layout of the fair includes great attractions such as; Kitchenware, the Classico Italiano area, Chibi & Cart, Silverware, the Materie Project (supervised by designer Enrico Tonucci symbolized by a greenhouse representing the land/cultivation for craftsmen who use and process different materials), Getti & Oggetti Project (dedicated to bathroom decoration and organized by Paolo Paci's Studio Quid in Pesaro), Festivity, the Exhibition of Christmas decorations, toys, games, carnival items, and party decorations, in full synergy and in partial correlation (January 17-21) with Macef and finally Bijoux. The Bijoux exhibits are home to designers and jewelers from around the world, showing the latest trends in fashion accessories (bags, belts, glasses and scarves), as well as unique jewelry pieces made from gold, silver, stainless steel, precious stones, etc.
The Macef Design Award – Named for Massimo Martini, the founder of the show (decorated by the Italian government for services to industry). The Massimo Martini Design Award by Macef was organized via the Web in January 2006. Its theme is: Ceramics for Breakfast; brunch, lunch and dinner. Dedicated to young designers from all over the world, the competition is conducted via the internet on the specialized website Designboom.com, and has more than 1200 young designers currently entered. The award ceremony will take place on Sunday, January 21 The Massimo Martini Design Award gives major companies the opportunity to connect with aspiring designers and is an important award to the industry.
---
MUSEUM OF Fine Arts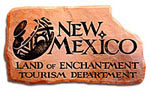 At the Intersection of Art and Science
Exhibition Explores The Art and Artifice of Science
February 9-May 20, 2007 (Final dates)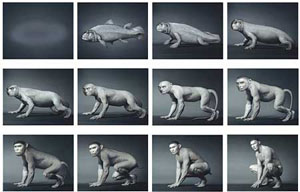 Daniel Lee, Origin, Digital Animation (5 min.), 1999-2003

Santa Fe, NM-The Art and Artifice of Science builds on two of New Mexico's long-standing strengths: its wealth of artistic talent and its scientific innovation. It gives a fresh perspective to the notion that New Mexico has a long history of being a nexus of art and science-as demonstrated by the art colonies in Taos and Santa Fe and the science communities at Los Alamos and Sandia National Laboratories.
The Art and Artifice of Science will explore the intersection of art and science by examining the work of contemporary artists, from New Mexico and beyond, who use the language, look and technologies of science in their work. The exhibition will have two subthemes: (Un)natural Histories and Mapping Bodies.
(Un)natural Histories will examine the work of contemporary artists who create a world inhabited by flora and fauna unlike any we have known before. They accomplish this by exploiting the familiarity of naturalist imagery or a museum of natural history model of display. Spanish photographer and master parodist Joan Fontcuberta, along with Pere Formiguera, created the series Fauna in order to bring to the public eye the bizarre animal discoveries of Dr. Ameisenhaufen, including the Improbitas buccata, a cross between an armadillo and an alligator. All the trappings of his scientific research are there, from stained photographs documenting the "fact" of this animal's existence to journal entries about the animal's behavior. Also in this subsection will be Alison Carey's diorama of Paleozoic ocean life and Harri Kallio's re-creation of the now extinct dodo bird. Much of the work in this section toys with the idea of photographic veracity, scientific objectivity, and a critical look at both. The design of this gallery will re-create the appearance of a museum of natural history in order to emphasize the artifice at play and to underscore how institutions have played a role in how knowledge is constructed.
Mapping Bodies will explore collaborations between artists and scientists (real and faux) to create visual imagery that takes us into the world of biotechnology. Contemporary society has increasingly looked within itself to unravel the inner workings and architecture of the human organism. Informed by her work as a medical photographer, Leigh Anne Langwell makes photograms that appear to be cellular images taken under a microscope. In response to the Human Genome Project, Gary Schneider collaborated with various scientists to create a "genetic self-portrait" using imaging techniques such as radiograms, microscopy, x-rays and a Fundus camera to examine what makes him unique, genetically. Christine Chin and Daniel Lee challenge us to consider how cloning and genetic engineering can change the world around us by introducing hybrid vegetables and humans, respectively. This gallery looks to the future, and will feel highly technological, re-creating the physical workspace and trappings of the laboratory.
Other artists whose work will be included in The Art and Artifice of Science include: Patrick Nagatani, Gail Wight, Justine Cooper, and a collaboration between Min Kim Park, Masumi Shibata and Mary Tsiongas.
For the opening on February 9, 2007, the Women's Board of the Museum of New Mexico will host a reception from 5:30 to 7:30 p.m.
A companion exhibition will be on view concurrently at 516 ARTS in Albuquerque, NM.516 ARTS is located on Central Avenue between 5th and 6th Streets in the center of Downtown Albuquerque. This satellite show of The Art & Artifice of Science opens February 10, 2007, and closes March 24, 2007. For more information about 516 ARTS and this component of the exhibition call Laura Addison at 505-476-5118 or Suzanne Sbarge at 505-242-1445.
---
UPCOMING EVENTS

The Metropolitan Museum of Art
Barcelona and Modernity: Gaudí to Dalí
Exibiition Dates: March 7 – June 3, 2007
Exhibition Location: The Tisch Galleries, second floor
Barcelona and Modernity: Gaudí to Dalí — the first comprehensive exhibition of its type ever mounted in America — explores the diverse and innovative work of Barcelona's artists, architects, and designers in the years between the Barcelona Universal Exposition of 1888 and the imposition of the Fascist regime of Francisco Franco in 1939. Barcelona and Modernity offers new insights into the art movements that advanced the city's quest for modernity and confirmed it as the primary center of radical intellectual, political, and cultural activities in Spain. Pablo Picasso, Joan Miró, Salvador Dalí, and Antoni Gaudí are among the internationally renowned artists who contributed to the creative vitality of Barcelona and the flourishing of Catalan culture. On view at the Metropolitan Museum from March 7 through June 3, 2007, the exhibition will feature some 300 remarkable works in a range of media: painting, sculpture, drawings, prints, posters, decorative objects, furniture, architectural models, and design. La Vie and Blindman's Meal, two of the greatest paintings from Picasso's Blue Period; portraits by Ramon Casas; Isidre Nonell's depictions of gypsies; Miró's The Farm; Dalí's surrealist paintings, as well as furniture designed by Gaudí and an original BKF ("butterfly") chair are among the masterworks gathered from museums and private collections around the world for this major exhibition.
The exhibition is made possible by the Caixa Catalunya. Obra Social and the Generalitat de Catalunya.
Additional support is provided by Angelo, Gordon & Co.
The exhibition is also made possible in part by Jane and Robert Carroll and The Horace W. Goldsmith Foundation.
It was organized by The Cleveland Museum of Art and The Metropolitan Museum of Art, New York, in association with Museu Nacional d'Art de Catalunya, Barcelona. The exhibition opened at The Cleveland Museum of Art on October 15, and it will remain on view through January 7, 2007.
Barcelona and Modernity: Gaudí to Dalí presents Barcelona as a booming industrial city with conflicting politics and revolutionary works of art, architecture, and design. To explore the relationships among the visual arts, broader cultural activity, and political events of the era, the exhibition is organized in nine thematic sections, beginning with the origins of the Catalan Renaissance. The remaining sections focus on the major artistic movements that followed: Modernisme, Noucentisme, and other avant-garde idioms such as Surrealism, with a final section on works of art influenced by the Spanish Civil War.
Renaixença: The Catalan Renaissance (Section One)
The exhibition begins with an introduction to the revival of Catalan culture in the 19th century, when Barcelona expanded rapidly, becoming the largest, most industrialized, and most culturally advanced city in Spain. This set the stage for Barcelona's transformation from a provincial city into one of the most dynamic center of modernist art and architecture in Europe. Following the destruction of the city's medieval walls in 1856, the city expanded into an area known as the Eixample, home to most of the innovative Catalan modern architecture. In 1888, Barcelona celebrated its rising economic power and artistic growth by hosting a Universal Exposition of fine and industrial arts.
Highlights in this section of the exhibition include: Ildefons Cerdà's (1815-1876) Plan for the Enlargement of Barcelona (1861); and Lluis Domènech i Montaner's (1850-1923) iron sculpture Rooster Greeting the Dawn (1892), designed for the Café-Restaurant of the Universal Exposition.
Modernisme: Painting and Sculpture (Section Two)
Modern art in Barcelona originated with Modernisme, a broad Catalan cultural movement that emerged in the 1880s and lasted into the 1910s. During this period, progressive artists and intellectuals in Barcelona opened up to foreign influences and embraced radical new ideas and art forms, especially contemporary French art. Ramon Casas (1866-1932) and Santiago Rusiñol (1861-1931), the key founders of Modernista Catalan painting, turned to themes and subjects that reflected the new realities of modern urban life. They were followed by a second generation of Modernista artists led by Joaquim Mir (1873-1940), Isidre Nonell (1876-1911), and Pablo Picasso (1881-1973). Also featured are notable Modernista posters and graphic works by Alexandre de Riquer (1856-1929) and Adrià Gual (1872-1944).
Highlights include: Rusiñol's painting Café de Montmartre (1890); Mir's painting The Rock in the Pool (c. 1903); and Josep Llimona's (1864-1934) sculpture Grief (1907).
Modernisme: Els Quatre Gats (Section Three)
In 1897, Casas and Rusiñol joined with others to establish Els Quatre Gats ("The Four Cats"), a legendary café that became the focus of bohemian artistic activity in Barcelona and was the site of meetings, exhibitions, poetry readings and puppet theater performances. Picasso, at age 18, became a regular member of the group and held his first solo exhibition there in 1900.
Highlights include: Casas' painting Ramon Casas and Pere Romeu on a Tandem (1897) and Picasso's portraits of his fellow artists at the café (1899-1900).
Modernisme: Art and Society (Section Four)
At the turn of the 20th century, while the rapid industrialization of Barcelona created new fortunes and allowed for wide patronage of the city's artists and designers, poor immigrants worked in harsh and unjust conditions, leading to social conflict, labor strikes and anarchist bombings. Although artists rarely made overtly political statements, they did look closely at both the wealthy bourgeoisie and the working poor. Paintings and drawings by Isidre Nonell and Picasso's Blue Period depictions of beggars, prostitutes, and the disenfranchised reflect on the striking differences between Barcelona's economic and social classes.
Highlights include: Ramon Casas' The Garroting (1894), as well as Picasso's 1903 oil paintings La Vie (Life) and The Blindman's Meal.
Modernisme: Architecture and Design (Section Five)
Modernisme also found expression in architecture, design and the decorative arts. Lluís Domènech i Montaner, Josep Puig i Cadafalch (1867-1957), Josep Jujol (1879-1949), Gaspar Homar (1870-1953), and Antoni Gaudí (1852-1926) designed Modernista buildings and interiors, which, while concurrent with Art Nouveau in northern Europe, were of considerable originality, often expressing aspirations towards a Catalan national style. A renewed interest in local traditions was responsible for remarkable works in wrought iron, stained glass, and ceramics. Among the masterpieces of the period are Domènech's Palace of Catalan Music (1905-1908); Gaudí's Casa Milà (1906-1910); and Gaudi's iconic church, the Expiatory Temple of the Sagrada Família (begun 1883), which has since become a symbol for the city itself. These and other buildings are represented by drawings, models, and original fixtures and furnishings.
Highlights include: Puig i Cadafalch's Ceiling Lamp from Casa Amatller (1898-1900) and Gaudí's Dressing Table from Palau Güell (c. 1899) and Two-Seat Sofa from Casa Batlló (c. 1907).
Noucentisme: The New Classicism (Section Six)
During the 1910s and 1920s, art and design in Catalonia was characterized by a return to order known as Noucentisme or "Nineteen-hundreds Style." Reacting against the perceived aesthetic excesses of Modernisme, Noucentista artists sought to revive the spirit of Catalonia's classical past through forms and themes infused with the timeless values of Mediterranean civilization. Joaquím Torres-García (1874-1949), Joaquim Sunyer (1874-1956), and Feliu Elias (1878-1948) led the way in Noucentista painting. The movement also influenced decorative art and architecture, encouraging a revival of interest in traditional handcraftmanship, especially in ceramics, such as those by Josep Artigas (1892-1980). Works by Picasso and Salvador Dalí (1904-1989) are featured in this section as well.
Highlights include: Torres-García's Project for the Fresco "The Eternal Catalonia," (1912) and Enric Casanovas' (1882-1948) sculpture Persuasion (1912-1913).
Avant-Gardes for a New Century (Section Seven)
Barcelona's Dalmau Gallery, established in 1912, was crucial in introducing avant-garde art to Catalonia. Beginning around 1916, international artists flocked to Barcelona and began to pursue inventive new art forms influenced by Cubism and Surrealism. Torres-García, Pablo Gargallo (1881-1934) and Joan Miró (1893-1983) were Barcelona's leading avant-garde artists. Paintings by Picasso, Miró, Dalí, and Francis Picabia (1879-1953) and sculptures by Julio González (1876-1942) are featured in this section. Original manifestos, calligrams, and magazines are also exhibited.
Highlights include: Miró's paintings Self-Portrait (1919) and The Hunter (Catalan Landscape) (1923-1924) and Dalí's paintings Accommodations of Desire (1929) and The Dream (1931).
The Rational City (Section Eight)
In the late 1920s a new movement emerged in architecture and design that rejected historically rooted styles in favor of starkly minimalist rationalism. The innovative group GATCPAC (Group of Catalan Architects and Technicians for the Progress of Contemporary Architecture) dedicated itself to relieving social problems, such as overcrowding and unsanitary living conditions, through architecture and functional objects designed for the masses. The German architect Ludwig Mies van der Rohe (1886-1969) also graced the city with one of the most celebrated buildings in the history of modern architecture, his pavilion for the Barcelona International Exposition of 1929. Architectural models will be the centerpiece of the section, supplemented with drawings, period photographs, and period journals.
Highlights include: models of Casa Bloc (1932-1936) by GATCPAC and the Central Antituberculosis Clinic (1934-1938) by Josep Lluís Sert, Joan B. Subirana, and Josep Torres Clavé; and the BKF ("butterfly") chair by the Grupo Austral.
The Spanish Civil War (Section Nine)
Artists in Barcelona reacted to the crisis of the Spanish Civil War (1936-1939) with a powerful wave of paintings, sculptures, posters, films, and photographs. This section will feature a selection of important works responding to the horrors of the conflict, including paintings by Dalí and Miró, sculptures by González, and Picasso's studies for Guernica, his famous painting commissioned by the Spanish Republican government. Josep Lluís Sert's Pavilion of the Spanish Republic for the Paris International Exposition of 1937 — at which Guernica was first shown publicly — will be represented with a large architectural model.
Highlights from this section include: Dalí's 1936 painting Soft Construction with Boiled Beans (Premonition of Civil War); Miró's painting Still Life with Old Shoe (1937); and prints from Miró's Black and Red Series (1938).
Barcelona and Modernity has been organized by William H. Robinson, Curator of Modern European Art, and Jordi Falgàs, Cleveland Fellow in Modern Art, of The Cleveland Museum of Art; Magdalena Dabrowski, Special Consultant, and Jared Goss, Associate Curator, of The Metropolitan Museum of Art's Department of Nineteenth-Century, Modern, and Contemporary Art.
The exhibition is accompanied by 540-page catalogue by William H. Robinson, Jordi Falgàs, and Carmen Belén Lord. The publication features 600 illustrations, a preface by Robert Hughes, and essays by Magdalena Dabrowski, Jared Goss, and 27 other scholars. The catalogue is published by The Cleveland Museum of Art in association with Yale University Press ($65 hardcover, $40 paperback).
The Met will present an array of educational programs in conjunction with the exhibition, including gallery talks, lectures, and films. Gallery talks will include: two by Jared Goss on the architecture and design of the Catalan Renaissance; two by Magdalena Dabrowski on the paintings and sculptures featured in the exhibition; and a general talk that will be interpreted into sign language. In addition, an Audio Guide will be available for the exhibition. (Fees for rentals will be $6 for members of the Museum, $7 for nonmembers, and $5 for children under 12.)
The exhibition will also be featured on the Museum's Web site, www.metmuseum.org.