GAUGUIN AT THE TATE MODERN IN LONDON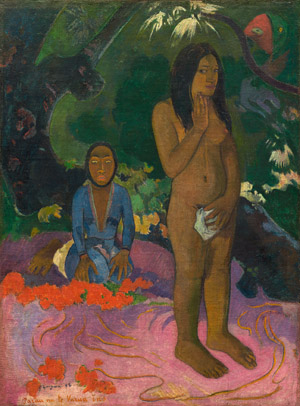 Gauguin, Paul
French, 1848 - 1903
Parau na te Varua ino (Paroles du Diable/ Words of the Devil), 1892, oil on canvas, unframed: 91.7 x 68.5 cm (36 1/8 x 26 15/16 in.) framed: 116.8 x 94 x 10.1 cm (46 x 37 x 4 in.), National Gallery of Art, Washington, Gift of the W. Averell Harriman Foundation in memory of Marie N. Harriman, 1972.9.12
Gauguin, Paul
French, 1848 - 1903
Haystacks in Brittany, 1890, oil on canvas, unframed: 74.3 x 93.6 cm (29 1/4 x 36 7/8 in.)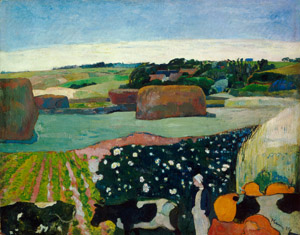 framed: 96.5 x 115.6 x 7.6 cm (38 x 45 1/2 x 3 in.), National Gallery of Art, Washington, Gift of the W. Averell Harriman Foundation in memory of Marie N. Harriman, 1972.9.11
The first major exhibition in London devoted to this master of modern art for over 50 years, the landmark Gauguin exhibition London event explores Gauguin's innovative and unique method of storytelling.

Gauguin: Maker of Myth
Titled Gauguin: Maker of Myth, the Gauguin exhibition London event features over 100 works from both public and private collections sourced from around the world. The show is organised in collaboration with the National Gallery of Art in Washington, which will host the exhibition after it finishes at the Tate Modern.

Rare insight
Featuring a number of rarely seen illustrated letters, sketchbooks and memoirs as well as watercolour paintings, ceramics and carvings from thoughout Gauguin's career, the exhibition gives a rare insight into the artist's working practices and private thoughts. Gauguin was a larger than life figure whose renown as an artist is almost matched by his reputation as a romantic bohemian, and many of the myths and assumptions surrounding the artist are explored in the Gauguin exhibition.

London show
A pioneer of modernism, Gauguin was seen as a radical artist in his time for creating bold, vibrant images. Born in Paris and well known for both his tumultuous friendship with Vincent Van Gogh and his self imposed exile to Tahiti, Gauguin's work was deeply influenced by everyday life on the South Seas island and the rituals and myths of the Maori culture he found there.

Exhibition highlights
Highlights of the Gauguin exhibition London event include a whole room dedicated to Gauguin's self portraits, which explore his role playing as a victim, saint, martyr and sinner. Other works on show include some of Gauguin's famous portraits of Tahitian women, such as the 1893 work Teha'amana Has Many Parents, which has been borrowed from the Art Institute of Chicago specially for the show at Tate Modern.

Exotic images
Exploring Gauguin's skill as a storyteller who used images to represent the themes of religion, myth, fable and tradition, Gauguin: Maker of Myth features works from the Tahiti period of the artist's life, which use the plants, animals, people and everyday life of the South Seas island for inspiration. This ties into Gauguin's earlier work in Brittany, Martinique and Arles.

The Gauguin exhibition London event takes place at Tate Modern from Thursday 30th September 2010 - Sunday 16th January 2011. Standard tickets cost £13.50 and concessions are £10.00. WWW.tatemuseum.uk.
_____________________________________________________________________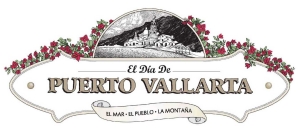 PUERTO VALLARTA TO KICK OFFTHEIR ANNUAL ART WALK SEASON

 

Art lovers can indulge in some of the finest offerings during weekly self-guided art walks held every Wednesday from October 2010 to May 2011

 

Puerto Vallarta is known for embracing the arts. From the many sculptures that line its malecon to the fine art galleries that house national and international works, it is hard not to be impressed by the dynamic arts scene in this town of romantic charms and authentic Mexican traditions. Visitors to Puerto Vallarta can explore the town's numerous arts offerings during weekly self-guided art walks from October 27, 2010 to May, 25, 2011.
 
Art lovers can take part in this season's Art Walk, and visit 15 galleries and appreciate the quality if the art exhibited. All participating galleries are located in Puerto Vallarta's Old Town, making the walk from gallery to gallery pleasant through the cobble stoned streets of the colonial city, all framed with the Pacific blue waters of the Bay of Banderas.
 
Both local and international artists display their work within select galleries, and often times featured artists will make an appearance for a meet-and-greet on a select Wednesday evening from 6-10 p.m. The artwork ranges from paintings, ceramics, and sculptures to Huichol crafts, and unique handmade jewelry.
 
The gallery Artesanias Watakme will be showcasing a number of one of a kind pieces that are an excellent representation of ancient Mexican culture. These native handicrafts were created by the gallery owner who has a vast knowledge of Huichol culture and art. Masks, yarn paintings, prayer bowls, and beaded sculptures are a few examples of the unique art work this particular gallery carries.
 
Additional information on the Vallarta Art Walk and participating galleries is available at www.vallartaartwalk.com
 
Additional information on Puerto Vallarta can be obtained at www.visitpuertovallarta.com
 

___________________________________________________________________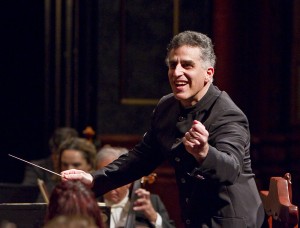 SANTA BARBARA SYMPHONY SEASON OPENS WITH A ROAR
Nir Kabaretti and the Symphony performed live on KDB93.7FM
by Bonnie Carroll
Beethoven's Symphony No. 9 in D minor, Op. 125, "Choral" which featured Susanna Phillips, Soprano, Elise Quagliata, Mezzo-Soprano, Bryan Griffin, Tenor, Jason Grant, Bass-Baratone, The Santa Barbara Choral Society, Jo Anne Wasserman, Director, Westmont College Choir, Michael Shasberger, Director and Quire of Voyces, Nathan Kreitzaer Director was performed to a full house on October 16-17 in the Granada Theatre. Concert choral society sponsors were Dick & Marilyn Mazess, Montecito Bank & Trust, Keyt3 and the opening champagne was donated by Marilynn L. Sullivan on behalf of the Santa Barbara Symphony League.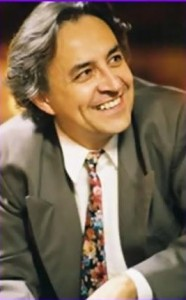 Prior to the performances Ramon Araiza presented a very entertaining and informative "Music Behind the Music Pre-Concert Event", which is a kind and generous program sponsored by Marlyn Bernard Bernstein. Before each performance the brilliant music aficionado provides a 1-hour presentation on the background of each symphony performance.
Nir Kabaretti's talent and passion, along with that of Gisele Ben-Dor, conductor Laureate, made this symphony yet another that can hold its own with Los Angeles or New York symphony presentations, and the opening gala presentation made this obvious. Before the last note was played the entire audience was on their feet applauding so loudly that the theatre was vibrating, again proving that Beethoven was a classical rock star then and now, and the Santa Barbara Symphony rocks as well. The combinations of amazing vocal performers working in tandem with the symphony on this night created a magical beginning for the 2010-11 seasons. November 13-14 symphony program will include Rimsky-Korsakov, Scheherazade, which will feature Sergio Tiempo performing Tchaikovsky Piano Concert No. 1. For program information visit www.thesymphony.org.
---
             HARLEM QUARTET AT SANTA BARBARA MUSEUM OF ART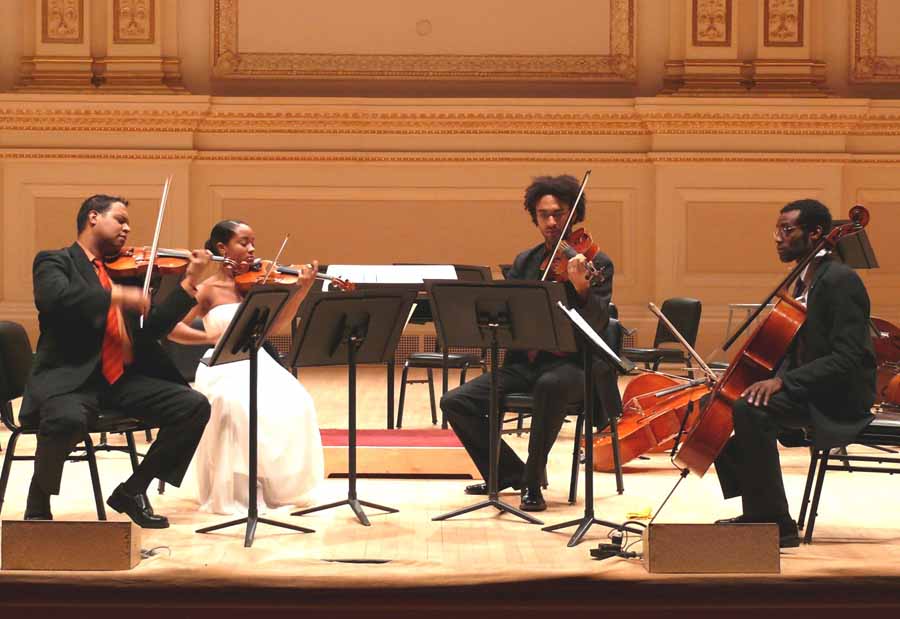 November 8 marks a performance at SBMA by Harlem Quartet, the innovative and daring quartet, comprised of First Place Laureates of the annual Sphinx Competition, it is dedicated to the advancement of diversity in classical music, highlighting works by minority performers. They were recently named the next resident ensemble in the New England Conservatory's Professional string Quartet Training Program, directed by cellist Paul Katz. In December 2009 the quartet performed twice a the White House for President Obama and First Lady Michelle Obama and was featured on NBC's Today Show on Christmas morning. The quartet made its acclaimed debut in the fall of 2005 at the Sphinx Organizations' Gala Concert at Carnegie Hall and has returned to Carnegie on numerous occasions. They have also performed at the Apollo Theatre, with the Chicago Sinfonietta at the Library of Congress, in London a the residence of the U.S. Ambassador to the United Kingdom, and by invitation with Itzhak Perlman at the Metropolitan Museum of Art. Their program will include Turina's La Oracion del Torero (The Bullfighter's Prayer), Beethoven's Quartet No. 3, Op. 18 in D Major, Ravel's Quartet in F Major, and Paul Chihara's arrangement of Billy Strayhorn's "Take the 'A' Train".
This performance takes place in tandem with the Reframing America Exhibitions.
For additional information visit: www.sbma.net.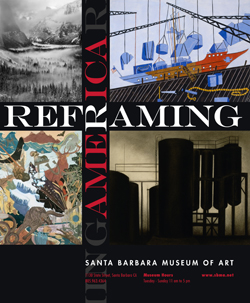 ___________________________________________________________________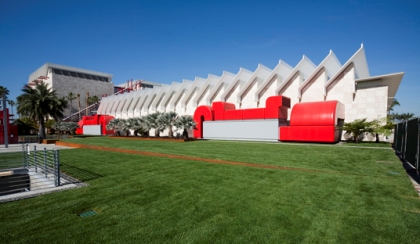 LYNDA AND STEWART RESNICK PAVILION NOW OPEN
Along with Eli Broad, philanthropists Lynda and Stewart Resnick held a grand opening for the Lynda and Stewart Resnick Exhibition Pavilion at LACMA on October 2. The 45,000 square foot gallery space on the museum campus was designed by Renzo Piano, who also designed the Broad Contemporary Art Museum.



The couple donated $45 million toward the new building, which currently features three inaugural exhibits: Eye for the Sensual: Selections from the Resnick Collection, which includes 16th to 20th century European paintings, sculptures and furnishings; Fashioning Fashion: European Dress in Detail, 1700-1915, and Olmec: Colossal Masterworks of Ancient Mexico that includes artifacts of that country's earliest civilization. Sharon Takeda is Fashion and Fashioning curator.
LACMA is located at 5905 Wilshire Boulevard, L.A. phone 323-857-6000 or lacma.org. Hours: Mon.- Tues. and Thurs., Noon - 8:00PM, Friday Noon - 9PM, Sat.- Sun., 11AM-8PM. Tickets $15.
____________________________________________________________
---