First Annual Jackson Hole Art Auction Pairs Contemporary and Traditional Western Artists

Saturday, September 15, 2007, 1:30 – 4:30 p.m.
Center Theater, at the Center for the Arts
Jackson, Wyoming
Jackson, Wyoming, June 14, 2007 – In the heart of this colorful town at the foot of the majestic Grand Tetons, the Center for the Arts, with its brand-new 40,000-square-foot Performing Arts Pavilion, is a deep source of civic pride.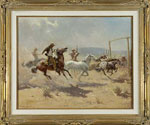 Olaf Wieghorst, 1899-1988
Hazing 'Em In
oil on canvas, 24 x 30 inches
It's especially fitting that on September 15 it will host a unique event celebrating the best in Western American art. The first annual Jackson Hole Art Auction, sponsored by Trailside Galleries and the Gerald Peters Gallery, will feature the work of contemporary artists alongside the work of an older generation, including the Taos Colony of Artists.
The roster of contemporary artists at the auction will include landscape painters and portraitists, like William Acheff, Clyde Aspevig, Bill Anton, Robert Duncan, Martin Grelle, G. Harvey, Bob Kuhn, Jim Norton, Ken Riley, Mian Situ, Tucker Smith and Morgan Weistling.

The auction will also include the work of deceased artists and sculptors like Titian Ramsay Peale, George Catlin, Albert Bierstadt, Antoine-Louis Barye, John J. Audubon, Richard Friese, John Ford Clymer, Charles M. Russell, Alfred Jacob Miller and A. Phimister Proctor.
Set against some of the most inspiring scenery in the American West, the Jackson Hole Center for the Arts is the crown jewel among Jackson's public spaces. Its design merges clean, contemporary lines with traditional materials to beautifully evoke the town's Western heritage.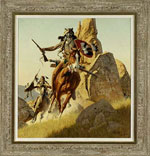 Frank McCarthy,1924-2002
Where Others Had Passed
oil on canvas, 32 x 30 inches
The facility includes a 41,000-square-foot Arts & Education Pavilion, opened in December 2004, and the newly completed Performing Arts Pavilion, which includes a 500-seat theater, a music center, theater rehearsal space and administrative space. Twenty local organizations use the facility on a daily basis. The art auction, a first for Jackson, will be held in the theater. Ten percent of the auction's profits will be donated to the Center for the Arts, with another 10 percent of profits going to the National Museum of Wildlife Art, which is also based in Jackson.
Trailside Galleries, with locations in Jackson and Scottsdale, Ariz., has been renowned for its collection of Western American art, including landscapes, wildlife, scenes of cowboy and Native American life, since 1963. Trailside will provide the collection of contemporary artists.
The auction's co-sponsor is the Gerald Peters Gallery of Santa Fe, N.M., which will provide the work of deceased artists, including examples from the Taos Colony of Artists. Gerald Peters Gallery carries 19th and 20th century work in a variety of genres, including classic Western art, modernism and contemporary art.
The National Museum of Wildlife Art, which sits on a butte overlooking the 20,000-acre National Elk Refuge outside Jackson, is home to an internationally acclaimed collection of fine art paintings, sculpture and photography devoted to wildlife.
---
PRADO'S 1st EXPANSION IN 200 YEARS DEBUTS IN OCTOBER
MADRID MUSEUM DOUBLES IN SIZE; WILL PRESENT 50% MORE WORKS
Weekend Previews until July 1
Madrid's Prado Museum (Museo Nacional del Prado) has completed the most extensive expansion in its 200-year history with the $202.6 million (152 million euro) restoration of the 17th century cloister of the monastery of San Jerónimo el Real and the opening of new galleries for temporary exhibitions. Increasing the museum's space by 50 percent, it provides room to present more of the museum's collection and adds facilities that bring the institution up to 21st century standards. The new spaces are now open to the public every Saturday and Sunday until July 1 and the official inauguration will be in October.
One of Spain's most distinguished architects, Pritzker prize-winning Rafael Moneo, devised an ingenious and sensitive addition that respects the original structure designed by Juan de Villanueva in 1785. Moneo's design links the museum to a new complex that incorporates the cloister of the Jerónimos church, which was painstakingly dismantled – all 3,000 blocks – and then rebuilt.
The new 167,023-square-foot space includes a large underground area that connects the new building to the original Villanueva structure. Concealing the link between the old and new buildings beneath a roof garden, Moneo brings to mind the traditional landscaped gardens of the 18th century. The expansion has added almost 15,000 square feet of temporary exhibition space divided over four rooms. The inclusion of the Cloister into the new building creates an exceptional light-filled space for a sculpture gallery. There's a lecture hall with seating for 438 people, a large reception area and visitor area, a new gift shop/bookshop, a new cafeteria-restaurant, specially-designed areas for restoration and larger and better equipped storage areas with a sizeable loading bay.
Moneo's architecture emphasizes natural materials. Madrid granite, brick and patinaed bronze cover the façade while the interior is also faced with granite as well as oak, cedar, and natural bronze. Glass plays a significant role in his work. Here, Moneo creates passages of natural light that filter in to different areas of the building. The architect commissioned sculptor Cristina Iglesias who describes her monumental bronze doors as a "plant tapestry." Opposite this striking doorway is a parterre of almost 9,000 Tuscan dwarf box plants.
The inauguration of the Jerónimos building is an important step in the Prado's continuing expansion in which several independent buildings will eventually be joined in a single urban ensemble, creating a "campus." This new Museo del Prado campus will comprise the Villanueva-Jerónimos complex, the Casón del Buen Retiro (1637), the Salón de Reinos in the Museo del Ejército (the Army Museum,1633) and the creation of the Loan Management Centre located in Ávila in the Casa del los Águila.
The enlarged and remodeled Casón del Buen Retiro will house the Prado's library, research activities and an innovative educational project, the Escuela del Prado. While the Salón de Reinos, or Room of the Kings in the former Army Museum, will provide additional space to exhibit more from the permanent collection and to present temporary exhibitions.
Villanueva's building first opened to the public in 1819 as the National Museum of Painting and Sculpture with 311 works from the Spanish Royal Collection that originated from the 16th century under Emperor Charles V. Succeeding Spanish monarchs – both Habsburgs and Bourbons – added to the collection. Today the Prado has the world's foremost collection of Spanish paintings dating from the Middle Ages to the 19th century including outstanding masterpieces by Berruguete, El Greco, Goya, Murillo, Ribera, Sorolla, Zurbarán and Velázquez.
Another high point is a collection of 16th to 18th century Italian masterpieces including works by Fra Angelico, Botticelli,Correggio, Caravaggio, Gentileschi, Mantegna, Raphael, Tiepolo, Tintoretto, Titan (36 paintings) and Veronese. Spain governed the Netherlands in the16th century which explains the wealth of the Flemish and Dutch collections represented by: Hieronymous Bosch, Brueghel, Van Dyck and the world's largest group of works by Rubens, 80 in total. A small number of German paintings, high in quality, are by artists like Albrecht Dürer and Lucas Cranach. Both the French and English schools are also represented. In all, the Prado's collection consists of 8,600 paintings, 2,410 prints, 6,383 drawings and 1,086 sculptures as well as coins, furniture and a considerable holding in the decorative arts including the Dauphin's Treasure.
The Prado Museum is located on Paseo del Prado, call: 011-34-91-330-28-00, fax: 011-34-91-330-28-56 or e-mail: museo.nacional@prado.mcu.es. Open daily, except Mondays, from 9 AM to 8 PM. Admission is about $8, or 6 euros, except Sundays (9 AM to 7 PM) when it is free. Visitors under 18, over 65 and students from EU countries are admitted free of charge. Students from non-EU countries pay about $4 or 3 euros. Go to http://museoprado.mcu.es/home.html
For information about Spain, contact the Tourist Office of Spain in New York (212-265-8822); Miami (305-358-1992); Chicago (312-642-1992) or
Los Angeles (323-658-7188) or go to www.spain.info
---
SPANISH NIGHTS – AMERICAN DREAMS SUMMER DANCE FESTIVAL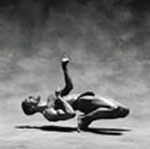 The Innsbruck Summer Dance Festival, this year taking place from June 15 through July 8, 2007, now definitely belongs up there with the most prominent dance festivals in Europe: famous ensembles such as Alonzo King, Complexions, and the Antonio Gades Company are among the performers in 2007. The crowning event will be a dance gala incorporating performers from several renowned dance companies.
---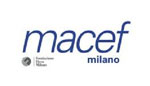 SAVE THE DATE
WHO: Macef - The International Home Show
WHEN: September 7-10, 2007
WHERE: Rho Pero Milano, Italy
WHAT: SAVE THE DATE for Macef's 83rd Edition
We are happy to introduce the 83rd edition of Macef, the International Home Show. This September's show will present the second edition of Storie d'Autore, an event that was created to foster product innovation by pairing the practical skills of Italy's industrial districts and the creativity of design. Matching the skills and cultural traditions from these districts to the creativity and methods used by designers, has made the initial launch of this program (September 2006) a huge success. This years' visitors will have the opportunity to see the results of this project as the new products, originally supervised by Architect Marco Migliari, will be showcased at this September's Macef.
As one of Europe's largest and most attractive trade shows for domestic products, Macef sees 170,000 visitors each year and showcases products from the arena of Kitchenware & Tableware, Home Decoration, Gifts, Design, Classic Furnishings and Ethnic Items. Lastly, Macef features over 5,000 companies exhibiting in over 250,000 net square meters of display area.
---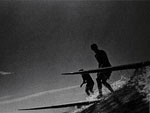 EBB/FLOW, an exhibition of surf culture from the 1930s - today.
June 15 through July 31, 2007
East/West Gallery, 714 Bond Avenue, SB 93101
Hours Tuesday – Saturday by appointment
(805)963-4041 www.eastwest-gallery.com
Opening Reception Saturday, June 16 6-9 PM, Featuring Live Music by Denny Aaberg, legendary surf guitarist and screenwriter of "Big Wednesday." Auction of print of pro legend Tom Curran signed by the artist and Mr. Curran. Note:*100% of proceeds from the auction will be donated to the Santa Barbara Surfrider Foundation. Plus as part of the "Art for Activism" series, 10% of all proceeds from the exhibition will go to support the organization.
SYNOPSIS: Vintage era photographs and contemporary artists mix to create a vibrant contrast of old and new, celebrating the ubiquitous Southern California pastime and obsession …surfing.
---