WINSLOW HOMER'S SECRETS OF THE WATERCOLOR MEDIUM
REVEALED IN MAJOR EXHIBITION AT THE ART INSTITUTE
Largest Exhibition of American Master's Watercolors in More Than Two Decades
Art Institute Sole Venue for Watercolors by Homer: The Color of Light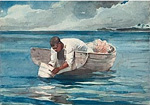 The Art Institute of Chicago announces a groundbreaking exhibition of watercolors by one of America's most revered artists. Watercolors by Winslow Homer: The Color of Light presents 130 works that reveal Homer's astounding mastery of watercolor, exploring how he unlocked the secrets of the medium over a period of more than three decades. In preparation for this exhibition, curators, conservators, and conservation scientists at the Art Institute spent years closely examining Homer's watercolor techniques and materials, using the museum's own collection as a basis for their inquiries. The resulting exhibition, with its accompanying catalogue, provides an intimate look at the artist's evolving relationship with this flexible and luminous medium. Offering the most comprehensive exhibition of Homer's watercolors in decades, Watercolors by Winslow Homer: The Color of Light is organized by and mounted exclusively at the Art Institute. The exhibition will be on view February 16–May 10, 2008, in the museum's Regenstein Hall and Galleries 271–273.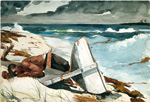 American painter Winslow Homer (1836–1910) created some of the most breathtaking and influential images in the history of the watercolor medium. He was, famously, a man who received almost no formal artistic education. Acknowledged in his own day as America's most original and independent watercolorist, he had an intuitive relationship with this challenging medium. Between 1873 and 1905, he created nearly 700 watercolors—an astonishing number. A staple of his livelihood, watercolors were quick drying and portable. The medium became his movable classroom, a way for him to learn through experimentation—with color theory, composition, materials, optics, style, subject matter, and technique—far more freely than he could in the more public and tradition-bound arena of oil painting.
Watercolors by Winslow Homer: The Color of Light is arranged in thematic sections, organized around the different sites where the artist worked. These invite viewers both to look closely at Homer's watercolor techniques and also to step back in order to appreciate the way he adapted his light effects and color palette to the unique characteristics of the settings where he worked. In an almost uncanny way, Homer's watercolors nearly always ring true, vividly capturing the tangible sensations of each environment. A total of 130 watercolors, oils, drawings, and prints from public and private collections throughout the United States tell the story of Homer's development as a watercolor artist, chronicling his techniques, materials, and his responses to dramatic settings—the rocky, deserted coast of Maine, the lush habitats of the Adirondack Mountains, and mesmerizing vistas in the Caribbean and Florida. The exhibition demonstrates the central role that watercolor played in helping the artist achieve the fresh, immediate, light-filled scenes that have become his most enduring legacy to American art.
The exhibition is the result of a collaboration among curators, researchers, conservators, and conservation scientists, who used the latest analytical technology to examine the Art Institute's watercolors. The research yields new information about his pigments, his experiments with color theory, and his varied, unconventional use of watercolor. The alteration of his colors over time due to light exposure is also considered, in order to arrive at a new understanding of his original intentions. An interactive Web component will allow visitors to explore this research—as well as learn about cutting-edge conservation techniques—at their own pace, scrutinizing details under high magnification and learning firsthand about the materials, pigments, and techniques Homer used to achieve his astounding effects. Available in February, www.artic.edu/aic/research/homer will provide high-resolution images and in-depth analysis of the museum's methods and findings.
A beautifully illustrated catalogue accompanies Watercolors by Winslow Homer: The Color of Light. Published by the Art Institute in association with Yale University Press, the 228-page volume presents essays written by Tedeschi and by Art Institute paper conservator Kristi Dahm. The catalogue also includes major contributions by Homer specialist Judith Walsh, associate professor of conservation at Buffalo State University, and by exhibition research assistant Karen Huang. The catalogue will be available in February for purchase in the Museum Shop and online at www.artinstituteshop.org.
Watercolors by Winslow Homer: The Color of Light is organized by the Art Institute of Chicago. Terra Foundation for American Art is the Lead Foundation Sponsor as part of American Art American City, a Chicago celebration of historical American art. Harris is the Lead Corporate Sponsor. Additional support has been generously provided by the Jane Ellen Murray Foundation, the Community Associates of the Art Institute of Chicago, Mr. and Mrs. Norman C. Bobins, and Mr. and Mrs. William C. Vance. Support for the catalogue has been generously provided by The Elizabeth F. Cheney Foundation.

IMAGE CREDITS:
Winslow Homer, The Water Fan (1898/1899). Watercolor with graphite, on off-white wove paper. 374 x 534 mm. The Art Institute of Chicago, Gift of Dorothy A., John A., Jr., and Christopher Holabird in memory of William and Mary Holabird.
Winslow Homer, After the Hurricane, Bahamas (1899). Watercolor with touches of reddish-brown gouache and with traces of scraping over graphite, on off-white wove paper. 380 x 543 mm. The Art Institute of Chicago, Mr. and Mrs. Martin A. Ryerson Collection.
---

February 21-24, 2008
A Weekend of Fine Art, Food, Wine, Fashion and Homes Benefiting Art Programs for Santa Fe Schoolchildren
A Celebration of Art & Cuisine
Santa Fe Galleries Promote Arts in Education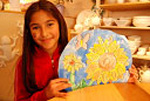 ARTsmart is a volunteer organization that believes the visual arts are critical to a child's development. Through charitable donations and events, ARTsmart funds art programs for Santa Fe schoolchildren. Our annual fundraiser, ARTfest, is a community project that also promotes economic development. ARTsmart is a 501c3 nonprofit corporation that works with the Santa Fe Gallery Association
Now in its 11th season, ARTfeast is heralded as one of the most inspired reasons for a weekend getaway to Santa Fe. Held February 21-24, 2008, this extravaganza features the City Different's world-class chefs and restaurants, an international array of vintners, designer fashions and unique homes, along with nationally and regionally prominent artists represented by members of the Santa Fe Gallery Association.

All of this festivity provides young people with the skills needed to creatively respond to life. Proceeds from ARTfeast fund art programs and materials for Santa Fe youth. Through the nonprofit ARTsmart, $90,000 was donated in 2007 and nearly a half-million dollars since the event's inception.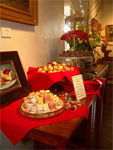 The fun begins with a Contemporary Encounter on Thursday evening. Food and wine are served in the galleries of SITE Santa Fe, where Director Laura Heon illuminates the pioneering video and electronic art of internationally acclaimed Steina.
On Friday, the Vintners' Luncheon & Style Show stages a runway presentation of elegant, yet comfortable fashions by Dallas-based Allie-Coosh. A shopping bazaar of original creations by New Mexico's clothing and accessory designers follows.
The popular Edible Art Tour on Friday evening is an odyssey of art, food and drink served by the city's restaurateurs in the ambience of 30 art galleries. Amble through the most "walkable" art center in the country, or be transported on buses shuttling between locations on historic Canyon Road and the Downtown Plaza area.
ARTfeast
Saturday begins with the Art of Home tour in which exceptional residences selected by Santa Fe Properties are enhanced by artwork supplied by Santa Fe's gallerists and schoolchildren (tour repeats on Sunday). In the afternoon, participants sample wines by more than 25 vintners, accompanied by artisanal cheeses and mellow music during the Art of Wine. Starting at 6 pm, a multi-course Gourmet Dinner recognizes Honorary Artist Roxanne Swentzell. Created by well-known chefs, the dinner is paired with perfect wines and enlivened by an auction of handmade plates and sculptures by Santa Fe schoolchildren.
ARTfeast weekend concludes with the Sunday Artists' Champagne Brunch, which brings together art collectors, gallerists and artists in an exciting auction atmosphere. Both live and silent bidding take place for paintings, sculptures and enticing packages that include returning to the Land of Enchantment for cooking classes, ballooning, rafting, skiing and more.
Many of Santa Fe's lodgers and bed-and-breakfasts offer weekend specials, providing relaxing breaks between the bountiful pleasures that put Santa Fe tastefully at the top of every traveler's wish list. For details and ticketing visit www.artfeast.com and www.santafegalleryassociation.org. To plan additional adventures go to www.santafe.org and www.newmexico.org.

---
The very best play the Vienna Festival concerts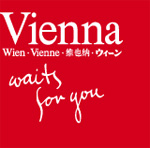 The very best play Vienna. While in 2008 this will also apply to the UEFA 2008 soccer championships, it is true of the virtuoso performers that year for year help make Vienna a world-leading city of music during the Vienna Festival concerts at the Musikverein from May 4 to June 15.
On the opening night the Vienna Philharmonic under Mariss Jansons and Latvian mezzo soprano Elîna Garanèa will perform Gustav Mahler's third symphony. Another highlight of the festival is an evening with the Amsterdam Concertgeb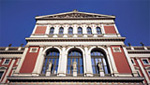 ouw Orchestra and baritone Thomas Quasthoff on May 31, also conducted by Mariss Janson. The program includes pieces by Webern, Schubert and Beethoven. There is also a series of upcoming evening concerts with top pianists playing on May 27 (Rudolf Buchbinder), June 4 (Alfred Brendel) and June 6 (Maurizio Pollini).
Two star-studded double concerts will take place on June 7 and 8. To mark Herbert von Karajan's 100th birthday "his" choir, the Wiener Singverein and the Vienna Philharmonic under Riccardo Muti will perform Verdi's Messa da Requiem – as at the last joint concert with Karajan, in 1989. Joseph Haydn's oratorio "The Seasons" also has a dazzling cast: Nikolaus Harnoncourt will conduct his Concentus Musicus Wien instrumental ensemble and the Arnold Schönberg Choir. Genia Kühmeier, Ian Bostridge and Gerald Finley are the solo vocalists.
The four new rooms will also host a varied, and in part, young program that includes a jazz evening with Anne Sofie von Otter (May 29) who will be performing several times, and a reading by Oscar winner Vanessa Redgrave with piano music (May 4 and 5).
May 4 to June 15, 2008,
Musikverein, Karlsplatz 6,
1st district, tel. (+43 1) 505 81-90,
www.musikverein.at
---
BELLAGIO GALLERY OF FINE ART TO PRESENT
'AMERICAN MODERNISM' BEGINNING FEBRUARY 2008
New Exhibition and New Vision for Las Vegas' Premier Art Gallery

Bellagio Gallery of Fine Art will showcase the best of "American Modernism" February 8 through October 15, 2008. Organized by the Museum of Fine Arts, Boston (MFA), the exhibition will feature masterworks by American modernists such as Georgia O'Keeffe, Stuart Davis, Marsden Hartley, Arshile Gorky and others.

An engaging retrospective, the carefully chosen display will showcase more than 30 of the MFA's most renowned paintings. The contemporary presentation will advance Bellagio Gallery of Fine Art's dedication to enhancing the cultural landscape of Las Vegas. The period known as American Modernism began at the turn of the 20th century and reached its pinnacle between World War I and World War II. During this time, celebrated artists such as O'Keeffe began experimenting with painting by offering a subjective take on the traditional subject matter of still life and landscape.

The exhibit also will signal a change in vision led by MGM MIRAGE Curatorial Advisor Michele Quinn and new Gallery Manager Tarissa Tiberti. Quinn has worked with MGM MIRAGE and its various properties for more than two years advising on its fine art collection management through acquisitions and installation. This expanded role will bridge her more than 15 years of experience in the New York art world with the exhibition programming goals of Bellagio Gallery of Fine Art. A second-generation Nevadan, Tiberti received a master's degree from the Cranbrook Academy of Art in Bloomfield Hills, Mich. She most recently served as gallery assistant for the Franklin Parrasch Gallery in New York, NY.

Tiberti and Quinn will work closely to continue to bring world-class exhibitions to Las Vegas and to ensure Bellagio Gallery of Fine Art is a cultural destination in which visitors of all backgrounds and interests can experience exceptional art. Among their plans for the gallery is the debut of an expanded membership program in late 2008 as well as greater initiatives aimed at children of Clark County, Nev.

Bellagio Gallery of Fine Art is open Sunday through Thursday from 10 a.m. to 6 p.m. and Friday and Saturday from 10 a.m. to 9 p.m. Last admissions are sold 30 minutes prior to closing. Located adjacent to the gallery, The Gallery Store offers limited edition works of art as well as a wide selection of prints, books, stationery and unique gifts.

Tickets for "American Modernism" are $17 for patrons 13 and older, $14 for Nevada residents and seniors 65 and older, $12 for the military and college students, and $10 for children six to 12 years of age. Children five and younger are complimentary.

Tickets and information are available by calling (702) 693-7871 or (877) 957-9777, or online at www.bgfa.biz, www.bellagio.com or www.ticketweb.com. Audio tours are included in the price of admission and are offered in four languages – English, French, Japanese and Spanish.

The Bellagio Gallery of Fine Art's current exhibition, "In the Master's Hands: Picasso's Ceramics – Treasures from the Estate of Pablo Picasso," closes January 14.
About Bellagio Gallery of Fine Art
Located in the heart of AAA Five Diamond Bellagio, the Bellagio Gallery of Fine Art is Las Vegas' premier exhibition space. Since opening in 1998, the gallery has presented exhibitions of artworks and objects drawn from internationally acclaimed museums and private collections including "The Impressionist Landscape: From Corot to Van Gogh" and "Fabergé: Treasures from the Kremlin."
About Museum of Fine Arts, Boston
The Museum of Fine Arts, Boston is recognized for the quality and scope of its encyclopedic collection which includes an estimated 350,000 objects. The museum's collected works cover the following areas: Art of the Americas; Art of Europe; Contemporary Art; Art of Asia, Oceania and Africa; Art of the Ancient World; Prints, Drawings and Photographs; Textiles and Fashion Arts; and Musical Instruments.
---
RON REIHEL
THE PRESENCE AND ABSENCE OF LIGHT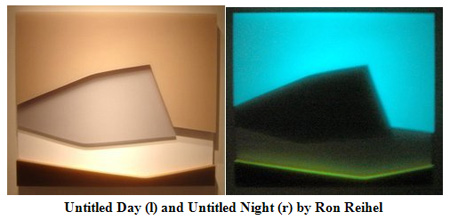 February 2 – March 15
Special Preview Week January 29 – February 1 , 2008
Opening Reception: Saturday, February 2 from 6 - 9pm
East/West Gallery 714 Bond Ave. Santa Barbara 93103
www.eastwest-gallery.com
Featuring the sculptural paintings of LA based artist Ron Reihel whose work explores the relationship between light and space by breaking down forms in into their most minimal and elementary representations. Invoking the work of Robert Irwin and James Turrell, the pieces need to be experienced rather than seen. The work is infused with color and light sensitive material that allow the pieces to evolve with the environment around them. From abstract linear patterns to translations of landscapes and plant life, the works transport the viewer into an alternate world of color and light.
www.eastwest-gallery.com

---
Trailblazing Vietnamese Choreographer Ea Sola
Debutsin Los Angeles with "Drought and Rain Vol. 2,"
a Post-war Reflection, at UCLA Live Jan. 25-26
"Intense energy and emotion …
the budding of a Vietnamese dance tradition."—Time



Vietnam's Company Ea Sola makes its Los Angeles debut in an electrifying modern dance work, "Drought and Rain Vol. 2," a passionate reflection on the Vietnam War as seen through the eyes of the next generation, created by internationally renowned dancer-choreographer Ea Sola. A young 12-member Vietnam National Opera Ballet–Hanoi corps and a percussion-driven traditional Vietnamese ensemble with five musicians, plus well-known Vietnamese opera singer Doan Thanh Binh, combine contemporary dance with cultural elements in a compelling sequel to Sola's groundbreaking 1995 "Drought and Rain Vol. 1."

Performances of "Drought and Rain Vol. 2" begin at 8 p.m. Friday–Saturday, Jan. 25–26 at UCLA Live at Royce Hall on the UCLA campus. The run time is one hour with no intermission. For tickets, visit www.uclalive.org, call 310-825-2101 or contact Ticketmaster.


Forced to flee her homeland as a teenager in 1974 during the Vietnam War, Sola has ignited the dance world with evocative works forged from violence, exile and loss of cultural identity. Trained in Paris and a participant in Polish director Jerzy Grotowski's dance-theater workshops, Sola creates vital, enthralling productions grounded in the traditional culture, music, dance and history of Vietnam. Sola made her American debut at the 1996 Spoleto Festival and followed that success with her presentation of "Violà Violà" at New York City's Lincoln Center Festival in 1999.

Created in 2005, "Drought and Rain Vol. 2" examines the youth who did not live during the War, but who are continuously impacted by it through family, school, the media and a national psyche still reeling from the death of several million of its citizens. Moved to choreograph again after seeing the 9/11 terror attacks on television, Sola was led to think about violence more broadly.

"I revisited the theme of the memory of war to interrogate and understand what a young person thinks and feels about a war that he or she does not know, but a war that he or she
sees through the saturated images on the television screen," explains Sola. "How does such a virtual memory trigger an act of conscience, trigger a memory of how war is fabricated? Can the memory that is triggered result in a demand for non-violence?"

Haunting lighting and video images dramatize the aching persistence of memory in "Drought and Rain Vol. 2," as an unstructured group of dancers shift between damaged isolation and determined unison in an evocative display of shock, uncertainty and anger. Using framed photographs of the dead from Vietnam, Europe, the Middle East and America—reminiscent of Vietnamese memorial alters—this vital dance-theatre work is a potent reminder that "war's only purpose is to destroy life."

Underscoring the differing ways that the genders are affected by violence, the women all wear black pants and T-shirts with their hair covering their faces while the men are all variously dressed in colorful shorts, sweats, chinos and other pants. "It is the men that die," says Sola. "And woman are left to do the mourning."

Along with the dancers, traditional singer Doan Thanh Binh slowly crosses the stage in a long black dress, envisioned by Sola as a symbol of the older war generation, one that the youth of Vietnam sees as quite removed from their own.

Sola left Vietnam as an adolescent in the midst of war and arrived in Paris with her family in 1978. There she studied theater, both classical and contemporary, and with her own working group staged a series of dance-theater pieces exploring the "States of the Body" with such titles as "Memoring," "Grass in Winter," "It Rains on the Heads," "The Hidden Seasons" and "Abbatoir."

After a 15-year exile, Sola returned to Vietnam in 1989 to research traditional dance and music, as well as to create full-fledged dance productions. Awarded the Leonardo de Vinci Scholarship and the Villa Médecis Hors les Murs Award, she was able to continue her research for 10 years in the delta of South Vietnam. Based on that experience, Sola created five major works, all of which in some measure explore memories of war and transnational identity: "Drought and Rain" (1995), "Once Upon a Time it Was" (1997), "La Rizière Des Musique" (1998), "Violà Violà" (1999) and "Requiem" (2000).

Sola's "Drought and Rain" presented on stage, for the first time in Vietnam, the dichotomies of tradition and modernity, life before the war and in the post-war era, brutally scarred by death and destruction. Using non-professional dancers—elderly women farmers who had been young dancers in their villages during the Vietnam War—Sola captured the bitter irony of the war-torn land.

Sola has toured her critically acclaimed productions to Europe, the U.S. and Asia, and has been honored with awards from Canada, France, Germany and Vietnam for her profound and distinguished achievements.

Tickets for Company Ea Sola in "Drought and Rain Vol. 2"are $40, $30 and $22. Tickets may be purchased online at www.uclalive.org, by phone at 310-825-2101, in person at the UCLA Central Ticket Office at the southwest corner of the James West Alumni Center and at all Ticketmaster outlets. UCLA students may purchase tickets in advance for $15. Student rush tickets, subject to availability, are offered at the same price to all students with a valid ID one hour prior to showtime.

---