WINDOW SHOPPING IN PARIS
By Bonnie Carroll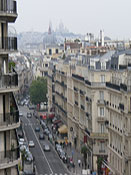 A walk down the Avenue de Champs Elysees in Paris can be an exciting adventure and education in the fashion trend news for the season. This designer boulevard in the heart of Paris has always represented the best of everything, from couturier fashions to delightful café's, where you can enjoy an unforgettable 'special of the day' or just a coffee while people watching. Each July 14, celebrating Bastille Day, there is a military Parade down this avenue that was traveled by Napoleon and Charles De Gaulle.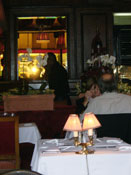 The charming café's along the tree lined avenue are truly international and offer a variety of menu options including Thai, Lebanese, organic, or pure French cuisine. It is a busy area in Paris, where the energy is high and exciting. The Passion of Fruit Café offers a signature energy drink dedicated to the late and great entertainer Josephine Baker, who was once the toast of Paris.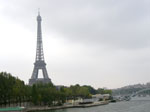 From the Four Seasons George V Hotel, Located on Avenue George V, it is just a short walk to the River Seine Bridge, where the view of the Eiffel Tower and surrounding area is spectacular. Built as a part of the 1989 exposition, the Gustave Eiffel design has become synonymous with Paris, as a treasured icon of France. The tower remained after the exposition and was used as a radio station transformer; later a TV station, and today it offers visitors three wonderful levels to enjoy panoramic views of the city, historical exhibits, shops and the award winning Jules Vern Restaurant. The first and second observatory platform levels can be reached by steps or elevators. A second elevator to the very top often requires a long wait.
In mid-December, just in time for Christmas shopping, all of Paris becomes a magical place filled with lights, and the Eiffel Tower is the place to view the magic from above. A symbolic Green Tree is erected next to the tower, while a Labyrinth of pine trees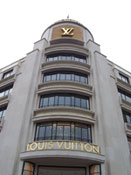 offers a maze on the first level filled with lighting effects and sounds that include crackling snow and wind. There will again be an ice rink on the first floor for the holidays.
The Louis Vuitton building on the boulevard is simply outstanding in design. Following a major renovations it now has great neon colored lights that embrace the front entrance, and there is a middle-eastern rooftop area at the penthouse level of the building that can be seen from the street that is very intriguing. Naturally, the new shoes, boots (boots are very big this season), purses, luggage, belts, and countless gift items are awe inspiring, but it is the unique building design that initially draws you in the door. What fun!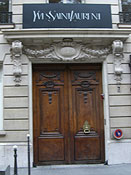 It is a bit overwhelming to see 2, 3 and 4 story designer stores brimming with luscious logo items. Gucci, Chanel and all the best have boutiques here, and will not disappoint world-class shoppers. Also gracing the area is Hermes, who has retained their beautiful old world classic charm. Paris is a woman's city, and one that reaffirms the joy of being female.
A collection of photos of the uniquely artistic French facades and doorways along the avenues in Paris would be perfect material for a table top book, and perhaps one day I will publish one. The news stands on the main intersections are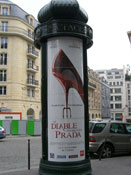 flanked by cafes, where current films are advertised in globes, and the entire area seems to beat with the heart of the people who live here. It was enjoyable to just to stand still and absorb it all.
Unfortunately, we can't all afford to do our shopping at these magical fashion centers, but I believe that to just fill your senses with all this beauty and creative design has a very positive ultimate effect. It inspires my own creativity and my appreciation for all things beautiful to take this venerable walk.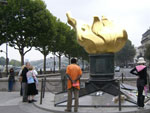 It is a pleasure and a luxury to be in this historic shopping district, even if it is as a spectator. But then, no one ever said shopping could not be a spectator sport—happy hunting!
For a listing of designer shops and boutiques visit: www.frechtoursim.com.

---
RESURGENCE OF POPULARITY FOR THE FOUNTAIN PEN
By Laurence Vittes

Fountain pens. Surely you remember fountain pens? They were the pens we all used before ballpoints were invented and took over the writing world in the 50s. It may surprise you to learn that fountain pens, both vintage and modern, are still very much alive. In fact, for some people, they are treasured, favorite objects of desire.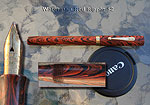 Since the beginning of May, I have become immersed in the world of fountain pens. Partly, it has been rediscovering an old love, still as desirable as ever. Partly the pleasure has been making friends on an extraordinary online community which shares an appreciation for fountain pens not only as artistic creations and examples of inspired industrial design, but also as a means of connecting more closely and organically to their inner selves.

In our modern world of computers, with which we communicate by tapping on anonymous, impersonal keyboards, fountain pens are also a way to have a lot of almost indecent pleasure. As an architect on Pentrace (pentrace.com) recently commented, "Fountain pens are a concrete and sensual contrast to the remotely layered abstractions of my working life." Heavy duty stuff! And true, too.
I discussed the magic fountain pens exert on some of us, and the recent resurgence of their popularity, with Phil Clark at his bright and shining Flax Paper to Pen store in Westwood. "People who like fountain pens," he told me, "tend to be interesting. On some level, they value words."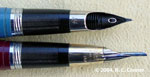 Phil told me that fountain pen lovers constitute a diverse group including (but not limited to) professional types like lawyers, judges and doctors for whom the prestige of an expensive Mont Blanc or Waterman pen makes a unambiguous statement to clients and colleagues. For these types, extravagantly expensive fountain pens, whether they are flamboyant or understated, are a powerful form of bling, particularly when signing judgments, letters and checks.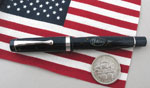 Power users who fancy themselves less conservative by profession or nature, know just how cool it is to pull out—say, at their next screening—a visually stunning pen like a Omas Paragon (elegant Italian), a Lamy 2000 (sleek high-tech Bauhaus), a Rotring Core (funky and functional), or even a spectacular Waterman Red Ripple (bling from a time warp)?
Of course, Phil reminded me, "writing with a fountain pen is not necessarily better than with a word processor. But for many of our customers, there seems to be a tangible connection between their thoughts and laying them down on paper with a fountain pen they have come to love."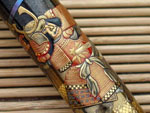 A writer/editor on the Fountain Pen Network (fountainpennetwork.com) put forward the following explanation of why he uses fountain pens: "Productivity is a wonderful concept, but writing a story or an article is not like cranking out widgets in a factory. Sometimes making words by hand with a pen is far more effective (and productive if the computer were to crash). Not to mention, he might have added, that writing with a fountain pen is more comfortable than with other kinds of pens, and exhibits more of the user's flair and personality.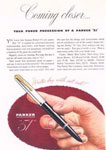 And there are so many fabulous choices to be made, as one heavy user lamented recently: "Would I be happiest with a Sheaffer for each decade of the 20th century? With a rack of smooth Conway-Stewart 58s? With every color of Visconti's Van Gogh? With a fountain pen from a bunch of different countries? With a 'best value' collection of everybody's favorite affordable pens? Should I respect my wife's anti-Parker bias, or succumb to a '51' or a Vacumatic? Is it safe (i.e., can I afford) to dabble in Limited Editions?"
My friend needn't worry. Despite their being a total anachronism in a world committed to silicon machinery and the mesmerizing precepts of Getting Things Done, it's becoming clear that fountain pens are going to be around for a while.
To get you started, I have made up a few "Best 5" lists. They would sure to spark heated discussions among true aficionados, so beware. I have also listed a few local stores that will be glad to satisfy your every fountain pen whim, along with some online resources.
5 Great Vintage Pens
Parker 51 - still the classic intersection of American know-how, form and function
Sheaffer Snorkel - the most practical way to suck up ink, but so ingenious that it has never been replicated
\Mont Blanc 149 - if you want to make a statement that you've arrived
Esterbrook J - the simplest great pen ever is not much to look at unless you're a hopeless addict, but, with its staggering variety of nibs, Esties are very affordable and absolutely great writer's tools
Waterman 52 Red Ripple - this exquisite collectable from the Roaring Twenties is a sexy hard rubber American beauty which a flex nib makes even sexier
5 Great Modern Pens
Pelikan M800 - a workhorse which handles like athoroughbred, just the thing towrite your next novel with (look elsewhere, perhaps, for writing poetry)
Waterman Carène - exquisitely French, its thrilling gold nib inlaid on a barrel of sumptuous lacquered metal
Lamy 2000 - space age materials and a Bauhaus design make this marvelous pen as sleek, smooth and fast as ever 40 years after its introduction
Filcao Columbia - a gorgeous retro Italian design with significant performance input from one of America's great fountain pen craftsmen, Richard Binder, make this a superb writer's pen
Danitrio Densho - big, bold and black (polished or matte), but surprisingly light, with a semi flex nib that is an absolute delight (available from Kevin Cheng, a fabled Northern California wine connoisseur, at internetpens.net)
5 Great Starter Pens for less than $100
Waterman Phinéas - many serious collectors claim the Phinéas, named after the hero of Jules Verne's Around the World in 80 Days, writes as well as anything on the planet
Lamy Safari - a very serious pen for less than $25 that looks like it was designed for kids but that many adults adore
Chinese clones - starting at less than $10, a vast range of models from Hero, Haolilai, Duke and others challenge the establishment value and price structure (check out the selection at isellpens.com)
Pelikan M215¬ - a new version of the classic entry point for German excellence, the BMW 3 series of pens
Namiki/Pilot Vanishing Point - still the only retractable fountain pen, and with a gold nib thrown into the bargain, this amazing piece of technology is marred for some by the placement of the clip
Where to buy
Caveat: You will save a lot of money by buying online or on eBay, but there's no substitute for a retail store—at least until you're expert to go it on your own. By allowing you to handle these wonderful instruments, try them out, and give you the benefits of their personal service, the right retail store can be well worth the extra money you will usually pay. The only other disadvantage with retail stores: they rarely have any nibs but the standard medium.
You can buy many of the pens above, along with a good selection of inks and papers (subjects for another article), at both Flax Paper to Pen in Westwood and Vroman's in Pasadena. Both are highly enjoyable, stress-free places to visit, and feature not only an excellent selection of pens but knowledgeable and user-friendly sales people who will be glad to lay out their wares, how the pens feel in your hand—they'll even dip one or two in ink so you can write a few lines to try them out for yourself. Although these stores count among their customers some of the pen collecting legends of Southern California, they are equally accustomed, and at home, introducing neophytes to the wonders of fountain pens.
The various Graphaids art supply stores around town have a more haphazard approach to stocking fountain pens, but they often have a pretty interesting selection. The attitude of their salespeople, unfortunately, is less consistently knowledgeable.
The only full-service fountain pen store in the Los Angeles area is called The Fountain Pen Store; located in Monrovia, it's one of the best in the country. It's run by Fred Krinke, a gifted artisan who can make your nib write as smooth as butter, with a delightful touch of tooth, or with any of a number of italic characteristics (try a stub italic or a left-hand oblique for some real fun, right-hand oblique if you're left-handed). He can, within reason, realign misaligned tines and analyze why your ink flow is slow.
Fred handles many modern pens, including perhaps the best selection in town of Parkers and Sheaffers. He also has a wonderful variety of vintage pens which he will show you, let you handle and even write with. Who knows: once you've played around with a gorgeous Parker Vacumatic (from the 30s, with miraculous celluloid construction in a variety of pearlescent, slightly opaque colored layers) or a stunning Eversharp Symphony (designed by the same Raymond Loewy who designed the Pennsylvania Railroad's famed GG-1 electric locomotive, the Electrolux vacuum cleaner, and the 1947 Studebaker), you may never pick up a modern pen again.
Flax Pen to Paper is located at 1078 Gayley Avenue in Westwood. Their phone number is (310) 208-3529. Ask for Phil Clark.
Vroman's Fine Writing, Gifts, and Stationery is located at 667 E. Colorado Blvd. in Pasadena. Their phone number is (626) 744-1834. Ask for either store manager Dolores Bauer or sales associate Corie Hiroto.

The Fountain Pen Shop, 2640 S. Myrtle Avenue, Unit 12, in Monrovia. Their phone is (626) 294-9974. See friendly Fred Krinke.
There are also many online sites which you will want to visit once the fountain pen bug bites you, both for buying and for learning, including the site of a nibmeister whose sales and service office (not open to the public) is in the heart of Hollywood on Melrose. Start with these and follow the links they provide for more:
Richardspens.com (the site of supreme nibmeister Richard Binder)
Isellpens.com (a delightful variety of pens, including Chinese pens so good and so inexpensive that you'll think you've wandered into a parallel universe)
Pendemonium.com (lots of fun including downloadable color charts of most of the available inks, and everything you wanted to know about italic nibs)
Nibs.com (the site of Los Angeles' own nibmeister, John Mottishawe)
Fountainpennetwork.com (one of the two best online communities)
Pentrace.com (the other)
internetpens.net (Kevin Cheng will introduce you to the delights of Japanese maker Danitrio's range, from inexpensive, bullet proof "tactical" models to hand-painted works of art)
---
SPANISH PAINTINGS AT GUGGENHEIM
Most Comprehensive Exhibit Ever in US
135 Works by El Greco, Zurbarán, Velázquez, Goya, Dalí, Miró, Picasso
Beginning today, New Yorkers will have the opportunity to see the most historically comprehensive exhibition of Spanish painting ever mounted in the U.S. "Spanish Painting from El Greco to Picasso: Time, Truth and History" will showcase 135 works by the great Spanish masters from the 16th to the 20th centuries at the Solomon R. Guggenheim Museum. Running through March 28, 2007, the exhibition will present side by side works by Francisco de Zurbarán, Diego Velázquez, Bartolomé Esteban Murillo, Francisco de Goya, Juan Gris, Salvador Dalí, Joan Miró, and many others, as well as El Greco and Pablo Picasso. Curated by Carmen Giménez, the Guggenheim's curator of 20th century Art, and Francisco Calvo Serraller, a former director of the Museo del Prado, the show challenges the traditional reading of Spanish art, which separates modern art from its historical precedents. Rather than emphasizing historical continuity in a chronological display, the exhibition is divided into 15 sections based on themes that run through five centuries of Spanish culture, with works from different periods being presented together in order to show their affinities.
Many of the paintings are on loan from European and North American museums and private collections and several have rarely been exhibited in the U.S. Included in the show are: El Greco's Portrait of a gentleman from the House of Leiva (ca. 1580, The Montreal Museum of Fine Arts, Canada); Dalí's Portrait of Luis Buñuel (1924, Museo Nacional Centro de Arte Reina Sofía) and his Madonna of Port Lligat (1949, Haggerty Museum of Art, Marquette University); Juan Sánchez Cotán's Still Life with Fruits and Vegetables (ca. 1602, Várez Fisa Collection, Madrid); Juan Gris' Still Life with Newspaper (1916, The Phillips Collection, Washington, D.C.); Goya's The Duchess of Abrantes (1816, from Museo Nacional del Prado, Madrid); and Picasso's Portrait of Jaime Sabartés (1939, Museu Picasso, Barcelona), his Portrait of Marie-Thérese Walter with a Garland, (1937, from a private collection) and his Winter Landscape, (1950, Collection of Kate Ganz).
The exhibition is organized by the Solomon R. Guggenheim Foundation and the State Corporation for Spanish Cultural Action Abroad, Sociedad Estatal Para la Acción Cultural Exterior (SEACEX). Set up in December 2000 with the aim of promoting Spanish culture and of fostering dialogue between Spain and the rest of the world, SEACEX organizes exhibitions, international conferences, seminars, symposia, concerts, lectures and literary workshops. The show at the Guggenheim is one of 22 SEACEX projects taking place in 62 cities around the world in 2006 ranging from an Almodóvar retrospective at the Cinématèque Française in Paris to an exhibition of 18th century tapestries based on Don Quixote at the Dallas Meadows Museum. SEACEX was in charge of the Spanish Pavilion at the Venice Biennale and is spearheading the Year of Spain in China in 2007. Earlier this year SEACEX presented two exhibitions at the Queen Sofía Spanish Institute "Álvaro Delgado Why?" and "Ràfols Casamada: Painting 1950-2005."
The organization has a number of projects scheduled for 2007 including:
"Ibn Jaldun, The Mediterranean in the 14th Century: The Rise and Fall of Empires" will be exhibited at the United Nations in New York, December 2006 to January 2007. It debuted in Seville this summer and will travel to Paris in 2007.
"The Year of Spain in China will include: "The Three Dimensions of Don Quixote and Contemporary Spanish Art" and "Gaudí: The Search for Form" – scheduled for Shanghai and Beijing in 2007
"Ecuador: Tradition and Modernity" will be shown at Madrid's Biblioteca Nacional from April to August 2007
"Spanish Painting from El Greco to Picasso: Time, Truth and History" is being presented in collaboration with the Spanish Ministry of Culture and the Spanish Ministry of Foreign Affairs and Cooperation and also has the support of the Museo Nacional del Prado and Museo Nacional Centro de Arte Reina Sofía which have lent a significant number of important works from their collections.
For more information about the exhibition, go to www.guggenheim.org/picasso