NEW ZEALAND'S FAMED CONTEMPORARY
DANCE COMPANY LAUNCHES
NORTH AMERICA TOUR
Black Grace's Coast-to-Coast Tour, April 3 - May 4


Black Grace, the leading Pacific contemporary dance company, embarks on a month-long 11-city tour of North America, April 3 – May 4. This dynamic troupe is led by artistic director and New Zealand Arts Foundation Laureate, Neil Ieremia, who is known for fusing Pacific and contemporary dance forms and traditions, and creating works that are original and highly physical.
Black Grace was last on tour in the U.S. for the Jacobs Pillow Festival in New York in 2004/2005, where their work was reviewed by Jennifer Dunning Beckett of the New York Times, who commented: "This modern-dance company from New Zealand exceeded expectations in dance that was startlingly fresh and full of invention, humor and infectious exuberance."
In the 2008 tour, performing arts lovers can look forward to the artful selection of works by Neil Ieremia, choreographed in the last 10 years. Highlights include: Minoi, a signature work based on the fusion of Samoan and western contemporary dance styles; Method, which was originally commissioned by the New Zealand Symphony Orchestra in 1999 and set to the music of J. S. Bach; Human Language, a provocative work examining the physical language that exists between men and women; as well as excerpts from major full-length works, including Surface (2003) and Amata (2007).
A departure from their last tour which featured an all-male dancer troupe, this program will showcase six male dancers of Pacific Island, New Zealand and Australian descent; accompanied by four female guest dancers, of New Zealand Maori and European heritage. Tour dates are as follows:
Seattle, WA, April 3 - 5
Meany Hall, University of Washington
www.meany.org
Nashville, TN, April 9
Ingram Theater, Vanderbilt University
www.vanderbilt.edu/blair
Fort Wayne, IN, April 12
Arts United Center
www.fwdc.org
Ottawa, Canada, April 15
National Arts Center
www.nac-cna.ca
Boston, MA, April 17 - 18
Tsai Center
www.celebrityseries.org
Norfolk, VA, April 22
Virginia Arts Festival
www.virginiaartsfest.com
Washington, D.C., April 25 - 26
Kennedy Center for Performing Arts
www.kennedy-center.org
Toronto, Canada, April 30 - May 4
Habourfront Centre
www.harbourfront.on.ca
Asworld's leading exponent of Pacific contemporary dance, Black Grace has toured extensively throughout New Zealand and internationally to critical acclaim. In 2005, the company celebrated its tenth anniversary and performed to sell-out seasons in Auckland, followed by an extensive tour at Mexico's renowned Cervantino Festival; and the prestigious Jacobs Pillow Dance Festival, which debuted on New York's 42nd Street for a four-week season. Black Grace also performed at Tourism New Zealand's '100% Pure' event in Sydney, at the Aichi World Expo and for the New Zealand Embassy at the Tram Theatre in Tokyo. http://www.blackgrace.co.nz. 
---
HAPPY BIRTHDAY MICHAEL GONZALES!
Summer Solstice Painting Returns to Santa Barbara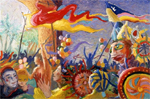 After an almost twenty year absence from the United States, a seminal painting by Michael Gonzales, Summer Solstice Celebration, 1981, has returned to Santa Barbara from Australia. Originally sold to Dr. Larry Smith on March 22, 1988, the painting passed after his death in 2000 to Kevin Tierney.  Larry and Michael had worked together in The Mime Caravan, Michael's creation which instigated the Solstice Parade through the streets of Santa Barbara. The painting has now been gifted to the Santa Barbara County Arts Commission and will be displayed permanently in the downtown Public Library. The dedication will be on May 1 at 5:30pm, (Michael's birthday and the day of the first Solstice Parade) at the Santa Barbara Downtown Branch of the Public Library. Mayor Marty Blum will attend and the public is invited to see the unveiling and celebrate with a birthday cake for Michael.

"Over four magical years, 1978 through 1981, Santa Barbara's annual Summer Solstice Celebration Parade began at Ortega Street, traveled north up State Street, turned right on Anapamu and then, after a short jog down Anacapa Street, the entire parade - giant puppets, floats and a crush of people in costumes-signing and strutting, dancing and howling, swept through the Santa Barbara County Courthouse Archway," according to a history of Michael Gonzales written by Ron Alexander, Tim Healey, and Jenny Sullivan. 
The following comments on the painting were given to Larry Smith by Michael Gonzales in April 1988. "This Solstice painting represents a number of important things for me and my work in Santa Barbara. It has two moods, a light and a dark; it shows something which I had worked in at the moment of its changing. To the left, there is a tunnel, a passageway; that is the scene at the Courthouse gardens, as the parade that year was to be the last to end up there for its closing celebration. So it is a celebration and a goodbye to something – a passing, a peak of all that energy. I guess it shows all the mixture of feelings about that, about what that day would be like and would mean…." Michael passed away approximately one year later.

In 2007 Kevin Tierney approached the Arts Commission about donating the Gonzales painting and returning it to its Santa Barbara home. Important to Mr. Tierney was that the painting be on permanent display in a public place where the general public would be able to enjoy it. Myra Nicholas, Library Services Manager said, "The Library is pleased to exhibit this painting which is of such great local interest." When Mr. Tierney lived in Santa Barbara, the Central Branch of the Library was one of his favorite places to spend time and Tierney said he knows that this public location would have pleased Michael.

On May 1, 1974, Michael and two friends paraded up State Street sidewalks in costume to celebrate his May Day birthday. In subsequent years their parade moved to June to join with a Summer Solstice Music Festival coordinated by friend Michael Felcher in celebration of the longest day of the year. Felcher and Gonzales' group, Santa Barbara Mime & Music Theater was instrumental in developing the original parade. Today's parade is a growing collection of hundreds of local citizens and revelers from around the world – artists, dancers, and musicians, as well as just people with a great idea and a pack of friends, or anyone willing to carry giant puppets or push floats and dance their way up State Street.

This year Claudia Bratton, Executive Director of the Solstice Celebration said the painting was chosen as the image for the 2008 Solstice Celebration Poster and annual T-shirt. This is a break with tradition, usually new submissions are juried each year to make a selection but the organization felt with the return of the painting it was a way to honor Michael Gonzales' legacy. The Solstice poster will be available for sale at the Library celebration.

 The return of this painting by Kevin Tierney is a gift not only to the community, but to all those who continue to be inspired by the spirit of Michael Gonzales, the artist who first had the vision of a parade in Santa Barbara and fervently encouraged the creativity of its citizens. Michael died in May 1989 from AIDS. That June, a Maypole festooned with ribbons held high by his dancing friends led the Parade, with Michael's ashes stowed in its heart.
---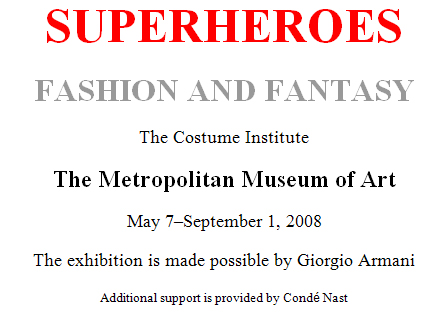 ---
4/24/2007 - 6/30/2007 Florence Music Festival
(Maggio Musicale Fiorentino)
Florence, Italy
Along with Bayreuth and Salzburg, the Florence Music Festival ranks among the oldest and most important European music festivals. More than this, it incorporates annual concert, opera and ballet seasons. Today the festival resides at the centre of musical life in Florence, based in the 2,000-seat Teatro Comunale and neighbouring Piccolo Teatro, a small, modern theatre accommodating an audience of 600. Many great conductors - Vittorio Gui, Bruno Walter, Wilhelm Furtwängler, Dimitri Mitropoulos, Zubin Mehta, von Karajan and Muti - have graced the Comunale, as well as singers of such stature as the divine Maria Callas
Themes: Dance , Entertainment , Music , Spectacle
Hours: Various
Cost: TBC. 2006 prices: €25-100
Where: Theatres in Florence
Most performances Teatro Comunale, Corso Italia 16; also at Piccolo Teatro alongside. Ballet at Teatro della Pergola, Via della Pergola 12-32
Florence, Italy
Getting there:
Foot: Teatro Comunale is on northwest side of city centre, a short walk from Santa Maria Novella Station
Contact Information:
Maggio Musicale Fiorentino
Teatro Comunale
Corso Italia 16
Florence, Tuscany 50123
Italy
Telephone: +39 055 213 535
Email: tickets@maggiofiorentino.com
Website: www.maggiofiorentino.com
---
ZIGGING WHEN THEY ZAG: SEABOURN
BUILDS ITS FUTURE ON SMALL SHIPS
Ultra Luxury Line Bucks Trend, to Deliver 'Seabourn Yachting Life'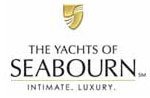 At a time when cruise lines are building bigger and bigger ships, The Yachts of Seabourn is purposefully bucking the trend, and instead building intimate, yacht-like vessels that will allow it to maintain its position at the top of the ultra luxury segment of the travel industry. Amid all the excitement about whose next ship will be the world's largest, the company's elegant, all-suite Seabourn Odyssey, due to be launched in June of 2009, will extend the company's commitment to providing the sort of highly personalized service and exceptional delivery of destinations that is only possible on small ships.
Seabourn Odyssey and the two other new vessels that Seabourn has on order will each carry just 450 guests at double occupancy, where other ultra luxury ships are being designed for up to 750 guests, and the industry's newest mega-ship, once launched, will hold 6,400.
"I think there is a line between a small-ship and a large-ship experience," said Seabourn president & CEO Pamela C. Conover. "We choose not to cross that line," she continued, "because we are committed to providing the sort of individualized experience that is the reason Seabourn guests choose to travel with us. We are building for a particular sort of very discerning traveler who understands the equation between intimacy and luxury."
The new ships, Seabourn Odyssey and her un-named sisters-to-be, will provide among the highest ratios of space per guest in the industry, and they will take advantage of that space to lay on amenities such as an expansive 11,500-square foot indoor/outdoor spa, spread over two decks, that will be the largest on any luxury ship. Ninety percent of the ship's guest accommodations will have private verandas, and the ships will feature four alternative dining venues, again unheard of for ships of this size. But for all their spaciousness, the new Seabourn yachts are designed to engender the relaxed, sociable lifestyle that characterizes life aboard their smaller sisters. Lounges are scaled for informal gathering and conversation, which are also encouraged by           Seabourn's all-inclusive fares, which provide complimentary service of beverages including wines and spirits throughout the cruise. Their intimate size will allow them to call at ports and harbors where larger ships cannot follow, giving Seabourn's privileged guests access to the sort of authentic experiences they seek when they travel.
Seabourn Odyssey will begin her maiden season sailing in the Eastern Mediterranean and Black Seas, visiting marquee ports such as Venice, Dubrovnik, Istanbul and Yalta, as well as newly-discovered gems including Batumi, Georgia; Sochi, Russia and the Greek Isles of Khyos and Symi. Like her smaller sisters, Odyssey will take advantage of secluded anchorages in Triluke Bay on Croatia's Dalmatian coast and the Greek island of Amorgos to deploy its signature water sports marina, offering guests the pleasure of a day spent enjoying the Seabourn yachting lifestyle in the warm, clear waters, right from their own luxurious craft.With Early Booking Savings of up to 35%, fares for Seabourn Odyssey voyages start from $4,002 per person, based on double occupancy. Other Seabourn yacht vacations start from $2,398 per person, double. For information on Seabourn Odyssey or any of The Yachts of Seabourn, contact your travel agent, call Seabourn at 1-800-929-9391.
---
THE VATICAN  ON MOTHERS DAY. . . WHY NOT?
by Bonnie Carroll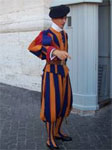 With all the news of the Pope's visit to America in late April, I found myself thinking about being in Rome for mohter's day. Rome in May is a perfect place for every mother to enjoy the treasures of Vatican City and view the exquisite paintings, sculptures and people in the heart of Italy. Sipping an espresso at a cafe on the Via Venito and watching all the beautiful Roman's will put a smile on any womans face. To study the life, style, art and food of Rome is to be in the center of life; in the hub of a magical energy field, and I am convinced this study would take a lifetime, but I'd gleefully take on such a challenge.
Watching people from all around the world gather at St. Peter's for a glimpse of the Pope, and to hear Mass being said is also an opportunity to experience a very special energy source in Rome. To me this is the ultimate soul experience for the lovers of Christ. It is inspiring to hear all the different languages being spoken, and to realize that they are all there for the same connection, and to see the place where it all began. The Vatican can not be described in words. It is a magnificient personal experience.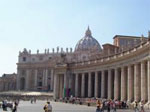 There are so many historic and ancient little churches in Rome, so many that it could take years to cover them all, but one of my favorites is down the Spanish Steps below the Hassler Hotel, and to the left as far as you can go. I found it by accident one rainy Sunday morning a few years ago. I was walking in the rain and heard the monks chanting. The door was open and I quietly sat in the back. That hour listening to the monks completely transformed the remainder of my trip. It is so easy to get too busy looking at the external beauty of Rome that one forgets where the real beauty that enables us to appreciate the 'holy city' is springing from. On your next visit to Rome, if you are feeling a bit tired and frantic, find this ancient chapel, located just steps away from Rome's exclusive design area. But, after your visit be sure to go to the Rooftop Restaurant in the Hassler Hotel and watch Rome wake-up over a delicious cup of Italian coffee. What a gift, and how kind of the Roman's to share it all with us. Viva Italia!

---