LE DOMAINE DE MARIE-ANTOINETTE
OPENS TO THE PUBLIC
Petit Trianon, Theatre of the Queen, French Pavilion, The English Garden, The Temple of Love, the Hameau – these are just are some of the places at Versailles that are directly related to Marie-Antoinette, evoking images of refinement, femininity, leisure and love of nature.
These magical places are less well-known to the public than Château of Versailles itself. The staff of the Chateau hoped to change that by opening them to the public as the Domaine of Marie-Antoinette this past July.
The curtain has been lifted on the "Versailles of the Queen". Even the Petit Trianon, on the Pavilion Français, the Belvedere and it Rock, which will be under restoration between 2008-2009, will also be available for public visits. The public can equally admire the Little Theatre, a jewel hidden in the greenery of the garden of the Trianon, an English Garden with many unique plant species; as well as the Temple of Love and the grotto through which the Queen was forced to evacuate in 1799.
This charming domain that Louis XVI offered as a wedding present to Marie-Antoinette will return little by little to it's original harmony, elegance and functions, some of which were the root causes for the dawning of the Revolution. In their originally restored glory, they will show the exquisite taste of the Queen, assisted by her architect Richard Mique and her gardener Claude Richard.
Entrance to Le Domaine de Marie-Antoinette is 9€. For more information visit www.chateauversailles.fr. Media contact: Aurélie Gevrey, +33 (0)1-30-83-77-01 or Aurelie.gevrey@chateauversailles.fr.
---
Eldorado bargain goes under the hammer!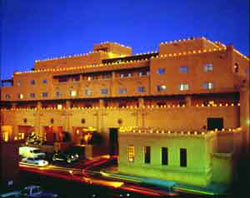 Not every bidder at the Santa Fe Art Auction will be fortunate enough to acquire a great deal. But there's one bargain that every visitor can take advantage of. The magnificent Eldorado Hotel, which will be hosting the 13th annual Santa Fe Art Auction in November, has put together a special package for those traveling in for the auction. They are offering a rate of $159 for single or double occupancy. This price includes a full breakfast for two in their splendid Eldorado Court restaurant. Guests will also be able to take advantage of a 15% discount at the hotel's luxurious Nidah Spa, with its exotic selection of mystical treatments that utilize the healing and restorative properties of New Mexico's native plants and herbs. In addition the package entitles guests to a 10% discount on all food and beverage purchased during their stay.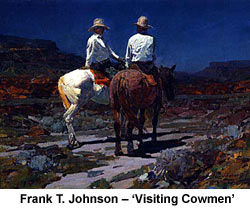 As connoisseurs of fine art, those attending the SFAA - which since 1994 has established itself as the Southwest's largest auction of classic western art - will appreciate the elegance and facilities the Eldorado has to offer. Conveniently located by Santa Fe's Historic Plaza, the Eldorado is the city's original Four-Star, Four-Diamond hotel and home to New Mexico's first Four-Star restaurant, The Old House. Designed in New Mexico's architecturally renowned pueblo-revival style, it boasts magnificent views and an interior lavishly decorated in beautiful Southwestern artwork.
The Eldorado is the perfect venue to host the 2006 Santa Fe Art Auction, which includes works by the greatest names in Western Art. Now, with the introduction of their special package, they will not only be hosting great works of art, but great art lovers as well.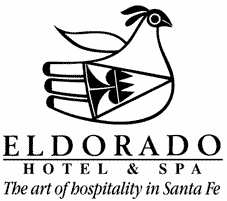 Santa Fe Art Auction 2006
Saturday, November 4, 2006
Eldorado Hotel
Santa Fe, New Mexico
For further information,
contact the SFAA at:
P.O Box 2437
Santa Fe, NM 87504-2437
Tel: (505) 954 5858
Fax: (505) 954 5754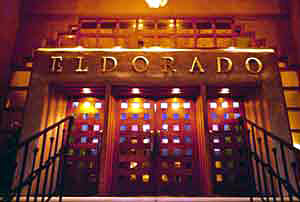 Eldorado Hotel & Spa
309 W. San Francisco
Santa Fe, New Mexico
Phone 1- 800 988 4545
Fax (505) 995 4555
Local phone (505) 988 4455
Booking code for this package is: SFA.
---
Nan Kempner's Chic, Iconic Styles to be Focus of Winter Exhibition at Metropolitan Museum's Costume Institute
Nan Kempner – the late New York style icon, connoisseur of the couture, and member of The Best Dressed List's Hall of Fame – will be the subject of the winter exhibition in The Metropolitan Museum of Art's Costume Institute, from December 12, 2006, through March 4, 2007. Known for a seemingly effortless style that nonetheless displayed a meticulous attention to detail, she was apassionate client and collector of such designers as Yves Saint Laurent, Valentino, and Oscar de la Renta from the 1960s onward. Over five decades, she acquired thousands of articles of clothing and accessories.
The exhibition – Nan Kempner: American Chic – will be comprised of a selection demonstrating the work of the designers she most admired, as well as the strategies of dress implicit in the creation of the personal and distinctive style of a woman celebrated for her fashion sense. The clothing in the exhibition from Mrs. Kempner's personal collection is on loan courtesy of Mr. Thomas L. Kempner. A number of the ensembles were recently donated to the collection of The Costume Institute by Mr. Kempner. Harold Koda, Curator in Charge of The Costume Institute, noted: "For Mrs. Kempner, the rigorous refinement of the haute couture was mediated by the informal strategies of American sportswear. While her taste was decidedly Francophile, by conveying a less rigid and prescribed version of elegance, Mrs. Kempner infused chic, that French concept of fashionable stylishness, with her own distinctly American inflection."
The exhibition will include more than 75 ensembles organized in five categories in separate vitrines: resort wear, tailoring, the wardrobe and fashion archive, eveningwear, and accessories. The wardrobe and fashion archive will be presented as an evocation of Mrs. Kempner's dressing area. While the display will feature important masterworks from Mrs. Kempner's collection foregrounded in the vitrine, the organization of her dress rails and shelves as a backdrop will suggest the intimidating complexity of coordination required to create the stylish ensembles for which she was known.
Among the designers represented will be Yves Saint Laurent, Valentino, and Oscar de la Renta, as well as John Galliano for Christian Dior, Jean Paul Gaultier, Karl Lagerfeld for Fendi, Lanvin, and Emanuel Ungaro. Accessory designs and jewelry by JAR, Verdura, Kenneth Jay Lane, and others will also be on view.
Nan Kempner (1930-2005) – who was called by Yves Saint Laurent "la plus chic du monde" and by Vanity Fair "the world's most famous clotheshorse" – was an inveterate follower of fashion from childhood, when she collected dolls and attended fashion shows with her mother. After making her first couture acquisition of a Dior sheath in Paris in the 1950s, she for nearly 40 years never missed the couture shows there. She was married to Thomas L. Kempner for more than five decades, and the family – which eventually included three children –divided their time between their Manhattan apartment and a home in Purchase, New York. In the 1970s she was known as an integral part of the social set that Women's Wear Daily called "the Cat Pack." She entertained and also traveled extensively, particularly to such favorite destinations as London, Paris, Gstaadt, Venice, and the Caribbean, and in 2000 published a book about haute entertaining as practiced by her friends, members of the international set, called RSVP: Menus for Entertaining from People Who Really Know How (Clarkson Potter). Over the years Mrs. Kempner was affiliated with Harper's Bazaar as its fashion features editor, the French edition of Vogue as a correspondent, and most recently as an international representative of Christie's. She was a member of The Costume Institute's Visiting Committee, and supported the Lighthouse for the Blind and the Society for Memorial Sloan-Kettering for Cancer. An elegant blonde with a raspy voice and self-deprecating humor, she said of herself, "I'm a drunk when it comes to clothes." Five-foot-nine-inches tall and always slender, she was said to be the inspiration for the term "social X-ray" in Tom Wolfe's novel Bonfire of the Vanities and Valentino once remarked of her, "Nan always looks so wonderful in my clothes, because she has a body like a hanger." But it was her sense of style that captivated the designers whosework she loved, wore, and collected. As Diana Vreeland expressed it: "There's no such thing as a chic American woman…The one exception is Nan Kempner."
The exhibition is organized by Harold Koda, Curator in Charge of The Costume Institute. Special assistance and coordination of the Nan Kempner collection has been given by Donzie Barroso. Exhibition design is by Daniel Kershaw, Senior Exhibition Designer; graphics are by Sue Koch, Senior Graphic Designer; andlighting is by Richard Lichte and Clint Coller, Senior Lighting Designers, all of the Metropolitan Museum's Design Department. A variety of education programs will be presented in conjunction with the exhibition, which will also be featured on the Museum's Web site at www.metmuseum.org. The exhibition will be on view in The Costume Institute galleries of the Metropolitan Museum.