WYNONNA JUDD ADDS PERSONAL TOUCH TO NEW PRODUCT LINE AT CRACKER BARREL OLD COUNTRY STORE®

Lifestyle products include shirts, writing journals, cosmetic bag and wallets

Multi-platinum Curb Records recording artist and best-selling author Wynonna Judd has found a new home for her creative talents: Cracker Barrel Old Country Store®.   A special collection of retail products, personally selected by Wynonna, will be available at all Cracker Barrel locations starting May 24th.  The products reflect the savvy and successful lifestyle of a woman who is recognized as one of country music's most accomplished artists.

"I think that Cracker Barrel represents everything that the Judds stood for: family, food and fellowship.  I love the rocking chairs and I feel really good when I go to Cracker Barrel," said Wynonna. "When we talked about a Wynonna collection of retail products for Cracker Barrel, I wanted items that women would see as useful in their everyday lives. All of our selections are high-quality, too.  It's like my mother said, 'do it right, or don't do it at all'."

Wynonna's partnership with Cracker Barrel started as a discussion about an exclusive CD of her music, and the conversation quickly grew to include a collection of retail products that mirrors her personal tastes.  Wynonna believes the products will be well-received by women who balance the responsibilities of family, careers and their own personal enrichment.

The Wynonna collection of retail items includes:

Shirts: a knit shirt with subtle sparkles and a jersey knit shirt with rhinestones

Mugs: a wonderful gift for Wynonna fans - perfect for coffee and conversations with friends

Journals/Notepads: beautiful keepsakes to capture heartfelt moments and quick thoughts

Clutch Wallets: a sleek and convenient option for carrying your essentials

Cosmetic Bag: a stylish and sturdy case for your make-up needs 

Sunglasses: classic frames with rhinestone studs and lenses that offer 100% UV protection
"For years, Wynonna has shared her creativity and style through her songs and performances," said Terry Maxwell, Senior Vice President of Retail at Cracker Barrel. "With this collection of retail products, Cracker Barrel has become a new stage for Wynonna's incredible talents. We believe these items will resonate well with our guests who identify with Wynonna's experiences as a mother and daughter."


The arrival of Wynonna retail products coincides with the May 24th release of the Love Heals CD, an exclusive recording for Cracker Barrel which features many of Wynonna's number one hits along with three tracks not previously offered for sale.  Both Cracker Barrel and Wynonna are honored that the CD and other Wynonna retail products will support American service men and women who have been severely wounded in battle.  Cracker Barrel will donate a portion of proceeds from the sale of Wynonna-related products to Wounded Warrior Project, a nonprofit organization that provides assistance to wounded service men and women.


Wynonna fans can now pre-order the Love Heals CD through the Cracker Barrel website (crackerbarrel.com).  They can also register to win A
Weekend with Wynonna in Music City Sweepstakes
.  The grand prize
package includes a trip to Nashville to meet Wynonna and see her perform at the Grand Ole Opry
®
.  The lucky winner will also visit many of Nashville's top attractions.  Pre-order and contest information can be found on the Cracker Barrel website (crackerbarrel.com).

About Cracker Barrel
Cracker Barrel Old Country Store provides a friendly home-away-from-home in its old country stores and restaurants.  Guests are cared for like family while relaxing and enjoying real home-style food and shopping that's surprisingly unique, genuinely fun and reminiscent of America's country heritage…all at a fair price. The restaurant serves up delicious, home-style country food such as meatloaf and homemade chicken n' dumplins as well as its signature biscuits using an old family recipe. The authentic old country retail store is fun to shop and offers unique gifts and self-indulgences.

Cracker Barrel Old Country Store, Inc. (Nasdaq: CBRL) was established in 1969 in Lebanon, Tenn. and operates 594 company-owned locations in 41 states.  Every Cracker Barrel unit is open seven days a week with hours Sunday through Thursday, 6 a.m. – 10 p.m., and Friday and Saturday, 6 a.m. - 11 p.m.  For more information, visit crackerbarrel.com.

About Wounded Warrior Project
The mission of the Wounded Warrior Project is to honor and empower wounded warriors.  Its purpose is to raise awareness and to enlist the public's aid for the needs of severely injured service members, to help severely injured men and women aid and assist each other, and to provide unique, direct programs and services to meet their needs. WWP is a national, nonpartisan organization headquartered in Jacksonville, FL. To get involved and learn more, visit www.woundedwarriorproject.org 


---
FROM TREND FORECASTS TO HYBRID THINKING
DESIGN HOTELS™ FUTURE FORUM 10-11 JUNE 2010, BERLIN
Tickets are now available for Future Forum 2010, Designwww.designhotels.com/shop.

The Symposium
The Future Forum kicks off with a Welcome Event on Thursday evening. Following the topic of 'Challenge Your Senses' Ottmar Pohl, chef de cuisine at  COSMO HOTEL BERLIN MITTE in Berlin, Hans Becker, chocolatier from Lapp & Fao, and winemakers Irène Tolleret and Michael Trenz, will demonstrate how important the senses are in the context of hospitality. On Friday, Claus Sendlinger, founder and CEO of Design Hotels™ will open the forum together with business journalist and consultant Ralf Grauel. Chris Sanderson and Martin Raymond of The Future Laboratory in London will then give an insight into social movements and business trends of the coming years. In the afternoon, Dr. David Bosshart, CEO of the Gottlieb-Duttweiler-Institut in Zurich will outline why hybrid thinkers have the ability to shape entire industries. The editor-in-chief of Frame, Robert Thiemann, will then present a vast selection of hybrid concepts from around the world. This will be followed by Sissel Tolaas who will talk about her fascinating work as a smell researcher, chemist and scent artist. Tolaas exhibited at the MoMA in New York, is a professor at the Harvard Business School, and works with companies including Sony, Cartier and Louis Vuitton. She describes herself as a 'professional in-betweener' connecting science and art. To finish the day, designer Werner Aisslinger will present the top ten design talents from this year's DMY.

The Speakers:

• Chris Sanderson and Martin Raymond, co-owners of The Future Laboratory, London, UK
• Dr. David Bosshart, CEO of the Gottlieb Duttweiler Institut, Zurich, Switzerland
• Robert Thiemann, editor in chief of Frame, Amsterdam, Netherlands
• Sissel Tolaas, chemist, professor, smell researcher and artist, Berlin, Germany
• Werner Aisslinger, designer, Berlin, Germany
• Ralf Grauel, business journalist and consultant, Berlin, Germany
• Irène Tolleret, winemaker and owner, Languedoc, France
• Michael Trenz, winemaker and owner, Johannisberg am Rhein, Germany
• Hans Decker, chocolatier, Lapp & Feo, Bremen, Germany
• Ottmar Pohl, chef de cuisine, COSMO Hotel Berlin Mitte, Germany

Hybrid Thinking
The Design Hotels™ Future Forum 2010 will focus on 'Hybrid Thinking' in the context of hospitality. Hybrid thinking requires much more than a multidisciplinary team – it requires a team of multidisciplinary people. Like-minded, visionary hoteliers around the globe have begun to create hybrid properties that go far beyond the original purpose of simply providing a bed. Multidimensional hotel concepts focusing on authentic experiences are on the rise, combining elements from galleries, hospitals or film theatres with the traditional idea of hospitality.

For details about the speakers and programme, please visit the official website: www.designhotels.com/futureforum and the related blog: http://futureblog.designhotels.com
  Hotels™' sixth architecture and design symposium in Berlin, Germany. From 10-11 June 2010 an international roster of architects, designers and trend experts will present and explore futuristic concepts in the context of hospitality. For the first time Design Hotels™ has teamed up with DMY, the International Design Festival in Berlin (9-13 June) and with the Bauhaus live Workshops of the Bauhaus Archiv (7-12 June). This concentration of events will establish Berlin as an international hub for architecture and design this June.

The topic of this year's Future Forum is 'Hybrid Thinking'. Hybrid thinkers blend different skills and fields of thought to develop innovative concepts. The speakers are pioneers and personalities from the fields of hospitality, architecture, design and art. The symposium will take place at the Bikini House in Berlin's Charlottenburg neighbourhood. In collaboration with Maginwulf Studios the space will be transformed into an environment that reflects the Future Forum theme. Tickets can be purchased through
Design Hotels™ is collaborating with the following sponsors and partners for the event: Apollinaris, Architonic, Bauhaus Live, Bulthaup, DMY, Eggerssohn, Erco, Lap & Fao, Lavazza, Maginwulf, Omnihotel.de, Schotten & Hansen, Sugarhigh.

TICKETS
Tickets may be purchased online from the Design Hotels™ shop: www.designhotels.com/shop

Future Forum Ticket:
Future Forum incl. Gala Dinner and Welcome Event
EUR 900 (excl. tax)

Spouse Ticket:
Gala Dinner and Welcome Event:
EUR 300 (excl. tax)

Future Forum guests will receive free entry to DMY.


---
"Magnificent Mahler"
Nir Kabaretti, Music & Artistic Director Closes Season with Mahler  by BonnieCarroll
Nir Kabaretti thrilled the audience at the Granada Theartre in May with his "Magnificent Mahler" SB Symphony performanc of Mahler: Symphony No. 5 in C-sharp Minor. This is was the final performance of the season for the symphony, and an evening to remember for those present. Said Ramon Araiza presented a free "Music Behind the Music" pre-concert talk to attendees before the final symphony performanced.
Gloria Autry was recognized for her fifty-five years as Principal Second Violin of the Santa Barbara Symphony, and Gillian Launie, the brilliant symphony President for three years, was honored with flowers, appreciation as wellas a standing ovation. Launie's charm and brilliance has been a great asset to the symphony, and she will be missed.
For SB Symphony informat;ion visit: www.sbsymphony.com
---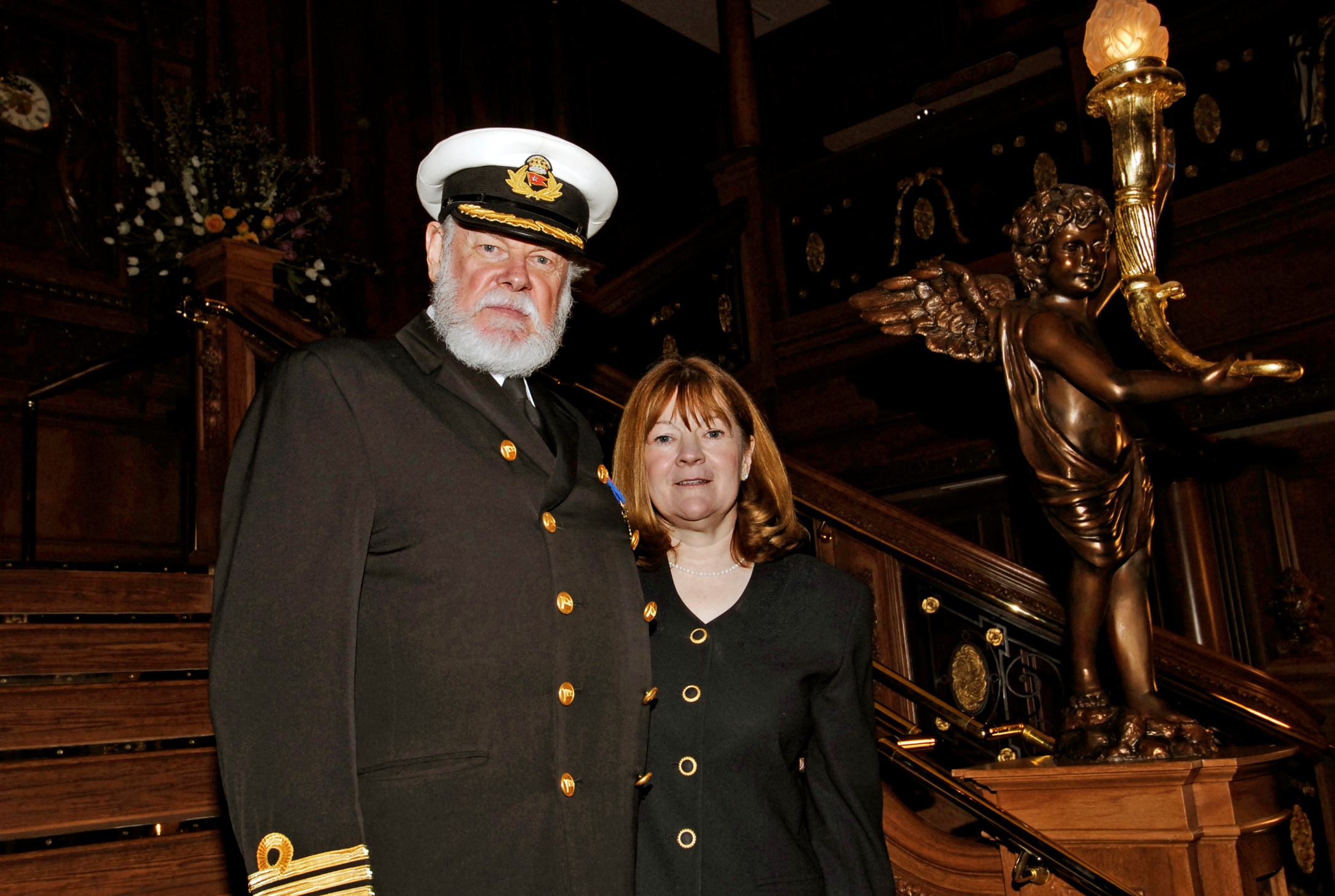 Titanic Museum Attraction welcomes 50,000 "passengers" in first three weeks The new Titanic Museum Attraction in Pigeon Forge, Tenn. has welcomed 50,000 "passengers" in its first 21 days of operation. The world's largest Titanic Museum Attraction, which is also the newest major attraction in the popular resort area surrounding the Great Smoky Mountains National Park, is exceeding its business projections in all areas.
"What we have created is special in so many ways," said John Joslyn, co-owner of the Titanic Museum Attraction. "It is truly a museum – with hundreds of priceless artifacts from the Titanic, but it is also an overall experience for our guests. They get to talk to crew members and maids who know the detailed story of the ship and her passengers. Visitors are able to touch an iceberg and feel the 28-degree water exactly as it was on that fateful night.
"While you're visiting the Titanic Museum Attraction, you truly become a passenger on board the Titanic. It's a complete experience that honors and respects the ship and its passengers by keeping their stories alive. It's a one-of-a-kind place that you have to experience to fully understand."
The Titanic Museum Attraction opened in April with a star-studded weekend-long Grand Opening hosted by Regis Philbin. The event also featured numerous descendants and family members of those on board the Titanic and included a christening of the ship by Captain Edward J. Smith.
Titanic
Museum Attraction is a half-scale, permanent, three-deck recreation of the Titanic. The museum houses 20 galleries to display nearly 400 authentic, priceless Titanic artifacts that were either carried from the ship and into lifeboats by passengers and crew, or were found afloat soon after the sinking and quickly salvaged by rescue boats.
Inside the Titanic Museum Attraction, visitors find full-size recreations (built to actual Titanic blueprints) of Third-Class quarters, a First-Class suite, dining rooms and – the museum's centerpiece – a $1 million exact reproduction of the Titanic's Grand Staircase. The First-Class suite in the Titanic Museum Attraction, which is dedicated to Isidor and Ida Straus who co-owned Macy's Department Stores, was also the cabin used in James Cameron's blockbuster movie Titanic as Rose's suite.
In addition to being a world class museum in the truest sense of the word, Titanic Museum Attraction is also highly interactive and offers a hands-on experience for children, teenagers and adults. The ship is anchored in water to create the illusion of Titanic at sea, and a two-hour self-guided tour gives guests the sensation of sailing on the original ship's 1912 maiden voyage. Upon entry, each guest receives a boarding pass bearing the name of an actual Titanic passenger or crew member whose fate is revealed on the Memorial Wall at tour end. Along the way, powerful emotions surface as guests:
 Walk Titanic's Grand Staircase
Touch the frozen surface of an "iceberg"

Feel the chill of that fateful "Starry Night"

Study some of the largest, most detailed Titanic models ever built

Grip the ship's wheel and follow the Captain's commands

Tour world-class galleries and the rare historical artifacts they hold

Sit in a Titanic lifeboat and listen to actual survivors tell their stories

Send an SOS from the Marconi Wireless Room

Test their balance while standing on mini-decks built to show the ever-steeper slope of Titanic as she sank
Watch children eight years and younger explore the special interactive Tot-Titanic Play-and-Learn Room
Dive to Titanic's wreck site via spectacular underwater camera footage
The Titanic Museum Attraction – which is conveniently located to all areas of the Great Smoky Mountains National Park, Gatlinburg, Pigeon Forge and Sevierville – is now open every day from 9 a.m. until 9 p.m. ET. Tickets are available online at
www.TitanicPigeonForge.com
or by calling 1-800-381-7670 and visitors are urged to purchase tickets in advance. 
Cedar Bay Entertainment, which owns and operates Titanic Museum Attraction, is a privately owned entertainment and development company headquartered in Branson, Missouri, the site of Cedar Bay's first Titanic Museum Attraction. Since its April 2006 grand opening, it has welcomed more than 2,000,000 guests.
---

MUSEUM BELLPARK, KRIENS - Lucerne's Museum Tips
 

Traditional objects are surprisingly juxtaposed with contemporary objects in this museum. While photography is a main theme of the museum, there are also temporary exhibitions showing current trends in Swiss art and the latest video art.
Opening hours*:
Wednesday - Saturday 14-17 h
Sunday 11-17 Uhr
Luzern Tourismus AG
Tourist Board
Zentralstrasse 5
CH-6003 Luzern
Phone +41 (0)41 227 17 17
Fax +41 (0)41 227 17 20
luzern@luzern.com
---
THE AGE OF CONQUEST. The Charm of Greek art in Rome
March 13th - September 5th, 2010 www.museicapitolini.org
The age of Conquest, an exhibition which opened in the Musei Capitolini, explores the question: how did Rome's conquest of Greece (146BC) influence Roman art? The answer is of course that the influence was huge: Roman copies of canonic Greek masterpieces ensued, there were aesthetic influences in the decoration of sanctuaries and funerary monuments, while every-day domestic objects mimicked Greek styles too. The exhibition through masterpieces coming from the Mediterranean basin, including impressive marble statues, fine works in bronze and terracotta sculputres entire cycles, ornaments and home decor items made of bronze and silver, the hightes value style, describe the dperiod that will be among the most innovative and original for the entire developing of Western art.
---
New cultural event to showcase arts, culture and creativity of Albuquerque, NM
A collaboration of arts, cultural and marketing organizations have come together to create a new signature event called "Savor Albuquerque: Arts, Culture, Creativity." The 10-day festival will be celebrated June 4-13, 2010 throughout Albuquerque's downtown district incorporating more than 100 events at 50 venues.
"Savor Albuquerque" (www.SavorABQ.com) is a celebration of arts, culture and creativity, designed to showcase the breadth of Albuquerque's incredible artistic and cultural resources over 10 days. Showcasing many of the city's cultural institutions, the festival presents music, theater, dance, comedy, literature, humanities, film, multimedia, visual and culinary arts.
The festival's objective is to provide all who attend with a uniquely Albuquerque experience, centered on the assets of the downtown district during this year's inaugural event and expanding throughout the city in future years.
Festival highlights include: 
Coupons and special discounts are offered at many participating businesses including hotels, restaurants, galleries and attractions in the downtown area. 
"Visitors are invited to come celebrate Albuquerque and its continued emergence as one of the Southwest's most unique and diverse cultural cities," said Dale Lockett, President/CEO of the Albuquerque Convention & Visitors Bureau (www.ItsATrip.org). "We are ranked as one of the most affordable vacation destinations and the Savor Albuquerque festival presents an excellent opportunity to experience our dynamic arts and culture."
The festival is presented through cooperative efforts between the Downtown Action Team, Creative Albuquerque, City of Albuquerque, Albuquerque Convention & Visitors Bureau, the Albuquerque Arts & Culture District, and a multitude of arts and cultural organizations.
Thank you to Wells Fargo and Mercedes Benz of Albuquerque for their sponsorship of "Savor Albuquerque."  For information and a schedule of events,visit www.SavorABQ.com 
---
---

---
Béla Bácsi
New and Improved
OPEN STUDIO

Saturday and Sunday
June 26 & 27
11:00am – 5:00pm
115 West Los Olivos Street
Santa Barbara, CA 93105
805.687.2636
bbacsi@aol.com  www.belabacsi.com
Shown: "Camouflaged", ©2010,
Italian statuary marble,  24" dia.
---