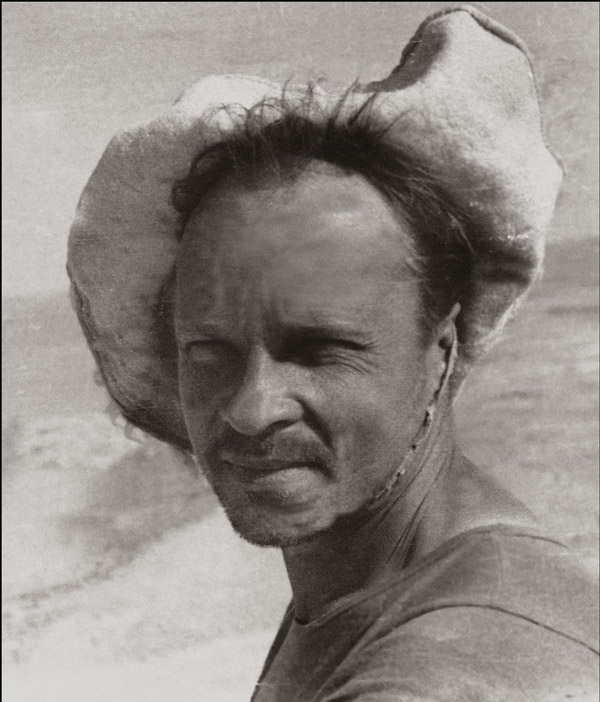 Igor Savitsky, Original Collector & Founder of the Nukus Museum
THE DESERT OF FORBIDDEN ART - An Amazing Film Revelation                                                                                                        by Bonnie Carroll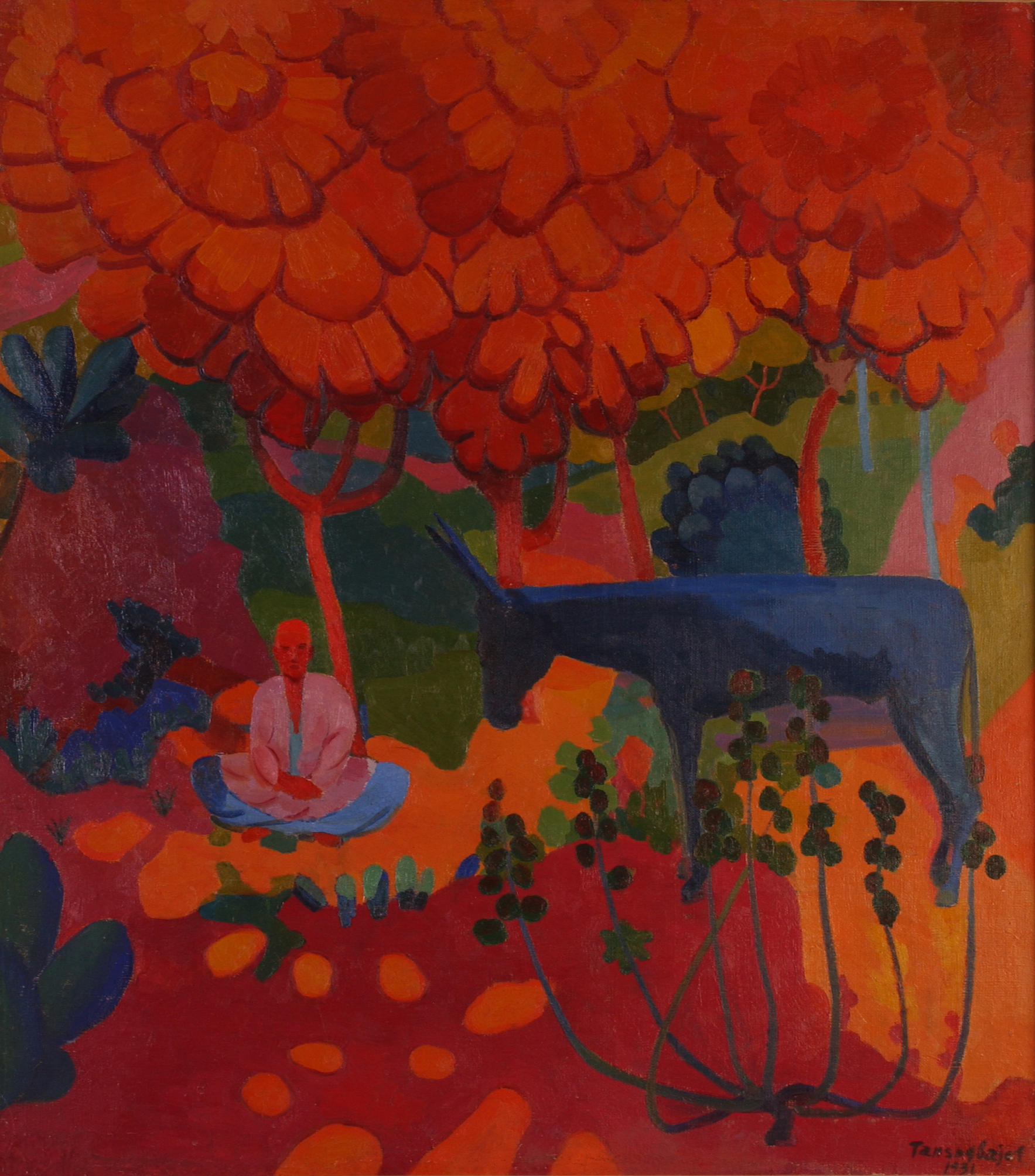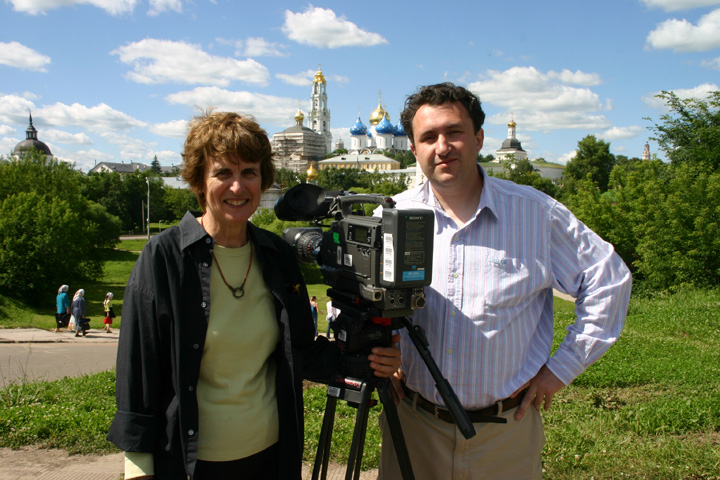 Painting Brilliant Hues by Stalinsky                     Film Makers Pope and Georgiev
Amanda Pope and Tchavdar Georgiev are the writers, producers and directors of The Desert of Forbidden Art, which had its world premiere at the Santa Barbara Museum of Art Theatre during the 25th Santa Barbara International Film Festival in February. Ben Kingsley, Sally Field and Ed Asner voice the diaries and letters of Savitsky and the artists. The film, which was six years in the making, depicts a dramatic journey of sacrifice for the sake of creative freedom.
It is the story of Igor Savitsky, artist, archeologist and collector, who dedicated his life to saving the 'forbidden art' of a lost generation. "I found these paintings rolled up under t he beds of old widowsw, burried in family trash, in dark corners of artists' studios, sometimes even patching a hole in the roof. I ended up with a collection that no one in the Soviet Union would dare to exhibit." - Igor Savitsky, Original Collector & Founder of the Nukus Museum.
The two film producers were in Russia completing a project when they heard of a museum of Soviet era forbidden Avant-Garde art in a far off desert at the extreme Western border of Ubekistan. Pope a film professor at USC and Georgiev, who had his roots in Russian culture, were a likely team to travel to Uzbekistan to investigate and document the amazing story sorrounding the Savitsky Collection, and to work with Marinika Babanzorova, the current Nukus Museum director/curator, who has fought off government bureaucrats and art sharks looking to raid the prizes of the Collection, as well as Islamic fundamentalists who could destroy the art as they did the great Bamiyan sculptures in Afghanistan.
Pope and Georgiev discovered a constellation of indomitable idealists who were artists, the children of painters whose works had been collected by Savitsky, and true devotees to the collection of 40,000 artworks Igor Savitsky purchased to save. For Russian painters who worked outside the system of Soviet Socialist Realism, Uzbekistan became a safe haven. "I traveled all over Uzbekistan searching for masterpieces that the history of our times had condemned to obscurity. I found a whole multinational collective of artists. Some were Uzbeks, others came from distant parts of our Soviet Union. They came here after the revolution. For a brief period in the 20s and 30s, they painted freely, far away from the Kremlin's censorship. Uzbekistan became their second motherland." - Igor Savitsky, the Original Collector & Founder of the Nukus Museum and the Forbidden Art Collection.
                      Artists Stalinsky                                 Uzbekistan in 1917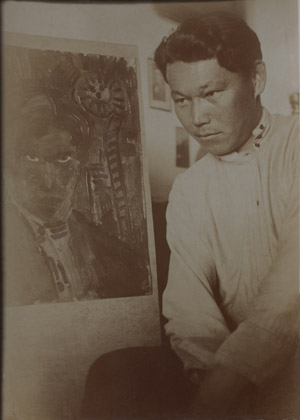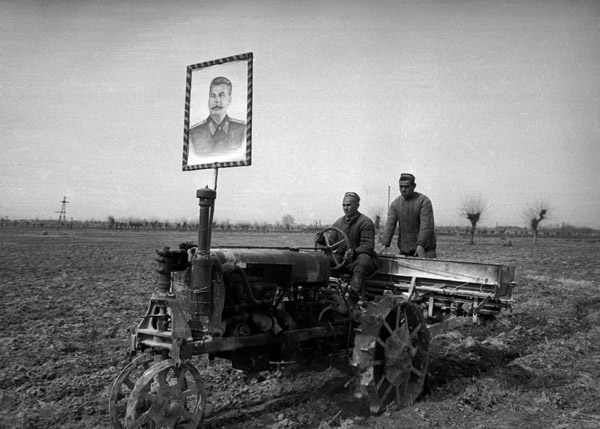 "I like to think of our museum as a keeper of the artists' souls. Their works are the physical expression of a collective vision that could not be destroyed." - Igor Savitsky.  It is the hope of these two talented film makers, Pope and Georgiev, that the film will function as a tool and a catalyst to preserve and protect the Nukus Museum.
 The film will be showing in additional cities throughout the US and Europe. For information please visit: www.DesertofForbiddenArt.com   
---
MAX RAABE & PALAST ORCHESTER AT ROYCE HALL                              by Bonnie Carroll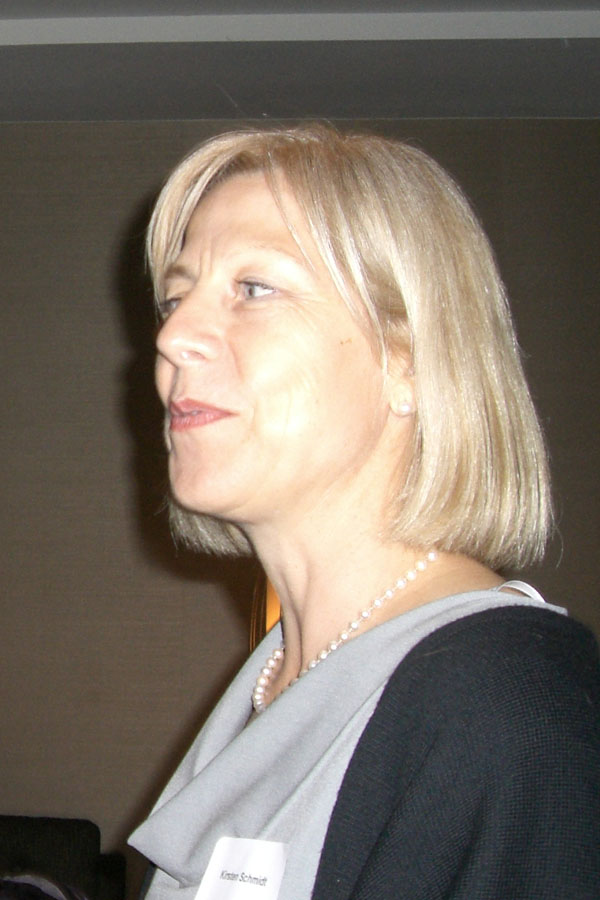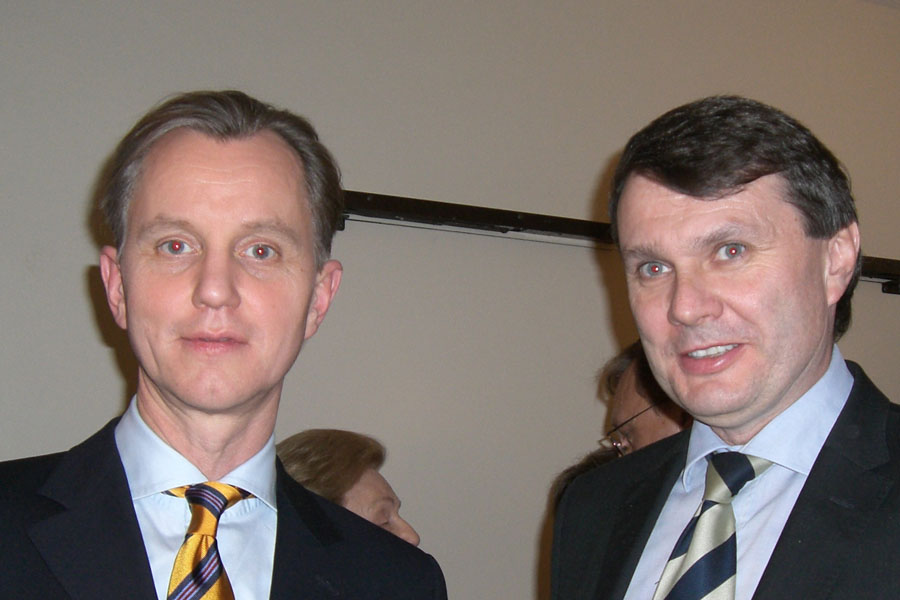 Kirsten Schmidt, Directer of Public Relations and Burkhard Kieker, CEO of Berlin Tourism hosted a group of travel journalists to a Berlin 2010 travel dinner reception at the W Hotel in Westwood, followed with a performance by renowned German entertainer Max Raabe and his twelve piece  Palast Orchestra. The New York Times described their performance as "facinating!" and it most certainly is.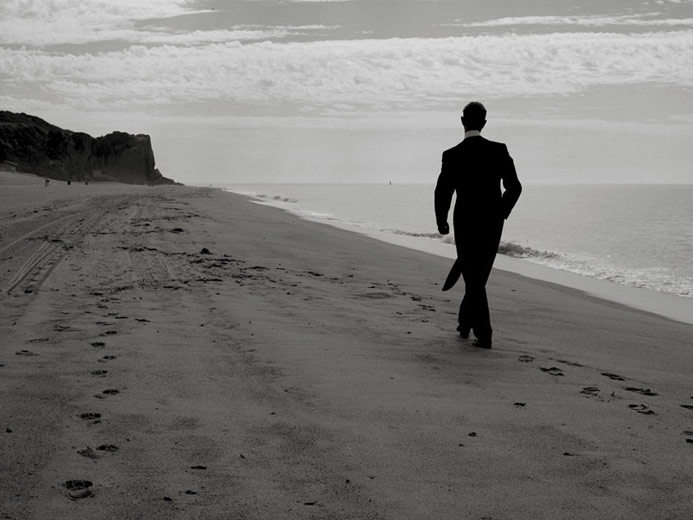 The fabulous orchestra features music of the Weimar era and takes the audience on a journey through one of the most charming and romantic times in music history. Raabe's dry German humor and dashing charm take audience members through a program of fantastic musical renditions of familiar tunes with smooth class. This is a remarkable show and should not be missed by anyone. For upcoming performances visit: www.palastorchester.de                  . For the latest Berlin 2010 tourism schedule visit:www.visitberlin.de.   
---
How Did Chinese Artists Learn and Practice Their Craft?           Met Museum Explores the Topic in New Installation
A new installation opened at The Metropolitan Museum of Art on February 6, Mastering the Art of Chinese Painting: Xie Zhiliu (1910-1997), demonstrates how Chinese artists learned, historically, from earlier masterpieces and from nature.  It showcases more than 100 works—including paintings, sketches, drawings, calligraphies, and poetry manuscripts—by Xie Zhiliu (pronounced "shay jer leo"), one of modern China's leading artists and connoisseurs. It also marks the 100-year anniversary of his birth.  A number of his sketches and copies will be accompanied by photographs of earlier works that inspired him and by his own completed works, in order to trace how he developed his unique style. Drawn primarily from a recent gift to the Metropolitan Museum from the artist's daughter Sarah Shay, the works on view comprise the first solo exhibition of Xie Zhiliu's works to be organized outside China.
About the Artist
Xie Zhiliu was a native of Changzhou, a city with a strong tradition of bird-and-flower painting, a genre in which Xie excelled. Moving to Chongqing to escape the Japanese occupation in 1937, he became a close friend of renowned painter Zhang Daqian (1899-1983), who introduced him to the Buddhist cave murals of the Silk Road oasis of Dunhuang. After the war, he became an advisor and preeminent connoisseur on painting and calligraphy for the Shanghai Museum as well as a professor of painting. Due to his access to the rich holdings of the museum, which enabled his close study of Tang, Song, and Yuan dynasty painting (a topic on which he published), Xie expanded his style. Between 1983 and 1990 he led a team of scholars in evaluating the collections of China's leading cultural institutions, a project that resulted in a 24-volume illustrated index of more than 70,000 paintings and calligraphies.
Works on View
The installation is divided thematically. The first two galleries, entitled "Tracing the Past," present Xie's early studies of figures, narratives, and bird-and-flower paintings of the Song dynasty (960-1279). His sketches of Buddhist figures based on his study of the Dunhuang murals are also included here. In the two galleries that follow, Xie's admiration for the master painter Chen Hongshou (1599-1652) and other bird-and-flower specialists is highlighted through a number of Xie's precise copies of these artists' paintings.                                                                                      
How Xie learned directly from nature will be illustrated in the fifth gallery. A number of studies of flowers and fruit will be featured, along with two groups of landscape sketches, capturing naturalistic compositions defined largely by contour lines with little interior modeling. Also on view in this section will be a pencil and ink sketch of a narcissus visualized from different angles, a work that shows how his lines were formed slowly and involved numerous adjustments and corrections.
Xie's appreciation for cursive calligraphy is the focus of the next section. A manuscript called Poems of Inner Mongolia (1961), as well as several copies including Select Characters from Huaisu's Autobiography of 1969 and Notes on Zhang Xu from the late 1960s—before the darkest period of the Cultural Revolution—document Xie's conscientious study of ancient models in the Shanghai Museum collection. The section ends with Five Poems (1990), which reflects the abiding influence of these earlier masters.  And, the final gallery will feature Xie's integration of naturalism and stylization in his late years.  Among the works on view will be a brightly colored album called Views of Yosemite National Park, California (1994), which the artist made with his wife, the painter Chen Peiqiu (b. 1923), in 1994.
Complementing the installation will be a display of some of the artist's seals, which constitute a valuable anthology of the seal carver's art by many of the leading practitioners of the late 20th century. This group also highlights one of the most innovative and important forms of calligraphy practiced since the late Ming dynasty.
Education Programs
A variety of educational programs will be presented in conjunction with the exhibition. The Museum's website at www.metmuseum.org features the exhibition and provides details of all related programming.
Credits
Mastering the Art of Chinese Painting: Xie Zhiliu (1910-1997) is organized by Maxwell K. Hearn with the assistance of Shi-yee Liu, Research Associate in the Metropolitan Museum's Department of Asian Art.  Exhibition Design is by Michael Lapthorn, Exhibition Designer; Graphics are by Sue Koch, Graphic Design Manager; and lighting is by Clint Ross Coller and Richard Lichte, Lighting Design Managers, all of the Museum's Design Department.
---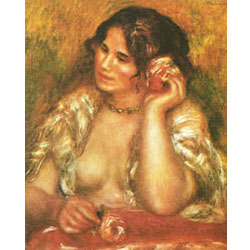 Renoir in the 20th Century

February 14, 2010–May 9, 2010

 

Renoir in the 20th Century focuses on the last three decades of the artist's career, when he had abandoned impressionism for a highly personal interpretation of the Great Tradition. This period, which also saw Renoir's rise to unprecedented critical and commercial success, is the least understood: it is under-researched and generally eclipsed by his impressionist years. And yet, the 1890s mark the spectacular beginning of new and fruitful explorations which would solidify Renoir's position as one of the masters of modern painting. Throughout the course of the exhibition, parallels between Renoir's paintings and works by Picasso, Matisse, Maillol, and Bonnard will demonstrate powerfully the sway of Renoir's art during the first half of the twentieth century. Bringing together approximately 120 paintings, drawings, and sculptures by Renoir and ten relevant modernist works, the exhibition offers an unprecedented look at Renoir through the lens of modernism, bridging the divide generally seen between the late nineteenth and early twentieth centuries.

The exhibition is curated by Claudia Einecke and J. Patrice Marandel, European Art, LACMA, and Sylvie Patry, Musée d'Orsay.

This exhibition was organized by the Réunion des Musées Nationaux, the Musée d'Orsay and the Los Angeles County Museum of Art in collaboration with the Philadelphia Museum of Art. The Los Angeles presentation is made possibly by the Iris & B. Gerald Cantor Foundation.
---
---