CELEBRATE CHRISTMAS THIS DECEMBER WITH J.S. BACH
By Laurence Vittes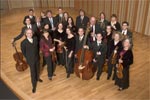 Carols such as "Away in a Manger" and "We Three Kings" have long been holiday staples in churches and shopping malls. But when the fabulous Musica Angelica Baroque orchestra (playing on original instruments and conducted by Martin Haselboeck) presents two-thirds of Bach's Christmas Oratorio on December 13, at 8 p.m. at Zipper Concert Hall in downtown Los Angeles, and repeats the performance on December 14, at 4 p.m. at The Broad Stage in Santa Monica, the story of Christ's birth will be told from an exciting and deeply beautiful musical perspective. If you can handle Vivaldi's "Four Seasons" or Bach's Suites for Solo Cello, this is for you.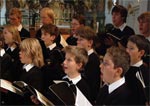 Musica Angelica will be joined for the performances by the Toelzer Knabenchor, a famous boys' choir that, since its founding in 1956, has performed worldwide with celebrated conductors including Claudio Abbado, Daniel Barenboim, Leonard Bernstein, John Eliot Gardiner, Herbert von Karajan, James Levine, Seiji Ozawa and Sir Georg Solti. Tenor Markus Schafer and baritone Randall Scarlata will perform as well.
On each of the two scheduled performances, Musica Angelica will present four of the six cantatas which make up Bach's exuberant, beautiful and simply divine "Christmas Oratorio." These are the cantatas which describe the birth of Jesus, the annunciation to the shepherds, the adoration of the shepherds, and the adoration of the Magi, or Epiphany, which concludes with the Holy Family's flight into Egypt to escape Herod's soldiers.
So, it's not only some of Bach's most entertaining music, and it's not only a good story, it's loaded with spiritual and moral values. In other words, fun for the whole, musically-inclined family.
As noted above, in addition to the Musica Angelica regulars, tenor Markus Schaefer and baritone Randall Scarlata will sing the male solo parts, while the Bavaria-based Toelzer Knabenchor will handle the choral duties as well as provide soprano and alto soloists for parts normally sung by women. If you've never heard a boys' choir in Bach, expect to be dazzled by the unique blend of brilliance and innocence that such choirs bring to the music.
If you're unfamiliar with Santa Monica-based Musica Angelica, it was founded by lute virtuoso Michael Eagan, one of L.A. most remarkable musicians and composers, and virtuoso viola da gamba player Mark Chatfield.
In 2008, Musica Angelica and actor John Malkovich premiered an extraordinary collaboration called "Seduction and Despair," which played to two nearly sold-out houses and attracted media attention throughout the United States and Europe. The original multi-media concert presentation, directed by and starring Malkovich, presented a concept and musical program by Haselböck to a concept-libretto by noted Austrian writer-director Michael Sturminger. Musica Angelica's performances of the "Christmas Oratorio" should be no less stunning.
For more information or a brochure listing schedules for Musica Angelica's 5-concert Orchestral Series as well as its Chamber Series, call (310) 458-4504 or visit www.MusicaAngelica.org.
---
ART AND LOVE IN RENAISSANCE ITALY
The Metropolitan Museum of Art
Exhibition dates: November 18, 2008 – February 16, 2009
Also on view will be two contemporary art exhibitions:
Raqib Shaw at the Met
November 4, 2008–March 1, 2009
In this selection of work by Raqib Shaw (b. 1974), the Indian-born, London-based artist responds to the Holbein in England exhibition held in 2006-2007 at Tate Britain.  This is Shaw's first solo show at a New York museum, featuring new paintings and works on paper that have never before been exhibited.  The installation is the fifth in an ongoing series highlighting the work of young artists in the Lila Acheson Wallace Wing.  
Reality Check: Truth and Illusion in Contemporary Photography
November 4, 2008–March 22, 2009
How photographers blur the distinction between what is real and what is not is the subject of Reality Check, which presents 30 photographs from the Museum's permanent collection, including works by contemporary artists James Casebere, Gregory Crewdson, Thomas Demand, Robert Gober, David Levinthal, Craig Kalpakjian, Shai Kremer, and Taryn Simon, among others.  Among the works featured are photographs of staged scenarios or constructed environments that appear to be real, as well as real scenes or landscapes that appear strangely artificial.  In the Joyce and Robert Menschel Hall for Modern Photography.
---
Books on View at Metropolitan Museum of Art
Exhibition dates: November 25, 2008–April 12, 2009
Exhibition location: Medieval Sculpture Hall, side aisles
Christmas Tree and Neapolitan Baroque Crèche on
Display for Holiday Season at Metropolitan Museum
Installation dates: November 25, 2008-January 6, 2009
Location: Medieval Sculpture Hall
---
CHARLES ARNOLDI: FRACTURED ARC PAINTINGS
 November 7 - 29, 2008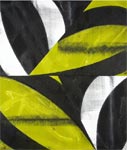 Charlotte Jackson Fine Art is pleased to present the opening of the exhibition Fractured Arc Paintings, a commanding new series of multiple-panel paintings by Los Angeles artist Charles Arnoldi. On the same evening, the gallery hosts a book signing in honor of the release of the exquisite text, Charles Arnoldi, with a foreword by architect Frank Gehry and an essay by Dave Hickey.
Some 40 years ago, a band of artists whose paths crossed in art schools, museums, and studios on both coasts were questioning the status quo of the art of the New York School. There, Rauschenberg and Johns were selling combines and bronze beer cans in Leo Castelli's gallery while Warhol was merging popular visual culture and commercialism to produce an art that has been known ever since as "Pop." Something was happening, all right, in New York, but a stolid Modern Art maintained its monarchic hol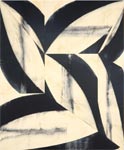 d over the city. Challenging the formalism of Post-Painterly Abstraction, on the one hand, and the grid, on the other, were a raucous bunch of artists in Los Angeles, where, as one of them put it, it didn't matter what you did because no one was paying attention.  
One of those artists was Charles Arnoldi (b. 1946). In the din of a drumbeat that rolled out the death knell of painting, Arnoldi looked at ruined, charred tree branches from a Malibu fire and began his "stick" paintings. Next, his chain saw roared; Arnoldi made wall reliefs of rough-hewn lumber. Highly architectural in their construction and considerations, it is no coincidence that hi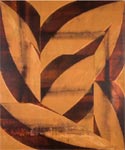 s neighbor and best friend remains today Frank Gehry, the Frank Lloyd Wright of the contemporary era.  
Continuing to explore the gamut of artistic mediums and visual vocabulary, Arnoldi began making Arc paintings, multiple canvases placed in squares to form a monumental whole, covered in broad, bold gestural strokes of color. Reminiscent of both the chain saw and stick constructions, the Arc series was, for the artist, "more emotional, more human."  
Now, Charlotte Jackson Fine Art in Santa Fe is pleased to present an exhibition ofrecent Fractured Arc Paintings byCharles Arnoldi. Comprising multiple-panel paintings in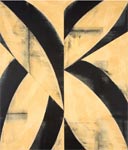 a wide range of sizes, Arnoldi has done away with 90-degree angles in this latest series. This, he says, "allows for a greater level of perspective and the illusion of varying picture planes" within each painting. A look at N.S.E.W., for example, reveals a greater sense of organic, even biological, form; while the piece pictured below, Fight, swirls in a pinwheel of action and quietly exploding sensation.  
Along with the exhibition, Radius Books and Art Santa Fe Presents announce the publication of a long-awaited volume, Charles Arnoldi, with a forward by Frank Gehry, an introduction by art writer Dave Hickey, and conversations with artist G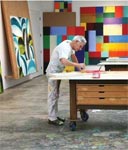 regory Amenoff, art historian Fred Hoffman, museum director Michael Zakian, and Arnoldi's Santa Fe gallerist Charlotte Jackson. The artist will be present for the reception and book-signing event on November 7 at Jackson's downtown Santa Fe location.  
Charles Arnoldi attended the Chouinard Art Institute in the late 1960s-a dynamic era for Los Angeles artists that produced the likes of Arnoldi, Larry Bell, Ed Ruscha, John Baldessari and Judy Chicago, to name but a few. Arnoldi's work is represented in major international collections, including The Metropolitan Museum of Art, The Art Institute of Chicago, the Guggenheim Bilbao, the Norton-Simon collection, the Albright-Knox Gallery, the National Gallery of Art in Sydney, the Menil Foundation in Houston, New York's Museum of Modern Art, and many others.   
For More Information:  
Charlotte Jackson Fine Art
200 W. Marcy St., Suite 101
Santa Fe, NM   87501
505.989.8688 
---