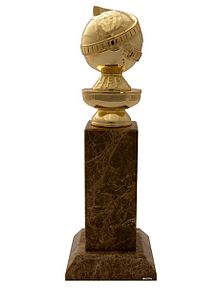 2012 GOLDEN GLOBE SIGNATIRE GIFTS AND SPECIAL CHARITIES SHINE IN BEVERLY HILLS                                                                                                          by Bonnie Carroll  
During the 2012 pre-Golden Globe Awards social events the charitable organizations and extraordinary designer gift items glow in the spotlight at celebrity gifting events in chic Beverly Hills Hotel suites and lounges.
Nathalie DuBois, president of DPA, once again presented her renowned celebrity gifting lounge on the rooftop of the Luxe Rodeo Drive Hotel.  Every inch of this 'street of dreams' destination was filled with beautiful and imaginative gifts to delight any Golden Globe participant.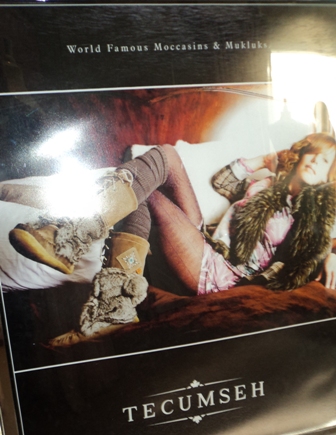 The DPA event included luxurious Tecumseh Canadian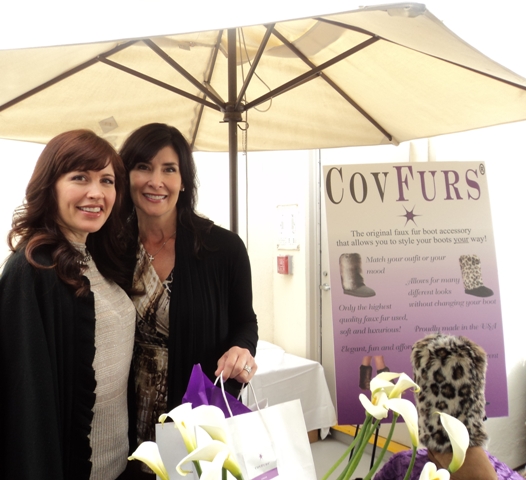 mukluks and moccasins to keep the tootsies of celebrities warm on post-Golden Globe ski trips to Aspen or just glamour shopping on Robertson Boulevard. The new Covfurs, very chic faux fur slipcovers for your boots, were also being gifted to celebs in the lounge.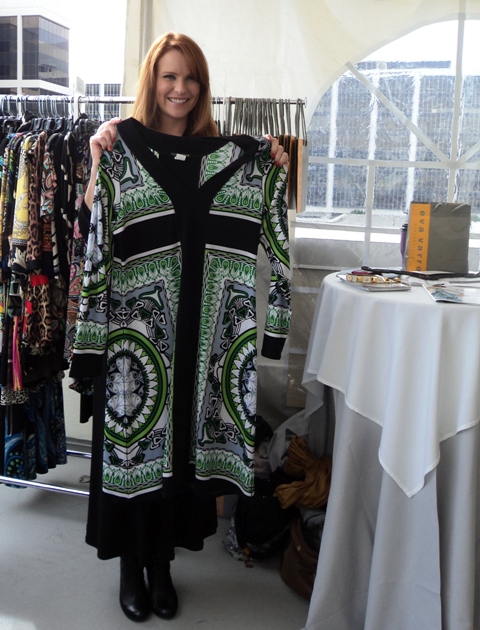 The colorful new collection of designs by Eva Varro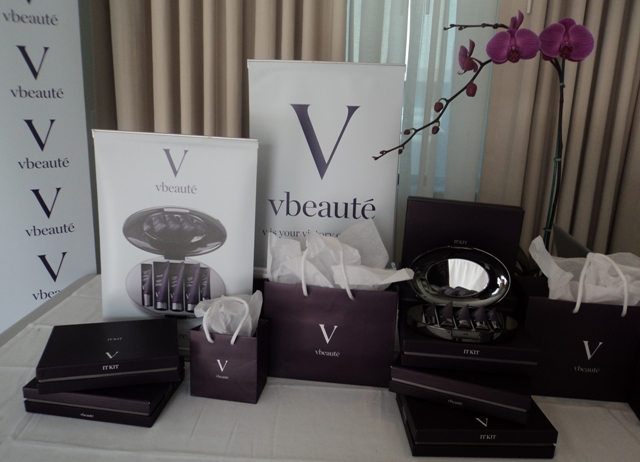 were a show stopper that included bright flower, black and white with something bright, and leopard prints in dresses, tops, pants and skirts. Varro's designs were made for women who travel.  The "It Kit" from Vbeaute drew attention from international travelers following a skin care regimen who want smooth air transfers through security when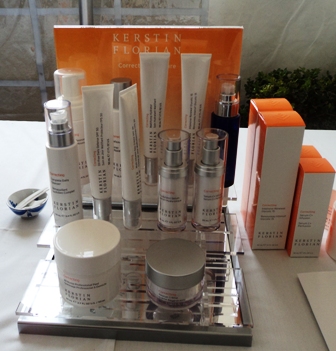 enroute to national or international destinations.  New additions to the Kerstin Florian collection of fine skin products also drew a crowd, and the exquisite Cecilie Melli crystal jewelry designs from Oslo, Norway caught the eye of every woman at the lounge.  Grazia Miele for the Magnolia Bakery cupcakes that were so enjoyed at home with Kusmi Teas.
The GBK Gifting Suite at the L'Ermitage Hotel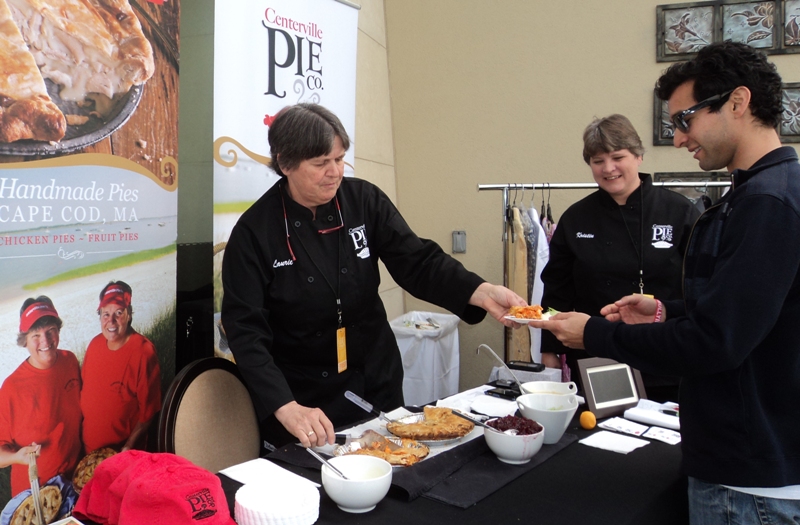 Burton Way was buzzing with activity as people enjoyed cocktails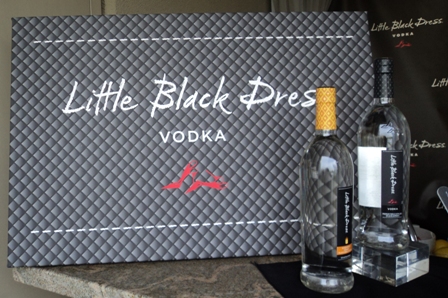 from Little Black Dress Vodka, and devoured home-made pies from The Centerville Pie Co., a company located in Massachusetts that was founded by 'Pie Ladies' Laurie and Kristen who provide jobs for the disabled.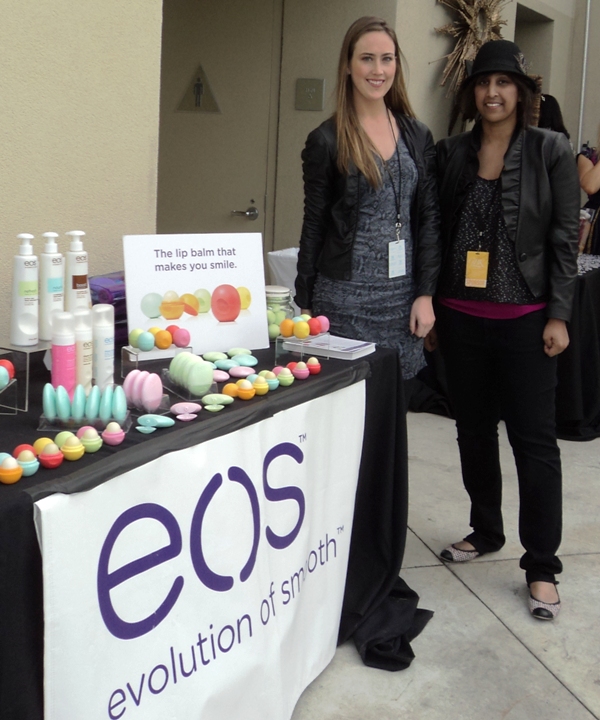 EOS skin products in dreamy 50's colors delighted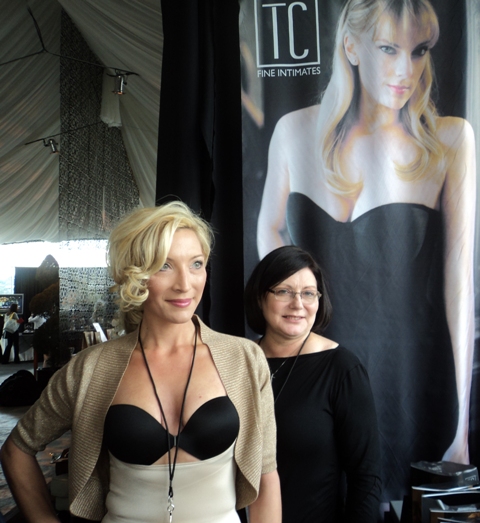 everyone, including "Mr. Big" from Sex and the City fame. He also had an extended visit at the TC Fine Intimates corner where the ultimate in shaping undergarments was being worn by a live model.
Actress Lana Parrilla, the wicked witch of the hot new TV series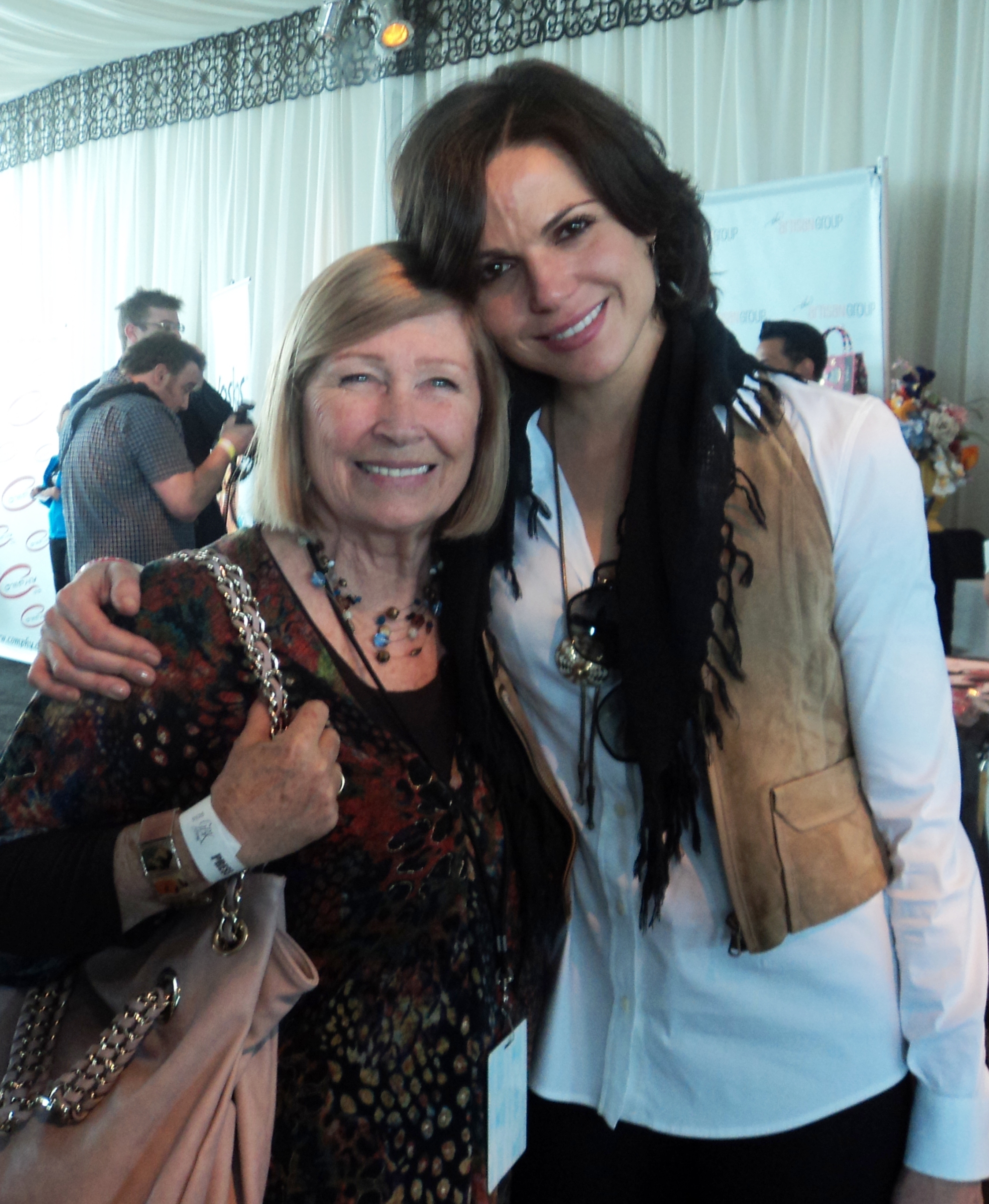 Once Upon A Time, was enjoying the Artisan Group Jewelry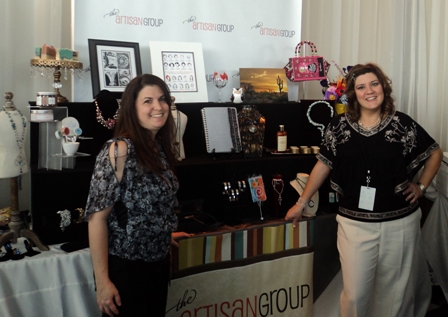 Collection as well as a Chocolate Milk tasting. It was a delight to meet her and share my enthusiasm for this new series that has children and adults captivated.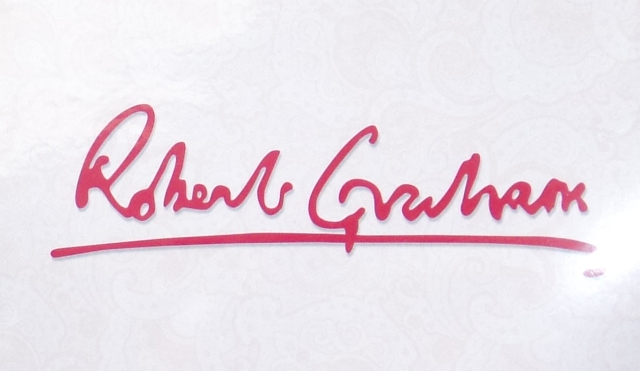 Robert Graham offered red carpet designs to please,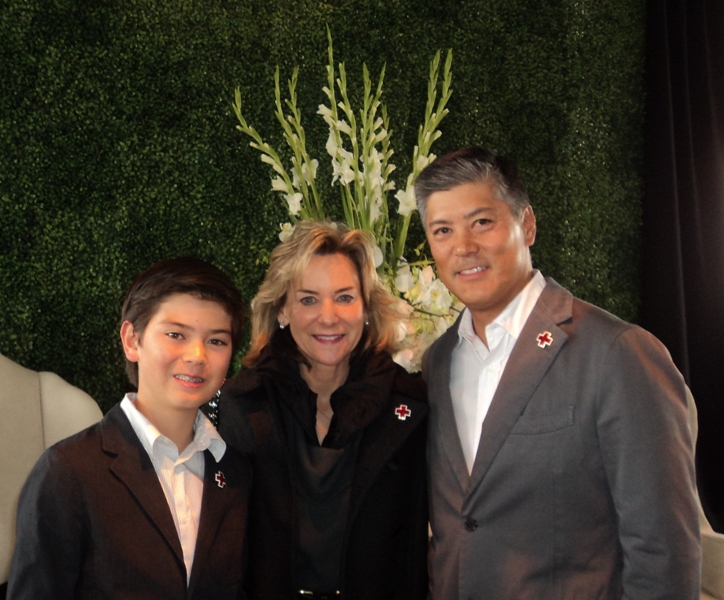 including the ultimate tuxedo and neck-tie designs. The Los Angeles region Red Cross Chairman Jeff Sakaguchi, his wife Nini and son Cooper sampled the delicious hotel hors d'oeuvre and chatted with celebrities and sponsors.
The SLS Hotel Secret Room Style Lounge
The venue was overflowing with designer handbags by Emperia and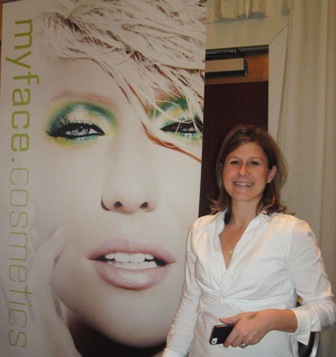 a bevy of delicious skin care products, including Nava natural cosmetics, blissful Mantra Indian Ayurveda inspired products as well as the Pure Pedi foot product that was designed to keep your feet silky soft.  Myface cosmetics showcased a colorful and stylized new design package featuring silkscreen eye art that is brilliant.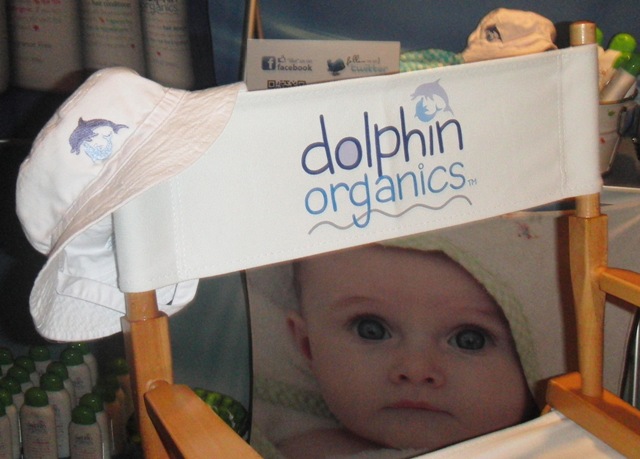 Dolphin Organics, a new line of baby products, joined the Bambi Style Lounge that was created with children of celebrities in mind. The collection of fantasy baby cribs and new children's toys offered healthy, safe and attractive new items for kids, as well as a website SproutOnline.com with games and recipes for pre-school kids and their parents. Pet products were also abundant and included pet recovery collars.
Chic Boss displayed beautiful hand-made Mayalei necklaces and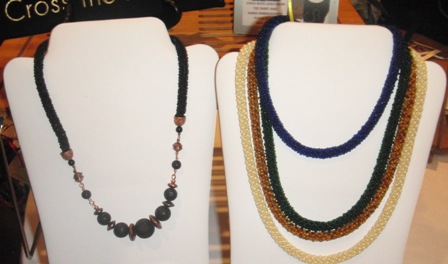 earrings designed and made in Guatemala to help improve the lives of their poor.  Secret Room Events was voted "best gift suite" by the Huffington Post and the charities benefiting their event this year included To Write Love On Her Arms and Gobble Gobble Give.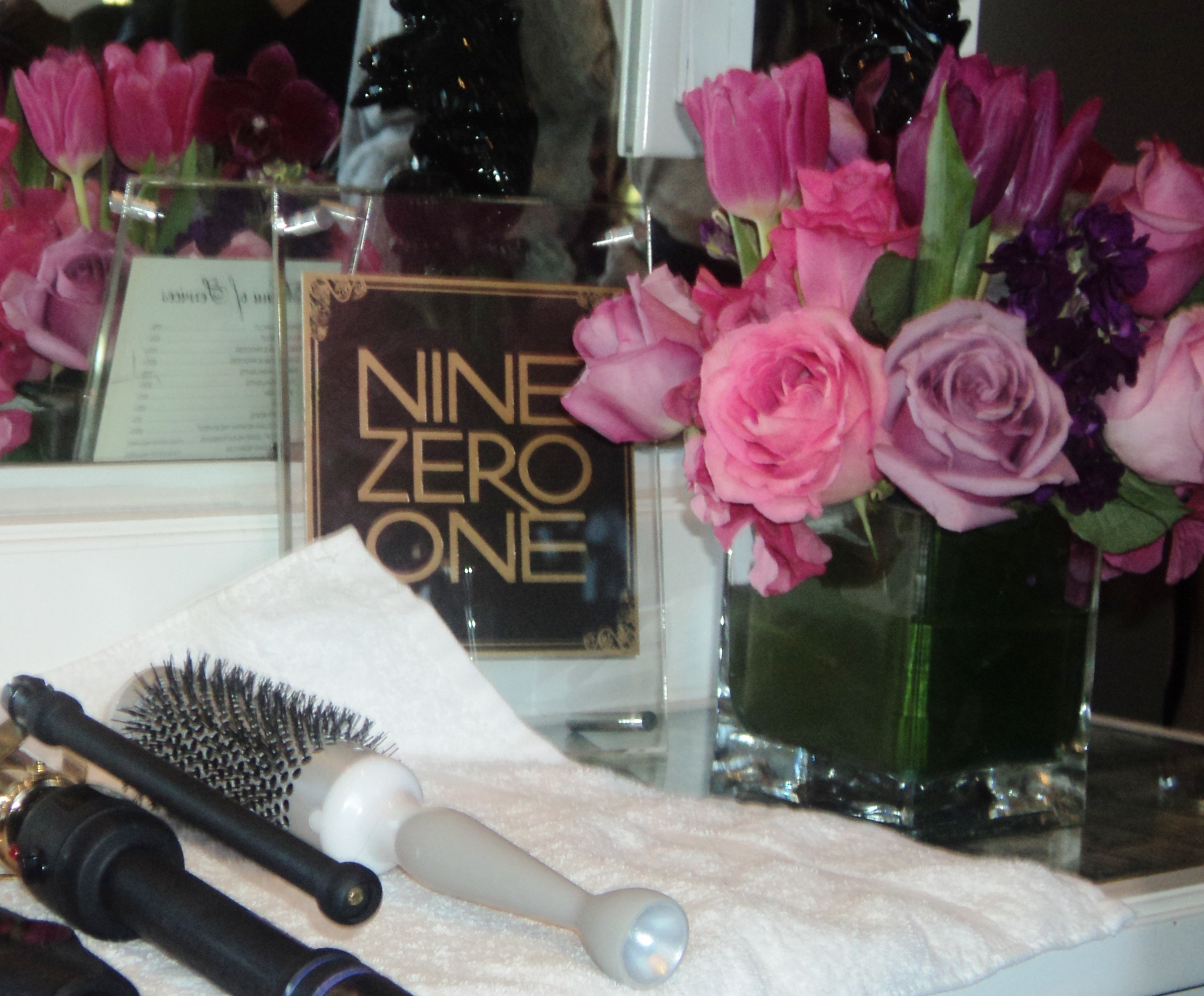 GLITZ AND GLAM AT WEST HOLLYWOOD WELLA BEAUTY DESTINATION
Wella Beauty Bar in Nine Zero One Salon, located at 901 Westborne, was a divine hub of style, overflowing with celebrities and talented hair, skin and massage specialist all doing a stellar job 'setting the scene' for the Golden Globes. Seen and heard were Jessica Szhor, Cheryl Burke, Busy Philipps, Ali Fedotowsky, Karina Smirnoff, Carmen Electra, Maria Menounos, Leah Renee, Jenna Dewan-Tatum, Guiliana Rancic, Stephanie Pratt, Amber Lancaster, Camile Grammer, Kim Richards, Melissa Roycroft & Tye Srickland to name a few.
Celebrities were treated to the latest braiding designs, hand massages by Bio-Oil therapists, Miami Oasis neck massages, tanning with Fake Bake products, hair cuts and styling. A variety of lovely UV Vodka cocktails were served by very handsome young men and the salon was filled with exquisite flower designs by Teleflora.
Sponsors for the event included Wella Beauty Bar, Schick Quattro for Women, Fake Bake, Miami Oasis, Bio-Oil, UV Vodka and Teleflora.
If you did not see the 2012 Golden Globes, everyone in the ballroom of the Beverly Hilton Hotel looked fantastic on January 15th thanks to many of the services and products mentioned in this feature. For a run down on this year's Golden Globe Awards visit: www.goldenglobes.org.
---
MUSICAL JOURNEY'S OF SANTA BARBARA CHAMBER ORCHESTRA
By Bonnie Carroll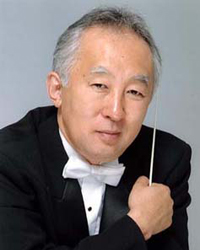 This season it was my pleasure to enjoy several exquisitely conducted and performed symphony programs presented by the Santa Barbara Chamber Orchestra. The amazing skills of conductor Heiichiro Ohyama are legend in Santa Barbara, and he never ceases to please and delight audiences.
Born in Montreal Canada, Lucille Chung has been acclaimed for her "stylish and refined performances" according to Gramophone magazine. She began at ten years old with the Montreal Symphony Orchestra and went on to receive international awards and recognition throughout the world.
Maestro Mozart, featuring pianist Lucille Chung includes The Marriage of Figaro, K. 492 overture, Idomeneo, K. 336 overture, The Impresario, K. 486 overture, Symphony No. 35, K. 385 in D major "Haffner" Allegro Con spirito, Adante, Menuetto, and Presto. Second half program included Don Giovanni, K. 527 overture and Concerto for Piano and Orchestra No. 23, K. 488 in A major Allegro, Adagio, Allegro Assai. This delightful event was sponsored by Santa Barbara Bank & Trust and Chaucer's Books.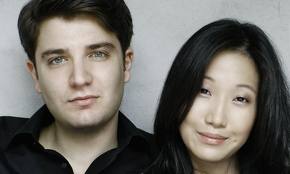 Bizet, Beethoven and Bax program featured pianist Alessio Bax, who gave a thrilling performance that dazzled everyone with his outstanding poise and skill. Georges Bizet Symphony No. 1 in C major and Ludwig van Beethoven Concerto for Piaono and Orchestra No. 5 in E flat major, Op. 73 "Emperor" Allegro, Adagio un poco mosso, Rondo. Allegro ma non troppo. Alesso Bax is a winner of the Leeds International Pianoforte Competition and the Hamamatsu International Competition in Japan. In 2009 he was awarded an Avery Fisher Career Grant, a prestigious prize in classical music. The generous sponsor for this evening of musical enjoyment was The Towbes Foundation.
For upcoming events visit: www.sbco.org
---
Le Salon de Musiques' Concert  
Francois Chouchan on Piano and Phillip Levy on Violin
3rd Concert of the Second Season
Phillip Levy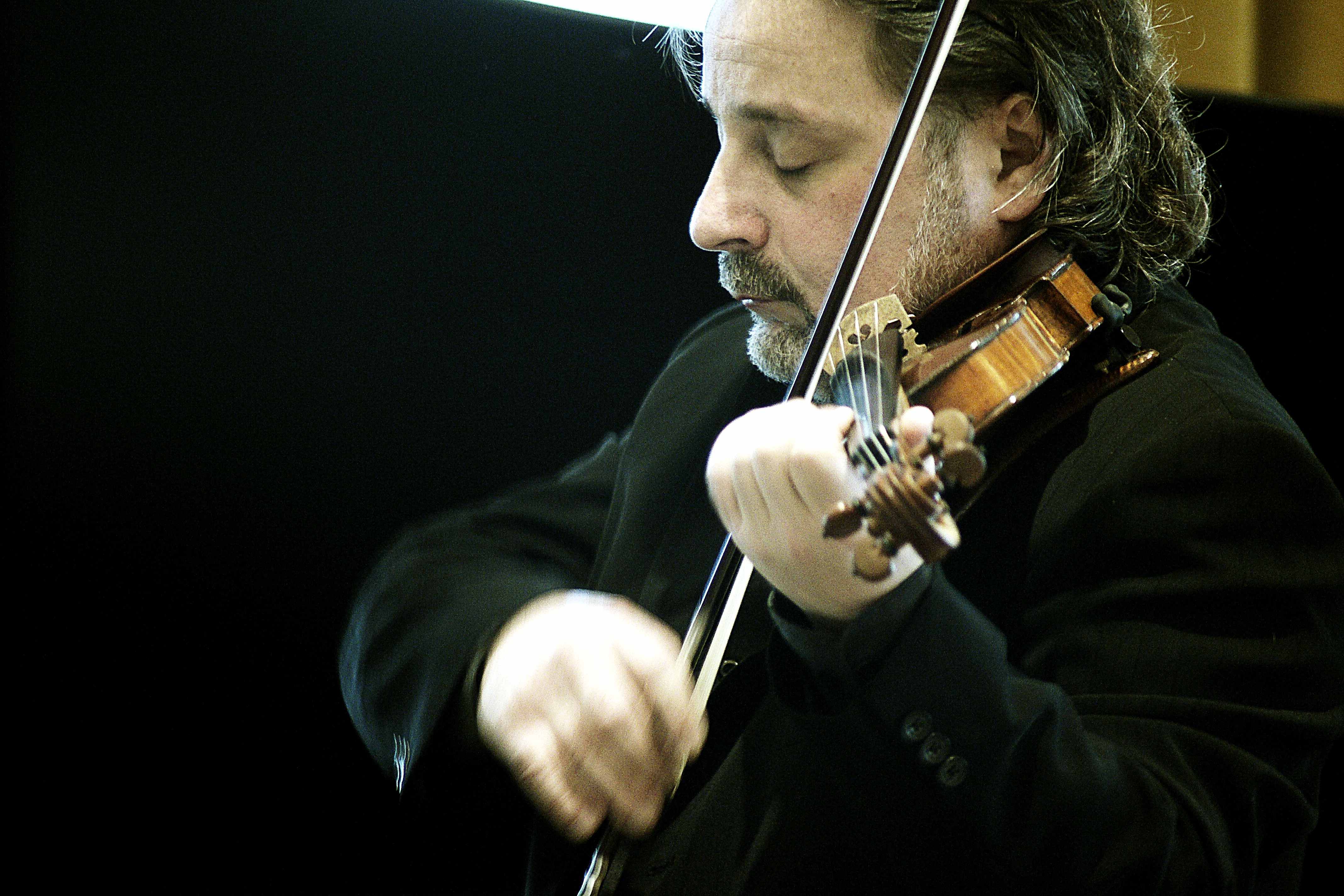 By removing the stage, Le Salon de Musiques offers a more personal touch to listeners eager to familiarize themselves with Chamber Music. The goal is to bring together an audience of disparate backgrounds...music lovers who believe that this form of melodic artistry brings out the best in humanity.
Producer and French pianist/melodist François Chouchan: From the Conservatoire National Supérieur de Musique de Paris (instructed by Yvonne Loriod-Messiaen and Germaine Mounier) to the Viotti International Piano Competition in Italy, his outstanding talent has been recognized all over Europe. Not only has Chouchan performed as a soloist with orchestras and Chamber Music groups in many countries, but he has also been invited to play during Master Classes by musical icons such as Mstislav Rostropovich, Nikita Magaloff, Gyorgy Sebok and Magda Tagliaferro. In Los Angeles, where Chouchan has resided since 2007, he has performed at the LACMA Museum for the "Sundays Live Series", at UCLA's Schoenberg Hall, at Cal State Long Beach and Cal State Northridge (with the Music Guild). He has also appeared at the First Presbyterian Church in Santa Monica, Zipper Hall, the Brandeis Institute, and for the Ermitage Foundation.
In 2010 Chouchan formed Angeles Concerts Artists Corporation and was produced Le Salon de Musiques, his first series of music concerts. For more information on Le Salon de Musiques you can go to www.lesalondemusiques.com
Phillip Levy – Violinist
Hailed by the San Francisco Chronicle as the top classical performer of 1995, violinist Phillip Levy has since then continued to receive worldwide critical acclaim at festivals and is the recipient of many prestigious awards and prizes.  His collaborations have included such renowned artists as Sir Yehudi Menuhin, Iona Brown, Sir Neville Marriner, Dawn Upshaw, John O'Connor and Ralf Gothoni. He has also premiered and recorded new works by composers William Bolcom, Henri Lazarof, Donald Crocket and John Harbison.
Born In Cardiff, Wales, Levy joined the English Chamber Orchestra and the Academy of St. Martin-in-the-Fields, with whom he also appeared as soloist, and led the London based Locrian and Amphion String Quartets. Concertmaster of The Monterey Symphony Orchestra for six seasons he frequently appeared with them as soloist and conductor. He has also been the principal violinist of the Apple Hill Chamber Players and currently leads the Capitol Ensemble, Artists in residence for the Los Angeles County Museum's Sunday's Live radio broadcasts.

For eight years, he held a Senior Lectureship in violin and chamber music at Stanford University and is now on the faculty at California State University Long Beach.
STAY CONNECTED TO LE SALON DE MUSIQUES:
Twitter:           http://twitter.com/SalonDeMusiques
Facebook:        http://www.facebook.com/LeSalonDeMusiques
Website:          http://www.lesalondemusiques.com
---
NUTCRACKER DELIGHTS OLD AND YOUNG ALIKE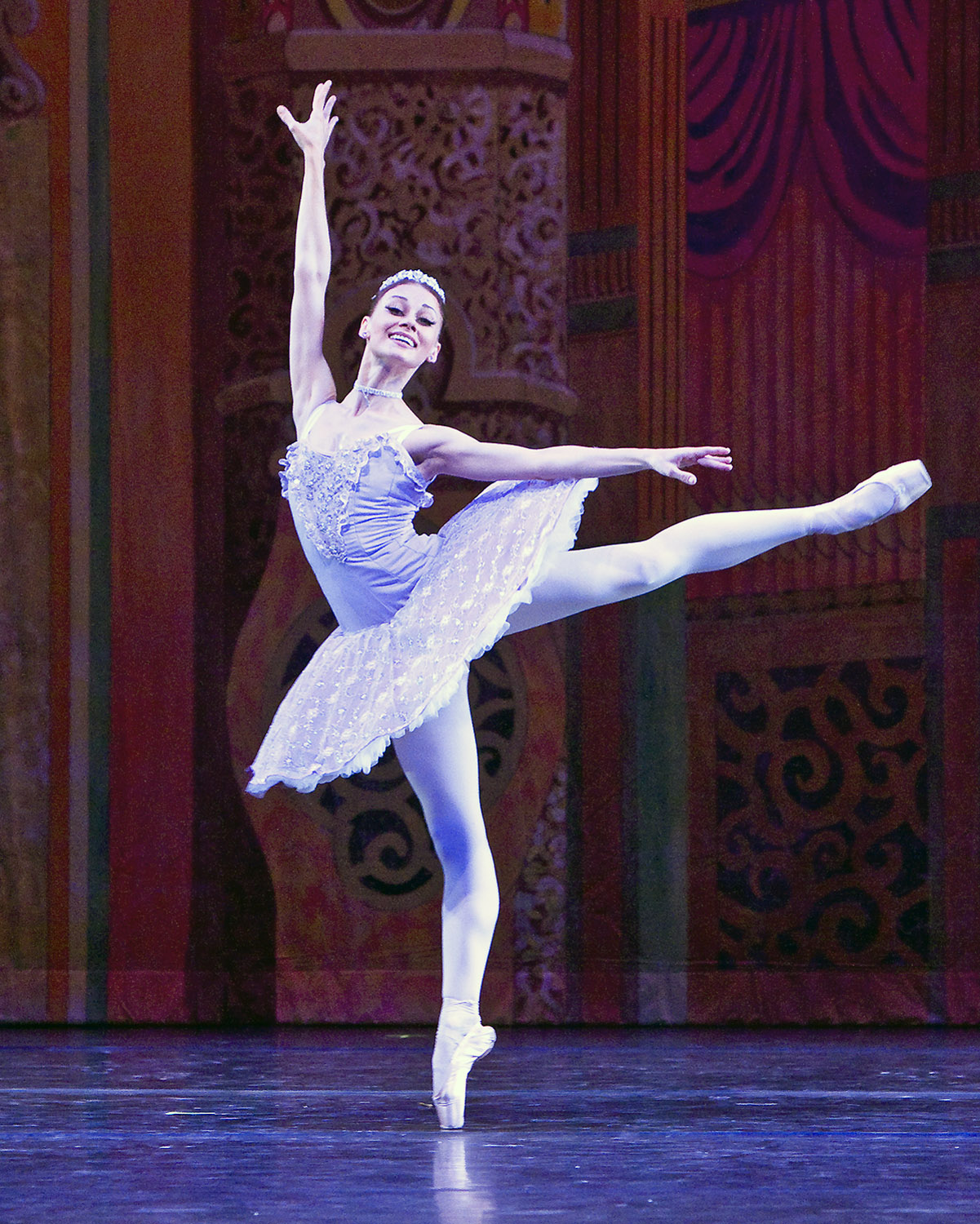 (Photo: Season Winquist Dancer, photo by Bazemore)
Santa Barbara's Holiday Nutcracker at The Granada Theatre Delights
             State Street Ballet's The Nutcracker follows a long-standing tradition of holiday performances, and this year was no exception. The company  showcased its classic presentation of this perennial favorite on December 17 and 18 complete with sets from Moscow and a cast that included the students of Gustafson Dance performing with State Street Ballet's professional dancers.
Based on the book The Nutcracker and the Mouse King by E.T.A. Hoffman, and set to the music of Tchaikovsky. The ballet tells the story of a young German girl, Clara, who is presented with a beautiful toy nutcracker during a holiday party by her godfather Drosselmeyer, a skilled clock and toy maker. In Clara's holiday dream, the toy comes to life and escorts her on a journey to a magical land of sweets and snow, complete with exotic inhabitants to entertain her.
            "Everyone should have the opportunity to see this timeless and beautiful ballet during the holidays," explains State Street Ballet Artistic Director Rodney Gustafson. "It's a story everyone can follow as it's brought to life through familiar music and timeless dance."
Staging and choreography for the production were by Rodney Gustafson and Choreographer and Ballet Master Gary McKenzie. Costume design was by A. Christina Giannini and Anaya Cullen, and the sets were designed and produced in Moscow.
The annual Sugar Plum Party follows the Sunday matinee in the Founder's Room of The Granada Theatre and is free with the price of the ticket to the Sunday performance. For upcoming performances visit www.granadasb.org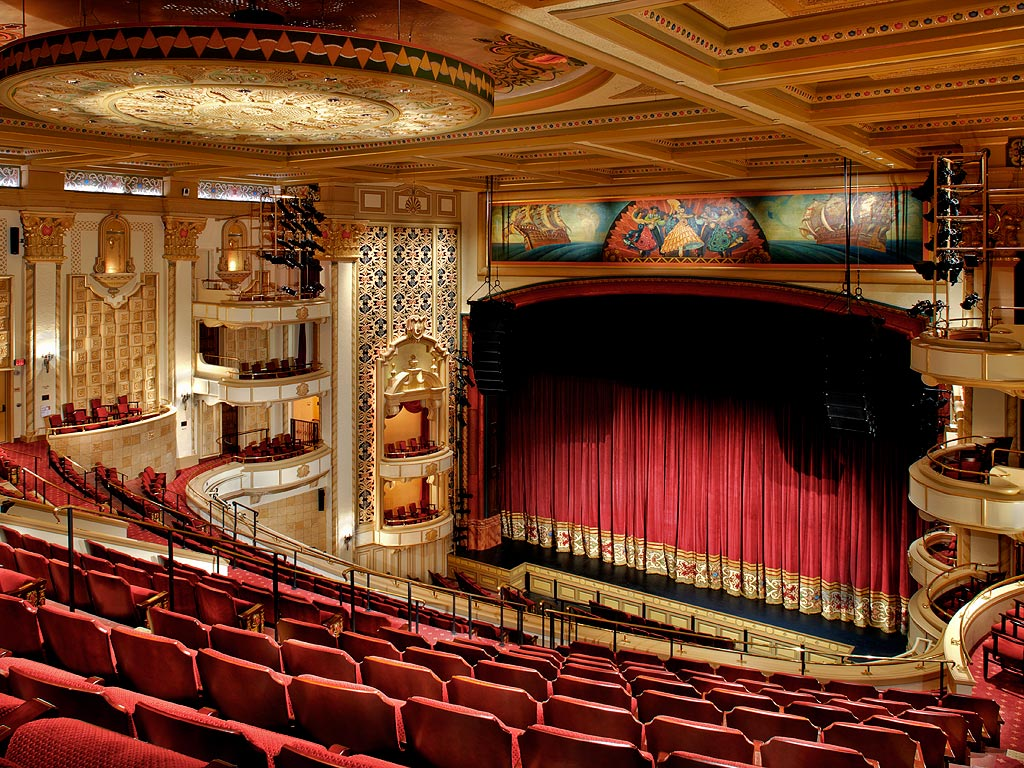 GRANADA UPCOMING EVENTS
LOBERO THEATRE UPCOMING EVENTS:
Saturday, January 14 at 2:00 pm
Saturday, January 14 at 7:00 pm
Sunday, January 15 at 2:00 pm
Sunday, January 15 at 7:00 pm

---
Violinist Anne Akiko Meyers will be featured in Vaughan Williams' The Lark Ascending and Ravel's Tzigane.
January 21-22, 2012 
Saturday 8pm
Sunday 3pm 
The Granada Theatre
1214 State Street  
"Music Behind the Music"
Pre-Concert Talk with Ramón Araïza
Free with your concert ticket!
Saturday 7-7:30pm
Sunday 2-2:30pm


---
THE METROPOLITAN MUSEUM OF ART PRESENTS
Duncan Phyfe: Master Cabinetmaker in New York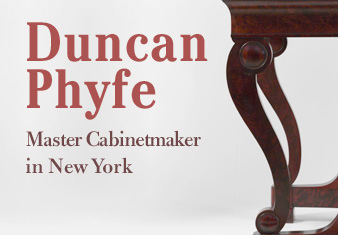 The Metropolitan Museum of Art
December 20, 2011-May 6, 2012

---
The Getty Center presents:
Dream a Little Dream: Artists in Film
The myth of the artist has been a most popular theme for filmmakers since the dawn of cinema.
Filmmakers and audiences have long been fascinated by the making of art and the potential genius behind it. This film series depicts working artists in a way that complements, in moving form, the exhibition Images of the Artist.


Featuring:

Blood of a Poet and Testament of Orpheus
Saturday, January14, 2012 3:00p.m.
Jean Cocteau (1889–1963), one of the most versatile artists of the 20th century, explores the joys and hardships of being an artist in this double feature of the first and third films of his Orphic Trilogy. (France, 1930 and 1960).
Free but reservations required.
Parking $15; $10 after 5:00 p.m.

For Reservations Please call (310) 440-7300
OR Click HERE.

Image courtesy of Tamasa Distribution

Harold M. Williams Auditorium
The Getty Center
1200 Getty Center Drive
Los Angeles, CA 90049
---