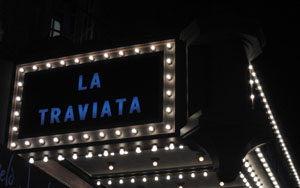 LA TRAVIATA                                                                                                 Opera Santa Barbara Makes a Brilliant Statement                                       by Bonnie Carroll
It was a full house, the excitement was at a high pitch, and the curtain went up at the Granada Theatre on what was one of the most beautiful presentations of Giuseppe Verdi's La Traviaota that anyone could have hoped for. The opera was based on La Dame aux Camelias by Alexander Dumas, fils, Libretto by Francesco Maria Piave, Premiere: La Fenice, 1853. The time was Paris 1889 in a party of Violetta Valery, a courtesan where Rebecca Davis appears as an unforgettable vision in a yellow gown and charms every man in the room, including those sitting in the audience, with her amazing beauty and vocal talent.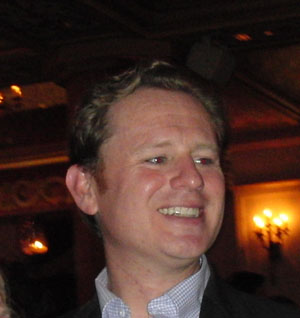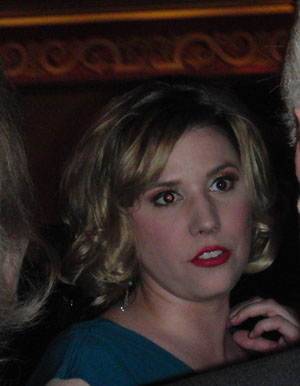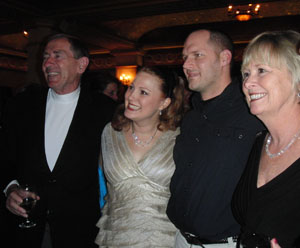 Ryan MacPherson was powerful as Alfredo Germont, and Malcolm MacKenzie took full artistic command of the stage as he made his appeals to Violetta to give up his son for the sake of their family's good name. Additional cast members included Alissa Anderson as Flora Bervoix, Rebecca Fay as Annina, Nova Safo as Gastone de Letorieres, Michael Krzankowski as Baron Bouphol, Gabriel Manro as Marquis d'Obigny, Gabriel Vamvulescu as Doctor Grenvil, Steven Tompkins as Giuseppe, Bryan Lane as Flora's servant and Geoffrey Hahn as the messenger. The Brent Wilson Chorus was masterful and the gypsie dancers were delightful.
I am happy to compliment the conductor Valery Ryvkin, director Jose Maria Condemi, lighting designer Chris Maravich and last but certainly not least Erik Flatmo, scenic designer and Elizabeth Poindester, costume designer who did an  absolutely remarkable job that took the viewing audience to a variety of beautiful and authentic looking destinations as the scene by scene tragedy revealed itself. The scenery and costumes for this presentation were co-produced by Opera Santa Barbara and Opera San Jose.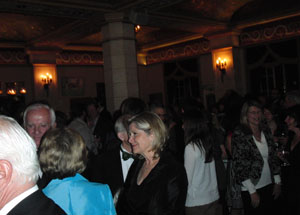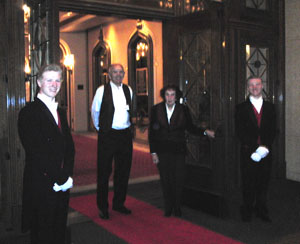 This opera production was truly a collaboration of so many skilled people, and of so many generous sponsors that it was described by people leaving the theatre as a 'triumph' performance. The excitement on the floor of the Granada during intermission was unlike anything I've ever seen. People were smiling, moving about and chatting with one another in anticipation of the final acts.
The after party was a sea of very happy people purging themselves on scrumptious Italian desserts and fresh fruit presentations prepared by Via Maestra 42 Catering. The wine flowed, cameras flashed, and joy filled the entire building. Bravo Opera Santa Barbara!!
              For upcoming presentations visit: www.operasantabarbara.com.
---
       BELLAGIO GALLERY OF FINE ART PRESENTS
'A SENSE OF PLACE: LANDSCAPES FROM MONET TO HOCKNEY'
New Exhibition Celebrating the Ideals of Natural Scenery Opening April 16

Bellagio Gallery of Fine Art (BGFA) announced today that it will debut its next exhibit, "A Sense of Place: Landscapes from Monet to Hockney" on April 16.
Through a juxtaposition of images, "A Sense of Place" will present more than 30 artworks ranging from paintings, photographs and a video installation that contrast and compare both approach and expressionism in art. The exhibit will showcase landscapes by artists including Claude Monet, Marc Chagall, Helen Frankenthaler, David Hockney, Sylvia Plimack Mangold, Robert Rauschenberg, Christo, Vik Muniz and many others.
From Monet's impressionistic haystacks painted in 1885 to Muniz's carefully rendered pigment prints created in 2006, precise representational paintings will be placed alongside austere abstract works in order to reveal how landscape has been portrayed by artists throughout history.  
"A natural follow-up to the successful figurative exhibition currently at Bellagio Gallery of Fine Art through March 27, 'A Sense of Place' explores another subject matter synonymous with art: landscapes," said Tarissa Tiberti, director of BGFA. "The pieces we've curated for this collection truly complement one another and together they create a thorough exploration of landscape art."
"A Sense of Place" is organized in partnership with the Museum of Fine Arts, Boston (MFA) and the Museum of Contemporary Art San Diego (MCASD) and includes selections from the MGM Resorts International Fine Art Collection.
Malcolm Rogers, director of MFA, said "The exhibition at the Bellagio Gallery of Fine Art is set to offer a superb stylistic range of landscapes. We are delighted to share treasures by Millet, Monet, Hockney, Lichtenstein and so many others from the MFA's encyclopedic collection with new audiences."
"A Sense of Place: Landscapes from Monet to Hockney" will be on view April 16 through January 2012. BGFA is open Sunday through Tuesday and Thursday from 10 a.m. to 6 p.m., and Wednesday, Friday and Saturday from 10 a.m. to 7 p.m. Last admissions are sold 30 minutes prior to closing. 
Tickets are $15 for general admission, $12 for Nevada residents and seniors 65 and older, and $10 for students, teachers and military with valid ID.  Children 12 and younger are free.  Tickets and information are available by calling (702) 693-7871 or (877) 957-9777, or online at www.bellagio.com/bgfa. Audio tours are included in the price of admission.
As a special bonus, this spring Bellagio's world-famous Conservatory will present a celebration of the landscape to complement BGFA's newest exhibition.
About Bellagio Gallery of Fine Art
Located at the heart of the elegant Bellagio resort, Bellagio Gallery of Fine Art is Las Vegas' premier exhibition space – where great art goes on vacation. Since opening in 1998, the gallery has presented exhibitions of artworks and objects drawn from internationally acclaimed museums and private collections, including "Figuratively Speaking: A Survey of the Human Form," "Classic Contemporary," "American Modernism," "The Impressionist Landscape: From Corot to Van Gogh," "Fabergé: Treasures from the Kremlin" and "Picasso Ceramics."
 About Museum of Fine Arts, Boston
The Museum of Fine Arts, Boston (MFA) is recognized for the quality and scope of its encyclopedic collection, which includes an estimated 450,000 objects spanning all cultures and time periods. The Museum's collected works encompass Art of the Americas; Art of Europe; Contemporary Art; Art of Asia, Oceania and Africa; Art of the Ancient World; Prints, Drawings and Photographs; Textiles and Fashion Arts; and Musical Instruments.
About Museum of Contemporary Art San Diego
The collection of the Museum of Contemporary Art San Diego (MCASD) includes more than 4,000 works created after 1950 representing all media and genres: painting, sculpture, works on paper, photography, video, film and installation. MCASD is known for collecting works by promising emerging artists and under-recognized mid-career artists, as well as by major figures in contemporary art.
---
After the Gold Rush at Metropolitan Museum Features
Contemporary Photographs from the Collection

Exhibition Dates:        March 22, 2011 – January 2, 2012
Exhibition Location:  Joyce and Robert Menschel Hall for Modern Photography
Press Viewing:          Monday, March 28, 10 a.m. – noon

The Metropolitan Museum of Art will present After the Gold Rush: Contemporary Photographs from the Collection from March 22, 2011, through January 2, 2012, in the Joyce and Robert Menschel Hall for Modern Photography. Drawn entirely from the Museum's permanent collection, the exhibition features 25 photographs dating from 1979 to the present by 15 contemporary artists.

The exhibition's title, After the Gold Rush, is taken from a classic 1970 song by Neil Young, whose verses contrast a romanticized past with a present of squandered plenty and an uncertain future. Inspired by the recent political and economic upheavals in America and abroad, this selection juxtaposes new photographs that take the long view of the world's current condition with prescient works from the 1980s and 1990s that remain startlingly relevant today.

This is the first occasion for the Museum to present recently acquired works by: Gretchen Bender, James Casebere, Moyra Davey, Katy Grannan, Hans Haacke, An-My Lê, Curtis Mann, Trevor Paglen, and Wolfgang Tillmans. Also featured are photographs by: Philip-Lorca diCorcia, Robert Gober, Adrian Piper, Laurie Simmons, Jeff Wall, and Christopher Williams.

After the Gold Rush begins with Hans Haacke's Thank You, Paine Webber (1979)—the first work by this legendary provocateur of Conceptual art to enter the Metropolitan's collection. Haacke's biting photo-diptych is so pertinent to the recent economic downturn that it seems as if it could have been made yesterday. In this work, the artist appropriated images from the investment firm's annual report to convey his viewpoint that big business provides a veneer of social concern to mask the brutal effects of the "risk management" they offer their clients.

Other works in After the Gold Rush use varying degrees of artifice and photographic realism to reflect on marginalized and repressed voices. Measuring over 14 feet long and presented as a backlit transparency in a light box, The Storyteller (1986) is Jeff Wall's signature image and is typical of his method. Working from memory, the artist uses non-professional actors and real locations to meticulously restage a scene of urban blight that he witnessed in his native Vancouver. Wall plays this photographic verisimilitude against compositions and figural poses indebted to French painters such as Gustave Courbet, Edouard Manet, and Georges Seurat. A comparison of Wall's Storyteller with Courbet's Young Ladies of the Village (1852), on view in the Museum's galleries for Nineteenth- and Early Twentieth-Century European Paintings and Sculpture, reveals parallels: in both, a keenly observed moment of telling social interaction taking place on a sloping landscape. Each artist has combined a daringly modern subject with references to earlier art.

Philip-Lorca diCorcia is another key figure in the development of staged photography. In the early 1990s, the artist created a series of works in response to the political attacks on gays and federal funding of the arts in the U.S. DiCorcia hired male hustlers to pose for their portraits out on the streets—and paid them with grant money he received from the National Endowment for the Arts. At the same moment, a wide swath of women artists addressed issues of sexism and racism: examples of this politically pointed art are represented by Laurie Simmons' Walking Gun (1991)—a spotlighted puppet of doll legs and a revolver that seems capable of turning on its master at a moment's notice—and Adrian Piper's 1992 work Decide Who You Are #24 (A Moving Target), which includes a childhood image of Anita Hill as part of a blistering meditation in word and image on racial politics. Such works are missives from a time not so long ago when artists regularly commented on present-day politics and culture through their art. (Because of light-sensitivity, this work by Adrian Piper will be on view through Sunday, September 26.)

Although the recently made photographs in After the Gold Rush seem at first glance to be less overtly political than their predecessors, they nevertheless address vital issues about contemporary society. James Casebere's epic vision of America, Landscape with Houses (Dutchess County, NY) #1, (2009), is based on a tabletop model that the artist spent 18 months building. The photograph shows a suburban subdivision of the kind recently ravaged by the foreclosure crisis, and its sunny sense of "Morning in America" comments ironically on the country's future prospects. An–My Lê's similarly sweeping five-part photographic piece Suez Canal Transit, USS Dwight Eisenhower, Egypt (2009) will also be featured. Lê is interested in the way in which U.S. armed forces come into contact with the rest of the world. This major new work—which seems at first to be a straightforward panorama of military might overseas—subtly undercuts the viewer's expectations to question the current position of the U.S. on the global stage.

Trevor Paglen is a young artist whose works plot the "black world" of covert military operations, from telephoto images of predator drones taken from miles away, to software that follows planes used for the extraordinary rendition of suspected terrorists. Paglen's 2008 photograph KEYHOLE IMPROVED CRYSTAL from Glacier Point (Optical Reconnaissance Satellite; USA 186) shows the ghostly white streak of an American reconnaissance satellite bisecting star trails above Yosemite's Half Dome, a rock formation photographed in the 1860s by artists including Carleton Watkins. To make these and other photographs, Paglen collaborated with amateur astronomers who were originally trained by the U.S. government to look out for Soviet satellites during the Cold War, but turned their attention to American surveillance in recent years.

The final piece in After the Gold Rush is a suite of five recently acquired photographs from 2007–2009 by the celebrated photographer Wolfgang Tillmans. The grouping shifts focus from macro to micro: from expansive aerial views of Shanghai and Dubai to close-ups that suggest the smallest increments of sustenance and regeneration. Taken together, they suggest the interconnectedness of all things and a grounding of the political in the personal as a way for an engaged yet expressive art.

After the Gold Rush: Contemporary Photographs from the Collection is organized by Douglas Eklund, Associate Curator in the Department of Photographs.

In conjunction with the exhibition, the Museum will offer gallery talks by Marian Cohen on March 24, April 26, May 18, June 2, July 19, and August 16 at 11 a.m.

The exhibition also will be featured on the Museum's website at www.metmuseum.org.

---
Billy Collins and Kay Ryan Wax Poetic at Royce Hall April 23

Two former U.S. Poets Laureate share UCLA Live stage during National Poetry Month

 

*** "Billy Collins is a modern-day Robert Frost. In plain language free from pretension, he takes ordinary subjects (summer-camp crafts, time zones), and plunders their insides until the inner mystery pops out. "***

– Entertainment Weekly

***"In lieu of narrative and biography, Kay Ryan uses irony and humor to unravel the idiosyncrasies of language and the haplessness of human existence.***

--The Paris Review

UCLA Live presents an evening with two of America's premier poets, former Poets Laureate Billy Collins and Kay Ryan, appearing at Royce Hall Saturday April 23 at 8 p.m.

In conjunction with the event and tied to National Poetry Month, UCLA Live is holding a poetry-writing competition for ticket holders and Los Angeles arts patrons at large. Collins and Ryan will judge the winners from selected finalists and read the winning entry from the stage on the night of the show. First prize winner will receive a pair of tickets to the event and a $100 gift certificate to Book Soup. Second and third prizes will be awarded. Submissions are being accepted now through midnight April 18 at http://www.uclalive.org/artinaction.

Billy Collins is the winner of the 2004 inaugural Mark Twain Prize for Humor in Poetry and served as America's Poet Laureate from 2001-2003.  His work has appeared in a variety of periodicals including The New Yorker, The Paris Review, and The American Scholar, and he is a New York Public Library "Literary Lion."  His last three collections of poems have broken sales records for poetry.  Collins is author of nine collections including Ballistics, Questions About Angels, The Art of Drowning and The Trouble With Poetry and Other Poems. Included among the honors Collins has received are fellowships from the New York Foundation for the Arts, the National Endowment for the Arts, and the Guggenheim Foundation. He has also been awarded the Oscar Blumenthal Prize, the Bess Hokin Prize, the Frederick Bock Prize, and the Levinson Prize — all awarded by Poetry magazine.

California native and UCLA alumna Kay Ryan was U.S. Poet Laureate from 2008-2010. Her work includes The Jam Jar Lifeboat & Other Novelties Exposed, a collection inspired by stories from Ripley's Believe It or Not!, as well as Flamingo Watching, which was a finalist for both the Lamont Poetry Selection and the Lenore Marshall Prize. In 2004, Ryan was awarded The Ruth Lilly Prize—the Poetry Foundation's highest honor. In October 2009, Kay Ryan launched her  project "Poetry for the Mind's Joy," an initiative through which she hopes to draw national attention to community colleges, as well as drawing the colleges' attention to poetry. 

Single tickets are on sale now. UCLA Live at Royce Hall, 340 Royce Dr., Westwood. Friday-Saturday, April 23 at 8 p.m. $28-53 ($15 UCLA students). (310) 825.2101, www.uclalive.org

 
---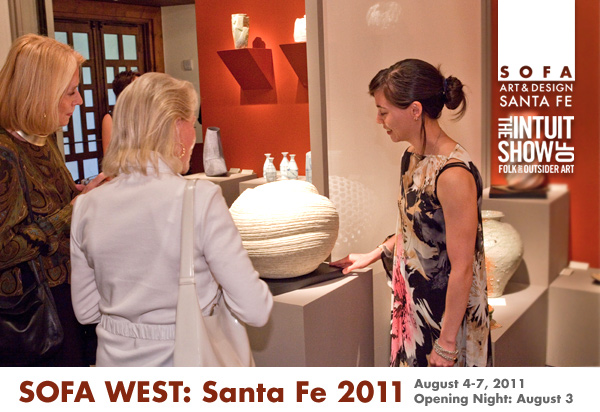 The Art Fair Company Presents
3rd Annual SOFA WEST: SANTA FE 2011
& NEW! The Intuit Show of Folk and Outsider Art
Under One Roof Both Fairs: August 4-7, 2011
Opening Night Preview Wednesday, August 3 Santa Fe Convention Center
Long heralded as the nation's premier fairs for outstanding contemporary arts and design in New York and Chicago, SOFA's 3rd annual Western edition returns to the Santa Fe Convention Center with new high-summer dates in August 2011. Chicago-based The Art Fair Company announced it will produce two art fairs under one roof Thursday, August 4-Sunday, August 7, 2011. For the first time, The Intuit Show of Folk and Outsider Art will share center stage in Santa Fe with the much-anticipated art fair mainstay, the International Sculpture Objects & Functional Art Fair, SOFA WEST: SANTA FE 2011. One general admission ticket of $15 admits visitors to both fairs and their related lecture series, special exhibits, and events. Both fairs kick off with a joint Opening Night Preview Wednesday, August 3rd, an invitation-only event for SOFA WEST VIP Cardholders.  SOFA WEST 2010 at the Santa Fe Convention Center reported steady sales, most to new clients from across the United States. Overall fair attendance climbed from 10,000 to 12,000 between the 2009 and 2010 fairs.  An estimated 1800 persons attended the special member preview on 2010's Opening Night.
SOFA WEST: SANTA FE 2010
"Building on the success of last year's SOFA WEST fair, we are looking forward to moving from July into the August summer season in 2011, which is really the high time in Santa Fe. We will now have a full-season scale of audience, and even greater opportunities for our dealers in terms of market size: In August, the opera is in full swing, people are getting ready for Indian Market, it's the best time to be in Santa Fe," said President of The Art Fair Company and SOFA Founder/Director Mark Lyman.
Sakiyama Takayuki
Chôtô Listening to the Waves, 2010
stoneware with sand
10.5 x 18.125 x 16.5"
Joan B Mirviss, Ltd., New York
Photo: Richard Goodbody
Plans are also underway for the SOFA WEST 2011 Lecture Series, free with paid admission to the fair, and the popular VIP Program, slated to include an excursion to the Pueblo of Acoma, tours to private homes and collections, artists studios, and curator discussions for high-level clients of SOFA WEST participating galleries and SOFA WEST VIP Cardholders.
Lyman reports an exciting new addition to the SOFA WEST fair: Douglas Dawson Gallery (Chicago, IL) specializes in antique ethnographic art from Africa, Asia, and the Americas. Strong returning exhibitors participating in SOFA WEST 2011 include Joan B. Mirviss Ltd. (New York, NY) world-renowned specialist in Japanese contemporary ceramics; Charon Kransen Arts (New York, NY) representing foremost international art jewelry artists; bullseye gallery (Portland, OR) premier contemporary kilnformed glass dealer; the established TAI Gallery (Santa Fe, NM) of Japanese bamboo art and textiles; Jane Sauer Gallery (Santa Fe, NM), dedicated to innovative sculpture in a variety of media; Dai Ichi Arts, Ltd. (New York, NY) contemporary Chinese and Japanese ceramics and jewelry; Maria Elena Kravetz (Cordoba, Argentina) Latin American sculpture; Orley Shabahang (New York, NY) Persian textiles; Sherrie Gallerie (Columbus, OH) acclaimed ceramics; and Thomas R. Riley (Cleveland, OH) museum-quality contemporary glass work.  Approximately 25 galleries are expected to participate in the SOFA fair, on par with 2010.  
After a successful inaugural partnership of SOFA and Intuit during SOFA CHICAGO 2010, Lyman says, "We are delighted to again partner with Intuit, Chicago's respected Center for Intuitive and Outsider Art, to produce The Intuit Show of Folk and Outsider Art alongside SOFA WEST. The Intuit Show will bring together leading dealers and galleries presenting self-taught art, outsider art, art brut, ethnographic art, non-traditional folk art and visionary art. The Art Fair Company has always been about bridging different segments of the market, and the Intuit Fair will complement and further broaden the range on offer.  It promises to offer the Santa Fe community a body of artwork which is rich in personal history and vision as well as material and process."  8-12 galleries are expected to be accepted to the fair during the juried selection process in March.
"Feedback that I've received from the 16 dealers who participated in the 2010 Intuit Show with SOFA Chicago has been overwhelmingly positive. Sales were strong, with many items purchased in the $60,000 range," said Cleo Wilson, Executive Director, Intuit: The Center for Intuitive and Outsider Art. "SOFA CHICAGO provided a momentum to The Intuit Show that helped pique the interest of new buyers, who may not have previously been familiar with outsider art.  Intuit enthusiastically looks forward to continuing our partnership with The Art Fair Company" during SOFA WEST: SANTA FE 2011.   
Jimin Kim
Tracks
brooch / Korean paper, latex, brass
Charon Kransen Arts, New York
Lyman concludes, "Santa Fe is a major art and culture destination, especially during the height of its summer arts season. Don't miss the excitement!" For more information on other arts events happening during SOFA WEST, visit the official website of the Santa Fe Convention & Visitors Bureau: http://www.santafe.org/.  
SOFA WEST: SANTA FE and Intuit Show hours are at the Santa Fe Convention Center, 201 W Marcy Street, Santa Fe, NM as follows: Opening Night Preview is Wednesday, August 3 with an invitation-only event for SOFA WEST VIP Cardholders from 5-9pm.  General admission fair hours are Thursday, August 4-Sunday, August 7 from 12 noon-6 p.m.  Tickets are $15 for single day general admission (admits to both fairs) and $25 for a four-day pass. Catalogs may be purchased for $15 at the exposition.  Visit www.sofaexpo.com and www.outsiderfolkartfair.com for more information.
---
Pacific Asia Museum announces three exhibitions exploring a shared theme, Visions of the Orient: Western Women Artists 1900-1940, Meiji: Japan Rediscovered and Through the Colonial Lens: Photographs of 19th and 20th Century India, on view concurrently beginning March 31 through May 29, 2011. Each of these exhibitions speaks to the shared theme of the intersection of Asia and the West during the period of 1875 - 1925. While in dialogue with each other about the developing aesthetic and cultural appreciation that Asia and the West had for each other, these exhibitions also examine the rapid changes and modernization in Asia during this time, facilitated by the introduction of Western influences. Specifically, the experiences of Americans and Europeans in Asia during this period form a focus of the exhibitions. Today, the cultural diversity of the southern California region and its connection to Asia is rooted in the first steps of this modern globalization evidenced by the art exhibited in Visions of the Orient, Meiji and Through the Colonial Lens. This grouping of exhibitions is part of Pacific Asia Museum's 40th Anniversary year initiative to reaffirm its mission to further intercultural understanding through the arts of Asia and the Pacific Islands. Visit: www.pacificasiamuseum.org.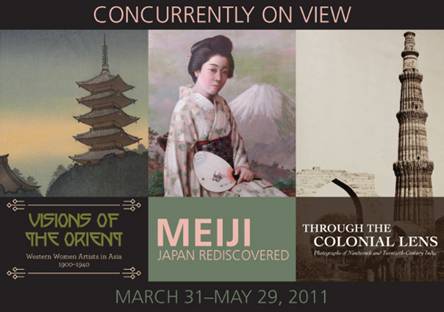 Pasadena, March 14, 2011 -
PACIFIC ASIA MUSEUM EXHIBITIONS
---