CONCOURS D' ELEGANCE 2006
Beverly Hills Classics At Their Best
by Bonnie Carroll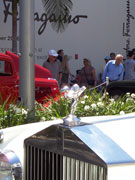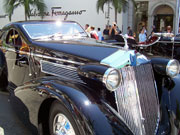 Well, another memorable father's day was enjoyed by a crowd of thousands on Rodeo Drive in Beverly Hills, who feasted their eyes on some of the most beautiful machines in the world. Among them was the new Bugatti recently purchased by collector Peter Mullin and his wife Merle. There was a convertible once owned by actor Clark Gable and now owned by Bruce Meyer, there were exquisite european classics and Ferrari's as far as the eye could see.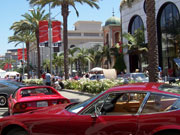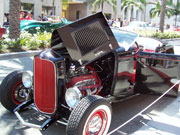 Despite the very high temperatures, it was a charming and graceful exhibit along the street that is home to the best shopping destinations in California, including Salvatore Ferragamo, Bvulgari, Chanel, Louis Vuitton and more. The Luxe Hotel provided ice water to keep everyone cool, and car owners appeared to enjoy sitting at their colorful umbrella tables talking with car fans.
---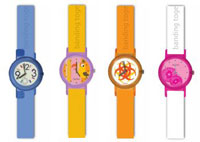 KLIP CLOX OFFERS DESIGNS FOR TWEEN MARKET MESSAGE BANDS
Mix and Match with your very own message bands. Choose from designs: Color Fest, Hip Pink Flowers, Orange Fusion, Parrot Stripes, Pastel Funk and Pink Retro. Future KlipClox™ collections will be available soon! www.klipclox.com

---
DEBRA A. McDOWELL ELECTED VICE PRESIDENT FOR
HUMAN RESOURCES AT THE METROPOLITAN MUSEUM OF ART
Debra A. McDowell, who has served as Chief Human Resources Officer at The Metropolitan Museum of Art since April 2001, has been elected by the Board of Trustees as the Museum's Vice President for Human Resources, effective with the new fiscal year that begins today. She becomes the first human resources officer to hold that title in the Museum's history.In her five years at the Metropolitan, Ms. McDowell has overseen all aspects of the Museum's human resources initiatives and activities, focusing her department's efforts on the areas of professional training, personnel retention and advancement, and widening and diversifying the scope of the Museum's professional recruitment efforts. She advises senior management on staff development, diversity, compensation and benefits, and serves as the Museum's principal executive representative with its unions and its benefit providers. The Metropolitan Museum has more than 2,500 full- and part-time employees.Commented Emily K. Rafferty, President of the Metropolitan Museum: "Debra McDowell's five years of service have been characterized by a rare combination of professionalism and humanity, earning her the respect and admiration of the entire staff-from our dedicated guards and maintainers, to our curators and educators, to our executive leadership. Her devotion to the institution, and her remarkable people skills, have helped raise the human resources efforts of the Metropolitan to an entirely new level. The Trustees, the Director, and I are all enormously pleased to recognize her accomplishments and to ask her to take her department to even greater heights."Before coming to the Metropolitan, Ms. McDowell served for six years as the Director of Human Resources for the Brooklyn Public Library, and before that, from 1979 to 1994, as a labor relations specialist, then as Deputy Director, and finally as Director, of the Office of Labor Relations and Collective Bargaining for the District of Columbia Government in Washington.She is a magna cum laude graduate of Bowie State College in Bowie, Maryland, and earned her law degree from Catholic University of America's Columbus School of Law. Ms. McDowell resides in Manhattan.