SUMMERFEST – THE WORLD'S LARGEST MUSIC FESTIVAL
700 Bands, 11 Stages, 11 Days, 1 Unforgettable Live Music Experience


Milwaukee's Summerfest happens June 24 – July 4, 2010.  Originating in 1968, Summerfest is now in its 43rd year and recognized by the Guinness Book of World Records as "The World's Largest Music Festival".  Year after year, Summerfest delivers an unforgettable live music experience to fans, showcasing the top touring talent on the planet on 11 stages, including the 23,000 seat Marcus Amphitheater.  Approximately 900,000 music fans from throughout the world attend this 11 day mega-event each year.

The music festival takes place at Henry Maier Festival Park, a 75-acre permanent setting on Milwaukee's beautiful downtown Lake Michigan shoreline.  Summerfest offers something for all musical tastes, including over 700 performances by today's hottest national touring acts and emerging talent and everything in between.  On any given day, attendees can enjoy national alternative rock, country, R&B, Top 40, Hip Hop, Reggae headliners and more. 

In 2009, the Marcus Amphitheater rocked with Bon Jovi, Keith Urban with special guest Counting Crows, KISS, Stevie Wonder with John Legend, George Strait with Blake Shelton and Julianne Hough, Earth, Wind & Fire and Chicago, Bob Dylan with special guest Willie Nelson, No Doubt with Paramore, Kenny Chesney with Miranda Lambert and Lady Antebellum, The Fray with Jack's Mannequin and Kid Rock with Lynyrd Skynyrd. 

On Summerfest ground stages, fans enjoyed The Offspring, Rusted Root, Phil Vassar, Rancid, Rise Against, Matisyahu, Barenaked Ladies, Cage the Elephant, Frankie Beverly & Maze, Puddle of Mudd, Sara Evans, Los Lonely Boys, Blues Traveler, Loverboy, Anthony Hamilton, Matthew Sweet, Better Than Ezra, Anberlin, Elvis Costello and The Imposters, Dropkick Murphys, Kevin Rudolf, The Airborne Toxic Event, Heart, The Gufs, Flogging Molly, Judas Priest, Train, Gavin DeGraw, Shinedown, Lupe Fiasco, Carolina Liar, Mat Kearney, Buddy Guy, Staind, BoDeans, Jason Aldean, Billy Squier, Guster, Shiny Toy Guns, Conor Oberst and the Mystic Valley Band, The Roots, Huey Lewis and the News, and many, many more.

Summerfest 2010 will be even more amazing.  Summerfest is currently finalizing and unveiling its monster lineup which to date includes, Eric Clapton with special guest Roger Daltry, Tom Petty with special guest ZZ Top, Rush, Tim McGraw with Lady Antebellum and Love and Theft, Carrie Underwood, Justin Bieber with special guest Sean Kingston, Brooks & Dunn with special guests Gary Allan and Kellie Pickler with another three Marcus Amphitheater headliners to be announced by early May.  Additionally, the festival has signed and announced Sheryl Crow, Jeff Beck, The Moody Blues, Thievery Corporation, The Roots, Colbie Caillat, 311, The Scorpions, Kool & The Gang, Danny Gokey, Joan Jett and the Blackhearts, The Bravery, Phil Vassar, Modest Mouse, O.A.R., The Devil Wears Prada, The Wailers, Sound Tribe Sector 9 and The Hold Steady with many more to come.

There's more than just great music at Summerfest! Families and kids can enjoy interactive exhibits and displays, children's performers and attractions, professional sports demonstrations, comedy acts, video and technology pavilions and shopping at four extensive marketplaces.  The grounds also host 45 different food and beverage vendors, offering a wide variety of delectable cuisine.  Recognized as a destination event within the music and travel industries, the event regularly garners international media attention.

Online fans love Summerfest.com for access to all of the up-to-date event information. Last year 4,392,204 online visitors originating from over 185 countries hit the website.  In 2009, an increased effort was made to communicate to the next generation of Summerfest fans through social networking websites like MySpace, Facebook and Twitter.  Exclusive offers and promotions were given to fans on these sites including surprise free admission tickets!  Summerfest now has over 64,000 fans on Facebook, over 16,000 friends on MySpace and 5,000 followers on Twitter. 

The most amazing aspect of the event is the low admission price.  General admission is $15 any time, any day.  Fans can purchase an $8 ticket valid for admission on any weekday between noon and 4:00 p.m.  Marcus Amphitheater tickets are sold separately and include admission to Summerfest. 

Don't miss this unforgettable live music experience this summer.  Text "SMILE" to SFEST (73378) for updates and information or visit www.summerfest.com for event and performance schedule information.


---
 Summer Arts in Santa Fe, New Mexico

Juan Siddi Flamenco Theatre Company
Returns to Maria Benitez Theatre
for 2010 Summer Season
With only weeks to go, feet are stomping, guitars are strumming and the husky voice of gypsy song can be heard at the Aspen Santa Fe Ballet studios where the Juan Siddi Flamenco Theatre Company is rehearsing for their upcoming 2010 summer season in Santa Fe, New Mexico. The company will present performances, six nights weekly, in the Maria Benitez Theatre at The Lodge at Santa Fe (750 North St. Francis Drive in Santa Fe, New Mexico), Tuesdays through Sundays at 8:30 pm from June 25 through August 22, 2010.
Under the artistic direction of Spanish choreographer Juan Siddi, the company includes the talents of seven dancers, two singers and six musicians. Internationally acclaimed artists, including principal dancer Juan Siddi; guitarist and musical director Jose Valle "Chuscales" born in Antequera, Spain and raised in the caves of Sacramonte, Spain; singer Silverio Heredia from Cadiz, Spain; and dancer Carola Zertuche from Guadalajara, Mexico; among others from Spain, San Francisco and New York City will form this year's company.
Today, Siddi is at the helm, creating and maintaining a strong presence for flamenco in the United States. Starting his professional career at the age of 18, Siddi toured for many years with reputable companies throughout Europe before being invited to come to the United States to work with American flamenco icon Maria Benitez and her Teatro Flamenco. In 2008, six years after Siddi began working with Benitez' company as a dancer, co-choreographer and teacher, Benitez named Siddi as her successor for the popular summer season performances at The Lodge at Santa Fe. Siddi says of his role as artistic director, "I am very happy to have this opportunity to present flamenco in the United States with choreographies and repertories that both maintain and broaden the bounds of flamenco."
Justin Nadir, executive producer for the company says, "I think we are very lucky to have a flamenco dancer of Siddi's caliber here in the United States, and especially in Santa Fe. He is always thinking of new ways to develop his concepts and choreographies, and his high expectations consistently push and inspire his company members and support staff to be at their best."
Working with Siddi for many years, musical director and guitarist Jose Valle, "Chuscales", a native of Antequera, Spain, grew up in the tradition of the Gypsies in a family well known for its professional musicians and dancers. His grandmother was among those who lived in the caves of Sacromonte, one of the legendary cradles of flamenco. Chuscales has been living in Santa Fe for many years and has accompanied many great flamenco dancers throughout his career in the US, Canada, Europe, South America and Japan.
This will be the third year the company has presented their summer season at the theater, which now carries Benitez' name. To date, there is nowhere else in the United States that has carried a show for this amount of time.
Not only will audiences find the company performing six nights weekly, visitors and locals alike can take classes and workshops year-round with Siddi and during the summer with his guest artists in flamenco dance, guitar and singing. For more information about classes and workshops please call (505) 473-1638.
With the passion and vision of today's most outstanding artists, Juan Siddi Flamenco Theatre Company is committed to making available the culturally and ethnically unique art of flamenco by presenting performances and workshops to audiences worldwide; for more information please call 505-473-1638. www.juansiddiflamenco.com
---
KOO, Sungsoo, Tour Bus, 2005, from the series Magical Reality (2005–6). Chromogenic photograph. The Museum of Fine Arts, Houston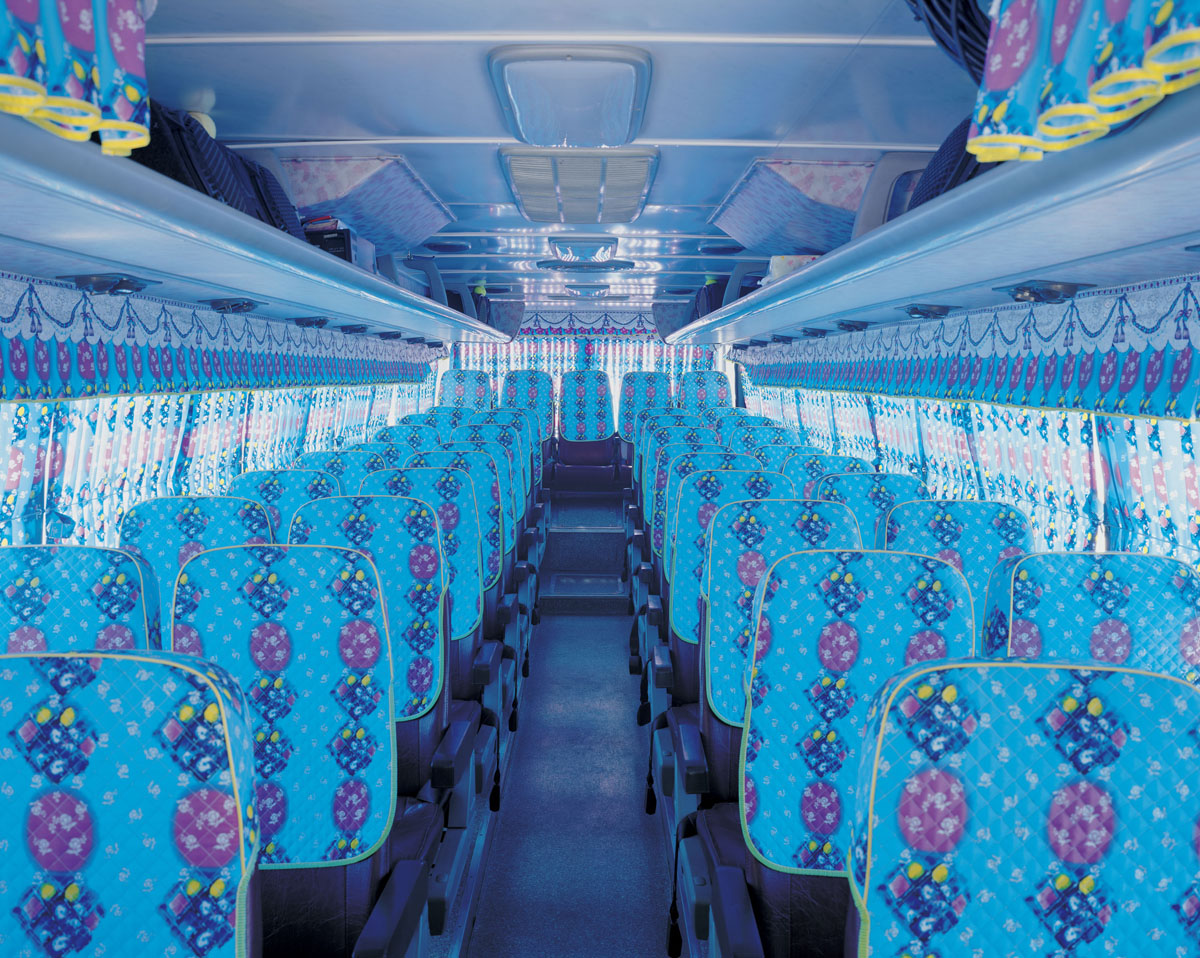 SBMA Presents the First Survey Exhibition of Korean Photography in U.S.
"Chaotic Harmony" Includes Work of 40 Contemporary Artists
July 3 – September 19, 2010
The first major exhibition in the United States of photographs made by contemporary Korean artists presently living in Korea, Chaotic Harmony: Contemporary Korean Photography opens a window to the dynamic photographic scene in the Republic of Korea, known in the West as South Korea.  Bringing together work by 40 contemporary photographers, this presentation of 42 large-scale images surveys the range of contemporary issues through the themes of land and sea; urbanization and globalization; family, friends, and memory; identity: cultural and personal; and anxiety.
Within the exhibition, two distinct generations of Korean artists are represented: those born in the mid-1950s and 1960s, during a succession of military dictatorships when the country was still largely agrarian, and those born in the 1970s, predominantly in urban areas and who came into maturity in the new democratic era which began in 1987.
Co-organized by Karen Sinsheimer, Curator of Photography at the Santa Barbara Museum of Art and Anne Wilkes Tucker, The Gus and Lyndall Wortham Curator of Photography at the Museum of Fine Arts, Houston, this groundbreaking exhibition is not a presentation on "Koreanness," although issues of cultural and personal identity are strong components.  Rather, it is an attempt to identify Korea as a source of complex and stimulating visual ideas expressed through the medium of photography.
Land and Sea
Most of the work represented in the "Land and Sea" section of the exhibition was created by the first generation of Korean artists who traveled abroad for their graduate educations and brought their new ideas back to dramatically effect photographic styles in Korea.  Nevertheless, many of them remained tied to Korean landscapes and traditions while embracing new aesthetic ideas.  The extraordinarily beautiful land and seascapes in this section celebrate Korea's surrounding oceans and the forests that cover large sections of its mountainous terrain.  In addition, these photographers often explore religious practices that are primarily tied to nature.  BAE Bien-u's Kyung ju (1985) from the series Sonamu (which translates to "sacred pine grove"), documents mist-shrouded pine trees surrounding Gyeongiu, the ancient city of the Shilla kingdom (A.D. 668–935).  KIM Young-sung's untitled photograph (2005) from the Dolman series, shows a man standing atop one of Korea's 50,000 dolmans (or ancient tombs).  Over 60 percent of the world's 80,000 dolmans are located in Korea.  Gap-Chul Lee has documented shamanism (as well as Buddhism) in Korea for decades, but most specifically in his series Conflict and Reaction (1990–2001).
Urbanization and Globalization
An ancient civilization, South Korea has recently transformed into one of the world's major global economies.  Three-fourths of the population is categorized as urban, with half living in the country's six major cities.  Seoul is the world's fourth largest metropolitan area.  This section of the exhibition responds to the shift of the population from rural to city living, and the entrance of Korea on to the world stage.  Young-Joon CHO's Usual & Circle—Seoul Namdaemun, Rho Gwang-hyo (2005) is a diptych: the image on the left presents an urban area teeming with stores, advertisements, people, and traffic, while the image on the right isolates a woman who we would not have otherwise noticed in the larger view of the city.  Her expression of emotional distress is consistent with all the isolated figures in the series.  Ahn Sekwon documented Seoul's rapid physical changes by photographing one particular neighborhood of the Weolgok-dong section of Seoul in 2005, 2006, and 2007 as the old homes are destroyed to make room for new high rises.  The resulting triptych dramatically conveys the destruction of the modest-scale homes to make way for the towering scale of a modern city.
 Family, Friends, and Memory
This section of the exhibition reflects the tensions in shifting societal values and practices as Korea continues its rapid growth. Traditionally, families followed Confucian norms: the father was the respected head of household and made decisions for his wife and children, financially supporting the family and arranging schooling and marriages.  Social values have changed with increasing awareness of Western cultures through travel and the importation of Western products and media.  Also with dramatic urban growth, came shifts from homes to crowded high rises, the entrance of women into the workforce, and other changes.  Sunmin LEE's photograph, Lee, Sunja's House #1—Ancestral Rites (2004), portrays traditional values playing out in a modern setting: the men and boys of a family conduct traditional rituals in one room while the women watch from the doorway.  Sanggil KIM's off-line_Burberry internet community (2005) depicts a modern phenomenon: people who met over the internet, united by a common passion, in this case, that of wearing Burberry Check (registered as a trademark of the Burberry brand) and enjoying an "off-line" get-together.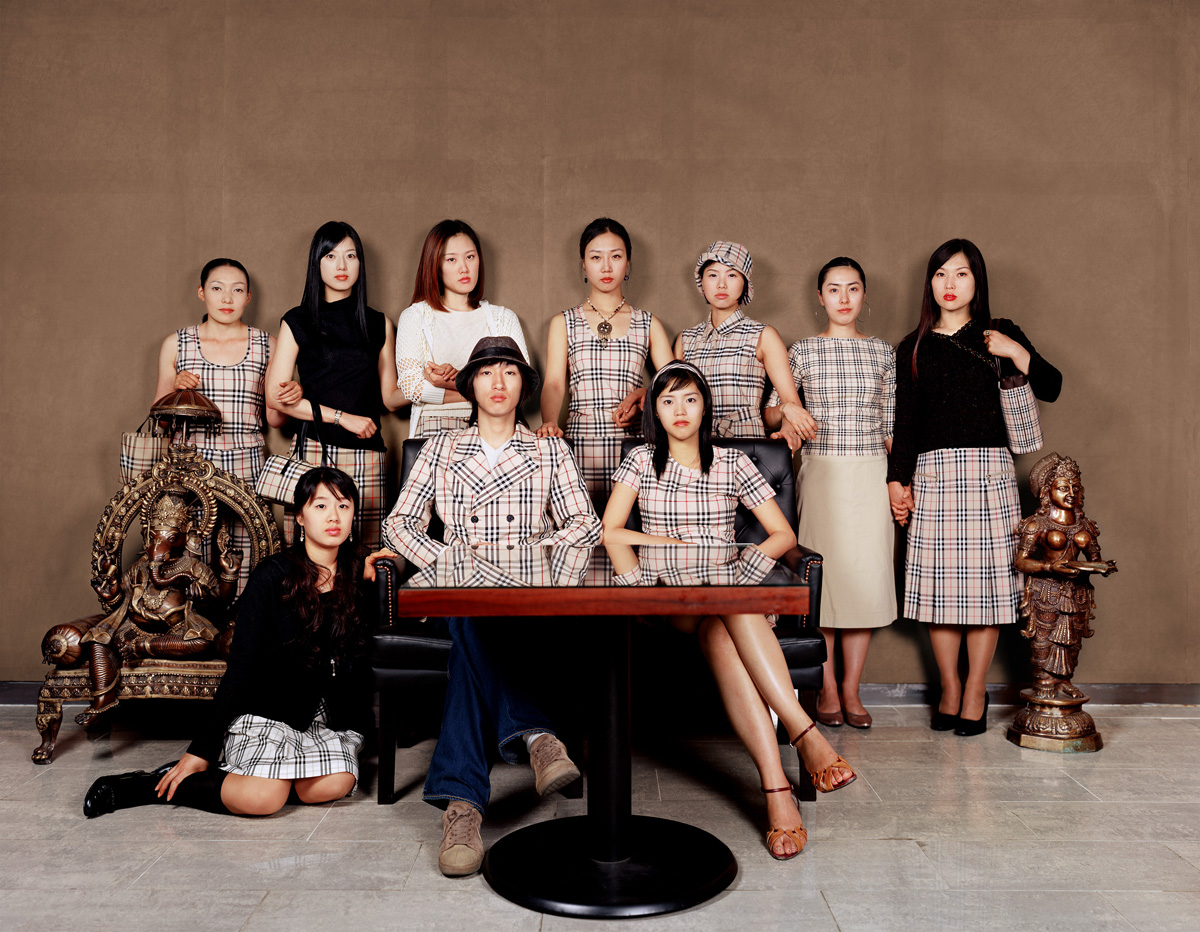 Image above: KIM, Sanggil, off-line_Burberry internet community, 2005 from the series off-line (2005), Chromogenic photograph. Museum purchase with funds provided by PhotoFutures, Santa Barbara Museum of Art.
Identity: Cultural and Personal
Between 1910 to 1945, Japan annexed Korea and systematically attempted to eradicate Korean culture and identity, for example, by banning Korean literature and language from schools.  Only six years after World War II, Korea was devastated by the Korean War.  This section of Chaotic Harmony investigates what it means to be Korean today after this disruptive history.  Some artists, such as Bohnchang KOO, seek to reclaim past cultural history, by photographing treasured and uniquely Korean items such as Celadon—the main type of ceramic produced in ancient Korea and generally exalted as Korea's most significant artistic legacy.  Jungjin Lee in term photographs native crafts from Korean folk culture.  Exploring more personal aspects of identity is Yeondoo JUNG's Bewitched #2, a diptych juxtaposing images of the same teenager, mopping the floor of a Baskin Robbins in her day job and exploring the Artic regions in her dream job; and Hyo Jin IN's Violet # 01 from the High School Lovers series (2007), which portrays an openly lesbian couple.
Anxiety
The "Anxiety" section of Chaotic Harmony investigates the constant tension provoked by strained relations and the potential of a violent outbreak between North and South Korea.  Jung LEE's Bordering North Korea, #2 (2005), from her 2005-2008 series of the same title, offers a view of North Korea seen from China and them superimposes over it an accompanying text chosen from the set phrases that North Koreans are allowed to say to the few foreigners who gain access to the country, such as "Our country is the paradise of the people."  She wants the viewer to experience both the beauty of the land and the palpable repression evident in the political slogans.  Seung Woo Back references the subliminal fear of an attack from North Korea by staging "invasions" of toy soldiers that march across a family's yard and up their wall to the kitchen window ledge, presumably unbeknownst to the person whose silhouette is visible though the window.
Catalogue
An illustrated catalogue of the same title accompanies Chaotic Harmony, co-published by the Santa Barbara Museum of Art and The Museum of Fine Arts, Houston, and distributed by Yale University Press.  The catalogue presents one of the first overviews of the artists, subjects, and themes in contemporary Korean photography, with scholarly essays by Tucker and Sinsheimer; a chronology of post-World War II developments by noted photographer and curator Bohnchang Koo; an exhibition checklist; and brief biographies of the artists, compiled by MFAH photography curatorial assistant Natalie Zelt. The catalogue is available in the SBMA Museum Store.
The Santa Barbara Museum of Art is a privately funded, not-for-profit institution that presents internationally recognized collections and exhibitions and a broad array of cultural and educational activities as well as travel opportunities around the world. 
Santa Barbara Museum of Art, 1130 State Street, Santa Barbara, CA.  Open Tuesday - Sunday 11 am to 5 pm. Closed Monday.  805.963.4364 www.sbma.net
---
For museum lovers
A new exhibition is showing at the
Museum of History Lucerne
until September: "Pilatus – Restless Soul". It features the mountain and the legends surrounding Pontius Pilatus, after whom the mountain is named.
Aviation history was made 100 years ago in Switzerland. The Swiss
Museum of Transport
is celebrating the grand opening of its new Aviation and Space Travel Hall with a new exhibition: "100 Years of Aviation in Switzerland".
Further information:

---
---