HAUTE COUTURE AT ITS BEST IN MONTREAL . . .
LA  SALLE COLLEGE SIGNATURE 2008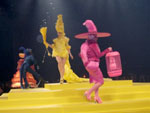 It was a night to remember as models glided up the isles and onto the spectacular stage for the 2008 La Salle College Design Show at the Palais des congres de Montreal. Student designers presented their original work, which included everything from a Marilyn Monroe tribute, French Canadian history ensembles, a lingerie dream sequence, vibrant evening dresses, smart tailored coats and more. Men, women and children's fashion designs filled the auditorium,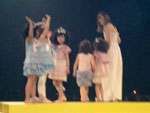 as the audience applauded and smiled from every corner of the room. Kudos to the students who had to manage groups of darling little children, who often did not want to leave the spotlight.
Everyone in the audience seemed capitvated with the chic original designs of these passionate students, and with the professionalism of the student models. From hair to makeup to wardrobe it was very well done. The finale to honor this years graduates was electric, and you can be sure we will see some of these young women taking bows in years to come following their own designer shows.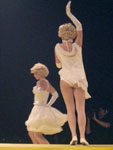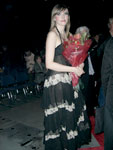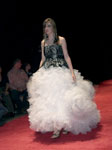 "This is the most exciting time for us because we are able to present examples of the knowledge that has been shared with us, our designs follow specific requirements, and to complete the assignment is so rewarding. "Everyone associated with the event worked very hard, and it was a wonderful experience," said Natasha Melikoff, 2008 graduate.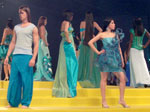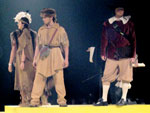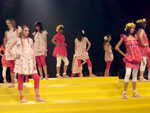 ---
YVES SAINT LAURENT
- RETROSPECTIVE IN MONTREAL
Following the news of the recent death of Mr. Yves Saint-Laurent, Montréal's artistic community has joined together to pay homage to one of the most celebrated designers of the 20th century.
This Friday, June 6, the Montréal Museum of Fine Arts invites the public to enjoy, free of charge, a unique retrospective dedicated to the master French couturier that opened on May 29. Inaugurated by Mr. Pierre Bergé, President and Co-founder of the Fondation Pierre Bergé-Yves Saint Laurent, this major exhibition will be on display in Montréal until September 28, 2008.
As well, as part of the opening fashion show of the Festival Mode & Design on McGill College Avenue this Wednesday, June 4 at 8 p.m., 17 Québec designers will present their interpretations of the legendary couturier's most famous creations. Their works will subsequently be shown at the Museum of Fine Arts from June 12 to 15 inclusively. 

Information:
Ms. Suzanne Leblanc
The MontréalMuseum of Fine Arts
514-285-1600, #173
Ms. Chantal Durivage
Sensation Mode / Festival Mode & Design
514-876-1499
For more about the two events
www.mbam.qc.ca
www.festivalmodedesign.com
L'équipe des Relations de presse de Tourisme Montréal
---
SEVILLE HOSTS 15th BIENNIAL OF FLAMENCO
Festival Offers 66 Performances in 32 Days This Fall
Andalusia is the birthplace of flamenco and Seville has some of the region's most celebrated performers, so it makes sense that this charming city in southern Spain hosts the art form's most important event – the Bienal de Flamenco, scheduled for September 10 to October 11.
This year the 15th edition of the Biennial of Flamenco, "Las músicas del flamenco," will be a tribute to flamenco music in all its variations with 54 shows and 25 premieres. With a total of 66 performances in 32 days, the festival will be structured around eight thematic series showcasing shows of baile (dance), cante (song) and toque (guitar) on five stages. Following recent renovations, Seville's newly-expanded grand opera house, the Maestranza Theater, will be reclaimed as the Biennial's main stage. Other venues include: the Neo-baroque Lope de Vega Theater dating from 1929, the Hotel Triana, Alameda Theatre and the Rocío Jurado Auditorium.  Tickets are now available online at www.bienal-flamenco.org
The Biennial kicks off on September 10 with an open-air gala dedicated to renowned composer and guitarist Manolo Sanlúcar.  Throughout the month-long festival, other flamenco greats will perform including: Sara Baras, José Mercé, Carmen Linares, Estrella Morente, Cañizares, Arcángel and Isabel Bayón. 
Manolo Sanlúcar's concert will inaugurate the "Movements" series.  Next, "The Future of Jondo," or "deep song" will include notable shows like: "Women" with Merche Esmeralda, Belén Maya and Rocío Molina; "Roots and Wings," a tribute to the Spanish poet Juan Ramón Jiménez, by Carmen Linares and Juan Carlos Romero, and a concert by flamenco cantaor (singer) José Mercé, among others.  A generation of recognized artists is highlighted in "21st Century Classics" – with the world premiere of "En el Bar Iberia," featuring singer Segundo Falcón and guitarist Paco Jarana, and several great names in baile including a performance of "Carmen" by the Sara Baras Flamenco Ballet, "Self-Portrait" by María Pagés and "Tórtola Valencia," a premiere by Isabel Bayon.
"Variations" sets the focus on innovative shows, premiering "Paso para dos" with Rosario Toledo and Ana Salazar and the Andrés Marín Company's "El cielo de tu boca" with musician Llorenç Barber as guest artist.  The Israel Galván Company, winner of the prestigious National Dance award in 2005, will perform "El Final de esta estado de cosas. Redux" and the Rafaela Carrasco Company will premiere "Vamos al tiroteo."  The instrumentals for many shows will be performed by groups such as Son de la Frontera and the Diego Amador Quartet.
The series entitled "Flamingos and other birds" fuses traditional flamenco music with everything from symphonic to fado and rock music.  Seville's Royal Symphony Orchestra and Spain's National Choir conducted by Pedro Halffter will perform Manuel de Falla's work "La Vida Breve" with singer José Mercé and dancers Lola Greco and Fran Velasco.  Spain's National Ballet will perform "Café Chinitas," and Esperanza Fernandez accompanied by Seville's Royal Symphony Orchestra will present "El amor brujo." Estrella Morente and fado singer Dulce Pontes will perform in "Dulce Estrella."  The series will end with a night devoted to Andalusian rock, featuring groups like Cai, Pata Negra and Alameda.
The Teatro Alameda will host a number of new shows including one by "Ultra High Flamenco (UHF)," a gala with young talents, and several children's shows. The Hotel Triana's stage will have concerts by La Macanita with María del Mar Moreno along with "Orígenes" by Juan de Juan and "the 50th anniversary of the Orquesta Chekara de Tetuán."  The Biennial concludes with a closing gala on October 11 at the Theatre Maestranza.   
"They say 'flamenco history happens at the biennial,'" explains Javier Piñanes, director of the Tourist Office of Spain in New York, "and this year with 25 premieres it will most definitely be true," Piñanes said. 
Prices for the shows range from about $10 to $62 and early birds will receive discounts: 10% before June 1st and 5% between June 2nd and August 22nd.  Tickets are now on sale and can be purchased at the various venues in Seville and online at: www.bienal-flamenco.org, www.Teatrolopedevega.org and www.Teatromaestranza.com. Tickets will also be available at each venue an hour before performances, if seats are available. 
In addition to thrilling flamenco performances, there is much to see in Seville. The city boasts the largest Gothic cathedral in the world built on the site of a 12th century mosque.  Now, the famed Giralda tower is all that remains of that Moorish structure built by the Almohads.  Craftsman from throughout Spain created the sumptuous Mudéjar-style royal residence, the Reales Alcázares.  A jewel box of patios, gardens, fountains, its gilded rooms are filled with stucco work glazed azulejos and elaborately carved doors. 
For more information about the Flamenco Biennial, call 011-34-954-59-28-73, go to www.bienal-flamenco.org or email: general.bienal@sevilla.org. 
www.spain.info.
---
ONE RAY OF HARMONY CAN MEAN
MANY DAYS OF HOPE
By Laurence Vittes
Running through July 20, a remarkable art show at The Electric Lodge in Venice will showcase the brilliant recent work of two important California artists while also benefitting the charitable activities of the Buddhist monk His Holiness Gayuna Cealo, aiding orphans and street children in Cambodia, Myanmar and Sri Lanka (www.cealo.net).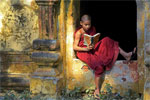 The artists are Larisa Pilinsky (known as Lark) with a selection of her spiritually compelling and physically beautiful metaphysical collages and landscapes, and Felice Willat, with a selection of photography that captures the mystical and spiritual light of Myanmar. Each has an inspiring story to tell.
Having co-founded Day-Runner, one of the original personal productivity organizer, in 1980, Felice Willat is now founder and president of Tools With Heart, a company that develops products to enhance personal discovery and well being. A successful entrepreneur, and with a strong background in network television production, Felice is also an accomplished photographer, and recently returned from Myanmar.
Photographs of Myanmar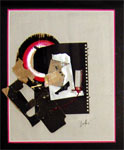 90 of Felice's lovely photographs of Myanmar and its resilient people can be seen on her new website (www.felwil.zenfolio.com). Her photographs are not only striking with their intense and imaginative use of color, composition and luminosity, they seem to capture moments in the life of the country that reflect inward. In light of what is going on now in Myanmar, following Cyclone Nargis's terrible destruction in the south, where more than 130,000 people are dead or missing, her work is all the more poignant.
Born in the remote mountains of central Asia, Lark grew up in Ukraine and studied art in Russia. She first became known for her work with the award-winning Bunker Art Group of Armenia —"fellow rebels in abstraction" against Soviet artistic repression. Since emigrating to the United States in 1991, Lark has been recognized by respected critics and dealers.
Assemblages and landscapes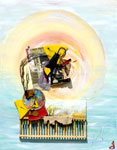 Lark creates assemblages by recycling found objects and processing them through spiritual meditation, encouraging images to appear out of her subconscious, awakening both familiar and unfamiliar thoughts in viewers. Their original functions discarded, their origins long forgotten, the found objects she engages and interacts with are free to play imagined roles, resonating within one another and telling countless tales. Her recent move into landscapes has unleashed a combination of creative forces that is leading Lark into new visions and techniques.
Located at 1416 Electric Ave. (telephone: 310-306-1854), Electric Lodge was conceived and created by Dr. Joel Shapiro as a home for fellow artists to work and "paint" their personal and societal joys, angst, confusions, defeats and victories onto the canvas of a stage. Joel also recognized the innate design of the space could house the exhibition of paintings and sculpture and serve as a studio for still photographers. Thus, he and the entire Lodge family welcome you to join the many spirits roaming the Lodge, in continuing to create an epicenter of change, gathering and artistic expression in the heart of Venice.

An exhibition in West Hollywood
Lark has also been busy in the wilds of West Hollywood, where her small and intimate show, Conversations With Nature: 8 Paintings by Lark, opened on May 27 at the Macha Theater, 1107 N. Kings Road, just north of the recently reopened Hugo's Restaurant.
Lark's own poetry explains the underlying inspiration for the show: "The value of art lies in its ability to draw nature when the real becomes unreal, when skies become red, and clouds become light green. These are the moments when nature gives birth to miracles." Show hours are 6-8 p.m., Thursdays through Saturdays, and 5-8 p.m, on Sundays.
This show is mounted through the gracious generosity of Odalys Nanin, Macha Theater's Producing Artistic Director and Founder. The theatre, which takes it name as an acronym of Mujeres (Women) Advancing, Culture, History and Art, is a non-profit organization that was formed in 2000 to build social, cultural, and artistic bridges between the straight and gay communities of various ethnicities and provide the Lesbian, Gay, Bisexual, Transgender and Intersex (LGBTI) community a sense of belonging.
Coming this fall, Nanin's new play, "The Lieutenant/Nun," based on the memoirs of the semi-legendary Catalina de Erauso, a charismatic force similar to Joan of Arc in Spain and Spanish America in the first half of the seventeenth century. For more information about "The Lieutenant/Nun" and other productions, visit www.machatheatre.org.
---
PULCHRITUDA VAGA: MASTERWORKS
FROM REGINA WILSON
The celebrated Australian Aboriginal artist and Master Painter, Regina Wilson, will have her first solo exhibition in the United States at the Santa Monica Art Studios on Saturday, July 19, 2008. Ms. Wilson, a Telstra Award-winner, is regarded as one of the most significant indigenous Australian artists painting today.
"This exciting exhibition will give Angelenos a chance to catch up to the European and Asian communities who have invested in and embraced Aboriginal art over the past decade.  Ms. Wilson is a leader in her field who is notable for the quality of work she produces and the increasing monetary value her work garners," noted Joel Newman of the Australian Trade Commission.
An expert weaver, Regina Wilson transposes her knowledge of fiber and textiles to create large-scale canvases with beautiful designs.  These intricate works have earned Ms. Wilson notable awards in her native Australia, including the "General Painting Prize" at the 2003 Telstra National Aboriginal and Torres-Strait Islander Awards.
Her innovative and abstract paintings maintain the beauty of traditional weaving, while imparting a sophistication that is of particular interest to admirers of modern and contemporary art.
Regina Wilson is a charismatic woman and the founder of the vibrant Peppimenarti arts community in Australia's Northern Territory. There, Wilson leads Durrmu Arts, a talented team of emerging and established artists who are creating a completely unique style of aboriginal art. 
---
JILL A. WILTSE AND H. KIRK BROWN III
AND ART SANTA FE PRESENTS
INVITE YOU TO  THE EXHIBITION 
Hungarian Masterworks From Impressionism to Modernism
Final Month of Exhibition

CHARLOTTE JACKSON FINE ART
Hungarian Masterworks, From Impressionism to Modernism, featuring work by Hungary's most famous artists from the late Impressionists to early Modernist period.  This rare and exciting exhibition  includes over 100 paintings, drawings, and prints.   
Charlotte Jackson Project Space,
7511 Mallard Way, Santa Fe, New Mexico
(see map:http://www.charlottejackson.com/Project_Space.htm)
 
April 4 - May 31
April 4, 5:00-7:00pm, Opening Reception
April 5, 2:00-3:00pm, Lecture and Overview 
 
CONTACT:
505.989.8688
press@charlottejackson.com
www.charlottejackson.com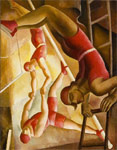 Project Space Hours:
Thurs. - Sat. 11am - 5pm and Sun. 12pm - 4pm
 
On April 4th, Friday, 5:00 - 7:00pm, the exhibit opens at the Charlotte Jackson Project Space, 7511 Mallard Way (near the intersection of Airport Way and Route 599).  At 6:00pm, opening remarks will be made by His Excellency Ferenc  Somogyi, Hungarian Ambassador to the United States, and Eugene F. Megyesy, Jr., Honorary Consul General of Hungary.
On April 5th, Saturday afternoon, 2:00-3:00, a lecture and overview of the exhibition will be presented by Dr. Steven Mansbach, Professor of the History of Twentieth-Century Art and author of "Standing in the Tempest:  Painters of the Hungarian Avant-Garde, 1908-1930.  Accompanying the exhibition will be a full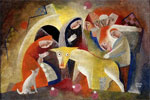 color catalogue with an introduction written by Dr. Mansbach.  The Project Space opens at 11:00am and will remain open until 4:00pm.
The artists included in the exhibit were part of the foremost intellectual and cultural groups of the time.  The selection of works is a fascinating exploration of the most important movements in art history.For example, a group of progressive artists known as The Eight, founded in 1909, introduced the European avant-garde trends of the beginning of the century to the Hungarian art scene including Fauvism, Expressionism, Post-Impressionism and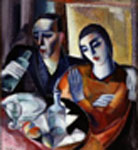 Cubism.  Members of this group featured in the show include Dezsõ Czigány, Károly Kernstok, Ödön Márffy, and Bertalan Pór.
Thematically, one will see landscape and cityscape scenes of recognizable locations including the Danube River, Paris and famous Budapest parks.  These scenic pieces show the great talent of plein air painters Béla Ivanyi Grünwald and Vilmos Perlrott-Csaba, who was a student of Matisse. There are strong and powerful portraits from the early 1900s that reflect the strict artistic norms of the time while elegant nude drawings reflect a freer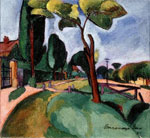 style. Other themes investigated include the café, nightlife, and still life in varying stylistic trends of early 20th century.
 
Hungarian Masterworks reflects the foundations of Hungary's visual culture prior to a devastating revolt.  In 1956, Hungary revolted against the Soviet communist regime.  Inspired by Poland's successful uprising, the Hungarian revolt began peacefully with a student march that soon grew to include thousands.  After a bitter struggle, Hungary was successful in ousting the Soviets only for a short period after which the people of Hungary were crushed in a surprise invasion.  2006 marks the 50-year anniversary of this historical Hungarian uprising. The exhibit is comprised of loans from the collections of Jill A. Wiltse and H. Kirk Brown III, Denver, Colorado.
---
ART INSTITUTE WELCOMES SUMMER 2008!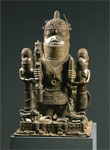 TARGET FREE THURSDAY AND FRIDAY EVENINGS UNTIL 9 PM STARTING MAY 29
"PASSPORT TO AFRICA" FESTIVAL AND BENIN--KINGS AND RITUALS EXHIBITION CELEBRATE ARTS AND CULTURE OF AFRICA AS THEME FOR SUMMER
 
The Art Institute of Chicago announces the return of its wildly popular Target Free Summer Evenings beginning May 29, the Thursday after Memorial Day. Throughout June, July, and August, the Art Institute will offer extended evening hours--until 9:00 p.m. --on Thursdays and Fridays, with free admission after 5:00 p.m. on those evenings. Target is the generous sponsor for "Target Free Summer Evenings."
The Art Institute will serve as a gateway to major Loop happenings and festivals--particularly the events in Millennium Park, the music festivals in Grant Park, and the Taste of Chicago. The museum's Garden Restaurant will join in the summer celebration and feature live music on Thursday and Friday evenings. On select Saturdays, the front steps of the museum will host musicians and performers to entertain visitors and pedestrians alike.
To complement its extended hours on these evenings, the museum has added to its schedule lectures and gallery walks, family activities, a light menu at the Garden Restaurant, and live music al fresco in lovely McKinlock Court. On May 29, Japanese scholar and culture expert Shozo Sato will kick off the Art Institute's summer celebration with an intimate evening of ikebana (Japanese floral arranging) demonstration. Sato will create several flower arrangements as he teaches the philosophy underlying this ancient and contemporary practice. The program begins at 6:00 p.m. in Fullerton Hall and is free to all.
Additional gallery tours have been added on Target Free Thursday and Friday evenings: at 5:30 p.m., museum educators showcase works around a particular theme, while at 7:00 p.m. visitors can learn about highlights of the museum's magnificent permanent collection. The Art Institute's Target Free Summer Evenings 2008 will conclude on Friday, August 29.
"Passport to Africa" Celebration at the Art Institute
The Art Institute explores the African continent this summer. The "Passport to Africa" series--which features a variety of ancient and contemporary expressions such as art, music, theater, and movement from across sub-Saharan Africa--begins July 10 with the exhibition Benin--Kings and Rituals: Court Arts from Nigeria. This exhibition can only be seen at the Art Institute and will not be mounted at any other North American museum. The exhibition showcases approximately 220 royal sculptures and artifacts from the Benin Kingdom of Nigeria, including finely cast bronze figures, altar heads, wall plaques, and staffs of office; sculpted ivories; royal regalia and jewelry in brass, coral, and ivory; and other accoutrements of life at court across six centuries. Planned with the most prominent scholars of Benin art, history, and culture, as well as the cooperation of reigning Oba Erediauwa and the National Commission for Museums and Monuments, Nigeria, the exhibition will bring international attention and new perspectives to Benin art. 
Other highlights during the museum's celebration of African culture are musical and performance programs from many artists, including the Muntu Dance Theatre Chicago (July 19), Yves François and Rocambu Jazz (August 2), the Occidental Brothers Dance Band International (August 16), and Taylor/Morikeba Duo (September 13). The Art Institute has also partnered with the Old Town School of Folk Music to present a line-up of stellar world and folk musicians--such as the Victor Pichardo Group, Lamajamal, the Teflons, and the Eric Noden Duo -- in McKinlock Court on Thursday and Friday evenings. Additional gallery talks in July and August will focus on African art in the museum's permanent collection. For a full list of "Passport to Africa" events, log on to the Art Institute's Web site: www.artinstituteofchicago.org.
IMAGE CREDIT:
Altar Group (Aseberia) with Oba Akenzua I and Attendants, 18th century. Nigeria, Benin Kingdom; Edo. Staatliche Museen zu Berlin, Ethnologisches Museum, III C 8164. 
 
MUSEUM HOURS:
10:30 a.m.-5:00 p.m. Monday, Tuesday, Wednesday, Friday
10:30 a.m.-8:00 p.m. Thursday
10:00 a.m.-5:00 p.m. Saturday, Sunday
TARGET FREE EVENINGS THURSDAY AFTER 5:00 p.m.
SUMMER HOURS (from Memorial Day to Labor Day):
10:30 a.m.-5:00 p.m. Monday, Tuesday, Wednesday
10:30 a.m.-9:00 p.m. Thursday, Friday
10:00 a.m.-5:00 p.m. Saturday, Sunday
TARGET FREE SUMMER EVENINGS THURSDAY AND FRIDAY AFTER 5:00 p.m.
FREE FEBRUARY 1 TO 29 
Closed Thanksgiving Day, Christmas Day, and New Year's Day.
Please check www.artinstituteofchicago.org before your visit.
Admission:
Adults, $12.00; children 12 and over, students, and seniors, $7.00; children under 12 free; members always free. Free Evenings are free to all, except for certain special exhibitions that may require full or extra admission fee. City of Chicago residents with Chicago Public Library cards can borrow a "Check Us Out" card from any library branch for free general admission to the nine members of Museums in the Park, including the Art Institute of Chicago. To reach the Art Institute on the World Wide Web, contact us at: www.artinstitutechicago.org
---