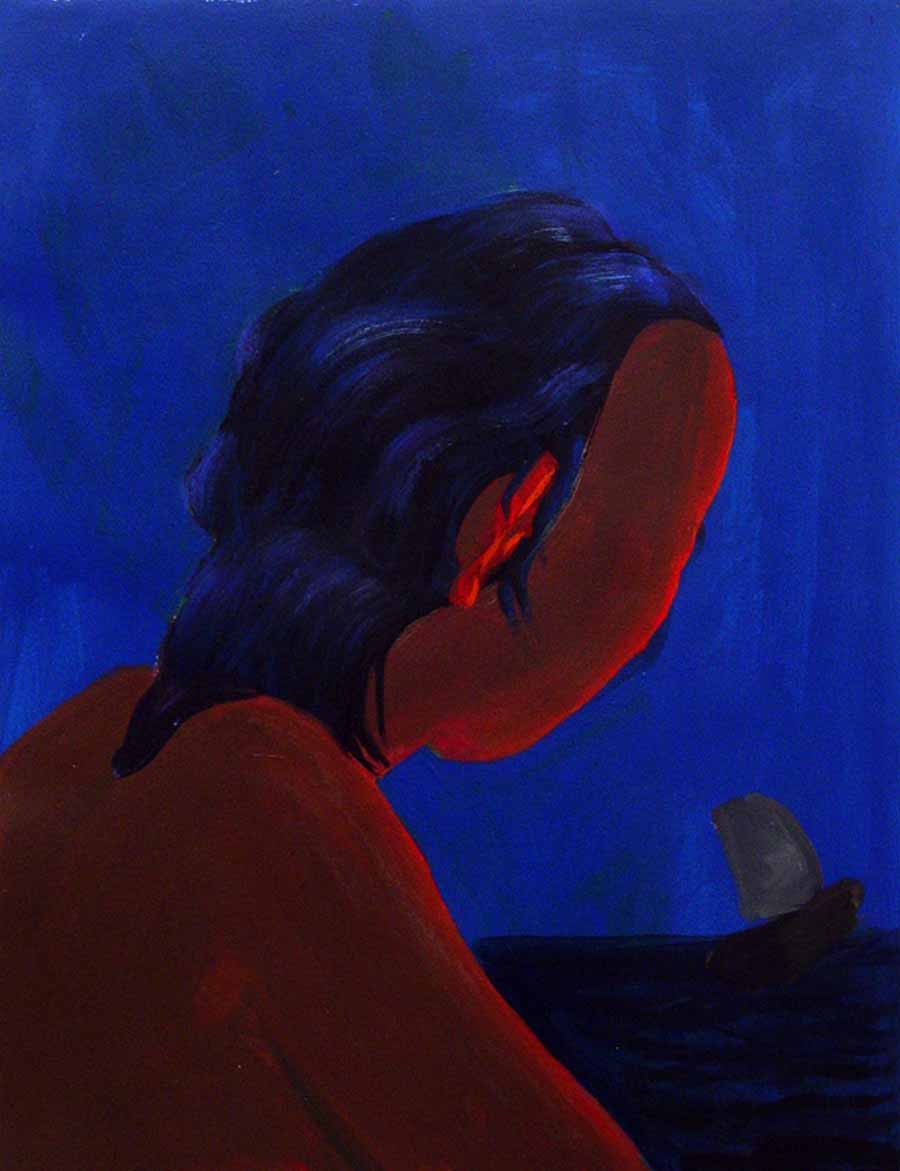 Charles Garabedian, Dido, 2006. Acrylic on paper, 21 x 16 in. Private Collection.
The Elusive Creativity of Charles Garabedian
Artist Receives Recognition in Retrospective of 50-Year Career
On View January 22 – April 17, 2011
 "Creativity is a strange thing, very elusive. The important thing is that everybody has to do something and everybody should find out who they are."
                                                                       − Charles Garabedian
While Charles Garabedian may be well on his way to finding out who he is in his nearly 50 year career as artist, the rest of the world, for the most part, has yet to discover him.  Organized by the Santa Barbara Museum of Art, the exhibition Charles Garabedian: A Retrospective represents the first important museum presentation in 28 years devoted to the works of this elusive artist.  Bringing together approximately 60 works from institutional and private collections across the United States, the exhibition represents the artist's entire career with an emphasis on paintings and drawings produced during the years since his first (and last) major solo museum exhibitions in 1981 (La Jolla Museum of Contemporary Art) and 1983 (Rose Art Museum).
While Garabedian may not be a household name, his accomplishments and influence among artists on the West Coast in the last 30 years have been substantial.  His persistently individual exploration of figure, landscape and subject matter paved the way for new generations of artists who demonstrated a renewed focus on imaginative representations of the figure. His works' relationship to an even younger generation of artists who emphasize narrative, attests to the continuing vitality of his work.
So, the questions arise, "Why this artist?" and "Why now?"  Julie Joyce, SBMA Curator of Contemporary Art and exhibition organizer responds, "Charles Garabedian's substantial body of work has been too long overlooked and holds many revelations for younger figurative-based artists who owe him quite a debt. He has been labeled in the past as an eccentric, which I believe marginalizes the role his work plays in the realm of contemporary art in the United States.  This exhibition will reveal his highly unique path as an artist, but also, more importantly, reposition him as a figure who contributed to the pluralistic view of art, place, and practice that took shape on the West Coast in the 1980s."
Recently, ARTnews conducted a poll of artists, critics, curators, and art historians to find worthy figures who have fallen off the map or failed to receive their due attention from audiences and museum professionals.  Herein New York-based artist, Fred Tomaselli, states "…Charles Garabedian, who is well into his 80s, did one of the best gallery shows I saw, at LA Louver in 2004–5.  His work seems especially germane to the zeitgeist, given the current interest in inventive figurative painting."
Garabedian dismisses any perceived lack of attention, claiming that his work is more about under-standing and expression of himself, not about providing a road map for an audience.  In an interview, he remarked, "By nature, I'm suspicious of myself and curious about myself…I don't think it's true that without an audience you have no reason for working.  When you work in relation to an audience you're a designer, not an artist…Once you start thinking of other people, you start thinking, 'Let me make this a little clearer.'  If you do that with your paintings, it makes the painting dull."
 
Garabedian's work is far from dull.  His paintings and works on paper explore themes of war, music, the body, dismemberment, heroism, comic pretension, love, and death—all conveyed with a sense of immediacy, intimacy, and poignancy.  While a prominent influence stems from ancient characters and tales, including The Iliad, Romeo & Juliet, the Minotaur, and Apollo and Daphne, underlying the work is the artist's own elegiac confrontation with the joys and struggles that pervade our current, daily lives.  Each painting or drawing creates its own world yet also reflects the turbulent times in which it was made. 
Michael Duncan, art historian and critic, further comments on the artist's distinctive approach to artmaking in an excerpt from his essay that is included in the exhibition catalogue:
"In his extraordinary works, Garabedian approaches painting as a kind of battlefield of the psyche, manned by cultural tropes and personal memories. An instinctual Freudian, he offers mythic retellings of war, friendship, death, and sexual experience, mining both individual and collective consciousness for sparks of subconscious truth. This untamed process is everywhere evident on his canvases, manifested in dream-like landscapes and seascapes littered with lumbering forms, sketchy marks, crumbling architecture, and skewed body parts. These are visual representations of the artist's thought, designed to entice viewers to follow the associational processes of an artist on a voyage of self-discovery that just might result in shipwreck."
The thought-provoking power and occasional uneasiness that the works in this exhibition demonstrate lead us to realize that for the artist, and for ourselves, the journey of self-discovery may never be completely realized.  This is  part of the reason Garabedian continues to actively work in his studio, day after day—armed with the hope of getting closer to the truth.  He notes in a previous interview, "I can do some bizarre things. I'm really a shy person. I can't proceed in a flamboyant way in public, so I make my work and I wonder where it comes from. It comes from who I am, obviously."
Related Education Programming:
Education programs related to Charles Garabedian: A Retrospective will provide an opportunity for SBMA to work with local middle schools focusing on the artist's use of classical mythology, architecture, and comparison with works in SBMA's paintings and antiquities collection.  High school students will tour the exhibition exploring Garabedian's illustration techniques and imagery, both personal and archetypal, and his underlying and overt humor.  For adults, education programs will include an Artist Talk, plus a special series, Under the Influence, in which artists conduct tours of the exhibition, sharing their thoughts on Garabedian's work and influence.  Writers and contributors to the exhibition catalogue, Michael Duncan and Christopher Miles, will lecture in conjunction with the exhibition.  Additional programs include poetry readings, a special film series, online video, a collaboration with an experimental Shakespearian theatre company for interactive family programs, and partnerships with UCSB Departments of Classics, Music, Theater, and Art to bring multi-disciplinary perspectives to the exhibition. Details of related programming to be announced.
Exhibition Catalogue:
The exhibition catalogue represents the first book devoted to the artist since the early 1980s:  a hardcover publication comprising 212 pages and 95 color illustrations, and designed by award winning designer Lorraine Wilde/Green Dragon Office. Contributors include historian/critic Michael Duncan; critic/professor Christopher Miles (Department of Art, California State University, Long Beach); author/television and film screenwriter, Nevin Schreiner; exhibition curator and SBMA Curator of Contemporary Art, Julie Joyce; and SBMA Director, Larry J. Feinberg. Copies of the catalogue will be available for purchase in the Museum Store.
More About the Artist:
Charles Garabedian was born in 1923 in Detroit, served as a staff sergeant in the US Air Force, as an arial gunner on a B-24 in over thirty missions over Europe, and worked for the Union Pacific Railroad. He began his career at age 32 when he began studying drawing with Howard Warshaw, then entered graduate school at UCLA, where he studied with William Brice and others and received his MA in 1961.  He joined the legendary Ceeje Gallery in Los Angeles in the early 1960s, debuted nationally in the 1975 Whitney Biennial, was represented in Marcia Tucker's notorious 1978 Bad Painting exhibition at the New Museum, and was hailed as a major force in the revival of figurative painting in the 1993 Corcoran Biennial. Garabedian's work was the subject of solo museum exhibi-tions at the La Jolla Museum of Contemporary Art (now the MCA San Diego) in 1981, and the Rose Art Museum in 1983.  This is his first important solo exhibition at a major museum since that time.
Garabedian's work has been represented by L.A. Louver Gallery in Venice, California, since 1979, and the focus of many solo exhibitions there and at Hirschl & Adler Modern in New York (1984, 1987, 1995), Betty Cunninngham Gallery in New York (2004, 2006), and Paule Anglim Gallery in San Francisco (1985, 1993, 1998, 2008), among others.
Exhibition Support:
Support for Charles Garabedian: A Retrospective is made possible by a grant from the Andy Warhol Foundation for the Visual Arts, and The Broad Art Foundation, among other funders to be announced.
The Santa Barbara Museum of Art is a privately funded, not-for-profit institution that presents internationally recognized collections and exhibitions and a broad array of cultural and educational activities as well as travel opportunities around the world. 
Santa Barbara Museum of Art, 1130 State Street, Santa Barbara, CA. 
Open Tuesday - Sunday 11 am to 5 pm. Closed Monday. 
805.963.4364 www.sbma.net
---
SANTA BARBARA THEATRE ORGAN SOCIETY CELEBRATES 23 YEARS WITH SILENT FILM CLASSIC ACCOMPANIED BY ORGANIST SCOTT FOPPIANO ON THE "WONDER MORTON" AT THE ARLINGTON THEATRE 1317 State Street
JANUARY 22, 2011 AT 2:00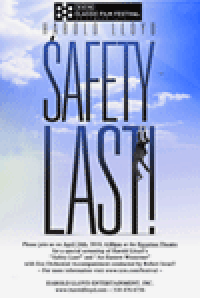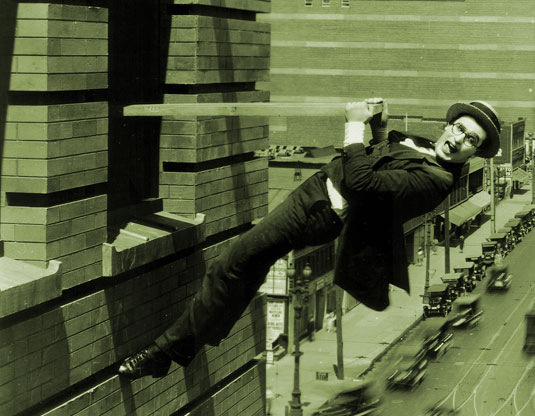 On January 22, 2011 at 2:00 p.m. the Santa Barbara Theatre Organ Society will host world renowned organist Scott Foppiano to accompany two silent film classics. Silent films being presented include silent film short "One Week" starring Buster Keaton, and feature film "Safety Last" with Harold Lloyd. Arlington Theatre, 1317 State Street.  Tickets for the silent film and organ performance will be on sale in the Arlington Theatre box office one hour prior to the performance. Cost is $11.00, and children under 12 with an adult are free.                                                                                       
Scott Foppiano is a critically acclaimed recitalist, theatre organist and silent film accompanist who has played and recorded on numerous great classical and theatre organs in the US, Canada and Europe. He has been featured at the American Guild of Organists, Organ Historical Society and American Theatre Organ Society conventions, performed in Rome, Italy at the Vatican, and was named Organist of the Year at the American Theatre Organ Convention in 2007.
---
International Loan Exhibition of Forbidden City Treasures Goes on View at Metropolitan Museum February 1
Exhibition Dates:     
February 1 – May 1, 2011
Exhibition Location: Galleries for Chinese Painting and Calligraphy
Press Preview:         Monday, January 31, 10 a.m.- noon
"When China's last emperor, Puyi, left the Forbidden City in 1924, the doors closed on a secluded compound of pavilions and gardens deep within the palace.  Filled with exquisite objects personally commissioned by the Qianlong emperor, the complex of lavish buildings and thoughtful landscaping lay dormant for decades." 
   —From Juanqinzhai in the Qianlong Garden, The Forbidden City, Beijing
A special exhibition featuring 90 exquisite objects that once adorned an exclusive compound in the Forbidden City will go on view at The Metropolitan Museum of Art beginning February 1, 2011.  Showcasing sumptuous murals, furniture, architectural elements, Buddhist icons, and decorative arts—almost all of which have never before been seen publicly—The Emperor's Private Paradise: Treasures from Forbidden City will present works of art that demonstrate the highest levels of artistic accomplishment in 18th-century China.  Highlights of the exhibition will include an imposing portrait of the Qianlong Emperor, a radiant silk panel depicting a Buddhist shrine, magnificent thrones executed with impeccable craftsmanship, and a monumental jade-and-lacquer screen consisting of 16 panels. 
Augmenting the objects will be photo murals of the Qianlong Garden as well as a video-simulated "walk-through" of the Studio of Exhaustion from Diligent Service (Juanqinzhai), the first building to be fully restored there.    
The exhibition was organized by the Peabody Essex Museum in partnership with the Palace Museum and in cooperation with the World Monuments Fund and has been made possible through generous support from the Mandarin Oriental Hotel Group and American Express. Additional support was provided by the E. Rhodes and Leona B. Carpenter Foundation, the Freeman Foundation, the National Endowment for the Arts and ECHO (Education through Cultural & Historical Organizations).
The Qianlong emperor (pronounced "chien-lung") was the fourth monarch of the Qing dynasty (1644-1911) who reigned from 1736 to 1795. Built between 1771 and 1776, the Qianlong Garden was for the emperor's intended retirement and no expense was spared, as the finest artisans used the highest quality materials to create intricately embellished interior and exterior spaces. But the emperor never retired and the garden—relatively untouched since imperial times—remains a virtual time capsule of 18th-century taste at its most extravagant.
Through the richly varied works on view, the exhibition conveys his desire both to integrate art, culture, and nature, and to magnify his achievements as a connoisseur, scholar, and devout Buddhist.  In contrast to preceding Qing emperors, who had emphasized simple interiors in keeping with their nomadic Manchu heritage, the interiors of the Qianlong's retirement residence were lavish and ornate in the extreme.  For the Qianlong Emperor, the garden was a metaphor for his well-ordered realm. The Manchu ruler's ambition to unify "all under heaven" is evident in his effort to make the garden a microcosm of his empire, integrating various cultural influences within the confines of his palace walls.
Installed in the Metropolitan's Galleries for Chinese Painting and Calligraphy, which surround a Ming-style garden court and a hall with outstanding examples of Chinese hardwood furniture, the exhibition will lead viewers through a series of thematic galleries, much as the actual garden was intended to lead visitors through a series of courtyards.  These courtyards contained evocatively named halls and pavilions devoted to discrete themes, such as theatrical performances and trompe l'oeil illusions, Buddhist worship or meditation, the "three friends" of wintry weather (pine, plum, and bamboo), and exotic foreign environments and furnishings. Nearly every space featured a throne—each different in its design and materials—as demonstrated through the several examples in the exhibition.
In conjunction with the exhibition, a variety of educational programs will be offered, including an all-day, Museum-wide celebration of Chinese Lunar New Year on February 5, and a Sunday at the Met lecture program on February 6, a subscription event with Amy Tan, films about the Forbidden City, and gallery talks.
Education programs are made possible by The Freeman Foundation.
Complementing The Emperor's Private Paradise will be two installations drawn from the Metropolitan's holdings of Qing court art.  Extravagant Display: Chinese Art in the 18th and 19th Centuries—a rich selection of theatrical costumes, lacquers, ivories, jades, porcelains, metalwork, and other media largely created for use within the imperial precincts—will be presented in the Florence and Herbert Irving Galleries for Chinese Decorative Arts (December 14, 2010 through May 1, 2011).  Also, imperially commissioned paintings and calligraphies from the Qianlong era will be on display in an installation in The Frances Young Tang Gallery.
In New York, The Emperor's Private Paradise is curated by Maxwell K. Hearn, Douglas Dillon Curator; and Extravagant Display is organized by Denise Leidy, Curator, and Joyce Denney, Assistant Curator, all of the Metropolitan Museum's Department of Asian Art.
The Emperor's Private Paradise: Treasures from the Forbidden City is currently on view at the Peabody Essex Museum through January 9, 2011.  After its showing at the Metropolitan, it will travel to Milwaukee Art Museum (June 11 – September 11, 2011).

---