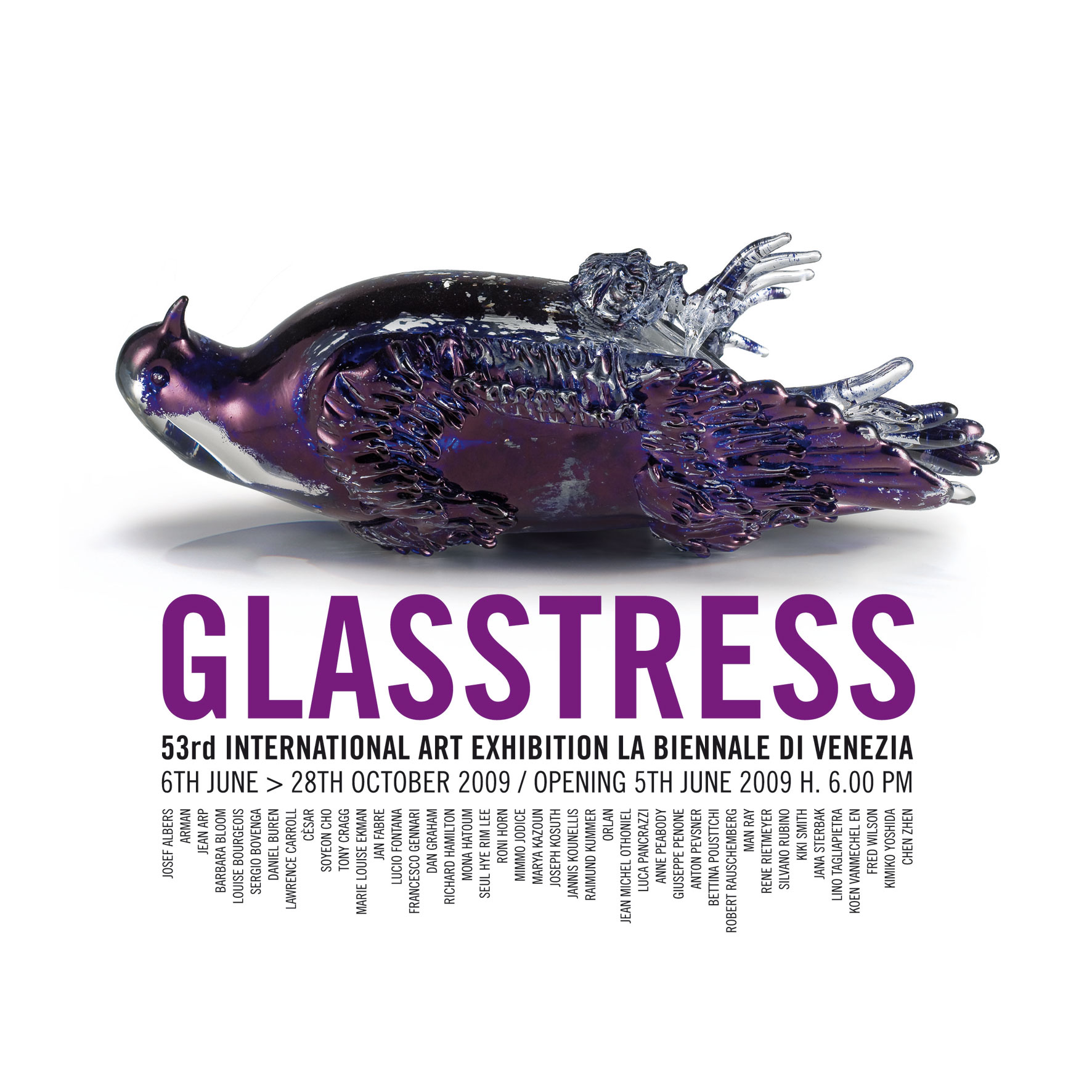 GLASS STRESS: Collateral Event of the
53rd International Art Exhibition – La Biennale di Venezia
June 6, 2009 – November 22, 2009
VENICE – Glass Stress, an official exhibition of the 53rd Venice Biennale that celebrates the use of glass in contemporary art, will be held at both the historic Istituto Veneto di Scienze Lettere ed Arti at the Palazzo Cavalli Franchetti and at the Scuola Grande Confraternita di San Teodoro, San Marco from June 6 – November 22, 2009. The exhibition will be presented by Venice Projects, an organization dedicated to presenting the work of internationally recognized artists who work with glass. The opening reception is on Friday, June 5 at 6:00 pm.
Glass Stress will feature both specially commissioned new work and selected pieces by over thirty-five modern and contemporary artists, many of whom are working with glass for the first time. The exhibition will explore each artist's unique approach to working with the glass, the technical limits inherent in the material, and the synthesis between the artist's ideas and the glass master's skills. Glass Stress is organized by Murano-based art impresario Adriano and curated by Laura Mattioli Rossi and Rosa Barovier Mentasti. The exhibition is sponsored by The Mjellby Konstmuseum of Halmstad, Sweden, in collaboration with Susan Scherman of Susan Scherman Fine Arts, San Francisco.
Glass Stress represents Berengo's dream of examining the expressive possibilities of glass by presenting a global survey and critical look at its use by modern and contemporary artists. The exhibition will showcase original and innovate work by artists, who traditionally work in other media, such as, Luciano Fabro, Louise Bourgeois, Joseph Kosuth, Kiki Smith, Roni Horn and Tony Cragg. These artists were and are fascinated by the formal and conceptual possibilities of the material. In addition, there will be work by glass artists, such as Lino Tagliapietra, who have taken the forms and technical traditions of Murano glass production to new and exciting extremes. Dan Graham, who uses glass to create contemporary environments and installations, is also part of this important and historical presentation.
Glass Stress is the link between the Venetian fine art glass movement of 1950s, Venice Projects and the 2009 Venice Biennale. As a young man, growing up in Venice, Berengo was aware that Peggy Guggenheim was fascinated by the artistic possibilities of glass – she felt that Venetian glass was too important to be used only for decorative purposes. Guggenheim encouraged Picasso, Braque, Chagall and Max Ernst to experiment with glass by working with glass master Egidio Costantini ("Fucina Degli Angeli" – The Forge of Angels). Following in Costantini's footsteps, Berengo started Venice Projects in the 1980s for the purpose of helping artists, many of whom have never worked with glass, discover the artistic possibilities of the material. Many of these artists are in the exhibition.  
Participating Artists – Glass Stress
Josef Albers, Arman, Jean Arp, Barbara Bloom, Louise Bourgeois, Sergio Bovenga, Lawrence Carroll, Cèsar, Soyeon Cho, Tony Cragg, Marie Louise Ekman, Jan Fabre, Luciano Fabro, Lucio Fontana, Francesco Gennari, Dan Graham, Richard Hamilton, Mona Hatoum, Seul Hye Rim Lee, Roni Horn, Mimmo Jodice, Marya Kazoun, Joseph Kosuth, Raimund Kummer, ORLAN, Jean Michel Othoniel, Luca Pancrazzi, Anne Peabody, Giuseppe Penone, Anton Pevsner, Man Ray, René Rietmeyer, Silvano Rubino, Kiki Smith, Jana Sterbak, Lino Tagliapietra, Koen Vanmechelen Fred Wilson, Kimiko Yoshida and Chen Zhen.
About Adriano Berengo
Adriano Berengo was born in Venice and graduated from the Ca' Foscari University of Venice in 1974. He completed his education with post-graduate studies in Comparative Literature at SUNY, obtaining a PhD in 1976.  He founded "Gradiva," an interdisciplinary journal the same year. From 1977-1981, Berengo taught English and literature in Italy. In 1982, he became the artistic director of the Salviato & Company Glass Works. Later, he founded Berengo Studio to promote glass as an artistic medium. Since then, he established Venice Projects, an organization dedicated to artists who have achieved Venice Biennale stature. Berengo has organized many solo and group exhibitions at international museums and cultural institutions to promote the artists and their work.
About The Mjellby Konstmuseum of Halmstad, Sweden
Located on Sweden's west coast, the Mjellby Konstmuseum exhibits modern and contemporary art with a focus on The Halmstad Group, six Swedish artists who worked together from 1929-1986. The Group was influenced by and connected to the Continental Cubism and Surrealism Movements and exhibited in the famous Surrealist exhibitions in Copenhagen in 1935 and in Paris in 1937.
---
NATIONAL GALLERY OF ART, WASHINGTON - JUNE 28-NOVEMBER 1
Richly symbolic armor from the celebrated collection of the Spanish Royal Armory in Madrid will be shown for the first time with portraits of rulers wearing the same armor by such renowned artists as Velázquez, Rubens, and Van Dyck.
The Art of Power: Royal Armor and Portraits from Imperial Spain will showcase some 75 objects, including a number of suits of exquisitely wrought armor and several magnificent tapestries, and explore how armor was used to cultivate the image of the Spanish crown at the height of its international power.
---
Masterpieces of African and Oceanic Art from Barbier-Mueller Museum on View This Summer at Metropolitan Museum
Exhibition dates: June 2-September 27, 2009

Location: The Michael C. Rockefeller Wing

Press preview: Monday, June 1, 10 a.m.-noon
An exhibition featuring exceptional works of African and Oceanic sculpture selected from the extensive holdings of the Barbier-Mueller Museum in Geneva, one of Europe's preeminent private collections of non-Western art, will go on view at The Metropolitan Museum of Art on June 2. Presenting more than 35 works—most never before seen in the United States—African and Oceanic Art from The Barbier-Mueller Museum, Geneva: A Legacy of Collecting will explore the wide spectrum of artistic creativity from two distinct regional traditions that have profoundly influenced world art.
The exhibition is made possible by Vacheron Constantin.
It was organized by The Metropolitan Museum of Art, New York, in collaboration with the Barbier-Mueller Museum, Geneva.
The Barbier-Mueller collection of African and Oceanic art was founded in the 1920s by Josef Mueller, a pioneering collector of modern and non-Western art, and is continued by his son-in-law and daughter Jean Paul and Monique Barbier-Mueller. Their desire to share the collections with a wider audience culminated in the opening of the Barbier-Mueller Museum in Geneva in 1977. Representing more than eight decades of their collecting, the exhibition will reflect the legacies of their connoisseurship.
A variety of educational programs will be offered in conjunction with this exhibition.
The exhibition will be featured on the Museum's website (www.metmuseum.org).
---
VENICE ART REINVENTED!
Starting at the end of May, the Guggenheim Museum in Venice is hosting an intriguing exhibition featuring forty sculptures drawn from artist Rauschenberg's work carried out between the 1980's to 1995. During this period, Rauschenberg assembled random objects he had found, such as gas-station signs, old car pats and industrial detritus, transforming the scrap-metal into art wall releifs and freestanding sculptures, the likes of which have now been appropriated by popular culture. With works from private collections in the USA and Europe, this promises to be a unique experience for any fans of this eminent late 20th-century artist. Visit: www.guggenheim-venice.it.
---
New Mexico History Museum
Opens Memorial Day Weekend in Santa Fe
New museum redefines history museum experience
The doors of the newly created New Mexico History Museum in Santa Fe will open to the public for the first time May 24, 2009, during Memorial Day weekend. The state-of-the-art, immersive, interactive exhibition about New Mexico's complex and colorful stories will forever banish the notion of history as boring and un-engaging.
The museum's multi-media environment explores the early history of indigenous people, 400 years of Spanish colonization, the Mexican Period, and travel and commerce on the Santa Fe Trail. The exhibition also details the flourishing of New Mexico's world-renowned arts communities and the coming of the Atomic Age.
"The New Mexico History Museum will be the starting place for the New Mexico cultural experience," says New Mexico Governor Bill Richardson.
The new museum is located directly behind the Palace of the Governors, the oldest continuously occupied public building in the U.S., right on the Santa Fe Plaza. The Palace will be incorporated into the 96,000 square foot expansion as the signature, and most important, artifact for the History Museum. In addition to the Palace, the museum complex will include the Palace Press, and the Fray Angelico Chavez History Library and Photo Archives.
Contemporary art, such as the works of Paula Castillo and Kumi Yamashita, will also be a part of the museum's permanent collection.
Two days of events promise a festive Santa Fe welcome for the newest addition to the city's family of museums, and an auspicious beginning to the Museum of New Mexico's second 100 years. For more information on the New Mexico History Museum visit www.nmhistorymuseum.org.
Statue of Po 'Pay             La Nuestra Señora de la Luz    Don Diego de Vargas
---
THE ART INSTITUTE OF CHICAGO INAUGURATES MODERN WIN DESIGNED BY RENZO PIANO
Largest Addition in Museum History Houses Art Institute's Renowned Collection of Modern and Contemporary Art and Provides Museum with 30 Percent More Exhibition Space


The Art Institute of Chicago is celebrating the opening of its new Modern Wing with a week of free admission. The 264,000-square-foot Renzo Piano-designed addition is the largest expansion in the museum's history. The Modern Wing increases the museum's size to more than a million square feet, making it the second largest art museum in the United States. Visitors can enjoy the Modern Wing as well as the complete museum complex.

JPMorgan Chase & Co. is the Founding Civic Sponsor of the Building of the Century Campaign. Target is the Exclusive Sponsor of the Modern Wing Free Grand Opening Weekend on May 16 and 17. For opening week, the Art Institute is collaborating with the Greater Chicago Food Depository and asks visitors to bring canned goods to the museum to help provide food for the Chicago community.

In thanks for the support of Chicagoans while the museum has undergone such extensive renovation over the past five years, the Art Institute is pleased to offer a $2.00 discount for all Chicago residents, effective May 23, 2009, and is doubling its contributions to the Chicago Public Library's Museum Passport program. These benefits join the efforts the museum already makes to ensure accessibility for residents and visitors, including more than 400 free hours a year and free admission for children under 12, all Illinois school groups and teachers, members of the Chicago Police Department and Chicago Fire Department, and all active members of the military.

"To say this is a historic moment in the history of the Art Institute is almost an understatement," said James Cuno, President and Eloise W. Martin Director of the museum. "What we celebrate on May 16 is nothing less than the reinvention of the Art Institute. With an entire new building devoted to the museum's collection of twentieth- and twenty-first century art and design, we can now take our place as one of the leading encyclopedic collections in the country that has also remained steadfastly committed to collecting the art of our time. We are particularly excited to renew and expand our commitment to our visitors. With free and open access to the Ryan Education Center and the Bluhm Family Terrace, as well as our Chicago resident discount, we hope to serve the city and its citizens better than ever before."

"The Modern Wing embodies Chicago in so many ways," said Thomas J. Pritzker, chairman of the Board of Trustees of the museum. "It is forward-looking and fresh, certainly, but it also represents a monumental and successful philanthropic effort that no other cultural institution in the city can match. The Modern Wing would not have been possible without the unwavering support of members, visitors, donors, and benefactors. It is our hope that the building we open on May 16 shows that all these efforts, support, and patience are rewarded. While the museum itself showcases art of the past and the present, we can now officially say it is built for the future."  

The Building of the Century Campaign, the largest fundraising effort for any cultural organization in Chicago, has already raised more than $410 million for the design and construction of the Modern Wing, an operating endowment for the building, and related gallery reinstallation projects in the existing building. These reinstallations include the new Alsdorf Galleries of Indian, Southeast Asian, Himalayan, and Islamic Art, the new Goldman Prints and Drawings Galleries in the Richard and Mary L. Gray Wing, and the new Eloise W. Martin Galleries of European Decorative Arts.

The Modern Wing offers brand new galleries for the Art Institute's renowned collection of modern European painting and sculpture as well as its revelatory collection of contemporary art, including film, video, and new media. The Modern Wing also offers much needed additional special exhibition space and gallery space for the museum's Department of Architecture and Design and Department of Photography. Added to the 65,000 square feet of new gallery space are a number of visitor amenities, including an interior garden, an open-air sculpture terrace, a mezzanine café, a pedestrian bridge to Millennium Park, and a fine-dining restaurant managed by award-winning Spiaggia chef Tony Mantuano. The Modern Wing opens with its permanent collection galleries as well as six special exhibitions.

Significantly, the Modern Wing also greatly expands the areas of the museum open to the public without an admission fee. The Ryan Education Center is a complete renovation of the museum's education and interpretive facilities, featuring state-of-the-art technology, classrooms, studios, resource centers, and a library. This entire area is open free to the public. On the third floor, visitors can enjoy free of charge the Nichols Bridgeway, the Bluhm Family Terrace, which features exhibitions of contemporary sculpture, and access to the restaurant, Terzo Piano.

MUSEUM HOURS
10:30 am-5:00 pm Monday, Tuesday, Wednesday, Friday
10:30 am-8:00 pm Thursday
10:00 am-5:00 pm Saturday, Sunday
TARGET FREE THURSDAY EVENINGS AFTER 5:00 pm

SUMMER HOURS (from Memorial Day to Labor Day)
10:30 am-5:00 pm Monday, Tuesday, Wednesday
10:30 am-9:00 pm Thursday, Friday
10:00 am-5:00 pm Saturday, Sunday
TARGET FREE SUMMER EVENINGS THURSDAY AND FRIDAY AFTER 5:00 pm

FREE FEBRUARY 1 TO 28  
Closed Thanksgiving Day, Christmas Day, and New Year's Day.
Please check www.artinstituteofchicago.org before your visit.

ADMISSION
Effective May 23, 2009
Adults $18.00 Includes all special exhibitions and coat check
Children 14 and over, students, and seniors $12.00 Includes all special exhibitions and coat check
Chicago residents receive a $2.00 discount with proof of residency
Children under 14 free
Members always free

Free Evenings are free to all. City of Chicago residents with Chicago Public Library cards can borrow a "Museum Passport" card from any library branch for free general admission to the nine members of Museums in the Park, including the Art Institute of Chicago.

The Art Institute of Chicago is a museum in Chicago's Grant Park, located across from Millennium Park. Visitors can enter the museum via the Michigan Avenue entrance or the Millennium Park entrance on Monroe Street.



---
One Hot Art Exhibition at Pharmaka Coming Up
By Laurence Vittes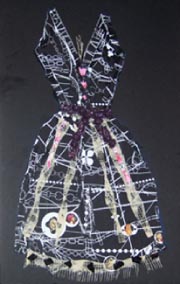 Now that downtown LA has firmly established itself as for art and the trendsetters that follow it, it's time to check out Pharmaka, one of the scene's most provocative galleries. Opening on June 11 and running through July 3:
In Fluence: The Aura of Succession
Curated by Peter Frank, LA Weekly art critic
In Fluence: The Aura of Succession brings together four artists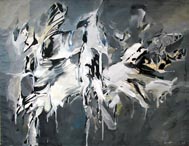 who have taught and influenced one another: Vigen Tadevossian of Yerevan, Kiki (Grigor Mikaelian) of Yerevan and Los Angeles, Lark (Larisa Pilinsky) of Los Angeles, and Georgeanne Aldrich Heller of Los Angeles and New York. In Fluence traces the sequence of mentorship from artist to artist, and from continent to continent.
Peter Frank, curator of In Fluence, writes, "Art historians delight in tracing influence between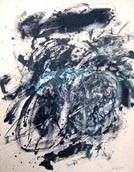 artists, but so do the rest of us. The lineages described by paths of influence help us concretely understand the motivations of artists and the ways in which their art functions. The methods they employ, the meanings with which they invest their work, the conditions of their artistic and personal lives are all illumined by their connections to other artists, most especially the fellow artists whose presence in their lives resounds in the work they make. We speculate on unadmitted influences between artists, and we seize upon admitted influences, in order to clarify technique, ideology, personal history, and myriad other factors. Who was doing what to whom makes for a good read, but who was doing what according to whom makes for good history.
"Who teaches whom? Pedagogical lineage need not be a straight line; it can meander all over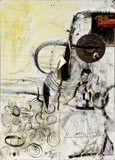 artistic practice, all over society, and all over the globe. An Armenian artist comes under the sway of another in Yerevan. The student moves to Moscow and teaches a Russian artist; both move to Los Angeles, where the Russian artist encounters an American – an inhabitant of both LA and New York – and teaches her. Each artist manifests characteristics of his or her teacher, but, like a game of Telephone, the student's student's student – the American – makes art that little resembles that of the Armenian (whom she has never met) at the head of the queue. Everybody's more or less abstract, but the resemblances little converge otherwise.
"The particular lineage traced here in In Fluence flows not from generation to generation but from one end of a country to another, and from one country – and one continent – to another. It flows from one kind of artist to another, and from one kind of person to another. It even flows from one gender to the other. And in the process, it flows from one medium to another. In one style, out the other."
In Fluence dates to remember:
Opening reception
June 11, 6-9 pm
Special artists' reception
June 20. 6-9 pm
Pharmaka also recommends:
Downtown Art Walk
Thursday, June 11, Noon-9 pm. Free.
The Downtown Art Walk is a self-guided tour that showcases the many art exhibition venues in Downtown Los Angeles: commercial art galleries, museums, and non-profit arts venues. The art walk happens the second Thursday of every month in Downtown Los Angeles. For more information and event map available at downtownartwalk.com.
Los Angeles Green Drinks
Wednesday, June 24, 7-10 pm. $5 suggested donation
Green Drinks is a monthly cocktail reception held at Pharmaka on the 4th Wednesday of the month. Everyone concerned about environmental issues is invited to get together over a drink. For more information about LA Green Drinks, visit LAgreendrinks.org.
The Third Area: Poetry at Pharmaka
Thursday, June 25. Doors open at 7 pm. $5 suggested donation
Pharmaka is located in Gallery Row in Downtown Los Angeles.
101 West 5th Street
Los Angeles
, CA90013
Parking is available on the streets adjacent to the gallery, and at numerous parking lots and garages in the neighborhood. When parking in a local garage in the evening, please be sure to check carefully the closing time. Most of the lots and garages charge a $6 flat rate to park all day. Meters cost 25 cents for 10 minutes, but are free after 6 pm on Main Street and 7 pm on 5th Street. Rush hour parking restrictions exist on Main Street from 4-6 pm and on 5th from 3 pm-7 pm Monday - Friday.$5.
---