WOODY HELPS OPEN LA OPERA'S STYLISH NEW SEASON
By Laurence Vittes

LA Opera's new season opened on September 6 with Puccini's three hour-long operas called Il Trittico. There was one hit (Gianni Schicchi directed by Woody Allen), one miss (Il Tabarro directed by William Friedkin) and one in-between (Suor Angelica, also directed by Friedkin). Things got more complicated on September 7 when a brand-new opera by Howard Shore made its US premiere.
Friedkin's two stagings featured gorgeous letterbox sets on which he moved the casts around with almost geometrical precision. However, there was too little electricity in the Tabarro (the wife voluptuous instead of sexy, the lover too physically unlikely, the husband too lugubrious), and there was too little onstage focus in Angelica (Friedkin wouldn't let the large chorus of nuns stay in one place), but the production was redeemed by a glorious performance from Sondra Radvanovsky in one of Puccini's supreme roles, a young woman haunted by the son she bore out of wedlock and conflicted by the calls of passion and spirituality.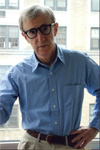 But it was the old whippersnapper Allen who stole the show. After some funny title credits, projected on a rolled-down screen like old Italian (silent) movies, the set turned out to be a surrealistic Steinberg New Yorker cartoon strewn with the details of an Italian apartment one or two steps up from a tenement.
Allen's direction was full of action (fluidly mixing, matching and herding the large cast around the cluttered stage, somehow making sure the music didn't get lost in any of the many shuffles) and references to pop culture (among them, the hitting-the-kid shtick from Allen's own Radio Days zoo scene, a dead man propped up like the dead employer in the Bernie movies, and a child coming over to the dead Schicchi like Brando's death scene in Godfather). Woody lost comic focus at the very end, but it was far from a deal breaker.
The family was played as an Italian equivalent of the Jewish family in Radio Days, Gianni Schicchi was played as a small-time mafia hustler (one of Allen's alter egos, perhaps) which was entirely amusing but missed the character's Falstaffian humor. The daughter (Laura Tatulescu) was amazing in her "O mio babbino caro" aria, brilliantly integrated into the story by Allen, and her tenor boyfriend (Saimir Pirgu) was pretty good, too, with a heroic sound and fabulous good looks
The audience waited and waited at the end for Allen to appear, but, of course, he didn't.  When Friedkin took his bows, he wore sneakers; I don't know what Woody would have worn.
James Conlon's conducting in Tabarro was heavy-handed, came alive in Angelica, and played stunningly hand-in-glove with Allen in Schicchi. The LA Opera Orchestra was at its best, which means they rivaled the LA Philharmonic.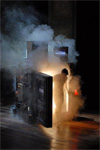 On the following Sunday afternoon, The Fly confounded those in the audience who expected something related to David Cronenberg's grisly, 20-year old shocker of a film from which it was adapted. It almost certainly bored those in the audience who had never seen or heard of the film, and were expecting just another afternoon at the opera. The only people it might have pleased, if there were any, were those who were expecting a sober metaphysical musical disquisition on DNA, long-term human viability (vis a vis the insect world), cloning and abortion.
Oddly enough, perhaps unintentionally, it was more of a movie with music and great special effects (particularly the deeply sad and physical disquieting transformation of the "fly") than an opera. It was definitely not a horror movie, but a slow-moving requiem for the character of the scientist Seth Brundle whose attempts to transcend his human body had disastrous consequences for his his eternal soul.
Shore's music was all atmosphere, and the singing and acting was all thoroughly professional but almost besides the point. It's hard to know whether the result was unequal to the task, cynical, compromised, or just a hairbreadth's away from genius, but it's a good bet The Fly won't be retuning to the Dorothy Chandler Pavilion anytime soon.

---
NEWS FROM THE MET
Expanded and Renovated Galleries for 19th- and Early 20th-Century European Paintings and Sculpture
Henry J. Heinz II Galleries Provide 8,000 Square Feet of New Exhibition Space

Opening date: December 4, 2007

Press preview: Monday, December 3, 10:00 a.m. – noon
The Metropolitan Museum of Art's renovated and expanded Galleries for 19th- and Early 20th-Century European Paintings and Sculpture will reopen on December 4, 2007. The newly refurbished galleries – which occupy nearly 35,000 square feet, including 8,000 square feet of new exhibition space named the Henry J. Heinz II Galleries in recognition of a major gift made by his widow, the long-time Metropolitan Museum Trustee Drue Heinz – will showcase European paintings from the Museum's world-renowned collection, dating from 1800 through the early 20th century. This new presentation will feature a more thorough display of the Museum's 19th-century collection, augmented with seminal works from the early modern era.
"This grand new space simply would not have been possible without the generous support of our valued friend Drue Heinz," commented Philippe de Montebello, Director of the Metropolitan Museum. "A passionate collector and devotee of French and British painting, Drue has been a major benefactor to the Met, and as we prepare to celebrate the opening of the Henry J. Heinz II Galleries, we thank Drue and her late husband for all they have done for the Met over many, many years."
The new Henry J. Heinz II Galleries will feature four intimately scaled rooms for the display of small plein-air paintings, including important promised gifts from Wheelock Whitney III by artists such as Simon Denis, Camille Corot, Achille Michallon, and Charles Rémond, and recent gifts from Eugene V. Thaw by artists such as Carl Rottmann, Carl Christian Constantin Hansen, and Carl Gustav Carus. For the first time in any American museum, the complete history of 19th-century European outdoor landscape painting is displayed in the context of its permanent collection. Further, the gallery devoted to Caspar David Friedrich, his students, and close associates is the first to appear in this country.
Notable new additions will also include the full installation of The Wisteria Dining Room, an Art Nouveau dining room designed by Lucien Lévy-Dhurmer shortly before World War I; Henry Lerolle's large canvas The Organ Rehearsal (a church interior of 1885), recently cleaned; a group of newly acquired 19th-century landscape oil sketches; and a selection of rarely exhibited paintings by an international group of artists from Frederic, Lord Leighton to Joaquín Sorolla. Because the Museum's early modern art will now be incorporated into the display, the galleries will also feature work by Bonnard, Vuillard, Matisse, and Picasso.
The Iris and B. Gerald Cantor Foundation has made possible the reinstallation of The Wisteria Dining Room.
A gallery devoted to Orientalist paintings – including Jean-Léon Gérôme's 1871 Prayer in the Mosque – has been designated the Kenneth Jay Lane Gallery in recognition of generous support from Mr. Lane.
While the Museum's American Paintings and Sculpture Galleries are being renovated, a selection of the greatest and most popular paintings by 19th-century American artists who studied, lived, or worked in Europe will also be on view in the Galleries for 19th- and Early 20th-Century European Paintings and Sculpture. This unprecedented arrangement at the Museum offers a rare opportunity to see John Singer Sargent's celebrated portraits Madame X, The Wyndham Sisters, and Mr. and Mrs. I. N. Phelps Stokes in a gallery near Édouard Manet's portraits, which are related in their date, scale, and association with the legacy of Velázquez. Other highlights will include works by Mary Cassatt, William Merritt Chase, Thomas Eakins, and James McNeill Whistler.
The reopening of the galleries this fall also marks the return of 135 works comprising the successful traveling exhibition The Masterpieces of French Painting from The Metropolitan Museum of Art: 1800-1920, which was visited by nearly 1,300,000 people during its recent showing at the Museum of Fine Arts, Houston, and the Neue Nationalgalerie in Berlin.
The renovation and reinstallation of the galleries has been overseen by Gary Tinterow, Engelhard Curator in Charge, Department of Nineteenth-Century, Modern, and Contemporary Art at The Metropolitan Museum of Art, and by Rebecca Rabinow, an Associate Curator in the same department.
For the first time in 20 years, the Metropolitan Museum will publish a compendium of its finest European paintings, about one-quarter of its celebrated European 19th- and early 20th-century works. Masterpieces of European Painting, 1800-1920, in The Metropolitan Museum of Art, with an introduction by Gary Tinterow and texts by Kathryn Calley Galitz, Asher E. Miller, Rebecca Rabinow, Sabine Rewald, Susan Alyson Stein, and Gary Tinterow will focus on French painting – of which the Museum possesses the most comprehensive collection outside of France – as well as extraordinary works by artists of other nationalities. Thanks to a succession of generous and discerning donors – such as the H. O. Havemeyers at the beginning of the 20th century and much more recently the Walter H. Annenbergs – this volume presents a stimulating and satisfying history of painting in Paris from Prud'hon to Picasso, by way of Delacroix, Corot, Courbet, Manet, Monet, Degas, Cézanne, Seurat, and many others. Special emphasis is given to the Romantic French, German, and British paintings that the Museum has acquired recently.
A variety of education programs will be presented in conjunction with the opening of the galleries, which will also be featured on the Museum's website at www.metmuseum.org.
---
SANTA BARBARA THEATRE ORGAN SOCIETY CELEBRATES 20TH ANNIVERSARY OF THE HISTORIC ARLINGTON "WONDER MORTON"
Renowned Artist Scott Foppiano will perform at October 5th Celebration
 Santa Barbara, Calif. -- In 1988 the beautiful "Wonder Morton" pipe organ made its debut in the Arlington Theatre, located at 1317 State Street in Santa Barbara, California. On Sunday, October 5, 2008 at 2:00 p.m. the Santa Barbara Theatre Organ Society will mark the 20th Anniversary Celebration of the original installation of the "Wonder Morton" theatre pipe organ in the historic theatre. This celebration will feature a performance by renowned organist Scott Foppiano, and his accompaniment to the Laurel & Hardy film "Habeas Corpus".
Admission is $11 for adults; free to children under 16 attending with an adult.
The "Wonde r Morton" in the Arlington Theatre is one of only five large theatre pipe organs manufactured by the Robert-Morton Company of Van Nuys, California in the 1920s.  The Arlington was originally designed for a large organ, but with the advent of talking films only the pipe chambers were put in place, and a smaller organ was installed.
All 20 tons and 7000 organ pieces arrived in Santa Barbara in May of 1986 from Texas. Several SBTOS members made the trip back with it. The "Wonder Morton" was a gift to the SBTOS from a Texas patron who had obtained it from the original owner at the Loew's Jersey Theatre.  The console was painted ivory and gold for a display in the lobby at the Arlington Theatre during the Santa Barbara Symphony opening concert. During the next two and a half years volunteers devoted over 36,000 hours refurbishing and installing the organ in the Arlington.  The premiere concert in October 1988 was performed by organist Tom Hazelton to a full house.
Scott Foppiano is a critically acclaimed recitalist, theatre organist and silent film accompanist who has played and recorded some of the greatest classical and theatre pipe organs in the United States, Canada and Europe. In addition, he has been a featured artist for local and national conventions of the American Guild of Organists, the Organ Historical Society and the American Theatre Organ Society. He was named Organist of the Year at the 2007 National Convention of the American Theatre Organ Society.
According to SBTOS board member Bruce Murdock, who was actively involved in the restoration done on the historic organ, "this was a labor of love by Santa Barbara locals who share an interest in the historic Arlington Theatre and a passion for the great organs that brought silent films to life in the 20s. We are delighted to have Scott Foppiano perform at our 20th anniversary, and we hope the community will join us in celebrating this commemorative community event." The local classic car club will have vintage autos from the 20s on display at the theatre entrance. Tickets will be for sale in the theatre box office one hour before performance. For information call 805-685-9891, visit: http://members.cox.net/sbtos.                             
---
CALL FOR ARTISTS
only for those who want to become visible
Winter 2008 All Media Competition "Art Without Borders"
Ready for an exciting ride into the unknown? click here to enter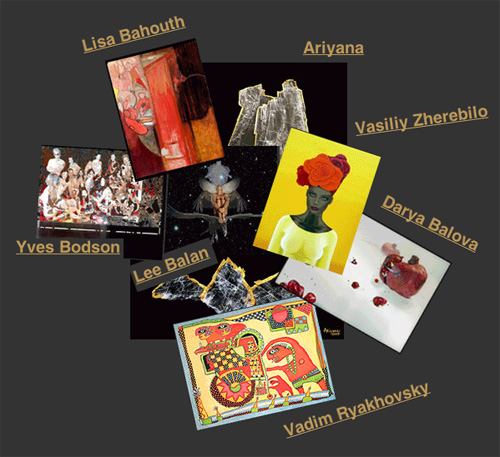 Copyright © Larkgallery • All rights reserved • Website by Larkgallery
www.LarkGalleryOnLine.com
---
TRUMP CREATES THE ULTIMATE
SHOE LOVER EXPERIENCE
Trump International Hotel & Tower New York Announces
One-of-a-Kind Shoe Shopping Experience With Bergdorf Goodman
Two of Manhattan's most venerable institutions – Trump International Hotel & Tower New York and Bergdorf Goodman – have teamed up to present an exclusive opportunity for the most die-hard of shoe aficionados. The Ultimate Shoe Lover Experience includes a private after-hours shopping party in Bergdorf Goodman's legendary shoe salon, where a personal shopping team awaits your arrival. A Bergdorf Goodman style expert will also be on hand to offer a sneak peek at the upcoming fashion season. You don't have to worry about carrying your bags back to your three-bedroom park view suite because Trump Attaché will hand-deliver all of your purchases to your suite. The Ultimate Shoe Lover Experience accommodates a group of six unapologetic shoe lovers.
Included in The Ultimate Shoe Lover Experience:
A one-night stay in a three-bedroom suite overlooking Central Park

A private party, including Champagne and hors d'oeuvres, for you and five friends in Bergdorf Goodman's legendary shoe salon after-hours

A Bergdorf Goodman style expert will be on-hand to discuss the key trends and offer a sneak peek at the upcoming season

A $250 Bergdorf Goodman gift card for each guest

A dedicated personal shopping team to help select everyone's perfect pairs

Delivery of all of your purchases from Bergdorf Goodman to your hotel room by a Trump Attaché

A signed copy of a Manolo Blahnik must-read book for each guest

A limited-edition Bergdorf Goodman signature shoe bag for each guest

In-room spa pedicure for each guest

Car transfers to/from Bergdorf Goodman

4 PM late check-out
Guests can book The Ultimate Shoe Lover Experience by visiting www.TrumpNewYorkHotel.com or calling (212) 299-1000.
Price: $6,325
* Rates are based on six-person occupancy and are exclusive of applicable taxes.
Trump International Hotel & Tower New York, the flagship hotel of Trump Hotel Collection, delivers the highest level of service, style and exclusivity. Soaring high above Columbus Circle, the 52-story icon has 167 luxurious guest rooms and suites, complete with European-style kitchens, marble bathrooms, and spectacular views of Central Park, The Time-Warner Center and the Manhattan skyline. The comprehensive assistance of Trump Attaché is on hand 24/7 to serve guests' needs before, during and after their stay – from satisfying pre-arrival grocery and floral requests, to arranging for laundry and dry cleaning, personal shopping services, or preparation of personalized business cards and stationery. Other amenities include a 6,000-square-foot spa and fitness center, in-room dining by Jean Georges, in-room computers, and much more. A member of Leading Hotels of the World, Trump International Hotel & Tower New York was showcased in the 2007 Travel + Leisure "T+L 500" list and has been a perennial Condé Nast Traveler "Gold List" winner since 2005.
---
EDGE: Santa Barbara County Artists Respond
The Santa Barbara County Arts Commission announces the opening of EDGE: Santa Barbara County Artists Respond, an exhibition of contemporary art by 31 Santa Barbara County artists at the Channing Peake Gallery, 105 East Anapamu Street, Santa Barbara, on with a reception on Thursday, October 2nd, 2008 from 5 – 8 pm. The exhibition will run through January 15th, 2009.
The guest curator of the show is Ro Snell, former director of the Ro Snell Gallery in Santa Barbara who will do a gallery walk through and talk on Thursday, November 6th at 6pm.  A Call-for-Artists was sent out inviting Santa Barbara County artists to respond to the topic EDGE. Artists who live, work or study in Santa Barbara County were eligible to submit entries and 31 were selected: Rebekah Altman, Phoebe Brunner, Rafael Perea de la Cabada, Jane Callister, Pat Calone, Scott Chatenever, Joan Rosenberg-Dent, Ann Diener,  Richard Dunlap, Noah Erenberg and Elena Siff, Nancy Taliaferro Faulkner, William Fenn, Julia Ford, Rebecca Gomez, Dane Goodman, Inga R. Guzyte, Sophie Grant, Kimberly Hahn, Jean-Pierre Hebert, Mary Heebner, Ed Inks, Michael Irwin, Colleen Kelly, Wayne McCall, Nathan Snyder, Dug Uyesaka, Nina Warner, Kelly Wheeler, Kellie Wolfe, and Seyburn Zorthian.
The artists' responses culminate in a dynamic combination of individual aesthetics and a diverse use of media and dimensions. The exhibition includes painting, work on paper, photography, mixed-media assemblage and sculpture. A pervasive element throughout their work is the application of a conceptual interpretation, examining boundaries, questioning convention and addressing current global concerns. In addition, the group is made up of various ages and stages of artistic careers, adding a unique perspective to the exhibition installation as a whole.
The EDGE exhibition will be part of OFF-AXIS: A Month-Long Celebration of Contemporary Art, during the month of October in Santa Barbara. An additional event will be a poetry reading, On the EDGE: Santa Barbara Poets, organized by Perie Longo, Santa Barbara's Poet Laureate, on Thursday, October 23rd, 6:30pm in the Channing Peake Gallery. Seating is limited.
This exhibition is a project of the County Arts in Public Places (CAPP) Committee of the Santa Barbara County Arts Commission with generous funding support provided by the following: Sue Bower, Sarah Chamberlin, Mercedes Eichholz, Elaine LeVasseur, Leatrice Luria, Susan Rose and others.
For images and further information: Rita Ferri, County Arts Commission at 805-568-3994 or ferri@co.santa-barbara.ca.us

---