Taos Artist shows new "snow dance" paintings.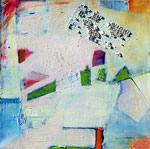 Temporarily setting aside her love of color and a warm palette in her latest collection, White Interrupted, Rosalind Rosen has retained her love of texture. Working in shades of white in Taos, New Mexico, she is reworking a canvas over and over until it cries out in pain and asks to be left alone!
These paintings were Rosen's "snow dance," an attempt to attract the white stuff that Taos needs so desperately for its winter season. Her snow dance has obviously been wonderfully successful!
In these examples of her current work, she was attempting to achieve a vision of serenity and seeming simplicity. Upon close inspection we can see that these "simple" paintings exhibit the same underlying complexities of her previous work.
Rosen has been painting for 15 years, integrating her extensive cultural experience into her work. Her world-wide involvement with different architecture, landscapes, people, food, and colors bring a richness to her painting. Rosen has produced this new White Interrupted collection of paintings while working in Taos amongst other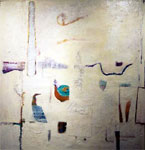 nationally-known artists. These latest paintings are very much the winter versions of her earlier works incorporating the astounding colors of New Mexico.
Born and raised in New York City, Rosen studied briefly at the Art Students League. She received her M.A. from U.C. Berkeley. Most recently, Rosen has studied with Gary Cook in Taos.
Rosalind Rosen's work is included in private collections in various cities of the world. Her current exhibit can be seen at Art Divas Gallery in Taos, www.artdivasartgallery.com
---
MADRID'S PRADO PRESENTS "TINTORETTO"
FIRST MAJOR RETROSPECTIVE IN 70 YEARS

Madrid's Museo del Prado will present a major retrospective of one of the most renowned names in the history of painting beginning January 30. "Tintoretto" will showcase about 60 works from more than 20 leading European and American museums – the first such comprehensive show in 70 years – and the first exhibition in Spain to be devoted solely to the artist. One of the great Renaissance painters, Venetian-born Jacobo Tintoretto (1518 -1594) has received scant attention from the world's museums and cultural institutions. Regarded as a daring and prolific painter during his lifetime, he was cited in the early 17th century as one of the three great masters of Venetian painting along with Titian and Paolo Veronese. Tintoretto shared their use of a new language characterized by the "bravura" of the brushstroke and a pronounced chiaroscuro, both deployed in a new style of narrative painting. He went further, creating a style that fused the Tuscan with the Venetian, combining Titian's loose handling with Michelangelo's skilled draftsmanship. And Tintoretto also perfected a highly efficient painting method allowing him to produce a large body of work.
Why has there been no major Tintoretto exhibition since the seminal 1937 show in Venice? Many of his masterpieces are large-format canvases and hang in the original buildings in Venice for which they were painted. And with his prolificacy have come questions of attribution. The Prado show which runs through May 13, aims to compensate for this neglect and to look at the challenging problems of attribution which the artist's work still presents.
Revealing Tintoretto's range, the exhibition's 49 paintings, 13 drawings and three sculptures also show his interest in all the major artistic genres. His religious narratives – some of his most renowned compositions – will be a main focus of the exhibition. For the first time in 400 years, art lovers will be able to see side by side his two masterpieces painted for the church of San Marcuola: The Last Supper (from the church in Venice) and Christ Washing the Disciples' Feet (Museo del Prado). The exhibition will bring together some of his most important mythological paintings Venus, Volcan and Mars (Alt Pinakothek, Munich) and The Origins of the Milky Way (National Gallery, London) as well as examples of his work as a portraitist, including self-portraits from the Philadelphia Museum of Art (Philadelphia) and the Musée du Louvre (Paris), and the Portrait of Lorenzo Soranzo from the Kunsthistorisches Museum (Vienna).
The Prado exhibition will pay particular attention to the artist's creative process, placing great emphasis on the concept of "disegno" as a tool of learning, experimentation and composition, as well as on technical issues. And since drawing was so important to Tintoretto, the show features a group of works on paper. Three types will be on view: drawings of classical sculptures and sculptures by Michelangelo drawn from small models that will be exhibited alongside these studies; preparatory studies for entire compositions of which the only surviving one, Venus and Volcan (Stattliche Museen zu Berlin) will be displayed; and studies of individual figures, often reused by Tintoretto for other works.
While Tintoretto fell out of favor with the shift in taste towards classical academic painting, he enjoyed the appreciation of the critics in the 19th century and today his status as one of the great Renaissance painters is unchallenged.
The Prado Museum is located on Paseo del Prado in Madrid, call: 011-34-91-330-28-00, e-mail: museo.nacional@prado.mcu.es or go to www.museoprado.mcu.es. The museum is open daily except Mondays from 9 AM to 8 PM and closed January 1, May 1, Easter Friday and Christmas Day. General admission is about $7.80 (6 euros), except Sundays, when it is free. Visitors under 18 and over 65 and students from the EU are admitted free of charge. Other students pay about $3.90 (3 euros). For further information about Spain, contact the Tourist Office of Spain in New York (212-265-8822); Miami (305-358-1992); Chicago (312-642-1992) or Los Angeles (323-658-7188) or go to www.spain.info
---
TREASURE HUNT FOR DA VINCI IN PALAZZO VECCHIO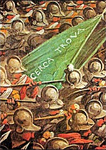 "Cerca, trova" - "seek and you shall find" - said the words on a tiny green flag in the "Battle of Marciano in the Chiana Valley," a military scene painted by 16th-century artist Giorgio Vasari.

Researchers will resume searching for a lost masterpiece concealed behind a wall in Florence's Palazzo Vecchio.

The Culture Minister and officials in Florence announced their approval of exploration in the palace, which is the site where it is believed the unfinished painting of "Battle of Anghiari" may have been for over four centuries.
---
HARTMANN FOREVER
by Bonnie Carroll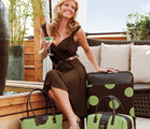 It never ceases to amaze me that good things keep coming back. I laughed when my daughter was in college and she began telling my mother and I how romantic Frank Sinatra's music was, and my mother said "see, everything old gets new again"!

During my youth I was given a set of Hartmann luggage as a Christmas gift, and I will never forget how proud I was to embark on my first journey carrying my beautiful traveling bags. Twenty-five years later I helped my daughter board a plane for college, and she had a brand new ensemble of Hartmann's latest new luggage. She still has several pieces; it is built to last.

Recently, I was planning a trip abroad and discovered the beautiful new collections Hartmann is offering in very chic fabrics and practical designs, suited to easy traveling and maximum packing space. I found it amusing to be standing at the airport luggage carousel feeling that same pride I had felt as a younger woman when my luggage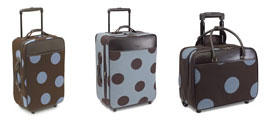 came rolling down the line for pick up. Mine was noticeably more attractive and very recognizable.

What a fine tribute to this great company that generations of women have garnered memories of the most important times in their lives while carrying Hartmann Luggage; Happily, most new items come on rollers, and it is a snap getting in and out of airports or train stations. Congratulations to Hartmann for continuing to provide "the best of the best" in chic traveling products. For information visit: www.hartmann.com.
---
SANTA BARBARA ARTIST DISPLAY THROUGH MARCH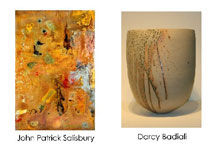 The show presents new works by both artists that examine evolution and individual connections to ancestral influences.

Salisbury, an artist with roots as a photographer, has been working in various media to express moments of interconnection and disconnection through time and space.
His pieces represent fragmented moments of collective memory as evidence of our primitive beginnings. From the haunting photographs of his two cousins taken after the death of his brother, to his photo panel pieces representing individual moments of his own life, to his current large scale paintings of primordial fragments in resin, remind us of our elemental roots.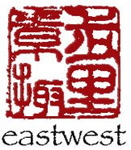 Similarly, Badiali through his exquisite ceramic "vessels," presents a world of simple organic shapes reminiscent of empty egg shells and containers that point to a life within long gone.
East/West Gallery
714 Bond Avenue, Santa Barbara, CA 93103
Contact: Henri Bristol
(805) 963-4041 phone
(805) 963-4131 fax
Gallery hours, Tuesday – Saturday 10-6, by appointment
E-mail, info@eastwest-gallery.com