Metropolitan Museum's Costume Institute Explores Role of Fashion Models as Muses of Recent Eras
Gala Benefit May 4, 2009, with Honorary Chair Marc Jacobs and Co-Chairs Kate Moss, Justin Timberlake, and Anna Wintour

Exhibition dates: May 6–August 9, 2009

Exhibition location: The Tisch Galleries, second floor

Press preview: Monday, May 4, 10 a.m.–1 p.m.
The Model as Muse: Embodying Fashion, the spring 2009 exhibition organized by The Costume Institute of The Metropolitan Museum of Art, will explore the reciprocal relationship between high fashion and evolving ideals of beauty, focusing on iconic fashion models in the latter half of the 20th century and their roles in projecting, and sometimes inspiring, the fashion of their respective eras. The exhibition will be on view at the Metropolitan from May 6 through August 9, 2009.
The exhibition is made possible by Marc Jacobs. Additional support is provided by Condé Nast.
"The exhibition will examine a timeline of fashion from 1947 to 1997 through the idealized aesthetic of the fashion model," said Harold Koda, Curator in Charge of The Costume Institute. "We will look at the power of clothing, fashion photography, and the model to project the look of an era. With a mere gesture, a truly stellar model can sum up the attitude of her time – becoming not only a muse to designers or photographers, but a muse to a generation."
To celebrate the opening of the exhibition, the Museum's Costume Institute Gala Benefit will take place on Monday, May 4, 2009. Marc Jacobs will serve as Honorary Chair of the Gala. Co-Chairs are Kate Moss; Justin Timberlake; and Anna Wintour, Editor-in-Chief of Vogue. This fundraising event is The Costume Institute's main source of annual funding for exhibitions, acquisitions, and capital improvements.
The exhibition will feature approximately 80 masterworks of haute couture and ready-to-wear. Fashion editorial, advertising, and runway photography plus large- scale projections from feature films will be used throughout the galleries to contextualize the fashion zeitgeist.
Exhibition Overview
The exhibition, in the Museum's second-floor Tisch Galleries, will explore how models transmit cultural change via photographs that document turning points in society and design. With the post-WWII resurgence of the American fashion and advertising industries, the launch of Dior's New Look and a proliferation of model agencies, an environment in which high-fashion models with celebrated personalities and distinctive identities emerged. Lisa Fonssagrives, Dovima, Suzy Parker, Sunny Harnett, and Dorian Leigh personified this Golden Age of Haute Couture. Photographers such as Irving Penn, Richard Avedon, and Cecil Beaton portrayed the new ideal of feminine artifice. Daywear from Christian Dior and eveningwear from Charles James will evoke the mood of the time, and in some cases, recreate scenes from important photographs.
A large gallery inspired by William Klein's 1966 film Qui êtes-vous, Polly Maggoo? will evoke the Sixties "Youthquake" with Bernard and François Baschet's metallic dresses from the movie and ensembles from Paco Rabanne, André Courrèges, and Rudi Gernreich, designers who heralded the transformation from a sophisticated to a youthful ideal, moving from Jean Shrimpton to Peggy Moffitt, Veruschka, and Twiggy. The next gallery will focus on the 1970s, when athletic, All-American models such as Lisa Taylor and Jerry Hall enlivened the simple, unstructured goddess dresses of Halston, and an emerging group of more ethnic looking beauties like Mounia and Kirat presented the haute bohemian looks of Yves Saint Laurent.
In the 1980s, supermodels expressed an idealized glamour, dissolving boundaries between runway, editorial, and advertising work. Naomi Campbell, Linda Evangelista, and Christy Turlington emerged as the "Trinity" appearing in global campaigns for brands seeking to bolster their design house identity. These models could morph into a different persona at each photo shoot, and still always manage to convey their priceless, individual distinction.
By the 1990s, grunge and street style led to a radical shift from glamorous beauty to the rebel chic of Kate Moss, much as Twiggy supplanted Jean Shrimpton in the '60s. The exhibition's presentation of the minimalism of Donna Karan, Helmut Lang, and Prada that immediately followed will show how models of this era became an anonymous cadre of replicated perfection, allowing the clothing to supersede all. A coda to the exhibition will feature the Richard Prince and Marc Jacobs collaboration of masked, unidentifiable nurses (Stephanie Seymour and Natalia Vodianova) in Louis Vuitton.
Designers in the exhibition will include Giorgio Armani, Cristóbal Balenciaga, Pierre Cardin, Karl Lagerfeld for Chanel, André Courrèges, Christian Dior, John Galliano for Christian Dior, Rudi Gernreich, Halston, Marc Jacobs for Perry Ellis, Charles James, Donna Karan, Calvin Klein, Helmut Lang, Ralph Lauren, Prada, Paco Rabanne, Yves Saint Laurent, Giorgio di Sant'Angelo, and Gianni Versace.
Iconic models featured will include Nadja Auermann, Naomi Campbell, Janice Dickinson, Dovima, Linda Evangelista, Lisa Fonssagrives, Jerry Hall, Shalom Harlow, Sunny Harnett, Lauren Hutton, Iman, Dorian Leigh, Peggy Moffitt, Kate Moss, Suzy Parker, Jean Shrimpton, Christy Turlington, Twiggy, Amber Valletta, and Veruschka, among others.
Photographers whose images captured the mood of fashion via their subjects, and whose work will be in the exhibition, include Richard Avedon, David Bailey, Cecil Beaton, William Claxton, Patrick Demarchelier, Arthur Elgort, Hiro, William Klein, Annie Leibovitz, Peter Lindbergh, Steven Meisel, Helmut Newton, Norman Parkinson, Irving Penn, Franco Rubartelli, Francesco Scavullo, Bert Stern, Juergen Teller, Deborah Turbeville, and Ellen von Unwerth.
Credits and Related Programs
The exhibition is organized by Harold Koda, Curator in Charge of The Costume Institute, and Kohle Yohannan, guest co-curator, and a cultural historian. John Myhre, an Academy Award-winning production designer and art director for films including Dreamgirls, Chicago, and Memoirs of a Geisha, serves as creative consultant. Faces, wigs, and headdresses will be designed and styled by Julien d'Ys.
The design for the 2009 Costume Institute Gala Benefit will be created by John Myhre with Raul Avila. A book, The Model as Muse: Embodying Fashion, written by Harold Koda and Kohle Yohannan, will accompany the exhibition. It will be published by The Metropolitan Museum of Art and distributed by Yale University Press – $50 for the hardcover, and at Met locations (including metmuseum.org) $35 for a paperback edition.
The Museum's website (www.metmuseum.org) will feature information and video on the exhibition.
---
MAESTRO HEIICHIRO OHYAMA PLEASES AUDIENCES IN SANTA BARBARA
by Bonnie Carroll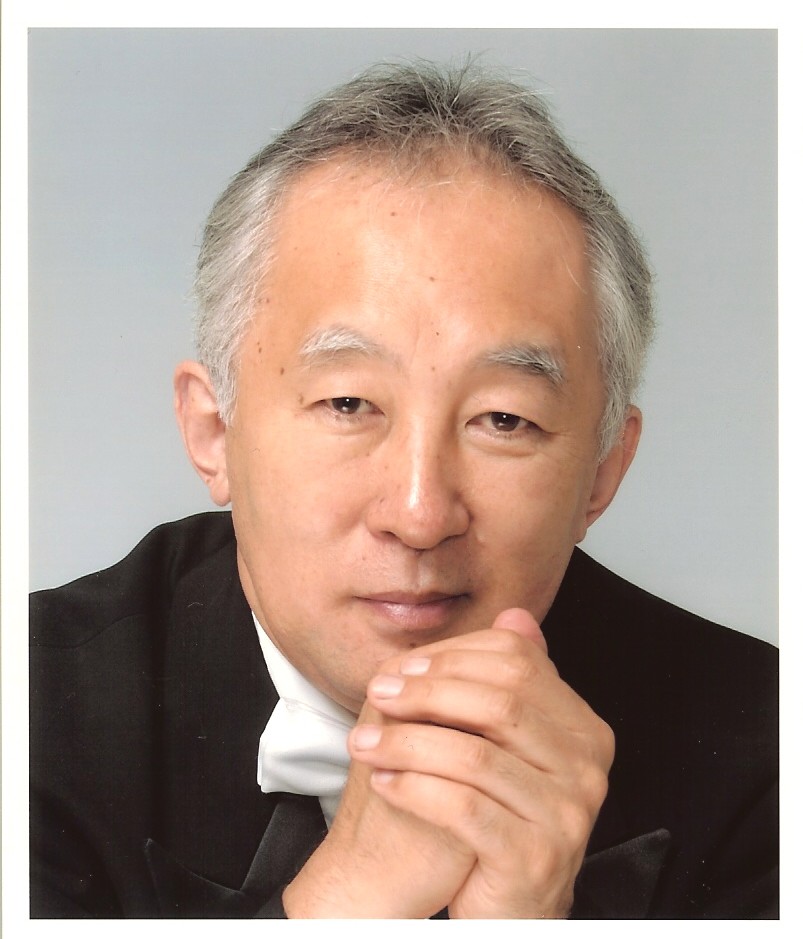 Maestro Heiichiro Ohyama conducted the Santa Barbara Chamber Orchestra's magnificent strings in music by Gustav Holst, Igor Stravinsky and Pyotr Ilyich Tchaikovsky to a full house on April 28 at the Lobero Theatre in Santa Barbara.
A virtuoso violist in his own right, Ohyama knows every trick of the string player's art and programs featuring the Chamber Orchestra strings are always a treat under maestro Ohyama's leadership. The program is a dream: Tchaikovsky's sweeping Serenade for Strings Holst's bucolic masterpiece St. Paul Suite and Stravinsky's Concerto in D for String Orchestra.
The Supper Club dinner was hosted by local Italian restaurant Via Maestra 42, and began at 6:00. This pre-event supper is held in the Lobero Theatre's back terrace at a cost of $33 per person, and is a wonderful way to enjoy a meal before a performance.
Families were welcome to attend the concert under the auspices of the orchestra's free concert program, and it was inspiring to see so many young people enjoying this performance. For upcoming events please call General Manager Daniel Kepl at the Chamber Orchestra office for more information: (805) 966-2441.
---
First U.S. Exhibition in 25 Years of
Luis Meléndez's Still Lifes Premieres at the National Gallery of Art, Washington
May 17 through August 23, 2009
Delights of the Spanish table depicted by 18th-century painter Luis Meléndez (1715-1780) will be presented to American audiences for the first time in nearly 25 years at the National Gallery of Art, Washington, May 17 through August 23, 2009. In a rare opportunity to explore the artist's working method, Luis Meléndez: Master of the Spanish Still Life will showcase 31 paintings, some of which have never been exhibited publicly, and nine examples of 18th-century kitchenware similar to those used as studio props by Meléndez.
"The greatest still-life painter of 18th-century Spain, Luis Meléndez had an extraordinary talent for rendering everyday objects with convincing detail, marvelous effects of color and light, and subtle variations in texture," said Earl A. Powell III, director, National Gallery of Art. "We are grateful to the museums and private collectors who graciously agreed to share their paintings, some for the first time."
Organized by the National Gallery of Art, Washington, the exhibition will travel to the Los Angeles County Museum of Art, on view September 23, 2009, through January 3, 2010, and to the Museum of Fine Arts, Boston, on view February 1 through May 9, 2010. Fourteen of Meléndez's still-life paintings now in American collections will be shown with 17 relevant works by him from collections abroad, exploring the artist's creative process and celebrating his compelling artistic achievements. Loans of paintings come from major museums such as the Museo Nacional del Prado, Museé du Louvre, and the Museum of Fine Arts, Boston, as well as from private lenders, such as Teresa Heinz and Mr. and Mrs. Thomas A. Saunders III.
---
Art & Design Walk
THOUSANDS OF STYLEPHILES, HOME FASHIONISTAS and ART AFFICIANADOS
RETURN TO THE STREETS OF TONY WEST HOLLYWOOD FOR THE
THE 12th ANNUAL ART & DESIGN WALK ON SATURDAY, MAY 30:
- Toast the latest trends in design, fashion, art and beauty during this chic mile-long open house -
On Saturday, May 30, 2009, thousands of Angelenos will once again converge upon West Hollywood's Avenues of Art & Design, an exclusive mile stretch of over 300 high-end interior design showrooms, art galleries, fashion boutiques, specialty shops and restaurants for the 12th annual Art & Design Walk. The must-do event on the calendar of style conscious Angelenos is staged along Melrose Avenue, and Robertson and Beverly Boulevards—the favorite shopping destinations for LA's design elite and celebrity contingent. Over 90 events, including exclusive receptions, personal appearances, food and entertainment hosted by individual showrooms, shopping discounts and other special surprises will be take place throughout the Avenues.

Curious stylephiles will want to check out some of the finest names in haute fashion, including the new Balenciaga boutique, Stella McCartney, James Perse, and Costume National to name but a few. For both women and men, the fashion houses on the Avenues have something for everyone. Kitson Mens will host a mixer and all Kitson stores will offer special discounts during the Art & Design Walk.

Home fashionistas will want to stop by Ligne Roset by Linea where the new Cernia collection previews, complete with drinks and hors d'oeuvres. Robert Kuo features an exclusive collection of Peking glass. Heading North up Robertson, Fendi Casa and White Orchid Living will bring out the designer in everyone. Phyllis Morris/Circa has special surprises in store as will the Avenues' other fine design showrooms including Armani Casa, Minotti, Modern Living, Jules Seltzer and many more.
Art aficionados are in for a very special treat too. "Contemporary Contemporaries," showcasing some of the twentieth century's most iconic pop, minimalist and color abstract art from Andy Warhol, Keith Haring, Roy Lichtenstein, David Hockney and others, debuts at Hamilton-Selway Fine Art. Glass Garage Fine Arts Gallery presents Lucent Dossier Vaudeville Cirque, a gallery exhibition with artist reception and live performance, and George Stern Fine Arts hosts a reception for the "Robert Frame" exhibition.
Avenues, the new official magazine of the Avenues of Art & Design debuts at an official launch party at 5:30 p.m. outside Dr. Tea's Tea Garden & Herbal Emporium at 8612 Melrose. City Officials and V.I.P's will be on-hand to greet guests. Free magazines will be given out to guests and complimentary tea will be served.

For the eighth consecutive year, The Avenues of Art & Design is partnering with The Fashion Institute of Design & Merchandising (FIDM) for the exhibition of "Chairing Styles," to be staged at the Walker & Zanger showroom on the Avenues. The exhibition includes a display of 11 original chairs designed by FIDM's interior design students and 11 matching gowns.

This year's event once again benefits Inner- City Arts, a downtown Los Angeles non-profit arts education center founded to enrich the lives of inner-city children through a total arts program. A silent auction for luxury products and services donated by the Avenues' participating showrooms, galleries and partners will take place the day of the event to benefit Inner-City Arts.

Admission is free. Hours: 4:00PM to 8:00PM. Urth Café will provide free coffee drinks and tea, and Fiji Water offers free bottled water to guests at six hospitality stations throughout the Avenues. Meters on the Avenues will not be enforced during the event. For more information, visit www.avenuesartdesign.com .

The private prequel to Saturday's Avenues Art & Design Walk is the dynamic design and culinary experience called Tables of Ten where world renowned designers, showrooms and chefs unite for a tour-de-force of design and cuisine, creating a stunning exhibit of dining spaces set among the outdoor plaza of the dramatic Pacific Design Center, where guests will enjoy gourmet dinners prepared by some of California's most talented chefs. Proceeds from Tables for Ten also benefit Inner -City Arts.

About The Avenues of Art & Design
Located in trend-setting West Hollywood, The Avenues of Art & Design is the West Coast's premier high-end destination for interior design, art galleries, fashion boutiques, specialty shops and restaurants. Established through a West Hollywood City Ordinance as a Business Improvement District (BID) in 1996, the streets of Melrose Avenue, Robertson and Beverly Boulevards are where fine, decorative and culinary arts are conceived, created, and consigned to aesthetically-minded, design-savvy connoisseurs worldwide. More than 300 businesses, including over 20 art galleries, 100 antique and contemporary furniture and interior design houses, 30 restaurants and coffee shops, and a variety of design, art, and food-related services, allow visitors to be at the epicenter of innovation. The district is a vibrant oasis of inspiration, in which visitors can easily walk from store to store, gallery to gallery, and showroom to showroom. For more information, call 310.226.7182 or visit www.avenuesartdesign.com .

About Inner-City Arts
Founded in 1989, Inner-City Arts uses arts education to positively affect the lives of at-risk children by unlocking their creative potential for a more hopeful and productive future. Located in the heart of Los Angeles' Skid Row area, Inner-City Arts provides the highest quality instruction in visual arts, music, dance, drama, animation and ceramics to 8,000 children every year. www.inner-cityarts.org
---
---