Mother India at Metropolitan Museum Features Depictions of the Goddess in Indian Painting
Exhibition Dates:      June 29 – November 27, 2011
Exhibition Location: Florence and Herbert Irving Galleries for the Arts of South and
Southeast Asia, third floor

Devi, the Indian goddess, is the omnipresent embodiment of power and wisdom given expression in all of India's ancient religions. From the beginnings of figurative representation in early India, she has been the frequent subject of sculpture and a favored subject in later devotional painting. Mother India: The Goddess in Indian Painting, to be presented at The Metropolitan Museum of Art from June 29 through November 27, 2011, will feature 30 works from the Museum's collection that depict Devi in all her various aspects. Perhaps the most widely worshipped deity in all India, Devi stands alongside Shiva and Vishnu in the first rank of the Hindu, Buddhist, and Jain pantheons.
The exhibition will present enduring images of the feminine in Indian art from the first millennium BCE through the late 20th century. Devi in her myriad forms—benign, maternal, empowering, and fearsome—expresses the range of human emotions. Later Indian paintings, such as Devi, or the Great Goddess, from 18th-century Bikaner, Rajasthan, show her assuming the form of Durga, displaying the cosmic weapons lent to her by the male gods but standing on lotus flowers, rather than slaying the customary buffalo demon. Saraswati, the benign patron of the arts and learning is represented in a mid-20th-century painting by the artist Srimati.
Sculptural forms range from proto-historic goddess figurines to medieval Durgas of awesome ferocity. These will include rare, early molded clay images of the goddess, such as Goddess with attendants, from Chanduketugarh, in Bengal, dated to the Shunga Period (circa first century BCE). Also on display will be the beautiful 12th-century bronze Yasoda nursing the infant Krishna, from Tamil Nadu, an enduring image of maternal love and very likely a royal commission for use in a private chapel.
Mother India: The Goddess in Indian Painting is organized by John Guy, Florence and Herbert Irving Curator of South and Southeast Asian Art, and Kurt Behrendt, Assistant Curator, in the Metropolitan Museum's Department of Asian Art.
In conjunction with the exhibition, the Museum will offer gallery talks that are free with Museum admission.
The exhibition will be featured on the Museum's website at www.metmuseum.org.
Berthe Morisot, Young Girl with a Dog (Jeune fille au chien), c. 1887. Oil on canvas. Michael Armand Hammer and the Armand Hammer Foundation.
1130 State Street, Santa Barbara, CA. Open Tuesday-Sunday 11 am to 5 pm.  Closed Monday.  $9 adults, $6 seniors & students with ID and children ages 6-17. 805.963.4364.  www.sbma.net
---
Copper Heiress Estate in Santa Barbara to Benefit the Arts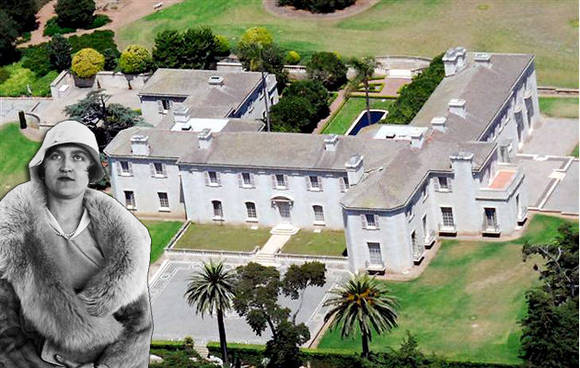 Huguette Clark, heiress to a copper fortune, has left the majority of her estate, worth an estimated $400 million, to establish a foundation that will support the arts, the New York Times reports.
According to the lawyer who filed her will, John D. Dadakis, Clark's estate comprises an art collection that includes pieces by Claude Monet and Pierre-Auguste Renoir, financial investments, property assets, and a large doll collection. The Bellosguardo Foundation will receive Clark's $100 million Santa Barbara mansion and property, most of her art collection, musical instruments, and a rare book collection. Hadassah Peri, a close friend who helped nurse Clark, will receive the doll collection, potentially worth millions of dollars, and 60 percent of various assets worth about $40 million, while Clark's goddaughter, Wanda Styka, will receive 25 percent.
Drafted in 2005, the will also includes a $1 million gift to Beth Israel Medical Center where Clark lived in her final years; $500,000 to her assistant; and $100,000 to her physician. In addition, the Washington, D.C.-based Corcoran Gallery of Art will receive a 1907 original from Monet's Water Lilies series that had been privately held for more than eighty years.
Clark also left gifts of $500,000 each to her New York lawyer, Wallace Bock, and accountant, Irving H. Kamsler. Bock, who drafted the will despite a rule that generally prohibits lawyers from drafting wills in which they are beneficiaries, was named executor of Clark's estate and a board member of the new foundation, along with Kamsler. Despite claims that Bock and Kamsler may have mishandled Clark's finances, Dadakis, who is representing both men in court, told the Times that Clark left the money and responsibilities to Bock and Kamsler because she was much closer to them than members of her family, who were explicitly not included among the beneficiaries.
"When you understand who Mrs. Clark was, I think you clearly see that this is a lady that was very strong willed," said Dadakis. "This will speaks for that being strong willed, the way she was."
During a press conference following the announcement Mayor Helene Schneider of Santa Barbara expressed her joy at the opportunity to have such a treasure of art in the City of Santa Barbara. 
---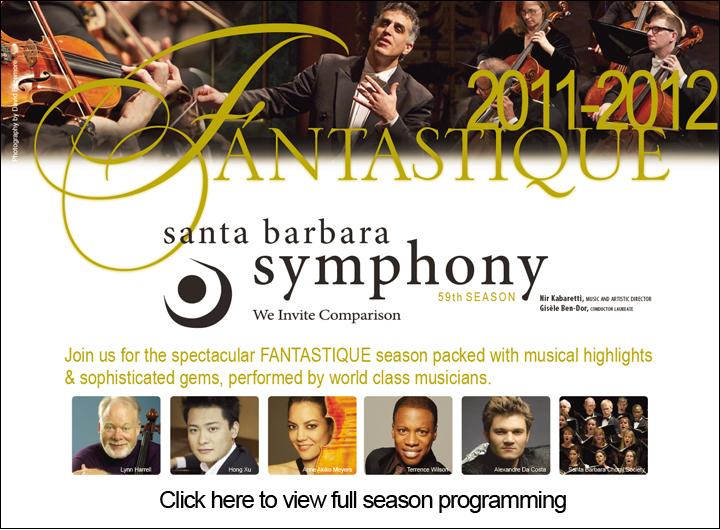 Visit: www.thesymphony.org for season schedule.
Santa Barbara Symphony Announces 2011 to 2012 "Fantastique" Season Lineup
Santa Barbara, CA, March 18, 2011 – The Santa Barbara Symphony today announced the 2011 to 2012 Season at an event held on stage at the Granada. Invited guests and media were treated to an 'orchestra's eye-view' from the stage of the Granada to learn about the Symphony's accomplishments this past year and a sneak preview of the upcoming 2011-2012 Season.  A painting by renowned local artist, James Paul Brown, was unveiled at the press conference, and guests were treated to a short musical performance by Camille Miller, violinist with the Santa Barbara youth Symphony and Elizabeth Hedman, Santa Barbara Symphony violinist.

The Santa Barbara Symphony's 2011-12 Season boasts the finest, world-class performers and conductors, including one of the world's premiere concert violinists and renowned soloists, Anne Akiko Meyers as well as Carlos Miguel Prieto, the dynamic conductor and music director of Mexico's most important orchestra, National Symphony Orchestra of Mexico.  The 2011-12 Season "Fantastique" will also feature violin virtuoso, Alexandre Da Costa, cello soloist Lynn Harrell – described by the Washington Post as  "the dean of American cellists" and Grammy-nominated recording artist, pianist Terrence Wilson.
Audiences will experience beloved works of the most legendary composers and fascinating lesser-known composers, from Beethoven and Gershwin to José Pablo Moncayo and Edward Elgar.  The Symphony's 2011-12 Season features, once again, a collaboration with the Santa Barbara Choral Society, under the direction of JoAnne Wasserman. 

"We invite everyone who is interested in great music to attend our 2011 to 2012 Season" said Nir Kabaretti, Music and Artistic Director, Santa Barbara Symphony.  "With a host of international, national and top-notch local musicians of the finest caliber and composers ranging from classic to modern, there is truly something for everyone!"

The Santa Barbara Symphony's 2011-12 Season features first-class performers from around the world, the finest symphonic works and more.  Upcoming season highlights include: 

FANTASTIQUE OPENING  
October 22 & 23, 2011

Lynn Harrell, Cello soloist
John Adams:  Tromba Lontana
Edward Elgar:  Cello Concerto
Hector Berlioz:  Symphonie Fantastique
The thrilling, romantic signature piece, Berlioz's Symphonie Fantastique tells the story of a gifted artist escaping from hopeless love into fantastical opium daydreams, ending in a dramatic Witches' Sabbath. Lynn Harrell, who holds a place in the highest echelon of today's performing artists, will perform Cello Concerto in E minor, a cornerstone of the cello literature.

"Lynn Harrell…won both the audience's undivided attention and a standing ovation that recalled him to the stage four times… His playing was bold, imaginative, and surpassingly sensitive…fully human and rich in detail."  -The Boston Globe

BEETHOVEN EMPEROR   
November 19 & 20, 2011

Hong Xu, Piano soloist
Ludwig van Beethoven:  Symphony No. 6 "Pastoral"
Ludwig van Beethoven:  Piano Concerto No. 5 "Emperor"
Beethoven's Symphony No. 6 in F major is a deeply spiritual symphonic depiction of nature including a dramatic thunderstorm, and his heroic Piano concerto No. 5 brings on stage a Promethean struggle with a triumphant finale.   Music Academy of the West alumni, Hong Xu, takes the stage, bringing Beethoven to life in this exciting concert. 

"…a pianist to watch out for, and one from whom his over-hyped compatriots could learn". -The Sunday Telegraph
FROM BACH TO RAVEL
January 21 & 22, 2012

Anne Akiko Meyers, Violin soloist
Ernest Bloch:  Concerto Grosso No. 1
Johann Sebastian Bach:  Violin Concerto in A minor
Joseph Haydn:  Symphony No. 83 "The Hen"
Ralph Vaughan Williams:  The Lark Ascending
Maurice Ravel:  Tzigane

Anne Akiko Meyers, one of the world's premiere concert violinists, will perform an exquisite triptych of virtuoso signature pieces for violin and orchestra including Bach's Violin Concerto in A minor and Ernest Bloch's Concerto Gross No. 1, a captivating flash-back from 1925 into the Baroque era. The concert will close with two very different bird portrayals by Haydn and Ralph Vaughan Williams and Ravel's Tzigane.  

"Meyers plays the Royal Spanish Stradivarius violin, and her capacity to make this instrument speak was compelling. Such luxuriant richness of tone… a rare profundity…"  -The Guardian

RHAPSODY IN BLUE
February 11 & 12, 2012

Terrence Wilson, Piano Soloist
Chris & Dave Brubeck:  Ansel Adams: America
George Gershwin:  Rhapsody in Blue
Charles Ives:  Symphony No. 2
Grammy-nominated recording artist and piano soloist, Terrence Wilson, performs Gershwin's Rhapsody in Blue, a jazzy musical kaleidoscope of America that became one of the most popular of all American concert works, an embodiment of the Jazz Age's upbeat lyricism and dance-driven vitality. Premiered by Leonard Bernstein to rapturous applause in a 1951 New York Philharmonic concert, Ives' second symphony marks an exciting highlight in American symphonic literature. 

"…a fine young pianist.  Mr. Wilson has a good technique, a big and shiny sound, and an elegant, tasteful sense of phrase – one that likes to linger over resonating sonorities and explore silence, but not at the expense of coherent, melodic line."  -The New York Times
LATIN PASSION      
March 17 & 18, 2012

Carlos Miguel Prieto, Guest Conductor
Alexandre Da Costa, Violin soloist
Michael Daugherty:  Fire & Blood
Manuel de Falla:  El Sombrero de Tres Picos, Suite No. 1
José Pablo Moncayo:  Huapango
Derived from the famous ballet "The Three-Cornered Hat", this orchestral suite brings thrilling Andalusian folk music to the stage, and the story of a miller's faithful wife to be seduced by a madly-in-love magistrate. With Daugherty and Moncayo, you will hear some of the most colorful and bright contemporary concert music, performed by fiery guest conductor Carlos Miguel Prieto famed for his dynamism, and rising Canadian violin star Alexandre Da Costa.

"[Prieto's] conducting is vigorous, direct and insightful, producing a nice mix of musical detail and free and easy flow."  -Orange County Register

"…the young Alexandre Da Costa by and large confirmed an accomplished personality and sensitivity, with the help of a magnificent Stradivarius, and gave such a posed and rhetoric interpretation that it could invite us to the softest dreams..." –La Verdad
MOZART CORONATION MASS
April 21 & 22, 2012

Santa Barbara Choral Society, directed by JoAnne Wasserman
Soloists To Be Announced
Pavel Haas:  Study for String Orchestra
Tchaikovsky:  Serenade for Strings, Op. 48
Mozart:  "Coronation" Mass

An exciting collaboration of the Santa Barbara Symphony and the Santa Barbara Choral Society in the famous "Coronation Mass," one of Mozart's most radiating works, sparkling with color and energetic drive. "Coronation Mass" will be complemented by Tchaikovsky's beautiful homage to Mozart's serenades, and the challenging Study for String Orchestra by Pavel Haas, written during World War II in the concentration camp of Terezin.

"…the Santa Barbara Choral Society, firmly led by director/conductor JoAnne Wasserman, is the city's oldest performing group — and a mighty, polished group at that."   -Santa Barbara News-Press

DVORAK SYMPHONY NO. 8
May 12 & 13, 2012                           

Horn Soloist:  Teag Reeves
Osvaldo Golijov:  Sidereus
Wolfgang Amadeus Mozart:  Horn Concerto No. 3
Antonin Dvorak:  Symphony No. 8
Dvorak's radiating, warm, optimistic symphonic masterpiece Symphony No. 8 is full of poetic moments and exuberant Slavic folk music. Santa Barbara Symphony's horn principal, Teag Reaves, will perform Horn Concerto No. 3, composed during Mozart's final period of life, written at the height of his powers. This concert will also feature a brand new composition of Grammy award-winning Argentinean composer Osvaldo Golijov.
All Saturday concerts begin at 8 p.m. and all Sunday concerts begin at 3 p.m. with a dynamic pre-concert lecture, "Music Behind the Music" starting one hour before the concert. Subscriptions comprised of seven Saturday concerts range in price from $170 to $525 and subscriptions comprised of seven Saturday concerts range in price from $130 to $435.  To purchase subscriptions to the Santa Barbara Symphony's 2011-2012 Season, call the Symphony office at (805) 898-9386 or order online at www.thesymphony.org.
---
 ELIZABETH STEWART . . . MASTER OF ART
Santa Barbara Art Appraiser Raises the Bar on Personal Treasures       
By Bonnie Carroll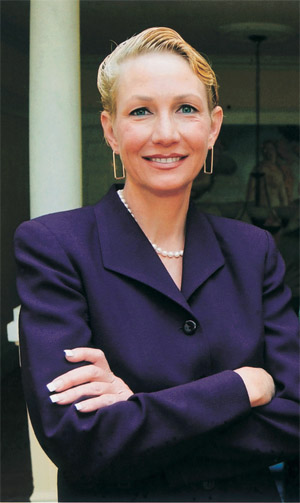 We all know what doctor to call when we don't feel well, and we all know how to discern the affordable cost of a new pair of glasses, but how do we research someone to assist us in providing the true value of art items, collectables and family heirlooms in our home that we purchased or inherited from our family over the years.
A few months ago I had the pleasure to become acquainted with Elizabeth Stewart, M.A., and AAA certified appraiser. Elizabeth moved to Santa Barbara several years ago in search of a beautiful and inspiring environment to work and create. She immediately began writing articles for and The Daily Sound newspaper and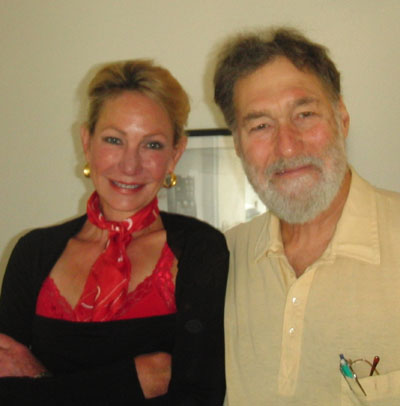 hosted her own show "Arts & Antiques" on KZSB Radio, where she has interviewed many of the brightest stars in the art world, including major artists and art curators from California. A recent interview was with Bruce Murdock, President of the Santa Barbara Theatre Organ Society to discuss the historic 1920s "Wonder Morton" organ in the Arlington Theatre. Her love and knowledge of her subject is impressive, contagious, and totally appreciated by the art devotees who have become her radio listening audience.
.
Elizabeth's extensive education includes Doctorial candidate, Pacifica Graduate Institute, 2009-present: MA Public History and Historic Preservation, University of San Diego 2001; Professional Assessment Preaxis Exam "Art History & Critical Aesthetics" 2000; California Teaching Credential; BA Magna cum Laude, English Literature, Tufts University 1978; Master's Study, University of Minnesota and Assistant Curator at Manchester Museum of Art, Manchester, England in the 1980s. She invested years of her life traveling in Mexico and Europe studying and is a certified member of the American Association of Appraisers, New York City; International Society of Appraisers; CAPP, Certified in both Fine Art, Antiques, Residential Contents and is a specialist in living American artists. She has countless awards and honors, and has done personal appearances and media interviews nationally and internationally.
Services she provides include appraisals of antiques and home estates for insurance, appraisals of fine art, estate planning appraisals, Inheritance appraisals, market evaluation appraisals, moving and downsizing appraisals.
Like many people I have an eclectic collection of art and antiques in my home that I inherited or found over the years during my travels, but I really did not know their actual value. One of the many services Elizabeth offers is to peruse your home with you, ask questions, and take photos to do a complete appraisal of your treasures. In a few weeks following her visit to my little home I received an amazing and totally impressive appraisal packet of these items, complete with photos and printed back up on the artists, previous art and auction sales, artist origin information, along with estimated values.
For those of us who have children this is such a needed asset. I now have an itemized listing of my treasures to be given to my children upon my death that provides them with the actual descriptions and values for future generations, or accurate information on disposing of them through respected art dealers known to handle transactions on the specific artists that are included in the portfolio.
Following the death of my own mother I was so emotionally overwhelmed with grief that I was unable to begin looking over her belongings in this way. Providing this information can make the loss of a loved one less stressful, as well as offer an accurate record for details in a will. From a very practical standpoint this kind of appraisal is also an ideal and organized way to provide your insurance agent with the detailed information on specific items in your collection you wish insured.
Elizabeth Appraisals
Established 1986
P.O. Box 92115, Santa Barbara, CA 93190, 805-895-5005 email: elizabethappraisals@gmail.com
---