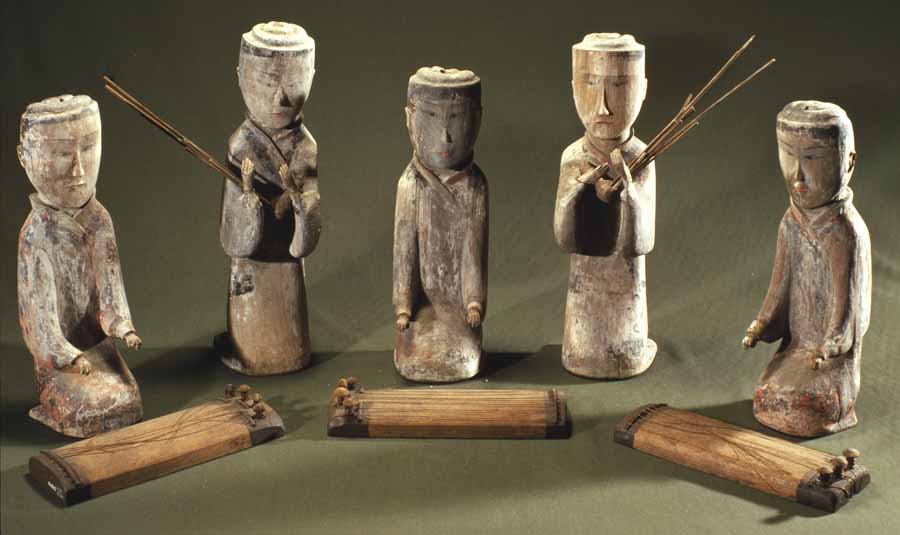 NOBLE TOMBS AT MAWANGDUI
                        September 19, 2009 - December 23, 2009
               SANTA BARBARA MUSEUM OF ART www.sbma.net
---
Musical Heritage of China Celebrated in
Metropolitan Museum Exhibition Opening September 5
Exhibition dates:   
September 5, 2009-February 7, 2010

The Metropolitan Museum of Art will present an exhibition celebrating the musical heritage of China – one of the oldest continuously documented traditions with roots reaching back more than 8,000 years – beginning September 5.  Featuring some 60 objects and illustrations – drawn largely from the Museum's collections of Asian art and musical instruments – Silk and Bamboo: Music and Art of China will reveal the dynamic interplay of cultures, the continuity of musical practice, and the diversity of China's musical traditions from the fifth century B.C. to the present.
This exhibition will display a wide variety of Chinese musical instruments and art, including a rare ivory-covered pipa (lute) and a lacquered qin (zither) of the Ming dynasty (1368-1644), extraordinary bells of the fifth century B.C., and a set of pottery figures in the shapes of dancers and musicians from the Han dynasty (206 B.C.-220 A.D.) and Tang dynasty (618-907).
The exhibition is made possible in part by The Horace W. Goldsmith Foundation.
 Silk and Bamboo will complement the China Festival (October 21-November 10, 2009) offered by Carnegie Hall.
In conjunction with the exhibition, the Museum will offer a variety of educational programs. The exhibition will also be featured on the Museum's website at www.metmuseum.org.
 The exhibition is a collaborative effort organized by J. Kenneth Moore, the Frederick P. Rose Curator in Charge, Department of Musical Instruments; and James C. Y. Watt, the Brooke Russell Astor Chairman of the Department of Asian Art.
---

FC Club (Shanghai), in cooperation with EMM (East Model Management) DRESSY LIFE and 81 west - Fashion & Luxury Networking Soirée
Venue: M1NT
Dress code: Fashion Friendly


Fashion & Luxury Networking Soirée brings together an interesting mix in a relaxed yet sophisticated environment. This evening is for Professionals from Fashion & Luxury industry and all the Fashionistas. 

Models from EMM are ready for the CATWALK at 8:30pm.

"M1NT Shanghai, with more than 23,000 square feet of restaurant, lounge, club and terrace space, complete with a 17-meter hammerhead shark aquarium, is the benchmark for modern day private members clubs in Asia". With five star dining and panoramic views of Shanghai's spectacular Bund, M1NT Shanghai is the ultimate for modern day luxury lifestyle connoisseurs.



We are looking forward to meeting the executives and CEO's, VP's, Directors, Managers, Departner Heads of the following market sectors.

Venue: M1NT
Address: 24Floor 318 Fuzhou Road near Shandong Zhong Road
Address in Chinese: 福州路318号近山东中路高腾大厦24层
When: Sep. 17 Thu. from 7:30pm to 10:30pm
Venue Tel: 6391-2811
Transportation Options:
By Car or Taxi: When arriving by taxi, please ask the driver to drop you off at Fuzhou Road cross Shandong Zhong Road. By Metro: Line No. 2 Nanjing Dong Lu Station
---
"THE ENCHANTRESS OF FLORENCE: A CONVERSATION WITH SALMAN RUSHDIE" ON VISUAL IMAGARY IN HIS RECENT NOVEL AT THE METROPOLITAN MUSEUM OF ART ON TUESDAY, OCTOBER 6, 2009, AT 6:00 P.M.
Salman Rushdie's latest novel, The Enchantress of Florence, brings together Florentine Italy and Mughal India, and the cultures that lie between them, in a tale that has been described as a "sumptuous mixture of history and fable." On Tuesday, October 6, 2009, at 6:00 p.m., the Metropolitan Museum of Art Concerts & Lectures series will present a conversation with the author and three art historians - Carmen Bambach, Curator of Drawings and Prints, and Navina Haidar Haykel, Associate Curator of Islamic Art, both of the Museum; and David Roxburgh, Prince Alwaleed Bin Talal Professor of Islamic Art History at Harvard University - to explore major themes and visual imagery in his novel.
Tickets to the event, priced at $25, are available by calling 212-570-3949, or may be purchased online at www.metmuseum.org/tickets.
The Enchantress of Florence is the story of a great beauty believed to possess powers of enchantment and sorcery, her impossible journey to the far-off city of Florence, and her attempt to command her own destiny in a man's world. It is also the story of two cities, unknown to each other, at the height of their powers - the hedonistic Mughal capital, in which the brilliant Akbar the Great wrestles daily with questions of belief, desire, and the treachery of his sons, and the equally sensual city of Florence during the High Renaissance, where Niccolò Machiavelli takes a starring role as he learns, the hard way, about the true brutality of power.
The novel, published in 2008 (Random House), combines imaginative stories with meticulously researched historical detail, referring widely to works of art and architecture of Mughal India and the late Renaissance. Artists and their creations, ranging from the gilded pages of manuscripts to monumental architectural settings, form a key to the central themes of the book. In evoking them, Enchantress brings the world of the art historian alive.
Born in Bombay, India, Salman Rushdie is the author of ten novels - Grimus, Midnight's Children (Booker Prize, 1981; "Best of the Booker" award, 2008, for the best novel to have won the prize in its first 40 years), Shame, The Satanic Verses, Haroun and the Sea of Stories, The Moor's Last Sigh, The Ground Beneath Her Feet, Fury, Shalimar the Clown, and The Enchantress of Florence - and one book of stories, East, West, as well as three works of nonfiction — Imaginary Homelands, The Jaguar Smile, and Step Across This Line. His stage adaptation of Midnight's Children was performed in London and New York by the Royal Shakespeare Company. In 2004 an opera based upon Haroun and the Sea of Stories premiered at New York City Opera.
A Fellow of the British Royal Society of Literature and a member of the American Academy of Arts and Letters, Salman Rushdie has received, among other awards, the Whitbread Prize for Best Novel (twice), the European Union's Aristeion Prize for Literature, Author of the Year Prizes in both Britain and Germany, the Budapest Grand Prize for Literature, the Premio Grinzane Cavour in Italy, and the Austrian State Prize for European Literature, as well as the Freedom of the City in Mexico City, Strasbourg, and El Paso, and the Edgerton Prize of the American Civil Liberties Union. He holds the rank of Commandeur in the Ordre des Arts et des Lettres, France's highest artistic honor. From 2004 to 2006 he served as President of PEN American Center, and continues to work as president of the PEN World Voices International Literary Festival, which he helped create. In June 2007 he was knighted for services to literature. His books have been translated into more than 40 languages.
---
(H)ITWEEK L.A. ITALIAN MUSIC FESTIVAL
 
A celebration of Made in Italy:
 Music, Art, Poetry, Literature & Cinema
 
 OCTOBER 13-18, 2009
 Various Locations

TUESDAY OCTOBER 13
 
ITALIAN CULTURAL INSTITUTE 6:30 pm
The six day Festival opens with an exhibition of paintings by Franco Battiato, one of the most original personalities in Italian music from the 1970s till now, and a reading by top rock Italian band Afterhours.
 
Admission: IIC members and Platinum pass holders
 
*
 
THE STANDARD HOTEL - PURPLE LOUNGE 10:00 pm
DJ set with Daniele Luppi and John Type (The Standard).
 
Admission: Platinum pass holders and by invitation only Standard Hotel West Hollywood
 
 
WEDNESDAY OCTOBER 14
 
ITALIAN CULTURAL INSTITUTE 12:00 pm
Media showcase by top piano composer Giovanni Allevi.
 
Admission: Media, Platinum pass holders, and IIC members
 
*
 
USC SCHOOL OF CINEMATIC ARTS 7:00 pm
Screening of Musikanten, directed by Franco Battiato. Following the screening, eclectic music project Calibro 35 will perform live before screening original Polizziotteschi films.
 
Admission: Platinum pass holders, USC and Fondazione Azzurra's guests
 
THE STANDARD HOTEL - PURPLE LOUNGE 7:00 pm
Performances by The Niro and Belladonna
 
Admission: Platinum pass holders and by invitation only Standard Hotel West Hollywood
 
 THURSDAY OCTOBER 15 
 
ITALIAN CULTURAL INSTITUTE 12:00 pm
Guitarist Drigo from the band Negrita, accompanied by a driving voice perform in a musical reading of his own successful memoir Rock Notes (Mondadori, 2006).
 
Admission: IIC membersand Platinum pass holders
 
ITALIAN CULTURAL INSTITUTE 6:30 pm
Screening of Allegro Moderato directed by Patrizia Santangeli and Raffaella Milazzo. The film is a documentary about Esagramma, the Symphony Orchestra founded by a group of disabled musicians.
 
Admission: IIC members and Platinum pass holders
 
*
 
THE STANDARD HOTEL - PURPLE LOUNGE 7:00 pm
Acoustic concerts by Marco Fabi and Afterhours
 
Admission: Platinum pass holders and by invitation only Standard Hotel West Hollywood
 
FRIDAY OCTOBER 16
 
MUSIC BOX- HENRY FONDA THEATER 7:30 pm
89.9 KCRW presents a  line-up of the finest Italian music acts: headliners are Afterhours, the Milan-based underground Indie band recently named by spin magazine as one of  The 100 Greatest Bands You've Never Heard of; other groups include Jeseus was homeless, The Nito, le Vibrazioni, Belladonna and Linea 77  
 
Admission: General admission tickets, Platinum pass holders, students with valid ID FREE
 
 SATURDAY OCTOBER 17
 
ISTITUTO ITALIANO DI CULTURA 2:30 pm
Ducati Parade and pasta tasting
 
Admission: IIC members, Ducati owner, Platinum pass holders
 
*
 
MUSIC BOX - HENRY FONDA THEATER 7:30 pm
89.9 KCRW presentstop of the charts rock band, Negrita, worldwide star piano virtuoso Giovanni Allevi, Linea 77,Le Vibrazioni.  Other featured artists include neo-soul, jazz, and world music artist, Amana and Marco Fabi. Returning to the US the Italian quintet rock noir band Belladonna.  Also on stage bands as Jesus Was Homeless and The Niro, touted as two of Italy's most promising exports.
 
Admission: General admission tickets, Platinum pass holders, students with valid ID FREE
 
 SUNDAY OCTOBER 18
 
THE STANDARD HOTEL 11:30 am - 1:30 pm
Sunday Brunch
 
Admission: Platinum pass holders and by invitation only Standard Hotel West Hollywood
 
*
 
THE BROAD STAGE, SANTA MONICA Doors open at 5:00 pm, show at 6:00 pm
89.9 KCRW and Fondazione Azzurra presents Franco Battiato in concert live with the "Nuovo Quartetto Italiano".
 
Admission: Platinum pass holders, reserved seats with tickets starting at $40
 
Festival tickets can be purchased online at the following link:
www.inticketing.com/evinfo.php?eventid=32205
Ticket Pricing:
2 day student pass for Music Box-Henry Fonda Theater on Oct. 16 and Oct 17 = FREE
(for the free admission ticket booking www.inticketing.com/evinfo.php?eventid=32205) 
2 day ticket - valid for Music Box shows on Oct. 16 and Oct 17 = $50.00
Franco Battiato at the Broad Stage = tickets from $40
6 day Platinum Pass valid for all Hitweek events (included Franco Battiato @ The Broad Stage) = $150.00 
For further information please visit www.hitweek.it
For schedule please visit: http://eventful.com/users/Hitweek/events
 
 
Live on 89.9 KCRW's Morning Becomes Eclectic
on 10/14/09 @ 11:15 am FRANCO BATTIATO
on 10/15/09 @ 11:15 am DANIELE LUPPI and CALIBRO 35
 
HITWEEK L.A. is promoted by Francesco Del Maro of Mela, Inc. and Music Experience Roma S.r.l. and is presented under the Auspices of the Italian Consulate in Los Angeles, and supported by the Italy-America Chamber of Commerce West, the Italian Trade Commission and Regione Piemonte.
Hit Week is made possible by: Ducati, Gibson Guitars,  Acqua Panna, Illy Caffè, Aperol, Ferrari Spumanti, Bella Italia, Luigi Guffanti, Antinori, Farnese, Arnaldo Caprai, Baglio di Pianetto, Drei Donà, Villa Massa, Principe, Wal Cor, The Standard, Paiste, Dw,  East River Apartments, Kennedy & Castro, Fondazione Azzurra, Eccola, Mark Bass, KCRW, L.A. Weekly,  Crn digital network, Rockol, Musica e Dischi, Fimi, Afi, Scf, Dimensione Triade.

PROTECTION NOTICE The information contained in this message is private and confidential. It may only be used by the intended recipient of the message, for the aims indicated in the same message. If you are not the intended recipient of this message, we would invite you to delete it from your system and promptly inform us of the same. We would inform you that the use of the Institute's e-mail system may lead to any replies to this message being viewed by individuals other than the sender, such individuals are members of the Institute, and may need to view the message for the purposes of the institutional aims of the Organisation. Any improper use of this message and its attachments will lead to the person responsible having to deal with all the associated civil and criminal consequences of their actions (Legislative Decree 196/03 and Directive 2002/58/EC).  
---
New Exhibition at Liz's Loft By Laurence Vittes

In a city of remarkable women and even more remarkable women gallery owners, Liz Gordon has established an pace, rhythm and style for her shows that have makes each new opening at The Loft at Liz's an event not to be missed.
Liz's newest remarkable show is called LIFE IS 360 DEGREES. It is open until November 10. It is full of vibrant power, beauty, stunning imagination and the kind of joie di vivre that Liz insists on and provides abundantly in her own life.
The participating artists have not reinvented the wheel for LIFE IS 360 DEGREES. Instead, they have conjured up energetic, occasionally bewildering variations on the circle as a metaphor for life:
* paintings by Sophie Pegrum, Stephen Rowe, and Kenneth Ober
* metalwork by Hannie Goldgewicht ("As nothing is new, nothing dies")
* installations by Henry Vincent, Ana Marini Genzon, and Mike Saijo
* collage by Lark ("Liberation from the material universe inspires my work")
* mixed media works by Jane Goren and George Ousman Diagne
* jewelers Monique Birault and Cristina Fabiani with 360-inspired designs, and
* the hand-crafted silver jewelry of Sasha Bell
* the lost-wax creations of Leonel Gotlibowski
"My romance with the circle, like itself, is simple and complex. It fascinates me in its fundamental simplicity, the gestural movement, or earliest marks reflects back to us the apparent shape of our sun and moon, the movements of our planets, a dial in which we measure time, our place in the cosmos. It holds order and yet feels organic, though it is mathematically irreducible, and is highly complex. Besides my philosophical fascination with its form, and its representations, I do find working with it a harmonic experience. My revolving application of paint into this form is a very physical effort and manifests an exploration of the un-manifest, the non-rational, the potential and the axis mundi of the spirit." — Sophie Pegrum
The Loft at Liz's is a unique gallery space that occupies the space above Liz's Antique Hardware (an act of art in itself) and acts as an art gallery, showroom for new and vintage furnishings and an indispensable location rental resource for the film and television industries. Located in LA's historic Miracle Mile district, Liz's Antique Hardware has become a staple for the Southern California antique and interior design community. The New York style gallery features an international roster of artists who work in a wide array of mediums. The gallery and showroom, like the store, is a treasure hunt: a place to find hidden gems, fine art works, jewelry and beautiful objets d'art.
The Loft at Liz's
453 S. La Brea Ave
Los Angeles, CA 90036
323 939 4403 ext 6
www.theloftatlizs.com
store and gallery hours Mon-Sat 10-6
---