HEALTH MINDED   .   .   .
FALLEN BUT NOT FORGOTTEN – SBPD FALLEN OFFICER MEMORIAL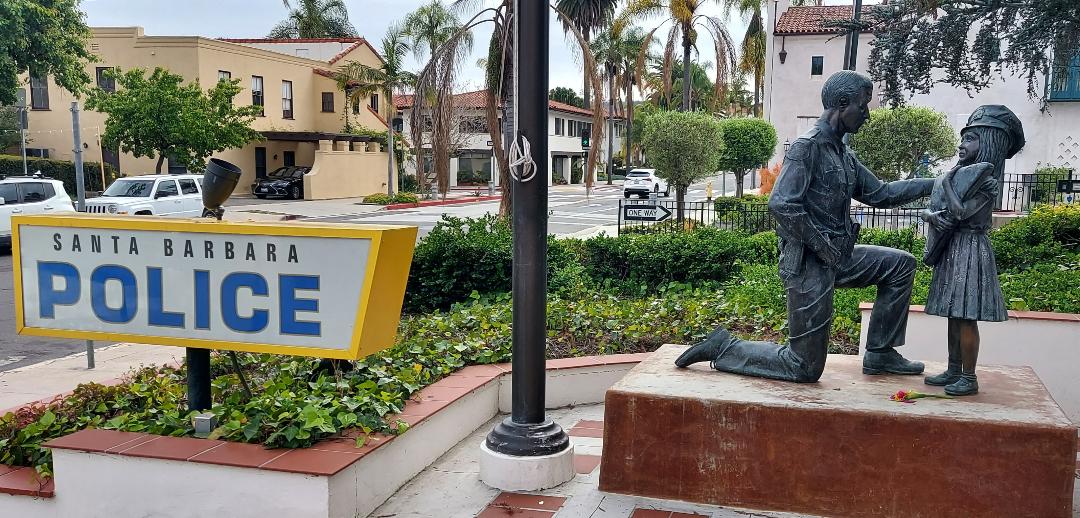 By Bonnie Carroll
Several years ago, members of the SBPD and concerned citizens recommended the creation of a bronze memorial statue to honor the lives and sacrifices of the five Santa Barbara police officers that have died in the line of duty serving and protecting our community over the last 115 years. Their names were H. Thomas Guerry, Henry Evans, Clarence Jensen, Ronald Wainscott, and Richard Williams. They are among the thousands inscribed on law enforcement memorials in Washington DC and Sacramento, however, nothing existed locally to preserve the memory of their outstanding service.

Through the efforts of SBPD members, including Officer Riley Harwood, along with countless citizens a project was implemented to create a bronze memorial statue to honor our fallen officers, and a call for help went out that was answered.
Designed by renowned Santa Barbara artist Bud Bottoms, the SBPD Fallen Officer Memorial features a life-size sculpture depicting a scene common to police service funerals; an officer on bended knee, comforting a young girl holding a folded American flag, who is wearing an officers eight-point hat. A poignant moment symbolizing commitment, service, sacrifice, and community. 
We are all forever grateful to those who gave their lives in the line of duty protecting our city and to the many who donated funds to create this historic monument, which can be seen in its place of honor at the entrance to the front of police headquarters 215 E. Figueroa Street in Santa Barbara.
♦ ♦ ♦
__________________________________________________________________
---