HEALTH MINDED  . .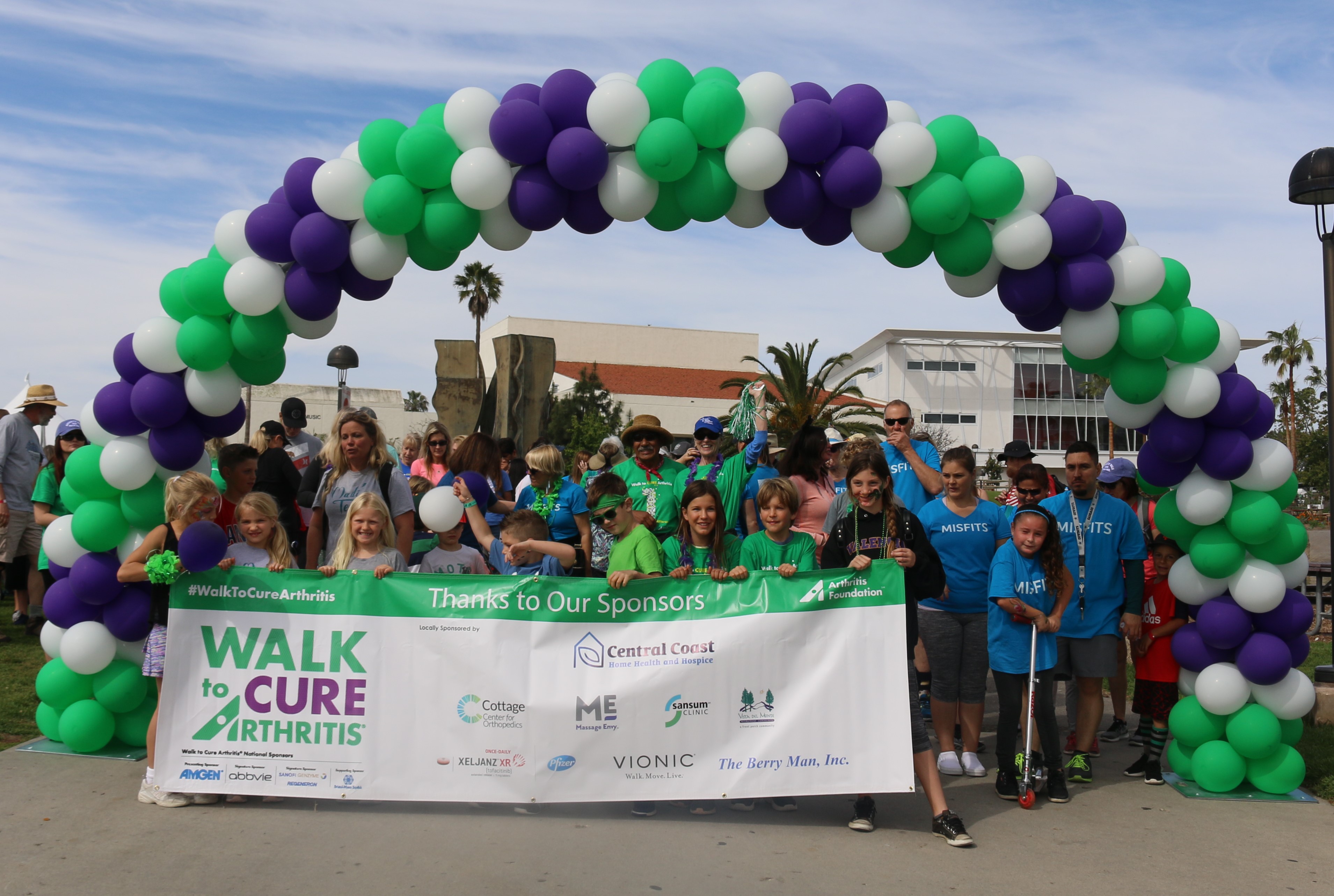 ARTHRITIS SUPPORTERS WALK FOR A CURE IN SANTA BARBARA by Bonnie Carroll
The public of all ages, including an army of young kids and senior citizens, showed up to walk for a cure for Arthritis at Santa Barbara City College on Cinco de Mayo, and walk they did! The one mile or three mile walk through the campus and along the beach on West Cabrillo Boulevard attracted a bevy of supporters and friends of the fight to find a cure for arthritis. Once again it was a heart warming morning for all in attendance to raised needed funds.
Kids loved the 'Kids Zone' where face painting and fun activities reigned. Pets were welcome and many walkers brought their dogs to enjoy the day by the beach. A food table in the center of everything provided fresh fruits, water and other healthy goodies for attendees. Teams representing event sponsors, local senior groups, area physical therapy groups including Muller & Weber and more could be seen in colored shirts walking across the SBCC bridge to begin the walk.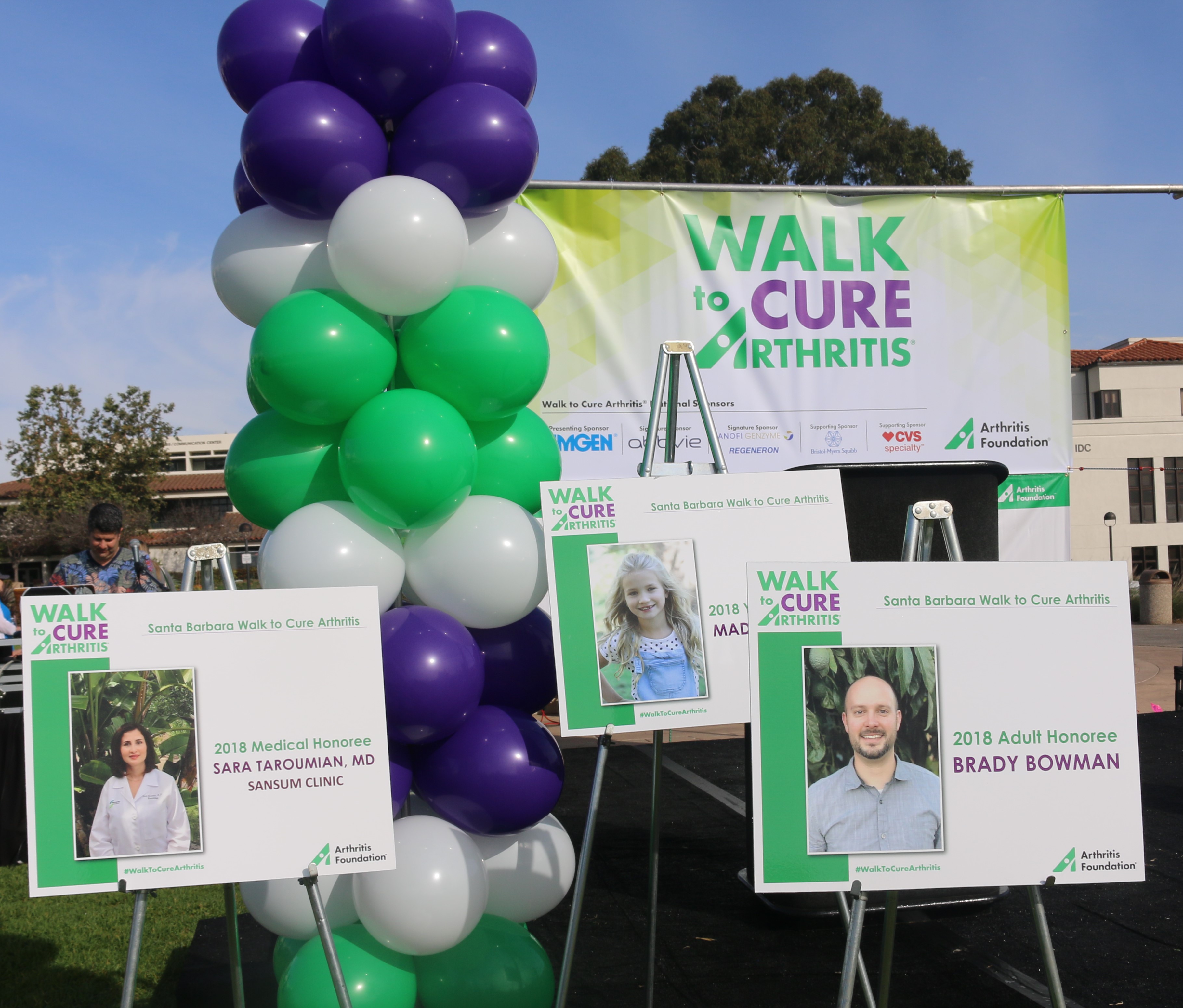 The Santa Barbara Walk to Cure Arthritis 2018 featured three local honorees who are putting a face on the diagnosis. The 2018 Youth Honoree is seven year old Madison "Madi" Scott of Santa Clara, daughter of Jeff and Vanessa Scott, who is living with Juvenile Idiopathic Arthritis (JIA). Just five years ago, at age two and a half, Madi had a very swollen knee that was very painful and rapidly got worse. Her pediatrician referred her parents to pediatric rheumatologist Dr. Miriam Parsa. After extensive testing, Madi was diagnosed with JIA, placed on specialized medications and almost immediately, her knee swelling and pain were reduced. Madi continues to take medicine, go to physical therapy and is now able to play with her friends, swim, dance, ride horseback and even participate in gymnastics!
The 2018 Adult Honoree is Brady Bowman of Santa Barbara, who, just two years ago at the age of 34, was diagnosed with Ankylosing Spondylitis (AS). Brady had always played basketball, volleyball and gone snowboarding; and experienced what he thought were "normal" back pains from his active lifestyle. After a really rigorous day of landscaping, he could hardly get out of bed and had "pink eye." These symptoms subsided a bit, yet were still painful, so Brady went to an ophthalmologist for his eyes—found he had uveitis and eventually tested positive for HLA-B27, the marker for AS. With a proper diagnosis and under the care of a rheumatologist (arthritis doctor); Brady undergoes injections every 2 weeks that keep the arthritis managed and able to continue to work, and enjoy time with his wife Jen and their two kids Wes (age 7) and Parker (age 3).
The 2018 Medical Honoree is Dr. Sara Taroumian of Santa Barbara. Dr. Taroumian is a board certified rheumatologist who completed her rheumatology training at UCLA and did her internal medicine training at the University of Arizona where she was a chief resident. She has been working at the Sansum Clinic for the past 4.5 years.  She manages a variety of rheumatologic diseases in her practice and utilizes ultrasonography in the diagnosis and treatment of a number of these conditions. She believes that patient education is one of the most important aspects of treatment as she sees the doctor and the patient as partners working towards the common goal of improving that patient's quality of life. In her spare time, she enjoys spending time with her family, traveling and enjoying Santa Barbara's beautiful outdoors. Following the introduction of each honoree Michal Weisbrock presented them all with gift bags and honoree awards.
According to Michal Wiesbrock, Executive Director of the Arthritis Foundation's Central Coast Office, "More than 50,000 adults and children in Santa Barbara County have the diagnosis of arthritis. Arthritis is costly, painful and debilitating, and makes a significant impact in the lives of people in this community, including children. By participating in and raising funds for the 2018 Santa Barbara Walk to Cure Arthritis, everyone helps us reach our local goal of raising $90,000, which will move us that much closer to better treatment options and a cure."
The Walk to Cure Arthritis is nationally presented by Amgen with additional sponsorship support from AbbVie, Sanofi Genzyme Regeneron and Bristol-Myers Squibb. The Santa Barbara Walk to Cure Arthritis is locally sponsored by Massage Envy, Cottage Center for Orthopedics, The Berry Man, Inc., Sansum Clinic, Pfizer, Vionic Group LLC, Central Coast Hospice, and Vista del Monte Retirement Community. For additional or to make a donation visit: www.walktocurearthritis.org/santabarbara
____________________________________
SBLBC DANIEL HEDRICK MEMORIAL BOCCE BALL TOURNAMENT
Special Olympic Athletes Bocce Ball Saturday May 19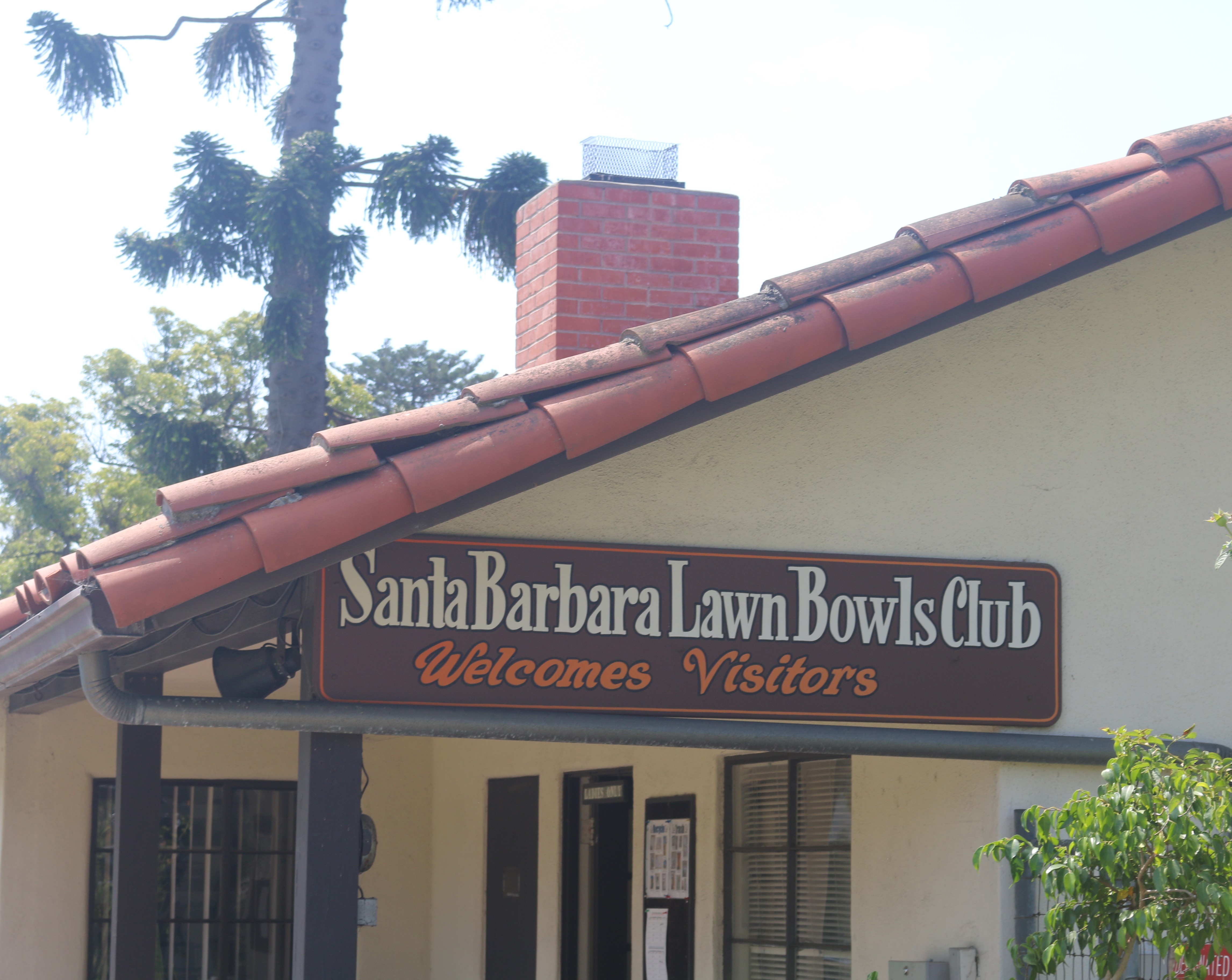 The 3rd Memorial SBLBC Daniel Hedrick Special Olympics Bocce Ball Tournament was held at Santa Barabara Lawn Bowls Club, Spencer Adams Park, 1216 De la Vina Street on Saturday, May 19 ay 9:00 a.m. The late Daniel Hedrick was a member of the SBLBC who introduced the club to Special Olympics and implemented their bocce ball court on the SBLBC carpet.
This event is named for and dedicated to Daniel Hedrick who was a past Vice President of SBLBC, who met the SB Special Olympics Bocce team at Arnoldi's Restaurant and learned they were in need of a conveniennt, safe place to practice on Saturday mornings during the season. Daniel was instrumental in getting the SBLBC Board of Directors approval for this play, and Tony Cunningham, the President at that time constructed 3 courts for the artificial green. Daniel Hedrick passed away three years ago.
Bocce is an Italian game. The basic principle of the sport is to roll a bocce ball closest to the target ball, which is called a palina. Bocce as a Special Olympics sport provides people with special needs the opportunity to have social contact, develop physically and to gain self-confidence. Next to soccer and golf, bocce is the third most participated sport in the world.
The Santa Barbara Lawn Bowls Club was formed in 1937 and celebrated it's 80th anniversary in October of 2017 at Spencer Adams Park. Both Santa Barbara County Supervisor Das Williams and City of Santa Barbara Mayor Helene Schneider presented proclamations to the club for their outstanding contribution to recreations in the downtown area; SBLBC is sponsored by the Parks and Recreation Department of the City of Santa Barbara. For information contact Sharron Adams.
Special Olympics focuses on the individuality of each athlete so that coaches can train and encourage growth in skills and accomplishment. The coaching materials, rules and other resources have been specially prepared for coaches working with people with intellectual disabilities. Coaching Special Olympics athletes calls for the same skills and experience that many coaches are familiar with.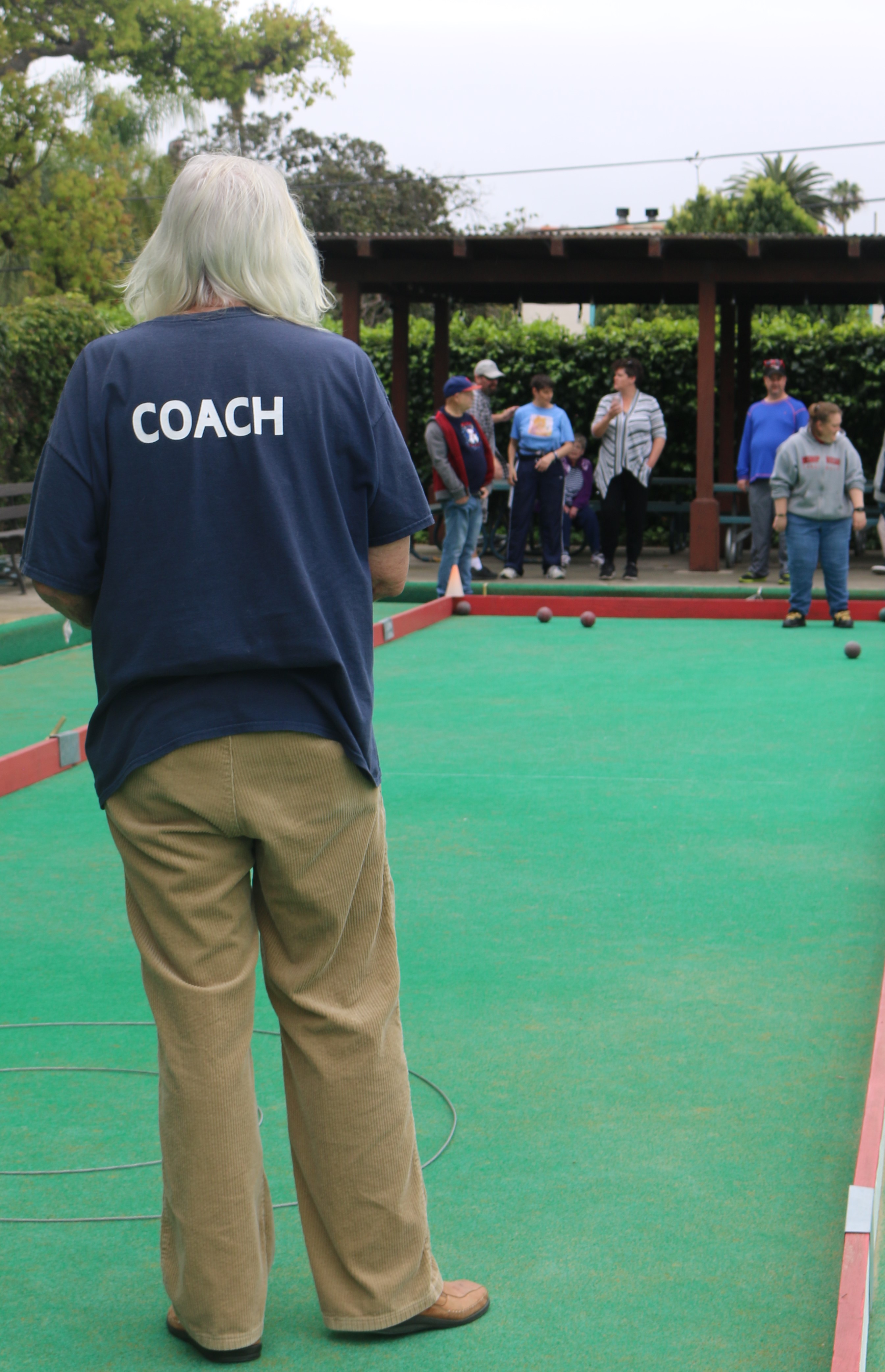 Coach Bud Viard practice session with Special Olympics Bocce Ball Players
Tim Philibosian, Sports Manager, Santa Barbara Special Olympics coordinates the Bocce Ball athlete play at SBLBC, and Bud Vaird, Past President and current Board of Directors member has been a Bocce Ball coach for the past three years, and worked with one of the local teams on Saturday. For additional information on Santa Barbara Special Olypics visit: www.sosc.org.
For information on Santa Barbara Lawn Bowls Club visit: www.sblbcsb.org
---