®
From the Editors of E/The Environmental Magazine
Dear EarthTalk: Do you have current facts and figures about how much rainforest is being destroyed each day around the world, and for what purpose(s)? -- Teri, via e-mail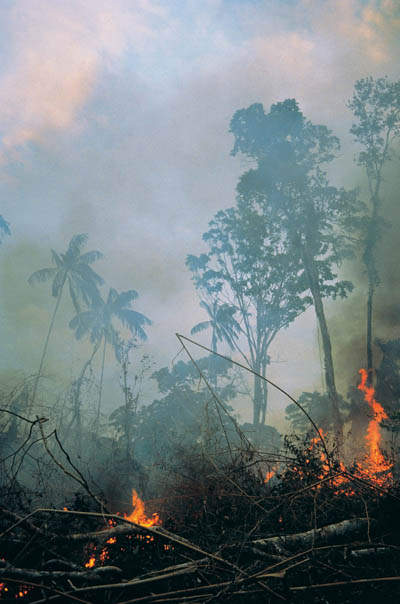 Pinning down exact numbers is nearly impossible, but most experts agree that we are losing upwards of 80,000 acres of tropical rainforest daily, and significantly degrading another 80,000 acres every day on top of that. Along with this loss and degradation, we are losing some 135 plant, animal and insect species every day—or some 50,000 species a year—as the forests fall.
According to researcher and writer Rhett Butler, who runs the critically acclaimed website, Mongabay.com, tropical rainforests are incredibly rich ecosystems that play a key role in the basic functioning of the planet. They help maintain the climate by regulating atmospheric gases and stabilizing rainfall, and provide many other important ecological functions.
Rainforests are also home to some 50 percent of the world's species, Butler reports, "making them an extensive library of biological and genetic resources." Environmentalists also point out that a quarter of our modern pharmaceuticals are derived from rainforest ingredients, but less than one percent of the trees and plants in the tropics have been tested for curative properties. Sadly, then, we don't really know the true value of what we're losing as we slash, burn, and plant over what was once a treasure trove of biodiversity.
According to the United Nations' Food and Agriculture Organization (FAO), overall tropical deforestation rates this decade are 8.5 percent higher than during the 1990s. While this figure pertains to all forests in the world's tropics, researchers believe the loss of primary tropical rainforest—the wildest and most diverse swaths—has increased by as much as 25 percent since the 1990s.
Despite increased public awareness of the importance of tropical rainforests, deforestation rates are actually on the rise, mostly due to activities such as commercial logging, agriculture, cattle ranching, dam-building and mining, but also due to subsistence agriculture and collection of fuel wood. Indeed, as long as commercial interests are allowed access to these economically depressed areas of the world, and as long as populations of poor rural people continue to expand, tropical rainforests will continue to fall.
Some scientists see light at the end of the tunnel. Joseph Wright of the Panama-based Smithsonian Tropical Research Institute says the tropics now have more protected land than in recent history, and believes that large areas of tropical forest will remain intact through 2030 and beyond: "We believe that the area covered by tropical forest will never fall to the exceedingly low levels that are often predicted and that extinction will threaten a smaller proportion of tropical forest species than previously predicted."
Only time will tell whether Wright's optimistic predictions ring true, or whether a more doomsday scenario will play out. To stay informed and be part of the solution, stay tuned to the websites of Rainforest Action Network, Rainforest Alliance, the Rainforest Site and, of course, Mongabay.com.
CONTACTS: Mongabay, www.mongabay.com; Rainforest Alliance, www.rainforestalliance.org; Rainforest Action Network, www.ran.org; Rainforest Site, www.rainforestsite.com; FAO, www.fao.org.
---
November:   Diabetes Awareness Month
                                    Nutrition & Diabetes management
                                    Glycemic Index & Weight Loss
                                    Solution for snack-time cravings
About Diabetes: Per the American Diabetes Association, there are 23.6 million children and adults in the United States, or 7.8% of the population, who have diabetes. In addition to the 23.6 million with diabetes in the U.S. , one in five people have blood sugar issues that means over 60 million need to eat differently.
About Solution for snack-time cravings: Natural snacks that taste good and are good for you — for athletes, diabetics or people trying to eat healthier. Granola Gourmet fills a need that diabetics and their families have had in their diets and life styles.  
"As a nurse, I've seen a lot of diabetics who feel like finding foods that they can eat is too much of a struggle and therefore, they don't do as well as they could.  I feel like Granola Gourmet energy bars could really make a difference in these people's lives if they had a least one easy snack they could grab that they knew was healthy."  Liz R.  Registered Nurse, Indiana
A PORTION OF YOUR GRANOLA GOURMET PURCHASE HELPS THE AMERICAN DIABETES ASSOCIATION FIGHT DIABETES!
About Weight Loss & Glycemic Index: Several problems make weight loss difficult for Diabetics.  Blood sugar spikes lead to excess insulin production; the liver converts it to triglycerides that become fat on the body.
The key difference between a good or bad carbohydrate is the speed in which it converts to sugar in your blood!  Good carbs convert slowly. They make your body work harder to be digested and they have a measured sugar conversion that does not cause a sugar or insulin spike. These are often considered complex carbs.
Not all carbohydrate foods are created equal; in fact they behave quite differently in our bodies. The glycemic index or GI describes this difference by ranking carbohydrates according to their effect on our blood glucose levels.

Choosing low GI carbs – the ones that produce only small fluctuations in our blood glucose and insulin levels – is the secret to long-term health reducing your risk of heart disease and diabetes and is the key to sustainable weight loss.
Granola Gourmet ingredients are very low on the Glycemic Index, Granola Gourmet does things with their recipe that help make the bars even lower. A great example of this is how the oats are treated using differently than you do with oatmeal. Oatmeal is hydrated when it is cooked. This makes it easier to break down in your body. Granola Gourmet oats are not hydrated. This makes your body work harder to digest it.
---
The Latest on H1N1 flu from the Harvard Health Letter
So far, the 2009 swine flu (H1N1) pandemic has been more widespread than lethal, notes the Harvard Health Letter. The novel H1N1 virus has some properties that seem to make it less capable of causing serious disease than had been expected.
At least early in the flu season, in the relatively rare instances when H1N1 has caused complications that result in hospitalization (and even more rarely, death), the people most likely to be affected have been young, especially school-age children, whereas older people seem relatively protected, reports the Harvard Health Letter.
The pattern for regular "seasonal" flu virus that circulates every winter is just the opposite: it's the old who are far more vulnerable to complications, which typically involve a secondary bacterial infection that causes pneumonia.  
The explanation most often given for the difference is that older people may have some residual immunity from past exposure to H1N1 flu viruses—viruses similar to, but not exactly the same as, this year's novel H1N1.
Harvard experts discussed the latest on the H1N1 pandemic at a forum held on the Harvard Medical School campus on September 25. The video is posted here: http://hms.harvard.edu/public/h1n1/index.html.
"The good news is that virtually everything we have learned since the early days of this pandemic has pointed toward a lower level of concern," said Marc Lipsitch, an epidemiologist at the Harvard School of Public Health and a member of the H1N1 scientific advisory group to the White House.
Lipsitch said data collected in the United States show estimates for the death rate for H1N1 range between one death for every 2,000 symptomatic cases and one death for every 14,000 (which in percentage terms works out to 0.007%). In comparison, the death rate for seasonal flu is roughly one death for every 1,000 to 2,000 cases.
"But that's not the only point of comparison," said Lipsitch. "Seasonal flu tends to symptomatically infect (very roughly) between 5% and 20% of the population each year, whereas pandemics tend to cause symptomatic infections in 25% to 40% of the population. This H1N1 epidemic may not come up to that level, but it is a potential difference between pandemic and regular seasonal flu."
In its H1N1 coverage, the Harvard Health Letter gives several prevention recommendations:
Get vaccinated.

Don't shake hands.

Wash your hands often.

Cough and sneeze into your sleeve or into a tissue.

Stay home if you have symptoms.

Stock up on supplies (canned food, bottled water, some medicines) in case of social-distancing restrictions.
You can get more advice from Harvard Health Publications' new Swine Flu video: http://www.health.harvard.edu/flu-resource-center/swine-flu-precautions.htm.
---
While fall has only just arrived, the time has come to start planning for the holidays.
While many take the time to visit family, others use the time off around the holidays to take the family and visit other places. The attractions in Madera County, California's Gateway, to Yosemite make for a perfect holiday retreat.

For people looking to escape snowy weather, the valley communities of Madera and Chowchilla offer a temperate climate and fun things to see and do, such as the Tractor Parade of Lights December 5. The Tractor Parade, which is now open to nearly any type of vehicle as long as it is adorned with at least 100 Christmas Lights, is a fun way to usher in the Holiday season. 

"They get really creative," said event coordinator Jerry Noblett, speaking about the entrants. "We have farmers who have decorated tomato harvesters and have them in there," he said. "They were huge."
Noblett said the entries range from tractors and other farm vehicles to classic cars and even children's electric cars. "It gets pretty wild in terms of what they can do with the lights," he said.

In addition to the Tractor Parade, adults can enjoy the Wine Stroll. Local businesses in the downtown area sell wine glasses for $10, and those glasses are good for samples from regional wineries that will be on hand at the participating businesses. For those who would prefer something warmer, hot beverage mugs are available for $6.

The other communities of the valley also stage Christmas Tree Lightings. The Chowchilla Lions Club has a long history for theirs, as they celebrate the 42nd Annual Christmas Tree Lighting with numerous activities for the family, including an appearance by Santa Clause, December 5. When combined with the Coffee Cats & Chowchilla Art Guild Christmas Boutique, one can make a whole day of the Holiday fun. The community of Madera Ranchos will also hold a Christmas Tree Lighting. The festivities there are planned for December 4.

Someone looking for the perfect holiday wine to compliment their dinner plans, or perhaps as a gift for their favorite connoisseur, can check out the Madera Wine Trail.  Created by the Madera Vintners Association, the wine trail encompasses one dozen wineries located throughout the county. Wine lovers can find the perfect compliment to their turkey, ham or any other delicious holiday entrée, while having the opportunity to actually meet the vintners themselves, a fun experience that has been lost in many of the larger wineries elsewhere in California.

For those who reside in warmer climates and are looking for the traditional winter feeling, eastern Madera County offers numerous options as well. Christmas Tree Lightings take place throughout the region, from the 10th Annual Bass Lake Tree Lighting in late November, to the December 4th lighting in Oakhurst.
"Numerous events occur throughout the region during the Holiday months that make a great excuse for a get away," said Jarrod Lyman, Director of Media for the Yosemite Sierra Visitors Bureau. Additional events include Christmas at Fresno Flats Sunday, December 6 and Christmas in the Mountains in Oakhurst December 11 and 12.

Additionally, great holiday rates can be had at nearly every hotel, bed and breakfast and vacation rental. "While we are a year round destination, summer is our biggest season. As such, families looking for a holiday retreat are able to do so here while saving enough money for a that anticipated gift for their kids or someone special," Lyman said.

The region's proximity to Yosemite National Park and Badger Pass Ski Area, as well as numerous snow play areas, makes it the ideal spot for someone looking for the picturesque winter wonderland. For more information, log on to    www.yosemitethisyear.com, or www.facebook.com/yosemitesierra.
---
ADVANCE for NURSES MAGAZINE
ESSENCE OF NURSING Article
ADVANCE honors nurses who exemplify the best of the profession, combining science with soul and caring.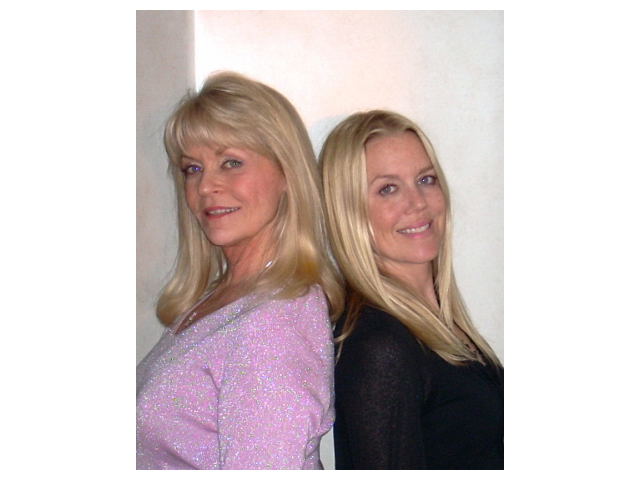 ESSENCE OF NURSING: SCIENCE & SOUL
MEET SOME AREA NURSES WHO GO ABOVE AND BEYOND,                     ON AND OFF THE JOB
A blend of science, soul and caring, nursing offers a diversity of practice settings and experiences. From bedside nurses who maintain their stance as passionate patient advocates to those who serve their communities and nation in roles outside the profession - nursing options are unlimited. In the feature below, we highlight nurses in different settings and practices doing whatever is necessary to exemplify the Essence of Nursing - the soul of a profession that offers daily variety.

Music as Medicine
Suzanne Geimer heals with the universal language of music
ADVANCE: Why did you create The Special Angel Project? 
SG: When my daughter turned 15, I began having a lot of problems with her. It was like someone came in the middle of the night and switched my good girl with someone I didn't know. We had no communication. I've always been a singer and a nurse, and I discovered that when I asked her opinion about my newest song, she'd respond. Soon, we'd be talking about life through discussing the lyrics in the songs. About that time, I'd seen Lois Lee on TV. She runs a homeless shelter for runaway teens in Hollywood and it made me want to help kids and parents, just based on my own experience. After my family moved to California from South Carolina, I got to meet Lois Lee and began playing and speaking to her group, along with my daughter. I saw these kids just open up. Eventually, I began going into
ADVANCE: What's involved in a session?
SG: It's very relaxed, a lot like MTV Unplugged. We can talk to the kids about love, life and even sex without them feeling like they're being lectured. One song I perform is called, "Dear God, Are You Listening?" I wrote it one morning at 4 a.m., waiting for my daughter to come home. I'm always amazed when the kids really begin to see these situations from another perspective. Counselors have told me these kinds of experiences are really what they need to begin to get better. As a nurse and mother, I'm proud I can be just one piece of the puzzle that helps them put their lives back together.
ADVANCE: Why is working with children so rewarding for you?
SG: I had a brother who had a really tough time growing up, beginning at age 16. By 19, he'd died. During those days, especially down South, you just didn't talk about anything like this. Years later, when I was going through tough times with my daughter, I felt very close to my brother. I knew if I didn't get a handle on the situation right away, it might end up the same way. I really felt like he was the angel that guided me through the entire experience. That's where the organization's name, Special Angel, came from.
ADVANCE: Because you're willing to be so honest with children about your life experience, do you feel that establishes an essential trust with them?
SG: Teenagers have built in 'BS detectors.' They know right away if you're giving them a bunch of bologna. Because we're up front and honest from the beginning, it breaks down that barrier. At every session, I can pick out that one child who is distant or holding back. Because I don't push them and know how to set them at ease, they eventually come around. Trust is what opens the door with these kids.
ADVANCE: What do you think it is about music that has such a unique healing effect?
SG: Every once in awhile, we get some kids who roll their eyes when they hear we'll be singing country music. I always tell them not to worry about it. Music is universal and in about 5 minutes, we'll all be talking the same language. Pretty soon, the kids are pulled right into the experience. You know what? It never, ever fails.
You can learn more about The Special Angel Project at: www.specialangel.com.
---
---