CHOPRA TIPS FOR TRAVELING
Traveling by plane? Use these 8 Mind-body Tips for a Relaxing Flight
U.S. SAVINGS BOND' PACKAGES FOR
Flying is usually the fastest way to get to travel, but it also can generate a lot of stress. Our mind is often in an active state while the body is forced to remain inactive, spending hours seated or waiting. We're calculating which security line will move the fastest, wondering when our luggage will arrive, and perhaps engaging in an internal dialogue with the loud cell-phone talker.
Although the ancient Vedic sages lived long before the invention of planes, the natural healing system they developed offers timeless wisdom and practical tools that can help you arrive at your destination feeling rested and relaxed:
If you are flying through several time zones, change your watch only as you pass through each zone rather than setting it forward to your destination. This helps your body adjust and avoid jet lag.
Take the opportunity to meditate during your flight. An hour is ideal. This will help "reset" your biological rhythms and reduce symptoms of jet lag. Learn a simple meditation technique here.
If your mind is very active or you feel anxious about flying, take a few minutes to write your thoughts in a journal or notebook. Practicing the breathing technique known as Nadi Shodhana will also help you relax. 
Flying dehydrates the body, which can leave you feeling tired and irritable, so be sure to drink a lot of water when you fly. How much? Here is a helpful formula: Take your weight (in lbs.) and divide by 2. The result is how many ounces of water to drink when you are flying. For example,

a person weighing 140 lbs should drink 70 oz. of water during his or her flight.

Avoid alcohol, which is extremely dehydrating at high altitudes. Instead, bring along a soothing herbal tea and ask for hot water.
Bring an inspirational book or novel to read; avoid watching television throughout the entire flight as the stimulus can further imbalance Vata dosha, which is already easily disrupted by the act of hurtling through the air at thousands of miles per hour.
Eat relatively lightly and get up for a few minutes to stretch after your meal to aid digestion.
Practice Sitting Sun Salutations (see instructions below)
Yoga for Everybody: Sitting Sun Salutations
In yoga, the Sun Salutation is a classic series of poses that enhance strength, flexibility, and balance. Here is a modified version that you can do in your seat to relieve tension in your spine, enhance circulation, and ease sore muscles during your flight.
Sit comfortably in your chair, with your spine erect, pressing your palms together in front of your heart. Focus your awareness on your body, breathing easily.
Reach your arms up, stretching your shoulders and upper back as you inhale.
Bend forward as you exhale, letting your hands rest on the floor next to your feet, relaxing your neck, and resting your chest on your thighs.
Grasp your left knee with interlaced fingers. Straighten and arch your back as you extend your arms, inhaling.
Begin to exhale while bringing your chin down to your left knee and rolling your shoulders, upper back, and neck forward. Fully exhale as you release your leg and return your foot to the floor.
Repeat the sequence with your right leg.
Stretch both hands towards the sky, extending your spine and fully inhaling.
Return to the first pose, with hands at heart center. Feel the sensations in your body with your full attention, breathing easily.
---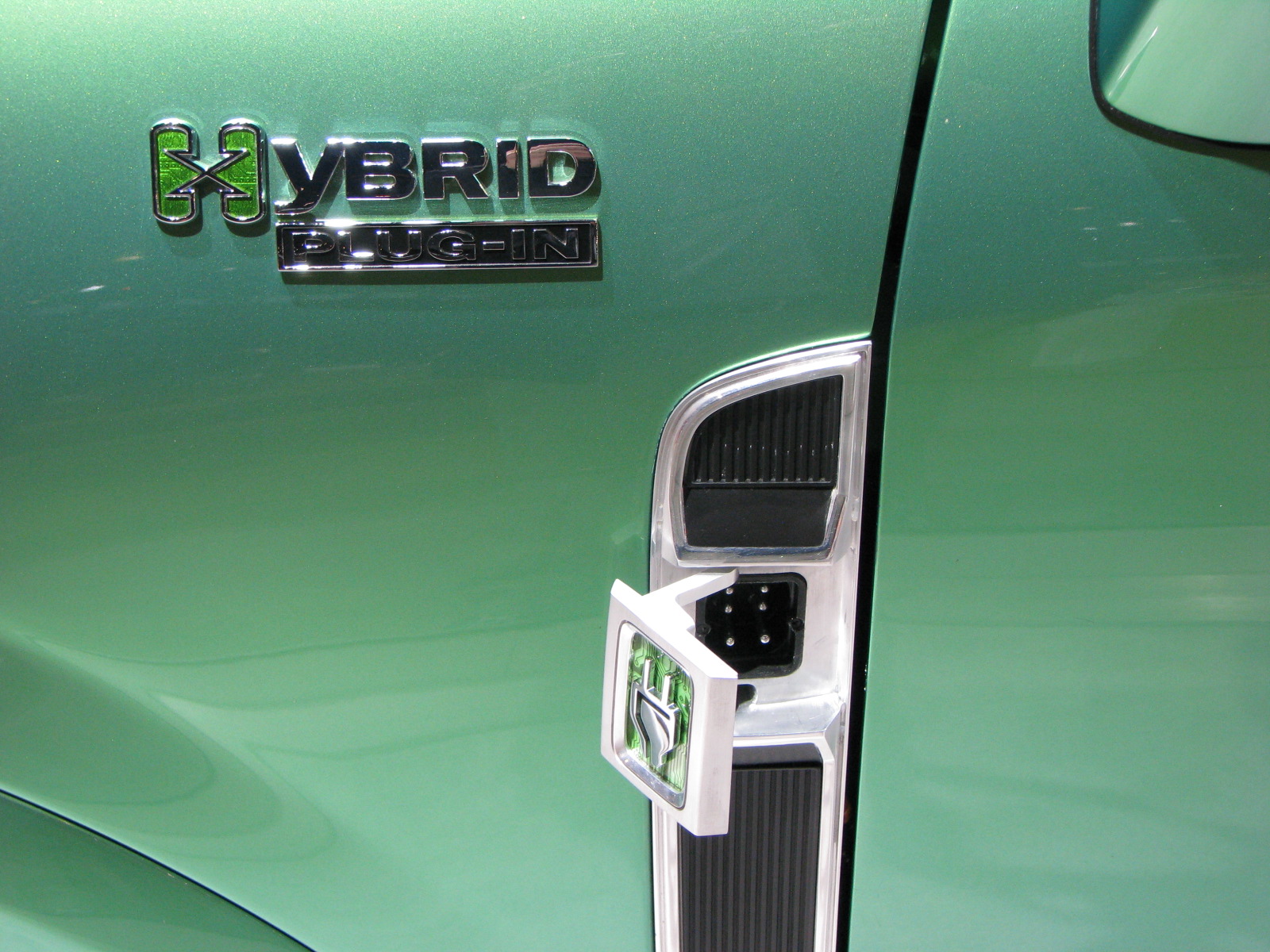 EarthTalkTM
From the Editors of E/The Environmental Magazine
Dear EarthTalk: With plug-in hybrid and electric cars due to hit the roads sometime soon, will there be places to plug them in besides at home? And if so, how much will it cost to re-charge?
                                                                                    -- Nicole Koslowsky, Pompano Beach, FL
Gasoline-electric hybrids, like the Toyota Prius, are all the rage due to their fuel efficiency, and consumers have been clamoring for carmakers to up the ante and give these vehicles a plug. This way the batteries can be charged at home and not just by the gas engine and other on-board features, thus greatly reducing the need for gas except for long trips. And purely electric cars, like the Tesla Roadster already on the market, will be making more appearances on the streets as greater production brings the costs down.
So what's an electric or plug-in hybrid driver to do when they need a charge and they're nowhere near home? Plug-ins are expected to reach up to 60 miles on a charge (great for a commute but not for a longer trip); and though the Tesla reportedly went 241 miles on a charge in a recent European road rally, its everyday stop-and-go efficiency will likely be less and drivers will need "pit stops" far from home.
A few forward-thinking large companies have installed electric outlets accessible to employee parking, but most plug-in hybrid and electric car drivers will be looking for help well beyond the scope of their commutes. In the U.S., several cities in California, as well as Seattle, Chicago, Phoenix and others are now setting up recharging infrastructures. Paris, where Toyota is testing plug-in hybrids, already has over 80 recharging stations throughout the city and suburbs. Across the channel, London is working with the nonprofit Environmental Defense to install upwards of 40 electric recharging stations around town.
According to the California Cars Initiative (CalCars), which promotes plug-in hybrids, Americans recharging their plug-ins via a regular 120V outlet should expect to pay about $1 per gallon equivalent. "Using the average U.S. electricity rate of nine cents per kilowatt-hour (kWh), 30 miles of electric driving will cost 81 cents," the group maintains. "If we optimistically assume the average U.S. fuel economy is 25 miles per gallon, at $3.00 gasoline this equates to 75 cents a gallon for equivalent electricity."
For its part, Toyota has already released a few hundred plug-in Priuses in the U.S. to university and commercial fleet customers. The company will monitor the vehicles' performance and use the data to tweak the design for a consumer-friendly version sometime after 2010. Pricing on the vehicles, which get 65 miles per gallon or more in combined gas/electric mode and can run on electricity alone, is as yet undecided. But chances are the car will command a premium of several thousand dollars over the cost of a regular hybrid Prius. The fact that such a feature might obviate the need for gasoline entirely—save for long trips away from charging facilities—may well make it worth the extra up-front cost for some buyers.
Those unwilling to wait for a mass-market plug-in can have their existing Prius or Ford Escape hybrid converted accordingly by any of several "aftermarket" companies at a cost of $6,000 and up. CalCars provides a comprehensive listing of vendors across the U.S. and elsewhere that can do the conversions, and also offers its own instructions for those engineering-savvy hybrid owners who can do it themselves.
CONTACTS: Tesla Motors, www.teslamotors.com; Environmental Defense, www.edf.org; California Cars Initiative, www.calcars.org; Toyota, www.toyota.com.
POOLSIDE PLEASURES, BACKYARD TREASURES AT
HYATT REGENCY CENTURY PLAZA'S RENOVATED URBAN OASIS
Century City Landmark Hotel Celebrates New Cabana Culture with Value Packages
 Hyatt Regency Century Plaza, Los Angeles' landmark urban resort hotel, is proud to unveil its newly refurbished, "backyard oasis." Long considered one of the city's most desirable and spacious poolside settings, Century Plaza's popular infinity-edged pool is now updated with suitably fashionable furnishings and amenities to make it once again, the hottest spot to cool down.
May 15-September 7 Friends & Family Package includes Complimentary breakfast buffet for 2 adults - complimentary breakfast for up to four children, 12 and under - 15% discount on Equinox Fitness Club & Spa, spa services - 15% discount on food & beverage - locally inspired welcome amenity snack in-room - 50T off a second room - 20% discount at NationalGeographic.com.
Creating its own brand of cabana culture, Century Plaza's backyard oasis is now outfitted with custom décor in a variety of bright colors that complement California's sunshine scenery. Rimming the pool are brand new European designed chaise lounge furniture, coordinating extra-large umbrellas and chic cabanas for private retreats.  Envisioned as exclusive outdoor escapes, each cabana is rock-star ready and accommodates up to six people.  Furnishings include two love seats for lounge style seating, day beds for cuddling or sunbathing, ceiling fans for keeping cool, high-speed Internet and WiFi for staying connected, a state-of-the-art sound system to groove to, a plasma screen television to unwind with and a personal refrigerator for vital refreshments. Cabana attendants are on sight to serve guests a variety of amenities including choices from the new pool deck menu and cabana-catering menu, which feature modern twists on classic summer fare.
Comfortable and chic, each cabana is available to hotel guests for a fee of $75 Monday – Thursday and $150 Friday - Sunday. Reservations may be made in advance through the hotel concierge. Cabanas are also available for daily rental for private events including bridal and baby showers, birthday parties, office retreats and celebrations of any kind. Local Angelenos may escape the heat for a daily pool and cabana fee of $250.
Lush gardens, luxurious amenities and friendly service ensure families on holiday, as well as business travelers on reprieve receive the royal treatment.  Now, Hyatt Regency Century Plaza is offering four superior value packages to meet the needs of all its local and international guests!
Plus the longer you stay, the more you save! In June, July and August, The Century Plaza is offering 50% off the second night for stays booked on Thursday, Friday and Saturdays. And if you book now through July 31 (for stays valid through December 30, 2009), get 20% off a three-night stay or 30% off a four-night stay and 3,000 Hyatt Gold Passport bonus points.  AAA and CAA members receive up to 20% off their stay, complimentary overnight valet and a full breakfast for two. For more information and reservations call 310-228-1234 or visit www.centuryplaza.hyatt.com.
---
TWIST, a Boulder-based natural and eco-friendly household cleaning tools company, showcased this new product at Expo-West.  TWIST's new cleaning tools include the Dish Dumpling, a dye-free, biodegrad
able sponge packed in an agave wrapper; the Loofah Scrubby, a gentle dye-free, biodegradable sponge completely covered with a super scrubby loofah; the Ravioli Scrubby, a hemp burlap pouch filled with a dye-free, biodegradable sponge; and the Sponge Blossoms, small and handy sponges that grow to full-size sponges just by adding water. All TWIST products are 100% biodegradable, free of dyes and top-rack dishwasher safe. For more information, visit www.TwistClean.com.
---
---