Voyava Republic's® SPAVA™ Coffee
Hits H-E-B Store Shelves this Month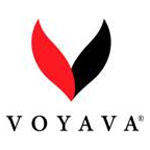 Texas' own great-tasting fortified SPAVA™ coffee is set to go on shelves at H-E-B Grocery Company stores across the state. In response to high demand for the recently launched brand, the nutrition-boosting coffee line from Houston-based Voyava Republic will be carried in H-E-B's high-end stores beginning in August.
"At Voyava Republic, it's our goal to get people everywhere drinking healthy coffee and to enrich their wellbeing through our product SPAVA™," said Voyava Republic president and CEO Michael Sweeney. "We are delighted to be associated with H-E-B, an organization that shares our passion for affecting positive change and providing consumers with high-quality, healthful goods."
Like H-E-B, Voyava Republic is committed to community improvement through its financial contributions and organizational policy. H-E-B is a steadfast supporter of charitable giving and sponsors several programs to promote health and wellbeing, including the H-E-B goodness! Challenge, a promotion that encourages healthy living and will culminate in three Texas families winning a health makeover.
SPAVA™, which comes in five unique wellness varieties, infuses certified organic, fair trade beans with a variety of all-natural ingredients through a patent-pending technology. H-E-B will sell the following varieties for $11.99 per 12 oz. bag:
"Clarity" - Fortified with Gingko Biloba, White Tea and other natural ingredients to increase alertness and short-term memory.


"Flexibility" - Fortified with Chondroitin Sulfate and other natural ingredients to help improve overall joint health.


"Immunity" - Fortified with Rosehips, Echinacea and other natural ingredients to support the immune system and promote better overall wellness.


"Metabolism" - Fortified with Green Tea Extract and other natural ingredients to promote natural weight loss.


"Calm" - Fortified with Passionflower and B Vitamins to reduce tension and promote overall total body wellness (Swiss Water decaffeinated).

For more information about SPAVA™ brand coffees or Voyava Republic, please visit www.spavacoffee.com or www.voyava.com.

---
THINK5 FRUIT AND VEGETABLE BAR TO DEBUT FALL, 2007
Each Bar is Made with Two Cups of Fruit and Three Cups of Vegetables
Packed with Apples, Cranberries, Spinach and Broccoli
Think5 Launches at Natural Products Expo East September 26-29 in Baltimore
thinkproducts (www.thinkproducts.com), one of the nation's largest natural nutrition bar companies and makers of pure food nutrition for people who "think about what they eat," will debut a bar that packs five cups of fruits and vegetables into the think5 bar at Natural Products Expo East September 26-29, 2007 in Baltimore. The think5 bar features apples, cranberries, spinach and broccoli and is the first to offer five cups of pure fruit and vegetables in one bar. Think5 is also a gluten free product that can be consumed by the nation's 15 million sufferers of Celiac disease. Think5's suggested retail price will range from $2.79-$3.29 and will be available at retailers nationally and at www.thinkproducts.com.
Think5 is the newest product to be added to the thinkproducts family of natural, gluten free nutrition bars, which include thinkThin (high protein), thinkOrganic (raw fruit and nut) and thinkGreen (superfood nutrition bar with two tablespoons of fruits and vegetables). The five cup think5 bar comes in two delicious flavors: Red Berries and Chocolate Covered Red Berries with 240 and 290 calories respectively. The bar is a good source of Omega-3 fatty acids and contains naturally occurring fiber. Other think5 ingredients which also provide essential nutrients and vitamins and minerals include acerola berries, sweet potatoes, brown rice, carrots, parsley, alfalfa grass, watercress, chlorella, and grapes.
"Greens and berries are foods that help people maintain high levels of productivity, build strong immune systems and support general well-being," said thinkproducts CEO, Lizanne Falsetto. "think5 is made with superfoods needed for complete on-the-go functional nutrition and contains the powerful antioxidants and phytonutrients found in fruits and vegetables and other natural ingredients." The former model and mother of two built thinkproducts based on her belief that pure food creates vitality; fueling a body with the healthiest foods results in improved performance and sustainable wellness.
About thinkproducts: thinkproducts was founded by former international fashion model Lizanne Falsetto who is a true believer in the healing and nourishing power of nature. Purveyor of all natural, convenient, great tasting, functional foods that fuel those striving to live a life full of vitality and free of disease, thinkproducts was originally named from Falsetto's raw fruit and nut thinkOrganic and superfood-rich thinkGreen. All thinkproducts are wheat/gluten free and designed to deliver powerful nutritional benefits. The company's commitment to vitality goes beyond food to support a vital cause – the prevention of breast cancer. A portion of the proceeds from every thinkThin Pink bar purchase is donated to Susan G Komen for the Cure. thinkproducts can be found in natural food stores, leading supermarket chains, club, convenience, mass and drug stores, as well as health clubs and specialty food stores. thinkproducts can also be purchased directly from the company at www.thinkproducts.com. Thinkproducts is headquartered in Ventura, California, and is one of the largest independent companies in the nutrition bar category.

---
Home Cooking Made Easier with Heart Healthy Oil
No. 1 Wesson Oil Helps Bring the Family Meal Back with Great Taste and Nutrition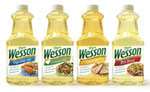 Families are yearning for more time together and mealtime can help achieve this. New research says families who eat together "are more likely to enjoy a healthy diet and be more well-adjusted."1 Essential components for family-pleasing meals include great taste, convenience and nutrition. Pure Wesson® Canola Oil meets these needs
Consumers think of olive oil first when it comes to healthy oils, but people don't realize that canola oil provides lower cholesterol-raising saturated fats and the same health benefits as olive oil without the strong olive taste. Forget the misconception that all fat is bad – canola oil, in moderation, recently earned a qualified health claim from the U.S. Food & Drug Administration for its potential ability to reduce the risk of coronary heart disease because of its unsaturated fat content2. Additionally, canola oil offers these health benefits:
Canola oil is lowest in cholesterol-raising saturated fats – even lower than olive oil

Canola oil may promote heart health by decreasing LDL or "bad" cholesterol

Canola oil provides essential fatty acids that may promote healthy skin, hair and nails

Canola oil contains phytosterols that help lower cholesterol

Wesson Oils contain zero grams of trans fat per serving and are naturally cholesterol-free

Florence Henderson, long-time Wesson Oil spokesperson, and television mom, has partnered with Wesson to help educate consumers about the uses of cooking oils in the kitchen. "Wesson Oil is a brand I trust, they were the first cooking oil in the market place, with 100 years of history, they are versatile and healthy and provide real mealtime solutions for busy families," said Henderson. "Wesson has a variety of oils to use for all types of cooking."
Here are some of Henderson 's tips on cooking with canola oil:
Create zesty, homemade salad dressing with canola oil because it doesn't separate from other ingredients and has a light color and taste.

Healthier breakfast and snack options for kids are now easier than ever. Add a twist to one of kids' favorite foods by making peanut butter and jelly muffins with heart-healthy canola oil.

Use Wesson Canola Oil when baking chicken or French fries. Simply pat the chicken with oil and roll in cracker crumbs before baking to seal in the meat's juices. Chicken doesn't need to be fried to get that tasty, crispy texture.

Use canola oil in place of other oils (not shortening) when baking, as it has a clean taste, 0 grams of trans fat and little saturated fat.

When stir-frying vegetables, add canola oil to the wok as it heats. Next, add the denser vegetables that take the longest to cook so they are on the bottom and closest to the heat source. Vegetables should come out soft, yet crunchy.

To meet consumers' many needs, Wesson Oil offers additional varieties for cooking:
Vegetable Oil: The most common cooking oil; Pure Wesson® 100 percent Natural Vegetable Oil is a soybean–based product with a light taste that lets spices and other flavors shine through

Best Blend: Pure Wesson® 100 percent Natural Best Blend is a combination of canola and vegetable oils and is another option that is right for everything from frying and grilling to salad dressings

Corn Oil: Pure Wesson® 100 percent Natural Corn Oil is the best oil to ensure a crispy coating, while retaining moisture on the inside, bringing out a natural, rich flavor and texture in fried and ethnic dishes

To serve as a resource to consumers, Wesson has redesigned its Web site to offer tips and recipes in an easy-to-use format. The site, www.WessonOil.com, includes a special section dedicated to educating consumers about the health benefits of oils. In addition, Wesson is introducing a new, sleek bottle that fits better on the pantry shelf, while maintaining its easier-to-hold grip. And by using 20 percent less plastic than the original design, the new bottles are also healthier for the environment.
About ConAgra Foods
ConAgra Foods, Inc. (NYSE:CAG), is one of North America's leading packaged food companies, serving grocery retailers as well as restaurants and other foodservice establishments. Popular ConAgra Foods consumer brands include: Banquet, Chef Boyardee, Egg Beaters, Healthy Choice, Hebrew National, Hunt's, Marie Callender's, Orville Redenbacher's, Reddi-wip, PAM and many others.
1 Family meal patterns: Associations with sociodemographic characteristics and improved dietary intake among adolescents
Neumark-Sztainer D, Hannan PJ, Story M, Croll J, Perry C. Journal of the American Dietetic Association- 2003 03 (Vol. 103, Issue 3)
2 FDA Qualified Health Claim: Limited and not conclusive scientific evidence suggests that eating about 1 1/2 tablespoons (19 grams) of canola oil daily may reduce the risk of coronary heart disease due to the unsaturated fat content in canola oil. To achieve this possible benefit, canola oil is to replace a similar amount of saturated fat and not increase the total number of calories you eat in a day.

---
Monkey Muffins Get Back to School With New Apple Flavor
Makers of Wholesome Mini-Muffins Give Moms and Kids Better
Lunch Box Snack Option
Nyack, NY- Monkey Muffins, Inc., the makers of wholesome and delicious mini-muffins for kids, today announced the release of Apple-Cinnamon Monkey Muffins®, scheduled to hit retail shelves on September 1, 2007.
Developed by Lisa Coates and Robin Rarrick, two Nyack, New York moms, determined to create a healthy snack-time option that their own kids would actually enjoy, Monkey Muffins are all natural mini-muffins packed in convenient, 2oz. servings. Monkey Muffins, available in Chocolate Chip, Banana, Pumpkin, and new Apple-Cinnamon, come in packs of four, each little muffin nestled in a special tray designed to prevent the muffins from getting crushed inside of lunchboxes.
Just like the other Monkey Muffins flavors, the new Apple-Cinnamon muffins are Kosher and made without any preservatives or artificial ingredients. Apple-Cinnamon Monkey Muffins are also made in accordance to Vegan standards, containing no dairy products.
Previously available only in New York and Connecticut, Monkey Muffins are now sold in over 1,500 retail stores from Vermont to Virginia and served as a healthy snack alternative in many school districts along the East Coast. Monkey Muffins are also available for purchase online at www.monkeymuffins.com.

About Monkey Muffins
Monkey Muffins, Inc. was founded in 2001 by Lisa Coates and Robin Rarrick. Searching for the perfect wholesome snack to feed their kids, they decided to just go ahead and bake it themselves. They came out so well, they decided not to be selfish and to share Monkey Muffins with the whole world. Monkey Muffins are bite-sized muffins made from only the finest natural ingredients. For more information, visit www.monkeymuffins.com or call (845) 348-4700.
---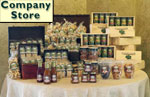 Healthy Holiday Gifts
by Stewart & Jasper
---
Sustainable Harvest Cooking Class
at Border Grill Santa Monica
Saturday, September 22, 2007
2 p.m. to 4 p.m.

Celebrate the bounty of autumn with "Too Hot Tamales" Mary Sue Milliken and Susan Feniger as they cook up a spectacular feast using organic produce, sustainable seafood, and hormone and antibiotic free meats. For only $75, the demonstration-style Sustainable Harvest Cooking Class includes a delicious 4-course lunch at Mary Sue and Susan's flagship restaurant Border Grill Santa Monica, as well as signature drinks and a recipe booklet.
Menu items include Ginger Pomegranate Margarita, Mussel Ceviche with Golden Beets, Cumin Glazed Baby Back Ribs with apple tamarind sauce, and Honey Glazed Walnut Cake.
Classes fill up fast, so call 310.451.1655 to make your reservations today!

Sustainable Harvest Cooking Class Menu

Ginger Pomegranate Margarita
silver tequila, muddled ginger, orange juice, and pomegranate

Mussel Ceviche with Golden Beets
steamed mussels with roasted beets, jicama, cilantro, and chiles
served on a crispy corn tortilla with mashed avocado

Swiss Chard, Hazelnut, and Goat Cheese Salad
red chard, roasted hazelnuts, and herb marinated
goat cheese; tossed with sherry wine vinaigrette

Cumin Glazed Baby Back Ribs
slow roasted pork ribs glazed with honey, cumin,
chiles, and lime; served with apple tamarind sauce

Smashed Potatoes
creamy yukon gold potatoes with a touch of crema

Chayote with Tomato and Garlic
mexican squash stewed with onions, garlic, tomato, and olive oil

Honey Glazed Walnut Cake
with fresh berries and whipped cream
Border Grill
1445 4th St.
Santa Monica, CA 90401
310.451.1655
www.bordergrill.com

For more information about Border Grill, contact Leah Ross or Sarah Horne Cook:

Leah Ross
PR and Marketing Manager
Office: 213.542.1100 ext. 10
Fax: 213.542.1101
leah@bordergrill.com

Sarah Horne Cook
PR and Marketing Associate
Office: 213.542.1100 ext. 13
Fax: 213.542.1101
scook@bordergrill.com

About Border Grill Santa Monica
Enjoy upscale, modern Mexican food in a vibrant setting at Border Grill, the hip, urban cantina from Chefs Mary Sue Milliken and Susan Feniger, Food Network's "Too Hot Tamales". Border Grill uses seasonal, locally grown ingredients, including 100% Certified Organic rice, beans, and coffee. Border Grill serves only sustainable seafood and is a member of the Monterey Bay Aquarium Seafood Watch Restaurant Program. All menu items are trans fat free.

About Mary Sue Milliken and Susan Feniger
Two of America's most beloved chefs, Mary Sue Milliken and Susan Feniger have been business partners for over 20 years. They are chef/owners of the popular, critically acclaimed Border Grill in Santa Monica and Las Vegas, serving modern Mexican cuisine, as well as Ciudad in Downtown Los Angeles, featuring bold, seductive flavors of the Latin world. They are authors of five cookbooks, including Cooking with Too Hot Tamales, Mesa Mexicana, and City Cuisine, and starred in 396 episodes of the popular "Too Hot Tamales" and "Tamales World Tour" on Food Network. For more information, go to www.marysueandsusan.com.
---
Chef and Child Recipe Contest Puts New Spin on Versatility and Child-Friendly Facts of Soyfoods
A Chef and Child Soyfoods Recipe Contest was held at the Iowa Culinary Institute on Friday, at the culmination of a three-day soyfoods culinary tour held in Des Moines, IA August 8 thru 10, 2007. During the three days five chefs, their children (or young family friend) and 10 food editors visited a soybean farm, learned about soy nutrition and the culinary versatility of soyfoods, visited the Iowa State Fair and sampled locally produced soyfoods products from Pulmuone Wildwood, Inc, MicroSoy Corporation and Heartland Fields.
Winning the contest, and a $1,000 scholarship for culinary education, was MacKenzie Smith, age 12, of Las Vegas, Nevada. She competed with her mom, Shannon Kelly Smith, Culinary Educator for Las Vegas High School who received $2,000 for her expertise in helping MacKenzie with her recipe development and demonstration.
"I love to make tacos so it was easy for me to pick my recipe," exclaimed MacKenzie as she began her food demonstration. "They're easy to make and they're good for me and good for the earth because they're made with soybeans."
Smith also made "Guilt-Free Brownies" featuring black soybeans – one of the more creative uses of soyfoods seen during the recipe contest. (Recipes of the winning entrée are below.) Who knew soyfoods, an often-unapproachable food for adults, let alone children, would be the highlight of an event that brought chefs from all parts of the country together for the first Chef and Child Soyfoods Recipe Contest – an event focused on creating healthful, child-friendly soyfoods snacks and entrées.
"We wanted to create a venue where children were the focus," states Linda Funk, Executive Director of The Soyfoods Council. "With childhood obesity concerns looming, and the need to better educate parents and children about soy nutrition and versatility, we thought of no better way than to get children involved – making recipes they could prepare and, of course, love to eat!"
Winning the "Most Child-Friendly Recipe" award was Ruby, age six, and her dad, Chef Andrew Mayne, Executive Chef of Catering at Stanford University. Ruby explained in her food demonstration for a "Tempeh Avocado Sushi Roll with Soy Dipping Sauce," that sushi is her favorite food. When she takes sushi to school, the other children try to steal it because they love it too! Chef Andrew added,
"It's a great way to show kids and parents that healthy food is easy to make and tastes great."
Judges for the contest included Devin Alexander, Host of The Discovery Channel's "Healthy Decadence" and author of Fast Food Fix and The Biggest Loser Cookbook, Chef Robert Anderson, Chair of the Iowa Culinary Institute and Linda Funk, Executive Director of The Soyfoods Council.
Other Chef and Child Soyfoods Recipe Contest Winners Included:
Most Versatile – Executive Chef Ephraim Malag, Tournament Club of Iowa – The Oak View Restaurant and Jordan Franklin (age 13) of Polk City, IA. They prepared a "Lily Gyoza" for their snack and "Smoked Jasmine Pork Appanoose" for their entrée.

Most Creative – Master Chef Marcel Biró, Biró Internationale, LLC of Sheboygan, WI and Destinee Palimore (age 9) of Des Moines, IA. Chef Marcel and Destinee showcased a "Chocolate-Covered "Soy-Prize"' (edamame, soy nut butter and chocolate fondue) for their snack and "Vegetarian Lettuce Wraps" as their entrée.

Most Surprisingly Healthy - Chef Steve Kapelonis, The PUMP Energy Food Restaurant, and Chrysoula Kapelonis (age 8) New York, NY demonstrated a "Mixed Fruit Topped with Soy Ice Cream and Soy Granola" for their snack and a "Grilled Chicken Soy Caesar Whole Wheat Twist" for their entrée.

WINNING RECIPES

Double Whammy Taco Wraps

Entrée
Serves 6
1 12 ounce package soy meatless taco meat
1 15 ounce can black soy beans – rinsed and drained
1 package soy flour tortillas
1 small avocado – skinned, pitted and smashed
1 12 ounce container soy sour cream
1 12 ounce package of soy cheddar cheese alternative
1 large vine ripened tomato - chopped
1 10 ounce package shredded lettuce
1 small bottle of hot sauce – optional
Place the taco meat and beans in a medium size frying pan. Using medium low heat warm the meat mixture.
To assemble the wraps:
Spread 1 tablespoon of the smashed avocado and 1 tablespoon sour cream on a tortilla.
Place 1/3 of a cup of the meat mixture onto the avocado and sour cream mix.
Top with 2 tablespoons of cheese.
Add the shredded lettuce and tomato.
Sprinkle on hot sauce if desired.
Roll up the wrap by folding in the sides and then rolling up the tortilla from the bottom.
Cut at a diagonal (/).
Serve immediately.
Guilt-Free Brownies

Snack
Serves 16
1 15 ounce can black soy beans – drained and well rinsed
3 large eggs
½ cup granulated sugar
¼ cup soy flour
3 tablespoons cocoa powder
2 tablespoons brewed coffee
1 teaspoon baking powder
¼ cup soy oil
1 teaspoon vanilla
¼ cup powdered sugar - optional
Preheat oven to 350 degrees.
Spray an 8" x 8" glass baking pan with cooking spray.
Place beans into a food processor or blender, chop for several seconds. Beans should look coarse not smooth.
Add remaining ingredients to the beans and blend until smooth.
Pour mixture into the baking pan and bake for 25 minutes.
Brownies are done when a toothpick inserted into the middle comes out clean.
Cool and sprinkle with powdered sugar (optional).
Servings: 16
Serving Size: 2" x 2" squares
Weight, 3 ounces
Optional Ingredients
¼ cup semisweet chocolate chips

¼ cup chopped walnuts, pecans or almonds

Serving Suggestions:
Serve brownies warm with vanilla soy ice cream
---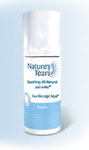 Nature's Tears® EyeMist®
A Natural way to combat dry yes when you are on the go.
Eye strain, dry eyes, burning eyes, red eye, contact lens discomfort, computer vision syndrome, computer eye irritation, allergy eyes, post-LASIK discomfort and MORE.
Nature's Tears peetrates the tear film to give instant relief to dry eyes. For information visit: www.naturestears.com.

---
ORVILLE REDENBACHER'S NEW NATURAL LINE
POPS WITH SAVORY GOURMET FLAVORS
Four Varieties of Microwave Popcorn Tempts Tastebuds in Initial Launch
Consumer interest and demand for natural products is at an all-time high with sales growth in the United States at 9.7 percent across all retail and direct-to-consumer sales channels in 2006, topping more than $56 billion1. In addition to consumers' growing desire for more natural products, their taste palates have become more sophisticated as they discover more exciting flavor combinations in ordinary foods. Orville Redenbacher's® Gourmet® Popping Corn, the number one selling popcorn brand in the U.S., listened to consumers and as a result developed a new line of flavorful, natural popcorn with no artificial flavors, colors or preservatives.
The new Natural varieties, arriving on store shelves in August, will deliver big flavor in a mini bag, giving consumers just the right amount of indulgence. The flavors add a new flair to popcorn, partnering tempting combinations of butter and garlic (Buttery Garlic), and butter, salt and cracked pepper (Buttery Salt & Cracked Pepper). In addition, the salt-only (NATURAL Simply Salted) and a reduced fat variety (NATURAL Simply Salted 50% Less Fat) allow Orville's gourmet popcorn flavor to shine.
In addition to the growing demand for natural products, Trendwire, a publication of the Food Channel2, noted that two additional top food trends to watch for in 2007 included portion control and innovative flavors. The new Natural popcorn line not only is a response to these trends, but it also is the first all-natural line of gourmet popcorn that features such unique flavors along with 100 percent whole grain and 0 grams of Trans Fat.
"In our ongoing quest to create the perfect popcorn, we noticed an opportunity to provide a new line completely on trend with our consumers' pursuit to actively integrate more natural and flavorful products into their daily routine," said Stan Jacot, vice president of Marketing for the ConAgra Foods popcorn business. "Through our research and innovation processes, the new Natural gourmet variety gives consumers a great tasting, whole grain snack with all natural ingredients and unique flavors."
All flavors are available in August for a suggested retail price of $2.69.
ABOUT ORVILLE REDENBACHER'S
For more than 40 years, the Orville Redenbacher's name has been a valued and iconic household name that offers premium taste with quality ingredients. Orville Redenbacher's Gourmet Popping Corn Light Butter Microwave Popcorn was recently ranked #1 by a leading publication. As the number one selling popcorn brand in the U.S., Orville Redenbacher's Gourmet Popping Corn is available in more than 70 varieties to complement any lifestyle, taste or occasion. For more information on the brand and products, visit Orville Redenbacher's Web site at www.orville.com.

---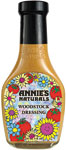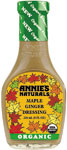 Annie's Naturals Presents:
Summer of LoveWoodstock Dressing and new Maple & Ginger Dressing (great with seafood)

More healthy good news for salad lovers nfrom Annie's Naturals. For addiional information visit:www.anniesnaturals.com.