AMERICAN DIABETES ASSOCIATION


With a mission of Cure, Care, Commitment, the American Diabetes Association is devoted to providing useful and comprehensive information to support those with diabetes around the world. For helpful data, recipes, and special diet and exercise programs go to www.diabetes.org.
---
MACADAMIA NUT CLUSTERS FOR THE SUGAR SENSITIVE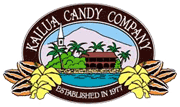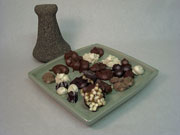 Kailua Candy Company searched and searched to find a sugar free chocolate with a cocoa butter base that was good enough to put their name on, and finally found it. The new sugar free product is not overly sweet like many similar products, and the milk or dark milk chocolate morsels are loaded with Macadamia Nuts.
For holiday orders visit www.kailua-candy.com.
---
GUAYAKI LAUNCHES FIRST BOTTLED ORGANIC ENERGY DRINK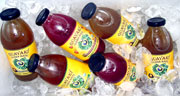 Guayaki sustainable Rainforest product company has launched a refreshing new hot weather beverage that provides a real energy boost in there "feel the good energy" drink. Flavors include traditional mint, empower mint, and raspberry revolution, and are made with 100% organic cane juice and organic rainforest grown yerba mate, with no artificial colors or flavors. For details visit www.guayaki.com.
---
ALL NATURAL ENERGIZING GREEN TEA
Nutritious, gourmet and ready to-go!

TeaTech brand Instant Green Teas are characterized by its natural green tea color and taste, and absolutely no bitterness. Each serving provides you 300 mg of polyphenols (antioxidants). Sugar Free, Calorie free XtraGreenTM Tea Beverage Mixes are available in Original (unsweetened), Lemon and Raspberry (sweetened with Splenda), and are packaged in individual serving tubes for Xtra convenience. Healthy and delicious gift!
---
Food & Products for Thought
Warm weather brings new products and ideas to beat the heat. I have included some that came across my desk for your enjoyment during these warm weather days.
VACUVIN INNOVATIONS - EASY PINEAPPLE SLICER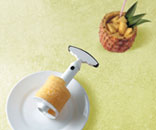 Leave it to the Dutch in the Netherlands to come up with the perfect solution for slicing a perfect pineapples. This light weight, easy to store gizmo works like a charm; especially on my Maui Gold Pineapples. For information go to info@vacuvinusa.com or visit www.vacuvin.com.

IZZE COOLERS
This is a wonderful health minded product to keep you cool on the hot days we have been experiencing. It comes in a variety of flavors; all delicious. Cheers!
THE ANSWER TO TOUGH SHRIMP
~The Shrimp Butler makes shrimp easy~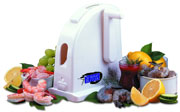 This time saving invention has received raves from kitchen gourmets, 5-star chefs and the recreational shrimper. The Shrimp Butler is a quick and easy way to devein shrimp and serve fresh, in-the-shell, shrimp at home. Simple one-step operation will slice and fillet the shrimp shell. The Shelton Corporation also offers a delicious Shrimp Butler seasoning for the perfect seafood dinner.