POPE SENDS PALM SUNDAY MESSAGE OF PEACE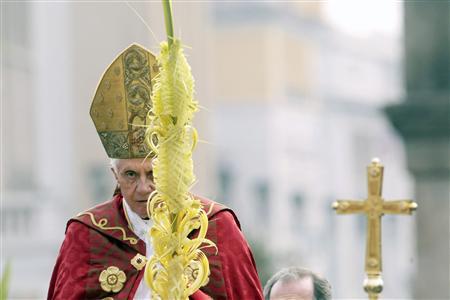 (Reuters) - Pope Benedict preached a message of unity as he opened Holy Week celebrations on Palm Sunday before tens of thousands of faithful packed into St Peter's Square.
Just back from a six-day visit to Mexico and Cuba, the 84-year-old pontiff on Saturday learnt that communist Cuba had agreed to his request of declaring Good Friday a holiday this year.
In a homily built on the story of Jesus' entry into Jerusalem the week before he was crucified, Benedict said the underlying resonance of the Easter celebration was the shared destiny of humanity.
"Here we find the first great message that today's feast brings us: the invitation to adopt a proper outlook upon all humanity, on the peoples who make up the world, on its different cultures and civilizations," he said.
Clad in a red and gold robe, the pope led the service before dozens of bishops and cardinals as well as pilgrims holding palm and olive leaves to commemorate the branches said to have been laid down before Jesus as he rode into Jerusalem on a donkey.
The German pontiff, who celebrates his 85th birthday on April 16 and who has appeared frail, now faces an intense week of church celebrations.
HOLY WEEK
The celebrations on Palm Sunday, a moveable feast held on the first Sunday before Easter, mark the start of Holy Week, leading up to Easter Sunday, the most important date in the church calendar.
On Holy Thursday, he will celebrate two masses in the Vatican, during one of which he will kiss and wash the feet of 12 men, in a gesture celebrating Jesus' humility towards his apostles on the night before he died.
On Good Friday, the day which marks the crucifixion of Jesus, the pope will lead services in the Vatican before heading the traditional "Via Crucis", the torch-lit "Way of the Cross" around the ancient Colosseum in Rome.
Holy Week culminates on Easter Sunday, when Christians celebrate the resurrection of Jesus and when the pope gives his twice yearly "Urbi et Orbi" (the city and the world) blessing and message.
(Reporting By James Mackenzie; Editing by Andrew Osborn)
---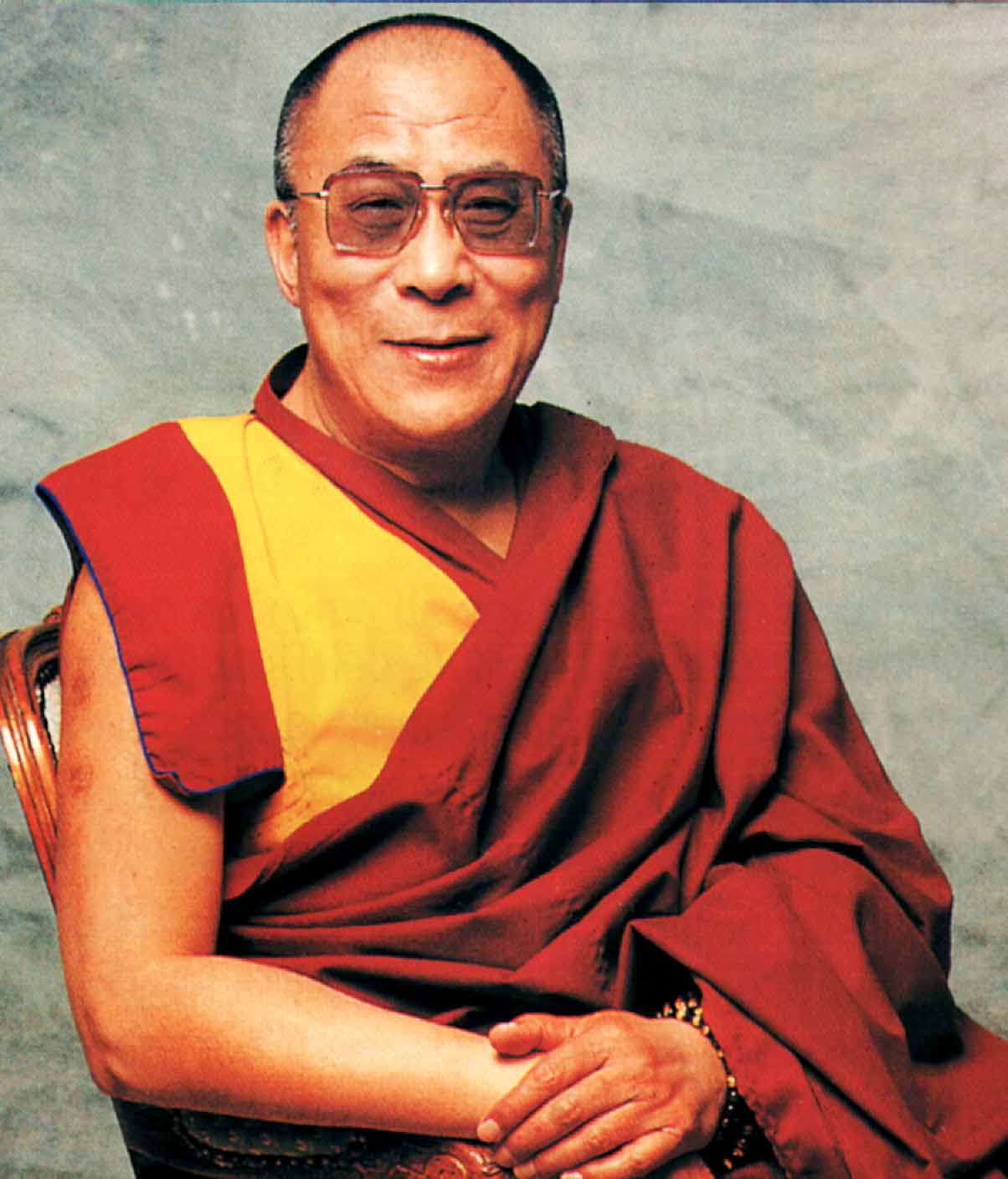 HIS HOLINESS THE DALAI LAMA TO SPEAK AT THE SMG-MANAGED LONG BEACH ARENA ON
APRIL 21ST

His Holiness the Dalai Lama will be
delivering a public talk on 'Peace of Mind in Troubled Times' on April 21st, at
1:30PM, at the SMG managed Long Beach Arena. This event is hosted by Gaden
Shartse Thubten Dhargye Ling (GSTDL), a Tibetan Buddhist center in Long Beach.

International peace icon Tenzin Gyatso, the Fourteenth Dalai Lama, will return
to Long Beach to deliver a public address at the Long Beach Arena. Titled "Peace
of Mind in Troubled Times," the speech will cover how to cultivate generosity,
humility, and equanimity—universal themes that have made him one of the world's
most beloved spiritual teachers. A tireless advocate of social justice and
nonviolence, the Dalai Lama continues to travel widely to promote a more open,
just, and democratic world. The Tibetan leader officially devolved his political
leadership last year, but remains the head of Tibetan Buddhism.

Although the Dalai Lama was in the Southland last May, travel delays caused the
cancellation of several engagements, including a public talk at the Long Beach
Terrace Theatre. Local organizers were able to reschedule the event — and this
time, at the larger, neighboring Long Beach Arena.

Geshe Lobsang Tsultrim, Director of GSTDL, believes "It's an incredible blessing
that His Holiness will be returning to Long Beach. It's a great privilege for us
to host this public talk at the Arena and this will allow many people to see
him."

"It is with extraordinary pleasure that we welcome His Holiness back to Long
Beach on one of his rare visits," said Dan Spellens, Director of Theaters &
Entertainment for the Long Beach Convention & Entertainment Center. "We thank
Gaden Shartse Thubten Dhargye Ling for working with us on this one-of-a-kind
event," he added.

Tickets are on sale now and can be purchased at all TicketMaster locations and
the Long Beach Performing Arts Center Main Box Office. Ticket prices are as
follows: $20, $37, $64, and $94. To charge by phone, please call TicketMaster at            
(800) 745-3000       or visit www.ticketmaster.com.  The Box Office is located
at 300 E. Ocean Boulevard and is open Monday through Friday from 10:00AM to
6:00PM and Saturday from 12:00PM to 4:00PM.

GSTDL is offering the public and interested organizations the unique opportunity
to become event sponsors. The sponsorship package includes preferred seating at
the event, brunch at the Westin Hotel on Friday, April 20th and a small gift of
recognition. Contact (562) 726-2789  or hhdl2012@gstdl.org  for more sponsorship
information. 


ABOUT LONG BEACH CONVENTION & ENTERTAINMENT CENTER/SMG:

One of the few ocean front arena and convention facilities in the country, the
Long Beach Convention & Entertainment Center attracts approximately 2 million
people each year for conventions, trade shows, theater and sporting events. 
Managed by SMG, the Center offers state-of-the-art facilities including unique
entertainment venues at the Long Beach Performing Arts Center, which includes
the Terrace and Center Theaters, as well as the Long Beach Arena.  For further
information on the Long Beach Convention & Entertainment Center, please call           
(562) 436-3636       or visit www.longbeachcc.com.
---
 HAPPY EASTER AT THE RESCUE MISSION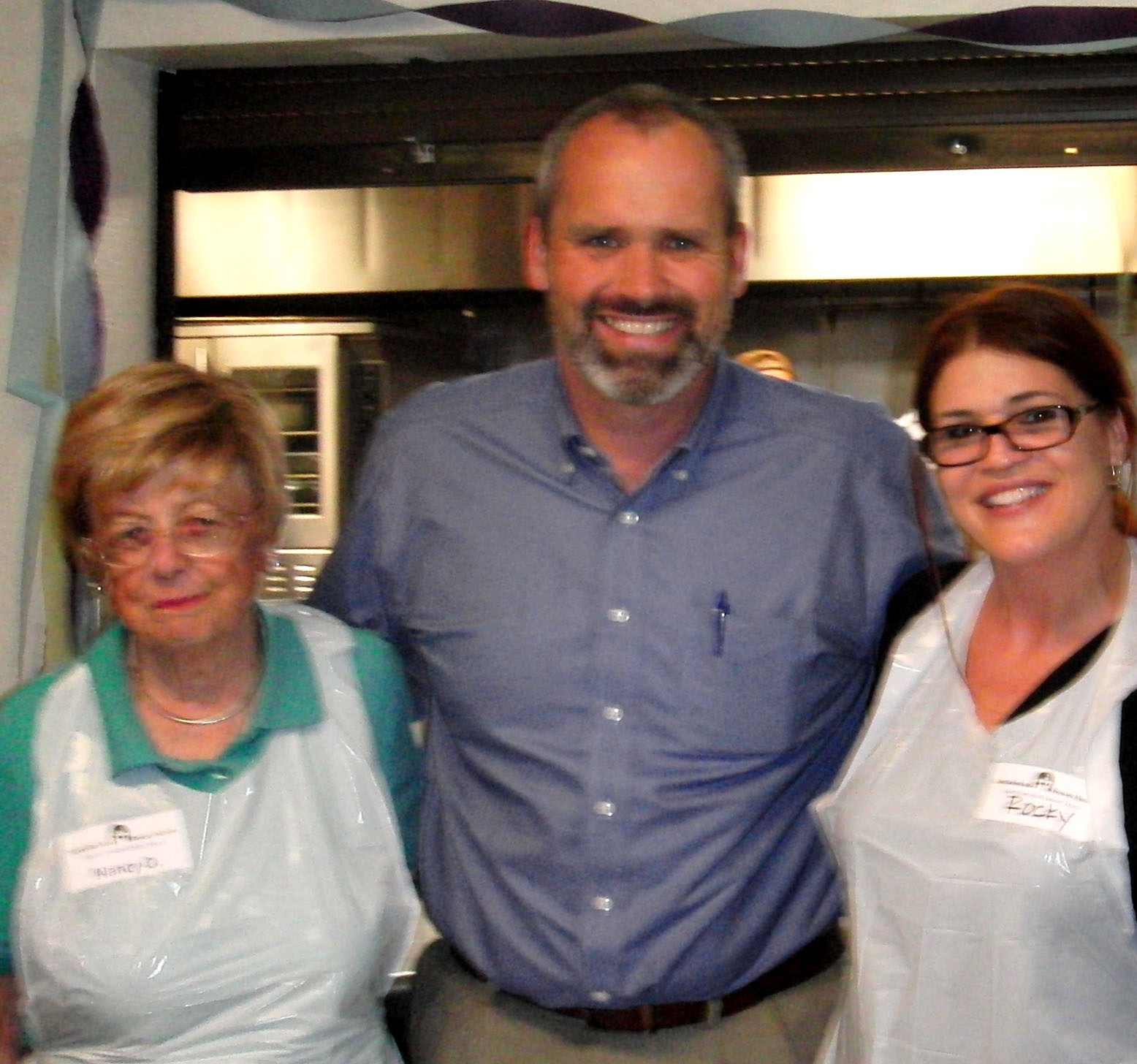 Easter Brunch Volunteers Nancy and Rocky joined Rolf Geyling, President of the Santa Barbara Rescue Mission. to serve a delicious meal to over 200 homeless people at the annual feast served in the mission dining hall at 535 E. Yanoli Street in Santa Barbara. Over twenty volunteers came to donate their time as servers.
The Santa Barbara Mission was established in 1965, and the organization has served the county and city of Santa Barbara for 47 years, providing emergency services and long-term recovery for the homeless and addicted. With 80 beds for men and 20 for women and children, it is the only emergency shelter that is open 365 nights of the year from Santa Maria to Ventura. In 2011, the Mission provided 164,615 meals and 61,576 safe nights of shelter for individuals with no place else to turn. The mission's 12-month residential recovery program aims to bring individuals from decades of addition, institutionalization, and homelessness back to sobriety, health and wholeness. Certification through the California Department of Alcohol and Drug Programs ensures that participants receive the highest standard of treatment in a non-medical facility. For information or donations visit: wwwsbrm.org.

---
3 Ways to Prevent a Cold
The average American sneezes and coughs through two to four common colds each year. To help you stay sniffle-free and lower your odds, we asked three top experts how they avoid a cold or the flu.
by Sharon Liao
1. Get Sleep & Avoid Stress
"Get enough shut-eye. If you fall short, your immune system doesn't function at its optimum level. Most people need seven to nine hours of sleep. Stress can also make you more susceptible to viruses. I suggest taking five-minute relaxation breaks at least three times a day. Take a walk outside, listen to music or breathe deeply: Inhale for a count of four and exhale for a count of eight."— Julie T. Chen, M.D., integrative medicine physician and owner of Making Health EZ in San Jose, California
2. Take Your Vitamins
"A number of vitamins and minerals are used to keep your immune system running properly, so make sure to incorporate a wide variety of colorful fruits and veggies into your diet. For extra insurance, I also take supplements with C and B vitamins, like eBoost. And since research shows an insufficient intake of vitamin D raises the risk for respiratory infections, ask your doctor to check your levels. If they're low, she'll recommend supplementation." — Sharon Richter, R.D., a dietitian in private practice in New York City
3. Look to Traditional Chinese Medicine
"In Traditional Chinese Medicine, whole foods are recommended: Mushrooms have been shown to fight colds, as have probiotics (the healthy bacteria in your gut), which are found in yogurt and soy. An herb called astragalus is also recommended for building defensive energy; look for it at health-food stores in pill or tincture form. If you start to get a sore throat, try gargling with oil of oregano, which has antiviral and antibacterial properties." — Jim Rohr, L.Ac., an acupuncturist at Canyon Ranch Hotel & Spa in Miami
_________________________________________________________________
Singin' in the Rain on St. Patrick's Day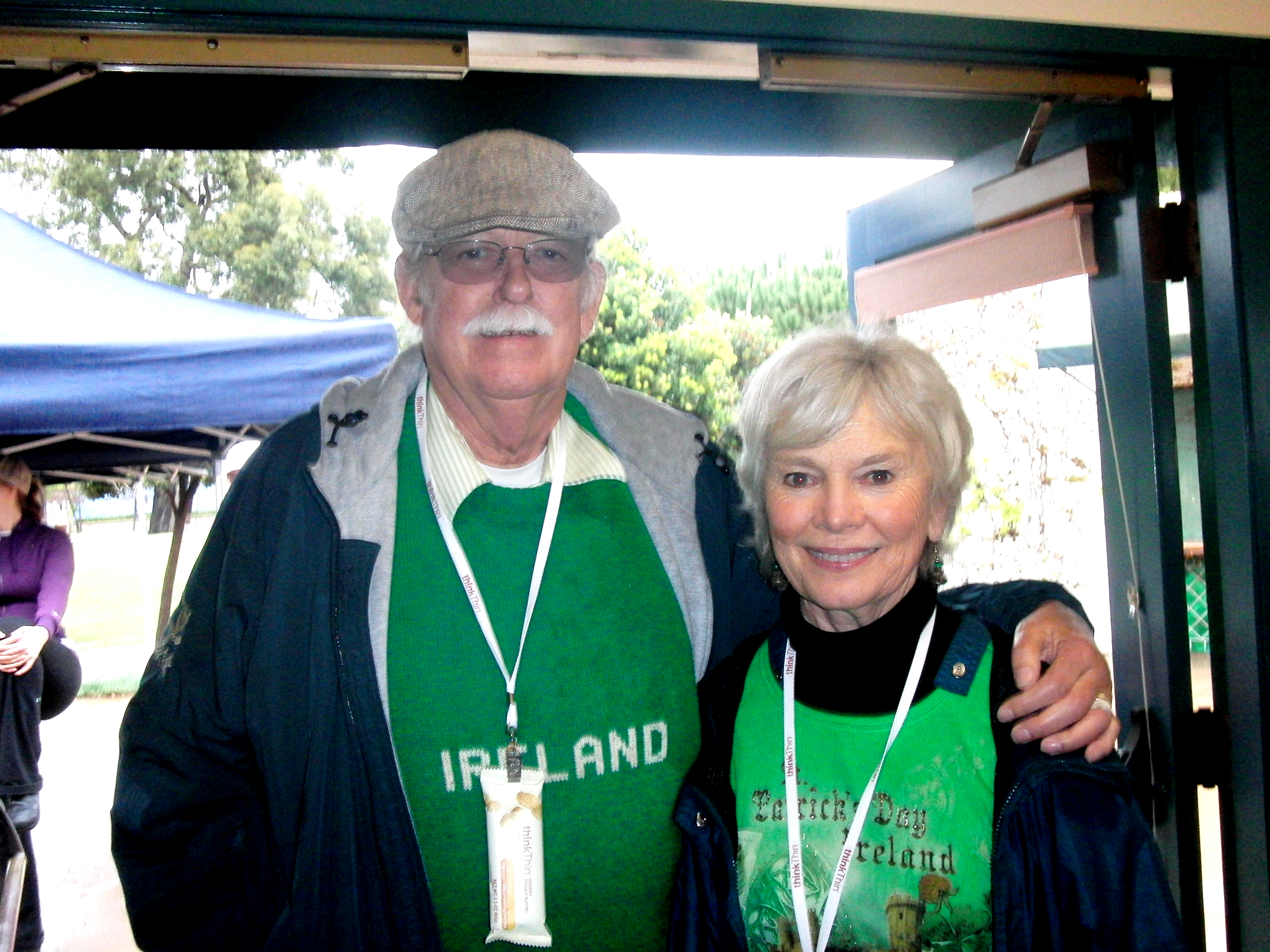 John & Barbara Ireland Finish 1st
2012 BARBARA IRELAND WALK For Cancer Research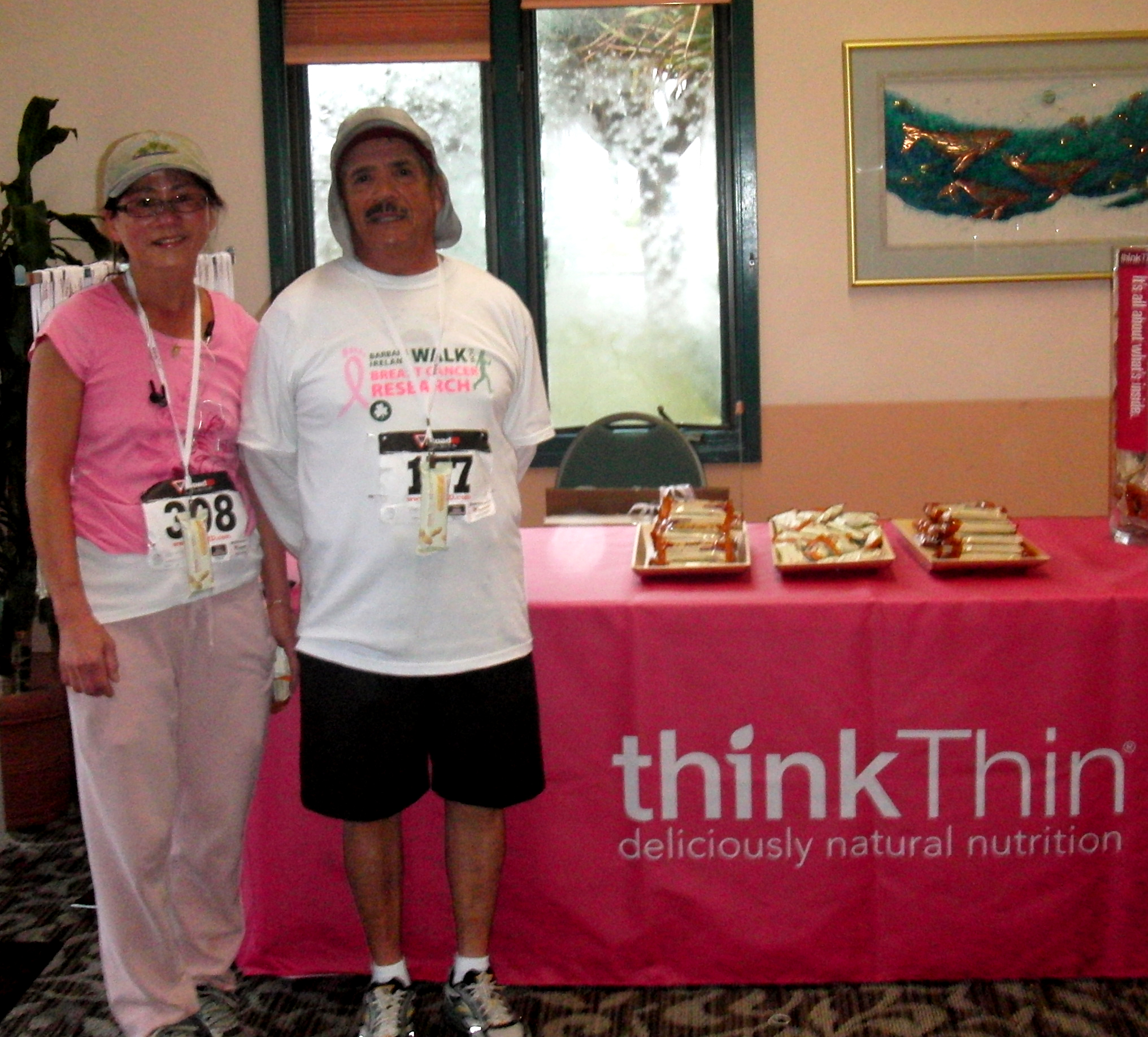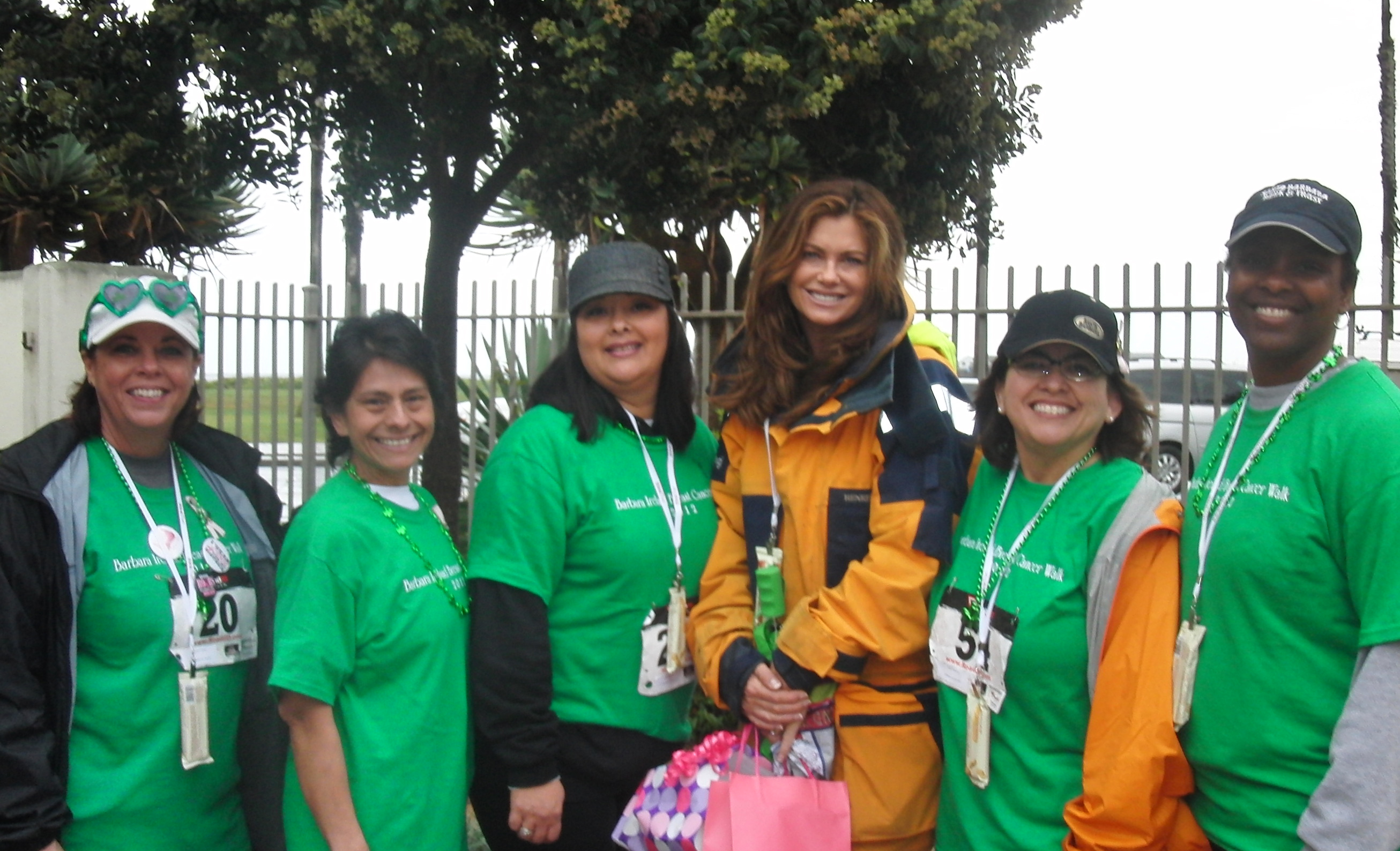 Runners sample new ThinkThin Bars - Kathy Ireland with Walkers for Knockers
400 registered to walk in the Cancer Center of Santa Barbara - Barbara Ireland Walk for Breast Cancer Research and finished despite the rain. Chase Palm Park was the site for start to finish, where Barbara Ireland and husband John lead the walkers to the finish line. A spa party for walkers featured free foot and neck massages from area therapists, manicures from the Paul Mitchell group (green being the color of the day), protein bars from ThinkThin, Let it Go Yoga Instructions and a delicious bag lunch with a beverage.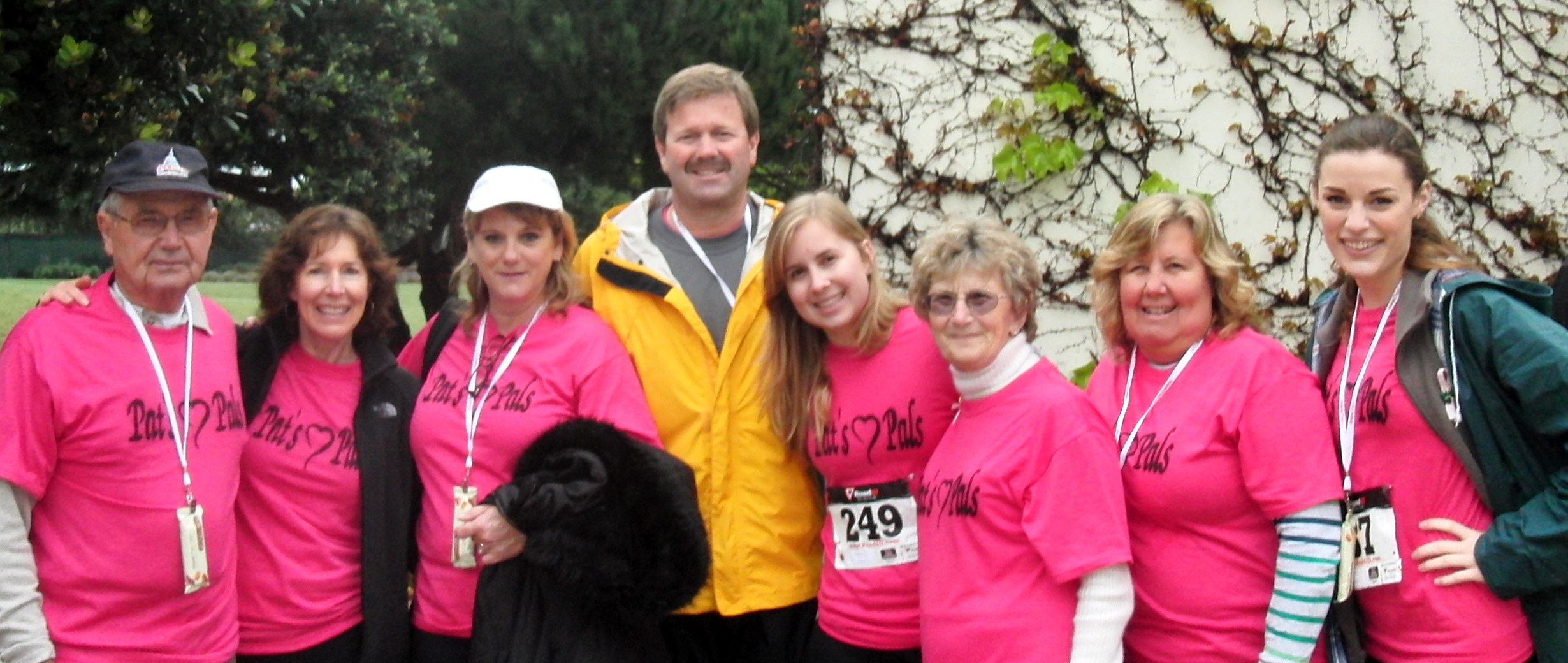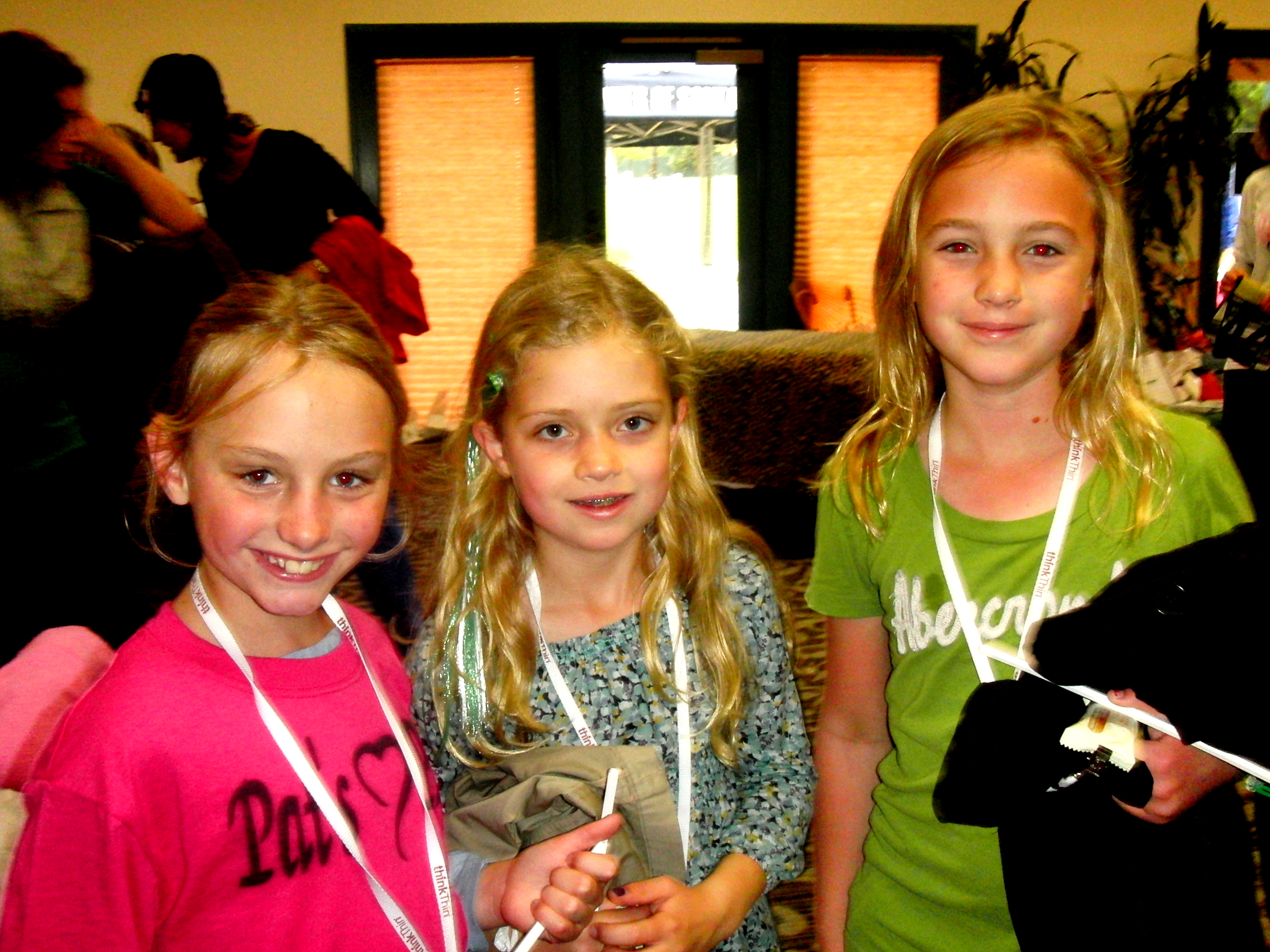 "Pat's Pals" Team - Walkers Chloe Harrah, Ava Vandever & Chloe Olsen
Barbara Ireland said "we are thrilled with the turnout, and we appreciate all the media who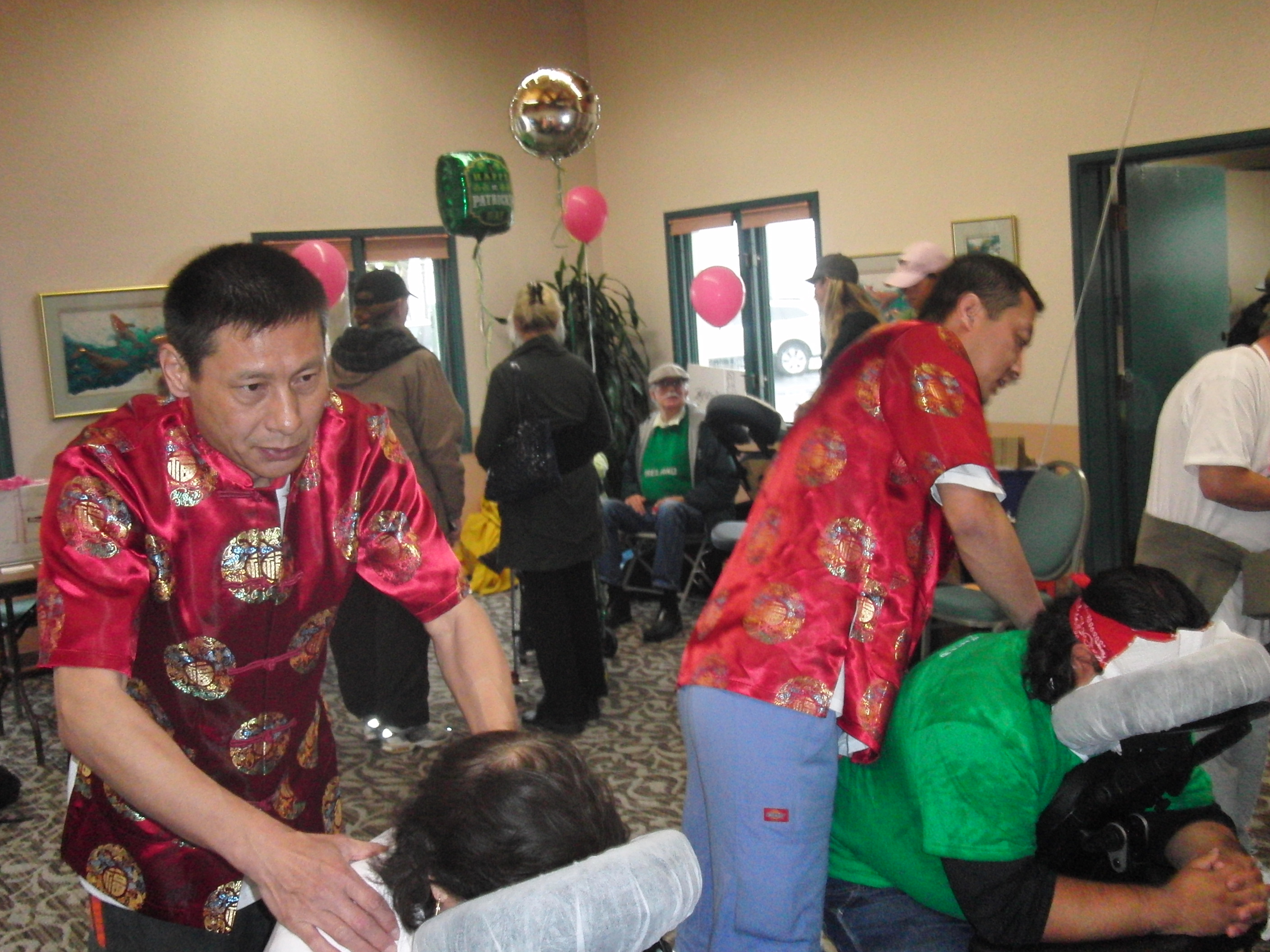 helped us make the event successful." According to Ireland "we all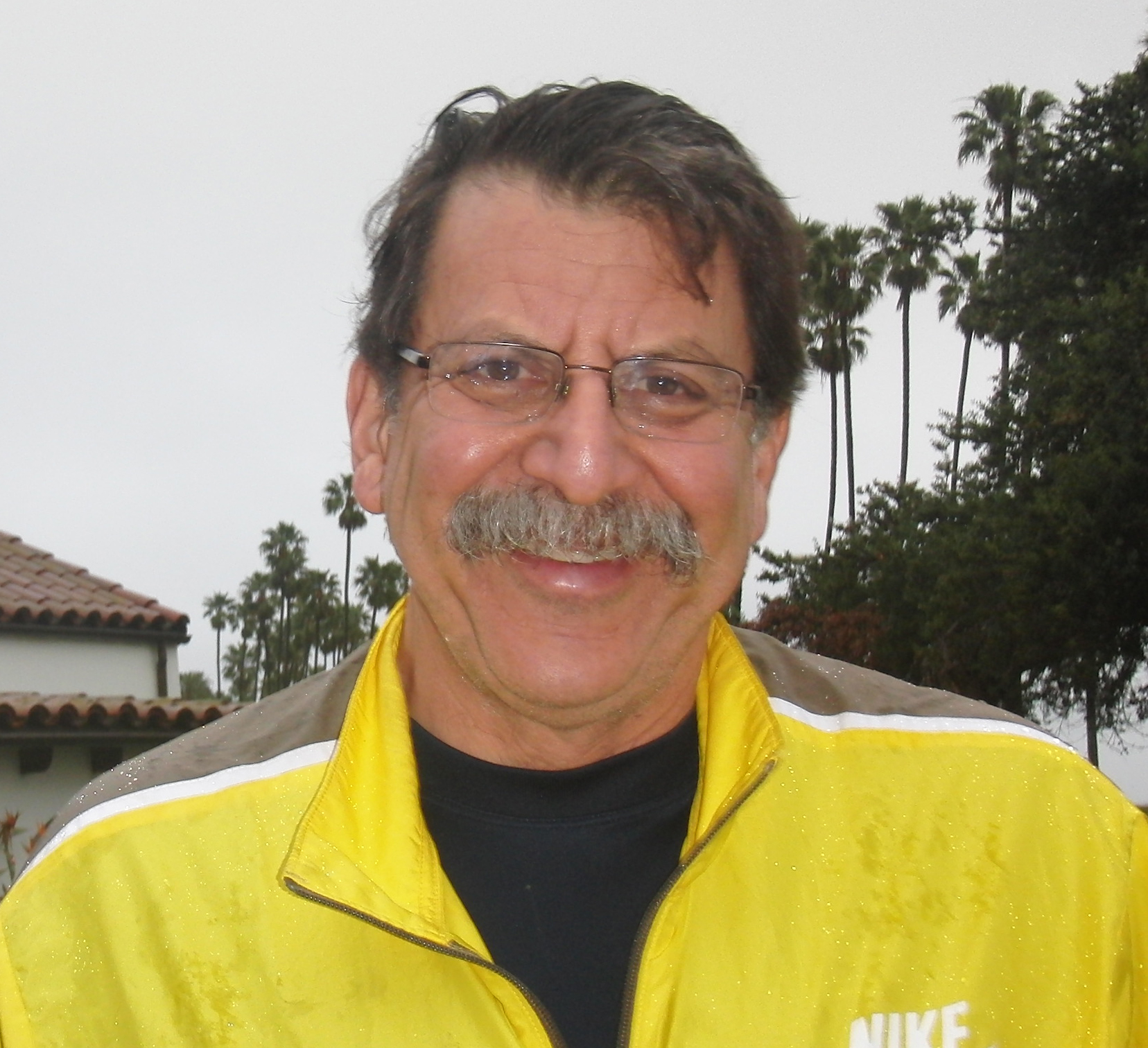 used facebook and twitter to let people know, and I think it helped," she said. Kathy Ireland chatted with a group of women supporting cancer who formed their own group "Walkers for Knockers" and Pat Gamble was there with her whole family called the "Walking for Pat" team. Mary Ireland was celebrating St. Pat's as she did the walk with Skipper, and Chloe Olsen (granddaughter of Barbara Ireland) walked with friends Chloe Harrah and Ava Vandever. Volunteers from CCSB expressed their gratitude to everyone who participated. For information or donations visit:
www.ccsb.org
.
_________________________________________________________________
SOY FOOD INFORMATION . . .
How to Simplify and "Soy-ize" Your Dinner Plans for National Soyfoods Month
Ankeny, Iowa, March 29, 2012—April is National Soyfoods Month, the ideal time for getting acquainted with foods such as TSP (texturized soy protein) and tofu. If you're already enjoying soyfoods like edamame, soymilk, soy nuts and soy yogurt on a regular basis, you'll be delighted to learn that soyfoods offer a host of health and nutrition benefits.
Mark Messina, PhD., leading soy expert and executive director of the Soy Nutrition Institute, says, "Soyfoods provide ample amounts of protein and are low in saturated fat. There is also research indicating that soyfoods provide health benefits independent of their nutrient content. For example, there is evidence suggesting that soy may reduce the risk of prostate cancer and is protective against breast cancer if consumed during childhood and/or adolescence."
The Soyfoods Council offers free resource material, including the brochure Good News About Good Eating: Simple tips for including soy in your everyday meals. You don't have to change the way you cook or eat to boost the flavor, improve the texture and alter the nutrition profile of your favorite recipes. Soyfoods also provide an economical source of protein to your weekly menu. Each serving offers approximately 7 to 15 grams of high-protein, or as much as 12 to 25 percent of daily protein requirements for the average adult.
Tofu and TSP are two ways you can easily add soy to your recipes. The following definitions and tips will give you an idea of how easy it is.
TSP (texturized soy protein) is also called TVP™ (textured vegetable protein). Because of its mild flavor and the fact that it takes on the flavors of other ingredients, TSP is as versatile as it is convenient. It's a dried soy protein product, made from soy flour and formed into small pieces that resemble browned ground beef and can be stored on a cupboard shelf. TSP is high in protein, has no fat, no cholesterol and no sodium. It provides iron and calcium
TSP Tip: Dry TSP almost doubles when you rehydrate it to use in recipes. That means one cup of dry granules yields of 2 cups of ready-to-go protein after it has been rehydrated. Add it to chili, soups, stews and spaghetti sauce. The Soyfoods Council offers recipes for Sweet and Sour Chicken and TSP Meatballs, Shepherd's Pie, Three-Bean Chili and Taco Burgers.
Tofu comes in a variety of styles and types. Simply put, it's a "cheese" made from soymilk, and has less than 5 grams of fat per serving (less than 1 of those grams is saturated fat), no cholesterol, and practically no sodium. Tofu types include water-packed tofu sealed in a plastic container, and silken tofu that comes in a box.
Water-packed tofu is dense and solid, and comes in soft, firm and extra-firm textures. You can marinate the slices or cubes, then heat them in a skillet and serve them as you would meat or chicken, or add them to pasta dishes and salads.
Silken tofu is available in a 12-oz. box, and has a custard-like texture. It comes in soft, firm and extra-firm textures. Silken tofu is ideal for pureeing and blending. It is a good choice for dips, dressings, smoothies, and desserts.
Tofu Tip: Freeze water-packed tofu by draining it well and freezing it in a zip-top plastic bag. Freezing drives liquid out of the tofu—when thawed, it's denser and easy to handle for stir-frying or grilling. Recipe ideas from the Soyfoods Council featuring water-packed tofu include Tofu and Dressing, Tofu and Dumplings, Southwest Tofu Pasta and BBQ Tofu Calzones.
For recipes, resources, or a free copy of Good News About Good Eating, visit the Soyfoods Council website at www.thesoyfoodscouncil.com.
---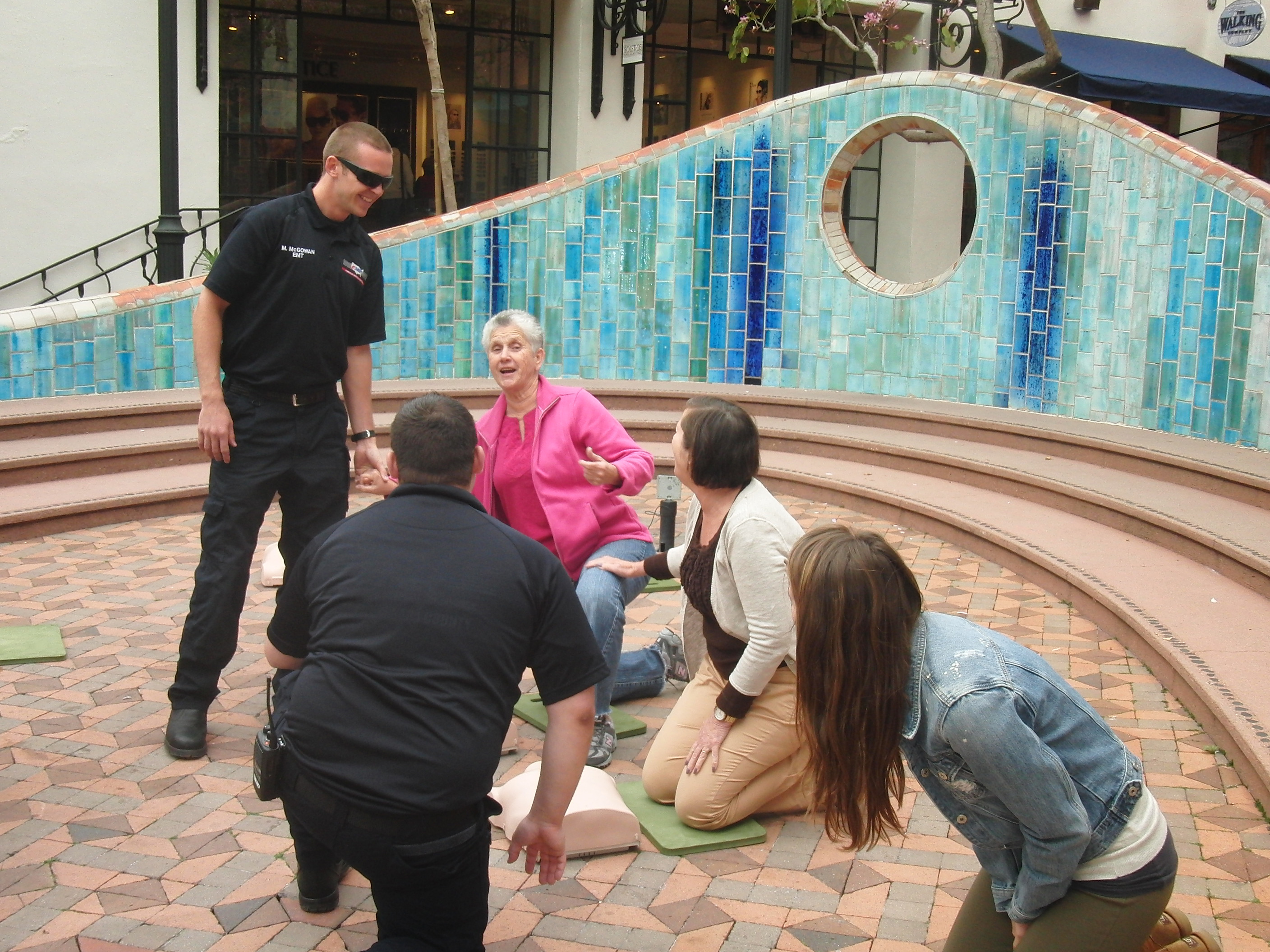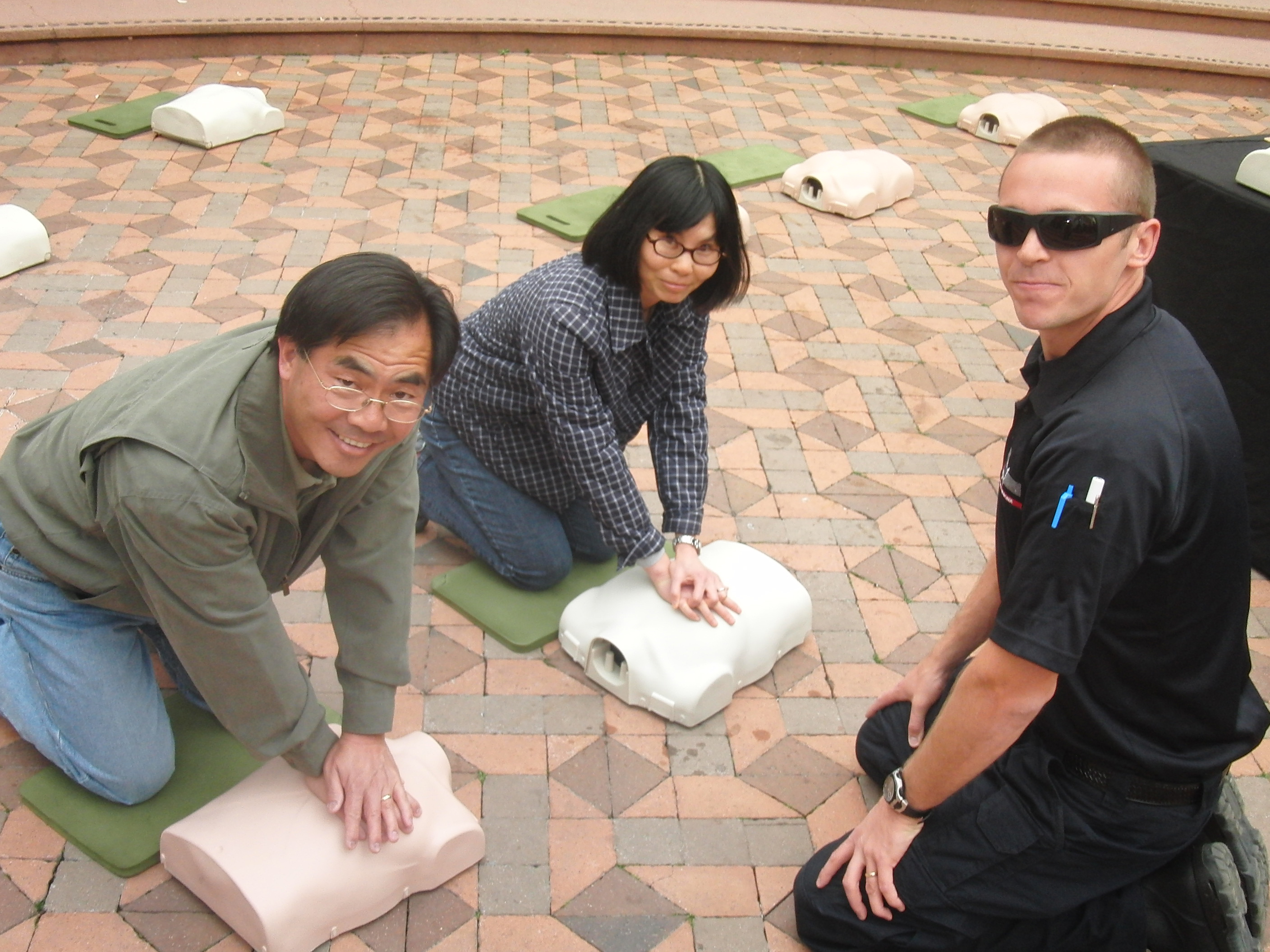 HANDS HELPING HEARTS
By Bonnie Carroll
A series of business and community trainings in "Hands Only" CPR through the efforts of Santa Barbara County Emergency Medical Services, Santa Barbara City Fire Department and American Medical Response.
March brought in Area American Medical Response Paramedics Matt McGowan and Joey Serna provided a first of its kind CPR education and training program to attendees of the "Hands Helping Hearts" event at Paseo Nuevo Shopping Mall in the heart of the Santa Barbara business district. According to Joey Serna "we are hoping with this program to provide CPR instruction to all the business members in our community, and we will be holding these events in various locations on upcoming dates."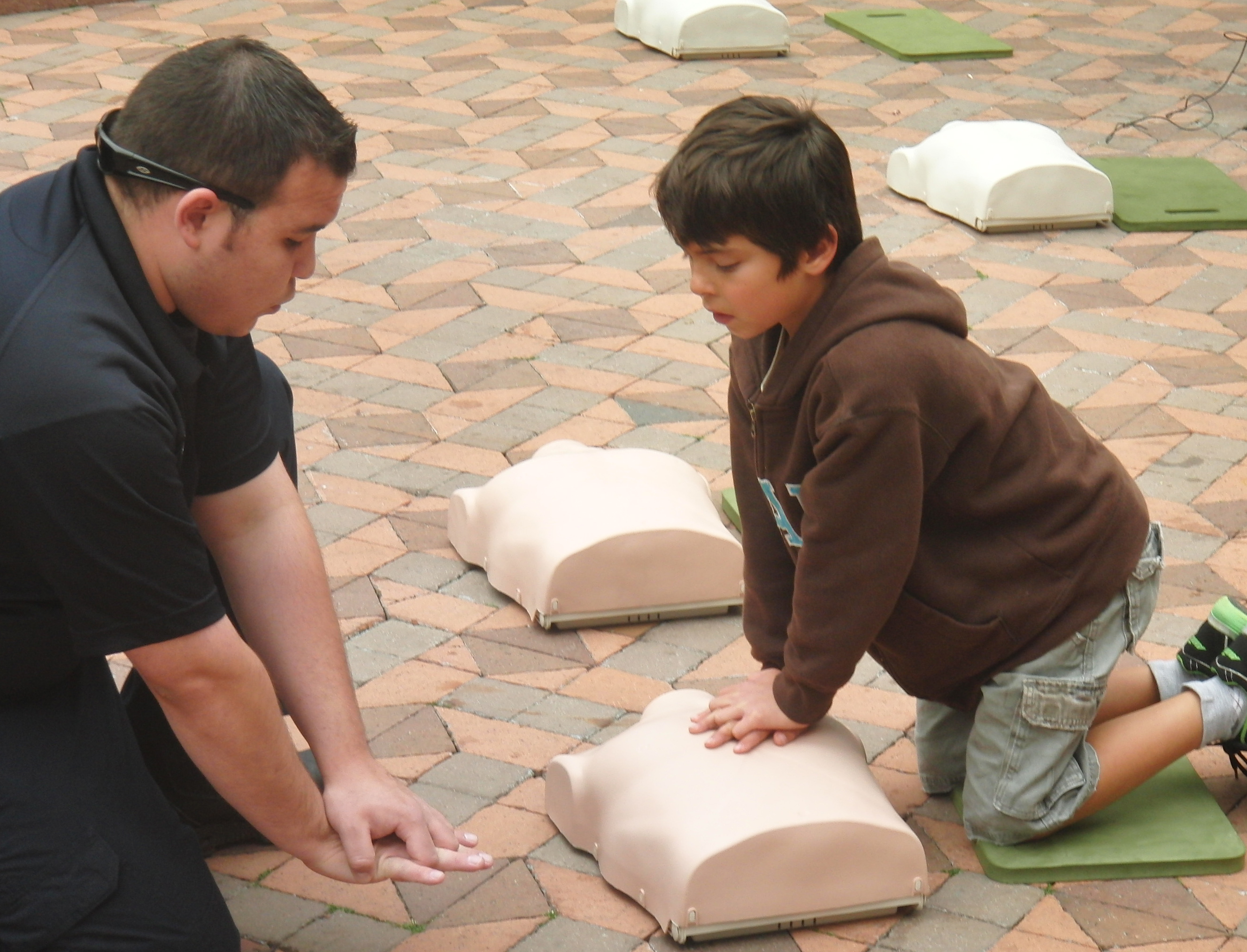 Employees from local businesses, shoppers and families came to the afternoon training. Participants ranged in age from six to seventy. Attendee Elva Sharrett expressed her appreciation to learn the newest "Hands Only" CPR techniques now being used as the standard to replace those of days gone by. Eddie Aispuro was impressed that it takes but a few minutes to learn something so simple that his son Julian could easily comprehend the four step process. Anyone wishing to learn CPR and would like information on future training dates and locations please visit: www.www.HandsHelpingHearts.org .
---