Health & Beauty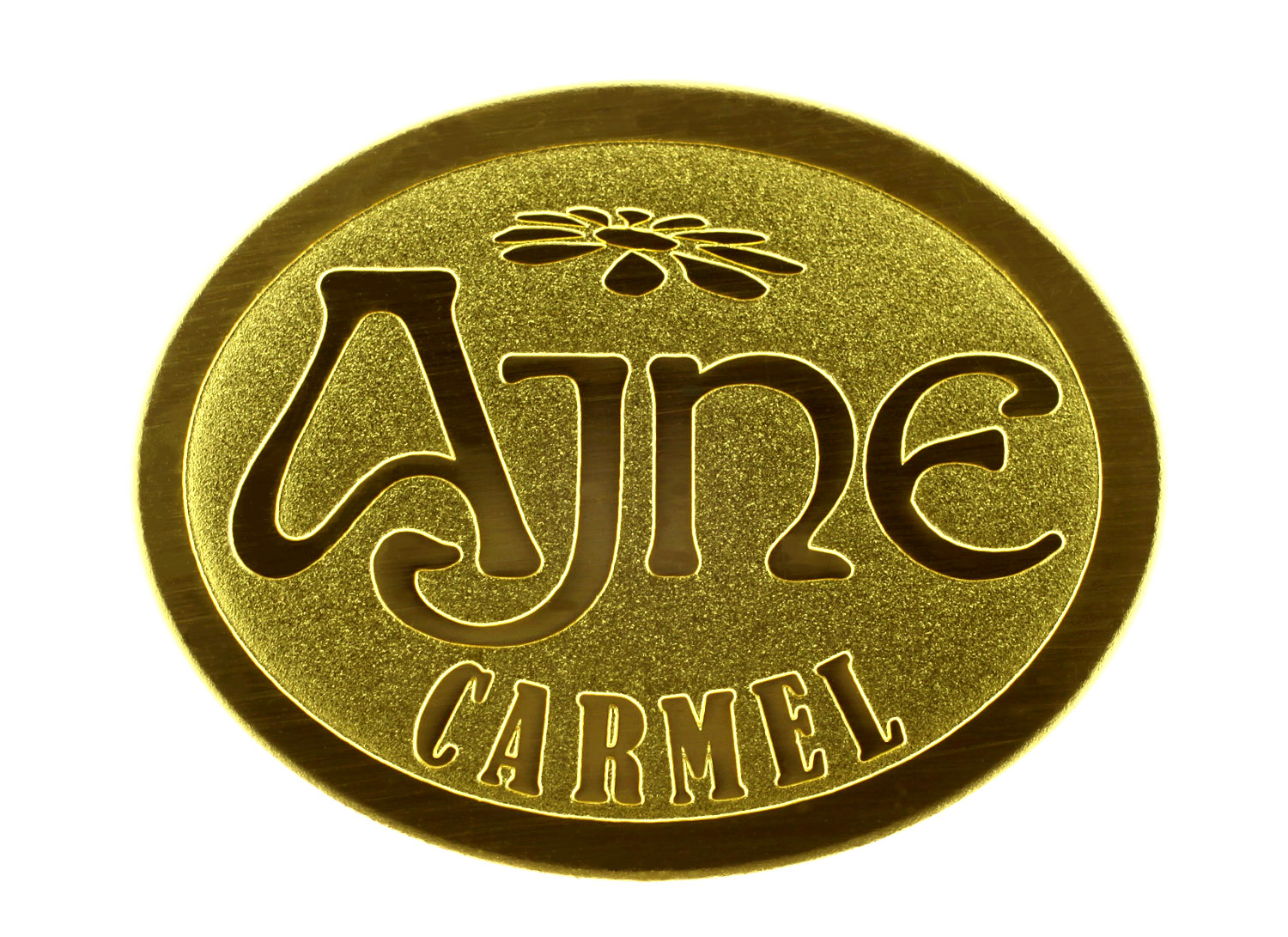 AJNE . . . Scents and Sensibility
by Bonnie Carroll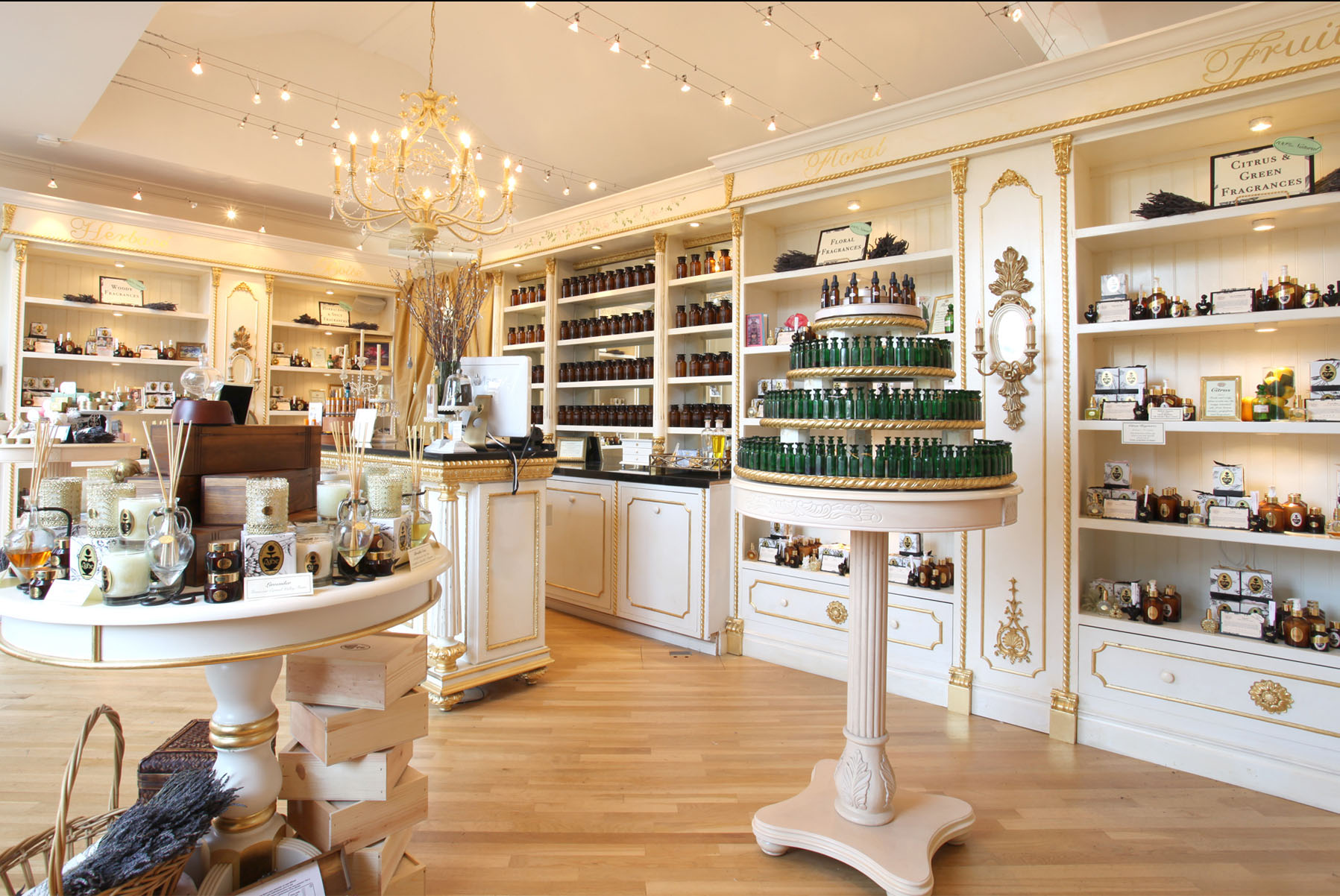 The streets in Carmel are lined with boutiques, and unique shopping opportunities, but one venue that any woman would love is Ajne, a brilliantly designed natural botanical fragrance company in the Court of the Fountain Center, where Jane Hendler and her husband Rex Rombach provide patrons with not only individual scent analysis for personal allergen-free fragrances, but also offer an endless variety of elegant gifts for men, women and their pets. "I want our blends to smell good and have staying power," says Hendler.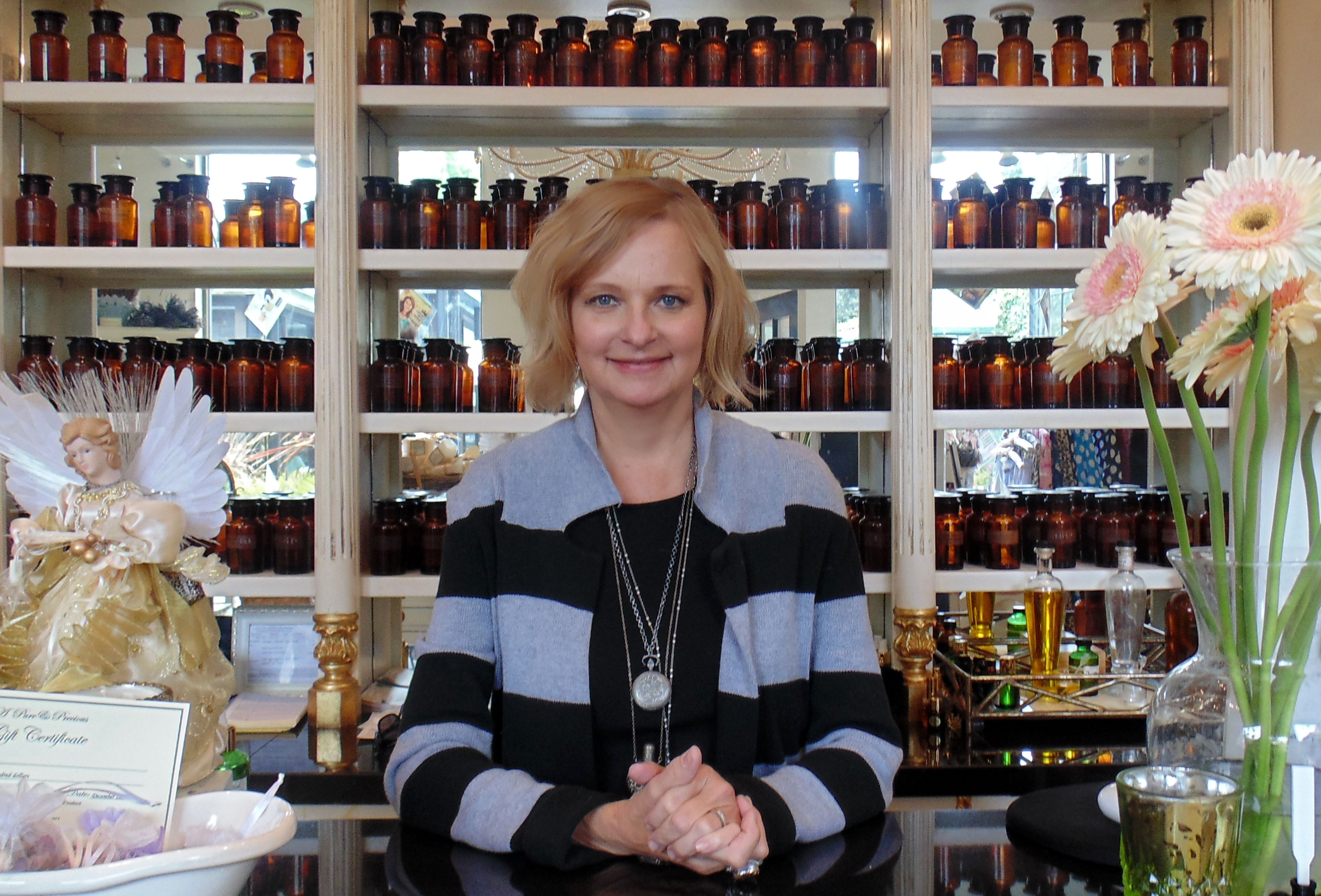 Ajne offers a charming line of organic botanical scent products just for pets, and according to perfumer Hendler "we were having a wine one evening and it suddenly occurred to us that with all the animal lovers in our community we needed to create blends for our patron's pets. We now have a complete line of scents just for pets that have been received extremely well."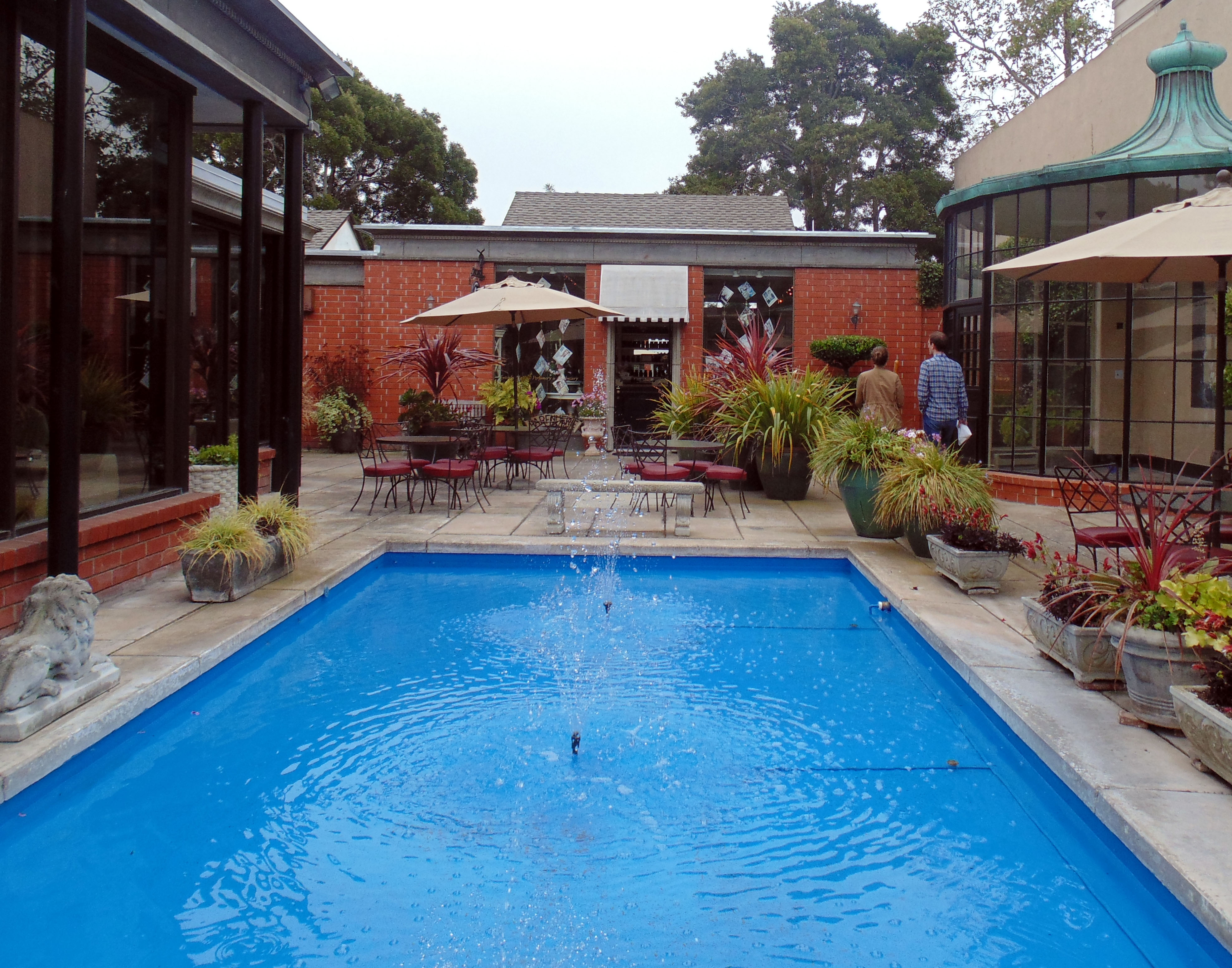 I met with and worked with a trained perfumer in California prior to meeting Jane Hendler, and it is obvious this is a very specialized art form that requires the perfumer to have the knowledge necessary to assist the client in finding the basic scents they love, which are then blended to become their personal fragrance. The back story here is that people instinctively select scents that are healing to their own current challenges, and they end up with a scent that is not only their own unique fragrance, but their own individual healing remedy. Each client gives their scent a name that is kept on file for repeat orders or for the creation of personal body lotions and soaps.
Jane and Rex, both trained specialist in their fields of endeavor, have spent years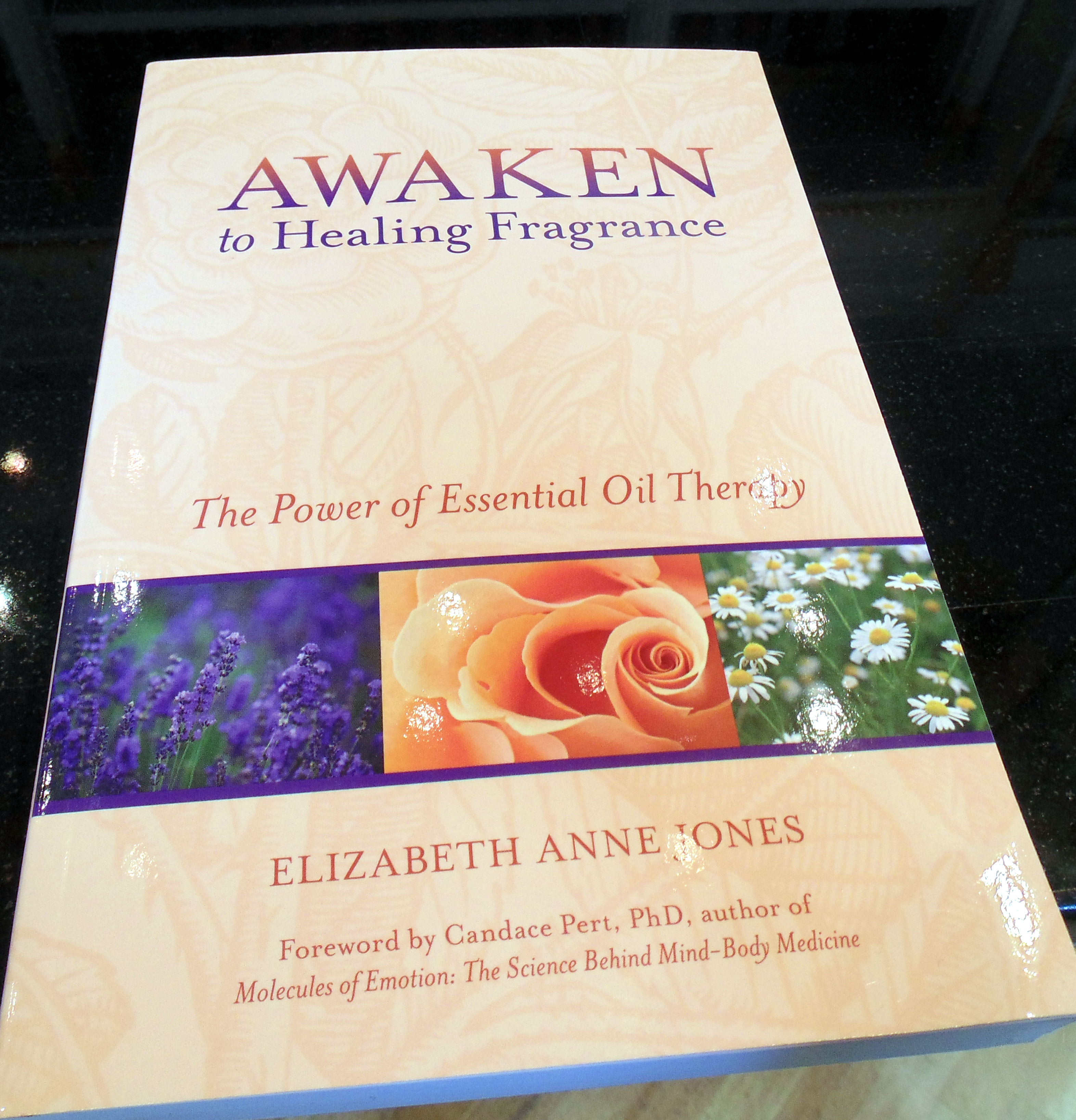 honing their skills in this unique scenting field. Jane is a master essential oil therapists and Rex has created an ingenious computer format to enable patrons to quickly discern balancing scents to empower them emotionally, physically, mentally and spiritually in less than an hour. Jane has developed an 'around the world' client base including the Caribbean and Russia. For people who desire their own attractive scent but have allergies to specific ingredients Jane and Rex can provide them the perfect solution. "Everything we use is from plant sources, with the pollen removed." says Rombach, which makes our fragrances ideal for people with allergies. One of Jane's favorite books is "Awaken to Healing Fragrance" The Power of Essential Oil Therapy by Elizabeth Anne Jones. 
A visit to meet this enthusiastic and inspiring couple who will help you find 'your scent' is a must during a visit to Carmel.  Jane refers to Rex as the brains of the operation because he is creating highly coveted scenting equipment that is currently being used to provide signature scents in hotels around the world. Ajne Organic Systems create therapeutic blends for individual and corporate clients including Carmel Valley Ranch, Portola Plaza Hotel & Spa, and Four Seasons Resorts. "We create signature scent memory for a place that becomes brand specific to the property itself," says Rombach.
AJNE
Mission at 7th
Carmel, CA 93921
(831) 624-2100
 ___________________________________________________________________
 Health Minded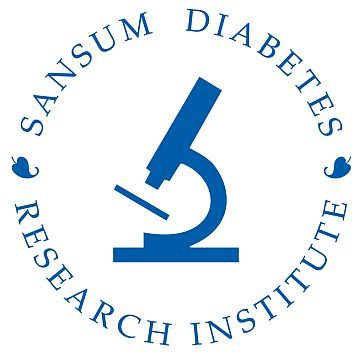 A Letter from David Kerr - Sansum Diabetes Research Institute SB
Nearly 90 years ago, Santa Barbara served as the main stage for one of the biggest breakthroughs in modern medical history.
Here - in our sunny coastal town - Dr. William D. Sansum manufactured and administered insulin to a diabetes patient for the first time in the United States. In the years since, Dr. Sansum's contributions have improved and saved the lives of millions of individuals across the globe.
As the new Director of Diabetes Research and Innovation here at Sansum Diabetes Research Institute, I am thrilled to be part of a team so focused on improving the health and quality of life of people living with diabetes and their families.
We are at a critical juncture in the rapid global rise of diabetes. Yet, with challenges come opportunities.  In this new age, our legacy continues to inspire our research and service.  We are looking to you for help and guidance as we embark on new life-changing advancements in the treatment and management of diabetes. 
In planning for our future, we are applying a thorough assessment of critical needs as they relate to the Affordable Care Act, education and care. We are looking at our priorities in roles and services as they relate to the ever-changing landscape of diabetes. 
One thing we know for certain, our expertise is needed more than ever.  
Today, the rate of diabetes, particularly type 2, is reaching epidemic levels. The disease generates one of the greatest impacts on medical costs in America. Whether or not you are personally afflicted with diabetes, you are paying for it at an estimated $900 per year. That is because medical expenses are primarily attributed to costly complications of the disease, rather than proactive management and prevention services. 
In addition, implementation of the Affordable Care Act means previously uninsured residents now have access to care they formerly could not afford.  In Santa Barbara County alone, there are more than 20,000 newly insured individuals, many of whom will be seeking diabetes care. 
We at Sansum Diabetes Research Institute are tackling this crisis on multiple fronts, through research, education and care.
On the research front, after almost 10 years of developing the artificial pancreas, we are finally putting it into clinical trials outside of our research department. Industry has taken note of this progress and several companies are moving forward with the development of commercial products using this technology.
Education is also one of our greatest tools in diabetes prevention and management. We are utilizing digital apps and social media features to push critical diabetes information in a way that is accessible and user-friendly.  In addition, we are working to expand our reach in parts of your community that are disproportionately impacted by the disease (primarily the Latino and senior populations).
Preparing for the newly insured, we are adding a pediatric endocrinologist and an adult endocrinologist to our research staff to better serve our communities.  We are also establishing a center of excellence in diabetes self-management, education and medical nutrition therapy to which local physicians can refer their patients for personalized care and support.
As initiated by Dr. Sansum in 1944, what we are doing here now will serve as education and prevention models and cutting-edge treatments locally, nationally and internationally.
That is why we need your help to make worldwide changes in healthcare - and support each individual who faces the daily struggles and challenges of diabetes.
Please make your contribution today.  Know your investment will directly impact the lives of so many in our community (and beyond) who live with diabetes or who are prone to the disease.
On behalf of all those we humbly serve, thank you for your continued support and dedication to improve diabetes treatment and management.
I look forward to meeting and working with you.
Warm personal regards,
David Kerr, MD FRCPE
Director of Research and Innovation
___________________________________________________________________
TOP SKIN TIPS TO KEEP YOU GLOWING ALL SUMMER
- Massage Envy Spa and Dr. Murad Offer Four Tips for Healthy Skincare this Summer  -

As summer rolls into full swing across the country, many of us are beginning to neglect our skincare routine. At Massage Envy Spa, the pioneer and national leader of professional, convenient and affordable massage and spa services, we are committed to helping you keep your skin looking and feeling great. Together with our partner, the leading skincare authority, Dr. Murad, we've put together these top tips to care for your skin this summer.
1.     Treat yourself. Take the time to de-stress and rejuvenate your skin with a facial. Massage Envy Spa locations offer facials designed by Dr. Murad, the authority in skin health. Members and guests can choose from four different Murad® Healthy Skin facials including Environmental Shield® Vitamin C, Clarifying Enzyme Acne, Anti-Aging and Sensitive Skin.
2.     Protect your skin. Everyone knows that sunscreen application is important to protect against UVA/UVB rays, but did you know that antioxidants and anti-inflammatories are just as important? Antioxidants can help protect against damaging free radicals responsible for visible signs of aging such as fine lines, wrinkles, hyperpigmentation and uneven texture. We recommend vitamin C and pomegranate extract for added antioxidant protection. Also, anti-inflammatories help neutralize redness and prevent inflammatory cell damage. Try arnica, zinc and aloe vera.
3.     Prevent breakouts. During the hot, humid summer months you tend to have more breakouts because of increased oil production in skin. To alleviate some peripheral breakouts, we recommend using a cleanser with a high amount of salicylic acid.
4.     Eat right. Food fuels your body and mind and eating the right foods can strengthen your skin's ability to protect itself against environmental damage. Select water-rich raw fruits and vegetables such as goji berries, tomatoes, watermelon, broccoli, cabbage, mangoes, strawberries and green tea.
"With all the travel, time spent in the sun and outdoor activities that take place; the summer months can be tough on our skin," says CG Funk, vice president of industry relations and product development for Massage Envy Spa. "We encourage our members and guests to follow these simple skincare tips to ensure their skin stays healthy and beautiful all summer long."
In addition to facials, Massage Envy Spa offers a variety of massage treatments, including Swedish, Trigger Point, Deep Tissue, Sports, Prenatal and Geriatric. The proven benefits of routine massage include improved circulation, joint flexibility and posture, relief from pain and swelling caused by arthritis, reduced blood pressure, fatigue, migraine pain and stress, as well as improved sleep, concentration and overall sense of well-being. In addition, the 90-minute Hot Stone Envy® features the placement of smooth, water-heated stones at key points on the body to allow for deeper relaxation of the muscles. Other services that are part of Massage Envy Spa's Enhanced Therapies menu include Aroma Therapy, Sugar Foot Scrub Therapy and Deep Muscle Therapy, which can be added to any massage to enhance the experience and stress relief. 
Open seven days a week, each Massage Envy Spa offers convenient times and locations to fit any guest's needs. Visit Massage Envy Spa on Facebook or on Twitter. For healthy living and wellness tips, visit Massage Envy's blog. Additional information, including a list of all locations, can be found at MassageEnvy.com.
___________________________________________________________________
EarthTalk®
E - The Environmental Magazine
Dear EarthTalk: How is it that our more effectively managing ocean resources could help us better feed the       world?                                                                                                -- Missy Jenkins, Boone, IA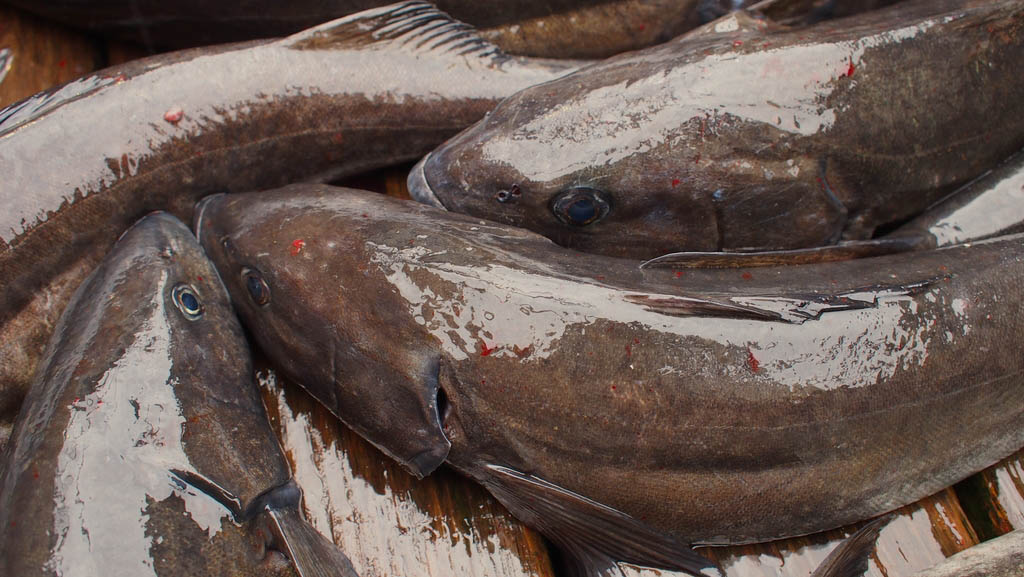 Hunger is a growing problem around the world, in both developing and developed countries. As our population continues to rise, the amount of arable land per capita is declining and climate change is either drying out or flooding many formerly productive agricultural belts, making it more and more difficult to keep up with the growing demand for food. The United Nations Food and Agriculture Organization (FAO) reports that we must produce 70 percent more food globally if we are to feed the world's increasing numbers of hungry people in the coming decades.
While more efficient agricultural practices can help, conservationists are increasingly looking to the ocean as a potential way out of our hunger woes. According to Oceana, a leading non-profit dedicated to protecting the world's oceans and marine biodiversity, wild seafood "requires no fresh water, produces little carbon dioxide, doesn't use up any arable land and provides healthy, lean protein at a cost per pound lower than beef, chicken, lamb and pork, making it accessible to the world's poor."
But like other natural resources, fish stocks have also been in decline in recent years as a result of decades of overfishing. "The global fish catch peaked in the late 1980s and has been declining ever since," reports Oceana. Indeed, data show the amount of fish caught around the world has fallen by some 18 percent over the last three decades. "If current trends continue, we'll only have enough wild seafood to feed half the world's population in 2050," says the group.
But that downward trend could be reversed by overhauling fisheries management, protecting fish spawning and breeding habitat and reducing by-catch (the incidental catch of species not targeted by fishermen). In areas where fisheries managers have been able to set catch limits based on fish biology instead of industry interests, seafood populations have started to bounce back. Likewise, fish stocks have recovered significantly in the water column in and around Marine Protected Areas (MPAs) and other critical "no-fish" zones.
"These are steps that have been proven to restore stocks of fish wherever they have been implemented," adds Oceana. "While it's counterintuitive, by imposing limits to what we catch today we will actually be able to increase the amount of fish that we catch tomorrow." The group cites research showing that "sensible management" could increase fish yields up to 40 percent and increase the biomass in the oceans by almost 60 percent. "If managed wisely, our fisheries could provide the world with 700 million nutritious meals every day."
Through its "Save the Oceans, Feed the World Campaign," Oceana is focusing its efforts on convincing national governments in countries that dominate the world's fish catch to manage their own fisheries better. The fact that each coastal country is in control of an "exclusive economic zone" extending 200 nautical miles from shore and that these shallow near-shore waters contain the vast majority of marine life means that convincing a few key governments to reign in overfishing can make a world of difference.
CONTACT: Oceana, www.oceana.org.
EarthTalk® is written and edited by Roddy Scheer and Doug Moss and is a registered trademark of E - The Environmental Magazine (www.emagazine.com). Send questions to: earthtalk@emagazine.com.
___________________________________________________________________
Health News
How to Beat America's Newest Health Epidemic
Seven Steps for Taming Gluten Sensitivity... and Obtaining Vibrant Health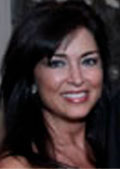 An interview with Dr. Janet Angel
Some experts are calling it America's newest health epidemic.
According to a recent study by the University of Maryland Center for Celiac Research, about 20 million Americans presently suffer from gluten intolerance – an adverse reaction to the protein gluten found in wheat and related grain species, including barley and rye.
Symptoms of gluten intolerance, also called gluten sensitivity, can be mild to severe and include weight loss or gain, fatigue, bloating, pain, gas, constipation, diarrhea, aching joints, depression, headaches, irritability, amnesia, osteoporosis, leg numbness and dozens more disease-like conditions.
In addition to the physical burden, gluten intolerance also places a financial burden upon those it affects – the cost of gluten-free foods is two-to-three times higher than their non-gluten-free counterparts.
"The gluten-free industry is booming, but living a gluten-free lifestyle is really not the solution for optimal health," said nutritional biochemist Dr. Janet Angel. "Optimal health means that we should be able to eat whatever we want to eat, and this becomes possible only when we ensure our bodies have all of the proper enzymes required to break down the food molecules we ingest, including hard-to-digest gluten molecules."
Gluten intolerance is a problem that many people acquire mid-life because their pancreases have slowed the production of protease and amylase – two of the several enzymes needed for proper digestion of grains.
"After a lifetime of consuming breads, cereals and baked goods, some people's bodies become greatly depleted of protease and other essential digestive enzymes, so food molecules begin to enter the bloodstream without being digested and trigger a variety of immune responses including pain and inflammation and a variety of disease-like  symptoms," Dr. Janet said.
Insufficient enzyme supply is not only caused by excessive consumption of grains and other inappropriate dietary choices (like eating heated, processed and preservative-laden foods), enzyme depletion and the inability to digest gluten can also be affected by genetic predisposition and pancreatic weakness.
Fortunately, gluten sensitivity can be successfully addressed with dietary and lifestyle changes.
"Making these changes will produce an added benefit -- when you correct your gluten intolerance you will also improve the way that your body absorbs nutrients, and this will result in a resurgence of energy and vibrant, head-to-toe health," she said.
Here are Dr. Janet's seven steps for taming gluten sensitivity:
Step 1 – Remove wheat and grains from your diet for a period of time to allow your body to repair.
Step 2 – Make sure you drink adequate amounts of purified water daily.
Step 3 – Eat plenty of greens; they will soak up toxicities and balance your digestive pH levels.
Step 4 – Use a plant-based enzyme complex supplement with a strong protease blend to replenish your own missing digestive enzymes. The human body cannot produce all of the enzymes it needs so it depends on the presence of natural enzymes in the food supply. When natural enzymes are destroyed through cooking or processing, enzyme supplements are needed.
Step 5 – Exercise to boost circulation which will move nutrients to where they need to go.
Step 6 – Take probiotics to fortify your immune system.
Step 7 – Re-introduce small amounts of grains into your diet, being sure to rotate your foods and not eat the same dishes every day.
"The road to rebuilding your tolerance for gluten will vary, person-to-person, but by using the above as a general guide and by being sure to consume a supplement of plant-based enzymes each day, individuals should start seeing improvements within 14 to 30 days," says Dr. Janet.
SAMPLE INTERVIEW QUESTIONS
1. Can you tell us what gluten sensitivity is and what causes it?
2. You suggest that living a gluten-free lifestyle is not the best route to optimal health for those with gluten sensitivity. Tell us about the program that you recommend.
3. Can you explain why enzymes are so essential for health?
4. What factors cause our bodies to stop producing enzymes?
5. Which enzymes determine how well we digest gluten, and what is the best way to ensure that we have plenty of those enzymes available?
6. Your regimen for correcting gluten intolerance includes the initial step of completely avoiding gluten for a period of time, then reintroducing it to the diet. How long should this "gluten-free period" be?
7. In addition to losing their sensitivity to gluten, what are some of the other health benefits that individuals will experience once they start supplementing their diets with enzymes?
8. You recommend that those who are ill or under stress should eat lightly and take enzymes. Why?
9. You say probiotics are also essential for beating food sensitivities. Why?
10. How can listeners learn more about beating their food sensitivities using the digestive enzyme formulas you've mentioned today? (AbsorbAid®, AbsorbAid® Platinum, AbsorbAid® Chews)
ABOUT DR. JANET ANGEL, PhD. (Dr. Janet)
Janet Angel, PhD, is a nutritional biochemist and wellness expert with more than twenty years of professional experience in the natural health care industry.  A popular lecturer and frequently invited guest on radio and TV programs around the country, Dr. Janet currently serves as product formulator, executive Vice Present, and media spokesperson for dietary supplement maker Nature's Sources, LLC.
____________________________________________________________________________
Health & Beauty . . . 
Dermpoint Eliminates Hyperpigmentation with elure Advanced Skin Brightening™ System
Dermpoint, Inc. is proud to announce the availability ofthe elure Advanced Skin Brightening™ system to its premier retail sitewww.Dermpoint.com.
Known nationwide for sourcing premium dermatologist-selected products, Dermpoint.com adds elure's highly effective topical solutions to its anti-aging offerings. Dermpoint.com makes shopping for skincare easier and more intuitive than ever, featuring scientifically proven brands, with the click of a mouse. Dermpoint.com only retails the most sought out, clinically relevant brands and does so in a virtual environment.
"We are excited to add the award-winning elure system to Dermpoint.com's outstanding product portfolio," said a spokesperson for Dermpoint, Inc. "At Dermpoint.com, we offer our clients well-researched products known for their effectiveness and results. elure was an obvious addition to our skin brightening category, as it empowers our customers to achieve lightening quickly with excellent results. We are proud to bring elure to the Dermpoint.com family of customers."  
Formulated with the naturally occurring enzyme, Melanozyme™, elure is a gentle, non-irritating alternative to hydroquinone that generates results in as little as four weeks, with optimal results seen in eight to twelve weeks. Scientifically proven, Melanozyme™ breaks up existing melanin and decreases over-production to improve uneven discoloration for a visibly brighter and more luminous skin tone.
The elure Advanced Skin Brightening™ system consists of:
__________________________________________________________________________________________

10 Reasons to try Perfect Foods Bars:
10. Simple Ingredients. Real Food. You can pronounce all of the ingredients without a chemistry degree.
9. Over 20 nutrient dense organic whole foods provide good vitamins and minerals on-the-go. Plus, with ingredients such as tomato, bell pepper, alfalfa and celery, you will finally be able to tell your mother that you're eating your vegetables!
8. No Refined Sugar. Since the only sweetener we use is organic honey, your body can digest it slower than it would refined sugar. This means you'll have long sustained energy without a crash.
7. Good source of fiber. Everyone knows fiber is important and aids in proper digestion. 
6. Soy free. Research suggests soy consumption might be linked to several health conditions including: bloating, hormonal imbalance, unusual weight gain, and allergies. (Hidden Dangers of Soy by Dianne Gregg.) The problem with soy is that most products you find at the grocery store have some form of this ingredient - you have to know what to look for because it's hidden in so many ingredients.
5. Handmade. These bars are handmade by happy people in sunny San Diego. We create jobs and support our local community. Besides, robots are kind of scary.
4. High in Omega-3s. Anti-inflammatory omega-3s are an important addition to your daily diet. 
3. Gluten free. Whether you've been diagnosed with celiacs or have found that your body doesn't digest gluten very well, we are committed to being gluten-free. We encourage everyone to read more about the ill effects of gluten on your body's digestive system. 
2. Refrigerated. Because there are no artificial ingredients or chemical preservatives these bars are stored in the fridge. Yum! 
1. They taste amazing. PERIOD. Seriously, you really won't even remember the 9 other reasons once you try a bar. They taste like cookie dough, but are packed with the nutrients your body needs to stay active!
 www.perfectfoodsbar.com
________________________________________________________________________________________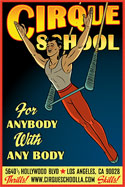 Cirque School LA - This is a 60-minute aerial arts class designed for people wanting to run away with the circus or those planning to keeping their day jobs, who dream of a full body workout with panache.  This class combines aerial tricks and conditioning on both the trapeze and billowy fabrics, which help build strength and endurance.  No experience required – just a yearning to break out of a ho-hum workout.  www.cirqueschoolla.com.
---