Join us for Cooking for Solutions 2008 at the Monterey Bay Aquarium, where great chefs from the United States and around the world will share their passion for fine dining and environmentally sustainable living in a two-day celebration.
Celebrity chefs—selected and recognized by the Aquarium for their leadership in promoting cuisine that protects the health of the ocean and the soil—will create gourmet dishes, host food and wine adventures, and present cooking demonstrations that feature sustainable seafood and organic ingredients.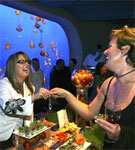 Cooking for Solutions Gala
Friday, May 16 (7:30 p.m.–10:30 p.m.)
$115 general public/$95 Aquarium members
Throughout the Aquarium
Enjoy a grand celebration with gourmet dishes prepared by our celebrity chefs and 55 outstanding local restaurants. Sample organic and sustainable wines from 48 premium West Coast wineries and attend book-signings. You will receive a souvenir wineglass and take-home recipes.
Silent Auction (7:30 p.m. –9:30 p.m.)
Take home a culinary travel adventure, a work of art, a great experience or a fabulous addition to your kitchen. All proceeds benefit our Seafood Watch program and efforts to transform the seafood market in ways that protect ocean ecosystems.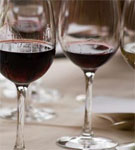 Food & Wine Adventures
Saturday, May 17 (9:30 a.m.–3:30 p.m.)
$185 general public/$150 Aquarium members
$225 general public/$180 Aquarium members
(Deluxe Tour)
Begin/end at the Aquarium
Take part in one of six group events led by our celebrity chefs—each exploring some aspect of sustainable foods on the farm and in the kitchen. Depending on the adventure, you'll join Darina Allen, Sam Choy, Michelle Bernstein, Doug Katz, Andrew Brown or Michel Nischan for a fascinating culinary exploration. Food and wine presentations, transportation and a gourmet picnic lunch are included.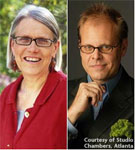 SOLD OUT
Reception with Darina Allen &
Alton Brown
Friday, May 16 (6 p.m.–7:30 p.m.)
$225 general public/$180 Aquarium members
Monterey Bay Aquarium Auditorium and Portola Restaurant
Includes admission to Cooking for Solutions gala
Join us in the Aquarium auditorium and Portola Restaurant for an exclusive private reception with Honored Chef Darina Allen, plus special guest chef Alton Brown. You'll enjoy wine and hors d'oeuvres, a lively talk and cooking demonstration featuring Darina and Alton, and will take home an autographed copy of one of Darina's cookbooks. Includes admission to the gala event that follows.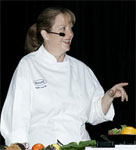 Celebrity Chef Cooking Demonstrations
Saturday, May 17 (8:30 a.m.–11:30 a.m.)
$75 general public/$60 Aquarium members
Monterey Bay Aquarium Auditorium
Join celebrity chefs John Ash, Stuart Brioza and Raghavan Iyer, and celebrity chef emcee Jim Dodge for sustainable cooking demonstrations. You'll enjoy a continental breakfast, and receive take-home recipes by all the chefs. Includes Aquarium admission.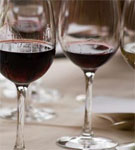 Food & Wine Adventures
Saturday, May 17 (9:30 a.m.–3:30 p.m.)
$185 general public/$150 Aquarium members
$225 general public/$180 Aquarium members
(Deluxe Tour)
Begin/end at the Aquarium
Take part in one of six group events led by our celebrity chefs—each exploring some aspect of sustainable foods on the farm and in the kitchen. Depending on the adventure, you'll join Darina Allen, Sam Choy, Michelle Bernstein, Doug Katz, Andrew Brown or Michel Nischan for a fascinating culinary exploration. Food and wine presentations, transportation and a gourmet picnic lunch are included.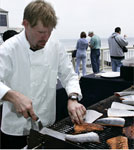 Sustainable Seafood Information Fair
Saturday, May 17 (10 a.m.–4 p.m.)
Aquarium galleries
Included with regular Aquarium admission
Learn more about sustainable seafood, organic agriculture and sustainable winemaking at information booths as you visit the Aquarium galleries. Attend demonstrations by Joël Chenet and other celebrated chefs, and sample sustainable, wild-caught Alaska salmon. Alton Brown will make a special public presentation while diving in the Kelp Forest exhibit.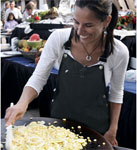 SOLD OUT
Sustainable Seafood Challenge & Reception with Sam Choy, Darina Allen and Alton Brown
Saturday, May 17 (5:30 p.m.–7:30 p.m.)
$115 general public/$95 Aquarium members
Monterey Plaza Hotel & Spa
Join us at the elegant Monterey Plaza Hotel as five of our celebrated chefs race the clock to create tasty (and sustainable) seafood dishes while Sam Choy offers lively commentary. This year's challenge features Barton Seaver, Clark Frasier and Mark Gaier, Joël Chenet and Thom Fox. Sam Choy, Darina Allen and Alton Brown will be the judges as the chefs compete for honors in one of four fun categories. You'll enjoy wine and abundant hors d'oeuvres, and will take home an autographed copy of one of Alton's cookbooks. 
For information visit: www.montereybayaquarium.com
---
SKIN FITNESS PLUS . . . Young at any Age
Meet Dr. Julia Tatum Hunter, Beverly Hills M.D.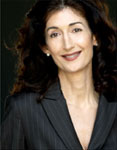 Dr. Julia Tatum Hunter created Skin Fitness Plus as a result of years of research, treatments and experience. The journey on the road to skin care fitness originated in her hometown of Opelika, Alabama. She lived with her brother's struggles with acne and was intrigued with the uncommonly youthful skin, health and energy of her older parents. She obtained her knowledge and insight on skin treatments and specialized procedures from working with practitioners, estheticians, herbalists, both Eastern and European, and with specialists in plastic surgery throughout the world. Experience in the medical workplace substantiated both her approach to treatment and protocol, and her expertise in integrative medicine inspired the formula for successful skin care. Dr. Hunter attributes the foundation of the Skin Fitness Plus Action Plan to her unique approach in treating the whole patient utilizing the sciences of Anatomy and Physiology. Technical breakthroughs, state of the art medical devices and the latest medical cosmeceuticals, along with friends, patients and colleagues compelled Dr. Hunter to formalize her methodology into cosmetic, laser and skin care practice.
Dr. Hunter's medical background includes medical school in Alabama, with training at Beth Israel Hospital, Boston; Columbia College of Physicians and Surgeons, Cornell University, New York Hospital, St. Vincent's Hospital, New York City. For information visit:skinfitnessplus.com
---
ALEC BALDWIN ENCOURAGES STUDENTS
TO TAKE BACK THE TAP ON FILM
Students and Baldwin join forces to raise awareness about the myth of bottled water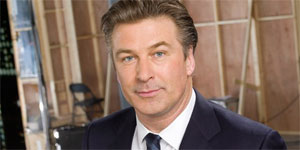 30 Rock star Alec Baldwin will be on a panel of judges for the I "Heart" Tap Water national student video contest which challenges students to declare their love for tap water.   The contest is part of Food & Water Watch's Take Back the Tap Campaign that encourages college students and entire campuses to kick the bottled water habit and take back the tap. Baldwin will be one of the judges representing film, the environment, and students, and will help choose the first-place winner who will receive $1,500.
Breaking the bottled water habit is a growing trend across the nation, and an issue that is quickly gaining support in Hollywood.
"Bottled water is not as environmentally friendly as people think it is," says Baldwin.
The I Heart Tap Water contest challenges students to produce a one to two minute video that includes the following elements:  a declaration of love for tap water, some discussion about bottled water consumption, and why the student's college or university should break the bottled water habit. According to a Food & Water Watch report, tap water is better for consumers' health, their pocketbooks, and the environment.
"We will need enormous public support to get Congress to dedicate the necessary resources to ensure safe and affordable water for future generations," stated Food & Water Watch Executive Director Wenonah Hauter. "With this video contest, students are building support among tomorrow's leaders to make the smart and healthy choice of tap water over bottled water."
Baldwin is a dedicated supporter of numerous causes related to public policy, including People For The American Way, The Radiation and Public Health Project and The Water Keeper Alliance, among many others.
February 14th – April 14th, 2008. Winner will be announced on Earth Day, April 22nd.
Submissions accepted online at http://www.takebackthetap.org.
Print flyer at http://www.foodandwaterwatch.org/water/bottled/Video%20Contest%20Flyer.pdf
CONTACT: Jennifer Mueller: (202) 683-2467 or Erin Greenfield: (202) 683-2457, news@fwwatch.org
---
Traveling Abroad? Make Sure Plans
Include Trip to the Doctor
Saint Louis University Travel Health Expert
Offers 5 Tips for a Healthy Vacation
If you're one of the millions of Americans who will travel abroad this summer, make sure your plans include a trip to the doctor, says H. Thomas Johnson, M.D., a Saint Louis University family physician.
Ideally, Johnson says, travelers should make an appointment six months before traveling to the most exotic locations because some vaccines, such as hepatitis A and B, require six months to receive both the first dose and booster.
However, if you do not have six months, Johnson still recommends getting the first vaccine as it will provide some protection.
For travelers visiting more mainstream destinations, such as the tourist areas of Mexico, Johnson still recommends checking in with your doctor.
"Your doctor can tell you about any necessary precautions or recommended vaccines," explained Johnson, who is an expert in travel medicine. "He or she can also prescribe important medications, such as an antibiotic to bring with you in case you develop traveler's diarrhea or a patch to prevent sea sickness."
The key to successful travel, Johnson says, is planning ahead. He recommends these five tips for a healthy and safe vacation.  
Pack smart: Make sure to bring plenty of your regular medications, both prescribed and over-the-counter, in your carry-on luggage. However, controlled substances must be in their original pharmacy container and over-the-counter liquid medications must meet the TSA guidelines, which require that liquids be in three ounce or smaller containers and fit in one quart-size clear plastic bag.  In addition to your regular medications, don't forget the basics: pain relievers, medicine for nausea and heart burn, bandages, antibacterial ointment and antibacterial hand wipes. 

Enjoy the sun, safely: Nothing ruins a vacation like getting a sun burn on the first day. Using a sunscreen with a minimum of a 30 SPF is especially important when visiting tropical destinations. However, even if you will not be tanning on a beach, you can still get burnt while sight-seeing or driving in a car, so make sure to apply sunscreen every day. 

Keep the bugs away: Bug spray with 30 to 50 percent DEET is especially important if you are traveling to places where malaria is present. In addition, if you will be sleeping outdoors or in huts, bring a mosquito net.  

Be cautious about what you eat and drink: Anyone traveling to Mexico has heard the warning to not drink the water. But Johnson cautions that just avoiding the water is not enough. In addition to water and ice, the general rule of thumb is if it's not pealed, boiled or cooked, avoid it. This includes fresh vegetables and fruits, as well as undercooked meats and raw fish. Be particularly careful when purchasing food and drinks from street vendors and make sure the seal is not broken on bottled water.  

Bring your personal health information: Think of it as insurance – you hope you don't need it, but if something goes wrong, it can be a real life-saver. Having medical information, such as all prescription and over-the-counter medications you are currently taking, chronic conditions and vaccine information, will help the physician treating you if you have a medical emergency. Store the information in your suitcase, on a USB drive or on a small card in your wallet, but make sure someone knows where the information is stored in case you are unconscious.  
Established in 1836, Saint Louis University School of Medicine has the distinction of awarding the first medical degree west of the Mississippi River. The school educates physicians and biomedical scientists, conducts medical research, and provides health care on a local, national and international level. Research at the school seeks new cures and treatments in five key areas: cancer, liver disease, heart/lung disease, aging and brain disease, and infectious disease. 
---
OOGIE'S POPCORN
- GOURMET TASTE
- HEALTHY INGREDIENTS
For Popcorn lovers who want the taste and smell of real popcorn with a gourmet experience in the mix Oogie's has a variety of great tasting - Healthy -  snack selections. For information visit: www.oogiesnacks.com.


---
BROCCOLINI® CELEBRATES
A MILESTONE BIRTHDAY
Foodie favorite a mainstay on menus, food blogs and cooking shows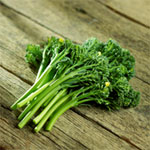 One of America's favorite vegetables, Broccolini® brand baby broccoli, is celebrating its tenth birthday this spring.
Broccolini®, a cross between broccoli and Chinese kale, made its debut in 1998 as a new-to-the-world vegetable grown exclusively by Mann Packing Company, Inc., of Salinas, Calif.
Ten years later, Broccolini®  is a foodie favorite, featured on menus, food blogs and in grocery stores across the country.   In 2007, supermarket sales topped $5 million; an increase of 6.6 percent over 2006.
"It's been rewarding to see Broccolini's popularity grow," said Gina Nucci, company spokesperson. "It has developed a cult following and shows that there is always room for a great new vegetable."
Broccolini® has a delicate crunchiness, peppery taste and elegant, long stalks that appeal to both chefs and home cooks.
Because Broccolini®  is highly versatile and wholly edible, it can be used in any situation in which cooks would use conventional broccoli.
Some food lovers may be familiar with Broccolini® from an appearance on Bravo TV's show Top Chef, where unfortunately it was burned by chef Chris (CJ) Jacobsen.
The most commonly used cooking methods include sautéing, steaming, roasting, boiling or stir frying.
Broccolini® is a rich, deep green color like broccoli, and its nutritional profile is also comparable to broccoli.  It is an excellent source of vitamin C and a good source of vitamin
A, folate and iron.
Developed by Sakata Seed America and grown year round semi-exclusively by Mann Packing Company, Broccolini® is a registered trademarked name. 
For more information visit veggiesmadeeasy.com.
---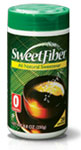 SWEETFIBER
- THE DIETERS DREAM COME TRUE
In convenient packets or shaker
Proclaimed to help dieters lose weight - 3 packets a day have proven to take inches off.

It is loaded with fiber, and tastes great in coffee or tea. Visit: www.sweetfiber.com
---
MANITOBA HARVEST HEMP FOODS
EXPANDS WITH NEW FACILITY IN WINNIPEG
The Award-Winning Hemp Foods Company is Among the Fastest Growing Companies in Canada

Sales of healthy hemp foods are skyrocketing, so much in fact that Winnipeg-based Manitoba Harvest Hemp Foods & Oils is in the process of expanding into a much larger state-of-the-art food manufacturing facility.  The company has begun the challenging process of moving their operations across the city to a new 20,000 sq. foot space on Eagle Drive that will increase their production capacity by at least 500%. 
Manitoba Harvest plans to hire 5 more employees in 2008 and more in the future as they expand production to meet demand from rapidly growing domestic and international markets.  The company is in the process of purchasing new processing and packaging equipment to be installed at the site.  The leased facility will also provide an abundance of office, warehouse and shipping space, as well as a full-scale laboratory for in-house product quality testing.  Manitoba Harvest has completed Phase 1 by moving their offices and warehouse operations and plans to have Phase 2 & 3 (Packaging & Production) complete by the end of summer. A Grand Opening celebration will be held that is timed to coincide with the hemp harvest season.  
"For each of the past several years our sales have been growing at least 50%, so each year the production and shipping areas here at the obsolete Notre Dame Ave. site have been getting tighter and tighter," notes Martin Moravcik, Co-founder & Vice President of Operations that oversees the production side of the company.  "The new, larger space represents a big milestone for us, things are really rolling along now and this will help us be even more efficient and further ensure optimal quality," adds Moravcik, whom was one of the hemp pioneers in the early 1990s that worked with the government and other advocates to make hemp agriculture legal again in Canada in 1998. 
Manitoba Harvest's work pioneering hemp agriculture and helping to spread organic farming helped earn them the 2006 Socially Responsible Business Award at the Natural Products Expo East trade show, the largest event of its kind in North America.  Not only is hemp good for human health, it is also good for the planet.  Hemp is naturally pest-resistant, and because hemp plants grow rapidly and close together, they crowd out weeds and don't need herbicides.  It is also a soil-building plant that is excellent for crop rotation.  In line with the Manitoba Harvest mission, the facility offers many energy conservation and environmentally-friendly features.   For example, the facility will include energy efficient lighting, R20 insulation to lower heating and cooling costs, energy efficient HVAC heating and cooling systems which is approved by the Manitoba Hydro Power Smart Program.  
"Hemp Foods are Hot!"
Hemp seed exports from Canada grew 300% from 2006-2007, according to Agri-Food Canada (a government agency).  During the past 5 years, Manitoba Harvest's sales have grown more than 500% earning them a spot on the 2007 Profit 100 list of the fastest growing businesses in Canada. "Foods that offer omega-3 essential fats like hemp are hot because medical evidence demonstrating the health benefits of this nutrient continues to grow," notes Mike Fata, President and co-founder of Manitoba Harvest. 
Last year, Manitoba Harvest launched Hemp Bliss (the first organic non-dairy hempmilk), which earned the 2007 Best New Food Product Award at Natural Products Expo East.  Because Hemp Bliss is a convenient and delicious source of balanced omega nutrition, it is already fueling the next round of rapid growth.  This month the company is extending their line of organic hempmilks by launching Unsweetened Hemp Bliss.   
In addition to being among the best sources of omega-3 and omega 6 essential fats, hemp seed is an impressive source of whole protein, healthy fiber and it offers an abundance of vitamins and minerals.  In addition to Hemp Bliss, Manitoba Harvest produces organic cold-pressed Hemp Seed Oil, Shelled Hemp Seed, Hemp Seed Butter and Hemp Protein Powder.
---
NATURAL PRODUCTS EXPO WEST/SUPPLYEXPO
2008 CONTINUES UPWARD CLIMB
WITH RECORD ATTENDANCE
More than 52,000 retailers, manufacturers, and industry professionals attended the country's largest natural, organic, and healthy products trade show, Natural Products Expo West/Supply Expo 2008 (www.expowest.com), an increase of 11 percent over last year's attendance. In its 28th year, Natural Products Expo West/Supply Expo, produced by New Hope Natural Media, a division of Penton Media, attracted a record 3,392 exhibits to the Anaheim Convention Center in Calif.
Keynote speaker, The New York Times best-selling author, Michael Pollan told a capacity crowd to think about "not just what is in our food but how we enjoy our food," and reminded the audience that shopping is part of the pleasure of food.
The $57 billion dollar natural and organic products industry continues to enjoy brisk sales with strong growth in certified organic meat and seafood, beer and wine, pet products, herbs and botanicals, and personal care, according to The Natural Foods Merchandiser's 2007 Market Overview. Innovation continues in this marketplace with new biodegradable goods, from housewares and home cleaning products, to certified fair trade products and organic fiber fashions and bedding.  
"Each year, Natural Products Expo West gives a sneak peek into what the public will find in America's stores tomorrow," said Fred Linder, president of New Hope Natural Media. "This year, more buyers from the full retail spectrum—from supermarkets, pharmacies, club and convenience stores to independent co-ops and ethnic markets—saw more products than ever before." 
Based on new product trends discovered at Natural Products Expo West/Supply Expo, shoppers will soon see thousands of new healthy products from the following categories in their neighborhood markets:
Gluten-Free:  breads, brownies, cereals, pastas, and snack foods

Certified Fair Trade: personal care products, rice, teas, chocolate, snacks, coffee

Whole and Sprouted Grains: pizza, kid snacks, nutrition bars, dinner rolls, desserts

Healthy Omega-3 Fats:  capsules and culinary oils to breakfast and dinner foods

Reusable Shopping Bags: certified organic, hemp, recycled materials and biodegradable

Pre- and Pro-biotics: from vitamin supplement capsules to yogurt snacks, drinks and bars

Natural and Organic Personal Care: men's and women's skincare, shea butter products, mineral cosmetics

Exotic 'Superfruit' Ingredients and Flavors: mangosteen, goji berry, yum berry, acai, yerba mate'

Healthy Kid-sized Foods: drinks, snacks and everything in-between
---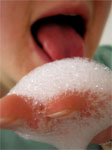 EARTH TALK
From the Editors of E/The Environmental Magazine
Dear EarthTalk:
My pediatrician swears by those gel hand sanitizers for lowering the risk of my family getting sick during cold and flu season. But I've also heard that these products can be dangerous to kids if ingested. Are there any safer alternatives that work just as well?                                                
-- Jason Blalock, Oakland, CA
A 2005 study by the Children's Hospital in Boston compared illness rates across a study group of 292 families—half of them got hand sanitizers while the other half were given literature advising them of the benefits of frequent hand washing. The findings revealed that those families who used hand sanitizers experienced a 59 percent reduction in gastrointestinal illnesses and that the increased use of sanitizers correlated to a decreased spread of contagions in general.
Another study conducted at Colorado State University yielded similar conclusions, that alcohol-based hand sanitizers were as much as twice as effective as either regular soap or antibacterial soap at reducing germs on human hands. A Purdue University study, however, concluded that while alcohol-based hand sanitizers may kill more germs than plain or triclosan-based soaps, they do not prevent more infections that make people sick. Instead they may kill the human body's own beneficial bacteria by stripping the skin of its outer layer of oil.
The down side of the gel/alcohol products is their danger as poison, especially for young children who may ingest the gel by licking it off their hands or eating it directly out of dispensers. Purell and Germ-X, two of the leading brands, each contain 62 percent ethyl alcohol. While this alcohol is what gives the products their germ-busting power, it also puts kids at risk of alcohol poisoning. A few squirts of the hand sanitizer—which is equivalent to124 proof booze—is enough to make a kid's blood alcohol level .10, which is the equivalent of being legally drunk in most states.
So what's a concerned parent to do? Unfortunately, the so-called greener alternatives out there aren't safe to swallow either. EO Hand Sanitizer, for example, though it uses organic lavender oil also contains alcohol to sanitize the skin surface, and would also be considered poison if a large enough amount was ingested. Similarly greener (but still not safe to eat) products are available from Avant and All Terrain.
For now, soap and warm water—and constant nagging of your kids to wash their hands—may be the safest way to sanitize. Also, make sure that any hand sanitizer dispensers you may still use are kept out of the reach of little hands.
But who knows how we'll be sanitizing our hands in the future. Researchers at Arizona State University have found that certain types of natural clays pulled right from the ground are highly effective at killing bacteria. One type of green clay has been shown to do a number on E. coli, salmonella, staph and other bacteria known to make people sick. But the research is still in its infancy, so don't expect to see moms pulling jars of clay out of their purses anytime soon.
---
EARTH TALK
From the Editors of E/The Environmental Magazine
Dear EarthTalk: There are so many energy drinks on the market, but they all seem very high in sugar, coloring and preservatives. Are there any natural versions that offer a healthier kick-start?
-- John Hwang, Cambridge, MA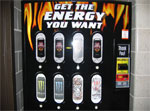 Energy drinks constitute one of the fastest growing sectors of the soft drink market across the U.S. and around the world, with some 500 new varieties introduced in recent years. But it's true that most are far from healthy. Besides containing excessive amounts of sugar and caffeine, which alone can be dangerous to those with diabetes or heart conditions, many also feature a battery of supposedly beneficial herbal supplements (taurine, guarana and ginseng) that are not proven to increase energy and may actually sap energy, being detrimental to bodies overloaded with new and unfamiliar stimuli.
"Most of the energy drinks contain high-tech-sounding ingredients that are not controlled substances, of no value, and potentially harmful" in large amounts, says sports nutritionist Cynthia Sass. "The amount of the stimulants is not always listed on the label, and even when the information is listed, it is hard for consumers to interpret because we are not familiar with these ingredients."
Sass recommends good old fashioned water as the best alternative to energy drinks. Re-hydrating is a great way to stay alert and to move other nutrients through the body. Other tried and true ways to increase energy include maintaining a healthy diet, regular physical activity and, of course, a good night's sleep.
But what about those times when you really need a boost? Yerba mate tea, which is derived from yerba mate plants that naturally contain caffeine as well as other natural stimulants, is a popular choice. Perhaps part of the reason some people swear by it is that its brewed leaves contain theobromine—also found in cocoa—an alkaloid known to help elevate the mood. Boosters of the drink say it also helps strengthen the immune system, relieve allergies and aid in weight loss.
Not a straight tea drinker? Brewed yerba mate, which has an earthy flavor that some call an acquired taste, is sold commercially not just as tea but also blended in lattes, coffees and energy drinks. Guayaki (available at Safeway, Wegmans, 7-Eleven and elsewhere) is one of a handful of companies paving the way for yerba mate in the U.S. The company sells flavored versions with a hint of cane juice to sweeten it up for otherwise sugar-addicted American consumers.
Another take on healthy energy drinks comes from a handful of companies selling products with vitamins and nutrients instead of caffeine to give drinkers a kick. Zipfizz is a powder that can be mixed in with water and contains a combination of vitamins and minerals that provide the body with electrolytes, antioxidants and vitamin B-12, among other natural, immune-strengthening nutrients. Eniva Vibe, also packed with vitamins and minerals, is another popular new entry into the healthy energy drink market.
As with anything you consume, mileage may vary, so to speak, so experts advise going slow at first to make sure it agrees with you. And if all else fails, remember you can always just go take a nap.
---