OJAI VALLEY INN & SPA OFFERS GUESTS PERSONAL
ARTISTIC EXPRESSION OPPORTUNITIES      
by Bonnie Carroll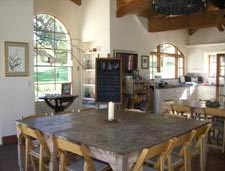 As well as being renowned for their splendid golf course, award winning dining rooms, and magnificient spa facility, Ojai Valley Inn now offers classes in the new charming Art Cottage, where gifted teachers offer water color, oil and chalk classes, as well as some very unusual and unexpected expressions of self.
My visit included an opportunity to learn the fine art of natural essential oil perfume making from Renate Collins, program developer and artist in residence at the Ojai Valley Inn and Spa Artists Cottage and Appthecary. This is something no woman should miss. Everyone wants their own personal scent, and spending the time to create mine was not only fun, but a special learning experience about my real preferences. Once your selections have been made and blended you get to name it. Mine is called Bhakti, and it all blended into a brilliant personal potion. Guests take a record of their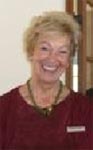 personal recipe, and Renate keeps it on file at the Artists Cottage. Bath salts, soaps, lotions and replacement scents can be delivered by mail. All guests need to do is call and request their products.
In 1986 through 1996 Renate owned and operated a holistic center in Millbrook, New York, where the focus was on healing through self-discovery and spiritual development. Renate received her pharmaceutical degreee from the Pharmaceutical Insittute at the University of Muenster, Westfalia Germany in 1964..Renate is also a Reiki Master and Master Practitional or Neuro-Linguistic Programming. She uses her varied approaches, including Bach flower remedies, essential oils, spiritual healing, psychotherapy and hypnosis to assist in body-mind-spirit balancing. As a trained Jungian thearapist she offers Mandala art sessions that are nothing short of amazing and completely inspiring. I created things that I had forgotten so long ago, and also embraced things soon to come. For a delightful and insightful addition to your visit at the spa visit the Artist's Cottage on your next visit. For information www.ojairesort.com.
---
OJAI FILM FESTIVAL ATTRACTS SPA LOVERS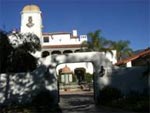 The weather in Ojai was simply wonderful during the Noverber 6-9 film festival in the charming California community. From the ultra-luxurious Ojai Valley Inn & Spa to the Oaks at Ojai to the bevy of wonderful local day spas located in Ojai it was healthy, ente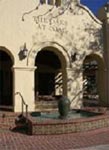 rtaining, and exciting all in unison.
Between massages, hot tub soaks, laps in the pool and visits to the local art galleries or wine bars guests visited area theatres to see the wonderful menu of films participating in the festival  billed as 'an event to enrich the human spirit through film.' The relaxing, care free atmosphere of this historic little spot would renew anyone's spirit, but coupled with the great body treatments, mind pleasing films, and overall vibe during the four day event, it certainly provided all it promised to film makers, critics, attendees and volunteers.
Congratulations to Ojai, the Film Festival 2008, Executive Director Mo McFadden, and the hard working board of directors and advisory board members on a brilliant job. For additional inforamton on spa retreats and escapes in Ojai please visit www.ojai.com.       
---
UNIVERSAL CONSCIOUNESS
"Infinite worlds appear and disappear in the vast expanse of my own consciousness, like motes of dust dancing in a beam of light." 
~ Yoga Vasishtha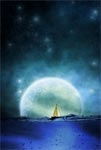 Each of us exists as a ripple in the conscious intelligence field that gives rise to everything in the universe – our bodies, the stars, the galaxies, and all else. Since we are an inseparable part of this underlying field of intelligence, we are also the source of all reality. In every moment, we are co-creating our world with God, the universe, or spirit.
Both the ancient wisdom traditions and modern science tell us that our bodies, our minds, and the physical world are projections of our consciousness. Only consciousness is real; everything else is its projection. As Deepak often notes, "You are not in the world; the world is in you." It is only the veil of illusion – known as maya in the ancient yogic tradition – that keeps us from seeing that everything is pure consciousness. When we pierce the veil, we discover the spirit in everything and have access to unlimited creative potential. With this issue of mini-Namasté, we invite you to explore the conscious intelligence field and begin to see yourself as a co-creator of your own experience.
---
EarthTalkTM
From the Editors of E/The Environmental Magazine
Dear EarthTalk: I'm thinking about starting an environmental club in my middle school.  Can you give me some ideas about how to start?  Can you connect me with other school clubs?
-- Rosemary, Andover Township, NJ
Starting an environmental club at school is a great way to get students energized about taking care of the Earth and helping their community while learning about some of the most important issues facing the world in the 21st century.
EarthTeam, a non-profit environmental network for teens, teachers and youth leaders, offers many tips on how to start an environmental club. First and foremost is to make sure there are at least a half dozen or so other students interested in forming such a club to begin with, and then also finding a teacher, community leader or parent who is willing to serve as an adult sponsor. The sponsor's role is to provide advice along the way and to help ensure the stability of the group from year-to-year given that all of the students, even the founders of the club, will eventually graduate, or move on to other interests or endeavors.
Once the core membership and adult sponsor have been established, EarthTeam suggests all sitting down together to decide on the club's vision ("Why are we here?") and to brainstorm about possible activities or projects to undertake ("What do we want to accomplish?"). Once these questions have been answered, it's time to hold the club's first official meeting, which should be advertised as widely as possible to other students who may be interested in finding out what the group is about and how they can get involved, too.
The next step, according to EarthTeam, is to forge an action plan that focuses on one group-oriented, year-long project that has measurable benefits to the school or community and that can keep the interest of the student members—who will no doubt be spending long hours volunteering. Whatever project(s) the group decides on, members should develop a timeline that clearly lists goals, dates and responsibilities.
In addition to undertaking the one major project, clubs can also host or sponsor special events for extra visibility. EarthTeam suggests getting students outside for a river or beach clean-up, a tree planting day, or a field trip to a local wetland, zoo or nature reserve. Another popular idea is to hold an Environmental Awareness Day to educate the entire student body about relevant green issues.
EarthTeam is also a networking platform so clubs can work together and share experiences with each other to help get a sense of the bigger picture beyond one individual school's locale, given the global nature of most environmental issues. Another great networking resource is the Greenspan website, which lists clubs in 21 different U.S. states as well as in Australia, Canada, Japan, Ghana and Malaysia.
Another great resource for those starting up new or managing existing school environmental clubs is the U.S. Environmental Protection Agency's (EPA's) StudentCenter website, which offers dozens of ideas for projects that both stimulate and enlighten participants while helping the local community. The website also provides links to several partner non-profit groups with club-worthy activities.
---
EarthTalkTM
From the Editors of E/The Environmental Magazine
Dear EarthTalk: How can the new Obama administration and/or Congress undo the many anti-environmental actions the Bush administration undertook over the last eight years, including the obstruction of Bill Clinton's landmark "roadless rule" legislation?     
-- Ann Lyman, Lake Tahoe, CA
The Bush administration has certainly been no friend to the environment. Besides working for eight years to overturn the Clinton administration's "Roadless Rule" that prevented road building (and the logging that usually follows) on 58.5 million acres of national forests, the Bush White House has opened up 45 million additional acres of public land across the American West to oil and gas drilling during its tenure.
Right now Bush is pushing to open up thousands more acres in sensitive areas around three national parks in Utah to more oil and gas extraction. According to The New York Times, these new oil and gas "leases" (the government leases drilling rights on public land to private companies) will be auctioned off on December 19, 2008, the last day the White House may carry out such transactions before leaving office.
Obama transition team insiders have already hinted that they will work to overturn the Utah oil and gas leases once they are in power. Obama's trump card might be the fact that Bush failed to give his own National Park Service (NPS) sufficient opportunity to comment on the proposed leases before forcing them through. Green leaders hope that Obama can at least re-set the decision-making process to give the NPS and other interested parties time to voice their concerns before the oil rigs and gas pipelines move in. Green leaders also hope that, beyond stopping the Utah leases, Obama will curtail the number of leases sold altogether, in part by forcing extraction firms to develop sites they already have rights to before leasing more acreage. Oil companies have already leased 68 million acres of lands they have yet to access.
On the Roadless Rule, itself an 11th-hour executive order by Bill Clinton that has been mired in the courts since Bush tried to overturn it in 2001, Obama promised during the campaign that he would work with Congress to codify it as the law of the land. Luckily for greens, the back-and-forth on the issue over the past eight years has meant that only seven miles of new roads—yielding access to just 500 acres of timber—have been cut on lands slated for protection under the Roadless Rule during Bush's tenure.
Obama also has his work cut out on a number of other environmental initiatives ignored or opposed by the Bush White House. Chief among them is taking action on global warming. If one can believe the campaign rhetoric, Obama will work to get the U.S. on track to reduce greenhouse gas emissions 80 percent by 2050 through a number of initiatives. Jason Grumet, the Obama campaign's lead energy and environment advisor, has indicated that the president-elect plans to move quickly on getting climate change legislation through in 2009 and working to make the U.S. a leader on mitigating global warming.
Another way Obama can win green friends is to undo a Bush proposal, slated to take effect in December, to cut wildlife experts out of decisions affecting plants and animals protected under the Endangered Species Act. Bush has faced sharp criticism for disregarding or ignoring the input of scientists on many issues. Obama seems likely to want to re-assert the importance of science in policy decision-making.
www.emagazine.com/earthtalk/thisweek/
e-mail: earthtalk@emagazine.com.

---