HEALTH MINDED   .   .   .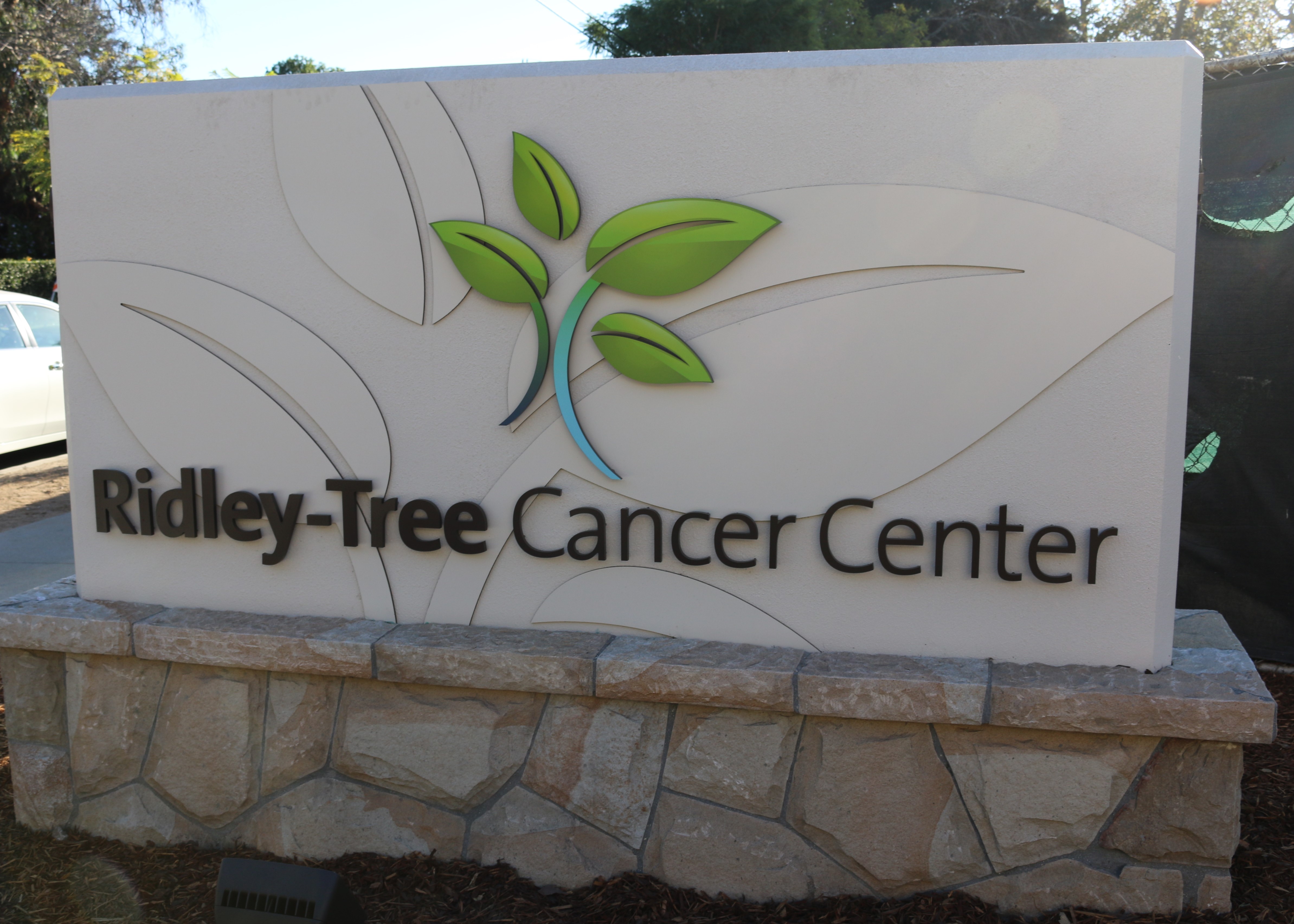 RIDLEY-TREE CANCER CENTER
State-of-the-Art Equipment - Healing Design – Loving Care
by Bonnie Carroll
Over the years I have gone to the Cancer Center on Pueblo to cover stories on the exhibition of the artworks done by patients at the center. It has always been home to a group of medical professionals who worked 24/7 to help people with their journey through a cancer diagnosis and treatment.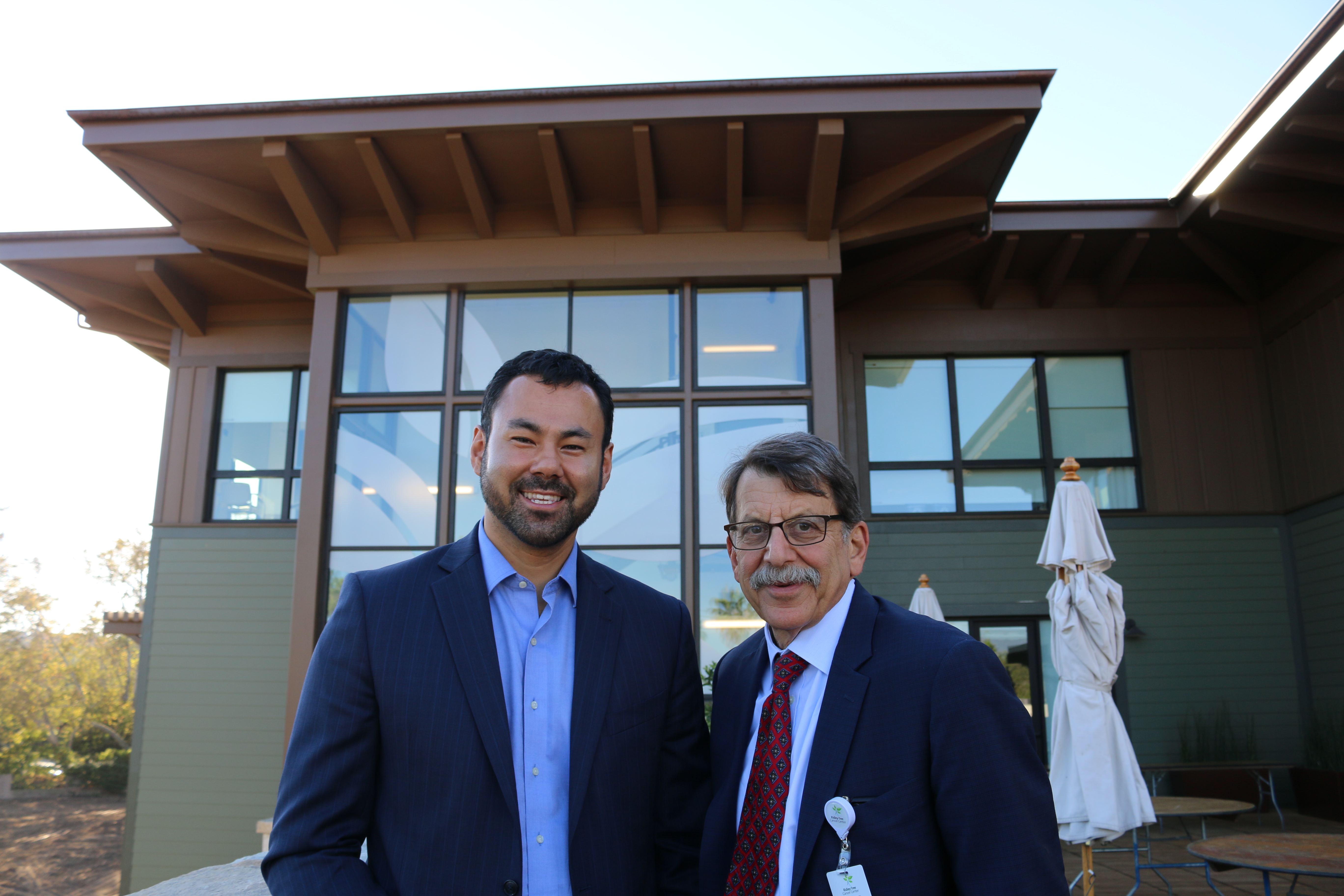 Dr. Matthew Kunkel & Dr. Fred Kass
Last month I was thrilled to meet with Dr. Fred Kass, MD, Oncologist and Medical Director of the Oncology Department at the new Cancer Center and Matthew Kunkel, MHA VP of Oncology from Stanford Health at the Ridley-Tree Cancer Center for a private tour of the new Cancer Center building which opened in October to the delight of generous supporters, Cancer Center staff members and the entire Santa Barbara community. Everyone involved seems thrilled to have witnessed first hand that it takes a village to turn a decade-long dream of a new regional Cancer Center into reality. I have walked with Drs' Kass and Kunkel for several years in the Barbara Ireland Walk for Breast Cancer and I'm always inspired by their kind energy and dedication to finding a cure.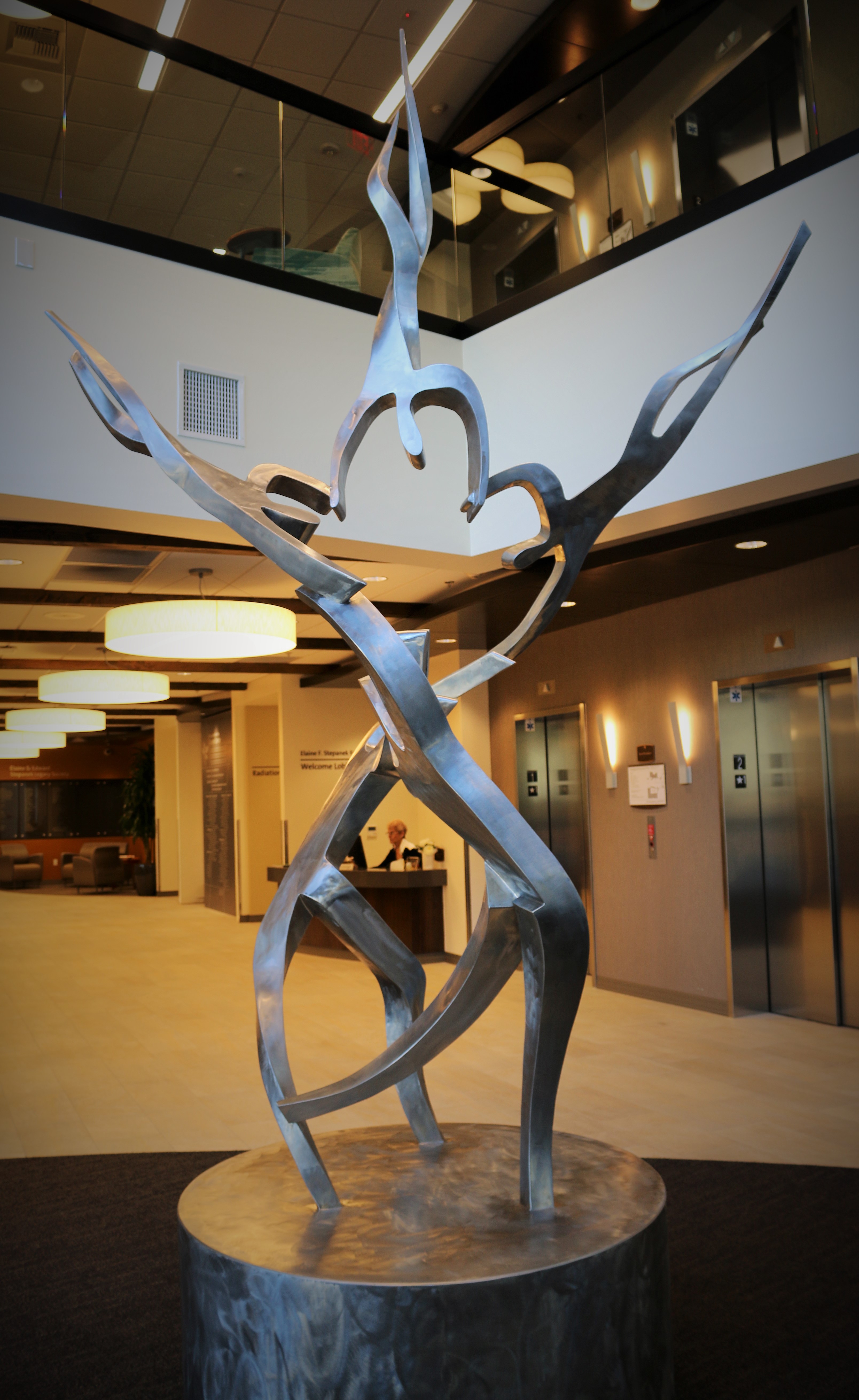 Entering the lobby I was pleasantly startled by a beautiful sculpture in the entry, and then I was warmly welcomed by Fran Daniels, who manages the reception desk, and I so enjoyed hearing her conversation on her many happy years working at the Cancer Center until Dr. Kass and Dr. Kunkel arrived and welcomed me to begin the informative walk and talk.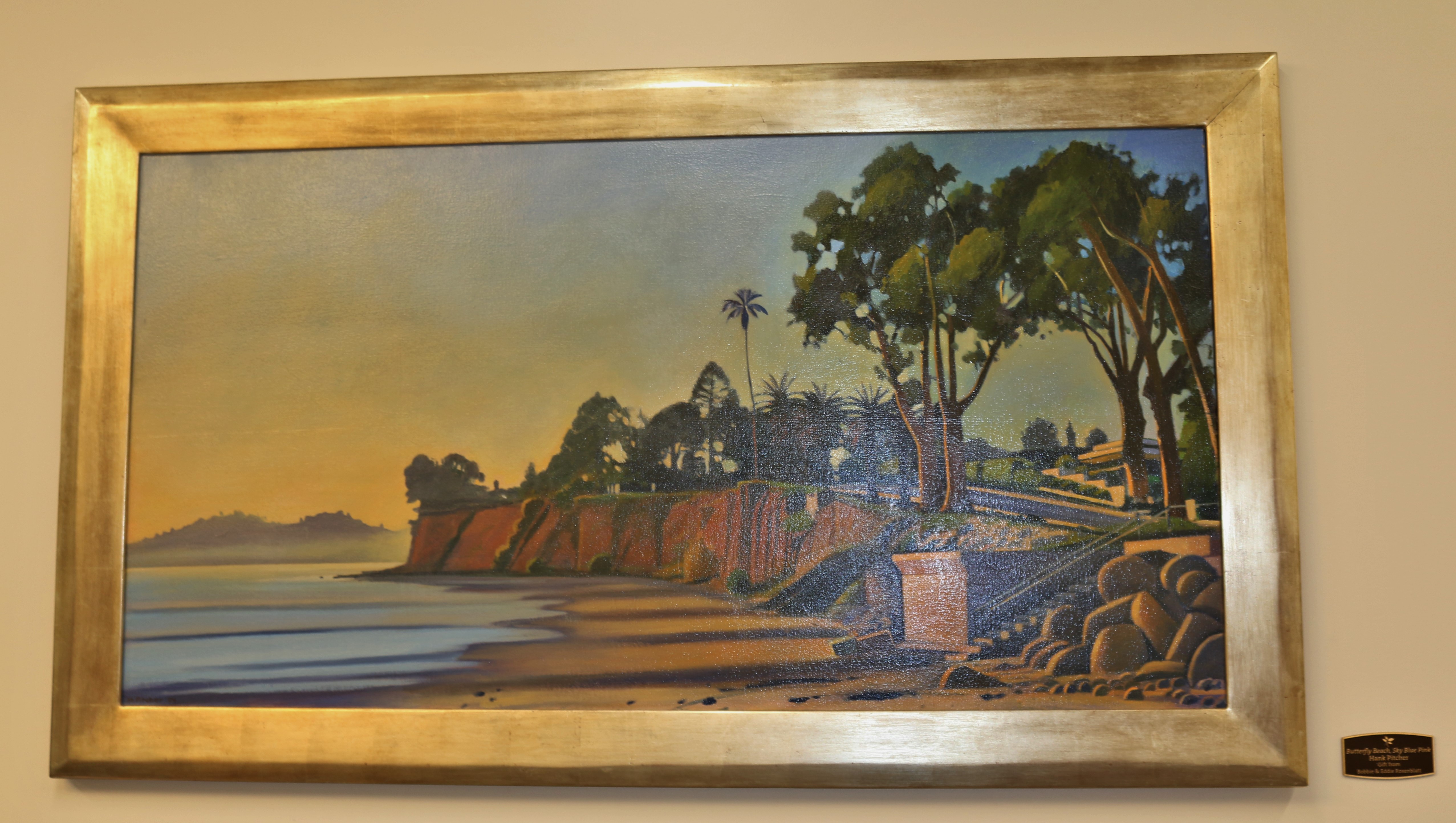 From the lobby visitors can enter a large waiting room with walls filled with beautiful art; art has always been special as a healing tool for patients at the Cancer Center, and in this new building everywhere you look you see beautiful art. Visitors might think it was an extension of the Santa Barbara Museum of Art, however, the art has been created or donated by patients and sponsors. The library is also beautiful and such a comfortable place to sit and read up on recovery. There are floor to ceiling shelves of reference books, and an amazing computer library managed by a librarian who assists visitors with tools to fully use computer files with ease, which today is a vitally important skill for patients wishing to do their own research.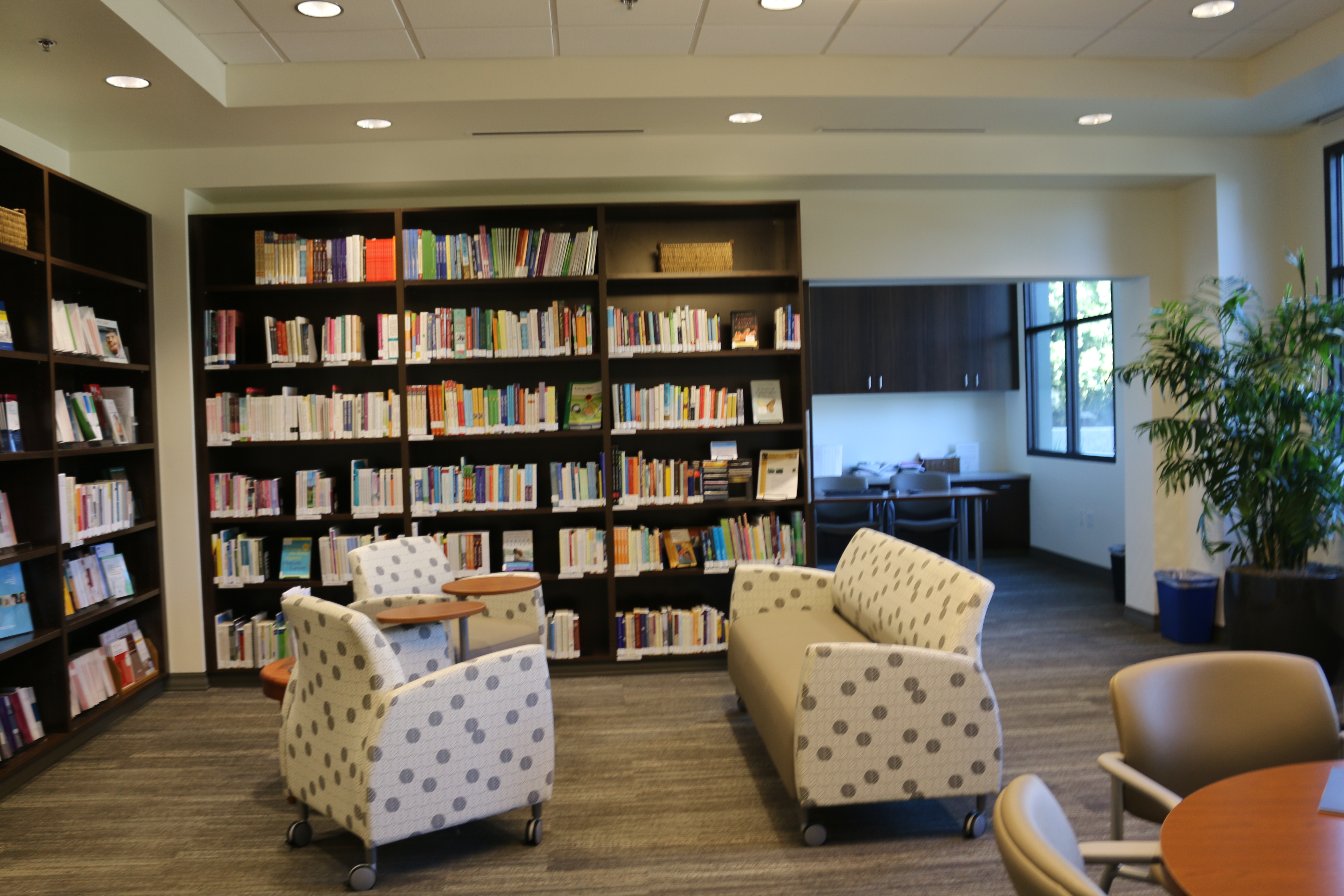 Cancer Center Library
The large conference room on this floor is used for doctor and staff meetings, and at times as a part of the preventative cancer programs being planned and implemented to assist patients, visitors and area residents in obtaining and using a planned program to help prevent cancer through relaxation techniques, healthy design diets, exercise and attitude. This program has Dr. Kass very excited not only for his oncology patients but for everyone. He serves as the co-chair of the Cottage Hospital Medical Advisory Panel and is on the Cottage Hospital population health task force and is delighted a well-planned program for cancer prevention will be available at the Cancer Center.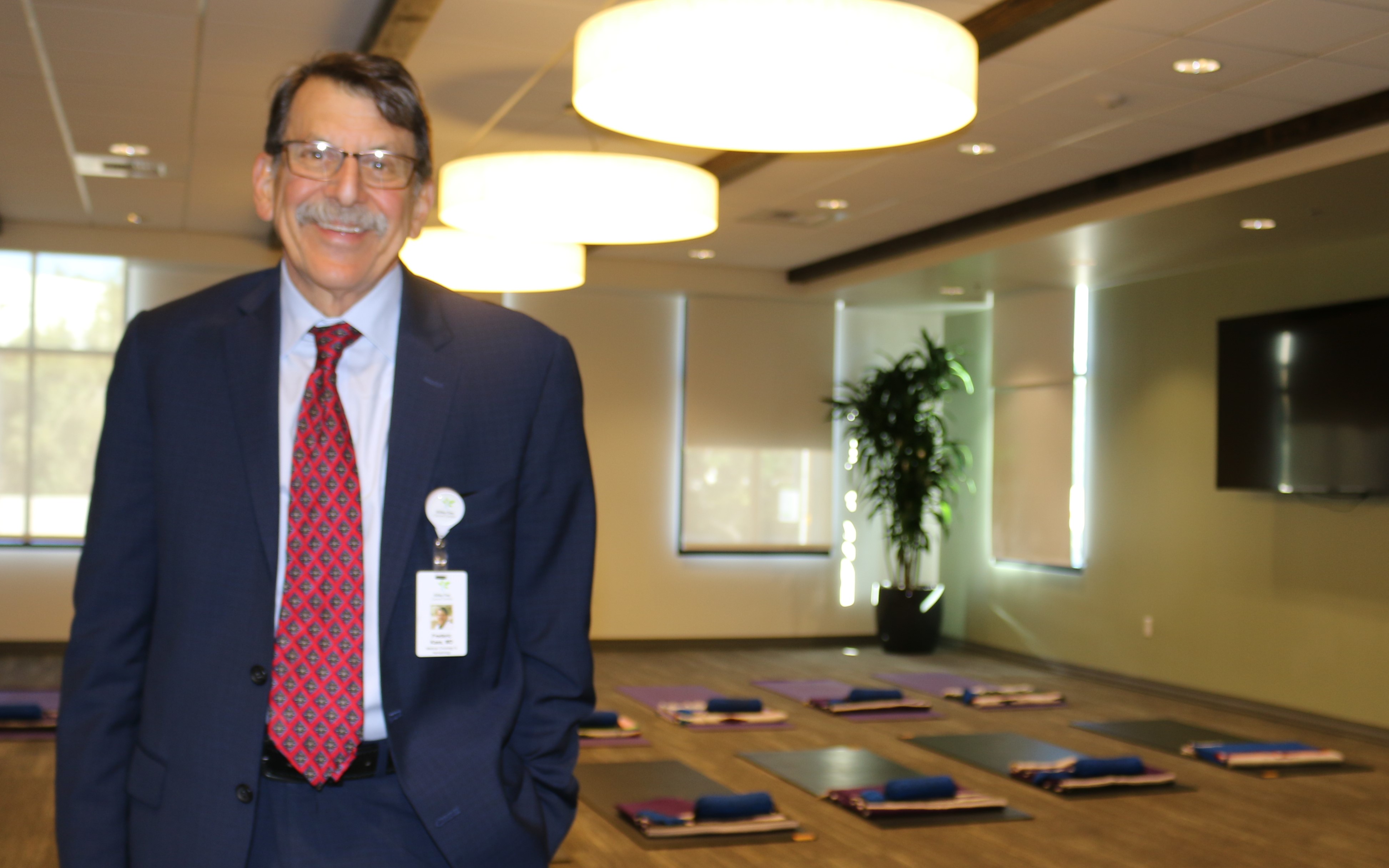 Fred Kass, Medical Oncologist, Medical Director of Cancer Center's Medical Oncology Department
The upper floor lobby is highlighted by an attractive art exhibition of art done by members of the Patient Art Program. Dr. Kass stopped to look at and point out one painting done by a favorite patient of his. This floor features an expansive patio where special lunches and events are held, but also offers a restful venue for patients to relax and enjoy the beautiful view. Music programs will be offered in the upper lobby area presented by Westmont College and other organizations very soon.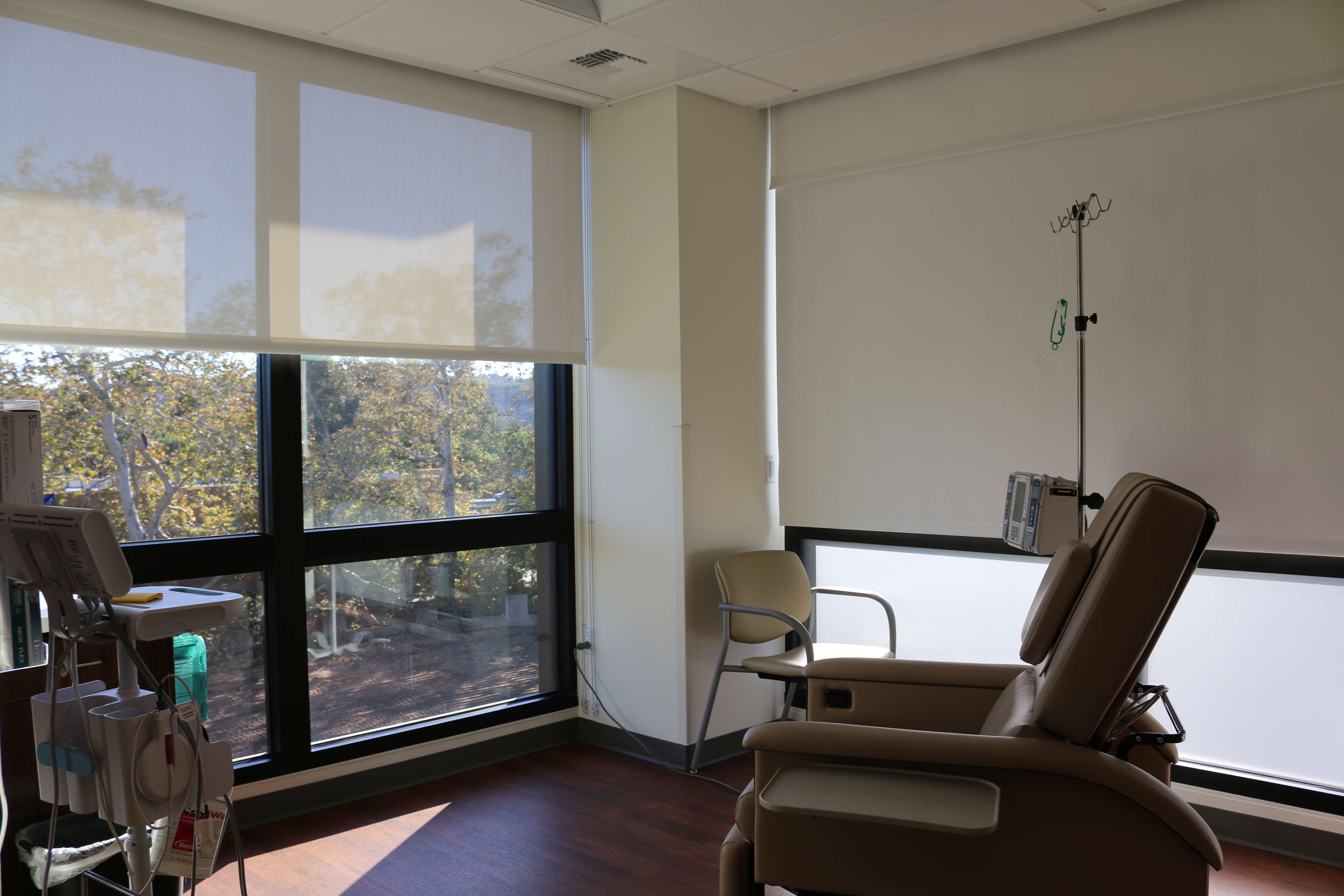 Chemo/Immune Therapy Area
The private chemo/immune therapy open cubicles surround the infusion nurses station, and feature large and very comfortable lounges that overlook the serenity garden. The whole feeling is open, one with nature and very relaxed. This whole area is so light and such a pleasant venue for treatments.
Nearby is the EXETRA and Ridley-Tree Cancer Center boasts two of these amazing machines. Patients select scenes they like and they appear on a large overhead screen during their treatment, along with music of their choice of music. According to Dr. Kass "Cedar-Sinai only has one of these machines, we have two and at a cost of $300,000. During the walk to view the EXETRA I noticed many examining rooms with color bands above the doors and Dr. Kass explained the color coding was for the doctors so they would get to the right patient when running from place to place (Dr. Kass' color is green). Took a peak at the staff offices, the office of the Cancer Center surgeon Dr. O'Connor, and computer radiation labs, which Dr. Kass pointed out have windows; I guess most computer labs usually don't have windows.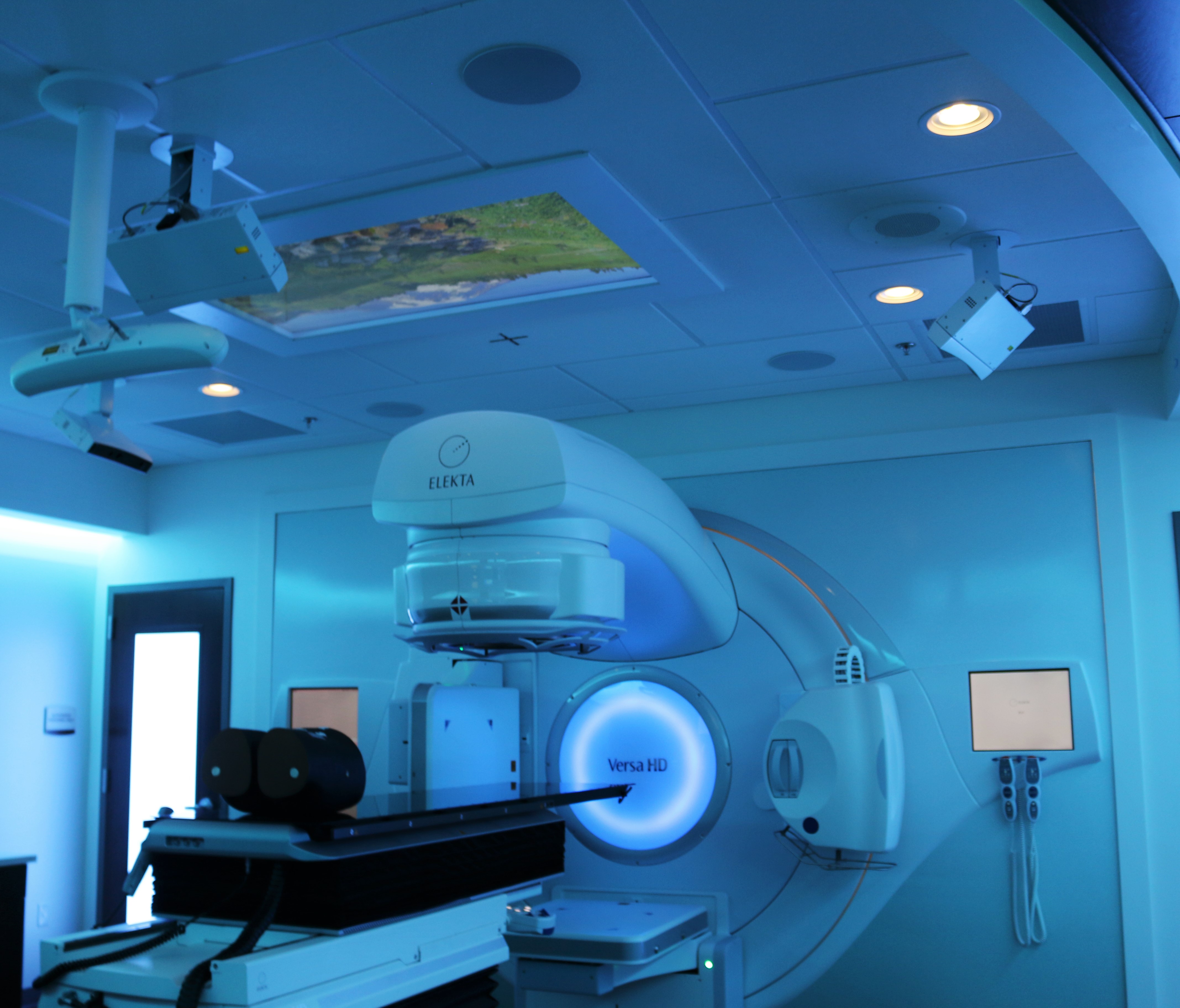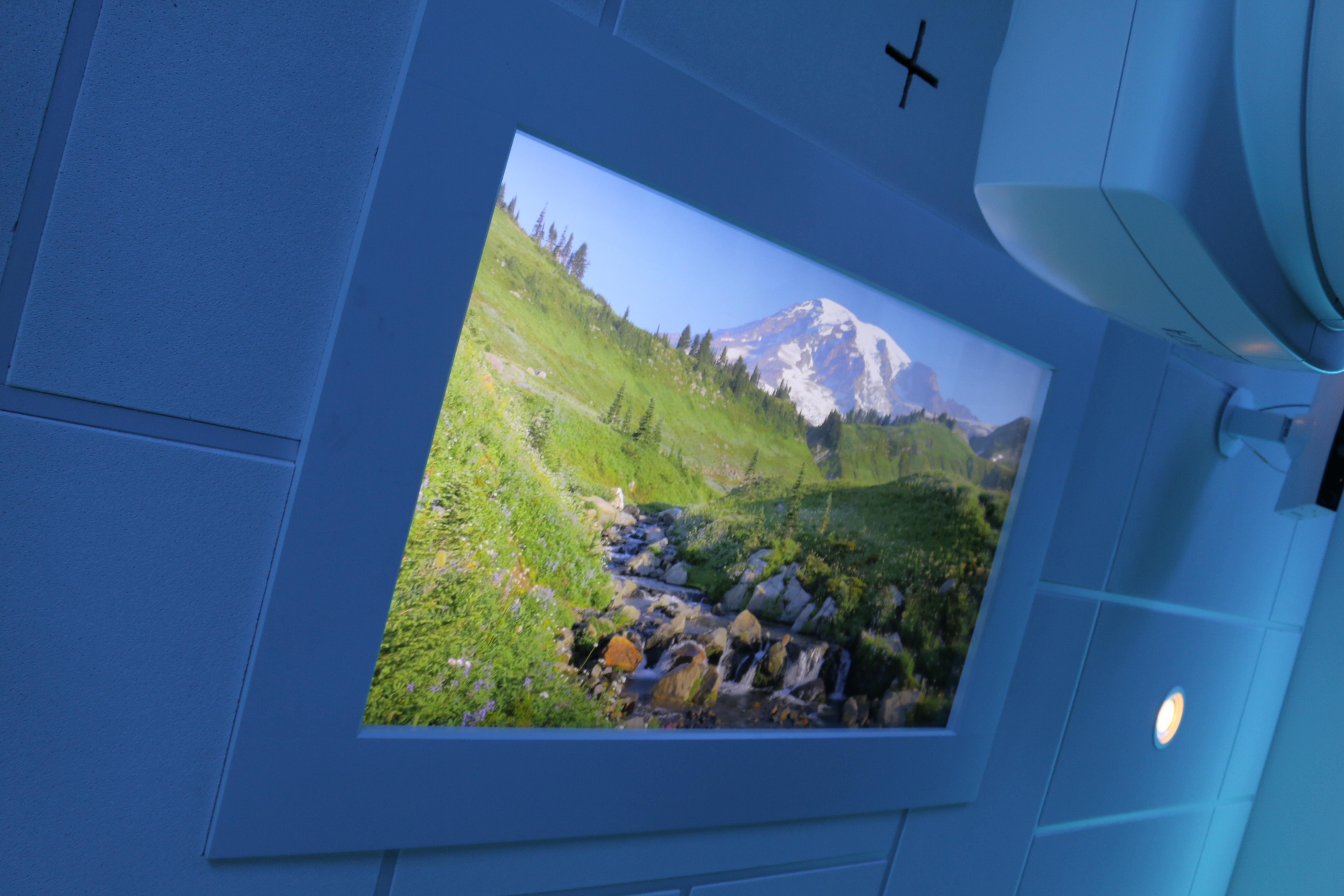 EXETRA Machine
The appointment center looks like a reservation area in a major hotel; computers and phones abound. The consultation rooms are beautiful and afford comfortable seating for the whole family and staff, as well as large computer screens to view scans and discuss important patient plan of action information. Patient navigators are the people who assist doctors in implementing the individual patient plan and assist with needed information. I like the sound of that 'patient navigator' it makes me think of being on a river cruise up the Nile. The convenience of the in-house Pacific Laboratory and pharmacy are obvious; they provide instant information for doctors and instant medications for patients.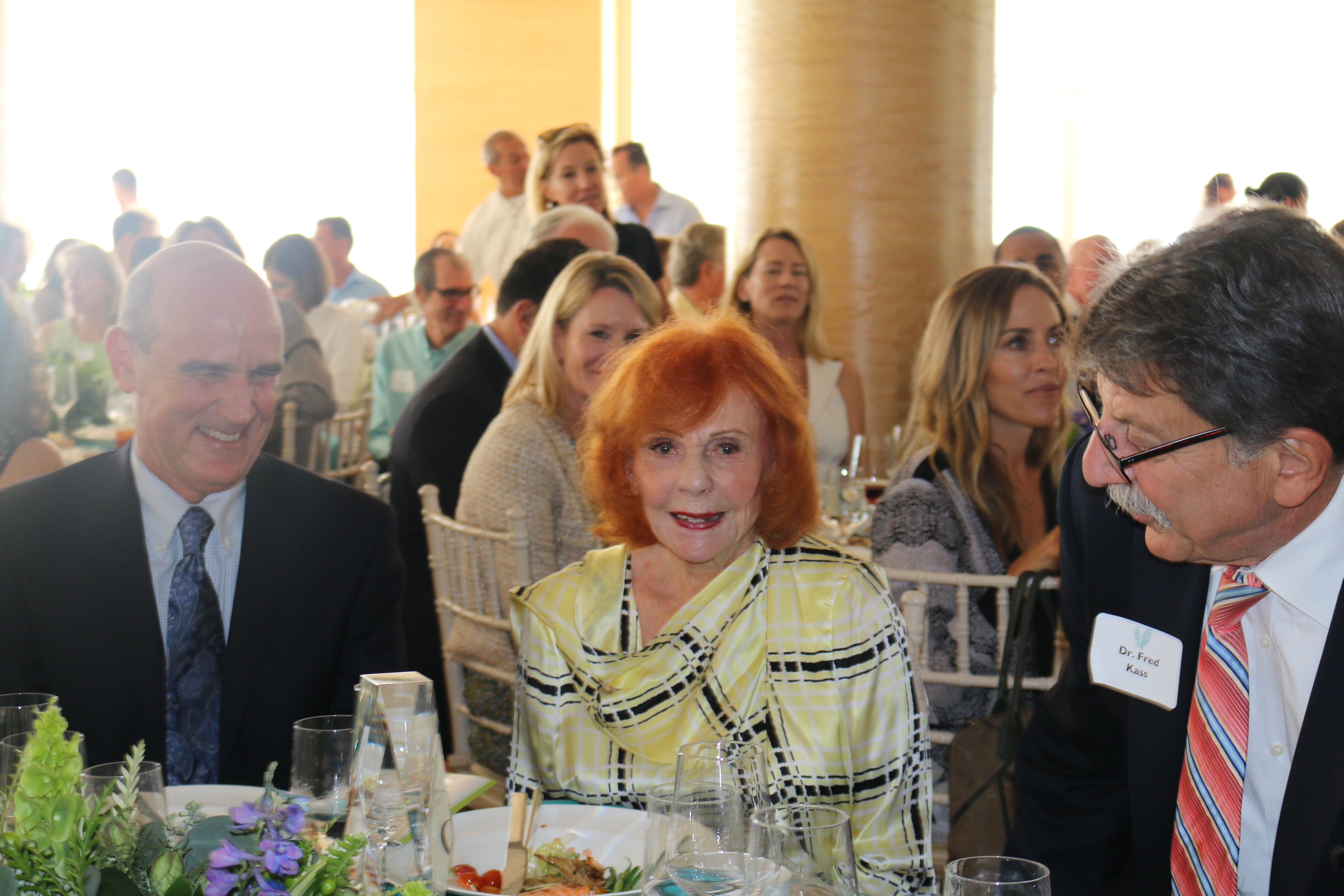 Kurt Ronsohoff, M.D., Leslie Ridley-Tree, Fred Kass, M.D
The Cancer Center name is obviously all about Santa Barbara's own Lady Leslie Ridley-Tree, who Dr. Kass describes as "the rock upon which to build this church" because in the early days she came to our events and everyone was so surprised and delighted to see her. She then got involved and ultimately provided a major donation to build the Ridley-Tree Cancer Center, along with many other prominent philanthropic donors.
In September Lady Ridley-Tree and the Ridley-Tree Cancer Center were honored at the Hospice of Santa Barbara 5th Annual 'Hereo's' Luncheon at the Coral Casino for their outstanding contribution to the community. I was there and could not see a dry eye in the house. What an amazing tribute to a community of people with so much love and so much dedication to fighting and curing cancer.
In the words of Dr. Fred Kass "It is a cancer center in the community for the community by the community." Members of our community are so grateful to everyone involved for this gift of love, and so is this resident journalist. For additional information please visit www.ccsb.org.
Ridley-Tree Cancer Center
300 West Pueblo Street
Santa Barbara, CA 93105
(805) 682-7300
_________________________________________________________________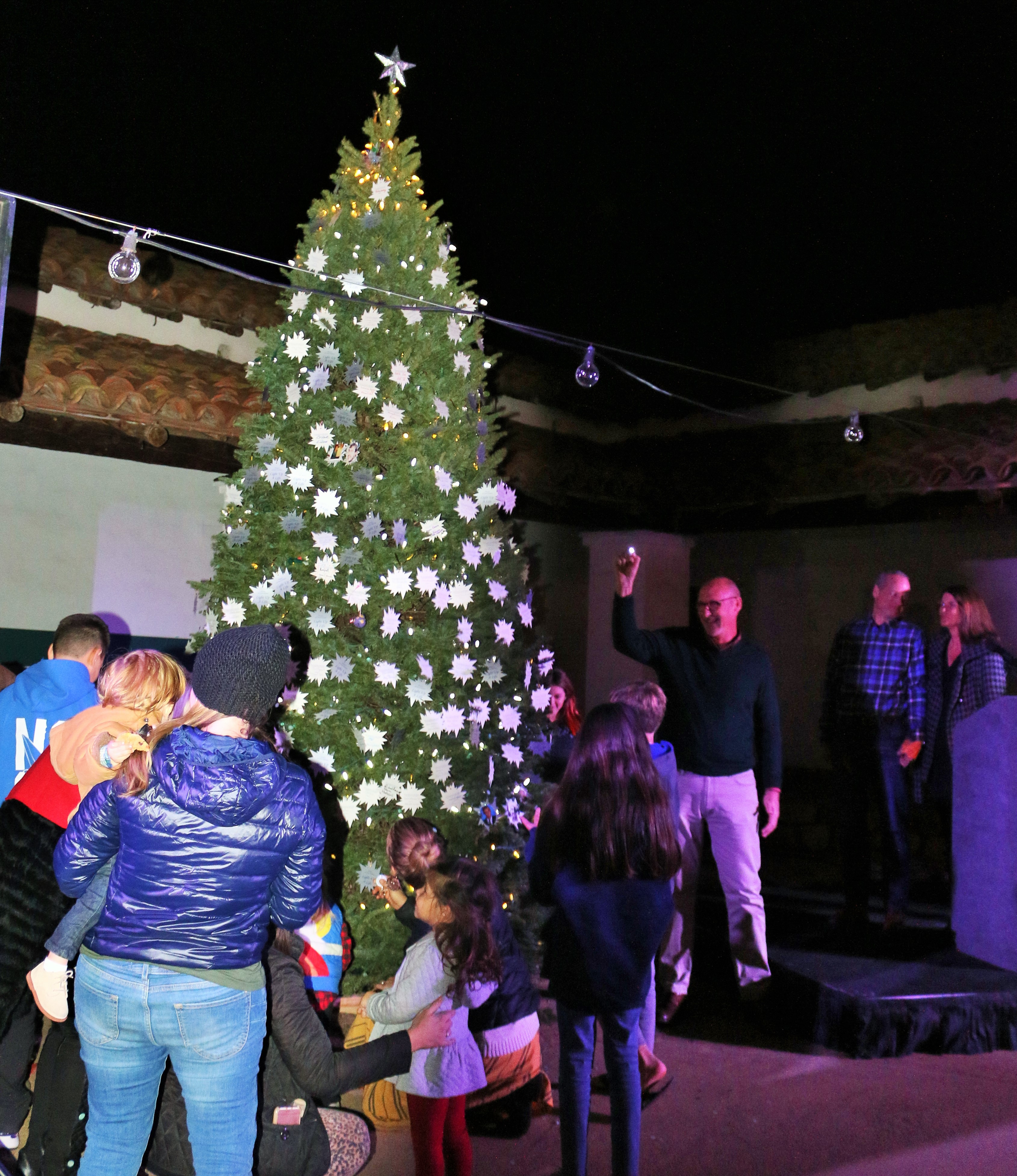 HOSPICE OF SANTA BARBARA 'LIGHT UP A LIFE'
by Bonnie Carroll
The Hospice of Santa Barbara Light Up A Life evening at De La Guerra Square was an incredible evening of love filled with music by the Dos Puebos High School Jazz Choir led by Courtney Anderson, songs by talented John Vale, poetry reading by Perie Longo, past poet laureate and "Shift" shared by poet Susan Cochran. Amy Lopez gave a special welcome in Spanish to attending guests and friends.
Catherine Remak of K-Lite FM was Emcee for the evening and shared her own remarkable experience with Hospice of Santa Barbara when her own father passed. She did an amazing job that she described as an opportunity to pay back the wonderful people at SB Hospice for all they had given her through support groups and encouraged everyone to use the valuable services offered by the organization.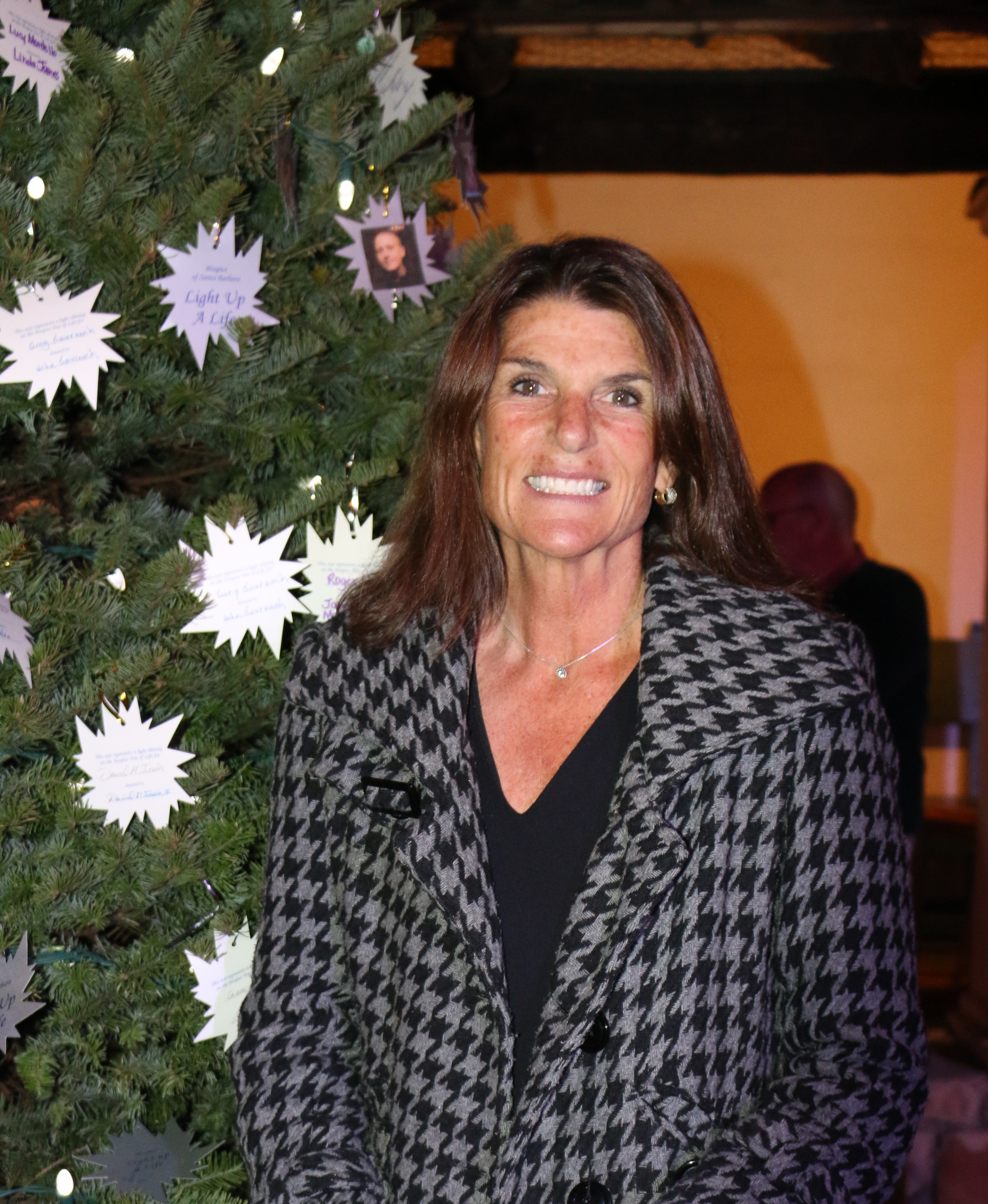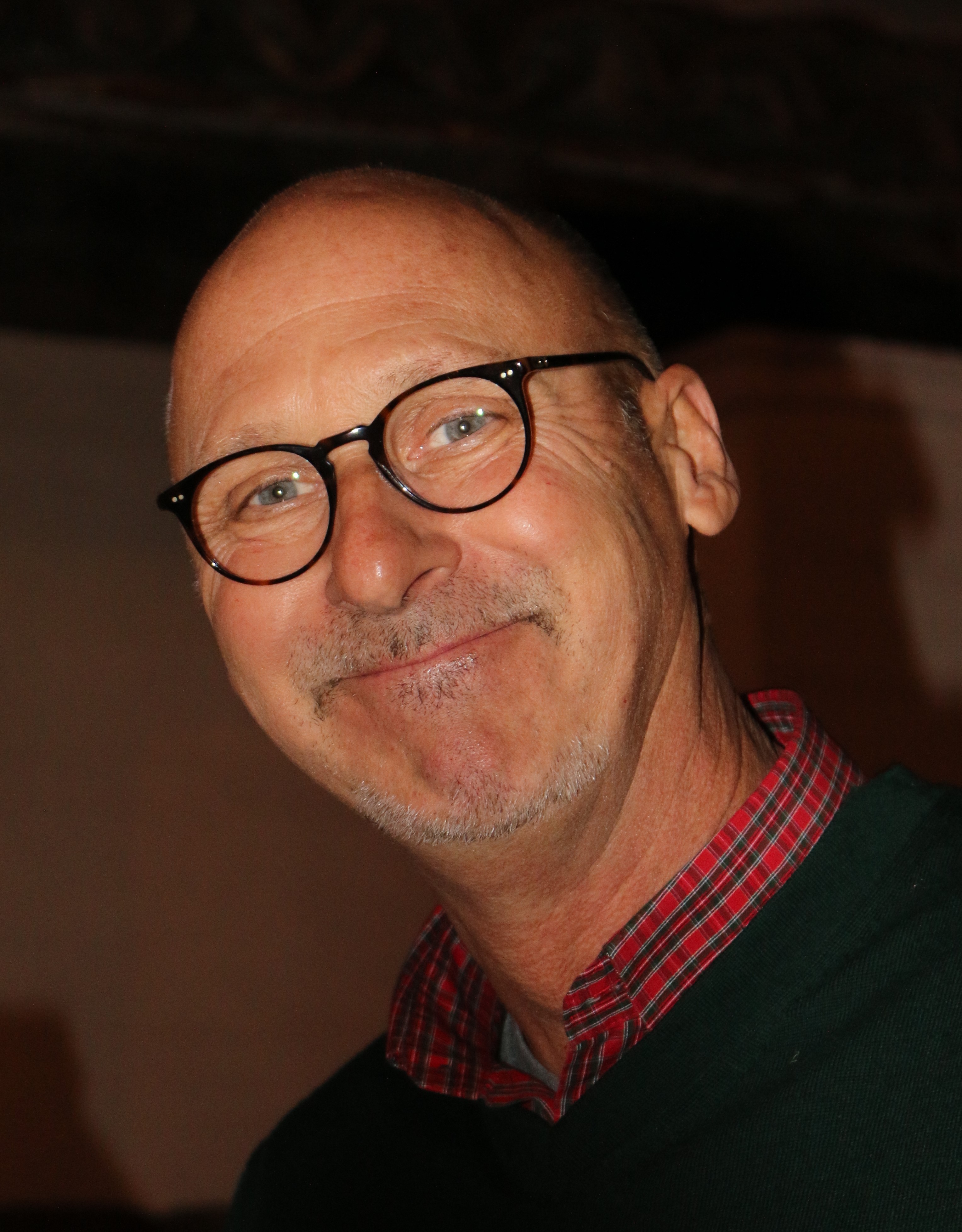 Catherine Remak, Emcee      CEO David Selberg
David Selberg, CEO, Hospice of Santa Barbara shared how special this organization is that has helped so many people, not only as a hospice for the dying but as an incredible support to those who have lost loved ones; men, women and children. Catherine Remak and David Selberg invited guests, especially children in the crowd to come to the tree for the special tree lighting ceremony, where the tree filled with stars containing the names of loved family members and friends was illuminated as John Vale sang "To Where You Are."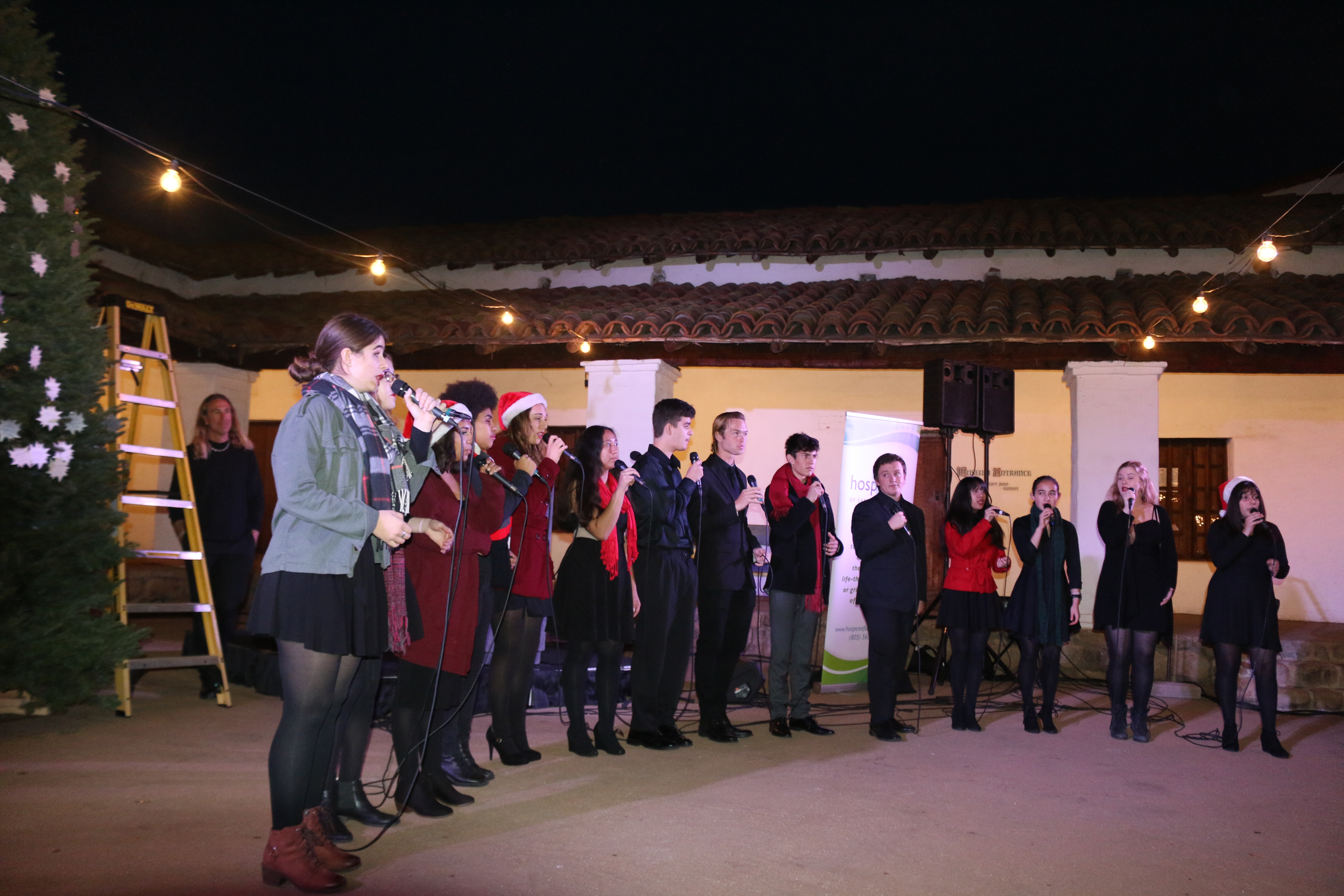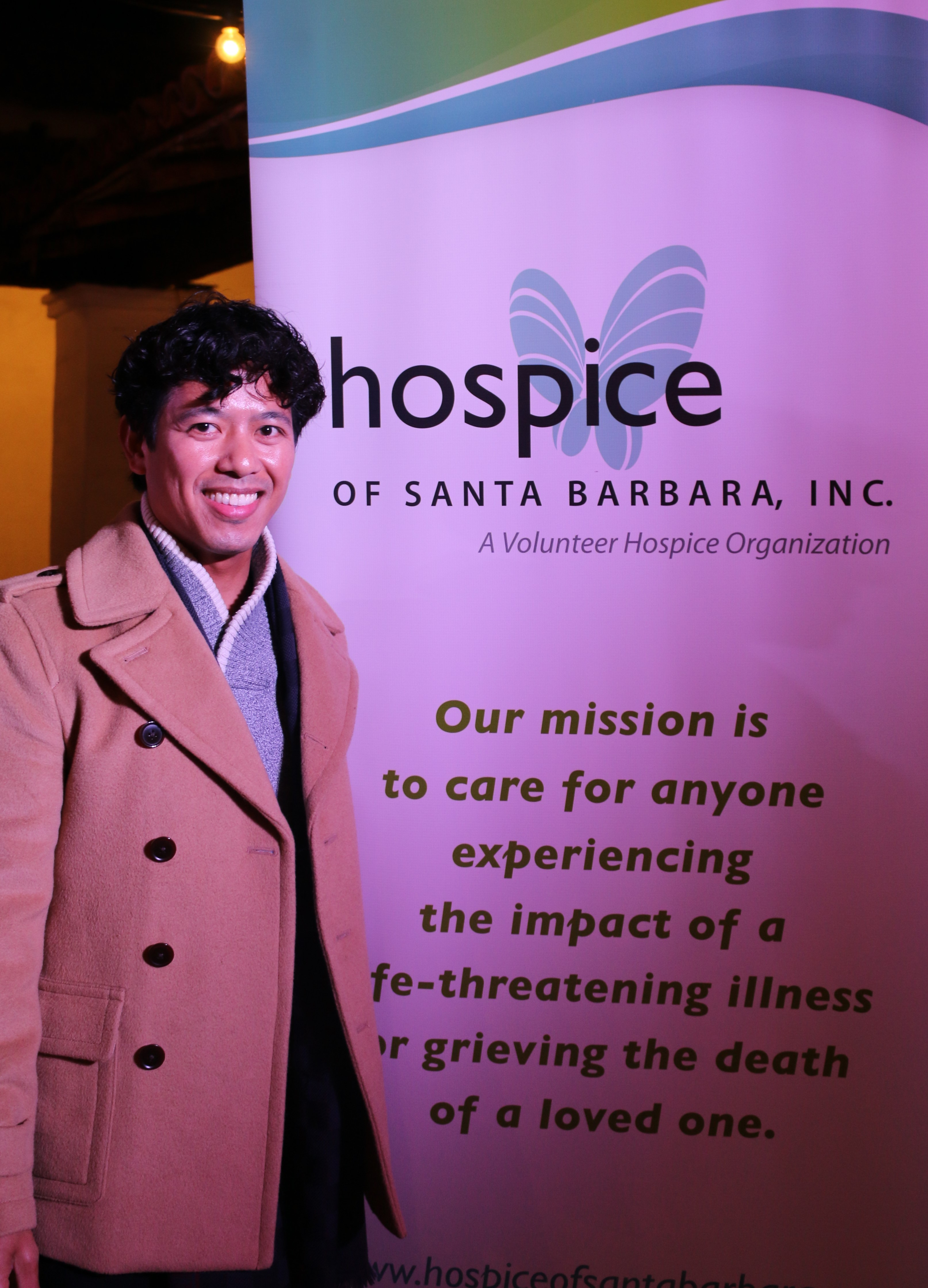 Dos Pueblos Jazz Choir         
           Singer John Vale
Hospice Santa Barbara provides professional counseling, support groups, and patient care services free of charge to individuals and families who are grieving the death of a loved one or experiencing the impact of a serious illness. Hospice of Santa Barbara is also present on eight local high schools and junior high campuses to work with children and teens who are grieving the loss of a loved one. For more information about Hospice of Santa Barbara including volunteer opportunities, call (805) 563-8820 or visit
www.hospiceofsantabarbara.org
.
Light Up A Life ceremonies are held in Santa Barbara, Goleta and Carpenteria each holiday season
HOSPICE OF SANTA BARBARA, INC.
2050 Alameda Padre Serra, Ste 100
Santa Barbara, CA 93103
---