Significant Event . . .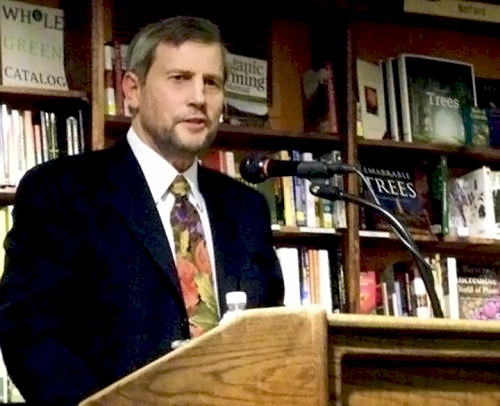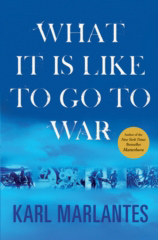 Pierre Claeyssens Veteran's Museum & Library Foundation                           
 18th Annual Military Ball   
 Featured speaker: Karl Marlantes
 Vietnam Vet + Best-selling author               
Saturday, November 9, 2013 5 pm – 11 pm  
  Fess Parker's Doubletree Resort
   633 E. Cabrillo Blvd., SB 93103
  (805) 966-1660 or online
  www.pierreclaeyssensveteransmuseum.com
   $125. per person  Black tie optional
Come to the 18th annual Veteran's Day Military Ball dressed in your finest outfit to honor our Veterans and active duty service men & women.  Keynote speaker who served two tours in Vietnam, is a best-selling author, successful businessman and academician, Karl Marlantes will be interviewed on stage by Vietnam Peter Bie to engage; Award to local resident James Pattillo a member of "The Greatest Generation" from PCVM; a heartfelt Missing Man Ceremony, complimentary portrait (a la prom photos) and a lovely steak & shrimp dinner sure to please with live music to dance to after all is done. 
www.pierreclayessensveteransmuseum.org     
_______________________________________________________
Good Health News
No Bake Pumpkin Pie (Gluten Free) by Chef Justin Swain, REX 1516 Restaurant, Philadelphia, Pennsylvania www.rex1516.com.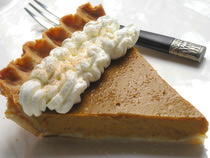 Pie Crust
2 1/4 cup ground raw hazelnuts
3/4 cup cocoa powder
1/2 cup coconut oil
9 dates, stoned
 - Place hazelnuts and cocoa powder in a large bowl and mix well, breaking up any lumps.
- Add coconut oil to powder mixture and mix well.
- Place dates in a small bowl and mash with a fork.
- Add dates to dough-like mixture and combine well with hands.
- Place crust into 9-inch round pie pan.
- Place crust in refrigerator while making filling.
 Filling
1 (8-ounce) package cream cheese, softened
5 tablespoons unsalted butter, softened
1 1/2 cups powdered sugar
1 tablespoon pure vanilla extract
1 teaspoon molasses
2 1/2 teaspoon pumpkin pie spice
1 (15 ounce) can pumpkin puree
-Beat cream cheese and butter in the bowl of an electric stand mixer until smooth and creamy.  Both fats should be well softened to ensure the filling is lump free.
-Add the powdered sugar to the mixture and beat until smooth and fluffy.
-Add the vanilla extract, molasses, pumpkin pie spice and pumpkin puree and beat until thoroughly combined.  If you find that your filling is lumpy, pass it through a fine mesh strainer into a bowl.
-Spoon the filling into the pie shell.  Let pie chill in the fridge overnight.  (very important that it chills overnight or it
                                  ________________________________________________________________
New Blood Test Could Help Millions of Patients with Gastrointestinal Disorders
Study identifies test for high levels of vinculin antibodies in patients with irritable bowel syndrome (IBS)
For the first time, a simple blood test may be the best way to determine if a patient is suffering from Irritable Bowel Syndrome (IBS), or another serious condition such as Inflammatory Bowel Disease (IBD,) according to Cedars-Sinai physician researcher Mark Pimentel, MD, lead author of a multicenter clinical trial.
Researchers conclusively identified a test for antibodies that form against a particular protein, vinculin, found in the guts of patients, many of whom suffered acute gastroenteritis at some point.
"This is a major breakthrough. It is the first test with a high specificity for IBS, likely based on a pathological mechanism of the disease," said Pimentel, the director of the Cedars-Sinai GI Motility Program and the GI Motility Laboratory. Pimentel is co-author of the study and results were presented for the first time this week at the American College of Gastroenterology's 78th Annual Scientific Meeting in San Diego, Calif.
In the study, 221 patients were evaluated; some had a diagnosis of IBS, some were diagnosed with IBD and some were healthy, with no symptoms. Anti-vinculin antibodies were significantly elevated in IBS patients as compared to those with IBD or those who were healthy.
"Until this study, there had been no accurate biomarkers identified specifically for IBS. The new blood test has the potential to distinguish IBS from IBD and reduce the need for unnecessary testing, expense and years of suffering," says Pimentel.
Irritable Bowel Syndrome is the most common gastrointestinal disorder in the U.S., afflicting 30 million people. Food poisoning has been identified as a significant risk factor for developing the disorder which is characterized by a cluster of symptoms including diarrhea, bloating and abdominal pain. But millions of patients are never diagnosed correctly. A simple blood test at the first sign of symptoms means patients who have IBS could get effective treatment sooner.
More than a decade ago, Pimentel went up against the conventional medical understanding of IBS when his research suggested the overgrowth of bacteria in the gut was a contributing cause of the condition. Today, antibiotics play a key therapeutic role in bringing relief to millions of patients. A definitive blood test for IBS would represent a significant new development.
The study was performed in collaboration with physician scientists at Beth Israel Deaconess Medical GAS in Boston. ________________________________________________________________
---