DIABETES AND HOLIDAY FOODS: CEDARS-SINAI PHYSICIAN OFFERS TIPS TO MAINTAIN A HEALTHY HOLIDAY BALANCE
Holiday celebrations offer temptation for party-goers to abandon healthy nutrition habits, but calorie-laden festivities pose a special challenge to the more than 20 million Americans who have diabetes. "The key to successfully navigating the holiday season is to remember that even though you can take a holiday, your diabetes never does," says Philip Barnett, M.D., Ph.D., director of the Anna and Max Webb & Family Diabetes Outpatient Treatment Center at Cedars-Sinai Medical Center.
Diabetes, the seventh leading cause of death in the United States, is a metabolic disorder that affects the way the body uses and stores glucose (sugar). During the holidays, people with diabetes should avoid an overabundance of sugary desserts and rich foods and follow a regular exercise routine, says Dr. Barnett, who leads the medical center's nationally-acclaimed diabetes outpatient program.
"People with diabetes can enjoy the wonderful foods of the holiday season--only in moderation. Regular exercise and sensible daily meal planning should be especially important during the next few weeks," Dr. Barnett says.
Dr. Barnett offers the following tips to help people with diabetes enjoy a healthful holiday season:
Follow a regular exercise routine to help regulate metabolism. Don't have an hour to spare? Try 10- or 15- minute brisk walks at intervals throughout the day – they all add up. Remember, after a holiday meal, to wait 60 to 90 minutes before taking your walk.
Eat something at home before you go to the event or party. When you're hungry, you tend to overeat and are likely to choose foods that are less healthy. Grab a piece of fruit on the way out to the party to tide you over.
Enjoy those special holiday foods in moderation. Pass on the everyday foods like crackers and dip. Instead, take small portions of special holiday items. A small portion is less likely to upset blood sugar levels.
At parties and other social events, gravitate toward the veggies and fresh fruit.
Make water or diet sodas your beverages of choice. If you do choose to drink alcohol, be sure to have something to eat along with it.
Remember to monitor your blood glucose level, and be sure you don't skip meals.
Take extra care to be certain that your meals are nutritious, varied and balanced. If you do have a treat, make sure you substitute it for an equivalent item in your regular menu.
Be positive. Remember that you control your diabetes; it doesn't control you.
According to Dr. Barnett, several hundred people in America develop diabetes every day, but an estimated one-third of those affected by the disease go undiagnosed for several years. Symptoms of diabetes include extreme thirst, frequent urination and blurry vision from time to time. Early symptoms of the disease include unexplained weight loss or weight gain, as well as fatigue.
Cedars-Sinai has been recognized by the American Diabetes Association with a citation for excellence and ongoing commitment to high quality healthcare for diabetic patients. For more information, please call 310-423-3870.
---
SELMA'S COOKIES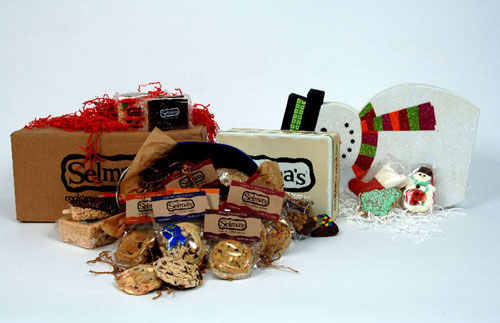 Open up and say ahhhh! Selma's cookies, treats, baskets & more are custom made goodies with only the finest ingredients. Featuring eight flavorful cookies like the award-winning Chocolate Chip Supreme or the Raspberry White Chocolate…your mouth will say thank you! And with so much goodness packed inside, it's hard to believe these full quarter pound cookies are trans-fat free Selma's also makes a great gift for Valentine's, Super Bowl and more with decorated krispy treats and decadent brownies. www.selmas.com
---
Amazing Grass Announces New & Improved Green SuperFood Drink Powder
A 'Whole Food' Blend of Antioxidant-Rich Fruits & Veggies, Alkalizing Greens, Immunity-Boosting Support Herbs and Digestion-Enhancing Enzymes in a New Economy Size Can
Due to busy lifestyles and poor dietary habits, government nutrition experts estimate that only 9% of Americans consume the USDA's recommended 5-to-9 daily servings of fruits and vegetables. Amazing Grass (www.amazinggrass.com) is a nutrition convenience pioneer that is making it easier to gain powerful whole food nutrition on-the-go with their new and improved Green SuperFood Drink Powder. To obtain healthy servings of fruits vegetables, consumers need to just mix one scoop of the lush green powder with 8 ounces or more of water, juices, smoothies, or other favorite beverages (see smoothie recipe below).
The Amazing Grass Green SuperFood blend is a unique and potent combination of nature's most nourishing, cleansing and rebuilding green superfoods including organic wheat grass, barley grass, alfalfa, spirulina, spinach, chlorella and broccoli. The new formula has been bolstered to feature more than 70% certified organic ingredients and an enhanced digestive enzyme and active probiotic blend to improve nutrient absorption. Amazing Grass has also updated the powder drink mix by adding: Sambazon® Acai - a purple berry loaded with antioxidants, healthy omega fats, fiber and protein that grows in the Amazon Rainforest; and maca - a nutritious root grown at high altitudes in Peru that is known to be an adaptogen that boosts the immune system and provides sustained energy, vitality and mental clarity.
Green SuperFood Drink Powder provides more organic whole leaf greens per gram than any leading green superfood mix. It is low calorie and has no added sugar, so it lets people sweeten their beverage on their own or mix it with drinks that have some sweetener already. It is also vegan and gluten-free, and unlike many superfood drink powders, it contains no soy lecithin fillers. Green SuperFood Drink Powder is offered in a new economy size 60-serving canister ($47.99), a 30-serving canister ($27.99), a 15-count box of individual serving packets ($21.99), and a jar of 150 veggie capsules ($27.99). Amazing Grass products are widely available around the country including Whole Foods Markets and Wild Oats, and at www.AmazingGrass.com. The company's popular GrassHeads program offers auto shipping along with discounts and other promotions.
Amazing Grass Green SuperFood powder has a high concentration of naturally-occurring enzymes, carotenoids, phytonutrients and antioxidants that work synergistically to fight free radicals, remove toxins and repair damaged cells. Ultimately, Amazing Grass contains every amino acid, vitamin, and mineral necessary to sustain human life. Since the human body is designed to get nutrition from whole foods, the body is able to efficiently and rapidly absorb the nutrients in Green SuperFood and quickly convert them to fuel.
For the majority of people, stress and consumption of unhealthy processed foods can create an acidic imbalance in the blood that, among other problems, can cause the body to store water and build up fat in the arteries (cholesterol) as protection from acidic blood. The rich chlorophyll content and high alkalinity of Amazing Grass Green SuperFood helps to combat acidity and restore blood to the optimal pH level. It also promotes improved circulation, digestion and regular elimination. For more about the specific nutrition science information about Green SuperFood, please visit www.amazinggrass.com.
Amazing Grass is a friends and family-owned company with roots that date back over 60 years of growing and dehydrating green foods. The company produces certified organic wheat grass, barley grass, oat grass, rye grass and alfalfa at a family farm in Kansas, and markets the most nutritious, convenient and affordable green superfoods to help families thrive. Amazing Grass stands out because the grasses are field-grown throughout the winter allowing the roots to soak up nutrients from mineral-rich soil for over 6 months. "The young leaves are harvested just one time each year at their nutritional peak," says President Brandon Bert. The greens are carefully flash dehydrated at low temperatures, frozen as whole leaf powders and then packed in nitrogen to maintain freshness. The extra steps ensure customers get the most nutrient-dense raw green food powders in the world.
Amazing Grass' mission is to educate the world about the benefits of green superfoods and the improved quality of life from healthy eating habits. In addition to the Green Superfood Drink Powder, Amazing Grass offers organic Wheat Grass in drink powder and tablet forms, Green SuperFood Chocolate Drink Powder and Kidz SuperFood Chocolate Drink Powder. For more information, visit www.AmazingGrass.com.

Amazing Grass Green Machine Smoothie
1 banana
¼ cup of your favorite berries
1 tablespoon lemon juice
1 cup of your favorite juice (we prefer apple)
¼ cup water / and or ice
¼ cup nonfat yogurt
1 tablespoon Amazing Grass Green SuperFood powder
Blend all ingredients until smooth and drinkable. Contains 2 fruit servings, 3 vegetable servings, 1 dairy serving.

---
HONEY PROVES A BETTER OPTION FOR CHILDHOOD COUGH THAN OTCs
New study gives parents safe and effective alternative to medications
Now that the safety and effectiveness of children's cough medicines are in question, what can parents do to help their child deal with a troublesome cough?
A new study by a Penn State College of Medicine research team found that honey may offer parents an effective and safe alternative. The study found that a small dose of buckwheat honey given before bedtime provided better relief of nighttime cough and sleep difficulty in children than no treatment or dextromethorphan (DM), a cough suppressant found in many over-the-counter cold medications.
Honey did a better job reducing the severity, frequency and bothersome nature of nighttime cough from upper respiratory infection than DM or no treatment. Honey also showed a positive effect on the sleep quality of both the coughing child and the child's parents. DM was not significantly better at alleviating symptoms than no treatment.
These findings are especially notable since an FDA advisory board recently recommended that over-the-counter (OTC) cough and cold medicines not be given to children less than 6 years old because of their lack of effectiveness and potential for side effects.
The results are published by Penn State College of Medicine researchers, led by Ian Paul, M.D., M.Sc., in this month's Archives of Pediatrics and Adolescent Medicine.
In a previous study published in 2004, Paul and colleagues showed that neither DM nor diphenhydramine, another common component of cold medications, performed better than a placebo at reducing nighttime cough or improving sleep quality. However, honey has been used for centuries in some cultures to treat upper respiratory infection symptoms like cough, and is considered to be safe for children over 12 months old. Honey has well-established antioxidant and antimicrobial effects, which could explain its contributions to wound healing. Honey also soothes on contact, which may help explain its effect on cough as suggested by the World Health Organization.
In the latest study, the researchers enrolled 105 children between the ages of 2 and 18 at a single university-affiliated physician practice site. On the first night of the study, children received no treatment. Parents answered five questions about their child's cough and sleep quality as well as about their own sleep quality. On the second night, children received either honey, artificial honey-flavored DM or no treatment about a half hour prior to going to bed. Parents answered the same five questions the following morning.
The randomized study was partially double-blinded: Medical staff did not know what treatment each participating family received when distributing their sealed syringe-containing envelope. Parents of children who received honey or artificial honey-flavored DM in a measured syringe were blinded to their treatment group. Parents of children in the no treatment group received an empty syringe, and therefore were aware of their child's treatment group.
Across the board, parents rated honey as significantly better than DM or no treatment for symptomatic relief of their child's nighttime cough and sleep difficulty. In a few cases, parents did report mild side effects with the honey treatment, such as hyperactivity.
"Our study adds to the growing literature questioning the use of DM in children, but it also offers a legitimate and safe alternative for physicians and parents," said Paul, a pediatrician, researcher and associate professor of pediatrics at Penn State College of Medicine and Penn State Children's Hospital. "Additional studies should certainly be considered, but we hope that medical professionals will consider the positive potential of honey as a treatment given the lack of proven efficacy, expense, and potential for adverse effects associated with the use of DM."
Potentially dangerous effects of DM in young children include dystonic reactions, severe involuntary muscle contractions and spasms. Further, DM is a commonly used as a drug of abuse by adolescents.
Cough is the reason for nearly three percent of all outpatient visits in the United States, more than any other symptom. It is particularly bothersome at night because it disrupts sleep. Consumers spend billions of dollars each year on OTC cough and cold medications despite little evidence that these drugs provide significant relief.
About Penn State College of Medicine and Penn State Children's Hospital
Enrolling its first students in 1967, the College of Medicine at Penn State Milton S. Hershey Medical Center confers the Doctor of Medicine degree and, in conjunction with Penn State's Graduate School, offers Doctor of Philosophy and Master of Science degrees in anatomy, biochemistry and molecular biology, bioengineering, cell and molecular biology, genetics, integrative biosciences, microbiology and immunology, neuroscience, pharmacology, and physiology.
Penn State Children's Hospital is south central Pennsylvania region's only children's hospital.

About the grant
This study was funded by an unrestricted grant from the National Honey Board, an industry-funded agency of the United States Department of Agriculture.

---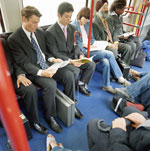 EARTH TALK
From the Editors of E/The Environmental Magazine

Dear EarthTalk: My New Year's Resolution is to reduce my "carbon footprint" to help fight global warming. Do you have suggestions for ways I can make good on my promise? -- Carrie, via e-mail

There's never been a more urgent time to reduce your carbon footprint. With the U.S. government still opting out of mandatory emissions cuts, it's up to every individual, business owner and city or state government to take steps. So here are 10 ways to get you started in the new year:

(1) Step-up Recycling and Composting. Recycling prevents carbon dioxide (CO2) emissions by saving the energy it takes to make products from new materials and by saving the energy it takes to incinerate or landfill what we discard. And composting food scraps turns organic material back into fertile soil, which itself is an efficient carbon "sink." To get started, see: www.earth911.org and www.howtocompost.org.

(2) Stay close or stay put: About half the CO2 we generate comes from our car trips, so walk, bike or take mass transit instead. Air travel also produces huge amounts of CO2, so the less you fly, the smaller your carbon footprint. See: www.culturechange.org.

(3) Eat organic and local: Stick to foods produced organically and you prevent harmful pesticides and fertilizers from polluting air, waterways, soils and family members. And if the food is grown nearby, thousands of pounds of CO2 weren't emitted getting it to your grocery store. See: www.100milediet.org.

(4) Buy green power. Your power company might just source part of its supply from renewable sources like hydro-electric or wind, and will sell it to customers who know to ask for it. See: www.green-e.org.

(5) Change out your lightbulbs. A compact fluorescent lightbulb (CFL) uses less than a third of the energy of an incandescent bulb to produce the same amount of light—and it lasts 10 times longer. And some CFLs now have 3-way capabilities and can be dimmed. Visit Energy Federation, Inc. at: www.efi.org.

(6) Upgrade and unplug: Upgrading any appliances (including computers and TVs)? Be sure to look for the "Energy Star" logo, which only energy efficient models can wear. Also, turn off appliances when not in use to prevent wasting so-called phantom energy coming in off the grid. See: www.energystar.gov.

(7) Adjust your thermostats: If you don't need a sweater indoors, your heat is too high. Likewise, in hot weather turn down the AC. Also, keeping your hot water at no more than 120 degrees—the minimum temperature to keep the water bacteria-free—is another way to save energy, money and the environment.

(8) Plant a tree…or 300! An average tree stores 13 pounds of carbon per year; a mature tree can absorb upwards of four times that amount. Just 300 trees can counterbalance the amount of greenhouse gas pollution that one person produces in a lifetime. So get to work! See: www.americanforests.org/planttrees.

(9) Buy offsets: Many organizations sell "carbon offsets," whereby you pay a voluntary fee to offset your daily CO2 emissions. The money usually goes to develop alternative, renewable energy sources, such as wind or solar. See: www.climatetrust.org, www.nativeenergy.com and www.my-climate.com.

(10) Get involved: Donate time or money to groups working to fight global warming. Just about all green groups devote some work to climate change, and they need your help. See: www.volunteermatch.org.