HEALTH MINDED   .   .   .
DR. KATHY GRUVER ON HANDLING CORONA VIRUS STRESS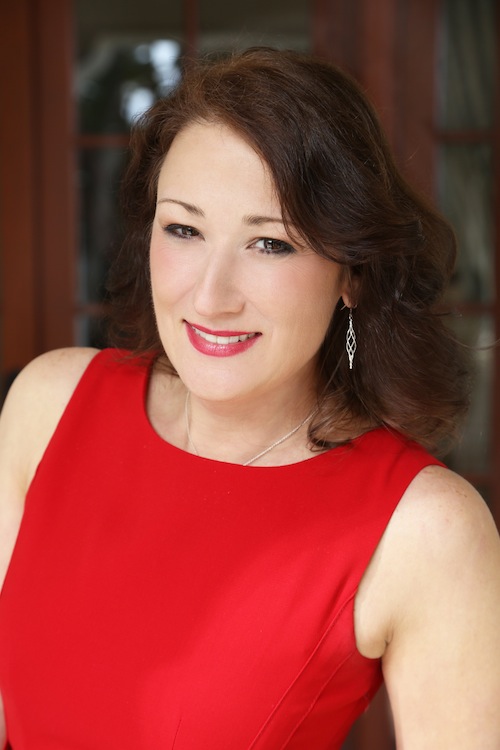 The one constant in life is change.
Wow, what difference a few weeks make, huh? Ask us at the beginning of the year what 2020 was going to be like and I'm pretty sure no one came up with this one.
So, rather than panicking, freaking out and losing our minds, what can we do? Here are a few of my favorite stress busting tips:

1. Breathe!!!!

Breathing, consciously, allows us to pause. And in that pause there is power. We decide whether we respond or react in that pause. And we want to be first responders, not first reactors. No one has ever been accused of over-responding and it's those knee jerk reactions (not responses) that get us in trouble. The other thing the breath does is anchor us in the now. And in this present moment, there is no stress. The stress is in front of us with those 'what-ifs' and behind us in those things from the past that we are dragging forward with us.

2. Meditate.

I know, meditation is hard!!! I know...I'm the biggest Type-A, control freak, anal retentive, only child EVER! But you know what? I've found a way to meditate. It's my mini meditation. And here is a link to walk you through. If you already meditate, this is the time to put it in practice. It connects with that strong part of yourself and offers grounding and comfort. It also stops the fight or flight response and brings us back to the present. And again, in the present moment...no stress!

3. Accept the is-ness of the moment.

All of this is out of our control. It's scary, It's unknown. We are worried about our financial health as well as our physical health. AND, we can't change any of this. We can try to change it, we can bitch about it, we can fight against it, we can yell at it and say we don't like it. But we can't change it. We've all heard the serenity prayer:
God, grant me the serenity to accept the things I cannot change, Courage to accept the things I can and Wisdom to know the difference.
This is true, now more than ever. By accepting the is-ness, it becomes easier.

It's not a fight, it's a flow.
It's not a battle, it's a dance.

And you ultimately have a huge choice. The choice is, how are YOU going to respond to this?
What thoughts are you going to let yourself have about this situation?
And what are you going to do protect the health of your own mind, body and soul.
About Kathy Gruver, PhD
Kathy Gruver, PhD has graced stages on four continents (including 2 TEDx), three cruise ships and a handful of islands. Her combination of humor, performance background, real life experience and formal education makes her a well-rounded, in-demand speaker. She hosts the TV show based on her first book, The Alternative Medicine Cabinet and has earned her PhD in Natural Health.
Dr. Gruver is the twelve-time award-winning author of seven books including, Conquer Your Stress, Workplace Wellness, Conquer your Stress at Work, and Journey of Healing. She has studied mind/body medicine at the famed Benson-Henry Institute for Mind-Body Medicine at Harvard, and has been featured as an expert in numerous publications including Glamour, Fitness, Time, WebMD, Prevention, Huffington Post and Dr. Oz's The Good Life, and has appeared on over 250 radio & TV shows including Lifetime, NPR, CBS Radio and SkyNews London. In 2015 she had the privilege of creating a stress reduction program for the US Military and has been studying psychology and human behavior her entire life.
She is also the co-host of the new Fire and Earth Podcast. For fun and stress relief Gruver does hip hop and flying trapeze.
Kathy Gruver, PhD, CHt, LMT is currently offering online coaching and hypnosis sessions to help you through these times. "I know we are all worried about the future, you're not alone. You don't have to handle this alone. Let me know how I can help."

www.KathyGruver.com
805-680-1984 to schedule a 10 minutes free discovery session to see if what I'm offering is a good fit for you at this time.
Her books on stress and health can be found at - https://www.goodreads.com/author/show/3521645.Kathy_Gruver
Enjoy her new poscast at
http://kathygruer.com/podcast.html

Be well everyone!
___________________________________________________________________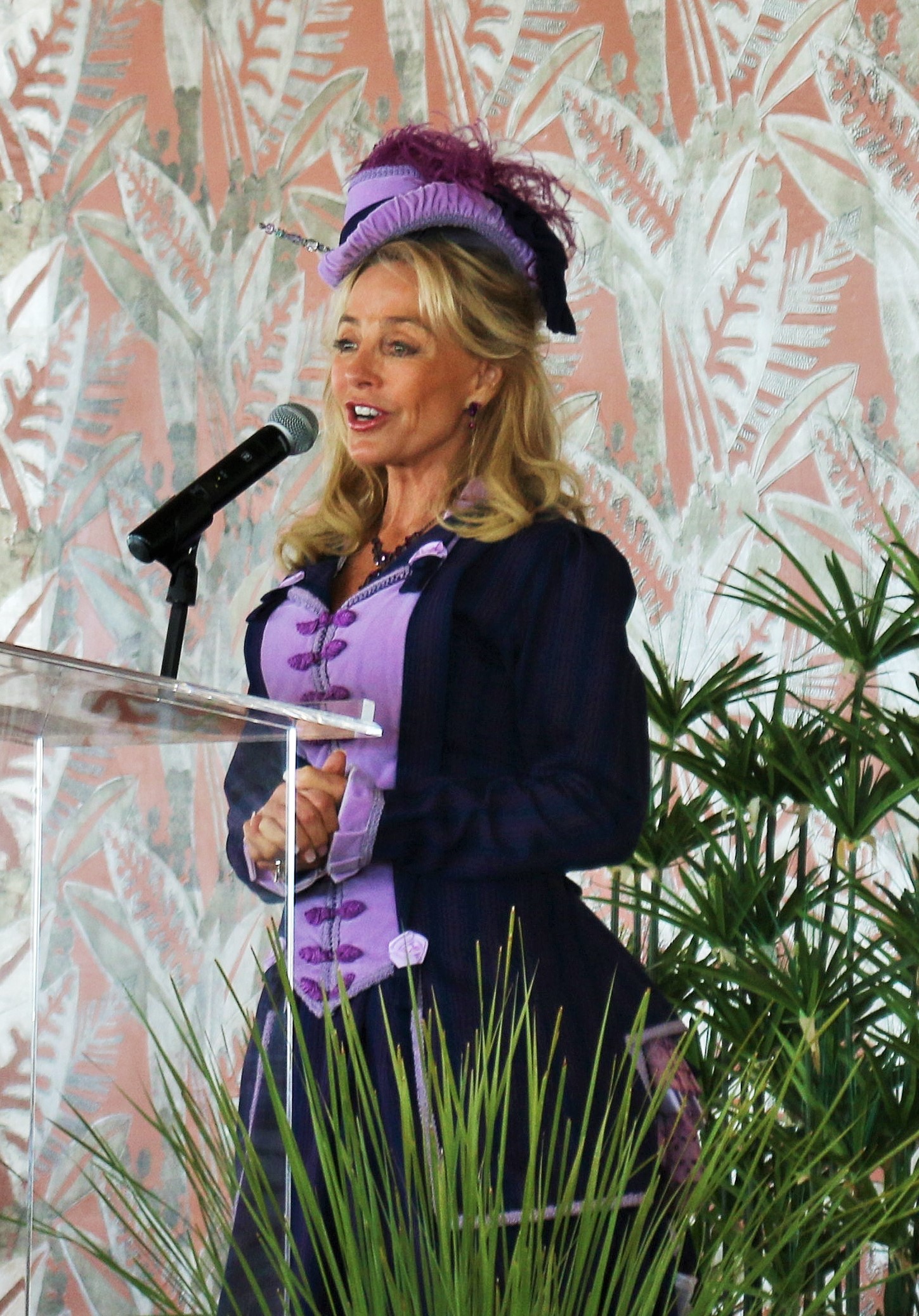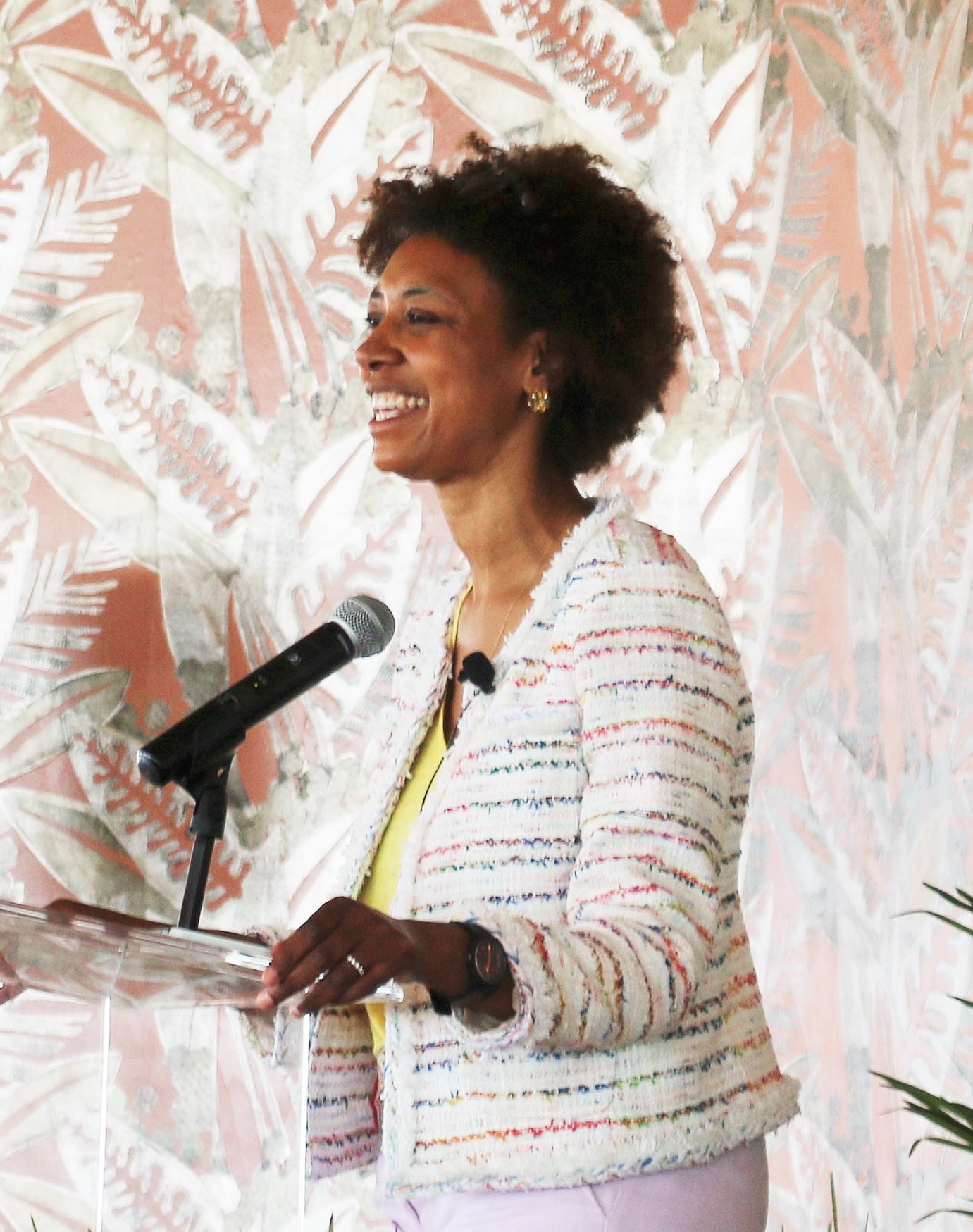 Andria Kahmann    -   Michelle Branch
WOMEN UNITED HOST "LITTLE WOMEN" 2ND CLASSIC STORYBOOK LUNCHEON
by Bonnie Carroll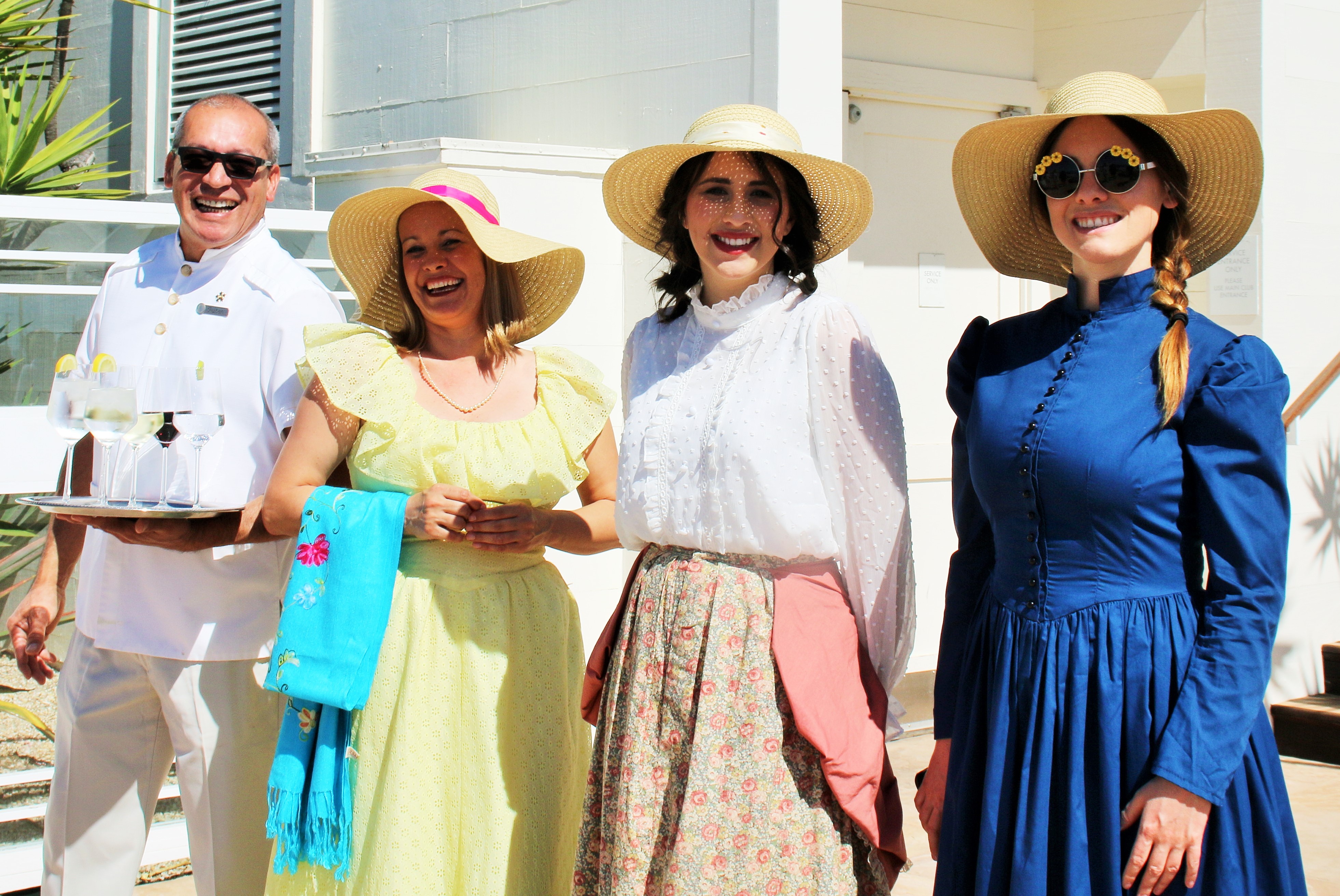 "Little Women" Costumed Hostesses Greeting Guests
Women United, an affinity group of United Way of Santa Barbara County, hosted their second annual Classic Storybook Luncheon on Tuesday, March 3, 2020 at the Four Seasons Resort, Coral Casino, The Biltmore Santa Barbara. This year's theme book, Little Women, was the 2019 Women United Book Club selection and guests were greeted by members in period costumes with lovely period touches on the luncheon tables. A lovely costume was also worn by Andria Kahmann, Women United Leadership Team & Founding Member who chaired the second annual event and opened and closed the luncheon program. It was a perfect day for the auction on the patio of Coral Casino, where guests enjoyed beverages while bidding on a bevy of delightful items collected to benefit United Way Women United of Santa Barbara County.
The luncheon guest speaker Michelle Branch, Principal and Founder of the Branch Law Group and Chair of the Women United Global Leadership Council, focused on the impact women can have on their community based on opportunity and the choices they make. She shared the important choices her own mother made to continue her education which providing inspiration to her to always keep going and the powerful impact this lesson in education had on her. Today Michelle Branch has earned a treasure trove of degrees and honors that is very impressive.
Michelle commended United Way Santa Barbara for the fine work they have done as advocates for childrens literacy as well as other programs. As a strong advocate for community advocacy and philanthropy, Branch serves as a board member with United Way Bay Area and Chair of the Women United Global Leadership Council, which is a formal advisory body mobilizing women leaders to build stronger communities.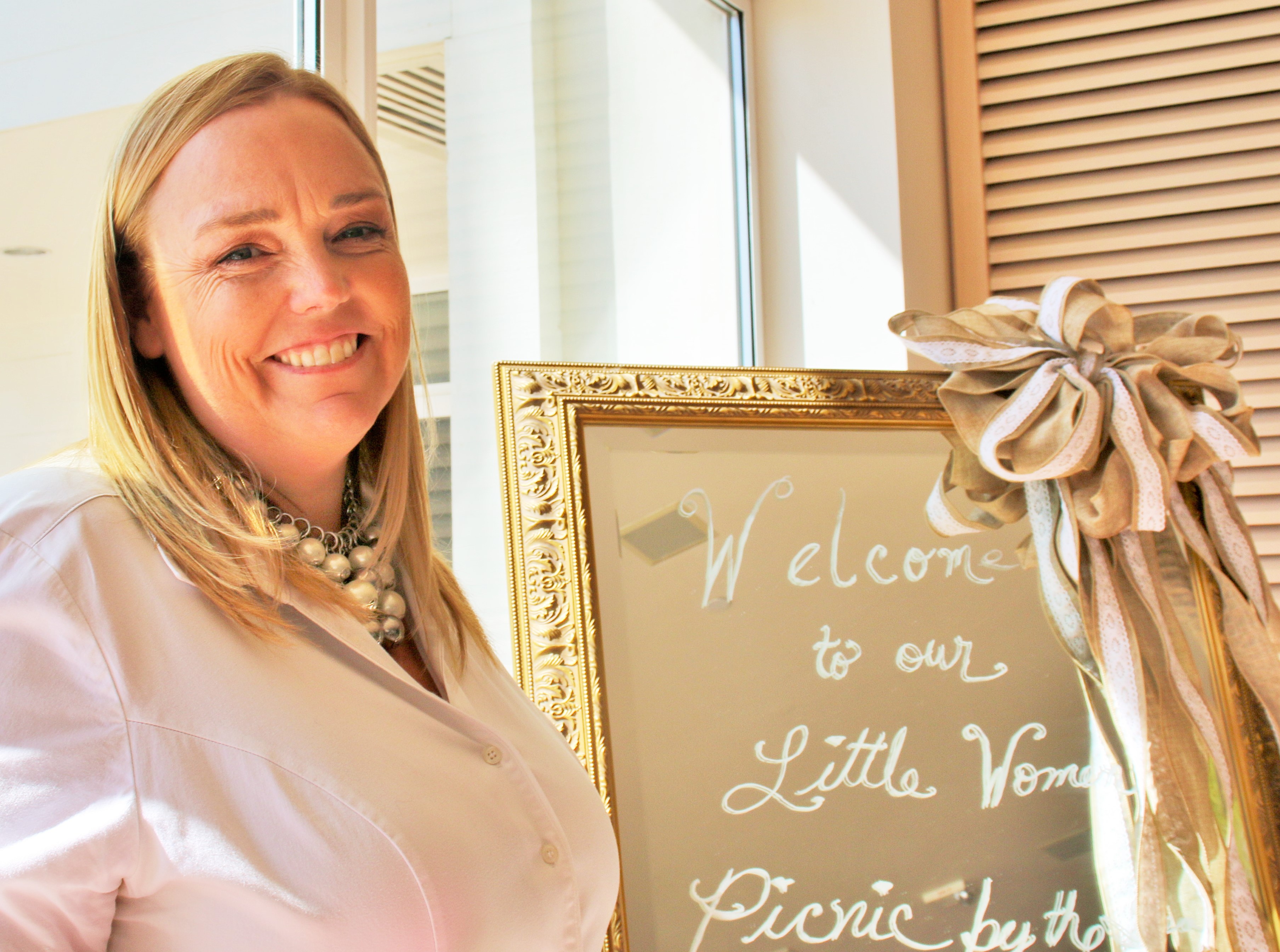 Casie Killgore, Principal Roosevelt School
Casie Killgore, a native Santa Barbara woman, who is currently the principal of Franklin School and began working at the community school when she was 28 following education at Notre Dame de Namur University where she played basketball and majored in Business with the intention to take over her mother's CPA firm. Her volunteer work helping to educate farm worker children inspired her to receive a Teaching Credential and Master in Education Administration at Universidad de Guadalajara. She then returned to Santa Barbara to teach PE and sixth grade prior to becoming Assistant Principal at Peabody Charter.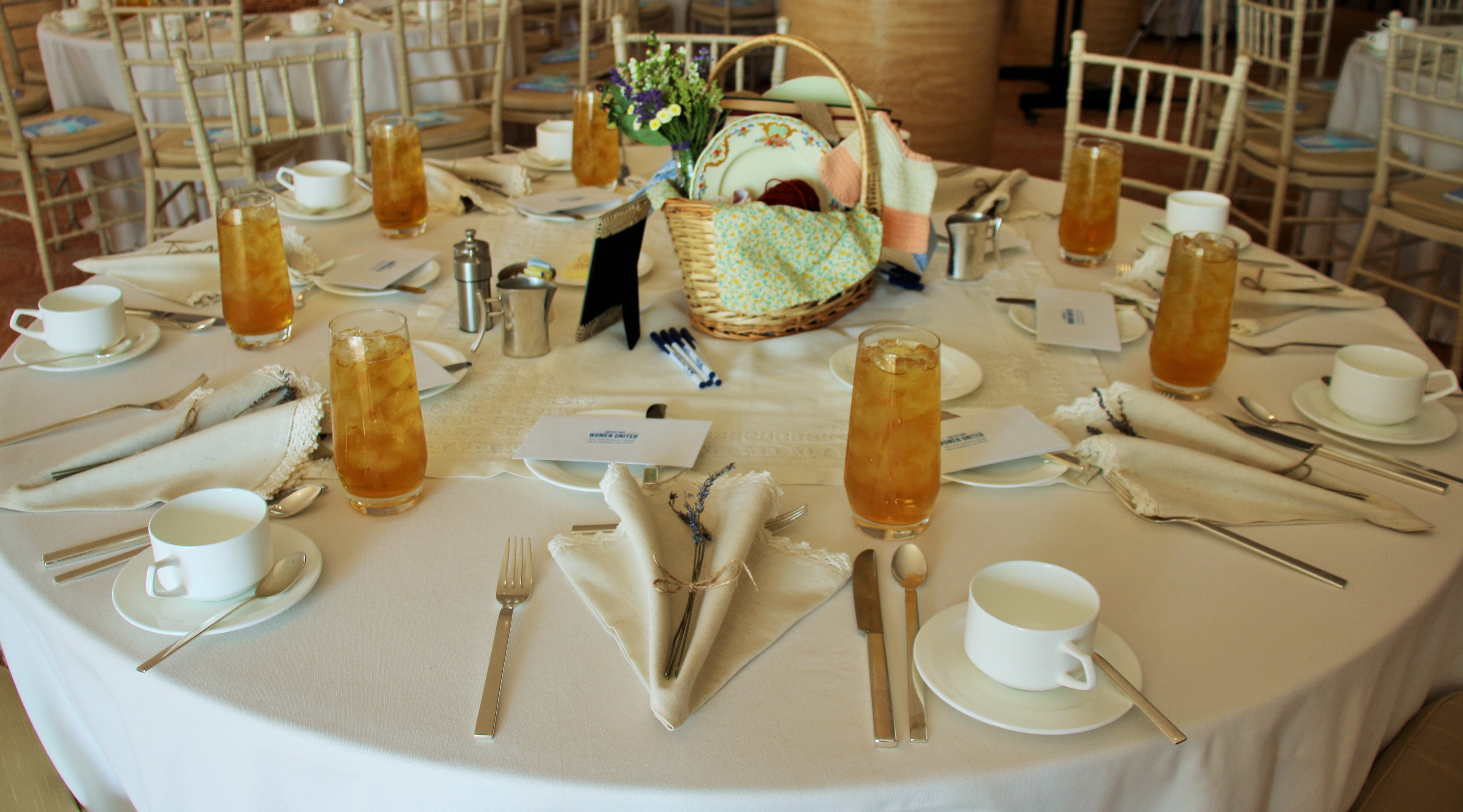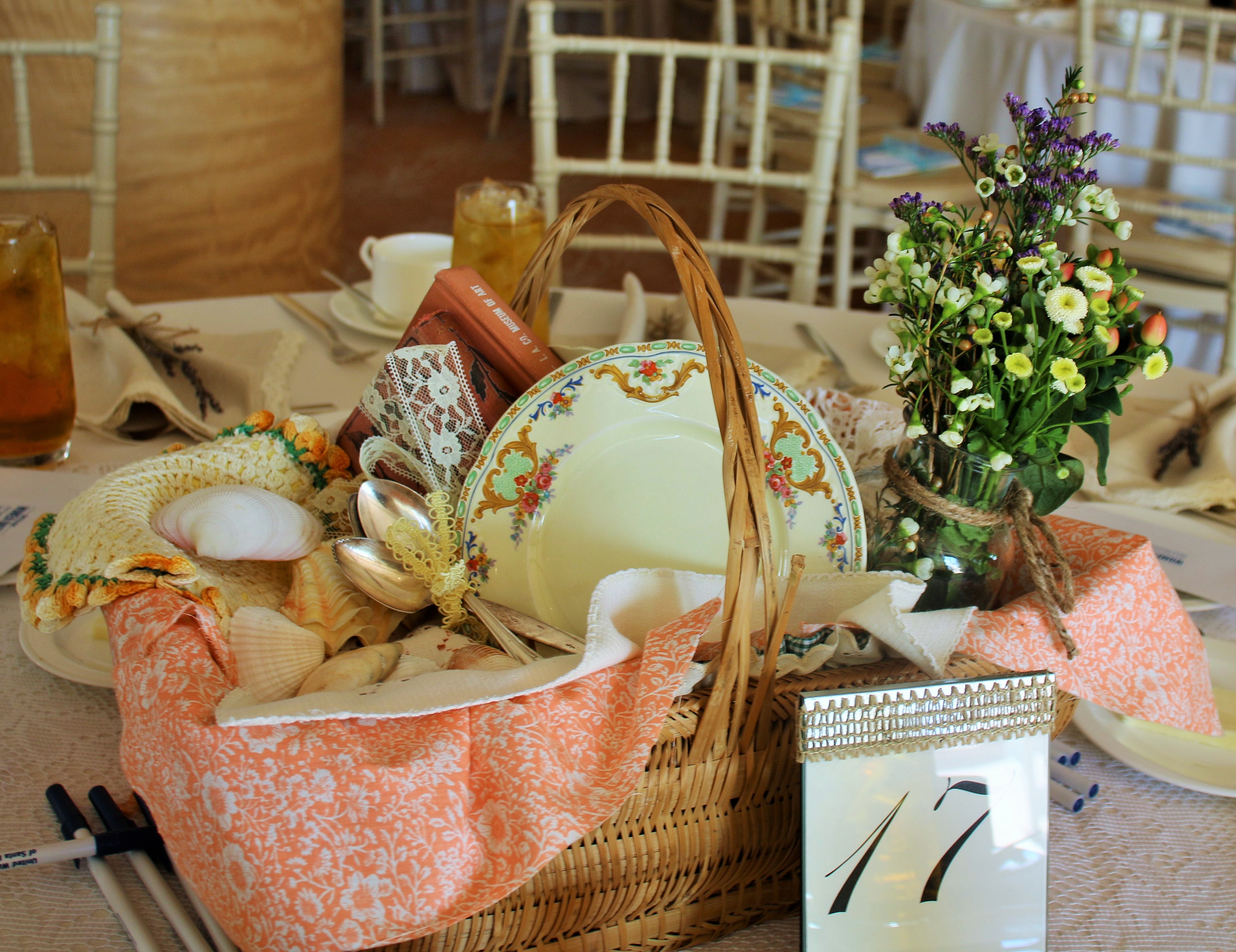 Beautiful table Setting & Period Centerpieces
Casie shared the importance of working with community partners like United Way and the success that it can provide. The litany of educational and personal success stories she shared on students she had worked with was Impressive and confirms her belief in the importance of working with United Way. Over the years, Franklin School has been awarded the 2010 (Silver) and 2011 (Gold) State of California Governors Acitvity Award, 2016 California Gold Ribbon, 2016 Title One Academic Achievement, and 2020 California Distinguished School Award. Casie has personally been recognized by Santa Barbara Independent Local Hero, United Way Outstanding Partner and by many government officials.
The proceeds from the Women United Luncheon supports United Way's educational programs and partnerships, such as Kindergarten Success Institutes, which ensure kindergartners start school ready to succeed, and Fun in the Sun, which provides high-quality summer learning experiences to keep at-risk youth engaged during the summer months.
Through fundraising, volunteerism and advocacy, Women United focuses on expanding United Way's educational opportunities to ensure that more underserved children and families succeed during crucial early elementary school years and beyond. Women United mobilizes a powerful leadership network of women to strengthen the Santa Barbara community. Women United focuses on expanding United Way's early educational opportunities for local children from pre-K through third grade.

In 2019, 200 luncheon attendees helped fund the early education programs in Santa Barbara County. Because of Women United support participants in the Kindergarten Success Institutes improved their academic skills by 68% and their social/emotional skills by 69%. Part of a national network of over 75,000 women in 165 communities, Women United mobilizes a powerful leadership network of women to strengthen Santa Barbara County.
2020 Classic Storybook Luncheon sponsors included Aera Energy, American Riviera Bank, Bryant & Sons Ltd, City National Bank, ExxonMobil, Rosemary Mutton, and Union Bank, as well as event underwriters: Bobbi Didier, Clearwater at Riverpark, Betty Noling, Success Reach LTD, and UCSB. For information visit www.unitedwaysb.org/storybookluncheon
About United Way of Santa Barbara County
United Way of Santa Barbara County (UWSBC) has the unique and positive vision that "in our community, everyone has a hopeful future." Since 1923, UWSBC has served Santa Barbara County community through funding, volunteer development, and by utilizing its own unique initiatives that involve dozens of local non-profit and public sector agencies. UWSBC's local community driven Power of Partnership™ priorities help children, families & seniors with a focus on Education, Income and Health.
____________________________________________________________
The Finest in Independent Living
Without the hassles of mundane chores, you're free to enjoy the things you really want to do. At Vista del Monte, you'll have time to engage in what's most meaningful to you: pick up a new skill or hobby, travel, discover an interesting sport, or make more time to socialize. Whatever it is, we can help. With our Independent Living services, we take care of all the practical tasks, including transportation, housekeeping, and maintenance. Our culinary staff prepares delicious meals, handles all the day-to-day chores, and your wellbeing needs are attended to—all in one place. For information visit: www.vistadelmonte.org. Vista Del Monte – Santa Barbara, California – 805-687-0793

---