Chef/Hotel Profile  .  .  .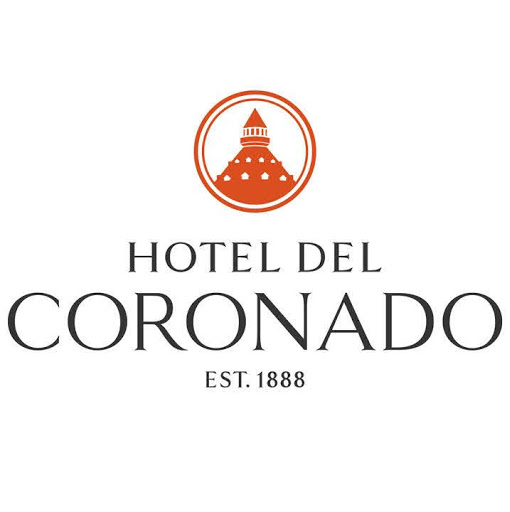 THE GRAND HOTEL DEL
Hotel del Coronado, also known as The Del and Hotel Del, is a historic beachfront hotel in the city of Coronado, just across the San Diego Bay from San Diego, California. It is one of the few surviving examples of an American architectural genre: the wooden Victorian beach resort. It is the second largest wooden structure in the United States (after the Tillamook Air Museum in Tillamook, Oregon) and was designated a California Historical Landmark in 1970 and a National Historic Landmark in 1977.
When it opened in 1888, it was the single largest resort hotel in the world. It has hosted presidents, royalty, and celebrities through the years. The hotel has been featured in numerous movies and books.

Hotel del Coronado 1900
On April 7, 1920, Edward, Prince of Wales was honored with a grand banquet in the Crown Room. There has been speculation that it was at this event that he first met his future wife Wallis Spencer, later known as Wallis Simpson, who lived in Coronado at the time. However, most historians believe they did not meet at that time, and both Edward and Wallis wrote in their memoirs that they met much later.
A Hollywood haunt and historic playground the popularity of the hotel was established before the 1920s. It already had hosted Presidents Harrison, McKinley, Taft, and Wilson. By the 1920s, Hollywood's stars and starlets discovered that 'the Del' was the 'in place' to stay and many celebrities made their way south to party during the 1920s and 1930s, specifically during the era of Prohibition. Douglas Fairbanks, Charlie Chaplin, Rudolph Valentino, Clark Gable, Errol Flynn, Mae West, Joan Crawford, Katharine Hepburn, Bette Davis and Ginger Rogers were a few of the many great players (actors) who stayed at the hotel. On New Year's Day 1937, during the Great Depression, the gambling ship SS Monte Carlo, known for "drinks, dice, and dolls", was shipwrecked on the beach about a quarter mile south of the Hotel del Coronado.
During World War II, many West Coast resorts and hotels were taken over by the U.S. government for use as housing and hospitals. The Hotel del Coronado housed many pilots, who were being trained at nearby North Island Naval Air Station on a contract basis, but it was never commandeered. General manager Steven Royce convinced the Navy to abstain from taking over the hotel because most of the additional rooms were being used to house the families of officers. He pointed out that "the fathers, mothers, and wives were given priority to the rooms because it may be the last time they will see their sons and husbands." Ultimately the Navy agreed, and the hotel never was appropriated. The hotel was designated as a "wartime casualty station". It began a victory garden program, planting vegetables on all spare grounds around the hotel.
Notable guests have included Thomas Edison, Marilyn Monroe, L. Frank Baum, Charlie Chaplin, King Kalakaua of Hawaii, Vincent Price, Babe Ruth, James Stewart, Bette Davis and Katharine Hepburn. More recently, guests have included Kevin Costner, Whoopi Goldberg, Gene Hackman, George Harrison, Keanu Reeves, Brad Pitt, Madonna, Barbra Streisand, and Oprah Winfrey.
The following presidents have stayed at the hotel: Benjamin Harrison, William McKinley, William Howard Taft, Woodrow Wilson, Franklin D. Roosevelt, Dwight D. Eisenhower, John F. Kennedy, Lyndon B. Johnson, Richard Nixon, Gerald Ford, Jimmy Carter, Ronald Reagan, George H. W. Bush, Bill Clinton, George W. Bush, and Barack Obama.
The hotel was first featured in a film when it was used as a backdrop for The Flying Fleet (1927). Since then, it has been featured in at least 12 other films, including: Some Like It Hot (1959), starring Marilyn Monroe, Jack Lemmon, and Tony Curtis, where it represented the "Seminole Ritz" in southern Florida; Wicked, Wicked (1973), which was completely filmed on location there; The Stunt Man (1980), starring Peter O'Toole; and My Blue Heaven (1990), starring Steve Martin and Rick Moranis.  
Another famous resident of the hotel is the purported ghost of Kate Morgan. On November 24, 1892, she checked into room 302 (then 3312, now 3327). She told staff she was awaiting the arrival of her brother who was a doctor. She said he was going to treat her stomach cancer, but he never arrived. She was found dead on the steps leading to the beach three days later. The case was declared a suicide; she had shot herself. Another tragedy took place on the beach at the hotel in 1904 when actress Isadore Rush drowned.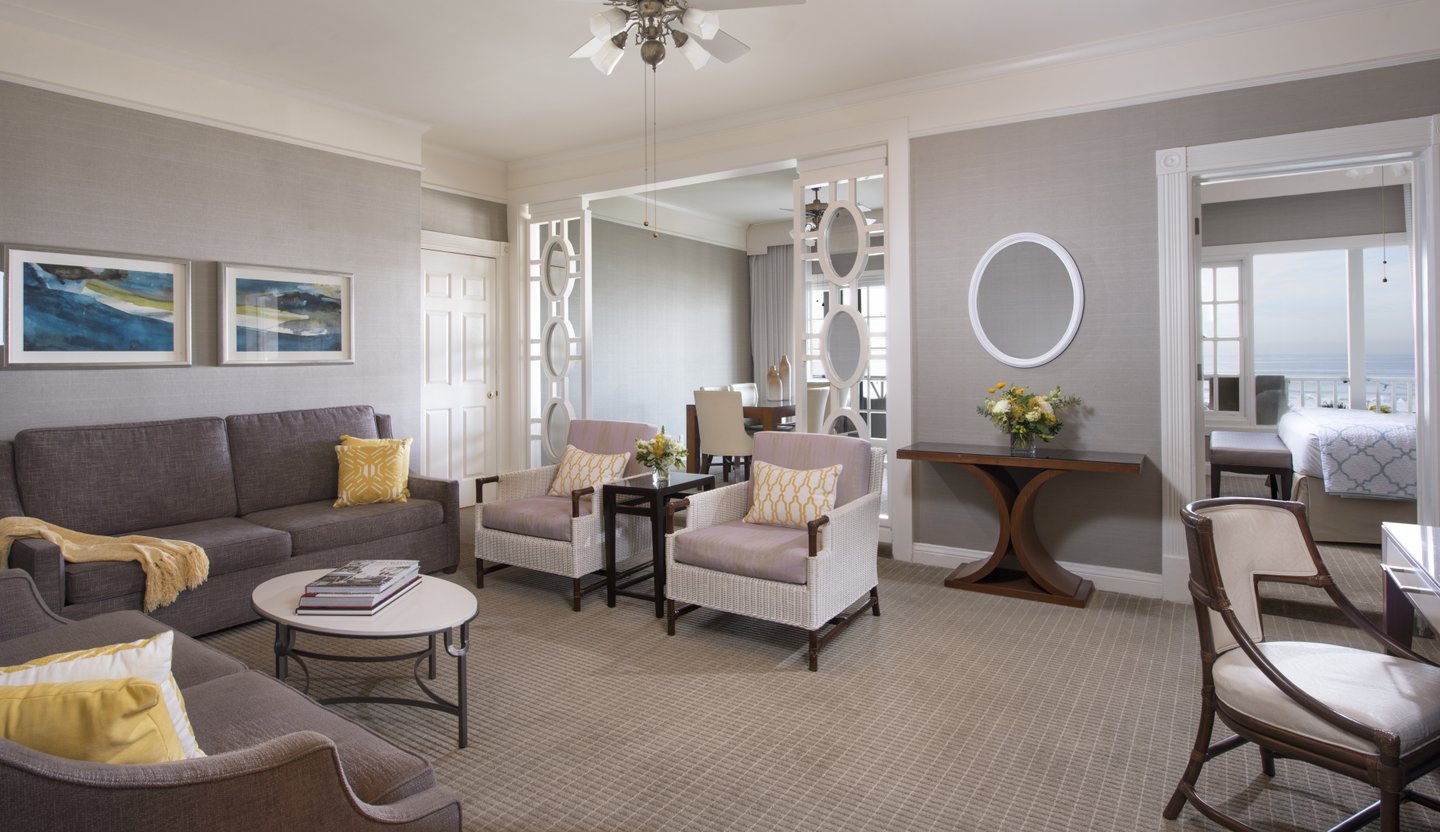 In August 2017, Hilton Hotels and Resorts took over the management of Hotel del Coronado as part of their Curio Collection. The resort is still owned by Blackstone and the name Hotel del Coronado has not changed.The hotel began a redevelopment and expansion in February 2019 to add new entryway, more guest rooms, parking garages, another restaurant and more. The remodel is projected to last three years and cost $400 million.
On March 26, 2020, the hotel announced that it was closing indefinitely due to a reduction in business related to the worldwide COVID-19 epidemic. This is the first time in the property's 132-year history that it has closed its doors to guests.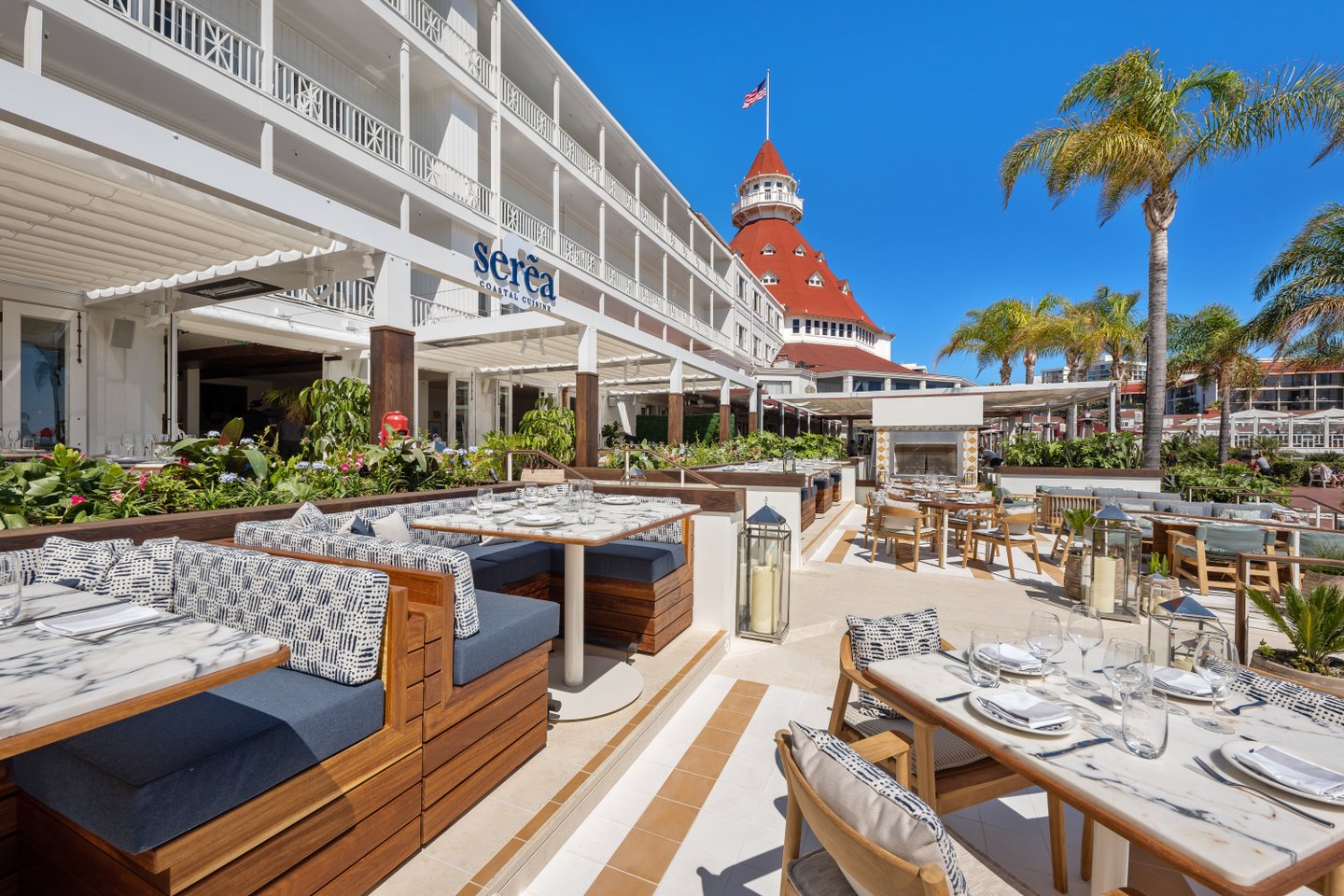 Serea Restaurant
SEREA RESTAURANT
Serẽa features a sustainable, sea-to-table experience with coastal cuisine that spotlights the best of the region's ocean, farms and fields. The approachable, ocean-friendly menu by Chef Stefan Peroutka is robust with fresh seafood, a raw bar and seasonal ingredients grown by Southern California farmers. Like its namesake, Serẽa is simply one with the water. The bar offers hand-crafted cocktails, local brews, and an eclectic wine selection.
Per state mandate, face coverings are required for all guests in public areas of the resort except when sitting at a table to dine or while maintaining a 6-foot distance from others on the beach. At this time we are only offering outdoor seating and an entree purchase is required with drinks.
Reservations are highly recommended. A very limited amount of walk-ins may be available but are not guaranteed. Open for brunch and dinner. Phone 619-435-6611 or visit: www.hoteldel.com.

________________________________________________________________________________________
Holidays at Hotel del Coronado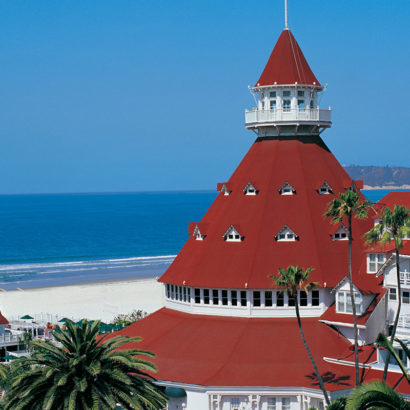 This holiday season thousands of white sparkling lights, a 35 foot towering Christmas tree, ornament-trimmed evergreens and garlands galore transform The Del's Windsor Lawn into a Winter Wonderland.
Pictures with Santa
Children will delight as they take socially distanced photos with Santa on his sleigh. Parents will want to bring their cameras to capture these cherished memories. Santa will be available from 4-7 pm on the following dates: November 28, December 5, 12, 19, 23 & 24.
Please note that all guests must wear face masks and maintain a minimum of 6 feet of social distancing. Winter Wonderland is not open during inclement weather.
Frostbite 
The Frostbite bar trailer will be available on the South Paseo Lawn with holiday treats and libations.
Holiday Crafts
Special to-go holiday crafts will be available for sale including gingerbread house and cookie decorating kits, snow globe, santa hat and ornament decorating kits, and more.
Hotel del Coronado
1500 Orange Ave
Coronado, CA 92118
619-435-6611
Date & Time
Nov 28 - Dec 24, 2020 Complimentary for hotel guests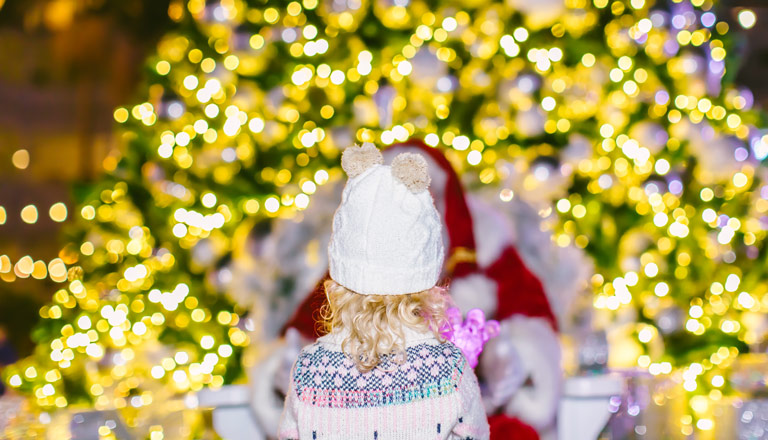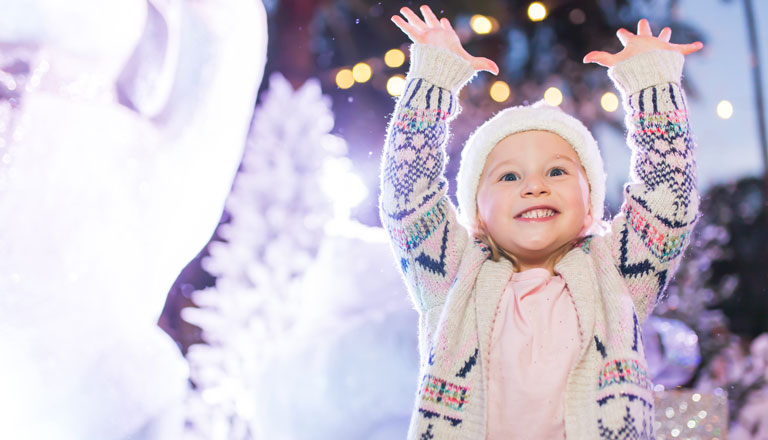 ____________________________________________________________________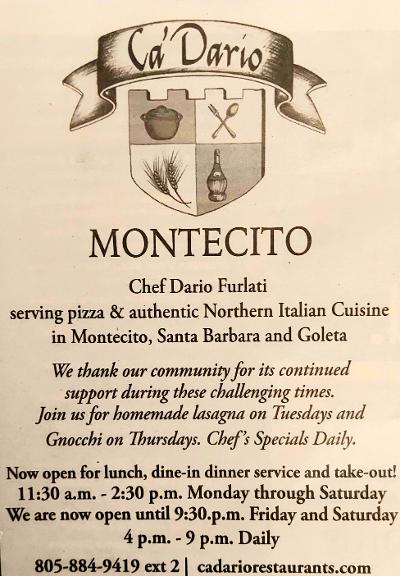 ---